Free Web Conferencing Software
Free web conferencing software is a great way to start a business, meet with clients and employees, or connect with your friends. With free web conferencing software, you can dial into a conference call and talk with other users who are on the same call. There are many free options that allow you to have video chats as well. You can also use these programs for online meetings which can be useful if you want to see someone's face while talking or if you are doing a presentation.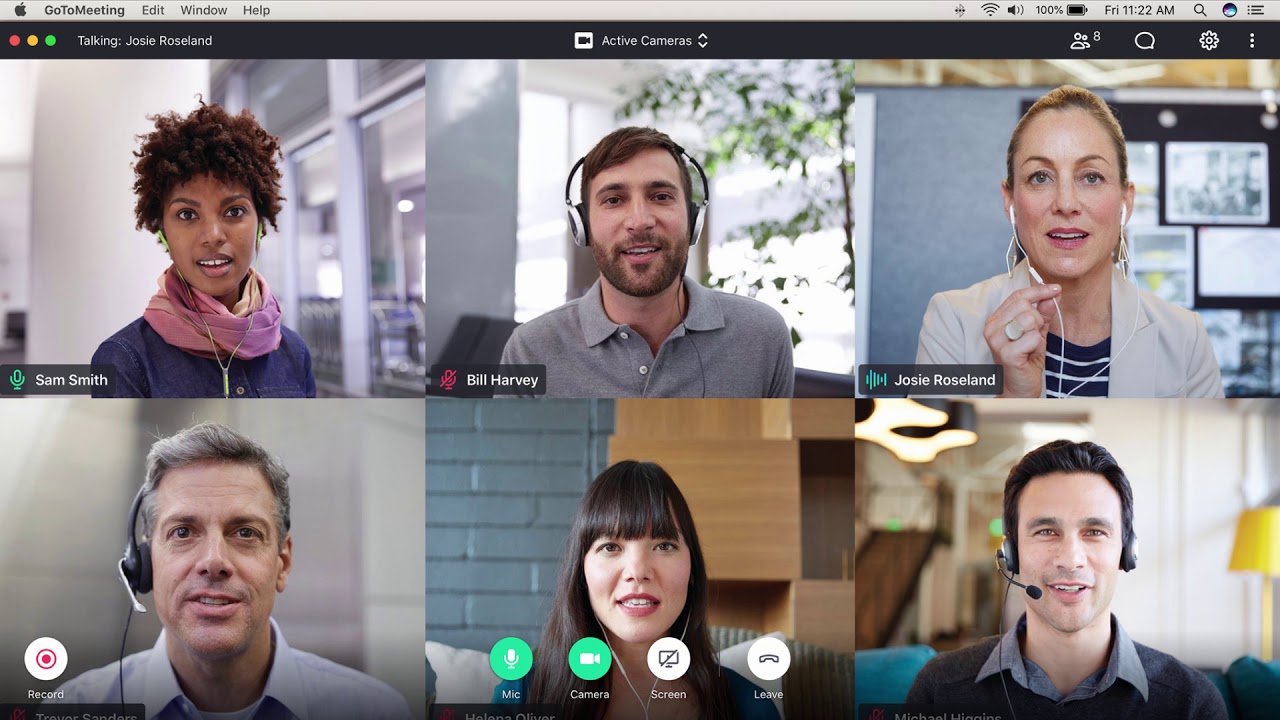 Free Web Conferencing Software
Conference call providers have the technology to support large conference calling sessions with thousands of participants. With that technology, conference call providers offer businesses hassle-free conference calling and collaboration. In turn, businesses can save money on travel costs and increase productivity. They also offer various value-added features that make outsourcing conferencing services a cost-effective solution for businesses.
Our short guide will prepare you to compare conference call providers on cost, integration & collaboration, and ease of use. Here are the 13 best free web conferencing software providers with video and screenshare:
Zoom
Zoom has a free plan and a paid one. The paid plan is actually cheaper than GoToMeeting. Zoom's free plan only offers 40 minutes of conferencing. It also limits the number of call participants to three people. With an upgraded plan, businesses can have as many users as it wants, unlimited meetings and video conferencing that includes many more features. Some of the advanced features include active speaker view, dual stream for dual screens, and full-screen views. Participants can even call in to join the conference.
The web conferencing feature also includes an MP4 recording of meetings, a personal meeting ID, application or desktop specific sharing, private and group chat, and a virtual whiteboard. Zoom also includes mouse and keyboard sharing free of charge. It is also possible to share the screen of an iPhone or iPad app. The downside to Zoom is that it only allows meetings up to 40 minutes in length. However, users can hold an unlimited number of meetings. 1 on 1 meetings is not limited to any particular time duration.
Livestorm
Livestorm is an all-in-one platform that makes it easy for companies to build powerful video communication strategies. The platform is built for ease of use and collaboration. This makes it easy to organize every part of an online event, from promoting all the way to post-event analysis.
Livestorm allows marketing, sales, customer success, or HR teams to create online events for their audiences. From meetings, webinars, conferences, online training courses, podcast interviews, and product demos, Livestorm adapts to multiple types of events. All events are run directly from the browser, which makes Livestorm particularly easy to use.
Zoho Meeting
Zoho Meeting, from the company Zoho which is known for its security and privacy matters, is one of the secured web conferencing solutions in the market. There is no limit for the meeting duration and lets you hold unlimited meetings even using the free edition. Advanced moderator controls give you more control over the meeting and the participants. Not just from the computer, you can also share your screen from iOS and Android devices. If your participants are out of reach of the internet, they can still join the call from their phone. You can also have your meetings handy in your browser extension, GMail or Google calendar. You can rule out the OS dependencies like Windows, Mac, or Linux, as this tool lets you hold meetings from the web browsers without downloading any app.
The web conferencing features include keyboard and mouse sharing, recording and storage, embed meeting widget, lock meeting, application or desktop sharing, video conferencing, co-branding and local dial-in numbers. The tool is tightly integrated within the Zoho ecosystem such that you don't have to jump between the apps to hold meetings or video conferencing. The free edition is limited to 2 participants with restricted features but Zoho Meeting comes at a cheaper price that makes the small businesses and startups use the tool for their video conferencing needs. As far as security and privacy are concerned, it is perfect for large enterprises.
Pexip
Pexip is definitely one of the best web conference solutions available right now. What's great about Pexip is that they allow you to host the web conferences yourself on-premise, or you can choose to host them on a cloud service like Microsoft Azure, Google Cloud, or Amazon Web Services. The Pexip service is scalable and customizable and allows businsses to integrate traditional video systems.
TeamViewer
TeamViewer can compete with Cisco as far as security goes. TeamViewer's home page claims to have 1.3 billion protected devices that are operating using remote support and participate in online meetings. The platform places an emphasis on support and solutions. TeamViewer's features include the ability to run several remote sessions at the same time on Mac operating systems within browser tabs. Another feature is the sticky note feature. Users can leave a message to clients to inform them of any updates or just to leave a friendly message.
TeamViewer also has interesting add-ons, like TeamViewer QuickJoin. TeamViewer QuickJoin lets customers join meetings and presentations fast with little effort. The feature can be used without needing to have administrator rights or going through an installation process. It is also supported by Mac, Linux, Android, Windows, Chrome OS, and iOS. TeamViewer has most devices covered. There is also video and audio conferencing. Users can also use text-based chat. There are other good features, even though they are behind a paywall, includes Remote QuickSteps. Remote QuickSteps adds single-click shortcuts for their remote support actions. Anyone who upgrades to the paid plan will notice that TeamViewer offers great support and IT use.
RingCentral Video
RingCentral Video offers a superbly integrated video, message, and telephony experience that's unified, fast, trusted, and open. RingCentral Video is geared towards organizations and teams of all sizes. With RingCentral Video, you get HD video and HD audio conferencing, as well as a guaranteed 99.999% uptime reliability. You, your organization, and clients can use RingCentral Video without having to download anything, since it works right in the web browser automatically. RingCentral Video also boats enterprise-grade security, and a wealth of integrations with the other apps you use every day like Microsoft Teams, Salesforce, Slack, and more.
GoToMeeting
GoToMeeting is one of a few highly popular web conferencing services that people recognize by name. Even when using the free plan, this platform provides one of the easiest methods to host conference calls. GoToMeeting also has screen sharing capabilities. The one-click meeting solution makes it easy for beginners to figure out the software. Anyone who uses GoToMeeting can also start meetings using the app. Meetings can also be initiated using Microsoft Office programs, chat links, and email.
Anyone using GoToMeeting's free option is limited to only audio conferencing. Video conferencing is limited to paid plans. However, the web audio conferencing comes with the option for VoIP voice chat. Teams can configure their conference calls to whatever meets their needs. The only other problem with GoToMeeting is the fact that the free plan limits the number of people who can join a conference. This platform only allows three conference call participants. While this may seem limiting and possibly problematic for larger enterprises, it's ideal for smaller ones. Anyone seeking a quick web conferencing solution for a small team should consider this web conferencing software.
ezTalks Meetings
ezTalks Meetings is definitely one of the best free web video conferencing services available right now. ezTalks Meetings not only provides free HD web video conferencing, but also provides powerful online whiteboard collaboration tools, so that team members can all see the notes and sketches of their colleagues on the online whiteboard. ezTalks Meetings can also support up to 100 people on one web conference!
Cisco Webex
Hosted, owned, and developed by networking giant Cisco, Webex is high on many of the lists that rank the best web conference software. It's one of the first conference solutions, but Cisco created a product that pretty effective. Like most other web conferencing systems; there is a free version of Webex. Webex's free version limits the number of conference participants to three. Users can share their screens. Anyone who uses Cisco Spark will appreciate the fact that the platform can be integrated with Webex.
Webex is an ideal choice for large enterprises and small businesses that are concerned with security. If there is anything Cisco knows, it's security. Spark has an insane level of encryption. It's important to note that Webex's best features are limited by the app's paywall.
Skype
Most people have heard of Skype. Skype has a free, web conferencing solution that is also worth using. Even though this feature is not widely-known, Skype does allow screen sharing. What makes this feature even better is the fact that it is free. Skype is not as flexible as other apps that do not force participants to download any software. Anyone who wants to use Skype has to sign up. Users need to create a Skype name and download the program. In order to use the conferencing features, conference participants must be added to the contact list.
Skype for business is possible. However, this feature has different applications and It requires a Microsoft 365 (formerly Office 365) subscription. So, Skype for business may not be a good option for smaller teams looking to upgrade their service to a paid option. Skype allows users to host video and audio conferences that can host up to 25 participants. The number is participants is higher than most other solutions. Skype can also support desktop OS, Android, and iOS phone apps to allow on-the-go conferencing.
Apache OpenMeetings
OpenMeetings has minimal design and UI. It's also not one of the best-looking solutions, but it's a free web conferencing solution. OpenMeetings solution has video conferencing, whiteboard capabilities, instant messaging, and collaborative document editing. This solution has everything that most of its competitors have. Because this app is an open source app, it's possible for teams to get a developer to customize the platform to suit the needs of the user.
Screen sharing and the ability to record the session's audio are a few of OpenMeetings' features. To make matters even better, users don't have to devote their entire screen to video conferencing. It's possible to select only a portion of the screen. Collaboration is effortless. People can create more than one whiteboard, if necessary, to discuss and edit files. Also, there is a chat feature built into the whiteboard. Again, the UI is not great, but the UX is solid and has drag and drop features.
join.me
This conference software was developed by the team that created the LogMeIn suite of tools for collaboration. join.me is easy to use, even for beginners, and its one-click functionality seems to be the motivation behind the tools. Join.Me expands the one-click functionality beyond basic interoffice communications. It adds a layer that extends conferences to prospects, clients, and customers.
The free plan is limited to conferencing and screen sharing. The free trial of the advanced plans includes free audio conferencing that comes with its own dedicated conference call number in the U.S.and more than 40 other countries. There is also video conferencing. The one-click scheduling can be integrated with Google Calendar and Outlook to maintain and organize your invitations. Another feature is the creation of a permanent meeting location. This lets clients save the address to stay in contact with the business. The online whiteboard feature provides an extra level of collaboration, screen sharing, and presentation.
Google Hangouts
Google has several solutions and apps, like Google Voice. Google has so many apps that keeping up with everything they offer can be hard. Google Voice and Hangouts have similar functions. However, Google Hangouts is able to do more than place phone calls. Like other Google apps, Hangout can be free to use. This platform allows users to receive and send instant messages, receive and send SMS messages, and video chats. Google Hangouts also hosts VoIP calls.
Many people overlook the fact that Google Hangout gives users the ability to use screen sharing feature. Google itself stated that it wants Hangouts to become the future of the company's telephony products. So, it's not shocking that there would a host of great features. It is similar to WebEx and Skype in that users will need to have a Google account to use it. Also, users must add each other in order to chat or meet online. This fact makes Hangouts and ideal, option for smaller teams that want to use a strong, free platform. There are limits to Hangouts. Users cannot group video chat with more than 10 people at a time.
Which Software Is the Best?
There aren't a lot of options out there for someone who is seeking a free web conferencing app that includes screen sharing. However, the ones that are available do a good job at meeting the needs of most teams. With options like Google Hangouts, Apache's OnlineMeeting, and TeamViewer, most companies may not have to spend any money on web conferencing.
Related: Best Cloud Video Conferencing Software
All of these options have their limitations and benefits that make them worth using. The best option for a team really comes down to which product has the features the team needs. Google Hangouts, Webex, and join.me are ideal products for teams that don't need to easily video chat with their clients and customers. However, these might not be ideal platforms for people who seek to utilize a web conferencing app to connect and meet people outside of their business. Teams need to do their research and assess what they really need in their video conferencing solution. Again, these apps have a variety of features that may or may not work. Also, it's important to note that some of these free options have paid plans with more features. No matter the case, there are free web conferencing options available that will meet the needs of your team.
Cost
The first thing you should figure out before selecting your conference call provider: how much do you want to spend?
There are three factors that will affect your decision:
How often you want to hold conference calls.
How long the conference calls will be.
How many participants you expect per call.
From there, conference call providers have two payment methods.
Pay-as-you-Go:
Pay only for the minutes your use. If you plan to have only a few meetings a month, this is the best option for you.
Most conference call providers charge between 3 and 18 cents per minute. The call-in numbers they provide are usually toll-free, so there are no long distance charges.
Unlimited Monthly Plan:
Unlimited, reservation-less conference calling for a fixed monthly fee. If you have regular team meetings from remote locations, this is the right option for you.
Conference call providers have different unlimited packages to suit different user and participant requirements. We try to list similar plans to give you a basis for comparison.
Integration and Collaboration
The purpose of a conference call is to make collaboration easier. This is the age of 'real-time' interaction and collaboration. If you have a business VoIP phone system at your company, or at home, then it's also helpful if the web video conferencing solution can integrate with your business phone system.
Most conference call providers offer audio, video, and web conferencing. Select the plan based around how you and your company collaborate best or how you need to collaborate.
Face-to-face:
Video conferencing is your best bet. It is more expensive.
Training and lectures:
Probably web conferencing. Typically works well with one-way conferencing.
Split the difference:
Audio conferencing is good middle ground for collaborative meetings and one-way training. Can be the most economical conferencing option.
Ease of use
What use is technology if no one can use it? Conference call providers understand how important time is for businesses. Don't waste 30 minutes trying to start an Earnings Report conference – again.
Conference call providers should offer some of the following services to make your conference call easier:
Online Tutorial:
Conference call providers usually offer free, public-access tutorials on their website. So you can investigate how their service works before you try.
Moderator Controls:
The conference moderator can access an online control panel that lists participants. You can mute, expel, or invite people with a click.
Star Commands:
Conference call providers assign star commands (something like *69 with a traditional phone) for functions like muting, 'locking' the conference, or 'raising a hand '.
24/7 Support:
Exceptionally important. Pick a conference call provider that will always be there when you need them. You shouldn't have to postpone your meeting because of technical difficulties with the conference call provider's system.
Operator Assistance:
An operator will facilitate your meeting and make sure everything goes smoothly. The operator schedules the meeting, greets each attendee, handles the Q&A session, and makes your meeting generally worry-free. You may need to pay extra for this service.
Make your conference call more interactive with web conferencing.
Web conferencing is now offered by many conference call providers as an added option to make your meetings more productive.
Many conference call providers offer web conferencing as an option to enhance productivity.
With any conference call, you can conduct live meetings or live training session with several different offices.
With a web conference, you can enhance your meeting with a PowerPoint presentation, an Excel spreadsheet, or something else. You control the enhancements and you control the presentation.
Each participant in a web conference needs to have the following:
An Internet connection
A computer
A web browser (like Internet Explorer or Firefox)
An email address
The URL for the web conference's browser-based portal
The downloadable application (think Skype)
What Web Conferencing can do
Web conferencing can occur simultaneously with audio conferencing. Web conferencing allows for real-time collaboration, in addition to just talking, with the following applications:
Slideshow Presentations: All conference attendees can view the slide show while the presenter discusses and explains it.
Video streaming: The moderator or present can show or share a video or other media file from his computer to everyone else.
Webinars: Conduct a seminar over the web. A presenter conducts a workshop or seminar from his office. The seminar attendees can listen to and view the presentation from their own offices or homes. They can participate in polls and Q&A sessions, too.
File, screen, and application sharing: Attendees gain access to files and use applications shared by the moderator. Attendees can also see what the presenter is looking at and doing during his presentation.
Text chat: Even when attendees are 'muted', they can chat questions for the moderator or comments and questions to other participants.
White board: A virtual (or real) white board allows for public comments, quick diagrams, and instant explanations.
Benefits of Web Conferencing
Web conferencing offers users many benefits, which include the following:
Save on travel costs: Attendees can listen, view, and participate in the meeting without actually being physically present. No need to fly in, fly out, book hotels, or worry about expense accounts.
Save on time: Get several team members together to work on a project no matter where they are.
Spread information: Virtual meetings and classrooms mean that you can educate more people about your product or service.
Web Conferencing and Hosted Audio Services
Many audio conferencing providers offer web conferencing services. Web conferencing can be a much cheaper option for small businesses than purchasing proprietary web conference software or getting a dedicated web conference provider.
With a conference call provider, you'll enjoy the best of audio conferencing as well as web conferencing. These providers also offer assistance, technical support, and tutorials to make your meetings go smoothly. Most conference call providers offer unlimited packages that integrate audio conferencing with web and video conferencing.
Enhance your conference calls with visual interaction and video conferencing.
Currently, video conferencing uses one of two types of technology: video cameras or web cams.
Most people have participated in a video conference, via online chat platforms such as Skype. Usually, these video conferences are more personal than business related.
For businesses, video conferencing is used alongside audio conferencing to add images, visuals, and human expressions to the businesses meeting. With video conferencing, you can watch the person who you are speaking to – and they can watch you! More advances video conferencing programs let you to see multiple people at the same time (just like Hollywood Squares!).
Advantages of Using Video Conferencing
Savings
Personal contact
Demonstration-ready
Seminars
Savings: Team members don't even have to leave their offices to attend meetings. Save travel time, travel costs, and keep the face-to-face contact.
Personal Contact: Do we need to elaborate? Put a face to the voice. Because you can see your colleagues, your relationship and collaboration with them will be better.
Demonstration-ready: Video conferencing works best when you have something to show. Try a live presentation or show how your products work.
Seminars: Hold an enhanced conference call – where the users can actually see you. Professors can teach from across the pond; multiple offices can meet. Teach your colleagues in the US and Japan, at the same.
With a video conference call, there's not much limit to what you can do.
Disadvantages of Using Video Conferencing
There are also some disadvantages to using video conference calls.
Setup time: Designing and setting up a video conference may take time and specialized personnel. It depends on how big the requirements are. Company-wide video-conferencing systems for big companies may take a long time to set up. Small businesses have little use for expensive video conferencing equipment may find it easy and quick to set up a video conference with a web cam.
Equipment required: Video conferencing requires a camera, such as a video camera or web cam, and an audio input and output, such as a headset, phone, or microphone and speakers.
Eye contact: Eye contact is always important when speaking to an audience to express sincerity and establish connection. Video conferencing can make eye contact more difficult to establish – because you have to balance your time between looking at the screen (to see what you're doing and make sure you don't have something embarrassing in your teeth) and looking at the camera (to make eye contact).
Looking appropriate: One of the main advantages of conference calling is that you can attend a meeting in your pajamas or board shorts. During a video conference, you may have to dress up to look a little more presentable.
Using a Hosted Conference Calling Service
To get video conference call capabilities without spending a lot of time and money, the best option is to outsource it to a dedicated conferencing provider. With a hosted video conferencing service, you pay for only what you use. We advise a dedicated video conference calling company, for the following reasons.
Lower Cost: You don't have to purchase video conferencing bridges or software. It comes with the fee you pay your provider. All you'll need will be web cams and an a headset or telephone. You can video conference for only a few cents per minute for a pay-as-you-go plan or get unlimited service for a fixed monthly rate.
Technical Support: You don't need to hire experts or specialized personnel to set up your video conference call. The dedicated conference call providers offer technical support and tutorials to ensure that your session goes smoothly.
Integration of Services: Most providers support audio, video, and web conferencing. All three can be integrated to provide you with real time collaboration tools that increase productivity for your company. Imagine having high quality calls, plus live video feeds, plus the capability to share files and work on documents together. You can, with a conference call.
Conference Calling Providers
We have listed several conference call providers below with different packages and plans to suit your needs. Don't forget to check out their video conferencing features and take your business communications to the next level.
FIND OUT HOW MUCH YOU CAN SAVE TODAY ON BUSINESS VOIP
Compare top Business VoIP providers in the table below
PROVIDERPLAN FEATURESRATE/MIN.TRIAL PERIODSETUP FEESMONTHLY FEESDETAILS
OnSIPOnSIP
CLOUD VOIP TAILORED TO YOU
Free Polycom phones + 30 day trial
Unlimited calling with easy setup
US-based customer support
5 user minimum
$0.00
30 days
Free
$ 18.95 /mo. *
4.7
53 reviews
GET QUOTE!
RingCentralRingCentral
RATED #1 BY INDUSTRY EXPERTS
Includes 100+ Premium Features
Unlimited Calling, Faxing, SMS, Conferencing
Trusted by over 350,000 Businesses
30 Day Trial with same day activation
$0.00
30 day trial available to new subscribers with 2+ users.
Free
$ 19.99 /mo. *
4.1
142 reviews
GET QUOTE!
Ooma OfficeOoma Office
THE #1 VOIP SOLUTION FOR REMOTE TEAMS.
Work from anywhere with mobile & desktop apps
Stay connected with video meetings
Manage users easily with intuitive admin portal
plus taxes and fees
$0.00
–
Free
$ 19.95 /mo. *
4.9
46 reviews
GET QUOTE!
GoToConnect (formerly Jive)GoToConnect (formerly Jive)
UPGRADE YOUR PHONE SERVICE WITH GOTOCONNECT
Very simple to use for admins and users
Get your first month free
No fees for upgrades, features or add-ons
Price is per month per device.
$0.00
30 days
Free
$ 19.95 /mo. *
4.65
278 reviews
GET QUOTE!
*Rates shown do not include E-911 charges, taxes, and surcharges. Most providers offering unlimited calling have restrictions and some rates shown are promotional rates based on term contracts or promotional periods. Be sure to read individual providers terms and conditions before you buy. Rates and features displayed for each provider have been sourced from provider's site and other online sources. While we strive to display current information, be sure to check directly with each provider as their plans, pricing, and features are subject to change.
← previous12next →
VoIP headset
Benefits of Conference Calling
Conference Calling can offer your business big perks
Some of the benefits of conference calling include:
Easily meet with all your clients and colleagues around the world.
Easy webinars and webcasts to train remote workers and give remote presentations.
Advanced features to facilitate audience participation.
Multiple levels of contact: web, audio, and HD video.
Dedicated conference calling specialists and dedicated local conference sites.
calling via a computer
Getting an Audio Conferencing Provider
Conducting an audio conference requires a conference bridge. This can cost thousands of dollars, plus more for maintenance, if your company chooses to purchase one. That's a big "if."
A more cost-effective way to audio conference (while keeping your arms and legs) is to outsource the conference call to a conference call provider.
Conference call providers charge in two basic ways:
Pay-As-You-Go: A pay-as-you-go plan lets you pay only for what you use, usually per minute. For just about 3 to 10 cents per minute. This is best for small businesses and those who do audio conferences for only a few hours a month.
Unlimited Monthly Plan: An unlimited monthly plan charges a fixed rate every month for unlimited reservation-less conference calling. This gives businesses that do a lot of conference calls the best value.
calling with a headset
Useful Features for Business Conference Calls
Conference call providers offer users various features that are relevant for businesses. Features vary among providers but here are some of the most common features offered:
Recording: The conference call session can be manually or automatically recorded. The file can be downloaded or accessed by phone later on.
Moderator Controls: The conference leader or moderator can invite, mute, or remove any one they need to.
Pre-conference Meeting Room: Discuss the meeting agenda with your team before you begin the meeting.
Lecture Mode: Only one person speaks while all others are on mute.
Question and Answer: Participants can "raise their hands" when they have questions. The moderator can choose which participant to address first.
Operator Assistance: An operator facilitates your meeting: she schedules it, greets everyone, and handles the question and answer section.​
call conferencing
Why do people conference call? And why do they want to do it for free?
Although there are free options, a paid conference calling solution has more business benefits.
Conference calls encourage collaboration and save on travel expenses – which is why many businesses around the world use them frequently. Most businesses choose to outsource conference call service to a dedicated conference call provider. It's much cheaper than maintaining a conference call bridge, which can cost more than $1,000 a month to operate.
Even outsourced conference calls can be expensive, even with the right dedicated service provider or a low per minute rate. That's why free conference calls are so attractive.
Free vs. Paid Conference Calls
Free conference calls are free – they do not charge a per minute or per month rate for conference calls. Dedicated conference call providers do charge an up-front fee for their conference calls.
Here's the skinny:
A paid conference call service can save you 50% or more when compared to a free conference call.
Wait, what?
Here's how it works, from the paid conference call end.
Paid Conference Calls
Paid conference call providers charge for the use of their conference bridge and the helpful value-added features that they provide: transcription services, operators, regular billing cycles.
They provide toll-free numbers for your conference employees to call – if someone calls long distance to reach your conference, it doesn't matter. As the host, you will pay one flat rate, per minute.
If you have a flat rate fee, you'll pay a certain amount at the end of the month. With some providers, you can pay for a certain number of minutes for the month. It's a little like loading a pre-paid calling card or cell phone.
You're paying the conference call company money, sure. But at least you know what you're playing at.
best free online meeting platforms
As crucial as video conferencing is, not every company has enough room in their budget to invest in it at this very moment. That's where free video conferencing platforms and plans come in.
They're a great "bridge" option that lets businesses communicate remotely, and we say "bridge" because even though most of these options are quite robust, you'll often find that the very best features and unlimited-everything plans are available only on the paid tiers.
In just a bit, I'll cover how video conferencing works, what to look for, mistakes to avoid when you're shopping, and 12 great free providers that will give you the best free video conferencing experience. Skip ahead if you like
What is video conferencing?
Must-have features in a free video conferencing platform
The biggest mistakes people make when choosing a free video conferencing platform
The top 8 free video conferencing platforms, ranked
How to know if your business needs a paid video conferencing solution: 3 signs
What is video conferencing?
Basically, a video conference is a way to connect with your teammates and clients face to face, over the Internet:
video meetings with dialpad app
Because video conferencing helps people talk to each other regardless of their physical locations, it's probably one of the most popular types of software today for companies that want their employees to be able to work from anywhere.
How video conferencing works—and what changes when you're using a free platform
To set up video calls or conferences, typically all you need to do is open your conferencing app of choice, choose the person or people you want to call, and hit some kind of "start video call" button. The video conferencing software then connects you and the people you've chosen via the Internet.
You'll then be able to see them and talk to them in real time, just as if you were having a face-to-face conversation.
The thing that sets a free version or a free trial apart from other video conferencing plans is of course that you can save money—as long as you're using a good solution. As you can imagine, with free plans, there's a huge range in terms of quality, and for businesses that have big growth plans, sometimes a paid plan might end up giving you better ROI. (More on that in a bit.)
Must-have features in a free video conferencing platform
As I mentioned earlier, there's a lot of variety among video conferencing services. Because of this, it really helps to know which key functionalities you need and what's realistic for a free video conferencing solution.
Easy-to-set-up accounts
Beyond just having a free plan, a good video conferencing software should be easy to set up. It shouldn't matter what the price is—even a free video conferencing platform should let you sign up in a few minutes. Often, all you need to do is enter your email address. For example, here's how it looks in Dialpad Meetings:
dialpad meetings signup page
As you can see, you just fill out a few fields to sign up—and there's also an option to sign up with your Google or Microsoft 365 account, which makes things even faster.
User-friendly interfaces
A user-friendly interface is easier to use, and just makes our remote conferences and video meetings.
Again, this is one of those things that you'd expect any web conferencing platform to have, whether it's free or not. With Dialpad Meetings, for example, you've got all your essentials, like muting/unmuting, volume, hanging up, and more, right on the screen:
menu options in dialpad meetings
In-app and browser accessibility
This is an important one that you don't always get, so make sure your free conferencing software works across desktop apps, mobile apps, and web browsers. Why is it important? Well, if you communicate regularly with clients or prospects, you've probably noticed that not everyone wants to download the app just to have a video meeting with you!
A good platform should let your clients make calls from a browser without having to download anything. The cool thing about Dialpad is it's browser-based, meaning you get full functionality in the web browser—you can host and join from there:
browser based meetings in dialpad
HD audio and video
High-quality sound and HD video really bridge the gap between co-workers based in different locations, letting them connect and collaborate more effectively. Some solutions, like Dialpad, even have built-in background noise reduction—because hey, not everyone can always find a 100% silent space to work in.
In other words, this element is crucial to keeping teams together even when they're apart. That's what makes it an indispensable feature of any free video conferencing platform.
Screen sharing and recording
Being able to record calls is another useful feature that many companies (and individual employees) can't do without. It helps with training new employees, learning about specific cases, providing evidence or proof, and keeping records.
Likewise, screen sharing is essential to many people, particularly ones that regularly present in online meetings. It helps your group meetings stay on topic, as well as making it easier to explain things to others who couldn't otherwise see your screen:
screen sharing in dialpad app
Integrations with tools you're already using
Having the integrations you need makes it easier to get your team to adopt new tools, since they don't have to completely change their daily workflows. They can just continue using the apps they were already using!
This is important for both large enterprises, which are likely already using a huge number of different providers and tools—and also small businesses, which may not have the resources to constantly re-train employees.
Cost-efficient pricing
Most video conferencing software providers will offer a free version, and then a few pricing brackets to choose from in terms of paid plans.
Even if you're only planning to use the free software, it might be a good idea to plan ahead and check whether those plans seem cost-efficient. Do they include lots of functionalities in a bundle, or do you have to pay for every little function separately?
Knowing this ahead of time helps a lot in the event that you do need to opt for a paid plan in the future.
The biggest mistakes people make when choosing a free video conferencing platform
As you've probably gathered by now, not all free video conferencing platforms are equal. Here are the common pitfalls to avoid.
Using platforms that slack on security and privacy
Online safety is no joke. In fact, cybercrime is serious and dangerous enough that it's done billions of dollars' worth of damage throughout the world so far.
As a basic requirement, you should be able to password-protect your video meetings and conference calls, mute participants, and admit attendees from a virtual waiting room:
virtual waiting room feature in dialpad
👉Dialpad tip: A great way to guarantee that a given conferencing platform is secure enough is to check that it's GDPR and SOC2 compliant. (Like Dialpad!)
Not checking for device compatibility
This is a big one that's commonly overlooked. Does your team use mostly Macs or PCs? iOS or Android? In most cases, it shouldn't matter—a good video conferencing software should give you the collaboration tools you need across all of these devices.
Better yet, they should work in web browsers like Chrome and be compatible with conference rooms or huddle rooms too.
Not checking the fine print for conferencing time limits
The number of meetings you host should be dictated by how many meetings you want to host, not by the time limits your provider places. With free video call plans, it's pretty much a given that there will be some sort of cap on your meeting lengths or participant limits (they're free, after all)—just be aware of what the limits are and what that means for your teams.
Assuming it comes with customer support
This is another tricky one. Many free video conferencing platforms don't come with customer support! If you're lucky, there will be an online knowledge base where you can search for answers, but it's uncommon for free providers to have customer support.
(Fun fact: Dialpad Meetings' free plan comes with web and chat support, 8am to 5pm EST Monday to Friday.)
The 8 best free video conferencing platforms, ranked
Dialpad
video meetings in dialpad app
Dialpad is a leading cloud-based UCaaS solution that covers all of your business communication needs—it's basically like your virtual workspace.
Video meetings, VoIP phone calls, instant + SMS/MMS messaging—Dialpad does it all, letting you connect to anyone, anywhere, anytime, over an Internet connection.
Dialpad makes it easy to join conferences, whether your attendees are Dialpad users or not. You can invite people by sharing a dial-in number, emailing them an invite (since Dialpad has integrations with both Microsoft Outlook and Google Calendar), and even by sending them an SMS with a link:
sending an sms meeting invite with dialpad
Features that come free with Dialpad
Unlike most free video conferencing platforms, Dialpad is a true UCaaS (Unified Communications as a Service) platform. That means you can access all your communications channels from one convenient app.
There's unlimited cloud storage for meeting recordings, and a whole range of integrations. One of our customers' favorites is the Miro integration, which lets you digitally whiteboard and brainstorm with teammates like everyone's in the same room:
dialpad + miro integration
Here's just a short list of what you get:
Desktop + mobile app that works across mobile devices, computers, you name it
In-meeting messaging (with emoji reactions)
A fully integrated cloud phone system starting at $15 per month (giving you unlimited calls and texting in the US and Canada!) if you want to make phone calls
Cost
Free, and it comes with unlimited video meetings! There is a paid plan that's $15 per user per month, which you can upgrade to if you like the free plan.
If you'd like calling and SMS/MMS messaging too, Dialpad's Talk plans start at $15 per user per month and come with everything you'd need in a business phone system.
Dialpad Standard offers a lot of useful features, including unlimited calling and SMS messaging, as well as voicemail transcription and call controls.
Zoom
Zoom is of course, a popular free video conferencing platform. There's not much to be said that's not already known about Zoom—it became very popular with mainstream consumers during the pandemic, and because of that, it's experienced its fair share of security issues. (Google, NASA, and other organizations have banned it.)
Features that come free with Zoom
Zoom Free lets you host meetings for up to 100 people, provided those meetings don't last more than 40 minutes. The free plan does not come with customer support—it's a help center-only situation.1
Cost
For Zoom Pro, you're looking at a cost of $14.99 per month per license. That increases to $19.99 if you're after Zoom Business or Zoom Enterprise.
👉 Fun fact: Join.me used to have a free plan, but it got absorbed by GoToMeeting and got rid of it.
Cisco Webex
Another video conferencing platform that's been around for a while, Cisco Webex has a solid free plan, along with a separate webinars product. The only thing that's a bit of an inconvenience is you have to download their application to use it, which is a bit of an ordeal in itself—no browser-based meetings, unfortunately.
Features that come free with Cisco Webex
With Cisco Webex Free, you can send messages, share files, create teams, call people, and record meetings (though you don't get cloud storage on the free plan).
Cost
Webex's basic plan costs $15 per month per host, with the more expensive plans costing up to $25 each month.2
Whereby
This one is a bit of an up-and-coming video conferencing platform that mainly serves small teams at the moment—but Whereby beats out some of the other options because it does have an interesting platform and is pretty aesthetic.
Features that come free with Whereby
Whereby lets you host group meetings for up to 45 minutes, as well as unlimited one-on-one meetings.
Cost
Whereby Pro costs $6.99 per month, and Whereby Business costs $9.99 monthly.3
Google Meet
Google Meet is the conferencing solution that used to be known as Google Hangouts—you've probably heard of it!
Features that come free with Google Meet
Google Meet's free version lets Google account holders host group video calls for up to 100 people with a Google account. Video meetings are free up to the 60 minute mark, after which you'll either have to end the meeting or start paying.
To record meetings, generate international dial-in numbers, or get customer support, you need to pay for a plan.4
Cost
Google Workspace Individual costs $7.99 per month per user. You'll need to contact the company directly to get a quote for Google Workspace Enterprise.
Microsoft Teams
Who doesn't know Microsoft? This platform gives you some cloud storage as well as letting you place video calls. Like many of the other tools on this list, it's priced on an annual subscription basis, but can be used for free with more limited features.
Features that come free with Microsoft Teams
Microsoft Teams' free model lets you host meetings for 60 minutes, with up to 100 participants. It gives you access to 5GB of cloud storage per user. It also comes with file sharing capabilities—but you don't get meeting recordings or customer support on the free plan.5
Cost
The cheapest price bracket costs $4 per month per user, with Business Basic costing $5 and Business Standard running at $12.50.
Skype
Skype, which is now owned by Microsoft, focuses on connecting people all over the world through video calls. The interesting thing about Skype is that even though it was designed for consumer use, some businesses do still use it!
Features that come free with Skype
Free Skype users can video call up to 100 other users, with no time limit. They can also send messages in private or group chats.
Cost
Skype North America costs $8.39 monthly, and lets you place unlimited calls to mobiles and landlines.
AnyMeeting
Unlike most of the other options on this list, AnyMeeting probably isn't quite as well-known. It's owned by Intermedia, which markets it as providing "super simple conference calls."
Features that come free with AnyMeeting
AnyMeeting's free version is available as a desktop and mobile app, meaning you can use it from anywhere. It offers screen sharing options and meeting transcription.
Cost
AnyMeeting Lite costs $9.99 per month, while AnyMeeting Pro is $12.99. The Enterprise version costs $17.99.6
How to know if your business needs a paid video conferencing solution: 3 signs
You need to host conferences with more people
Video chats are a great way to connect hundreds of people all over the world—provided your platform lets you host meetings for that many. Paid plans generally increase the maximum number of participants per meeting.
Your conference participants experience video calls dropping
Dropped calls interrupt meetings and make them harder to follow. To avoid calls dropping, consider switching to a paid plan with guaranteed uptime.
Your workforce is hybrid or fully remote
Remote and hybrid working are becoming more common, with many employees (and employers!) saying they want to continue using this model. If you know that your team will be working remotely for the long haul, it might make sense to invest in a good video calling platform that fully gives you what you need to stay in touch with customers and teammates.
Ready to choose a free video conferencing platform that suits your business needs?
Every video conferencing platform offers its own advantages, and is aimed at different businesses. However, when it's time to choose the one that best suits your business needs, we strongly recommend you start by considering Dialpad.
Our software helps all kinds of businesses, from the smallest startups to the largest enterprises.
The flexible pricing options ensure Dialpad can fit the needs of all businesses. That means you get to supercharge your contact center and implement a company-wide UCaaS solution for an affordable price, all while boosting productivity across the board.
Conclusion
Let us know your thoughts in the comment section below.
Check out other publications to gain access to more digital resources if you are just starting out with Flux Resource.
Also contact us today to optimize your business(s)/Brand(s) for Search Engines