Blog Intro
Online learning content creation tools can help you create engaging, interactive content for your students.
Have you ever found yourself struggling to create educational content for your online courses? It can be difficult to come up with ideas for new lessons and activities, especially if you're not a teacher by trade. However, this doesn't have to be the case! There are many tools available that can help make the process of creating educational content easier. In this article, we'll cover some of the best online learning content creation tools on the market today so that you can start using them in your classes right away.
Online Learning Content Creation Tools
Deciding on an eLearning authoring tool is tricky business unless you know exactly what you want. And there are lots of tools to pick and choose from. Here's a list of some of the most popular tools out there today:
1. Articulate Storyline 360
A well-known name in the world of authoring, Storyline is clean, modern, and has plenty of powerful features. For example, it allows you to storyboard your courses and then dictates the path that your learner takes. And although it can take a little bit of time to get to grips with Storyline, it's balanced by the quality of the results.
The platform has two pricing options for you to choose from: a Storyline 360 subscription or a one-off purchase of Storyline 3. The website has a helpful comparison chart that details what comes with each option. The subscription is probably the better choice as it gives you access to a host of other apps to use and the benefit of regular updates, but either option is worth a try.
2. Articulate Rise 360
The sibling to Storyline, Rise 360 is another top-quality authoring tool from Articulate. With a prime focus on mobile-responsive content, it's a smart choice for those who want courses that are compatible with every device. Again, like Storyline, it has a clean, modern interface that delivers visually pleasing results.
3. Adobe Captivate
Captivate is one of the most feature-rich tools, especially when you take into account its interoperability with other Adobe tools.
We like that you can storyboard your courses and utilize advanced transitions and triggers – the result of which is engaging content for any scenario or subject. The PowerPoint integration is a must-use feature for anyone with content in this format, as it fast tracks your course creation process.
4. Elucidat
Elucidat is a cloud-based authoring tool that focuses on making it easy to produce awesome eLearning, super fast. But, that doesn't mean that it's light on features. It's a user-friendly option that is made for big employers. Authors can start from pre-built blueprints – or build out courses from scratch using the intuitive "what you see is what you get interface". Flexible user permissions let L&D collaborate better with SMEs, while maintaining central control.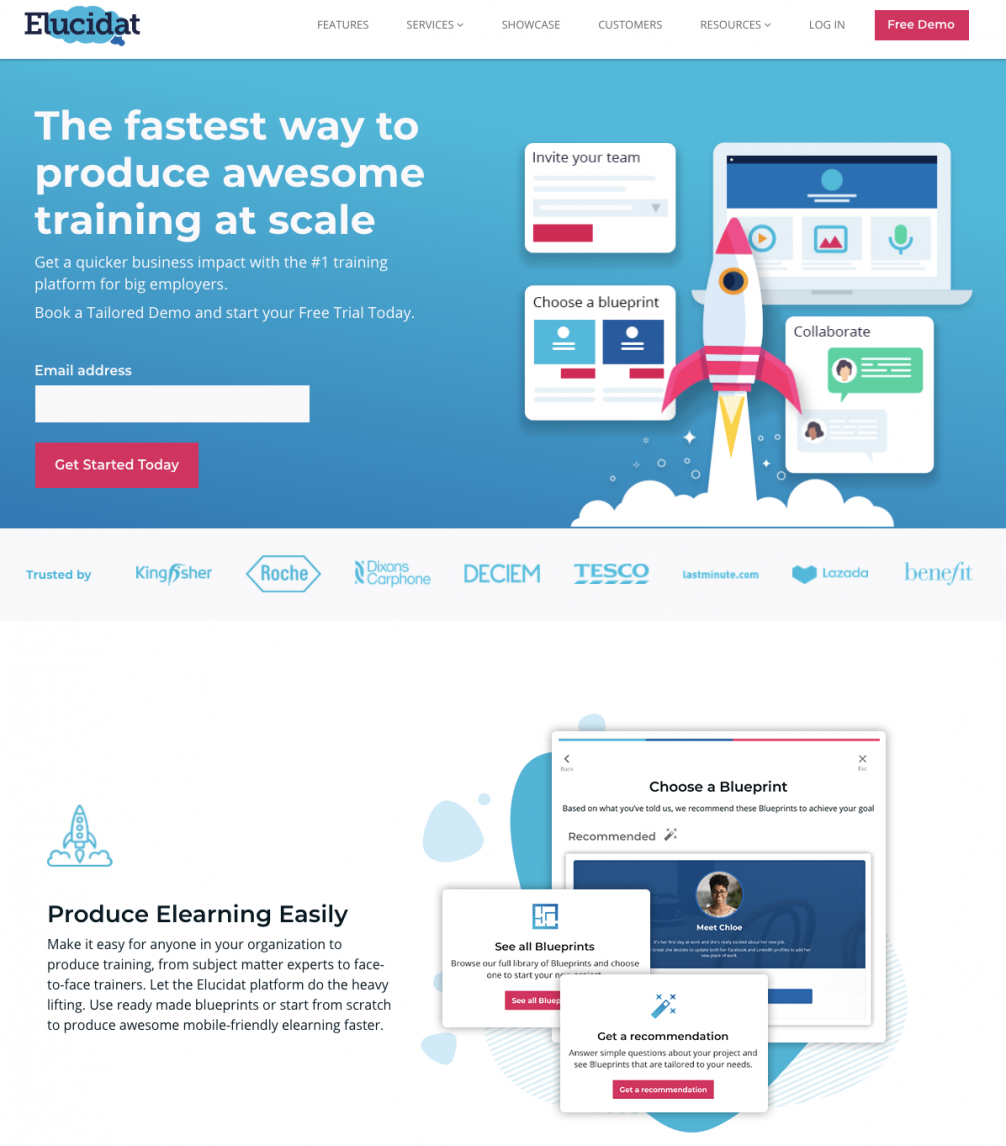 Content is responsive to all screen sizes, so it's ideal for mobile learning. And tools to manage variations and updates makes keeping pace with change a piece of cake.
Elucidat has an in-depth review of tools on their site. Check out their best eLearning authoring tools blog post.
5. iSpring
iSpring's big draw is that it takes PowerPoint content and converts it to eLearning courses. So, it's super simple for those new to SCORM to understand and execute the process. As well as slides, you can incorporate video capture, interactions, and assessments to build engaging content.
The data generated is then fed into the reporting suite of your LMS. One thing to note for Mac users is there's no dedicated version for your machine unless you install Windows on your Mac.
6. Camtasia
First and foremost a video capture tool, Camtasia content can be exported as SCORM packages. It's an excellent option if you want to jazz up PowerPoint presentations as you can effortlessly record narration and even your face simultaneously.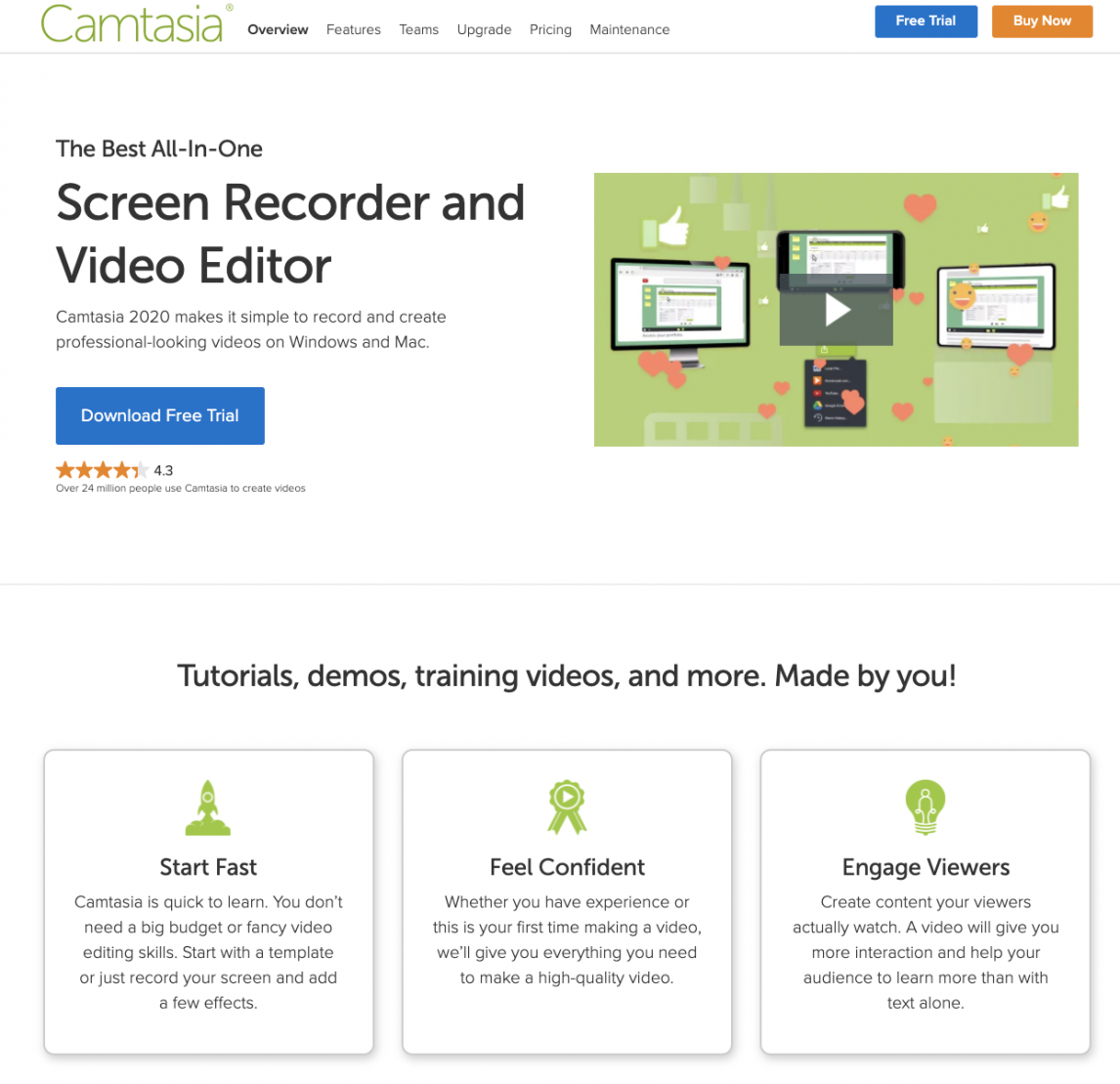 It may be a lighter option than the others listed, but it benefits you by being highly accessible and affordable. Just be sure to test the reporting output on offer so you know it meets the requirements of your organization.
7. Composica
Another authoring tool with a strong focus on smooth collaboration, Composica enables you to work with your colleagues straightforwardly.
You can add different users, assign tasks, and always have the most up-to-date version of your content at hand. It also has competitive pricing so it's a relatively affordable option for your business.
8. knowbly
If you're looking for a simple, yet powerful authoring tool, knowbly is one to check out. It's got all the features an eLearning newbie needs like drag and drop content creation, quick customizability, mobile-responsive, and more.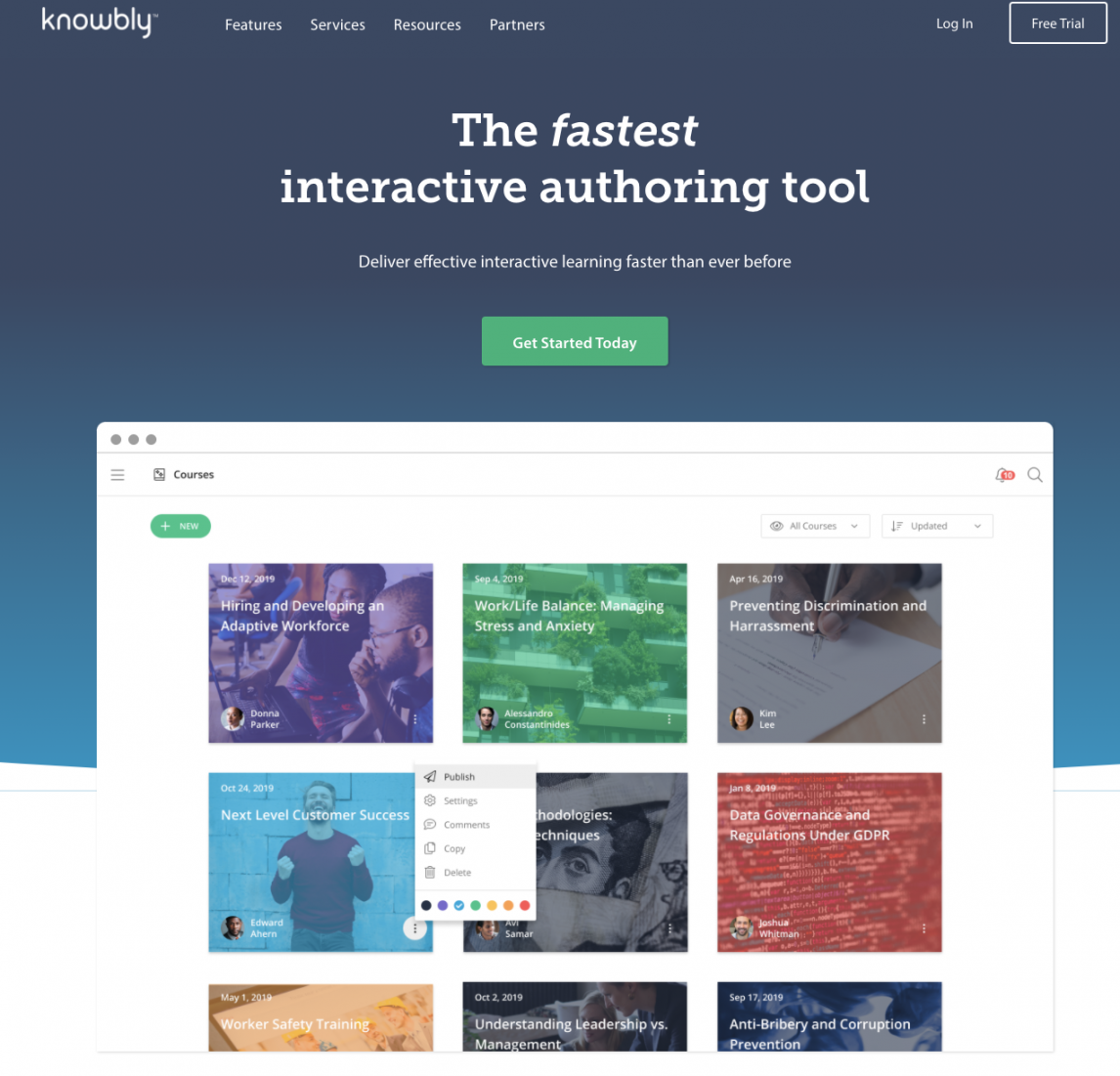 The platform also enables you to easily organize all of your content within one system so you'll never lose track of any of your assets.
9. Lectora Online
Both a cloud and a Windows-based solution, Lectora is an eLearning authoring tool that works well for SCORM content. A neat feature is that it integrates with Camtasia and Snagit. This means that making screen recordings, image editing, voiceovers, and more is that little bit simpler.
10. gomo
Self-described as "mobile-first", gomo is another simple to use authoring tool. It's a recommended solution for beginners wanting to optimize their content to be mobile-responsive, as it has a drag and drop interface. Another bonus for beginners is that it has media assets on offer that are visually attractive and can help you make your content more engaging.
11. Easygenerator
Described as "all-in-one eLearning software", Easygenerator has lots of impressive features to help you make engaging content.
It's another top option for newbies as no coding is needed. And, it's super user-friendly, so you can handily create your content. It's also an LMS authoring tool that's compatible with most solutions, meaning you shouldn't have any issues using this with your preferred platform.
12. DominKnow ONE
DominKnow ONE is a diverse authoring tool that can help you make lots of different types of content. As you'd expect, it works well at making mobile responsive content and is very convenient for teams to use while working together.
Content is also simple to publish and distribute, and with everything in one place, it's effortless to keep track of all of your course content.
open source elearning authoring tools
1. EdApp
EdApp is a completely free training platform that large and small teams all over the globe can use. It offers a cloud-based course authoring tool that enables you to design beautiful, engaging, and effective microlearning courses. Thanks to its template-driven authoring approach, you don't start with a blank page: they already know what a good microlesson looks like. All you need to do is choose the responsive template that suits your learning objective and add your content. Creating and updating agile eLearning courses takes minutes and hours, not weeks and months. It's a simple and effective tool to use regardless of how much experience you have.
Beyond an expansive template library, EdApp includes a completely free, editable content library that's full of ready-made courses, contributed by thought leaders from around the world. This high-quality content is there for you to access, edit, customize, and deploy to your teams with ease. What's great is the content library is always growing, meaning every week you will see new courseware ranging in topics from health and safety procedures to sustainability and everything in between.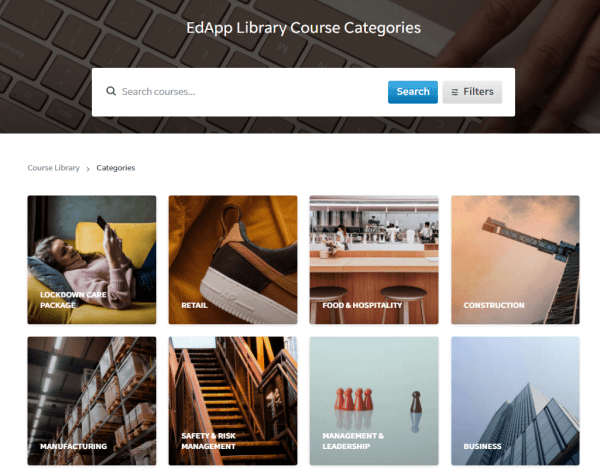 Some of their impressive clients include the United Nations, Shell, Mars, and Pandora, to name a few. A collection of EdApp's clients have also shared their experience with the platform, to give insight into how they successfully train their teams with the innovative and intuitive Learning Management System (LMS).
Sign Up for Free and create microlearning courses with EdApp's authoring tool
2. CourseLab
CourseLab version 2.4 is another free authoring software for building eLearning courses that can be published to the web or an LMS. You can make slide-based courses with images, videos, complex multi-object interactions, and quizzes. Unlike EdApp, it doesn't have a library of ready-made courseware available. CourseLab does come with a set of eLearning templates, though learning how to use and customize them may require quite a lot of time. The downside of this authoring tool is that the interface isn't as intuitive as others and may even feel a little outdated. This means it can feel quite complicated to those who are just beginning to work with authoring tools for eLearning. This tool is better suited to more experienced developers who have an idea of how LMS authoring tools work and are more comfortable navigating the platform.
3. IsEazy
This cloud-based tool is useful for creating eLearning courses and has a simple and friendly interface that is easy for everyone to use, regardless of experience level. What makes this platform stand apart is the ability to create slide-based courses using modern design templates. There's an option to add voiceovers, videos, links, and cards. Courses consist of chapters, but sequential navigation is available only in a PRO plan. After a course, learners can be provided with a final quiz.
4. Moovly
This online tool is great for creating training or marketing videos to be shared with customers, students, or employees. You can either elect to create a clip from scratch or pull from a template for inspiration. Moovly also allows users to upload their own media, such as videos, pictures, text, and sounds. The built-in stock libraries of photos and videos can be combined with doodles, infographics, animations, and transitions. There's also a mobile app to view videos and upload media from a mobile device.
5. AdaptiveU
This authoring tool allows you to create simple lessons and combine them into courses. The free plan allows you to create up to 10 challenges and invite 10 active users to take them. Your courses are limited to 1 GB of storage space. The start page can be customized to be more personalized to your training, and courses are created using a simple, easy-to-use editing tool that contains all sorts of media components, such as files, documents and pop quizzes. You can do all this, while also viewing reports and tracking data, but it lacks an editable content library meaning more time is needed to create your content.
6. Crowd Wisdom
Crowd Wisdom LMS is designed specifically for large-scale professional education and partner and customer training. They allow users to personalize, manage and track education in one hub, and to better engage learners through personalized learning tracks. It's designed specifically for growing and mature learning programs. Unfortunately, Crowd Wisdom only offers a free trial and it's been reported on platforms like G2 that the platform is too expensive and provides little to no support after regular changes are made to the LMS.
7. Adapt
Courses built with Adapt provide a webpage-like experience – they scroll vertically, not flipped like slides. This open-source tool is designed for rapid content development. It stands distinctly apart from other content developing tools that have evolved from a 'PowerPoint' format design and is suited only to those who want to create long read courses with 'linear navigation.' It also lacks a free, editable content library and has limited built-in features to help support better learning outcomes.
8. GLOMaker 3.0
This free open-source tool enables you to create structured learning materials, by dividing the process of authoring into two parts: planning and designing. The planner tool offers instructional design guidance for using and setting up each block, and this is where the storyline learning design is created. The designer part is where slides are developed. There are a variety of templates that can be customized according to your training needs. GLOMaker provides a great number of options, including quizzes with feedback, slide-show viewer, photo display with zoom facility, video and audio players, and more. However, this tool is complicated to use, and novice course builders may have a hard time navigating the platform.
9. H5P
H5P is an open-source online course software that allows you to create HTML5 eLearning content and publish it on popular platforms like WordPress, Moodle, or Drupal. It is modular, and there are a lot of content types and applications available for use with no technical skills needed. These include videos, HTML5 presentations, branching scenarios, quizzes, flashcards, and more. However, the tool is quite limited as far as creating complex and customized eLearning projects.
10. Coassemble
Coassemble is an eLearning creator software designed to provide a user-friendly course creator that makes the creation of interactive learning materials easier for managers and effective for your personnel. This training software allows you to transform your old presentations as well as PDFs and documents into engaging online courses with its available screen templates that support various media forms and provide interactive elements. You can assess your personnel's knowledge retention through pop quizzes or activity-based challenges. A certificate is also given to your employees upon course completion. 
Conclusion
Let us know your thoughts in the comment section below.
Check out other publications to gain access to more digital resources if you are just starting out with Flux Resource.
Also contact us today to optimize your business(s)/Brand(s) for Search Engines