The world of SEO is constantly changing, and it can be hard to keep up with all the new tools and techniques. That's why we've created this list of the best onpage SEO tools for 2019.
Onpage SEO is the practice of optimizing your website for search engines via specific keyword choices, meta descriptions, and more. This guide will help you choose the right onpage SEO tools for your business in 2019.
Onpage Seo Tools
Some elements of your on-page SEO are more important than others. Arguably the most important part is the actual keywords that you choose to target, if they are too competitive then you'll never rank no matter how well you optimize your page.
Performing thorough keyword research is crucial, this will help you to identify the phrases with the most search volume and also the correct level of difficulty for your website to target.
Once you've picked out the keywords that you're going to target, your on-page SEO should be centered around optimizing your page for those keywords and semantic alternatives. Critically, you'll need to care for your title tag, header tags, image alts and optimization in the content itself.
1. SEOCrawler
SEOCrawler is one of the industries leading on-page tools and is trusted by over 5,000 businesses to help them optimize for their chosen keywords.
Their Site Auditor tool allows you to analyze your page with just a single click, showing you the page speed, duplicate tags, duplicate content, keyword optimization and broken links. Work that would have taken you hours of manual work now only takes a few seconds.
That's the true value of a tool like SEOCrawler – you can automate a process that would have otherwise taken hours of manual work. You save yourself time, and therefore you save yourself money each month.
The Site Auditor will essentially give you a checklist of improvements that you can make to each page on your website; it's like having your in-house SEO consultant. Once you do make those changes, you can track the results in their Rank Tracker, to see how the rankings for your main keywords change over the coming days and weeks.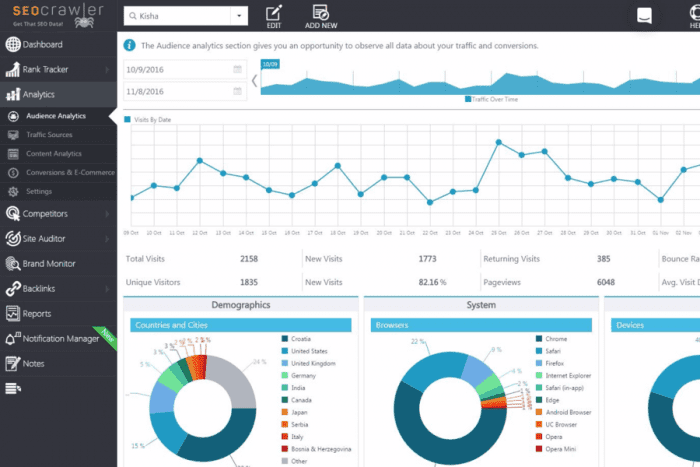 2. Ahrefs' Keyword Explorer
I've already explained why keywords are critical to any SEO campaign, they give you a target to aim for, and they allow you to optimize your on-page SEO for that goal. But keyword research can be incredibly frustrating, especially if you only have the Google AdWords tool.
That's why tools like Ahrefs' Keyword Explorer have come to the market. It allows you to find new keywords for you to target, it shows you all of the backlink data for the ranking pages, and it even gives you a single score so you can easily compare keywords.
But the magic of the Ahrefs' KW tool is in the way that you can find new keywords. Most KW tools work by requiring you first to submit a list of seed keywords which the tool will use to find similar phrases that you could rank for.
However, Ahrefs' has this and much more. Most importantly, they allow you to find keywords that your competitors or other websites rank for. So, you can input a domain rather than a seed keyword and see a report of different keywords that they rank for.
This is ideal if your website or business covers a range of topics or services. They also have another great option which is to see similar keywords that existing pages rank for. With this, you submit a single seed keyword and can see other keywords that the ranking pages also rank for.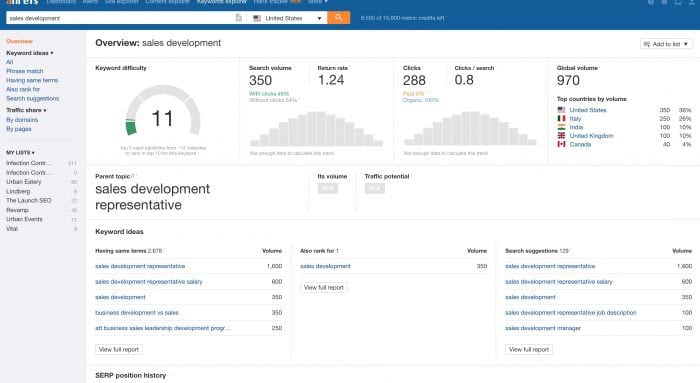 3. Copyscape
If you're ordering content from a writer or a content creation company, then it's critical that you use a tool like Copyscape to check if that content is unique. Nowadays you can't get away with publishing duplicate content; Google cracked down on that game a long time ago.
Instead, you need to ensure that your writers are creating truly unique content that hasn't been copied from another source. Copyscape allows you to copy and paste your content into their system and it will check it against all of their records to see if it's unique.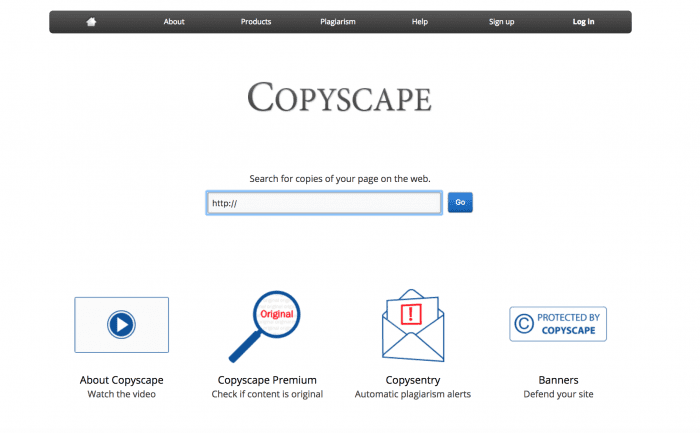 4. Screaming Frog SEO Spider
Screaming Frog is one of the oldest and most important SEO tools that our industry has ever seen. This innovative little tool is a crawler that will through all of your URL's and fetch onsite elements so that you can analyze them.
This allows you to find broken links, ensure redirects were properly created, analyze your page titles, generate XML sitemaps and even discover duplicate content. It's one of the most powerful on-page SEO tools simply because it has so many features and the amount of data that it can give you is mind-blowing.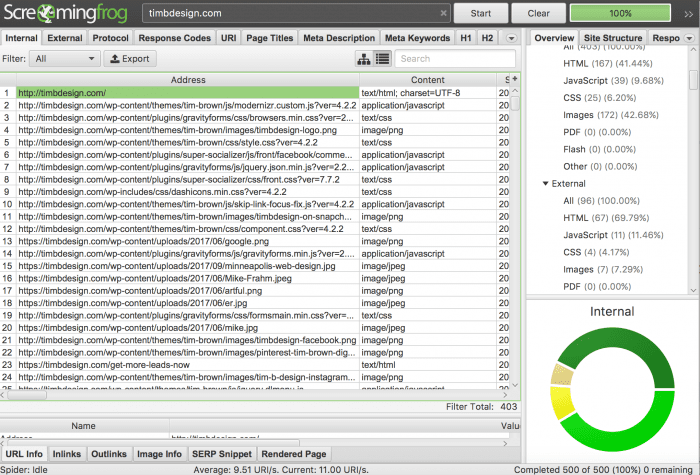 5. Google Developers PageSpeed Insight
More and more users are using the internet through their phones and with that often comes a slower connection and a different screen size. Google knows this, and that's why they use page speed as one of their key ranking factors.
Nobody wants to visit a page that loads slowly, especially if you're on a mobile connection. Therefore, you need to ensure that you're doing everything you can to optimize your pages to load as quickly as possible.
The Google PageSpeed Insight tool will analyze your page and point out key areas where you can improve your page so that it will load faster and therefore rank higher in the SERP's.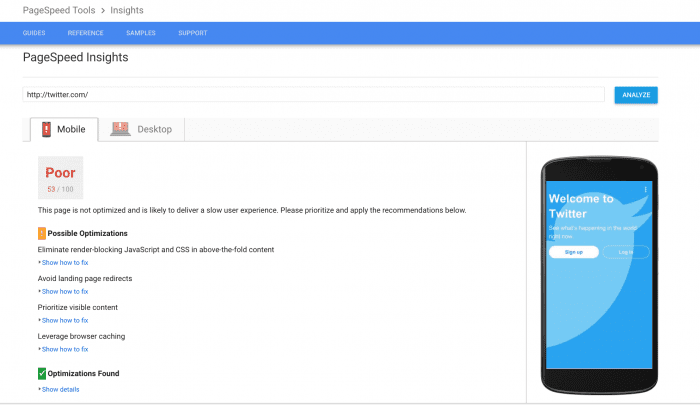 6. Moz On-Page Grader
Finally, we have the Moz On-Page Grader, a tool which analyzes your page and compares it to their existing checklist of SEO factors. This tool will output a result that grades your page overall and also on a more granular level so that you can make improvements.
The great thing about all of Moz's tools is that they are incredibly simple to use and have an intuitive and clean design that makes them ideal for beginners. If you're looking for an easy to understand the on-page report, then this is a good start.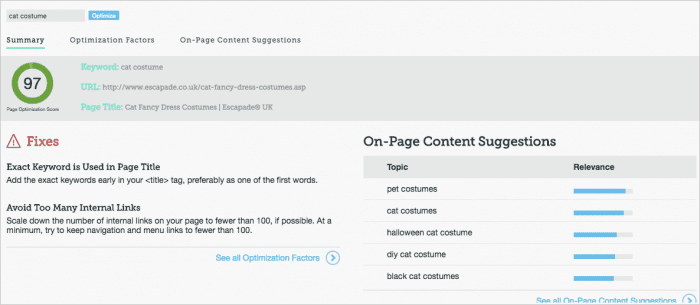 best seo analytics tools
These tools are free to use, but you might find a paid option that has more features. We've shared some of the best features in each tool as well as how you can get the most out of them for your SEO strategy.
1. HubSpot Website Grader
Image Source
The goal of marketing is to generate traffic and qualified leads via the company's website. That's why, as marketers, we need to understand exactly what we can do to improve the SEO of that website.
With HubSpot's Website Grader, simply enter the URL of your website to automatically receive a report card with actionable insights about your SEO efforts. From there, you can sign up for the HubSpot Academy SEO course that teaches you how to improve your website's SEO, user experience (UX), and more.
With the HubSpot Website Grader, you can:
Website performance: Learn about your website's performance in seconds, and identify specific performance issues and receive clear, actionable feedback on how you can fix them.
On-demand support: Receive how-to education on how you can improve your website.
Improve specific website issues: Gain access to a five-lesson HubSpot Academy course on Website Optimization so you can understand how to improve upon your website's specific problem areas.
Optimize for mobile: Discover how to optimize your website for mobile.
Boost web security: Learn how you can implement website security best practices.
Enhance the user experience: Personalize your website's UX to create a delightful experience for users.
2. Google Search Console
Image Source
Google Search Console has a number of tools available to help you appear in the SERPs for the search terms and phrases your target audience is looking for.
If you're the owner of a business or an SEO on your marketing team, Search Console can help you conduct an initial SEO analysis from scratch or update your existing SEO strategy with fresh keywords. Google Search Console monitors, debugs, and optimizes your website — and you don't need to know how to code to benefit from this tool.
Here are some examples of website elements Google Search Console will teach you about and help you optimize:
Keywords: Learn about the keywords your webpages are currently ranking for.
Crawl Errors: Identify any crawl errors that exist on your website.
Mobile Responsiveness: Understand how mobile-friendly your website is and discover opportunities to improve the mobile experience for your users.
Google Index: See how many of your web pages are in Google's Index (if they aren't in Google's index, you can use the tool's URL Inspection Tool to submit a page for indexing).
Analytics and Metrics: The website-related metrics that matter most to you, like clicks, impressions, average click-through rate (CTR), and average position.
3. Google Analytics
Image Source
Although Google Analytics has a paid version, the free version of the product can help you manage your website's SEO — this is especially true if you pair Google Analytics with Google Search Console. In doing so, all of your website's SEO data will be centrally located and compiled, and you can use queries to identify areas for improvement with the keywords and phrases that you want your website and web pages to rank for.
Other ways that you can use the free version of Google Analytics to understand and improve your SEO are:
Filtering your referral traffic: Get rid of the traffic that has the potential of ruining SEO reports, such as fake traffic.
Compare organic versus non-organic website traffic: Understand where your visitors are coming from and optimize those channels to increase traffic.
Determine engagement metrics: Use Site Content Reports to determine engagement metrics on each web page, engagement for the directories and pages on your website, page exit metrics, as well as acquisition, behavior, and conversion of landing pages.
Review the Multi-Channel Report's Assisted Conversions feature: Identify which of your channels led to the most conversions and the value they bring to your business.
4. UpCity Free SEO Report Card
Image Source
The Free SEO Report Card by UpCity lets you analyze your website to determine how it stacks up against the competition.
In exchange for your email address and a few data points, SEO Report Card will serve up a report that covers the following:
Rank Analysis: A snapshot of where your website ranks on the most popular search engines.
Link Building: A detailed account of the number of websites that link back to your site.
On-Site Analysis: A look at how successful you were in incorporating your main keyword throughout your site.
Website Accessibility: Information about your site's load time and accessibility.
Trust Metrics: An overview of your site's level of trust or authority.
Current Indexing: An indication of how many of your site pages have been indexed.
5. Internet Marketing Ninjas
Image Source
Internet Marketing Ninjas is an SEO-focused company with a variety of free tools you can use to compare your website against the competition, optimize web pages for certain keywords, generate meta tags, and increase organic traffic to your website.
Here are some examples of the free Internet Marketing Ninja SEO tools you can take advantage of:
Broken link tool: Identify broken links and redirects and use the site crawl feature to generate an XML sitemap of your website.
Image metadata: See all of your page links (external, internal, etc.) on your web pages to review what's working well and what's broken or needs an update.
On-page optimization tool: Use this to evaluate your web page content, meta information, and internal links.
Side-by-side comparison: Compare the SEO of your web pages versus a competitor's web pages.
Page load time: Analyze page-load time and how long each component of a web page takes to fully display.
6. Bing Webmaster
Image Source
Microsoft Bing Webmaster gives you access to many tools that offer insight into your website such as reporting, diagnostic, and SEO tools. The SEO tools that you can use for free have the power to help you analyze your website, manage backlinks, and review keywords to ensure your site is well-optimized for organic search.
Here are some of the other things you can do with Bing Webmaster's SEO tools:
See backlink profiles: Learn about your backlink profile to understand referring pages, domains, and anchor links.
Perform keyword research: Determine which keywords and phrases your audience is searching for as well as the search volumes of those keywords and phrases.
Use the site scanning feature: Crawl your website and identify technical SEO errors.
Get SEO reports: Review any errors that are on your website and individual site pages.
7. Google Trends
Image Source
Traditional SEO tools like the ones we've already discussed are great for conducting research and audits when your business is already established. But what if you're starting a new business venture and want to know what popular industries, topics, and ideas people are exploring? Google Trends is a great place to explore untapped potential that can yield a large keyword landscape for your website.
You'll want to note that Google Trends isn't where you'll get granular data. This tool performs best when you use it as a compass to set a direction for your SEO strategy, and then pair those insights with a more robust software like HubSpot's SEO Marketing Tool.
Here's what you should look for in Google Trends:
Trends: Look for trends in specific countries or regions of the world.
Popular topics: Find popular people and long tail keywords related to them.
Comparisons: Compare and contrast trends over time.
8. Seolyzer
Image Source
Seolyzer is a free site crawling, log analysis, and SEO tool that helps you determine how search engines like Google view your website. Seolyzer pulls information that crawling bots leave in your server's log files while browsing your site to identify and create your SEO KPIs. The tool also identifies error codes, redirects, and page speed performance.
Additionally, Seolyzer can help you:
Monitor SEO issues: Identify poor response time, error messages, and crawl volume so you can resolve them before serious damage is done.
Manage your unique KPIs: Analyze page performance, crawl volume, HTTP status codes, active and new pages, and desktop versus mobile responsiveness.
Segment web pages: Determine what your most crawled pages are.
Compare web pages: See what Google deems as the most important to the pages that are crucial to your business's bottom line.
Measure SEO impact: Understand the impact of your SEO efforts on a page-by-page basis or by the category of the page.
9. SEOquake
Image Source
SEOquake is a Google Chrome extension that automatically checks a web page's SEO parameters quickly for free. This includes on-page SEO audits, internal and external link reviews, real-time URL and domain comparison, and data file export.
Other things you can use SEOquake for are:
Link Analysis: Get a detailed description of how all of your links are doing — including URLs, anchor text, and other link types — with the tools Link Examiner feature.
Focus on metrics that matter: Adjust the SEOquake reports you receive to display only the parameters and metrics that you care about.
Audit your website's SEO: Identify any SEO-related issues that would be findable by search engines.
Share your findings with stakeholders: Export the results of your SEO analysis into an adjustable and shareable report.
10. Seobility
Image Source
Seobility is a free SEO-checker tool. With it, you can test your website's level of compliance with today's SEO guidelines. By simply entering your URL, your site will be analyzed and you'll receive tips on how you can better optimize your website.
In addition to a detailed SEO audit of your website, you'll gain access to 1,000 subpage audits, email reporting and alerts, and keyword monitoring.
Here are some more advantages of using Seobility:
Find technical errors: Resolve on-page SEO issues quickly to recover lost traffic and prevent future traffic dips.
Accurate SEO scoring: Receive an SEO score that accounts for various website factors including meta-information, page quality, link structure, and more.
Meta information analysis: Understand the specific SEO issues with your meta information such as meta titles/ descriptions, meta tags, and invalid or incorrect domain names or page URLs.
Optimization opportunities: Identify areas for improvement regarding your page speed and quality (related to text, duplicate content, responsive design, and alt attributes for content).
Link structure suggestions: Understand how your page and link structure can be improved by getting data about your headers, internal links, and incorrect anchor text.
Server error fixes: Identify specific server errors related to any redirects, HTTP headers, or CSS and Javascript files.
Conclusion
Let us know your thoughts in the comment section below.
Check out other publications to gain access to more digital resources if you are just starting out with Flux Resource.
Also contact us today to optimize your business(s)/Brand(s) for Search Engines