As the best phone in the Galaxy series, the Samsung Galaxy S10 Plus is a powerhouse packed with amazing features.
One of the best things about this device is its app ecosystem. The S10 Plus has access to the Google Play Store, which means you can download just about any app you want.
But with so many apps out there, it can be hard to find what you're looking for. That's why we've rounded up some of the best apps for your Samsung Galaxy S10 Plus right here.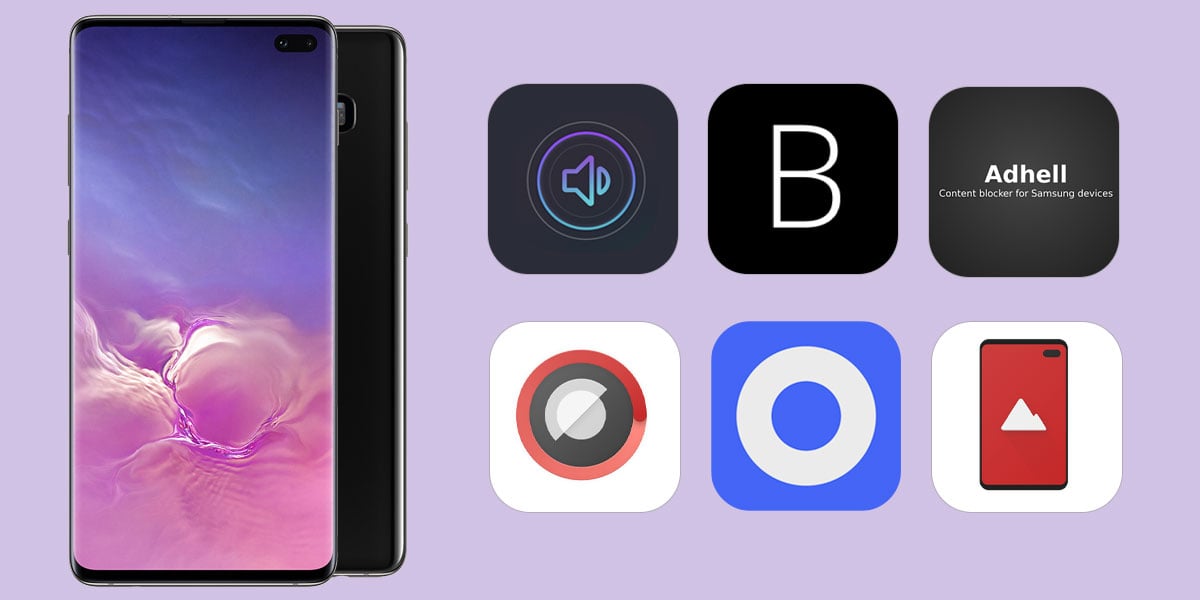 Best Apps For Galaxy S10 Plus
OH BROWSER
What if I tell you there's a browser that works without any permission? Yep, you read that right. If you're tired of Chrome, then OH Browser is the perfect replacement to try.
It's a simple browser designed for single-handed use. All the buttons like Search, New Tab, and Settings are at the bottom of the page that can be accessed simply by stretching your thumb a bit.
Best Apps For Samsung Galaxy S10 010Best Apps For Samsung Galaxy S10 007
Aside from the above features, it bundles a nifty Save as PDF feature. Plus, you can always switch to the Dark mode, a feature which is absent in Chrome.
Best Apps For Samsung Galaxy S10 012Best Apps For Samsung Galaxy S10 014
If you're not willing to trust a new app, you can try the in-house Samsung Internet Beta browser. Similar to the one above, all the settings and buttons are at the bottom ribbon, except for the address bar sits high at the top.
My only gripe with third-party browsers is their inability to sync data with desktop browsers. If you're fine with that, I suggest you make the switch soon.
Download OH Browser
Download Samsung Internet Beta
SNAPSEED & QUIK
Yeah, the Galaxy S10 Plus can capture stunning pictures. How about polishing the photos a bit before uploading them on Instagram? When it comes to image editing, there is hardly any app better than Snapseed, at least that's what I'd like to believe.
This Google app has a profusion of tools, filters, and effects. So you can touch up the images lightly or go for heavy editing.
Best Apps For Samsung Galaxy S10 015Best Apps For Samsung Galaxy S10 017
What I love about it is that I can control the exposure, set the image brightness or change the background altogether. To add to it, Snapseed even allows for RAW image editing. What more can one ask for?
Best Apps For Samsung Galaxy S10 018Best Apps For Samsung Galaxy S10 001
When it comes to videos, the built-in suite should be enough for minor editing jobs. Plus, this time Samsung includes a range of music to make your videos Instagram-ready.
However, when you need to make photo slideshows, you better get a third-party video editor like Quik.
Top Apps Samsung S10 Plus 1Top Apps Samsung S10 Plus 2
Quik lets you stitch photos together into a mini video, add quirky transition effects, titles and add some crazy music. The only downside is that it stamps a watermark at the end. But, you can access all your pictures from Google Photos. That's a plus.
Download Snapseed
Download Quik
FILES BY GOOGLE
The 128GB storage space on Galaxy S10 or S10 Plus will take quite some time to fill up. But at the end of the day, locating a photo or a document among the slew of forwarded images and files can be a daunting chore.
Files by Google is probably the best app to tackle meaningless forwards piling up on your phone. It uses machine learning to identify memes, duplicate photos, big files, and other unnecessary junk on your phone. It also identifies old apps that you haven't used in a long time.
Top Apps For Samsung Galaxy S10 2Top Apps For Samsung Galaxy S10 3
And it doesn't end there. The app uses minimal system resources. I loved its smart notifications system which periodically notifies you about your phone's status. So, all you need to do is click on one, clear the junk and well, relax!
Files by Google has been a constant on all my phones since it made its debut in 2017. If you haven't tried this cool app, now is the time to give it a go.
Download Files by Google
SOLID EXPLORER
Samsung's My Files app is a great file management app. But if you want to dive deep into the file systems, you'll find out that this app lacks a few important features, such as the two-panel navigation.
Top Apps For Samsung Galaxy S10 2
That feature offers two browser panels using which you can easily move data through drag and drop. Yep, absolutely no business of copy and paste.
Plus, there are different sorting and viewing options. My Files also let you do the same; however, there is no menu to select the options. You'll have to keep on tapping the icons to arrive at the one you like.
Top Apps For Samsung Galaxy S10 5
Aside from the above, Solid Explorer has a cool side panel through which you can jump to the folder of your choice. The app also gives you the option to compress and archive files, transfer files via FTP, and other neat features.
Top Apps For Samsung Galaxy S10 4
Still not convinced? Read these tips and tricks to understand how Solid Explorer can help you manage your files better.
Download Solid Explorer
WEATHER BUG
The Always On Display feature is one of my favorite features. I love that I can see all the missed notification, alarm, battery status without raising the phone. And the customization features add to the experience. But what about the weather?
Best Apps For Samsung Galaxy S10 Plus 1
Today, sudden weather changes are part of our daily lives. So it's imperative that you need a warning about weather changes or any information regarding it, on your phone screen seamlessly.
Technically the AOD screen showcases some of the icons that are displayed in the status bar. Weather Bug app offers a nifty weather icon that sticks to the top of the status bar.
Best Apps For Samsung Galaxy S10 089
So, after the app has been set up, the temperature will also be displayed in the AOD screen. Neat, right? My only complaint is that the icon disappears from the AOD screen when you receive too many notifications.
samsung s10 plus apps
Google Indic Keyboard
Samsung S10 Plus does come with a keyboard but lacks some features. Google Indic Keyboard is the best alternative to the keyboard provided by the company. The app allows you to choose from more than 12 languages.
Best apps for Samsung S10 plus
It supports various modes of input like handwriting mode that is available for Hindi language keyboard, translation mode, native keyboard mode, and Hinglish mode.
The app gives suggestions while typing and corrects in case of grammatical mistakes. Would else you could as for then saving yourself from grammatical mistakes while mailing to your boss.
Adobe Lightroom CC
Looking for a photo editor app, then go for Adobe Lightroom CC app. The app supports raw HDR capture mode and provides its user with advanced photo editing features. The app offers a pro-level camera loaded with a variety of features such as color mixer, tone curves, edits, and exposure.
Best apps for Samsung S10 plus
The app also offers some premium features like raw editing, adobe sensei, selective adjustments and geometry. These features are premium feature collections. The premium features are easy to use and improve photography skills.
Opera News
Are you someone who likes to be up-to-date with what's happening around the world, in their city and country? Then, Opera news is just for you. You can watch the latest videos, and connect with local, current, trending and important news to keep yourself updated.
The Opera news app offers some functionalities like search news, personalized news, top news, offline reading, interest graph, Instaclips, new push notifications and much more. You can read all the articles that are shared by media on this app.
Best apps for Samsung S10 plus
The app offers a feature named as favorite. Here you can save the videos and articles as favorite. The app delivers the content as per your interest. To get the latest feeds personalized, you would have to follow your favorite channels.
FX File Explorer
FX File Explorer is simple, and safe to use the app. The app is powered with amazing features that enable you to manage your files effectively. The app allows you to access files from different platforms such as Google Drive, local storage, and computer devices.
The FX File Explorer gives you access to any file within seconds.
Best apps for Samsung S10 plus
Camera FV-5
The camera is one of the most important functions of a smartphone for which users crave for. When buying a new smartphone, the camera is the first thing that comes in mind. However, Samsung S10 Plus does have a nice camera, but why not have the best.
Camera FV-5 is known to be DSLR photography.
Best apps for Samsung S10 plus
Conclusion
Let us know your thoughts in the comment section below.
Check out other publications to gain access to more digital resources if you are just starting out with Flux Resource.
Also contact us today to optimize your business(s)/Brand(s) for Search Engines