The Samsung Galaxy Tab S7 is a bold step in the world of tablets. It is the ultimate Android tablet that has everything—a beautiful display, a powerful processor, and an excellent battery life. You'll be able to get work done on this tablet, watch movies with an immersive cinematic experience, or play your favorite games.
Of course, to truly take advantage of all that power you'll have to have some apps on your new tablet. In this blog post we will share our top picks for both free and paid apps. Whether you are looking for a productivity app or the latest game we've got you covered!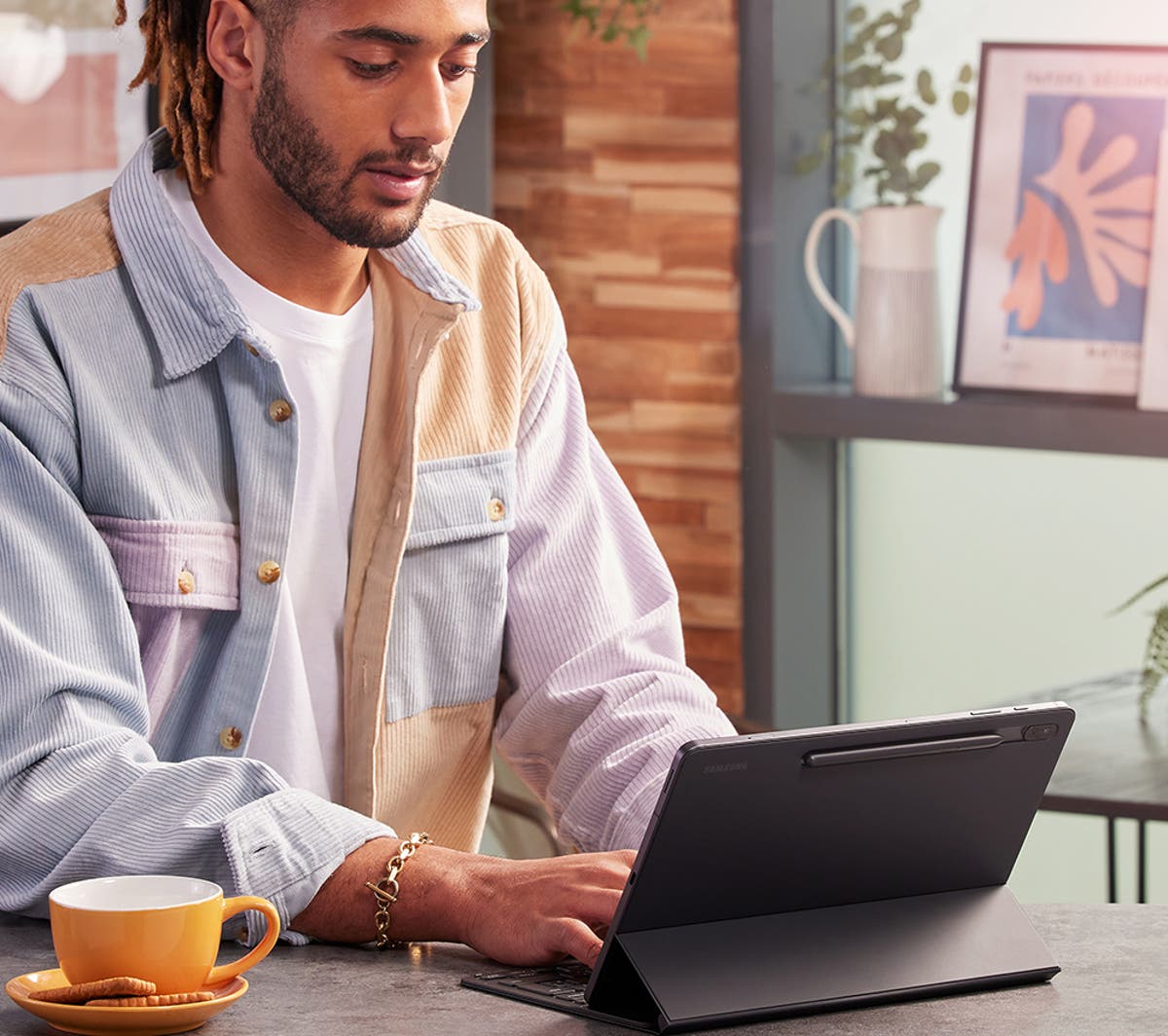 Best Apps For Galaxy Tab S7
Samsung Kids
It's impossible to just select one of this innovative bunch. Less a singular app, more a suite of fun and educational ones, the Samsung Kids selection of apps, which comes as standard with the Samsung Galaxy Tablet S7 5G FE, are designed specifically with little ones in mind. Swipe down on the home screen and choose the 'Samsung Kids' mode from the Quick Panel. Then, you'll be taken directly to a kids-only interface, showing your younger users their very own home screen, complete with apps to tap on and play with. Highlights include a kid-friendly camera which makes use of the tablet's 8MP Ultra HD lens and, 'My Art Studio' which allows them to create fabulous drawings and paintings by touch or with the S-Pen, and 'Lisa's Magic Band' a fun way for children to compose their own music tracks.
Microsoft Office
This tablet is just as useful for work as it is for play: you can also use it to access the Microsoft Office suite, including Word, Excel, PowerPoint and more. Simply sign into your Microsoft account and OneDrive, and as long as you have a Microsoft Office subscription, you'll be able to work on all your notes and documents in one place – wherever you are. Quickly add to a presentation using the S-Pen while sitting in front of the TV, edit text with simple gestures and even use the tablet's camera to scan handwritten and printed text into usable Word documents.
Canva Pro
Maximise both your productivity and your creativity with Canva Pro, the app which makes professional-looking graphic design a breeze. You may already be familiar with the free version of Canva, but this paid-for subscription, combined with the capabilities of the tablet take the design possbilities to the next level. With a few simple taps or scribbles of your S-Pen, create stunning social media posts, logos, marketing materials and slick presentations all in one place – and literally at your fingertips. With your Samsung Galaxy Tablet S7 FE 5G and Canva Pro, there's no need for advanced design software, training or pro shortcuts to create stunning graphics.
Netflix
A gorgeous AMOLED Quad HD+ quality screen combined with the potential for fast 5G streaming speeds (dependent on your network connection) makes the Samsung Galaxy Tablet S7 FE 5G a perfect tablet for movie and TV fans – just sign into your favourite streaming services and access your subscriptions on this device. Whether you're using it around the home, or taking away with you on your travels, this tablet's gorgeous AMOLED display will make Netflix's blockbusters like the service's most-watched series ever, Bridgerton, Emmy-winning The Queen's Gambit and the Oscar-winning Ma Rainey's Black Bottom look better than ever as you watch all of them in glorious AMOLED Quad HD+ quality.
Kitchen Stories
If you've yet to discover the joys of cooking with a digital recipe as opposed to old-fashioned paper, Kitchen Stories is about to make your cooking self-care time immeasurably better. This free Android app offers a huge archive of recipes which you can filter by country, and displays recipe cards in easy-to-read, clear instructions, with video accompaniments. With your Samsung Galaxy Tablet S7 FE 5G, you can use the innovative App Pair to display up to three apps at once – so you can keep your Kitchen Stories recipe open, while also using Zoom or Spotify to call a friend or control the music you listen to while you cook. Foodie heaven.
Ready to upgrade to the Samsung Galaxy Tab S7 FE 5G? Check out the range at Samsung.com
Best apps for android tablet free
Amazon for Tablets
It's right there in the name. This is the Amazon shopping app exclusively designed for tablets. Much like how the phone app displays the site on phones, this tablet app fills the entire screen of tablets with shopping goodness. There are even a few exclusive features in this version, such as a press and hold option to fling items to the bottom of your screen, saving them to an always accessible tray, like a fancy bookmark for all of your favorite items.
Seven to ten-inch tablets are recommended, and even though the app is pretty old, Amazon is still updating it diligently. One thing's for sure; it's nice to see other companies support tablets on Android even when Google doesn't feel it's necessary.
Monetization: free / contains ads / no IAPs
3 Images
Amazon for Tablets tablet roundup (2)
Amazon for Tablets tablet roundup
Amazon for Tablets tablet roundup (1)
Amazon for Tablets
Amazon Mobile LLC
SHOPPING
Price: Free
4.5
Download
Microsoft Office
Microsoft's Office applications are some of the best examples of tablet-optimized Android apps that I've ever come across. Sure, you might not need to edit an Excel spreadsheet on the go very often, but the apps have the same 'Ribbon' interface as the desktop equivalents. There is also extensive support for keyboard shortcuts if you regularly use a keyboard with your tablet.
In 2020, Microsoft released a new combined Office app that included PowerPoint, Word, and Excel in a single package. The app initially didn't properly support tablets, but that has since been fixed. Microsoft has also integrated the Office Lens scanner and notes that sync with Windows 10, but I don't use those features.
The only downside is that creating and editing documents requires a paid subscription to Microsoft 365, formerly known as Office 365. The cheapest plan is $70/year (or $7/mo) and includes the web, mobile, and native desktop versions of the most popular Office applications, plus 1TB of OneDrive storage.
Monetization: free / no ads / IAPs from $6.99 – $99.99
3 Images
Microsoft Office: Edit & Share
Microsoft Corporation
PRODUCTIVITY
Price: Free
4.6
Download
VLC for Android
VLC is the cross-platform media player that can open just about any video or audio file ever created, and the Android app functions very well. It has an integrated file browser (with the ability to view network drives!), Picture-in-Picture support, and other nice features.
The interface only has minor tweaks for tablets, like additional columns in the file viewer, but you're going to spend most of your time watching media anyway. VLC is also one of the few media applications I've tried where tapping the spacebar on the keyboard actually pauses the content.
Monetization: free / no ads / no IAPs
3 Images
VLC for Android
Videolabs
VIDEOPLAYERS
Price: Free
4.1
Download
Pocket
Pocket is a simple app for saving text content you find on the web for later. Pocket displays these stories in a very readable form, distraction-free. Best of all, the app offers a tablet interface that's great in portrait and landscape, with multiple rows of content. Even the stories display well for large screens, though it would be nice if images weren't always centered.
What's great is that anyone can use the app for free (and it even ties into Firefox, making things that much simpler to save content to the platform). However, if you'd like a better search and a permanent library of content, then a subscription is necessary. Luckily it's only $4.99 a month should you need the extra features.
Monetization: free / contains ads / IAPs from $0.99 – $44.99
3 Images
Pocket tablet roundup
Pocket tablet roundup (1)
Pocket tablet roundup (2)
Pocket: Save. Read. Grow.
Mozilla Corporation
NEWS & MAGAZINES
Price: Free
4.6
Download
Collabora Office
If you prefer open source apps, then you've probably heard of LibreOffice and OpenOffice. Well, and enterprising developer has built an open source office app called Collabora, and it's based on LibreOffice/OpenOffice. As you would expect, the download is completely free, and it supports a plethora of extensions, including .odt, .odp, .ods, .ots, .ott, .otp, .docx, .pptx, .xlsx, .dotx, .xltx, .ppsx, doc, .ppt, .xls, .dot, .xlt, and .pps.
Conveniently, Collabora Office uses the same engine as LibreOffice, with a front-end based on Collabora Online, which results in an app that's suitable on small and large screens. Google Drive is supported out of the box, and this even works seamlessly, making for an intuitive way to store and edit files while on the go.
Monetization: free / no ads / no IAPs
3 Images
Collabora Office LibreOffice, OpenOffice & more tablet roundup
Collabora Office LibreOffice, OpenOffice & more tablet roundup (1)
Collabora Office LibreOffice, OpenOffice & more tablet roundup (2)
Collabora Office: LibreOffice, OpenOffice & more
Collabora Productivity Limited
PRODUCTIVITY
Price: Free
3.9
Download
Gmail
Gmail is one of the few remaining Google apps that have a dedicated tablet interface. On large screens, Gmail has a two-column design, with your inbox shown on the left and the current message on the right. There are also a few keyboard shortcuts available for quickly managing messages.
Monetization: free / contains ads / no IAPs
3 Images
Gmail tablet app roundup (1)
Gmail tablet app roundup (2)
Gmail tablet app roundup
Gmail
Google LLC
COMMUNICATION
Price: Free
4.2
Download
Microsoft Outlook
If you're not a fan of Gmail, or you're just looking to try something new, Microsoft Outlook is another great email application for Android tablets. It works with third-party email services in addition to Microsoft's own Outlook.com, so you can use it without switching email addresses.
Outlook has a similar layout to Gmail on tablets, with columns for both your inbox and the currently-selected message, but there are a few differences. The list of accounts is always pinned to the left side, and a third column for inboxes/folders can be toggled by pressing the hamburger menu at the top-left.
Monetization: free / contains ads / IAPs from $6.99 – $9.99
2 Images
Microsoft Outlook
Microsoft Corporation
PRODUCTIVITY
Price: Free
4.5
Download
MyScript Nebo
MyScript Nebo is one of the best note-taking applications I've tried on Android. It can convert your hand-written sentences into text, and just like Evernote and OneNote, you can embed images, drawings, and other resources into your notes. The full list of features is honestly staggering.
There's one catch to Nebo: to use all the features, you need an Android device with an active stylus pen, like a Galaxy Tab S6 or S6 Lite. Nebo has a list of some compatible models here.
Monetization: $11.99 / no ads / no IAPs
3 Images
Nebo: Note-Taking & Annotation
MyScript
PRODUCTIVITY
Price: 11.99
4.3
Download
Twitter Lite
The regular Twitter app looks absolutely terrible on tablets, with tweets taking up the full width of the screen. You're better off with Twitter Lite, a repackaged version of the Twitter web app. It's not a native Android application, which is a bit annoying, but it looks significantly better on tablets.
Twitter Lite is only available from the Play Store in select regions, so if you can't download it, just open twitter.com in your mobile browser of choice and find the option to install it to your home screen (in Chrome, tap the menu button at the top-right and pick 'Add to Home Screen'). It's the same exact experience — just remember to enable notifications from Twitter's settings for full functionality.
Monetization: free / contains ads / no IAPs
2 Images
Twitter Lite
Twitter, Inc.
NEWS & MAGAZINES
Price: Free
3.5
Download
Feedly – Smarter News Reader
Feedly is one of the most popular feed reader apps on Android, and I'd like to think that has a little to do with the fact the app properly supports large screens. The tablet layout is fairly similar to a magazine layout, which should be familiar to most, making for a comfy app to peruse as you digest your daily news.
Monetization: free / contains ads / IAPs from $7.99 – $69.99
Conclusion
Let us know your thoughts in the comment section below.
Check out other publications to gain access to more digital resources if you are just starting out with Flux Resource.
Also contact us today to optimize your business(s)/Brand(s) for Search Engines