The Galaxy Watch 3 will be a great addition to your Galaxy device.
While you can use it as a smartwatch, the watch is also a fitness tracker and health monitor. The watch has a 1.2 inch or 1.4 inch display with rotating bezel, Gorilla Glass DX, ECG monitor, and blood oxygen sensor. It is water-resistant up to 50 meters for 10 minutes.
One of the best features of this new watch is that you can download apps to help you get the most out of your device. From music streaming applications to ride-sharing services, here are some of our favorite apps for the Galaxy Watch 3.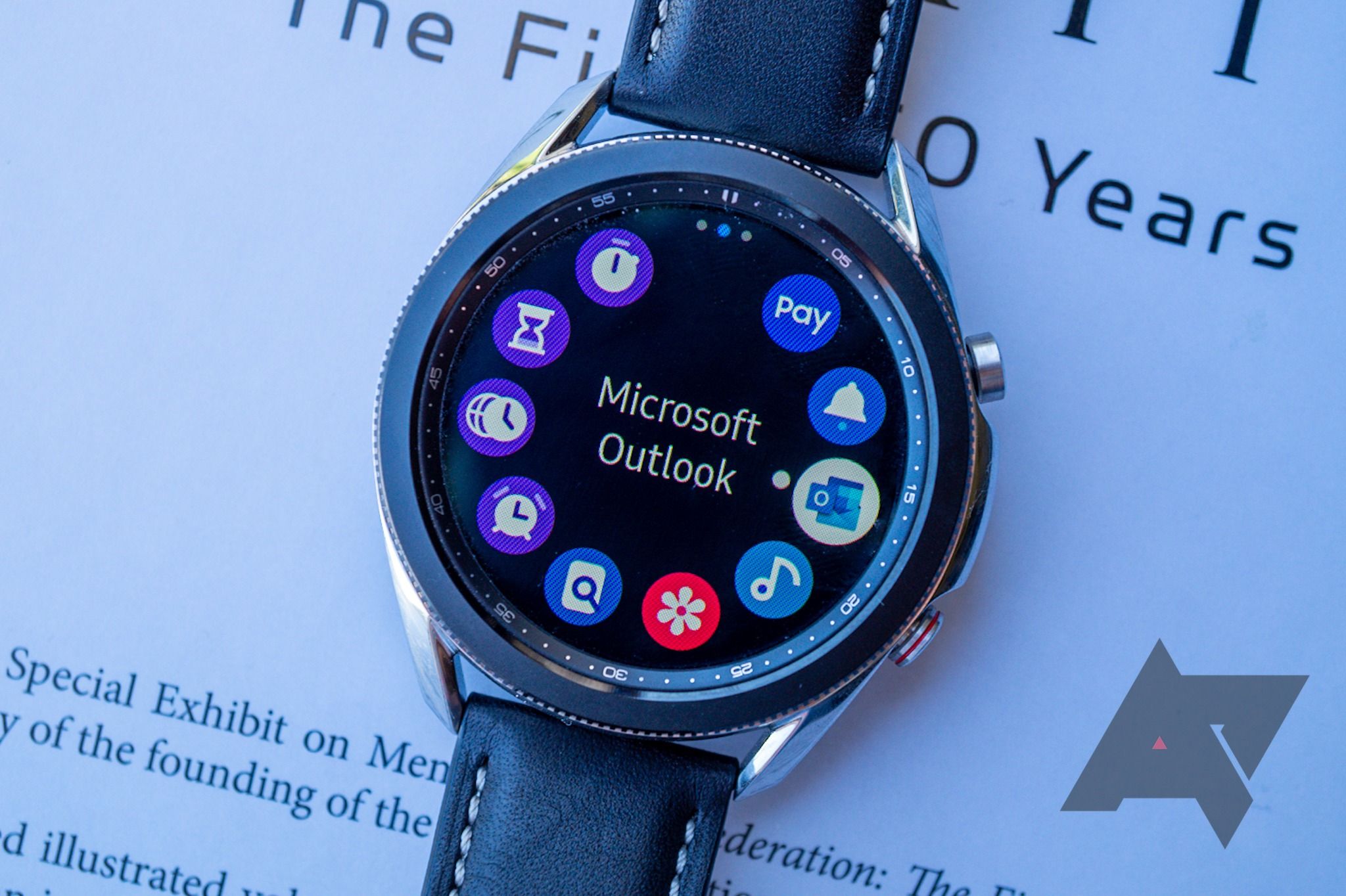 Best Apps For Galaxy Watch 3
Samsung Galaxy smartwatches offer a range of watch styles that can suit many different situations, and having the best apps for the Galaxy Watch makes it even better. The ability to download apps to customize your watch further is one of the best reasons to get a smartwatch. Below are some of the best apps you can download from the Galaxy Store for your watch.
GO CUSTOM
Facer
Free at Galaxy Store
Facer is an app that has been around for years, offering nearly any style of watch face you can imagine. There are classic-looking options to futuristic ones and everything in between. The app is free, and so are some of the options within the app. However, some may have a cost, but great work is worth paying for.
GOOD TUNES
Spotify
US$4.99/mth
at Spotify
US$9.99/mth
at Spotify
US$15.99/mth
at Spotify
Spotify is one of the most popular music services around, and Samsung Galaxy watches have direct access, with an app made for your wrist. You can stream and control your full Spotify library, including playlists you've created. Now you can leave your phone in your pocket when you want to get your tunes going.
SIMPLE UTILITY
Calculator
Free at Galaxy Store
While a calculator app isn't the most extravagant or technologically impressive app these days, it's still a handy utility to have around — and using it on your wrist makes sense. Whether you are tracking purchases at the grocery store, working on a budget, or measuring for a construction project, a calculator can be an essential tool.
TIME TO GET MOVING
Strava
Free at Galaxy Store
Samsung has a great all-around health platform loaded on all of its Galaxy smartwatches, but much of that data stays in that ecosystem. Strava is one of the most popular fitness tracking apps around, with the ability to record a wide range of workouts and share them to various platforms. You can also connect with different clubs, friends, and followers to share your progress.
REMOTE CONTROL
Wrist Camera
$3 at Galaxy Store
Galaxy smartwatches may not have a camera onboard —thankfully — but using it as a remote to control your phone's camera is a great idea. With this app, you can set up your phone to take a group shot or a selfie from a distance and then take the photo using your watch. You can set a timer, view a preview from the phone camera, control flash, and more, using nothing more than your watch.
SMALL-SCREEN GAMES
Monster Vampire
Free at Galaxy Store
Generally, playing games on your watch isn't much fun due to the lack of screen real estate. However, with Monster Vampire, you get to play a game without the need to access the screen continually. There's a fun story that incorporates your physical activity to progress through the game. It's a win-win, an entertaining game, and some exercise.
HAIL A RIDE
Uber
Free at Galaxy Store
Installing the Uber app on your Galaxy Watch will allow it to sync up with the app on your phone. You can call a ride to get you to your next destination and keep you up to date on the car's location. When it's getting close, the app will show you on your watch and keep your phone in your pocket.
SMARTWATCH SMART HOME
Samsung SmartThings
Check Amazon
Free at Galaxy Store
Controlling your home from your wrist seems like the perfect mix of future tech. If you are a SmartThings user, you can install the companion app onto your Galaxy Watch and adjust lights, plugs, thermostats, and more all from your wrist. You can also check on the status of different parts of your smart home, giving you even more control over your devices.
CUSHION CORRECTION
Find My Phone
Free at Galaxy Store
Losing your phone in the couch cushion, in the car, in the fridge — it was a long day — or any other number of places can be frustrating. Thankfully if you have the Find My Phone app on your Galaxy watch, you can use it to ring your phone. So long as you have a vague idea of where it may be and can get into the Bluetooth range, your watch can reunite you and your phone.
WORLD WIDE WATCH
Samsung Browser
Free at Galaxy Store
Having a full web browser on your wrist may not seem like the most practical thing, it can have some good use. Whether it is something that you need to look up in a pinch and don't have your phone, or perhaps you want to pull up a YouTube video to watch while you're bored, regardless of your need, it never hurts to have the option.
GETTING WHERE YOU WANT
HERE WeGo
Free at Galaxy Store
Google Maps isn't available on the Galaxy watches, but HERE WeGo is an excellent alternative. With the ability to download maps directly to your wrist, you can navigate routes for walking, driving, riding, and more without having your phone at all. The added safety of walking around and keeping your phone put away is reason enough to download this app.
Apps make your watch work for you
By using one of the best Samsung Galaxy Watch bands around, you can make your watch a little more you. The other way to customize your watch is by downloading an app to your Samsung Galaxy smartwatch. When you are ready to start installing apps to your Galaxy smartwatch, there are a couple of ways to do it, and we have a helpful guide put together for you.
Advertisement
If you can't find just the right watch face that comes pre-loaded on your watch or you just want to explore more choices, the Facer app is the way to go. You can find styles based on some of the most famous designs from around the world, to a digital sport style that looks like it came from a Sci-Fi movie and anything else in between.
Perhaps you are someone who enjoys a walk through the city, then you'll really like having a navigation app like HERE WeGo on your wrist. It lest you keep your phone in your pocket and still have directions at a glance. Regardless of the need, you can find utilities, entertainment options, a fitness app, and so much more to ensure your watch can be anything but just a timepiece.
Samsung galaxy watch 4 apps list
Camera One
galaxy watch apps: Camera One
Photo by Shuisky from Google Play Store
If you're one of the many people who love to take group photos, check out Camera One. It's one of the best Galaxy Watch apps that allow you to control your phone's camera straight from your smartwatch. When you open the app, you'll see the camera view from your phone. Switch from your rear to front-facing camera with great ease by just tapping the tiny camera icon on the screen.
A range of controls is right at your fingertips. Capture photos, record videos, zoom in and out, adjust the flash settings, and even set a timer if you want to strut a pose hands-free. Plus, you can edit your image and video's quality. Just make sure to grant necessary permissions upon installing the companion app on your smartphone.
Download on Google Play Store
SmartThings
Do you have a smart home? Do you want to control your smart appliances even when you're at work? If your answers are yes, then don't forget to download SmartThings. It's one of the best Galaxy Watch apps that lets you access a wide range of devices from wherever you are. You can configure your devices' settings, ranging from lights, thermostats, televisions, washing machines, etc.
In addition, you can also set up automation through the SmartThings phone app so you won't have to manually enable them when deemed necessary. No setup process is needed. Just install the app on your smartwatch, and you're good to go.
Download on Google Play Store
Download on Galaxy Store
Spotify
galaxy watch apps: Spotify
Photo by Spotify AB from Galaxy Store
Millions of people love Spotify. Thankfully, you can also add it to your watch. Whether you're using Samsung Galaxy Watch Active or Samsung Gear Sport, this app supports all Galaxy Watch models, and it's effortless to use upon installation. Just log in to your account and select whether you want to connect it to your smartphone or use the app straight from your smartwatch. Browse through songs and play them on your watch. You can also control the volume and listen to the music playing in the background while operating other apps.
Related: How to Get Free Spotify Premium Legally (100% Working)
Download on Google Play Store
Download on Galaxy Store
Strava
For the active users of Galaxy Watch, there is no better workout companion app than Strava. Strava is a revolutionary app for those who maintain an active lifestyle. Essentially, the app tracks fitness activities and analyzes your training with all the stats – for free! Moreover, it analyzes data recorded during a user's activity to be able to provide stats helpful in training (e.g. mapping the route a user usually takes). In addition, the app provides users the ability to simply have fun with fellow Strava app users by comparing stats and being more competitive the next time around.
Strava is available for free over the Galaxy store and Google Play Store.
Related: 15 Best Cycling Apps for Outdoor and Indoor Activities
Download from Galaxy Store
Download from Google Play Store
Wrist Flashlight
UI for Wrist Flashlight App
Photo by Kemas Dimas from Galaxy Store
Turn your Galaxy Watch into an instant torch or accent light and find your way through the dark. This Galaxy Watch app is an excellent contender in this app niche considering you would be able to control the dimness or strength of the light it will emit. Additionally, Wrist Flashlight can change colors from red, orange, or blue, along with the more traditional white. It's also a plus since the app is 100% for download.
Download on Galaxy Store
Find My Car
Galaxy Watch Apps: Find My Car App
Photo by Zadoc Team fro, Google Play Store
Are you tired of searching where you've parked your car in huge parking lots? Find My Car might just be the solution! It's pretty simple to use; before leaving your vehicle, just launch the app, tap Save, and your app automatically logs the location of your car with a voice memo and a picture. No matter where you go, the icon representing your vehicle's whereabouts remains on the screen, so you'll know where to find it.
It also tells you how far you are from the vehicle, including the directions on how to get to it. Find My Car is a helpful tool, and it works well with all Samsung Galaxy Watches.
Download on Google Play Store
Voice Memo
Developed by Samsung, Voice Memo is a must-have app for people who love to take notes without pen and paper at hand. It's an excellent tool that lets you capture audio messages without pressing additional unnecessary buttons. Just raise your smartwatch to your mouth and start recording your thoughts in just a single tap — no need to pick up your phone.
The best part? You don't even need to swing your phone out of your bag just to record voice memos. Galaxy Watches employ a decent amount of internal storage, thus allowing you to record anything on the fly. Your recordings will be saved locally and will transfer to your phone after reconnecting it.
Download on Google Play Store
Download on Galaxy Store
Samsung Health
Samsung Health is the best fitness app developed by Samsung. Through it, you can monitor your daily workouts with great ease through a variety of fitness functions. See how many calories you've burned during your workout sesh and evaluate your performance in activities such as running, planking, and more. You can also monitor your sleeping pattern, health rate, and stress levels in just a few taps.
In addition to these components, the app lets you link all your data across your smartphones for better referencing. Though a product of Samsung, Samsung Health doesn't come preinstalled upon your smartwatch purchase. You need to get it from the Galaxy Watch app store to start using the features.
Download on Google Play Store
Download on Galaxy Store
Uber
Galaxy Watch Apps: Uber
Photo by Uber Technologies, Inc. from Google Play Store
Want to book an Uber ride but don't have your phone with you? Fret not — you can access the Uber app on your smartwatch, too. Just download the app from the Play Store, and you can start booking a ride wherever you are.
It works like this: tap the app, set your pick-up location, select your preferred vehicle and number of seats, then choose your destination. After that, the app automatically calls Uber, so all you have to do is wait. Simple as that!
Download on Google Play Store
SimpleWear
SimpleWear App for Galaxy Watch
Photo by Simple App Projects from Google Play Store
SimpleWear is a genius little app that will display important information from your Galaxy Watch face, like the battery life of a user's smartphone and notifications. Additionally, it also serves as an alternative in accessing settings and making changes that a user sees fit such as Wi-Fi, location, phone lock, and others. The view can also be customized into a tile view or list view, depending on how a user wishes the toggles to be displayed. With that said, the app has to be installed both on the Galaxy Watch and a user's smartphone for the mirror feature to work. Once done, you'll have access to important notifications and settings easily from your wrists.
Conclusion
Let us know your thoughts in the comment section below.
Check out other publications to gain access to more digital resources if you are just starting out with Flux Resource.
Also contact us today to optimize your business(s)/Brand(s) for Search Engines