This article provides a list of best apps to learn English grammar. These apps are selected for the following reasons –1.They offer value for money 2.They provide quality 3.The majority of the users give them positive feedback 4 They have good ratings from app stores 5 They have been developed by reputable companies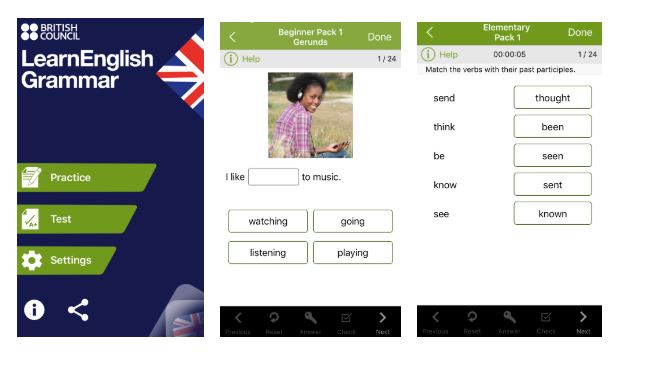 Best Apps For Learning English Grammar
LearnEnglish Grammar
3 Images
LearnEnglish Grammar iOS app screen
LearnEnglish Grammar iOS app screen
LearnEnglish Grammar iOS app screen
The British Council is one of the best places to master English. But even if you are an English speaker, you can sharpen the nuances with their grammar app. The top-ranked learning app takes you through 25 grammar topics, 600 interactive activities, and thousands of questions from fill-in-the-blanks, multiple choice, and word matching.
There are two versions of the app as British English and American English are slightly different with their pronunciations, spelling, and usage.
Download US Edition: LearnEnglish Grammar for Android | iOS (Free, In-App Purchases)
Download UK Edition: LearnEnglish Grammar for Android | iOS (Free, In-App Purchases)
Johnny Grammar Word Challenge
3 Images
Johnny Grammar Word Challenge
Johnny Grammar Word Challenge
Johnny Grammar Word Challenge
The British Council offers a slew of apps to help you improve your English. Pair the above app with the free and fun Johnny Grammar Word Challenge app. The 60-second quizzes will test you on common vocabulary, spelling and grammar, and help you shore up your conversational English.
The quizzes cover 12 grammar topics (like Prepositions, Irregular verbs, Conjunctions, etc.) and take you through usages around food & restaurants, travel, small talk, hobbies, and more. It's a nice pedagogical tool that relies on a global leaderboard and badges to keep you motivated.
Download: Johnny Grammar Word Challenge for Android | iOS (Free)
Starting your IELTS preparations? The British Council offers easy-to-use IELTS Prep App for Android and iOS with free practice tests, grammar tips, exercises, and quizzes.
RELATED:
The Best Websites And Apps That Will Help Improve Your Prose
Grammaropolis
We stay with fun on this site for young grammar students (Age: 8+). Grammar quizzes, songs, books, games, and instructional videos help you grasp the quirks of the eight parts of speech. The parts of speech come alive with animated characters and star in their own books, songs, videos, and interactive games.
You can use the website or the apps for Android and iOS. You can explore nouns for free. The music videos and information pages for all parts of speech are free too. For the others, go with one of the subscription plans ($3.99 per month, $19.99 per year, or $39.99 for forever).
Download: Grammaropolis for Android | iOS (Free, In-App Purchases)
Grammar Express (Super Edition)
3 Images
Grammar Express
Grammar Express
Grammar Express
Click on the above link and you can get your hands on the entire range of grammar apps. Each addresses a specific category of English usage. But the Super Edition can be a more practical purchase as it pools them all together in one single app.
As their own copy says, you get over 600 pages of grammar lessons with over 5000 examples explaining each rule. Soak it all in and test your progress on the 8500 questions in the app.
The app is pricey. An alternative is to buy the individual apps that cover your grammar weaknesses.
Download: Grammar Express Super Edition for iOS Broken URL Removed
English Grammar in Use
This app for intermediate learners is based on Raymond Murphy's bestselling grammar book by the same name. The interface looks plain and can be clunky at times. But don't let that take anything away from the content.
There are 145 units of grammar explanations and exercises. The free version has fewer topics, but you can try it out with a guide to past and present tenses, interactive exercises, glossary, and a Study Guide.
Pricing is incremental as you progress through the units. It may seem expensive but can be worthwhile because of the reputation of the name behind it.
Download: English Grammar in Use for Android | iOS (Free, In-App Purchases)
English with Lingualeo
Language learning with Lingualeo
The Lingualeo app is a language learning platform for non-native speakers in Russia, Brazil, Spain, and Turkey. The online language gamification service started its life in Russia but now focusses on Spanish speaking countries like Portugal and Brazil too.
The colorful gamification elements could be just right if your Spanish is strong, but you want to improve your English.
There are free and subscription plans. The Free tier gives you access to 250,000 texts, articles, and book excerpts across 25 grammar topics. More learning options include vocabulary workouts and 300 TED lectures with interactive subtitles.
Download: Lingualeo for Android | iOS (Free, In-App Purchases)
Mad Libs
Mad Libs is a popular word and grammar game. At the heart of the game are the books and apps. One player prompts the other for a list of words to substitute for blanks in a story. Different clues in the game challenge you to insert parts of speech into a sentence.
Sounds too simple?
There's nothing stopping you from making up your own rules and create wacky sentences. The game is easy and anyone of any age can play it. It's fun for everyone and an educational exercise for kids. A teacher's guide is also available on the site if you want to take this into the classroom.
Download: Mad Libs for Android | iOS
English Grammar Book
3 Images
English Grammar Book
English Grammar Book
English Grammar Book
The English Grammar Book is a simple app for those who don't want gamification. But don't let that take anything away from its utility. It offers easy explanations on topics that can befuddle you.
All areas of English grammar are covered—from active or passive voice to homophones, idioms, and verbs. Every explanation is supported with several examples.
Tackle the topics and do the exercises. You can keep track of your progress and analyze the results as you improve. The app is ad-supported which can be removed with a small purchase.
Apps for english language learners
Rosetta Stone – Most versatile app
This award-winning English language learning app teaches vocabulary and English grammar. Rosetta Stone includes lessons on pronunciation so you can improve your English accent. You can also download audio lessons to learn offline.
Free trial and paid versions available for Android, iOS and Windows.
FluentU – Best media-based app
This app sources English-language videos from the real world — including news, music videos and commercials — to help you learn English. Interactive captions allow you to tap any word and see more information about it.
Free trial and paid monthly subscriptions available for Android and iOS.
Hello English – Best app for intermediate learners
If you already understand the basics but want to improve your English, this app is for you. This media-rich app to learn English. Hello English starts with a language test, then serves up English lessons based on your test results. Hello English supports learners with 23 native languages and lets you play games, watch videos and listen to audiobooks, too.
Free versions available for iOS, Android and Windows.
Duolingo – Most fun app
This personalized English-learning app turns studying into a game. Earn virtual coins to unlock new levels and spend them on fun upgrades. An animated owl keeps you company and encourages you as you learn. When you have questions, get help from fellow students inside the app using the Duolingo message boards.
Free and paid versions available for Android, iOS and Windows.
HelloTalk – Best conversational app
The best way to practice your English is by having a conversation with a native English speaker. And this free app lets you do just that. Chat with English speakers from around the world via text, voice recording, voice call, video call and even drawings. You can also ask questions to the community and get feedback from native speakers.
Free app available for iOS and Android
Conclusion
Let us know your thoughts in the comment section below.
Check out other publications to gain access to more digital resources if you are just starting out with Flux Resource.
Also contact us today to optimize your business(s)/Brand(s) for Search Engines