Whether you're a small business owner or just starting out, it's important to have the right tools at your disposal.
That's why we've compiled this list of the best apps for small business. These are all apps that will help you run your business with ease, from helping you manage customer details to keeping track of inventory and invoices. All of these apps will help you be more efficient and get more done in less time!
If you have a small business, we hope this list helps you find the right tool for your needs!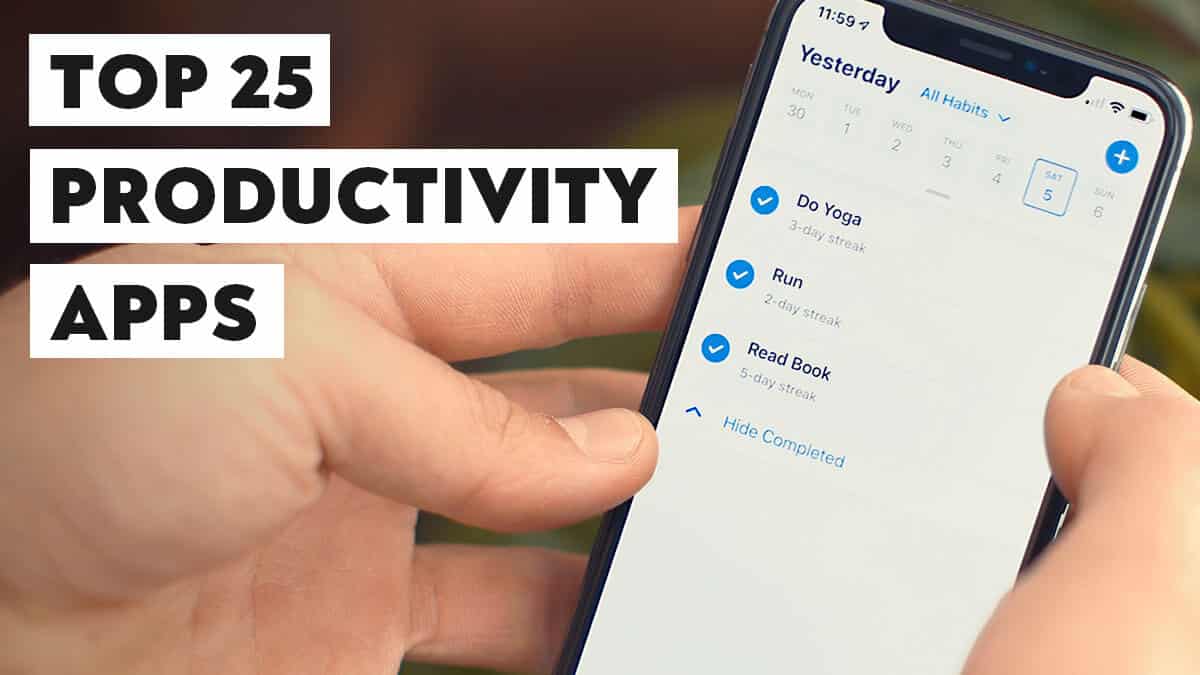 Best Apps For Small Business
As a small business owner, you probably already rely on your mobile devices a great deal, both for day-to-day communication and to check in on things when you're away from the office. There are all kinds of apps out there that can maximize your mobile capabilities, allowing you to get more done even when you aren't at your computer.
Need to put together a presentation from the back of a cab? Sign a legal document from the airport? Process credit card payments away from your desktop POS system? With the right apps, your mobile phone or tablet can become a powerhouse of productivity and organization, helping your small business run more smoothly whether you're in the office or out.
We've done the homework to find you the best apps for all kinds of small business needs, from accounting to calendar consolidation. Please note that these picks may not be compatible with all types of mobile devices.
The 8 Best Small Business Apps of 2022
Best Calendar: Tempo
Best for Task Management: Taskful
Best Presentation Builder: Paste
Best Calculator: Calzy
Best Transcription App: Otter
Best Point-of-Sale App: Square
Best for Accounting: Xero
Best for Legal Documents: HelloSign
Best Small Business Apps
Tempo
Taskful
Paste
Calzy
Otter
Square
Xero
HelloSign
What Is A Small Business App?
Who Should Use A Small Business App?
Small Business App Functions
What Does A Small Business App Cost?
Benefits Of A Small Business App
Methodology
BEST CALENDAR
Tempo
Tempo
SIGN UP NOW
Tempo is a free app for iPhones and Androids and allows you to sync multiple calendars into one location. It can also scan your email to find relevant conversations regarding your upcoming events and include that in your consolidated calendar. If you try to schedule a duplicate activity, Tempo will let you know you have a conflict. You'll receive email summaries of your daily agenda with iCloud reminders incorporated into them for convenience.
You can also obtain your flight schedule and status. Tempo is available for both iOS and Android.
BEST FOR TASK MANAGEMENT
Taskful
Taskful
SIGN UP NOW
Taskful is a free app for iPhone, iPad, and Android that functions as an electronic to-do list, giving you a streamlined way to manage ongoing tasks. This app makes it easy to prioritize: organize your jobs by days of the week, color-code them based on category or due date (Inbox, Today, Upcoming, Whenever), and set ongoing tasks to repeat for however long you need them to. If you have a task with multiple repetitions, the app will track your progress as you go, which is an especially useful feature if you have specific work quotas to meet. You can even add friends, manage or add to your list using Siri voice control, and integrate your account with other apps so your daily checklist is consolidated and comprehensive. A "Daily Task Bar" keeps you motivated with a graphical representation of your progress.
BEST PRESENTATION BUILDER
Paste
Paste
SIGN UP NOW
Paste is a collaborative presentation-building tool from WeTransfer that is free for iPhone and iPad. It's an alternative to PowerPoint that allows you to create beautiful, streamlined presentations that are instantly shareable among your work team. Paste automatically formats screenshots, videos, and links to create eye-catching slideshows and proposals extremely easily. The "storyboard" view lays out your slides in a clear and visually appealing way, making them easier to rearrange for better flow in your presentations.
The app also integrates with Slack so you and your team can share and comment on each others' projects instantly. For expanded functionality, Paste can be used in tandem with WeTransfer's other app, Paper.
BEST CALCULATOR
Calzy
Calzy
SIGN UP NOW
Calzy is a free calculator app for iPhone and iPad and winner of the 2018 Apple Design Award.1 This app goes far beyond your phone's built-in calculator, with both basic and advanced scientific functions for all your calculation needs. The "3D touch" buttons pack tons of different key options into a small, streamlined screen, and you can even rearrange the keypad to customize it.
If you make a mistake in Calzy, you can easily tap and hold to edit your calculations right on-screen. The app can also store past results for reuse in new calculations.
Additional functions include dark/light modes, decimal rounding, currency rounding, bookmarking calculations, FaceID/TouchID support, widget and iMessage extensions, and iCloud sync.
BEST TRANSCRIPTION APP
Otter
Otter
SIGN UP NOW
No need to worry about taking notes during business meetings with the free Otter app. Otter is a real-time transcription app available for iOS, Android, and web. It uses automatic speech recognition (ASR) to process and transcribe conversations in real-time, adding punctuation and distinguishing between individual speakers in the text (this feature is still being improved). It's a great tool for creating a written record of a meeting or interview, freeing you up to listen and enjoy without having to worry about taking notes. Once your conversation has been recorded and transcribed, you can edit the text in the app.
Otter also allows you to share conversations with your contacts and link to your Google or Zoom account, which is great for small business collaboration. The basic version of this app is free, but there are also paid versions. Pro is available for $8.33/month which allows you to transcribe 6,000 minutes of audio per month and Business is available for $20/month and allows you 6,000 minutes per user.
BEST POINT-OF-SALE APP
Square
Square
SIGN UP NOW
Square is a free point-of-sale app that allows you to use your iPhone, iPad, or Android mobile device to accept credit and debit card payments from your customers. Once you download the app and sign up for Square's service, they mail you a tiny, square-shaped magstripe reader that plugs directly into your mobile device. This reader allows you to swipe customers' cards directly on your phone or tablet and conduct the transaction onscreen through the Square app. This effectively turns your device into a streamlined POS system that's easy to use and entirely mobile.
Customers' payments are added into your business account within one to two business days or, if you choose, you can pay 1.5% of the amount deposited and get your funds the same day. Payment processing fees are 2.6% and $0.10 for each transaction using a major credit card. You can deposit as little as $25 or as much as $10,000 in a single deposit.
BEST FOR ACCOUNTING
Xero
Xero
SIGN UP NOW
The Xero accounting app contains a paid subscription service that helps with everyday small business accounting procedures such as accounts payable, accounts receivable, employee payrolls, and purchase orders. You can save your data in the cloud and access it from mobile devices including iPhone, iPad, or your laptop, which means that your information stays safe even if something happens to your devices. Have Xero on your mobile devices means you can handle business accounting transactions from anywhere and the real-time accounting allows you to keep track of your cash flow quickly and easily.
With the Xero trial subscription, you receive 30 days of free service. After the trial period expires, it costs $12/month for up to 20 invoices. There are increasingly advanced plans (with higher prices) that go up from there. Non-profit companies receive a 25% discount and you can also receive a discount for registering multiple companies.
BEST FOR LEGAL DOCUMENTS
HelloSign
HelloSign
SIGN UP NOW
As a small business owner, you always have paperwork to sign. The HelloSign app gives you the ability to sign documents on the go, from anywhere. The app comes with both free and paid subscription service options. Pick your plan and you'll have the ability to scan, edit, sign, and send documents via your mobile device. HelloSign can also integrate with Gmail, Google Docs, Salesforce, and Oracle. For the free app download, you receive three free documents per month. You then have the option to upgrade to one of three paid plans: Essentials, Standards, and Premium. The Essential and Standards plans' prices range from $15 to $24.99 per month and include features like unlimited signatur requests per month, audit trail, data validation, signer fields, multiple languages, and template links.
The pricing for the Premium Plan is not given on the website, but it includes all of the Business Plan features plus performance dashboards, single sign-on, cloud integration, and other advanced features.
What Is a Small Business App?
A small business app is really any app that you can download on your smartphone or tablet and helps you with some aspect of your small business. It can be used on the go to increase your productivity and help you with a task. These apps range from things like calculator apps to accounting apps to apps with templates of legal documents.
Who Should Use a Small Business App?
You should use a small business app if you own or manage a small business and don't want to have to do everything by hand or write it on paper. These apps can help small businesses such as e-commerce sites, freelancers, contractors, accounting businesses, and more.
What Functions Should a Small Business App Perform?
There are so many different types of small business apps, and they each perform different functions. For instance, a calculator should be able to accurately perform calculations, and an accounting app should be able to help you keep track of your accounts payable and accounts receivable.
How Much Does a Small Business App Cost?
There are some free small business apps with no download or monthly fees. Other apps offer free trials and then may cost around $11 per month. Some apps charge processing fees when you accept payments.
What Are the Benefits of a Small Business App?
Some of the benefits of using a small business app are:
Improve efficiency
Save time on small tasks so you can focus on tasks that grow your business
Convenience and being able to use them on the go
Increase accuracy because the app will do the calculations for you
Get organized
Increase productivity
How We Chose the Best Small Business Apps
After researching many small business apps, we decided on the top eight. We chose these as our best small business apps based on a number of factors, including the tools and features they offer, their compatibility, and their pricing. We also looked at things like subscription and plan offerings.
best apps for small business marketing
Whether you're a marketer for a growing brand (like myself) or running the entire show, marketing a small company is a challenge. How do you cut through the noise? How do you make sure the marketing you're doing is resonating with your audience and you're not just chucking money away?
These are questions we ask ourselves every day on the Dash team, too. Thankfully, there's plenty of useful SaaS businesses to help with your small business marketing plan. These can support all aspects of your strategy, from apps for advertising your business, to acing your social media and unearthing interesting nuggets of insight into potential customers.
Here's my list of 10 essential marketing tools for growing brands in 2022:
Dash – organise and use your brand's visual content
WordPress – for building your website
HotJar – make your landing pages more effective
Mopinion – collect customer feedback so you can improve performance
Buffer – manage and schedule your social media
Later – for levelling-up your Instagram game
Google Analytics – get data on your website's performance
Canva – create graphics on the fly without a designer
Ahrefs – identify SEO content opportunities
Mailchimp – send top-notch email campaigns
Dash
Most marketing these days requires content, and lots of it. Marketers need to manage an online brand, several social channels, a website, email campaigns and more. According to HubSpot, 70% of companies are investing in a content marketing strategy. This means even small brands are creating tonnes of images and videos to reach their goals.
It's a challenge keeping on top of all those images, graphics, product shots and videos without feeling overwhelmed. And that's especially so if you're using Drive, Dropbox or a creaky shared drive to manage it. You've got to remember where specific files are being kept for your colleagues, forward zip attachments of new ad graphics to your marketing agency, and more. That's fine if you're dealing with a handful of images – but the chances are, you're not.
For all those marketers who feel like they're drowning in a sea of visual content, I hear you. Dash (our product) has your back.
Dash is the perfect digital asset management (DAM) tool for small businesses. It's a home for your brand's images and video. Bring order to chaos and organise them with your own tags – or use Dash's AI to tag them all up for you. Share collections of assets with a click or create public portals for your external partners – like resellers or your advertising agency. Here's an intro to digital asset management if you want to find out more.
Dash-Portals
For example, we recently rebranded and launched Dash on a new website. We used Dash (the application) to make sure everyone working on the project had access to the files they needed. I created a public portal for the 100+ graphics our web developers required. They could use a link to go to the portal, search for what they were after, and download files. Tom from Evoke, who worked on our new visual brand, uploaded new design files straight to our staff Dash ready for my approval.
It made things much more streamlined. Launching a new website is stressful enough without having to hunt down specific logo files, believe me! Here's more about how marketers can use Dash.
Pricing: Dash is one of the most affordable digital asset management tools out there. Plans start at £49/$74 a month.
WordPress
A CMS is a marketing essential if you're running a website. CMS stands for content management system. It's a way for you to build a website, edit pages, and run your blog through a single platform.
Some providers offer a CMS service as part of their platform. For Dash, we use HubSpot to track leads and deals – so we build our website through it too.
But if you're after a dedicated CMS, you could do no worse than WordPress. You'll need minimal coding knowledge to get started. Pick one of the many templates WordPress offer and you'll be up and running in no time. You can also plug your site into other useful apps to make sure everything is connected. If you're an ecommerce brand, use WordPress's very own ecommerce platform, WooCommerce.
Pricing: WordPress lets you get started for free, but if you're a business you'll most likely want to pay to unlock the most useful functionality. Their small business pricing plans start at £27/$36 monthly or £240/$322 annually.
HotJar
If you work in marketing (like moi), there's a good chance lead forms or product pages are your bread and butter. These are pages dotted around a website which encourage potential new customers to do a desired action – like take out a free trial or buy the products you sell.
If you're interested in how you can improve these pages, or what visitors are actually doing when they come to your website, HotJar is the application for you. Its heatmaps plot how visitors pilot their cursor around your page and it can show some really interesting behaviours.
On our old Dash site, for example, we found that when visitors came to our landing page, they were clicking on the displayed product logo to try and go back to their previous page. The kicker? This logo wasn't hyperlinked to anything, resulting in rage clicks and probably quite a few frustrated visitors. We fixed that sharpish!
Dash-HotJar_1
Pricing: They've got a free version for when you're just getting started. Paid plans start at £29/$39 a month.
Mopinion
Feedback is a gift. How do you know what you're doing is working if you never ask your customers for feedback? Here at Dash, we listen to customers and use their feedback to plan new features and improve our marketing messaging.
If you're looking to get feedback on what you're currently doing, take a look at Mopinion. It makes it easy for small teams to start collecting customer feedback. You can use it to gather insights into the customer experience of your website, mobile apps or email campaigns with little to no technical knowledge.
Mopinion
How might you use this in real life? Take a leaf from German sports retailer SportSheck. They ask for feedback on the clarity of the descriptions they've written for the products they sell. When a site visitor performs a product search on their site – let's say for 'white trainers' – they also ask how accurate the search results are. Quick wins like this add up, and it lets them hone their online retail site so it can perform even better. Pretty smart, in my book!
Pricing: Pricing for Mopinion starts at £174/$229 a month if you sign up for a year.
Buffer
Almost 60% of the world's population are on social media and it influences 71% of buying decisions. The bottom line? If you want to sell your products and build your brand, social media is essential.
Managing your brand's social presence takes time, effort and creativity. That's why many marketers use social media management applications, like Buffer.
Using Buffer, you can run all your social media platforms through a single application. You're able to collaborate on posts with your team and then analyse their effectiveness once they've been sent.
One of their most helpful features is scheduling social posts ahead of time. This means you can set up months of content ready to go out on your brand's channels – rather than realising you haven't tweeted in a while and doing a mad scramble for content (trust, I've been there).
They've also added cool new features recently. One I particularly like is the comment sentiment, which flags positive or negative comments on your posts along with questions your followers might have raised.
Pricing: They've got a free version, but the functionality is a bit more limited. Paid plans start at £4/$5 a month for each social channel you sync up.
Later
At first glance, Later might look similar to Buffer. But looks can be deceiving, my friend. Where Later really excels is managing your Instagram presence.
Guess how many daily users Instagram gets? You're way off/that's bang on, you genius [delete as applicable] – it's 1.3 million. To put that in perspective, that's the same as the entire population of Cyprus logging in each day!
So it's no wonder brands are using Instagram to reach potential customers. If you're a small brand with great content, it can be an effective way of cutting through the noise and going toe-to-toe with your big-name competitors – as well as interacting with your loyal fans directly.
Later lets you schedule your Instagram posts in an intuitive way using their visual planner. It'll suggest new hashtags you might want to try so you can reach new audiences. And it has a load of useful analytics available once you post, too – like overall post engagement. If you connect it to your Shopify account, you'll be able to see directly which posts have been bringing in the bacon.
Pricing: Later offers a free version with pretty limited functionality. The real deal is their paid plans – starting at £11/$15 a month.
Google Analytics
This will come as no surprise – but Google Analytics is an essential tool for any digital marketer. It can tell you exactly how the online marketing campaigns you're running are performing. It should be one of the first places you go to when your boss messages you with the dreaded "what did that campaign actually result in?" question.
Not going to lie though, the amount of information it contains can be overwhelming. It's got data on website sessions, audience demographics, content performance and page load times. And that's just scratching the surface.
It's easy to fall down the data rabbit hole, and I've done just that in the past. But you can't report on everything – and not everything will be useful. Here's a tip if you're finding yourself overwhelmed. Take a step back and plan what would be the most useful to find out.
For example, if you're running a marketing campaign, you may just want to analyse visits, referring sources (so you know whether your channels are working) and conversions from your campaign landing page. If you're launching a new content strategy for SEO, you'll want to track the growth in organic search referrals over time. You could also use it to better define your target market and ideal customer. Don't feel like you have to report on everything!
Pricing: The standard version that most growing brands use (including ourselves) is free, thankfully. They offer a more advanced version, called Google Analytics 360, but it's decidedly not free – it'll set you back about £110k/$150k a year!
Canva
Cast your mind back. There was a time when, if you wanted to create a simple graphic for your blog post, you'd have to pay a designer or try to navigate an expensive piece of design software yourself.
Then along came Canva. Using its impressive library of stock elements and templates, it lets you easily create and collaborate on graphics for your campaigns, social media feeds or blog posts. If you're not a designer, and struggle finding your way around Photoshop layers and the like (just me?), this is the tool for you. It's as simple as dragging and dropping elements into your design. We use Canva a lot ourselves when creating Dash content. In fact, this very article header was created in Canva by our very own Amy!
You can add your own brand colours and fonts to your Canva, too. So no more switching back and forth between your PDF style guide.
MarketingApps_Canva
Pricing: Canva offers a pretty good free version to get up and going with, although you'll find most design elements locked away from you. Their paid version starts at £11/$15 a month and ramps up depending on the number of users and the features you want.
Ahrefs
Content is king but SEO is… important? I tried.
SEO (or rather 'search engine optimisation') can be a bit of a dark art, but it's basically to do with how far up your web pages rank in search engine results. Using a variety of different factors, search engines try to match content they think best serves a user's search. On average the first result in a search hoovers up about a third of all clicks for that search phrase. So the further you are up the rankings, the better you'll perform.
Creating an SEO content strategy can help boost you up the search results for terms relevant to your brand. We've been drafting one ourselves for Dash since launching on a new website, but it's tricky to know where to start. To help us out, we've been using Ahrefs. It's super useful for unearthing opportunities to rank for relevant search terms which are less competitive and easier to appear for.
How does this work? Imagine you're a start-up pizza oven company. Ranking for obviously valuable search phrases like 'buy pizza ovens online' will be very difficult right out of the gate, as you'll be facing stiff competition from established brands. Instead, focusing on lower-volume, less-competitive keywords could unearth a load of opportunities your competitors might have overlooked.
Let's continue with this fictional pizza oven company example (can you tell I'm hungry?). According to Ahrefs' keywords explorer, 'buy pizza oven' has a keyword difficulty of 54 (1 being the easiest, 100 being the most difficult). It estimates you'll need backlinks from about 100 referring other sites to stand a chance of ranking in the top 10 results. Using keywords explorer brings up a load of other opportunities which might be a good fit for our fictional oven company – like 'where to buy fire bricks for pizza oven', which has an average monthly search volume of 700 and a keyword difficulty of 8! Score.
Conclusion
Let us know your thoughts in the comment section below.
Check out other publications to gain access to more digital resources if you are just starting out with Flux Resource.
Also contact us today to optimize your business(s)/Brand(s) for Search Engines