Are you looking for the best apps for stress relief?
It's time to take a break from the daily grind and find some peace of mind.
Stress can be a serious health hazard, and it's important to take care of yourself. Luckily, there are plenty of apps that can help you do just that. You'll find everything from guided meditations to mindfulness exercises, as well as soothing sounds like ocean waves or raindrops.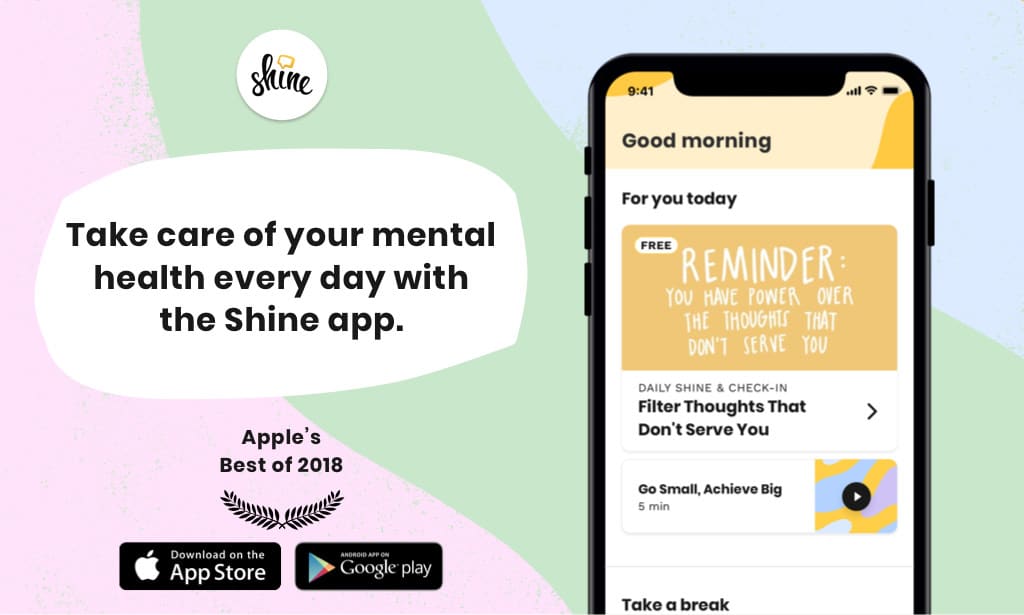 Best Apps For Stress Relief
There are many apps that are marketed for stress relief, and some of them are quite valuable. Some are less spectacular, and some of them really aren't worth the money or the space they take up on your phone. When searching for new tools to help with stress management, it's vital that you know what you're looking for and that you can separate out the helpful from the overhyped. The following collection can aid in stress relief in many ways and are well worth the time they take to use.
General Stress Relief Apps
Many stress management techniques are skills that are learned rather than activities we do naturally.
These skills help with stress relief, but they need to be learned and practiced:1
Shifting your thinking to a more positive frame of mind
Engaging in regular physical exercise
Using simple breathing exercises
The following apps can help with just that—learning vital stress management techniques and working them into our daily lives:
Personal Zen: This app was made by a neuroscience researcher to create games backed by research on anxiety reduction and resilience development. Track your progress and build a happier and less stressed outlook in just a few minutes a day of gameplay.
Sanvello: This app provides breathing exercises to help you quickly de-stress, a mood tracker to enable you to measure your state of mind and track what affects you most in your life, and other features based on cognitive behavioral therapy. The app is covered by many insurance plans.
Meditation Apps
The ability to meditate can transform your whole experience of stress. It can build resilience to stress that you face now and in the future, and it can provide you with a healthy new way of responding to stressors (including a way to detach your emotions and keep your stress response from being easily set off).2 Practicing on a regular basis is the key. The following apps can not only teach you meditation but also help you to maintain the habit in your life:
The Mindfulness App: This app provides over 300 options for learning and practicing meditation, from beginning to advanced. You can choose a meditation from 3 to 99 minutes in duration, meditations of many different types, mindfulness notices, meditation soundtracks, and more. In the premium subscription, you get unlimited access to guided meditations and courses and constantly updated content.
Calm: This app promises a "journey to a calmer mind" and it has many ways to lead you there. It boasts guided meditations and relaxation exercises as well as bedtime stories to aid relaxation and promote sleep.
Headspace: This app is "like a gym membership for the mind" in that it offers many guided meditation classes including hundreds of themed meditations and many "bite-sized meditations" for those who are very busy. There are even "SOS activities" for when you're feeling overwhelmed.
Relaxing Rhythms: This is more of a biofeedback app than a meditation app, but it's an app that should be tried in either case. It can help train you to relax your body and your mind with relative ease. Note that it requires an iOm sensor to work.
General Apps That Can Be Used for Stress Management
Some apps aren't specifically geared toward stress management but have been found to be helpful in relieving stress just the same by supporting other healthy habits. Here are a few of the best:
My Fitness Pal: This app helps you to track your eating patterns and provides articles and recipe ideas for staying in shape as well as a tracker to enable you to track your weight, caloric intake, and more. Because healthy nutrition can affect your mood and your stress levels, this one can really be helpful.3
Happify: Because a happy mood and a positive outlook have both been linked to decreased stress and increased resilience.4 This app helps you to minimize stress and anxiety by managing your thoughts.
Fitbit: This activity tracker and sleep monitor can be used for stress management by helping you to see what you're doing well and motivate you to sleep more and move more, both of which can be mood boosters. In addition, Fitbit has expanded its line of products to include Fitbit Sense. The Sense smartwatch and app can measure your body's response to stress, give you a daily stress management score, and track mood over time.
calming apps
At some point in all of our lives, it can feel like the world is going a million miles a minute and you're left in the dust. Whether work is dragging you down and causing fatigue or something else in your personal life is bringing stress, you're not alone.
And the good news is that there are a number of calming apps—on both iOS and Android—that can help you de-stress and clear your mind.
We're highlighting some of the best relaxation and calming apps to sooth you. They run the gamut of different options, from mind mapping to guided meditation and more.
MindMeister
At any one time, there are probably a host of different thoughts swirling around in your mind. Mind mapping can help you by allowing you to brainstorm your thoughts without a particular order or structure in a visual form.
A great mind mapping app option to try is MindMeister. Along with an online interface, the mind mapping service is also available on mobile devices.
Using the app, you can quickly and easily organize, prioritize, and generate new thoughts. There are a number of tools to create a map including different themes, styles, colors, and icons. It's also possible to collaborate with others to create a mind map in real-time.
With a subscription, you can also export maps in PDF and PNG format, create and edit unlimited maps, and add files and images to topics.
MAKEUSEOF VIDEO OF THE DAY
Close
Download: MindMeister for iOS | Android (Free, subscription available)
Dark Noise
3 Images
Dark Noise main screen
Dark Noise play noise
Dark Noise use with Siri
Ambient noise is a perfect way to help you get to sleep or focus on the daily task at hand. Dark Noise is an easy-to-use and powerful way to use sound.
There are more than 30 different noises to select from—everything from simple white noise to more unique sounds like a spaceship engine or a cat purring. Once you select a noise, it's easy to set a timer to end the sound after a specific duration or time.
And there's no need to open the app to start a specific noise. You can start one using a Siri Shortcut or pick a selection from a Today Extension widget.
Download: Dark Noise for iOS ($3.99)
Calm
Although ambient noise helps some people relax, it can annoy others. If you're looking for something different, try the relaxation app Calm.
While it's a great meditation app for beginners, there are also a number of options for more advanced users. The guided meditations sessions are available in different lengths from three to 25 minutes. Some of the different topics include managing stress, happiness, gratitude, self-esteem, forgiveness, and many others.
You can also select from an open-ended and unguided, timed meditation. Breathing exercises will also help you relax. Every day, a new 10-minute program is designed to help ease you into the day or unwind.
Download: Calm for iOS | Android (Free, subscription available)
Headspace
Headspace is one of the most popular tools for both guided meditations and mindfulness techniques.
You can try the free Basics course that teaches the fundamentals. And if you want to learn more, a subscription is available to unlock all of the app's content, including the full meditation library. There are a wide variety of different topics to explore like sleep, focus, and exercise.
For a quick break, the app also offers two to three-minute meditation sessions. There are specific sessions for moments of panic, anxiety, and stress. You can even add friends to help motivate and meditate with as well.
Special animations teach new skills and help answer questions about mindfulness.
Download: Headspace for iOS | Android (Free, subscription available)
Insight Timer
3 Images
Insight Timer Main Screen
Insight Timer Sessions Selection
Insight Timer Timer
Insight Timer features more than 30,000 meditations and music tracks you can access for free. Some of the most popular topics you can find include dealing with anxiety and stress, leadership, better relationships, and sleeping deeply. As a nice touch, you can select a meditation by time when on the go to better integrate the app with your daily routine. The app's namesake meditation timer offers a number of different sound options.
To better understand the app, there are many different community features and discussion groups with other users from around the world. You can also view stats and milestones to get a better sense of accomplishment.
A Member Plus subscription brings several of additional options. Along with unlocking all the courses, you can also use it to download the entire library of meditations to listen to offline. Have a look at the Daily Insight mindfulness practice, too.
Download: Insight Timer for iOS | Android (Free, in-app purchases available)
Day One
A daily journal is a great way to organize your thoughts and keep a clear mind. Day One offers a beautiful interface and other features to help make daily journaling a habit you'll want to keep.
The interface is free of distractions, which helps you focus on specific thoughts. Journal entries support the powerful Markdown language. Entries are easy to organize and you can browse through them by calendar, timeline, maps, or photos.
Metadata from your iPhone can also bring more to each entry with other information like temperature, weather, and music playing on a certain day. Your thoughts are kept safe with passcode and Face/Touch ID support.
With an available subscription, you can take advantage of unlimited journals and photo storage. Your information also syncs with other versions of the app.
Download: Day One Journal for iOS | Android (Free, subscription available)
Simple Habit
3 Images
Simple Habit Selection Screen
Simple Habit Starter Session
Simple Habit Session
Simple Habit wants to show that you're never too busy to start meditation. The app is known for its huge number of five-minute meditations tackling subjects like stress relief and managing depression. There are also longer sessions when you have more time.
The great on-the-go feature allows you to select from different scenarios, like a tough day, and pick how much free time you have. It will then provide a session to help.
A premium subscription allows you to download sessions for listening offline, plus unlimited access to exclusive series.
Download: Simple Habit for iOS | Android (Free, subscription available)
Sleep Cycle Alarm Clock
Sleepcycle
Having a calm and relaxing day often starts the night before, when you go to bed. Getting a good night's sleep has a wide variety of benefits for your health. But for many of us, that's easier said than done. When it's difficult to fall asleep, we wake up too sluggish to tackle the day ahead.
Sleep Cycle Alarm Clock brings a number of features to help you track your sleep and wake up at the most opportune time in the morning. At night, the app uses special sound technology to track your different sleep phases. If it detects snoring during the night, Apple Watch wearers will feel a slight vibration that could help you change sleep positions and stop snoring.
RELATED:
How To Improve Your Mindfulness With Good Security Practices
Before going to bed, you can set a custom 30-minute period in the morning that ends at a set alarm time. The app will then wake you up in a light sleep phase during that time period.
The available subscription offers more features like long-term sleep trends, Philips Hue smart light support, and how the weather affects your sleep.
Download: Sleep Cycle Alarm Clock for iOS | Android (Free, subscription available)
Colorfy
Coloring books are no longer just for children. The activity of coloring has been shown to relax and calm even adults. And there are a number of different digital coloring apps for smartphones and the larger screens of tablets.
One of the best is Colorfy. The app features more than 1,000 different pictures to color, which includes animals, cats, gardens, famous paintings, and more. Users can even add their own drawings to paint. Coloring is easy: just select a color palette and then tap to color. The app provides several brush types for different effects.
It's available to use without an internet connection and allows you to share your drawings on social networks. And a unique augmented reality virtual gallery lets you visualize your creations in the real world.
Download: Colorfy for iOS | Android (Free, in-app purchases available)
UCLA Mindful
3 Images
UCLA Mindful Main Screen
UCLA Mindful Getting Started
UCLA Mindful Podcasts
A simple and completely free choice, UCLA Mindful is a great way to step into the world of mindfulness meditation.
You can take advantage of basic meditations in both English and Spanish. There are also wellness meditations for people suffering from health conditions. To help beginners, there are plenty of videos that touch on how to begin, meditation postures, and the science of how meditation can help your overall physical health.
The app also includes a weekly searchable podcast exploring different themes. A timer feature lets you meditate at any time.
Download: UCLA Mindful for iOS | Android (Free)
Smiling Mind
One of the most interesting free relaxation apps available is Smiling Mind. The completely free app is made to assist children as well as adults.
There are specific programs for children of different ages and adults that focus on dealing with the pressure, stress, and tough challenges of everyday life. Sessions also cover mindfulness in the classroom and the workplace.
There are a wide variety of meditation lengths to select from, and you can even check in with yourself at the beginning and end of a session to quantify your stress level.
Download: Smiling Mind for iOS | Android (Free)
Alto's Odyssey
You don't need to find relaxation apps to help you get rid of stress and anxiety. Games that can de-stress you are all the rage on mobile platforms, and you can choose from a myriad of different titles to help calm you.
While the puzzle genre is known for relaxing titles, Alto's Odyssey offers a different type of de-stressing game.
As the follow-up to the hugely popular iOS game Alto's Adventure, the new title sees the titular Alto—along with his friends—set off an endless sandboarding adventure. Thanks to a simple one-touch control system, almost anyone can learn the basics and set off in no time. You can search for an enormous amount of secrets and learn all sorts of tricks along the way.
Along with the beautiful scenery, the original musical score for the game is easily worth the price of admission. Put on your headphones and melt away into the beautiful environment. The special Zen mode features its own unique soundtrack and allows you to enjoy the game without a score, coins, or power-ups.
Download: Alto's Odyssey for iOS ($4.99) | Android (Free, in-app purchases available)
The Best Mobile Apps for Rest and Relaxation
While life can sometimes overwhelm you, there's no reason to get down. Hopefully, using some of these great relaxation apps, you can better take on the daily grind and stay calm and relaxed.
For an alternative method to lower your stress levels, try playing binaural beats with an app. You might also want to take a look at positivity apps for managing mental health.
Conclusion
Let us know your thoughts in the comment section below.
Check out other publications to gain access to more digital resources if you are just starting out with Flux Resource.
Also contact us today to optimize your business(s)/Brand(s) for Search Engines