Google Chrome is the most popular browser in the world. It has many great extensions that can help you work more efficiently. These are some of the best Chrome extensions for productivity.
The right Chrome extension can make a difference, though. It can increase your productivity and help you do what you need to do in the most efficient way possible. Some of them can even block distracting websites!
Best Chrome Extension For Productivity
Here's a breakdown of the extensions that we'll cover in-depth in the following paragraphs:
Clockify
Google Keep
Grammarly
Todoist
Adblock
Hypercontext
LastPass
Noisli
Infinity
Nimbus
Blocksite
Forest
Tab Suspender
StayFocusd
Vimium
Clockify — for tracking time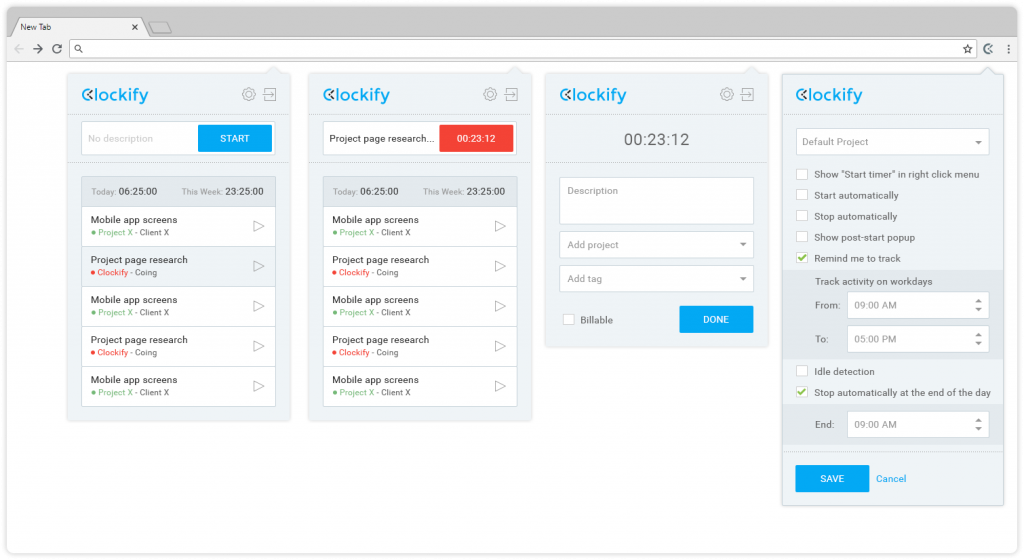 What is Clockify?
Clockify is a time-tracking app that allows you to accurately track your activity across apps and the web with a single click at the start of the day. To make matters even easier, the extension further simplifies the process.
There's no need to open the Clockify app or go to the website — simply start the timer at the extensions bar and get started with your day.
Why use Clockify?
Aside from tracking time, Clockify lets you:
Organize time entries,
Input descriptions,
Sort time entries by projects/tasks,
Analyze your day, and
Export the results in PDF.
Furthermore, Clockify's basic plan is absolutely free for an unlimited number of users, but you can get access to extra features for a relatively low monthly price if you upgrade to advanced plans.
Clockify's highlight feature:
If you're struggling with staying productive, you can use the Pomodoro timer to set intervals for working/studying and taking breaks. Also, you can eradicate laziness by activating features such as idle detection or alerts for specific tasks.
Clockify Pro Tip
If you want to learn how to enhance your productivity even further, take a look at our student and freelance productivity guides:
Student productivity guide
Freelance productivity guide
25 ways to increase productivity
Google Keep — for note-keeping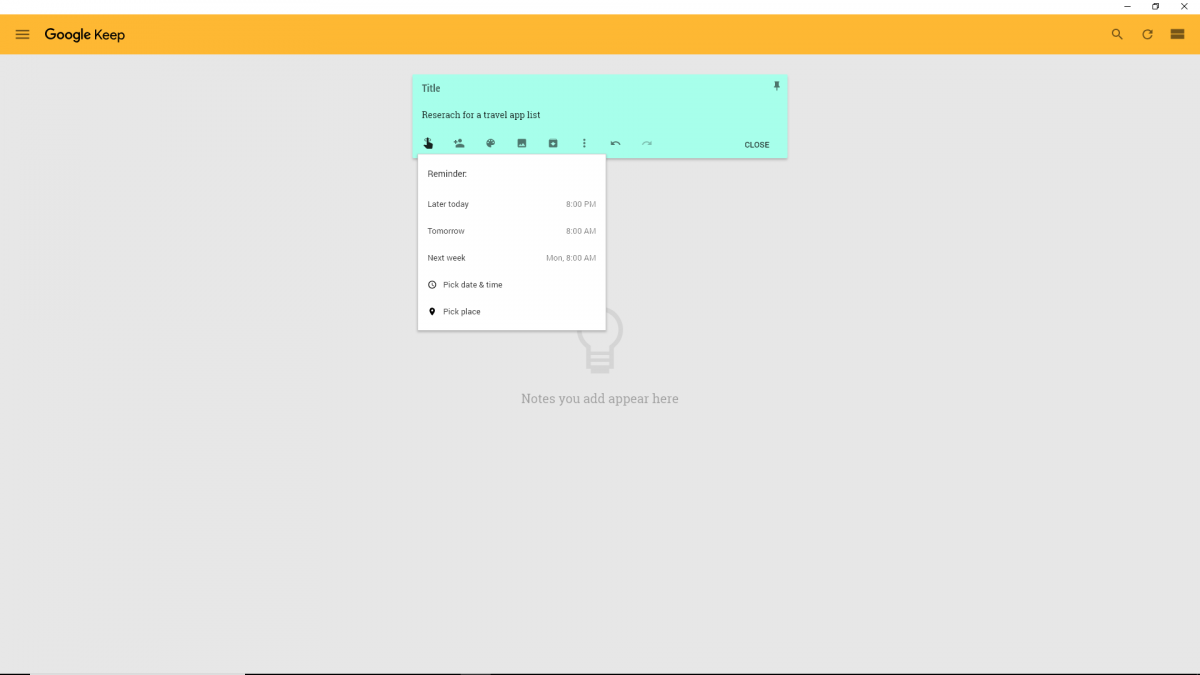 What is Google Keep?
Google Keep is an excellent Chrome extension for keeping all your data neatly organized. Its primary function is to help you take notes and create to-do lists, but you can also save images and pages and then add notes to them.
Moreover, you can even take notes by making voice memos that are later transcribed.
Why use Google Keep?
If you often keep a large number of notes and you're constantly shifting between tasks, Google Keep's color-coding system will surely be of help to you — find what you need at any time.
Furthermore, all your data can be synchronized across devices, if you have the app installed.
Google Keep's highlight feature:
The extension lets you set up location-based reminders for your notes and lists. Say you have to do some on-location research for a travel app — just make a list of all the details you should keep an eye on, and set a location-based reminder so that Google Keep pulls up your list as soon as you get to the location.
Grammarly — for grammar and spell-checking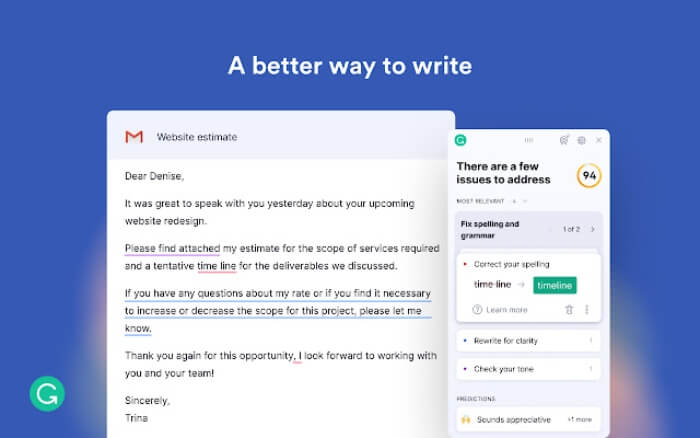 What is Grammarly?
Every student in the modern era has either heard about or used Grammarly at some point. It is a software that possesses the ultimate grammar knowledge, combined with:
Spell-checking capabilities,
Advanced suggestions,
Clarity corrections, and
Style adjustments.
The extension follows you on most sites that have text fields and it'll start running as soon as you start typing.
Why use Grammarly?
Grammarly is an excellent accessory for everyone — students, teachers, reporters, and even office workers. It can significantly cut your typing time, affect your overall writing performance, and leave you worry-free when you have to send an important email.
Grammarly's highlight feature:
If you're writing an important text and you need it to be absolutely perfect, Grammarly has a "Plagiarism" section that cross-references your text to thousands of other web pages to find identical sentences or phrases. It's a handy feature for reporters, writers, and, of course, students.
Clockify Pro Tip
If you have that one important exam coming up and you know there's no way you can 100% prepare for it, you should try some of the best Chrome extensions for students. They won't pass the exam for you, but they'll surely help you make a step toward that goal.
Todoist — for task management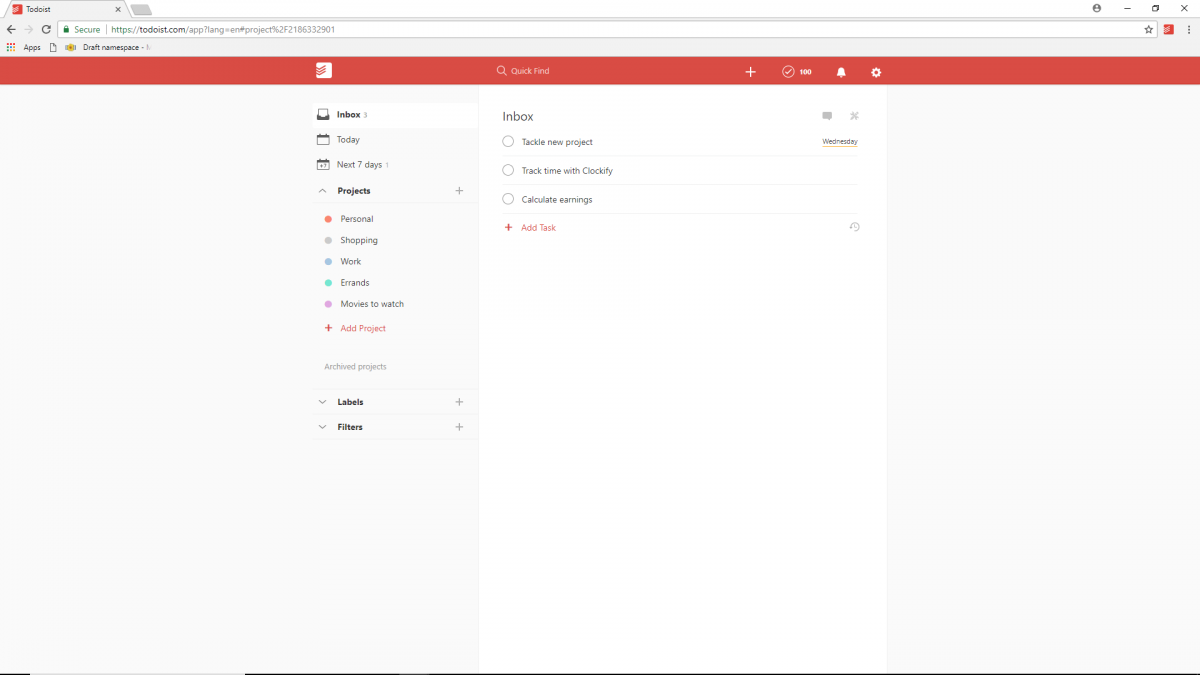 What is Todoist?
The Todoist Chrome extension is a simple, but useful task manager. It allows you to keep track of your projects and manage all your tasks by organizing and delegating them directly from your Chrome.
With Todoist, you'll never again worry about missing deadlines — add due dates, set up reminders, and build productive habits with Todoist's recurring-date option.
Why use Todoist?
To fully utilize every second of your time, you can color-code your projects, create sub-groups and sub-projects, and really micromanage your daily workload. 
Moreover, you can use the extension to collaborate with other people — prioritize projects and delegate tasks to your co-workers in an easy and straightforward way.
Todoist's highlight feature:
If you're battling with tons of emails on a daily basis, you can integrate Todoist into your personal or work account.
Then, you can forward emails directly into Todoist and label them as "tasks" or "comments", which can further be accessed through the extension. This is a clean way to centralize your workspace and fully utilize Todoist's features in a simple way.
AdBlock — for blocking ads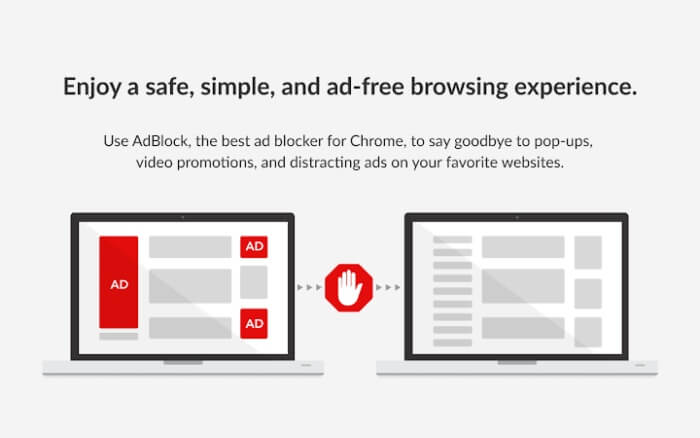 What is AdBlock?
If your daily assignments require you to do a bit of online research, you know how frustrating it can be to find what you're looking for, only to be ambushed by a bunch of ads and sponsored videos.
That's where AdBlock comes to the rescue.
The name speaks for itself — this extension runs in the background and blocks out all the annoying ads and pop-ups that welcome you when you visit websites such as YouTube or Facebook. It'll do it automatically and you don't have to click anything — just let it do its job.
Why use AdBlock?
Aside from helping you focus on your work, AdBlock will also keep you safe by recognizing and blocking out malware and malicious pages.
AdBlock's highlight feature:
AdBlock lets you substitute blocked pages with pictures of your choosing. Moreover, you can customize your experience with AdBlock by choosing some beautiful themes.
best chrome extensions for working from home
Momentum
Create a personalized dashboard to organize your day.
Create a personalized dashboard to organize your day. Credit: Momentum
Momentum is a very popular Chrome extension boasting over three million users. It replaces your normal new tab page with a"personal dashboard," featuring a beautiful landscape photograph, a to-do list, your personalized weather, and inspirational quotes.
If you're the type of person that likes to center yourself and take a calming deep breath before you hit the power button on your laptop, Momentum is for you. The team behind the tool states the aim of the extension is creating a new tab page that gives you a moment of calm and inspires you to be more productive. It achieves this last part by asking you what's your "main focus" each day, a handy reminder to keep yourself on track.
Zoom Scheduler
Zoom meetings are the most 2020 of meetings.
Zoom meetings are the most 2020 of meetings. Credit: Zoom Scheduler
We've all marveled at the meteoric rise of Zoom during 2020. For obvious reasons, the service has seen a huge increase in users. If this is the platform that your company uses for "cloud meetings" then you need this extension in your life.
The Zoom Chrome Extension allows any user to schedule Zoom meetings directly from Google Calendar. With the click of your mouse, you can start an instant meeting right there and then, or schedule for a future meeting to take place at a time that suits you.
Once you've set up a Zoom meeting, the meeting URL and any other information you've added is sent via a Google Calendar invitation so the person, or people, you've invited can join with a single click.
Note Board
Go digital with your sticky notes.
Go digital with your sticky notes. Credit: Screenshot/Note Board
If you're used to spreading yourself around a lovely, sizable desk with notepads, post-it notes, and memos dotted all over the place, working from your couch can be a struggle.
Use your work-from-home experience as an opportunity to improve your working habits by making your notes digital. Note Board offers a digital post-it note setup to quickly write down your notes, to-do lists, shopping lists, links you want to visit or bookmark, images you need to reference, videos you want to watch, and more. You can launch it directly from your browser bar in a matter of seconds, which will give you a tab featuring your "boards." This is where you can create and move your digital post-its around. If you want to clutter your digital desktop like you would your office one, it's all in your hands.
While you can use it as a simple text tool, it supports all kinds of formatting options, including font size/type/style/color/background color, bulleted lists, image and video insertions, and URL links, among other useful tools. Ditch the planet-harming post-its and go digital!
StretchClock – Break Reminder and Office Yoga
You need a break from your desk. Let this Chrome extension help.
You need a break from your desk. Let this Chrome extension help. Credit: Stretchclock
We're all about wellbeing with this next suggestion. While you may not be cooped up in a cubicle, it's all too easy to stay stationary for longer than is good for you when working on a laptop. This extension aims to change that.
Stretchclock is a "professional break reminder for desk warriors." The configurable timer runs in one of your browser tabs and reminds you to stretch at set times that suit you. When the StrechClock countdown timer reaches zero, it shows you easy "no-sweat" exercises that you can do at your desk, even if you're wearing business attire. You can choose how many exercises you want to do each time from just a few simple stretches to half an hour yoga-style work-friendly workouts.
It's a fab way to remind yourself to stay active and help prevent back issues and repetitive stress injuries while working from home.
Nimbus Screenshot & Screen Video Recorder
Screenshots are a must when you're on Zoom call number 46 of the day.
Screenshots are a must when you're on Zoom call number 46 of the day. Credit: Nimbus
For a free tool, Nimbus does A LOT of really useful things that over a million people are very grateful for on a daily basis. We recommend checking the extension out in detail, but for the sake of this article, we're focussing on the extension's ability to help you quickly and easily capture images and videos of your computer screen.
If you're trying to collaborate remotely with colleagues while working from home it can be difficult to get people to understand instructions over the phone alone. Visuals are an essential part of explaining processes or instructions. Nimbus lets you capture whole or partial screenshots. You can then use the tool to add graphics, such as arrows and stickers, text boxes, highlight text, and blur out areas you don't want to be seen before you send it to a workmate.
Similarly, Nimbus allows you to record video from your screen to make a screencast, so you could easily "show" someone how to do something without having to fuss with remote access set-ups. This is particularly useful if you work with people in different timezones to you.
Office
A must-have extension for all Office users.
A must-have extension for all Office users. Credit: Office
If you're Team Microsoft, as most workplaces are, this handy extension offers you quick and convenient access to Office content and services from your browser bar.
The Office browser extension is a free extension made especially for Microsoft Edge and Google Chrome. Simply click on the Office icon and you'll instantly see one-click access to your favorite online apps, such as Word, Excel, Powerpoint, and Outlook, as well as the documents you've most recently had open. This means you can quickly jump back into documents to continue working on them, a useful productivity hack for all Office users.
Grammarly
Whether you're working from home or not, Grammarly is a must-have.
Whether you're working from home or not, Grammarly is a must-have. Credit: Grammarly
We'd recommend anyone and everyone installs Grammarly to their Chrome browser, regardless of where they're working. It's such a marvelous free tool that can make a huge difference to the quality of the written content you produce.
As Grammarly states, misspellings and grammatical errors can affect your credibility. Reduce that risk with this extension that will automatically correct your text in Gmail, Google Docs, Twitter, Facebook, LinkedIn, WordPress, and across millions of other sites. It will underline words that are spelled incorrectly in red, and also flags grammatical errors, misuse of punctuation, and even analyze how concise your writing is.
If you set up a Grammarly account, you can get a personalized writing report each week to help you track your progress and identify improvement areas.
Auto Text Expander 2
Banish repetitive typing tasks.
Banish repetitive typing tasks. Credit: Auto Text Expander 2
Conclusion
Let us know your thoughts in the comment section below.
Check out other publications to gain access to more digital resources if you are just starting out with Flux Resource.
Also contact us today to optimize your business(s)/Brand(s) for Search Engines