How to Choose the Best Small Business Web Design Software
Building a website for your small business is an essential part of making your brand more visible to the world, but it can be difficult to know where to start. A website design software can help you get your site up and running in no time, and they come with a variety of features built-in.
This guide will walk you through some of the best options available on the market today, as well as give you some tips on what to look for when you're choosing the right one for your business.
Best Small Business Web Design Software
1. Websitesimple.io – Bests for new or small businesses
With WebsiteSimple.io, build your website, engage with your audience, and grow your business online from one place. Not only website but also eCommerce, funnel and subscription based features are available.
Pros:
Exceptional customer support
Catapult your idea with a sleek presentation.
Fair Pricing
Clean-looking code that works really fast!
Cons:
Not too much customization option for big businesses.
G2 Rating: 4.7/5
Pricing:Websitesimple's price $14 per month so its so fair.
2. Wix – Best for building free websites
I have seen a user comment saying, "If you can use PowerPoint, you can create a professional-looking website with Wix" and I couldn't summarize this tool's ease-of-use better. It is ideal for designers and photographers, but if you are looking for an e-commerce solution or a solid website with optimal speed, it shouldn't be your first choice.
Pros:
Scores out most website builders with its ease-of-use.
One of the most intuitive drag-and-drop builders
Self-explanatory: no need to understand coding or technicalities
A wide range of design options and templates, even with the free version
Add-ons available such as Wix form builders
Cons:
E-commerce options are a bit costly.
Free sites come with long and annoying URLs (i.e., accountname.wixsite.com/siteaddress)
The mobile version and backend navigation could be better.
Relatively slow loading speed
G2 Rating Wix: 4.2/5
Top Industries Using Wix: Marketing and Advertising, Computer Software, Information Technology & Services, Design, Entertainment, and other
Pricing:
E-commerce: $16.17/mo – best for small businesses Unlimited: $12.45

Create a Free Wix Popup with Popupsmart
3. Squarespace – Best for modern designs
Squarespace is also one of the best website builders for small business owners. It helps individuals from artists to entrepreneurs create stylish websites.
Most users will agree that among major website builders, Squarespace is the most aesthetically pleasing one. It is also very easy to implement (second to Wix.)
Pros:
Modern and elegant templates
Perfect for photographers and visual artists
Drag and drop feature and variety of design options
All-in-one platform that can handle blogs, e-commerce, domain hosting, etc.
Domain transfer
SEO tools
Cons:
It requires a business plan to access powerful features like custom code. Being able to add custom codes is essential to add elements like event countdown timers.
Lacks multi-language approach from out of the box
There are fewer add-ons and apps than similar tools.
Its e-commerce capabilities cannot compete with similar tools that offer plugins and more features.
G2 Rating: 4.4/5
Top Industries Using Squarespace: Marketing and Advertising, Design, Photography
Pricing: Starts at $12/mo, but to be able to add custom codes and use e-commerce features you'll need to go for at least $18/mo.

Create a Free Squarespace Popup with Popupsmart
4. Shopify – Best for e-commerce
If you've been researching online store builders, you might have noticed that the most popular one is Shopify.
Shopify stats show that with 1.7M merchants using Shopify to sell online, it is one of the largest e-commerce platforms.
Since this platform has a sharp focus on selling online, it comes with more advanced e-commerce features than most of the other website builders. Shopify is ideal for small to medium-sized businesses.
If you are just starting out your business, you could go for other website builders for small business that offer a free or cheaper plan.
Pros:
There is a wide range of Shopify apps in the Shopify App Store, in different categories like email marketing or sales.
Cover almost every feature and more that is needed for a small business.
Excellent for dropshipping
Provides SSL so you don't have to worry about your website's security
Cons:
It might be costly for most small businesses, but if your store is growing and needs more features, Shopify is the best.
Very few themes
If you are looking for heavy customizations, Shopify isn't the one for you. Open source platforms like WordPress.org would be better However, it requires coding and designing skills.
G2 Rating: 4.5/5
Top Industries Using Shopify: Retail, Apparel & Fashion, Marketing and Advertising
Pricing: Starts at $29/mo
Compare Big Cartel vs Shopify: Which is Better for You
5. Weebly/Square – Best for simple editing
Square E-commerce, formerly known as Weebly, is a website builder platform for small businesses. Although not as advanced as Shopify, Weebly is cheaper and makes it easy for starters to build a website from scratch.
Pros:
Easy to set up
Provides a lot of building blocks
A large number of templates available
There is a free plan.
The ability to change a template without having to upload the content again
Cons:
The drag and drop feature provides ease but there's no option for moving elements to precise places on the website as Wix provides.
The editor doesn't allow moving elements freely.
Limited SEO capabilities
G2 Rating: 4.2/5
Top Industries Using Squarespace: Marketing and Advertising, Information Technology, Education Management, Higher Education
Pricing: Free plan available. Paid plans for online stores start at $12/mo with a free domain.
6. BigCommerce – Best for growing businesses
Next on our list of the best website builders for small business is BigCommerce. Just like Shopify, BigCommerce focuses on e-commerce. This platform empowers small business owners and merchants to build their websites without coding.
Pros:
BigCommerce doesn't charge transaction fees to use third-party payment gateways.
Ability to sell in different currencies
It can integrate with many marketplace platforms.
The platform offers comprehensive features in its entrance-level item choices.
Cons:
The standard price plan doesn't include abandoned cart functionality. Cart abandonment studies show that roughly 70 of every 100 potential customers leave their cart without purchasing. That means such features are essential for recovering revenue loss.
Design and editing capabilities are limited.
It requires a few seconds to load the page content.
G2 Rating: 4.2/5
Top Industries Using BigCommerce: Retail, Apparel & Fashion, Marketing and Advertising
Pricing: Starts at $29.95 per month.
7. Gator Website Builder – Best for e-commerce
Another tool we'll mention in our list of the best website builders for small business is Gator Website Builder. This tool is developed by the hosting company HostGator. It provides an all-in-one website building and hosting solution.
Note: Gator is a simple solution and lacks advanced features. If you're going to launch an e-commerce store or if you want to add more functionality to your site, Gator is not the best choice for you.
Pros:
You don't have to worry about hosting when using Gator since it's a fully hosted platform.
200+ professional design templates
Provides an access to a built-in stock photo library
Cons:
It doesn't offer a free plan or a free trial.
Gator is a simple website builder so it doesn't have advanced features that other solutions on our list have.
Pricing: The Gator Website Builder starts at $3.46/mo. It includes hosting and the domain name, which makes it cost-effective for small businesses.
best website builder for startups
WordPress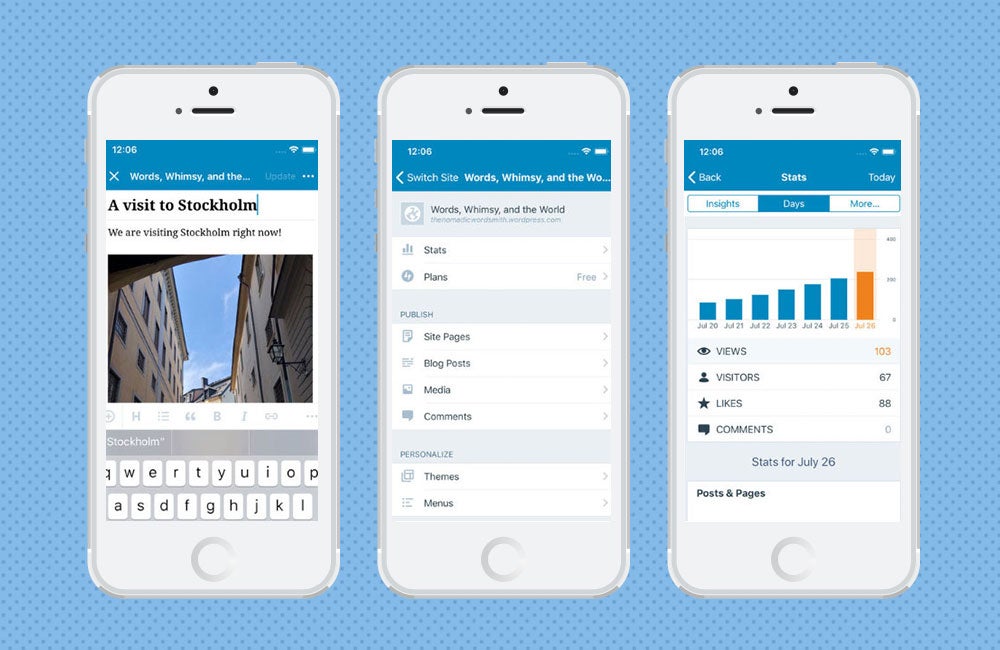 Image credit: WordPress | Entrepreneur
What We Love: WordPress is a classic website builder that says it powers more than 31 percent of the web, and it has two iterations: WordPress.org and WordPress.com. The first allows you to download and install WordPress software on your own web server for free, and it specializes in customization and flexibility — users can insert lines of code, build site applications and allow different levels of access to site administrators, editors and contributors. But reviewers say that flexibility can come at the expense of simplicity — meaning that if you're looking for something simpler, you may want to try WordPress.com. The .com version takes care of all the website hosting for you. It also offers hundreds of templates, as well as plugins like contact forms, security scanning and media embeds.
What Users Say: One reviewer writes, "I've used both .com and .org versions, and they're equally as robust and customer support is prompt. You have a million plugins to choose from, and you can either use a theme for your website or code it from scratch." Another says, "A novice can get started and experiment with the basic capabilities on Wordpress.com for free (highly recommended)."
Pricing: Options include Free, Personal ($48 per year), Premium ($96 per year) and Business ($300 per year) on WordPress.com
Wix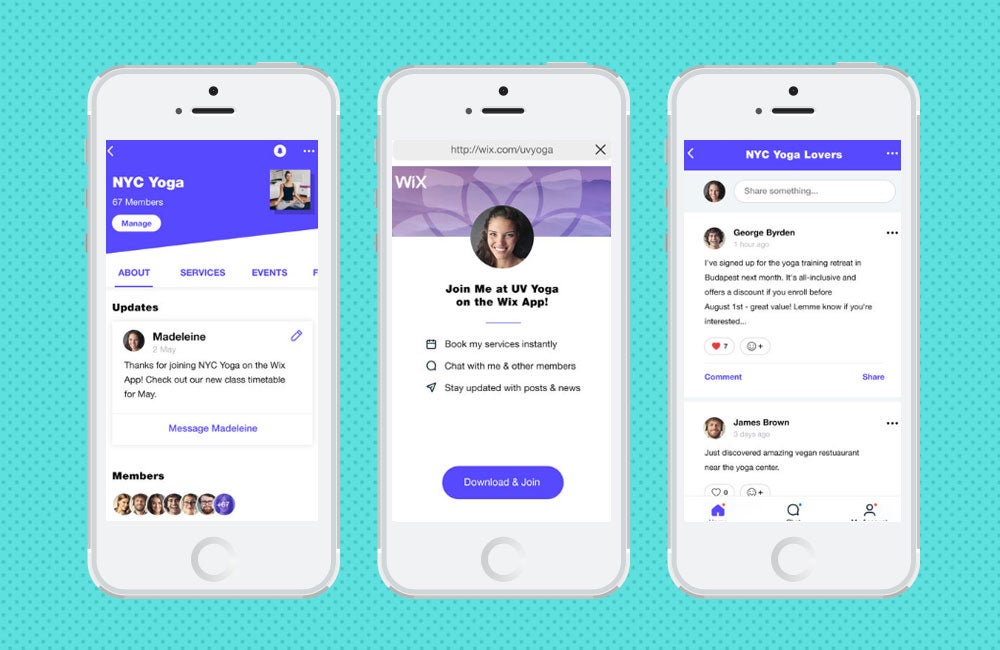 Image credit: Wix | Entrepreneur
What We Love: There's a reason review site Wirecutter chose Wix as its top pick when it comes to website builders for small business. By last count, it offers 572 choices of building templates to choose from, as well as plug-ins for the likes of OpenTable, Google Maps, booking appointments and more. And if you're design-shy? Consider trying Wix's Artificial Design Intelligence (ADI), which works to auto-design your website after you answer a few questions.
What Users Say: One reviewer writes, "There are not enough words to be able to affectingly describe how much I love Wix and their website building platform… I feel very at home with Wix website editor. Everything is laid right there in front of you, and there are very few page limitations." Another says, "After spending many hours searching for the best entry-level website development platform, I made the decision to go with Wix… I quickly crafted and completed my own website in as little as a week, for free."
Pricing: Options include Connect Domain ($5 per month), Combo ($11 per month), Unlimited ($14 per month), E-Commerce ($17 per month) and VIP ($25 per month)  on Wix.com
Weebly
Image credit: Weebly | Entrepreneur
What We Love: Weebly is one of the most cost-effective options for a small business website — not only does it have a free version, but its paid options start at $4 a month and top out at $25. The builder offers just under 60 template options by last count — significantly less than its competitors — but what it lacks in versatility it makes up for in simplicity. Its editing tools are relatively easy to navigate, and the user interface is straightforward.  
What Users Say: One reviewer writes, "I've been struggling with my organization for years to get a website that looks great and is affordable. After three professional attempts at sites, we switched to Weebly… Best of all, it looks really good — especially for what we pay!" Another says, 'It's quick, easy and gets the job done… If you just need a clean, basic website that communicates what you need to say and you don't want to waste a lot of time doing it, this is a good go-to.'
Pricing: Options include Free, Connect ($4 per month), Starter ($8 per month), Pro ($12 per month) and Business ($25 per month) on Weebly.com
Squarespace
Image credit: Squarespace | Entrepreneur
What We Love: Specializing in simple and clean design for categories like art/design, fashion/beauty, health/fitness and more, Squarespace offers around 70 template options and 24/7 customer support — and there are no limits on bandwidth or storage. Another perk? The builder offers specifically designed e-commerce tools like unlimited product catalogs, drag-and-drop sorting tools for merchandise and the ability to send email reminders to customers who abandoned checkout before purchase. Squarespace boasts a host of celebrity clients including John Malkovich, Keanu Reeves and Leon Bridges.
What Users Say: One reviewer writes, "I have used other drag-and-drop website building software in the past and even though the layouts looked right when I was editing, once I viewed them live and on different devices, there were always problems. With Squarespace's platform, my site always looks exactly the way I expect it to." Another says, "Their software is generally very straightforward and can be figured out with a few quick searches, but the few times I didn't know what to do they were there for me and walked me through literally step-by-step on how to do anything."
Pricing: Options include Personal ($16 per month or $144 per year) and Business ($26 per month or $216 per year) on Squarespace.com
Shopify
Image credit: Shopify | Entrepreneur
What We Love: Shopify is an industry darling of sorts when it comes to selling goods online. Most website builders have built-in e-commerce tools, but Shopify's 24/7 customer service, payment processing and analytics help it stand out in its own right. Customers can build out and customize their website via Shopify's array of templates, though pricier than competitors (10 free options and 56 paid options). Something else to note: If you go with another website builder and are unhappy with its e-commerce tools, you can still sell using Shopify by embedding its "Buy Button" on many other platforms (WordPress, Squarespace and others).
What Users Say: One reviewer writes, "If you want to stick to just basics and you need a clean, responsive e-commerce site, then Shopify is for you. No programming knowledge is required, and there are many fine templates to choose from." Another says, "Amazing customer service. Shopify is entirely unparalleled in this regard. Their live chat option is not only convenient but staffed by people who actually know what they are talking about!"
Pricing: Options include Basic Shopify ($29 per month), Shopify ($79 per month) and Advanced Shopify ($299 per month) on Shopify.com
Conclusion
Let us know your thoughts in the comment section below.
Check out other publications to gain access to more digital resources if you are just starting out with Flux Resource.
Also contact us today to optimize your business(s)/Brand(s) for Search Engines