Welcome to fluxresource.com! We're so excited that you've decided to join us, and we hope that you'll find this site useful.
Here at fluxresource.com, we believe that small businesses need tools that make it easier to run a business. We want to help you succeed. That's why we've created a list of free online tools for your small business.
From project management software, to invoicing, accounting and payroll services, there are plenty of ways for you to save money and time on your business' operations—all without having to spend a dime.
We've done the hard work of finding these tools for you so that all you have to do is click around, see what works best for your needs, and get back out there making money!
Free Small Business Tools
When it comes to the business scales, the small and medium businesses or SMBs showcase a more challenging and risky business landscape. While the world continues to be a place where successful entrepreneurs are leaving their mark on the business fraternity, the list of businesses that failed to achieve merits is also sizable.  
While free business tools continue to be a top priority for the freelancers and small business setups, the entrepreneurs must be wary of their choices. There are many tools that can slow down your growth pace and have a negative impact on your business, instead. 
Given the impact of the current pandemic, entrepreneurs across the globe have switched their crisis-mode 'ON'. As per the Harvard Business Review, around 58.9 million people in the USA are employed in the SMBs and form 47.5% of the private working force. 
When faced with a pandemic of such sorts, most of them are anxious and are looking for the best ways to keep their business afloat. Given below is a list of the expert-approved free tools for small businesses that can help them in achieving their business goals, all the while acting as the best support for their ventures.
As per Forbes, the three crucial terms that are going to decide the future of SMBs in the coming time, are:
Disruption
Automation
Data Analytics
All the free online business tools can cater to the above-mentioned and many other futuristic and contemporary demands of your business. So, read on and give your ventures the right set of wings to fly high in the sky!
25 Free Small Business Tools That Your Small Business Needs Today

1. Google Analytics
2. Hotjar
3. Canva
4. BrandCrowd
5. JungleScout
6. Kickstarter
7. MailChimp 
8. Shopify
9. Buffer
10. Qualaroo
11. Zapier
12. Doodle
13. Skype
14. Docracy
15. Slack
16. PayPal
17. GoDaddy Website Builder
18. Pilcro
19. Todoist
20. Pixabay
21. Dropbox
22. WordPress
23. Sumo
24. Grammarly
25. EchoSign

How to know if a tool is right for your business or not?
25 Free Small Business Tools That Your Small Business Needs Today
1. Google Analytics
Actionable analytics are the core of traffic-driven businesses such as information portals and blogs etc. Google Analytics is one of the best small business tools that offer you intense and qualified data. Reports, trends (daily, weekly, monthly, and yearly, etc.), performance stats, and live stats – you can tap into the most crucial business analytics with a free account.
Perfect for:
Small, medium, and enterprise setups with scalable needs; bloggers, analysts, and data experts.
Unique Features:
It lets you track your goals, visualize the flow of your visitors, and generate audience reports.
It helps in campaign measurement and creating custom reports.
2. Hotjar
Hotjar's behavioral analytics go beyond the basic feed and numbers and offer you a better understanding of your visitors' activities when they visit your website. Hotjar has an attractive suite of features relevant to marketers, designers, and managers. Based on the actionable analytics such as heat maps and user behavior, you can make changes in your user interface and increase your conversions. This is undeniably one of the best tools for businesses driven by analytics.
Perfect for:
Small, medium, and enterprise business setups.
Unique Features:
It helps you identify the areas where your users and visitors get stuck.
It empowers you to make changes based on user behavior and increase conversions.
3. Canva
Canva is an excellent source of professional-grade graphics and comes with hoards of pre-formatted templates to create flyers, social media or promotional banners, blog graphics, and practically anything to everything.
It effectively compensates for the lack of professional designers and expertise in creating eye-catching visuals for all your needs.
Perfect for:
Businesses of all kinds and all scales that require graphics.
Unique Features:
Hoards of stock images, illustrations, font libraries, and custom templates
Drag & drop editor, photo editor, and branded templates
Customizable branding and design resizing
4. BrandCrowd
BrandCrowd is your one-stop-shop for your small business branding needs. With little investment, you'll have access to hundreds of customizable logo designs. However, BrandCrowd is not just a logo destination.
They also provide design templates for Instagram and Facebook, business cards, Youtube covers, email signatures and much more.
Perfect for:
Small and mid-sized business owners who don't want to spend a huge amount for their branding and marketing needs.
Unique Features:
There's no need to resize the templates for social media as all of them are custom-fit for their purpose.
Thousands of social media templates automatically customized with your logo colors.
The logo maker boasts thousands of unique designs created by professional designers from around the world.
5. JungleScout
JungleScout is an all-in-one online platform for learning about selling on Amazon. Offering an expert step-by-step and intensive guide for beginners, experts, and seasoned online sellers, JungleScout can help you multiply your earnings and increase your audience on Amazon.
It can also help brands and agencies to transform their online selling experience via various products such as databases, product trackers, launchers, and analytics.
Perfect for:
New Amazon sellers, existing Amazon sellers, and brands & agencies selling on Amazon.
Unique Features:
It offers loads of quality educational material such as ebooks, guides, webinars, case studies, and success stories.
It also offers estimator tools and affiliate marketing.
6. Kickstarter
If you want to crowdsource funding for your business, but don't want to give away the equity, then sign-up on Kickstarter.
It is a unique funding platform that can help you recruit micro-investors and donors for your business venture. It is available for free and asks for a small percentage as a fee-only after the funding campaign is fruitful.
Perfect for:
Small and very small businesses and freelancers.
Unique features:
Easy to raise funding for your project and venture
Reliable and high success rate of funding
7. MailChimp
MailChimp is one of the best free business tools that you can lay your hands upon. You can create bulk newsletter content of up to 12000 emails for 2000 subscribers without paying a single penny.
Apart from creating beautiful newsletters, you can enjoy the benefits of advanced analytics and easy personalization.
Perfect for:
Small, very small, and medium businesses looking for free, yet effective ways to be in constant touch with their prospects.
Unique Features:
Complete email transparency
Email tracking, custom report generation
Management of un-subscribers and subscribers
8. Shopify
Having given wheels to more than 1 million businesses across the globe, Shopify is an all-in-one online platform that offers the best tools for businesses of all kinds and all scales.
It offers an incredibly efficient and robust platform to start, run, and grow your business ventures.
Perfect for:
Businesses of all types and scales.
Unique Features:
All free business tools available under one roof
Shopify experts for mentoring
A suite of tools ranging from security to ecommerce and marketing to analytics
9. Buffer
Buffer is an intuitive and streamlined social media management tool that offers actionable insights.
It helps social media managers to achieve meaningful engagement on social media and offers analytics, team collaboration, and post publishing.
The free plan offers a few limited features and is suitable for small businesses with a limited audience.
Perfect for:
Small, medium, and enterprise business setups.
Unique Features:
Automatic post scheduling
Different analytics for gaining insights into important data such as popular content
Scheduling across different social media channels
10. Qualaroo
Qualaroo is a brilliant tool that can help you gather valuable customer feedback via targeted surveying of users in context, obtain actionable insights in user data, and create delightful business assets.
It comes with AI-powered analytics and empowers you with advanced targeted insights into user behavior and experiences. It has a suite of lucrative features that can work wonders for your business.
Perfect for:
Small, medium, and enterprise business setups.
Unique Features:
You can gain actionable and advanced insights into the user experience.
You can do advanced and targeted surveys such as AI sentiment analysis, and exit intent surveys to craft a better and personalized user experience.
11. Zapier
Zapier is a reliable and robust tool that helps you automate your workflow and comes with a forever free plan for small business owners.
Using Zapier, you can conduct customer surveys, find new customers, and interact with them, organize events such as webinars and create targeted lead nurturing campaigns.
Perfect for:
Small, medium, and enterprise business setups.
Unique Features:
You can integrate Zapier with all the other tools for businesses and apps.
With Zapier you can start and finish workflows from any app automatically.
12. Doodle
Doodle is a free online meeting scheduling tool that enables you to organize events with people using different kinds of digital (and even non-digital) calendars.
You can easily bypass the difficulties of different time zones, email exchanges, and also keep your calendar private while planning meet-ups with Doodle.
Perfect for:
Startups, small businesses, medium & enterprise setups, and freelancers.
Unique Features:
Doodle comes with free appointment scheduling by creating polls.
You can create any type of meet-ups and online events without having to take consent via emails or messages or chats.
13. Skype
This is one of the best free online business tools that was also one of the very first ones. It continues to offer effortless online collaboration with teams and clients without weighing down on your pockets. Mobiles, desktops, or any other digital device of your choice – Skype serves you the best when you have to do face-to-face interactions.
Perfect for:
Businesses of all kinds and all scales.
Unique Features:
You can make calls across the globe, share files, enjoy screen-sharing, and much more.
You can search for your permanent chats at any time.
You can send SMS and also use Skype for Wifi hotspots.
14. Docracy
Docracy is one of the must-have free tools for small business. It is an open-source for legal documents such as service agreements, employee contracts, and lease agreements, etc. It can help you save thousands of dollars on attorneys and other legal procedures. All the documents are available as different listings such as freelancer documents, writers' documents, and developers' documents, etc.
Perfect for:
Start-ups, small and very small businesses, and freelancers.
Unique Features:
You can digitally sign your legal documents and also request for a document that is not available.
15. Slack
As a small business owner, you cannot undermine the importance of communications with your team and clients.
Slack is one of the leading team communication apps that comes with lots of lucrative features in its freemium version.
The free plan comes with 10000 searchable messages, one-to-one video calls, and integration with 10 other apps and tools.
Paid versions offer many other features such as instant feedback, file sharing, and searching the communication history, etc.
Perfect for:
Businesses of all scales.
Unique Features:
It offers '2 Factor Authentication' in its free version as well. So, you cannot fall prey to password thefts, etc.
16. PayPal
When you work with overseas clients, having a secure and feature-rich online payment gateway is a must. PayPal is one of the most commendable platforms that make your online transactions (credit and debit cards) easy, secure, and hassle-free. It is recognized on a majority of websites and also supports recurring payments.
Perfect for:
Small, very small, and medium-sized business setups and freelancers.
Unique Features:
No sign-up fee
No direct fee
17. GoDaddy Website Builder
The largest domain name registrar – GoDaddy, offers an impeccable free website builder tool for small businesses and freelancers. The website builder comes with a guaranteed 99.9% up-time and lots of customization options. The brand boasts of an excellent customer support system and has highly positive customer feedback. You can also utilize the website builder if you already have a domain name plan.
Perfect for:
Small and medium-sized business setups and bloggers etc.
Unique Features:
Step-by-step walkthroughs for customization of websites.
24X7 support via phone, chat, and ticketing system.
18. Pilcro
Pilcro is one of the best free tools for small business setups that can be used by entrepreneurs for affordable brand management practices such as logos, colors and fonts. You can store all such assets in a shared online space. This way, your entire team can have access to all these assets as and when required.
Perfect for:
Businesses of all scales.
Unique Features:
You can create a business assets artboard where everything is stored in a shared space.02
Marketing teams can create content without delays and confusion.
19. Todoist
Todoist gives you a sense of perfect management with its impeccable 'to-do' list planners. Apart from having a clear overview of what needs to be done, you can enjoy features such as Quick Add, recurring due dates and task view, etc. You can also assign favorite tags and prioritize your tasks.
Perfect for:
Businesses of all kinds and all scales.
Unique Features:
You can delegate tasks, send notifications, and also comment on the tasks.
You can set amazing incentives via Todoist Karma and productivity visualizations.
20. Pixabay
Pixabay is everybody's go-to place for free stock images that are several grades higher than the other sources of free images. Offering a distinctive and an all-inclusive line-up of impressive and out-of-the-box images, Pixabay is just the right place to find pictures that speak a thousand words.
Perfect for:
Businesses of all kinds and scales.
Unique Features:
Stock videos are also available to help you create stunning and rich content.
21. Dropbox
This is a fantastic software that makes your files accessible across all platforms and devices with ease. You can simply store your files in Dropbox folders and assign the access rights as and when required. This is one of those free online business tools that can save time and effort spent in managing, sharing, storing, and editing files and documents.
Perfect for:
Businesses of all scales and all types.
Unique Features:
It offers you a smart workspace for creating content effortlessly and sharing it seamlessly.
Dropbox can be integrated with a large number of other apps and tools.
22. WordPress
As per the official stats, WordPress is the foundation of 36% of the web. From building your website to blogging and sharing to selling your stuff, WordPress does a commendable job. You don't have to grapple with coding, scripting, and any manual while using WordPress. Professional themes, stunning designs, and ease of use – this is undoubtedly one of the most impressive free business tools currently.
Perfect for:
All types of businesses; irrespective of their scales.
Unique Features:
Thousands of plug-ins and add-ons with easy installation and easy customization.
Real-time analytics and notifications to help you create an ultimate website.
23. Sumo
Sumo is being touted as the topmost free email capture tool and once you go through its features, you will find it rightly so. It will stay free forever and takes a few seconds to get started. This is a simple, yet brilliant tool for small business owners that struggle to find efficient email capturing tools that are affordable as well.
Perfect for:
Small, very small, and medium business owners and freelancers.
Unique Features:
You can integrate it with WordPress, Shopify, and Google Tag Manager.
You can grow your email lists, boost your conversions, and deliver delightful customer experiences.
24. Grammarly
Working as a freelance writer and sending grammatically wrong samples is one of the worst things that can ever happen. Grammarly is a fantastic tool that not only helps you correct your mistakes but also helps you improve your writing style. Its free version is amazing too and can be integrated with a large number of apps and tools for a holistic experience. Its paid version also comes with an excellent plagiarism tool that can work wonders for your career as a writer.
Perfect for:
Businesses of all kinds and all sizes.
Unique Features:
It allows you to set goals against which you can evaluate the performance of your content.
Apart from grammar, you can also check the clarity, engagement, and delivery of your content.
25. EchoSign
Formerly known as EchoSign, the tool is now known as Adobe Sign. Adobe Sign facilitates signing, sending, and tracking all kinds of documents from within your browser. You can achieve all this without compromising your security. It integrates well with all the Adobe tools and products and is well-suited for all types of businesses. Using EchoSign you can electronically sign your documents from anywhere, create custom document templates, and reuse the previously used templates.
Perfect for:
Businesses of all kinds and all scales.
Unique Features:
You can store and archive your documents in the shared document library.
FAX the signed documents.
You can create signable web forms that can also be embedded in your website.
Now that we have gone through the list of the best small business tools that are free and can support all kinds of small businesses, let us move on. We are going to share a few tips that can help you find out whether you need a particular tool or not.
How to know if a tool is right for your business or not?
It is very easy to fall prey to using lots of tools in the pursuit of having excellence at your workplace. From automation to creating worklists, from creating stunning graphics to having an intact virtual office – there are endless reasons to use tools.
While business tools can help you achieve much more, you must take care of choosing well and wise. Take a look at the following tips that can help you make the decision.
Identify your business needs and business deliverables.
Choose a tool that can suit both of them.
Go for upgrades once your business reaches a significant milestone.
Monitor your subscriptions and plans closely for avoiding unnecessary financial pressures.
This completes our discussion of the best free business tools that can offer exceptional and much-desired support to small business owners and freelancers. We hope that this line-up offers thoughtful takeaways for all the readers and they choose the rightmost set of tools to give wings to their ventures.
free business tools for startups
Running a startup can be a costly venture. And finding the right tools for the right price can be a challenge. Especially when time and resources are limited…
In this article, our guest author Ayomide Joseph, recommends some of the tools he's used to grow his own business. Giving you a list of 10 free business tools for startups.
Tools for new businesses
Have you ever for once thought about starting a new business, but when you think of the cost of certain tools that will help grow your business, you just want to scream your head off? …literally!!!
I mean, why won't you? With the average cost of setting up a startup ranging from $10,000 to $1 million, you can see how anyone seeing that will most likely freak out.
And yeah, it's true, good things are expensive — but not all though.
Here is the thing, kickstarting a new business is hard and costs quite a lot especially now that startups are at an all-time high.
Heck, Fundz records that 47% of Series A startups spend more than $400k or more per month.
Now that's a lot of money, which makes launching, or even running a startup a no-child's play. Especially considering the statistics on the number of startups doomed to fail. 
But here is a kicker, for you to be able to launch a startup and run it successfully, you need to equip yourself with a vast knowledge of different factors that contributes to its success.
Some of these factors include risk management, team management, customer acquisition, customer retention, social media management, team communication, budget management, and so much more.
Now, you can't possibly do all this alone, and no one expects you to, which is why you need certain tools to help you streamline the workflow process.
Below are free tools I've personally used to grow and keep growing my business, plus I also recommend them to the startups I've worked with.
TLDR: Take a jump
Trello for Project Management
Zoom for Video Conferencing
Hootsuite for Social Media Management
Calendly for Schedule Management
Mailchimp for Email Marketing
Slack for Instant Messaging
Enloop for Business Planning
Ganttic for Resource Planning
Canva for Graphic Design
Docracy for Managing Legal Affairs
10 Free Business Tools for Startups
1. Trello for Project Management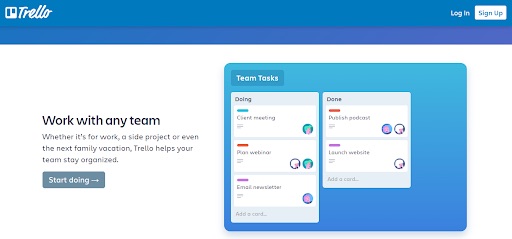 Team communication, collaboration, and management are the three magic pillars holding every successful startup you see today. With Trello, you get all these things and even more.
Trello is a free, flexible, simple, and easy-to-use project management software. This web-based software offers you a visual representation of all your tasks and how to effectively manage them with your team.
As a result, every member of your team knows what others are up to, and how far they've come. This ensures everyone is on the same page, which in turn removes miscommunication from the team.
Kanban boards are a popular choice for project management because of their streamlined and visual design. You can, however, mix and match them with online Gantt charts for a more comprehensive project overview. Find out how in our article on mixing Kanban boards with Gantt charts for better project management.
2. Zoom for Video Conferencing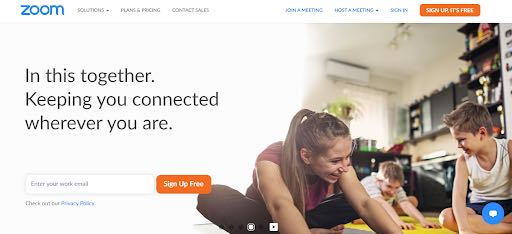 Gone are the days where you can't have a good business network without being there in person to either create it or manage it.
Video calls and conferencing have bridged the gap with networking in such a way where you can actively meet, and engage with your customers just as if you're there in person.
There are a lot of web-based applications out there that can help you with your video calls, but none like Zoom.
Zoom is the number one service of choice for video conferencing and currently has over 300 million+ users all around the world, with an A+ rating on trusted websites like Trust Radius, G2, and Gartner.
As a startup, Zoom helps you connect better with your audience as it is built to support businesses of all kinds —including yours.
The free plan on Zoom allows you to host up to 100 participants at a time, plus you get unlimited one-on-one meetings which are quite okay for a new business.
3. Hootsuite for Social Media Management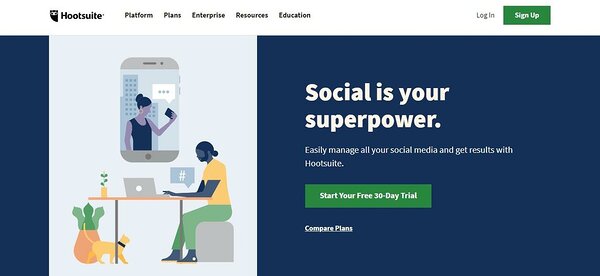 As a new business, it's okay to want to dream big, stay up-to-date, and want to get up on everyone's social feed as soon as you launch.
But perhaps you think it'll be costly, stressful, and difficult to manage.
Well, I'm here to tell you it's not.
With just a simple dashboard, friendly interface, plus an easy onboarding process, you're good and ready to start managing your social media with Hootsuite.
And yeah, it's free!
Hootsuite is a social media management tool that allows you to manage multiple social media profiles across different networks of choice. You also get to schedule your posts, track engagements, and keep track of useful analytics that contribute to your business' growth.
The free version of Hootsuite allows only a single user and social media accounts. That's more than enough to get you started on Facebook, Twitter, and Linkedin or perhaps Instagram — pick your favorite three.
Read on: See a few more tips on how to boost your content marketing team's productivity. 
4. Calendly for Schedule Management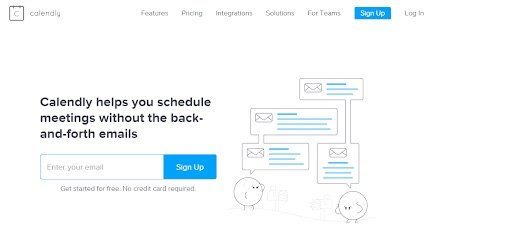 Nothing kills a business faster than missed, or late appointments with prospects.
It doesn't matter if it's scheduling work shifts, events, conference calls, or meetings, without the proper management, it all falls apart.
And yeah, it's never easy keeping track of everything especially if you don't have an assistant to help you out.
This is where Calendly comes in to streamline the whole process while taking the load off your back so you can use your time for something better.
Calendly is a free, and easy-to-use, online appointment scheduling software. It pretty much takes care of scheduling your appointments, events, and meetings based on your availability.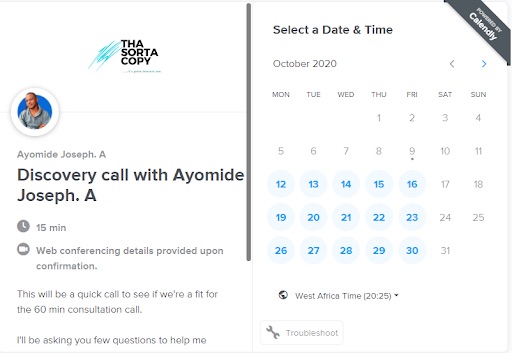 It doesn't matter if the person booking time with you doesn't use Calendly, you're still good to go.
Calendly also comes with simple integration to your favorite apps such as Zoom, Gmail, Salesforce, Hubspot, Stripe, intercom, PayPal, Zapier, and so much more.
Many of us are dependent upon our GCals and Outlook Calendars to remember all our appointments and plans. If you find it hard to tear yourself away from your online calendars, you can instead try integrating it with your other startup tools.
Read on to see to how to sync Outlook and Google with Ganttic's resource planner. Or find out how to tun your Google Calendar into a Gantt chart. 
5. Mailchimp for Email Marketing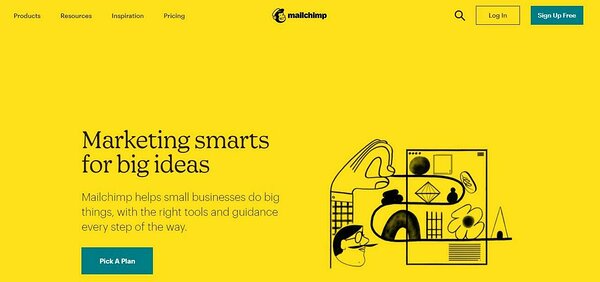 New business? new to the email marketing game? Mailchimp's got you covered.
One of the big questions on the lips of most startups is "how do we keep our businesses in the minds of our customers/audience?".
With over 100+ answers to the question, email marketing is in the top 3 —and no better way to do email marketing than with Mailchimp.
Mailchimp comes packed as an all-in-one email marketing platform for every business you may find yourself in.
With the free version allowing you to send 12,000 emails to 2,000 subscribers, you've got yourself and your brand a good newsletter to keep your audience glued.
Some of its best features include beautiful templates, easy personalization, advanced analytics, retargeting, built-in photo editing, and so much more.
6. Slack for Instant Messaging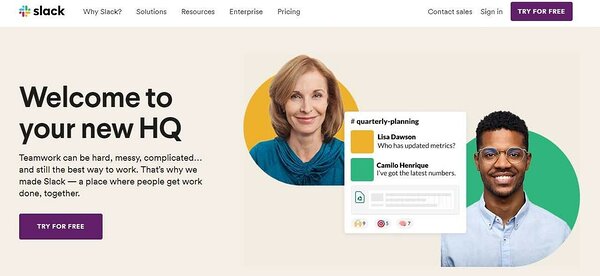 It's always a hassle when you have to go back and forth with emails, calls, texts, and all sorts of ways to communicate with your team.
Heck, you sometimes might get lost in the conversation and have to start all over.
Well, enough of that, Slack solves all those problems for you.
Slack is a messaging tool that allows teams to manage their conversations easier and better across multiple platforms and devices. It creates workspaces for everyone on the team to have private group discussions, messages, file exchange, apps, tools and so much more.
For the most part, Slack is free and covers most of the things your startup will need to function properly —some of which include a 5GB file storage limit, and 10 custom, or app integration.
7. Enloop for Business Planning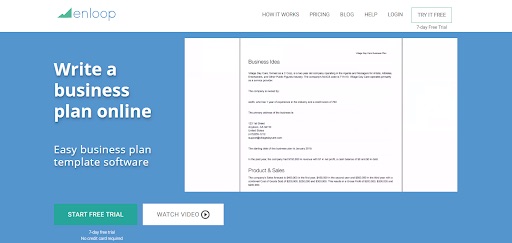 Every startup pretty much knows what it wants first hand —whether it's remodeling their existing process or starting a new one.
But getting from point A to point B in a startup requires a well thought out plan and strategy for there to be any success, to begin with.
You obviously might not have the budget to hire someone to help you out, and even doing it yourself might be tedious, which is why you need a tool like Enloop.
Enloop is a simple, easy, and free-to-use online business plan writing software.
With Enloop, you can easily create a detailed, and professional-looking business plan that comes with a 3-year financial forecast reporting, account analysis, real-time performance score, and business plan score to save you time on trial and error.
8. Ganttic for Resource Planning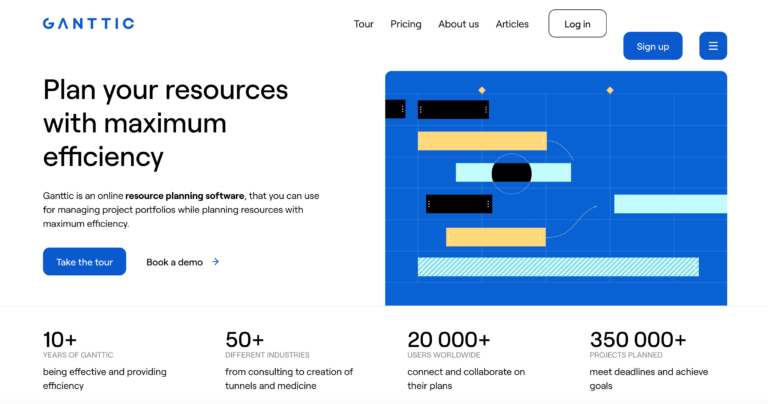 Building and running a startup requires proper management of available resources. Things such as financing, people management, equipment distribution, facility management, and others involve a steep learning curve that shouldn't be handled lightly.
On the other hand, a resource planning tool will come as an advantage to help you schedule and plan all your resources to get the best possible outcome.
Ganttic is a resource planning and project portfolio management software that does an equally great job for scheduling people, projects, facilities, and equipment.
You can create schedules simply by dragging and dropping tasks. Customizing Ganttic to your needs is easy thanks to its flexible interface.
The software is good for scheduling and reporting, tracking milestones, and capacity utilization. You can sync Ganttic with Google Calendar and leave notes in the app to collaborate with your team.
Ganttic offers your startup a free option. If you have less than 10 resources, then you can take advantage of Ganttic for free, forever. Once you start growing and your business increases, you can choose exactly the kind of plan that works for you. 
Plus, with costs way less than the average software, you'll be able to save even more money when you do upgrade. 
9. Canva for Graphic Design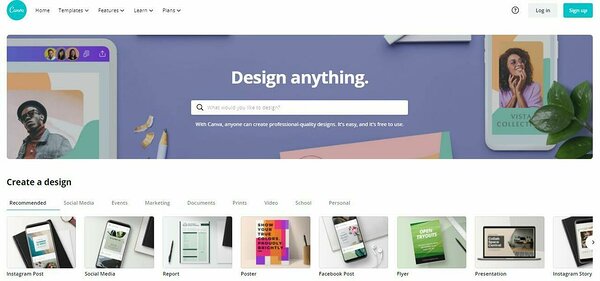 Having a powerful, professional and visually pleasing digital presence has never been more important than now.
From the type of images, icons, social media campaigns, flyers, animation (gifs and memes), and banners, you use for your brand, they all speak a whole lot more than you can imagine. All these put together dictates how people look and feel about your brand when they see it pop up on their phones, laptops, or TV screen.
If the goal of your marketing strategy is to look professional and eye-catching, then Canva is what you should be using.
Canva is a great graphic design platform that enables you to create visual content easier, faster, and better. With its ready-made templates and few clicks of a button, you can create social media profile headers, flyers, banners, logos, infographics, marketing ads, blog graphics, and so much more.  
With the free version of Canva, you can get by on your budget marketing and make your digital presence stand-out in a sea of startups.
And you'll be called a pro at the office too, I promise.
10. Docracy for Managing Legal Affairs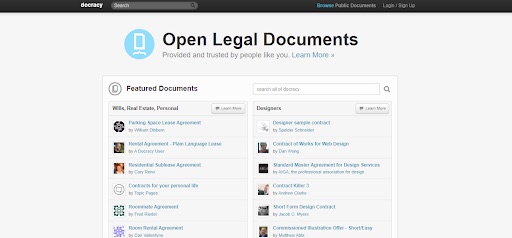 The fees alone for preparing basic legal documents can make you give up on ever creating your businesses.
And what about the cost of hiring a good attorney to help you out? That's another one that will eat up your budget as a startup.
But hey, don't panic, Docracy will help you out.
Docracy is an open-source website that curates legal documents for individuals and companies. The website allows for the sharing and signing of documents such as NDAs, wills, employment, and business contracts, trusts, and all other basic service agreements.

Note, you do want to have all documents you find on the website reviewed by a professional to avoid any complications that might affect your business.
Bonus – nTask for Task Management
One major problem startups face early on is developing a system tailored to their specific needs.
Without this system, it becomes nearly impossible for any startup to scale its productivity — which in turn, affects its bottom line.
But all of that changes with nTask.
Using nTask, your team gets access to resources that help them manage their daily tasks, track progress, and collaborate better with both internal and external teams.
You also get to choose your preferred task management view. Some of which include; lists, grids, calendars, boards, and gantt view.
Another benefit to using nTask is the flexibility in integrating with your team's system irrespective of the size. Users can assign tasks to other team members, set due dates, give priority, and also share files. With nTask managing your tasks, you never have to worry about missing a deadline or team productivity.
Note — The free plan allows you to add 5 members to your team with unlimited workspaces, tasks, and to-do lists. If you'll like to opt for the paid plan, it starts at $3/month for each additional user.
On a final note,
Here is where I drop the pen or perhaps stop typing. With you now is the knowledge of tools that will help you attain success as you run or launch your startup.
Each of these tools will in one way or the other streamline your workflow more efficiently while maximizing your ROI in the process.
Conclusion
Let us know your thoughts in the comment section below.
Check out other publications to gain access to more digital resources if you are just starting out with Flux Resource.
Also contact us today to optimize your business(s)/Brand(s) for Search Engines