Online collaboration tools are a great way for businesses to get things done in a more efficient way. The tools allow employees and clients to work together on projects from anywhere in the world.
There are many different online collaboration tools out there, but not all of them are created equal. Some offer more features than others, some have better user interfaces, and some are more secure than others.
In this article we'll go over some of the best online collaboration tools that you can use with your business today!
Online Collaboration Tools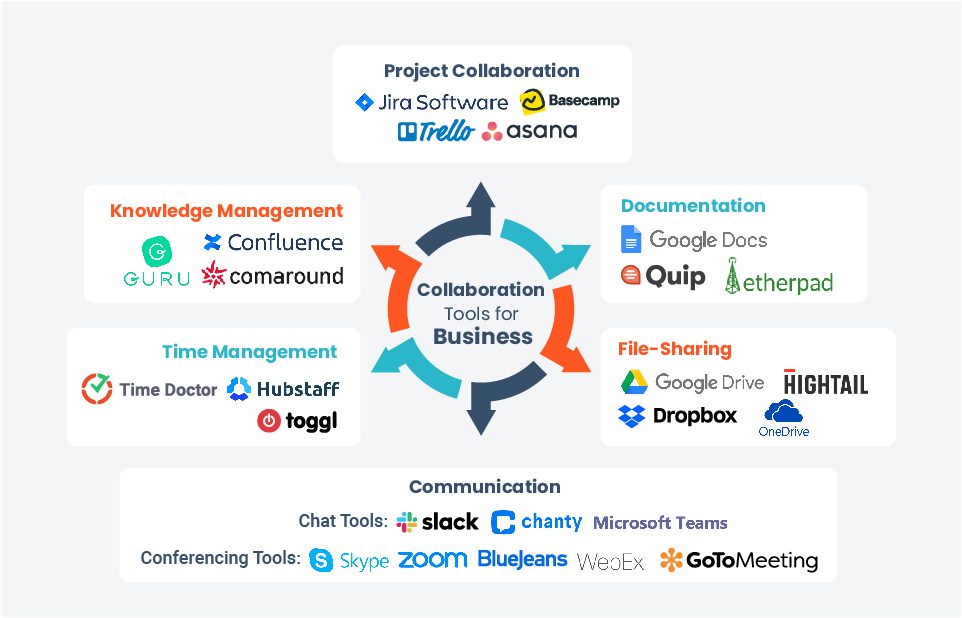 People can't collaborate if they don't communicate. From instant messaging to video conferencing tools (the best alternative to face-to-face meetings), there are many options for team collaboration tools:
1. Flowdock
Flowdock is a group and private chat platform. Its most interesting feature is its team inbox which aggregates notifications from other channels, like Twitter, Asana and customer support tools.
2. GoToMeeting
GoToMeeting is an online video conferencing software that allows users to schedule meetings and share screens. It's one of the most popular video tools with millions of users.
3. Slack
Slack is a popular and well-crafted platform offering instant messaging, file transfers and powerful message search. It has many features and dozens of integrations with other tools like Trello and Intercom.
4. WebEx
Cisco's WebEx provides personalized video meeting rooms where users can to host and join meetings. People can use WebEx for team collaboration, webinars, training and customer support.
Streamline your hiring process
Want to learn how an applicant tracking system can help you hire better, faster and more cost efficiently? Find out with Workable, the world's leading ATS.
Try our ATS
Manage projects and tasks
Project management tools are critical. Who can coordinate effectively when they can't monitor task progress or keep track of objectives?
5. Asana
One of the most well-known project management tools, Asana allows users to assign tasks to other members, add followers to projects and monitor deadlines. It's very useful as a to-do list or calendar for strategic planning.
6. Dapulse
Dapulse is a collaboration tool that helps you communicate, set objectives and assign tasks. Its big advantage: it has a great visual design so it's easy to understand and work with.
7. ProofHub
ProofHub is a work management tool that offers a comprehensive suite of collaboration and project management functions. On this platform, you can organize files, plan and monitor projects and discuss with colleagues and stakeholders. ProofHub also lets you review and approve files through an online proofing tool.
8. Redbooth
Redbooth is an easy-to-use project management tool. Its platform allows users to plan and collaborate through many functions from video conferencing to creating Gantt charts.
9. Trello
Trello has an intriguing interface that resembles solitaire (you can even drag task cards across columns, just like you would playing cards). It's easy to learn and works well for monitoring projects and assigning tasks. Trello also makes using Agile, Scrum and other project management frameworks easy.
10. Wimi
Wimi offers users their own 'unified workspaces' where teams can manage projects and share files and calendars. You can control access in each workspace with a rights-based system. Wimi Drive, their file syncing software, helps you make the most out of cloud technology.
11. Milanote
Milanote is one of the qualified tools that can be used for serving numerous purposes including blogging. Using this tool, you can organize creative projects and place them into excellent visual boards. It will provide you a feel like you're working on the wall in a creative studio. Milanote would be a great fit too for designers who work remotely.
Related: Recruiting tools and techniques for modern HR teams
Create together
A task isn't always one person's responsibility. Sometimes team members need to create together. These are the best collaboration tools:
12. Codingteam
Coders can easily collaborate when writing their code through platforms like Codingteam. It offers a free 'software forge' that encourages visibility and collective code building.
13. Igloo
Igloo is a company intranet that allows people to communicate and get work done. Its wiki allows colleagues to share information and ideas.
14. Google Docs
Google needs no introduction. Google's collaboration tools include its Docs and Sheets services, which are designed to allow teams to edit files at the same time and save all their changes automatically.
15. Quip
Quip started off as a mobile app and released a desktop version later. Teams can import and work live on different file types. Edits are saved automatically and its chat, comment and checklist features make collaboration easy.
1. Flock
With Flock, team members can exchange messages, share files, host video conferences, manage to-dos, and set up calendar events all from one easy-to-use app. Flock integrates with popular business tools such as Google Calendar, Google Drive, Asana, MailChimp, and Twitter, making it easier for team members to stay on top of things without juggling a dozen different apps. 
collaboration apps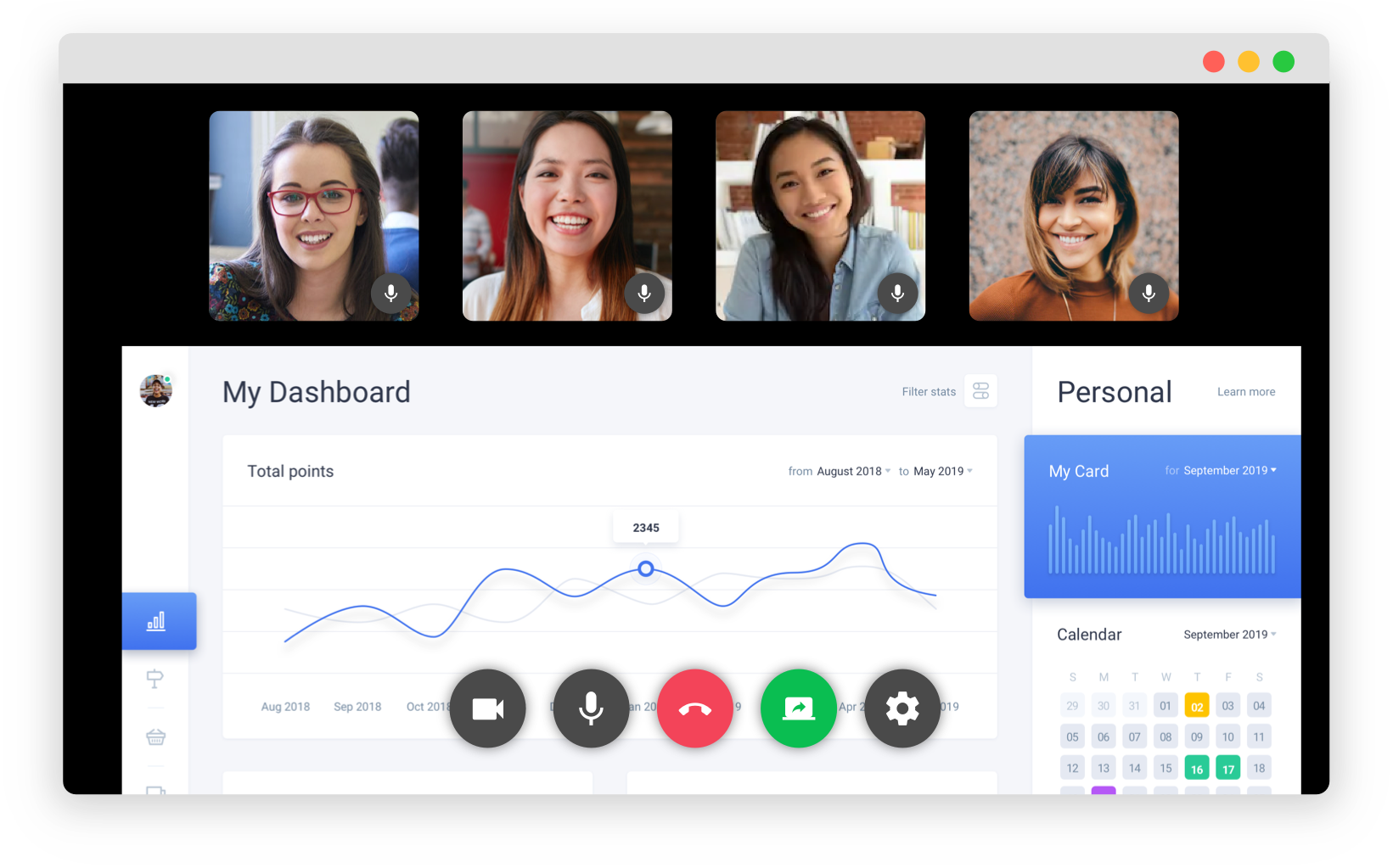 Flock's free plan gives your team:
Unlimited team members and one-to-one messages
10 public channels for group conversations
Unlimited 1:1 video calls
5GB storage for file sharing and 10K message history for quick search
Built-in productivity apps such as shared notes, polls, and reminders
Unlimited integrations for third-party services, such as Asana, Jira, or Google Drive
Need more room? Flkock PRO unlocks enhanced admin controls, group video conferencing, unlimited channels, guest accounts, more file storage, and access to priority support. At just $4.50 per user per month, we think it's a steal, but our free plan is pretty generous and well, free. It's your call.

Download now: Flock's Ultimate Guide to Great Communication in the Workplace.
2. Slack
If you've heard of team chat, you've probably heard of them. IM, channels, video calls, integrations and bots for hundreds of third-party tools; Slack has it all. But the free plan limits you to 10 service integrations, so choose wisely.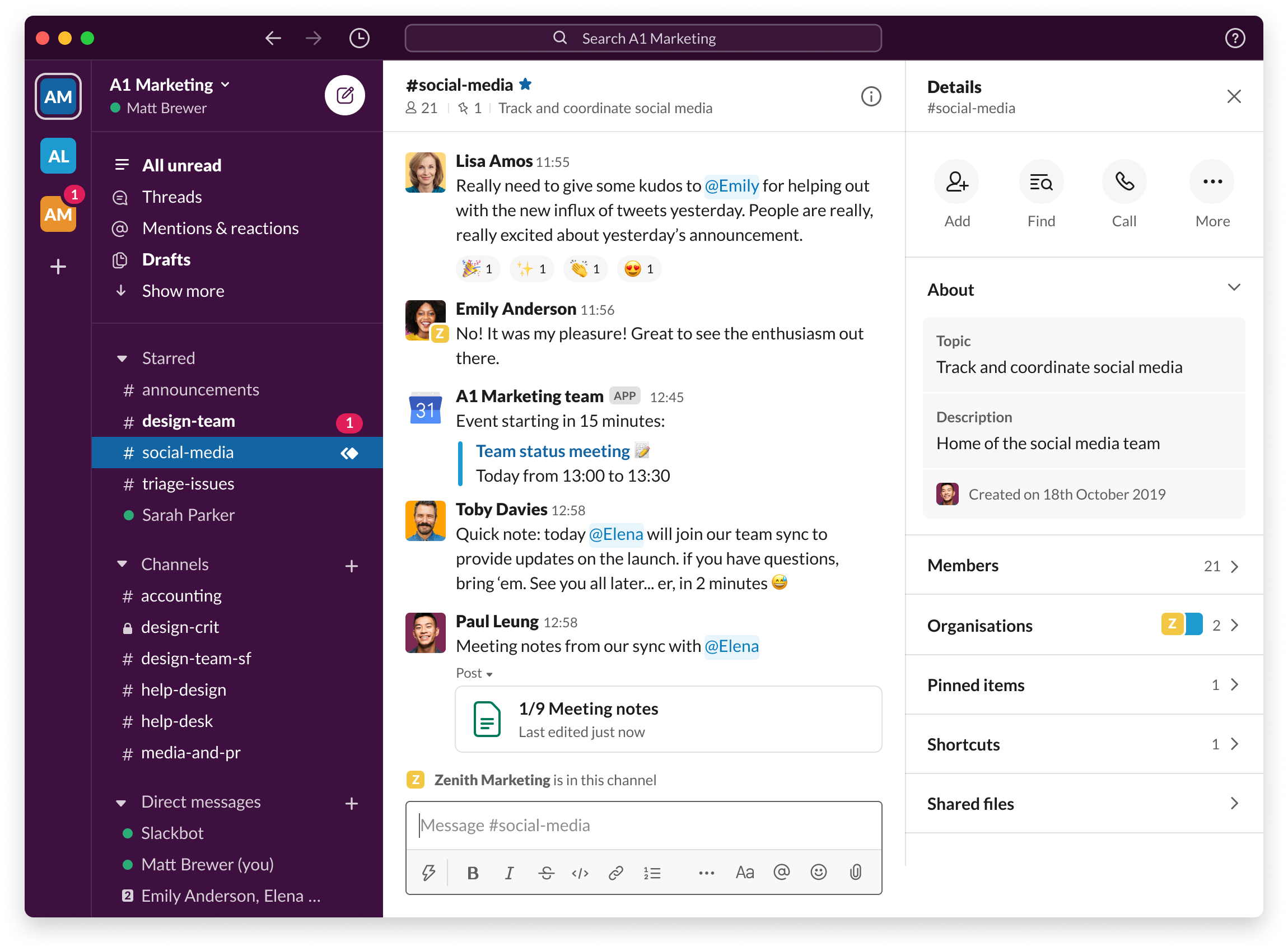 Image: Slack
Slack's free plan
Unlimited users, messages, and channels
Unlimited one-to-one voice and video calls
5GB storage for file sharing and 10K message history
Up to 10 apps or service integrations
For video conferencing (up to 15 participants) and guest accounts, you'll need to upgrade to a Standard plan that costs $6.67 per user per month. There's also a Plus plan that adds more features at $12.50 a user per month.
3. Microsoft Teams
Initially an exclusive for businesses with Office 365 subscriptions, Microsoft Teams has since launched a free plan for small businesses. We love its innovative features such as inline translation for messages and the ability to record meetings with automatic transcriptions. Also a plus, its deep integrations with OneDrive and Office 365 services.
Image: Microsoft
Microsoft Team's free plan
Up to 300 users
Unlimited messages, channels, and search
Unlimited audio and video meetings with up to 250 participants
10GB of team file storage + 2GB per user
140+ apps and service integrations
For advanced collaboration features such as meeting recordings and automatic transcriptions, you'll need to pony up for an Office 365 subscription. Office 365 Business Essentials costs $5 a user per month and the full-featured Office 365 Business Premium will set you back $12.50 a user per month.
4. Twist
Made by the folks behind Todoist, Twist makes it easy to organize and keep track of discussions with threads. Their message board-like interface is easy to use, though using threads and the inbox (they work more like email threads, not Slack threads) takes some getting used to. The upside? Fewer notifications!
Image: TechRepublic
Twist's free plan
Unlimited users, guests, messages, channels, and threads
Access to 1 month of conversations
5GB storage for file sharing
5 service integrations
Twist doesn't bother with audio/video conferencing or screen sharing features, they have a Wherein integration instead. For $5 a user per month, Twist Unlimited offers unlimited conversation history, file storage, service integrations, and priority support.
5. Discord
Discord bills itself as an all-in-one voice and text chat for gamers, and it's clear why. In addition to the usual private and group DMs, Discord offers a new way of collaborating in real-time: Voice channels. Think of them as always-on radio channels to talk to your team. Loved by gamers, voice channels can also be an easier, less stressful way to collaborate remotely on shared documents. More importantly, Discord offers unlimited voice, video, and text chat—all for free!
Image: Hacker Noon
Discord's free plan
Unlimited users, messages, text and voice channels, and file sharing (individual file size < 8MB)
Unlimited video conferences with up to 10 participants + screen sharing
A cool Text-to-Speech function that reads out what you type!
Discord Nitro Classic lets you upload a GIF avatar, use custom emojis everywhere, and ups that pesky file size limit to 50MB – for $4.99 per user per month.
6. Zoho Cliq
Zoho Cliq lets you view multiple conversations—each in its own column—so you don't have to shuffle back and forth between a channel discussion and a private chat with a colleague. Also, host video conferences with up to 100 participants on the free plan.
Unsurprisingly, Cliq integrates smoothly with other Zoho apps, but there are also integrations for third-party services such as Asana, Wrike, and Zapier.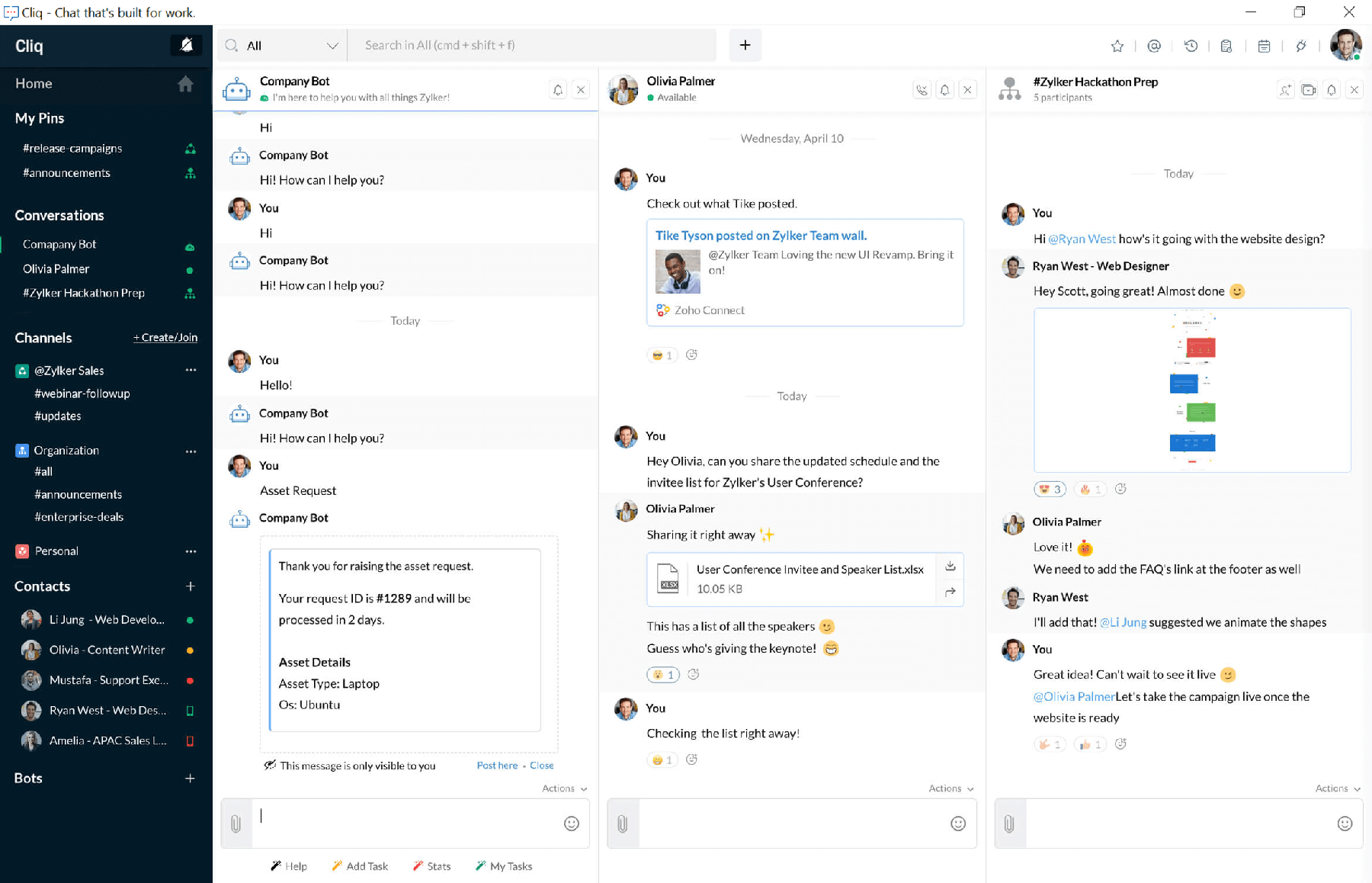 Image: Zoho
Cliq's free plan
Unlimited users, messages, and channels (up to 100 members in each)
Video conferencing with up to 100 participants + screen sharing
100GB storage for file sharing and 10K message history
10 third-party app integrations
For $3 a user per month, Cliq Unlimited offers unlimited message search, ups file storage, and lets you connect up to 100 third-party integrations. It also unlocks the PrimeTime Assembly feature, so you can stream live video to as many as 10,000 participants.
7. Rocket.Chat
If on-premise software is a must, look no further than Rocket.Chat's open-source team collaboration app. Easily deployed to on-premise or cloud servers, Rocket.Chat is free with zero restrictions on core functionality. It's your server! Just one caveat: If there's trouble, you're probably on your own – the free plan doesn't come with any web, email, or phone support, so be prepared to hunt through pages of technical documentation for any fixes.
Image: GitHub
Rocket.Chat's free plan
Unlimited users, messages, channels, video calls, and file sharing
It's open-source, customizable, and you own all your data (again, it's your server)!
Inline message translations
Rocket.Chat offers cloud-based deployment plans with 24/7 email support at $2 a user per month.
Conclusion
Let us know your thoughts in the comment section below.
Check out other publications to gain access to more digital resources if you are just starting out with Flux Resource.
Also contact us today to optimize your business(s)/Brand(s) for Search Engines