There are a lot of free SEO tools out there, and it can be hard to know which ones are actually worth using. But with so much information available online, why would you want to waste time and money on tools that don't work?
That's where we come in. We've tested dozens of free SEO tools and compiled our findings into this list of the best free SEO tools available today.
Online Free Seo Tools
1. Google PageSpeed Insights
Check the speed and usability of your site on multiple devices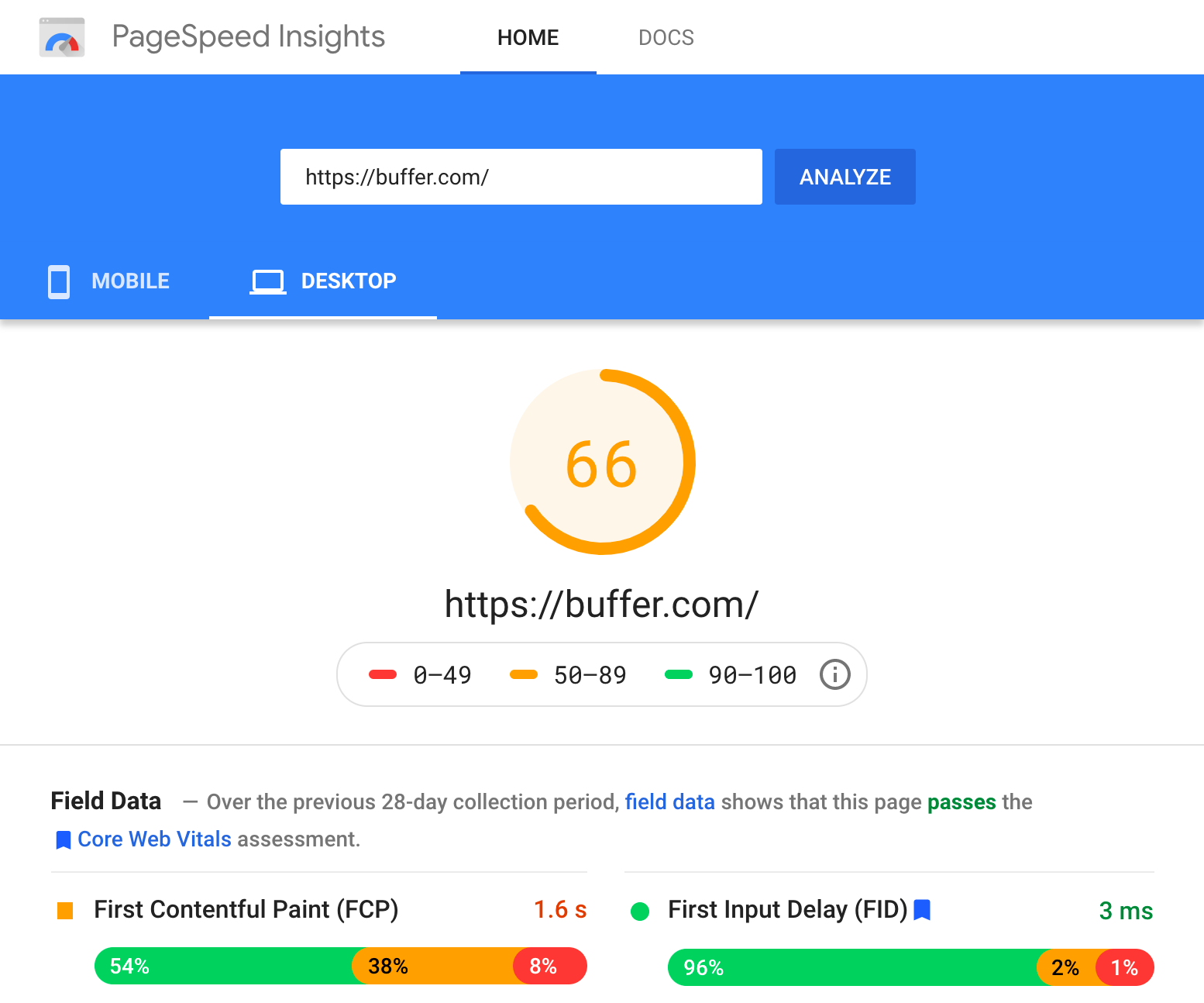 Limitations: None
Enter a URL and this tool will test the loading time and performance for that URL on desktop and mobile. It then grades your site's performance on a score from 0 – 100. It tells you exactly how fast it takes to load the site according to different metrics, and also suggests areas for improvements.
Alternatives:Pingdom, WebPageTest, and GTMetrix
2. Ahrefs Webmaster Tools
Run a technical audit of your site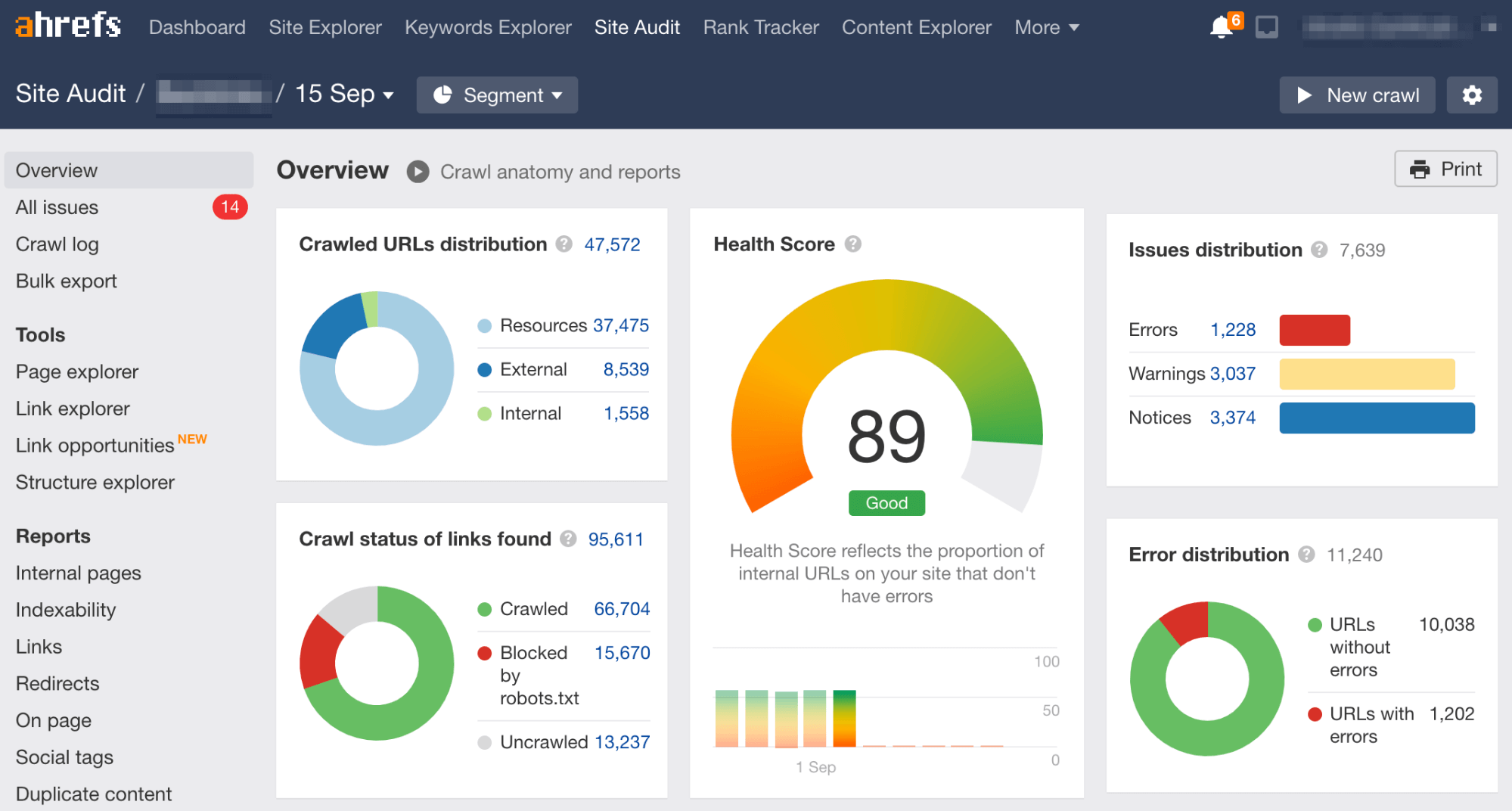 Limitations: 5,000 crawl credits per project per month
Sign up for Ahrefs Webmaster Tools, verify your website and you'll be able to audit your website for over 100+ technical SEO issues. The tool also gives suggestions on how to fix them.
After running an audit, it also suggests areas where you can improve your internal linking, which is helpful in boosting your rankings in search engines.
This tool also allows you to see your site's organic keyword rankings as well as who's linking to you.
Alternatives:Screaming Frog (audit), Beam Us Up (audit)
3. Answer the Public
Hundreds of keyword ideas based on a single keyword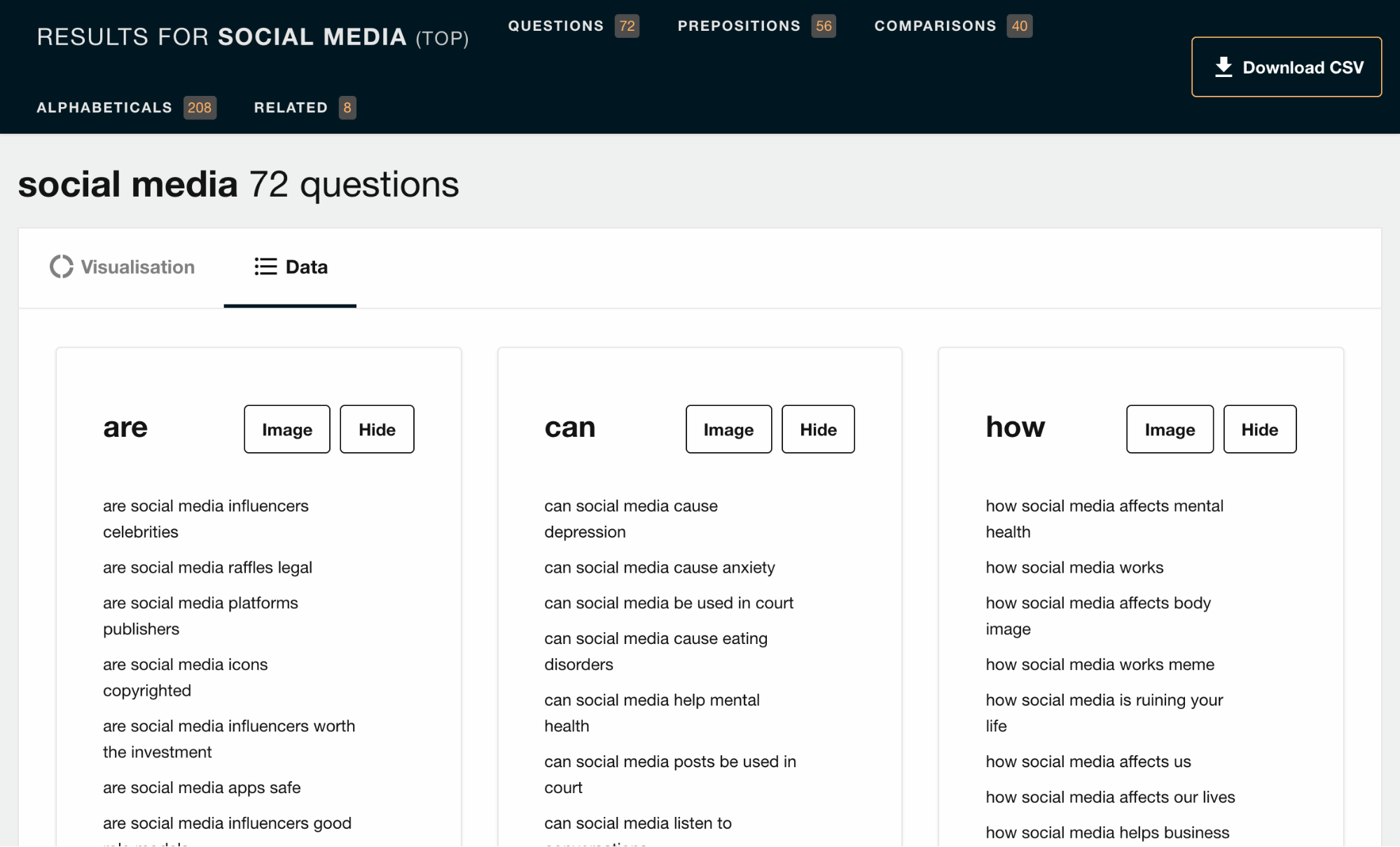 Limitations: Two free searches per day
Enter any relevant keyword, and Answer the Public will provide a huge list of long-tail keyword opportunities, plus common questions asked.
Alternatives: KeywordTool.io, UberSuggest, Keyword Sheeter, Keyword Generator
4. Google Analytics
Complete web stats and search insights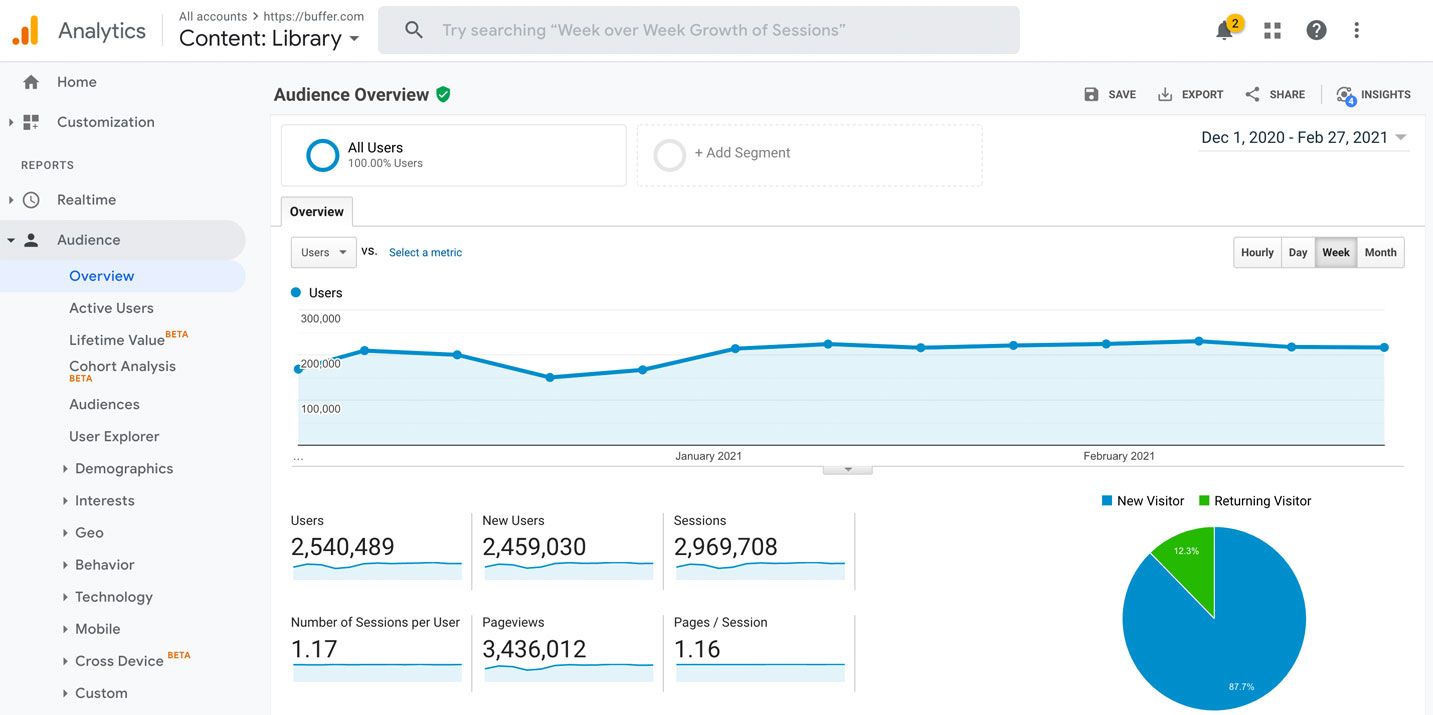 Limitations: No limitations for its usage, but queries that are sending you organic traffic are hidden
Quite possibly the most powerful free analytics tool available, Google Analytics tracks pretty much every bit of traffic you can imagine on your website—where it comes from, which page is receiving it and so on.
While it's not purely for SEO, it's still a helpful tool to track if you're getting traffic from organic search.
However, Google Analytics has since stopped showing which keywords are sending you those traffic. You'll have to pair it with a tool like Keyword Hero to uncover what's behind "(not provided)."
Alternatives:Matomo, Open Web Analytics, and Clicky
5. Google Search Console
Constant website analysis, alerts, and error reports

Limitations: Only shows a handful of technical SEO issues, the top 1,000 backlinks and top 1,000 organic keywords
Google Search Console gives you a taste of what the most used search engine thinks of your website. You can use it to check and fix technical issues on your website, see important SEO data like clicks, impressions and average ranking position, submit sitemaps and more.
If ranking in search engines like Bing and Yandex are important to you, then take note that they have their own "search console" too.
Alternatives:Bing Webmaster Tools, Yandex Webmaster Tools
6. Ahrefs' Backlink Checker
Comprehensive link analysis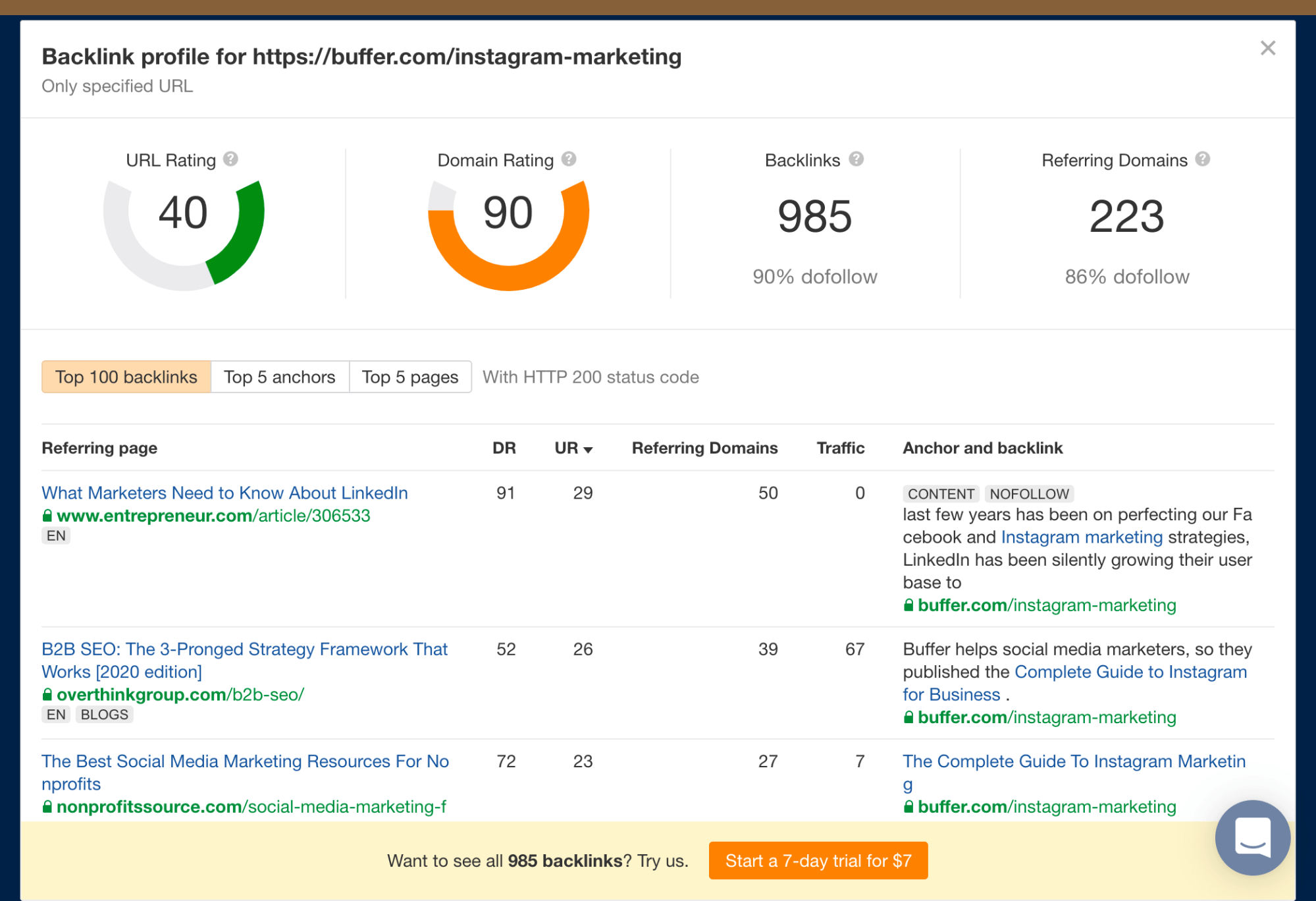 Limitations: Free for the top 100 backlinks
The free version of Ahrefs' Backlink Checker shows the top 100 backlinks to any website or URL, along with the total number of backlinks and referring domains (links from unique sites), Domain Rating (DR), and URL Rating (UR) where applicable.
A great way to use this tool is to paste your competitor's website and find potential link building opportunities.
Alternatives: Moz Link Explorer
7. Google Ads Keyword Planner
Know what people search for
Limitations: You'll need to run an ad campaign to see exact search volumes
Enter a keyword or group of keywords into the tool, and Google Keyword Planner will return all sorts of helpful stats to guide your keyword strategy: monthly search volume, competition, and even suggested terms you might not have considered.
Alternatives:Bing Keyword Planner
8. SERPSim
Preview how your web pages will look in Google's search results

Limitations: None
See how your meta title and description will appear in the search results before you even publish your web page. Works for desktop and mobile.
Check for truncation issues and fix them instantly.
Alternatives: Portent's SERP Preview Tool
9. Google Trends
See the relative search popularity of topics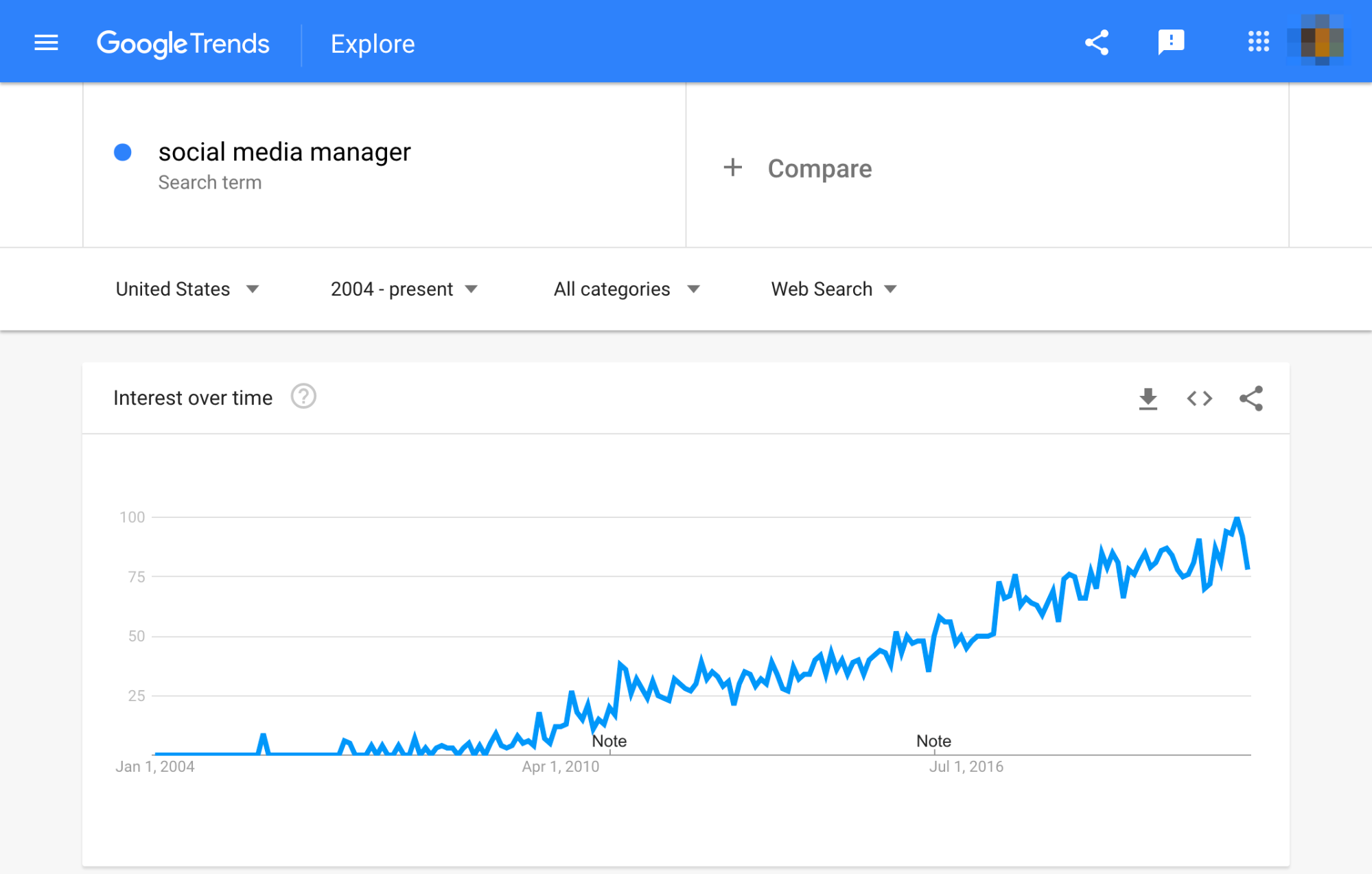 Limitations: None
Google Trends shows the popular search terms over time, which is useful for uncovering seasonal variations in search popularity amongst other things. Compare multiple terms to see the relative popularity.
10. Ahrefs' SEO toolbar
Check the broken links, redirect chains, nofollow links and on-page elements for any webpage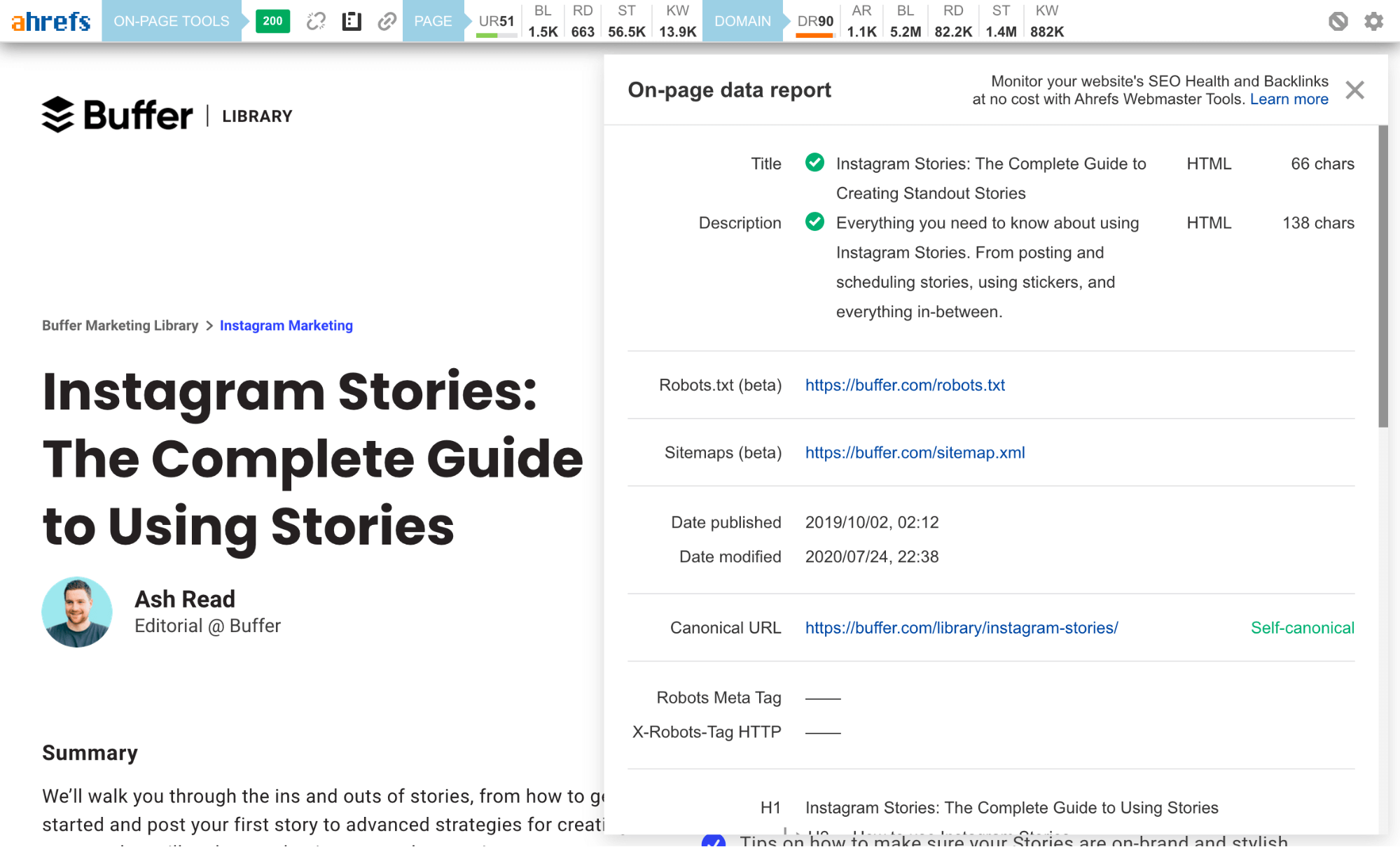 Limitations: Technical and on-page SEO features are free, but you'll need an Ahrefs account to see SEO metrics within the SERPs
The Ahrefs SEO toolbar is a free Chrome and Firefox extension that allows you to check for broken links, trace redirect chains and highlight nofollow links for any webpage. It also generates an on-page SEO report that includes the webpage's:
Title
Meta description
Word count
Headers
Hreflang tags
Canonicals
OG tags
This makes analyzing any page much easier and faster.
If you have access to a paid Ahrefs account, you'll also be able to see important keyword metrics like search volume, CPC and keyword difficulty within the SERPs.
Alternatives:Detailed SEO Extension, SEO Minion, LinkMiner (broken links), Ayima Redirect Path (redirect tracing)
free seo tools for keyword research
eyword generators help you home in on what your potential customers want to know. They scrape search engines and question-and-answer databases to reveal new blog topics and keyword ideas.
Keyword Surfer
Keyword Surfer is a newer tool that plugs right into the Chrome web browser. When it's on, results automatically display on the right side of your results page each time you enter a search term.
The data delivered by Keyword Surfer includes:
Keyword ideas with their volume
Cost per click (CPC) for each search term
Pages that rank for the term you entered
Traffic to pages ranked 1 through 10 for that term
It's a highly efficient keyword research tool and delivers results as you use your web browser. As a new tool, there may be some kinks to work out. Data delivered by the plugin can sometimes differ from data supplied by other Google search tools. However, it's a fast and easy way to get content ideas.
AnswerThePublic
AnswerThePublic is a great place to see raw search insights. After you enter your search term(s), it displays the questions people are asking related to that topic. The results are shown in a graphic display with all the who, what, where, when, why and other questions users ask.
It's a powerful way to generate keyword ideas and see what your potential customers actually want to know. You can download the data as a graph or a list.
There is one con for this tool: With a limit of 3 free searches a day, you have to be thoughtful about each phrase you search.
Keyword Sheeter
Keyword Sheeter pulls autocomplete results from Google. It delivers real-time data on what people are typing into the search engine.
If you want to generate a long list of keyword ideas fast, Keyword Sheeter is an excellent choice. It pulls about 1,000 ideas per minute, and exporting your list is free.
It's a simple and powerful resource to identify ideas for blog topics. However, the free features of Keyword Sheeter do not include search volume or data on how competitive it is to rank for a phrase.
Keyworddit
Keyworddit mines Reddit for keywords. To use it, enter a specific subreddit with at least 10,000 subscribers and specify a timeframe. The tool searches through the titles and comments to extract up to 500 keywords with search volumes.
Due to the variety of answers within each subreddit, the relevance of the results may vary. There is an option to specify high relevance, which slows down the tool somewhat.
Keyworddit is not designed to replace other keyword research tools, but it can be an interesting complement to your existing strategy. Reddit is a popular site where people with specific interests take deep dives into a topic. It may reveal keyword phrases and blog topics you wouldn't find using other search tools.
QuestionDB
QuestionDB is an excellent blog topic idea generator. It pulls from several question-and-answer websites, including Reddit and Quora, to give you questions people are actively asking related to your keywords .
The free version of the tool allows unlimited searches without registering for an account. You can download your results with a single click.
You have the option to display the source link for each question. This allows you to review additional details about how people are framing their questions. You can also review the answers. QuestionDB also displays related topics mentioned in the questions.
The free account limits you to 50 results per query.
Freemium keyword research tools for SEO analysis
A few of the premium paid websites offer free tools for limited use. You get the same outstanding services provided by the premium services for a limited number of searches or fewer features. Even so, they are comprehensive free keyword research tools.
Ahrefs Keyword Generator
Ahrefs Keyword Generator is one of the free tools offered by Ahrefs, which is a popular paid service. Enter any target keyword or phrase, and it will pull the top 100 keyword ideas from its database of over 8 billion keywords from more than 170 countries.
For each keyword phrase, the Keyword Generator displays:
Search volume
Keyword difficulty from 1 to 100
How recently this result was updated
A list of questions related to your search term
You can use this keyword research tool to identify long-tail keywords, target less competitive phrases, and isolate your search using geographic location or search engine.
It allows you to export your data by downloading your list of results. In addition to the Keyword Generator that pulls from Google, Ahrefs also has free Bing, YouTube, and Amazon tools.
While some freemium services include the SERP results inside the keyword search tool, Ahrefs provides their free SERP service on a separate page.
Ahrefs Keyword Generator is an efficient and valuable free tool that allows you to do unlimited searches without creating an account. However, unlike other tools, it does not allow you to download your results. And, because you don't create an account with the free service, you have to prove you're not a robot with every new search.
SEMrush Keyword Magic Tool
Semrush Keyword Magic Tool is one of several free tools offered by SEO giant Semrush. To access their free tools, create an account and select Skip Trial. You can always sign up for the paid service down the road if you'd like.
The Keyword Magic Tool gives you access to more than 20 billion keywords from over 120 geographical databases.
Free reports include:
Monthly search volume
Competitive density (competition among paid advertisers)
Keyword difficulty (how difficult it would be to rank in Google's top 20)
The Keyword Magic Tool also has some helpful sorting and organizing features. It allows you to sort keywords into topic-specific subgroups, apply smart filters to narrow or expand your search, and quickly export your findings. You can see related keywords by topic and semantically related keywords or by keywords with similar phrasing.
The free account limits you to 10 searches a day across all the complementary tools provided by Semrush.
Ubersuggest
Ubersuggest provides a wealth of information with its free version. When you enter a search term, it displays the search volume, SEO difficulty, paid difficulty, and CPC.
Immediately beneath that display, it identifies the number of backlinks you would need to rank on the first page of Google for that keyword phrase.
As you scroll down, you can view lists of keyword ideas and page content ideas.
The list of page content ideas displays related blog titles. At a glance, you can see how many people click on and share each article. You can export most of your data reports to CSV to save and sort. Ubersuggest provides a free Chrome extension to see data right on the SERP easily.
The free version limits your use to a single website and 3 keyword searches per day.
Moz Keyword Explorer
Moz Keyword Explorer is an attractive and well-laid-out keyword research tool. You can see monthly volume, organic difficulty, organic click-through rate (CTR), and a priority score for each search term.
The organic CTR displays how many people who use the term follow through and click on one of the results. The priority score aggregates the difficulty, opportunity, and volume to show you in a simple score how likely you are to rank for that keyword phrase.
Keyword Explorer delivers a long list of keyword suggestions for each term, with monthly search volume and relevancy.
The SERP analysis, also included with the free search results, gives you 10 specific pages that rank for your target keyword. You can see their title, URL, page authority, domain authority, number of backlinks to the page, and the number of backlinks to the root domain. It's easy to download results into a spreadsheet.
Moz provides an excellent service. The downside is the free account limits you to 10 queries a month.
Keyword research tools for e-commerce, online sellers, and multichannel marketers
Most keyword tools focus on Google and other search engines. However, platforms like YouTube, Amazon, eBay, and Etsy have their own algorithms.
For e-commerce stores or sellers whose goals reach beyond ranking on Google and other search engines, tools like Keyword Tool Dominator and Soovle help you target the platforms you are using.
Soovle
Soovle is great for e-commerce websites or marketers using multiple channels. It helps you find popular keywords across several megasites, including Amazon, Wikipedia, YouTube, and eBay.
Soovle works as a keyword research tool and a keyword generator. As you type in your target terms, it autogenerates phrases to help you expand your ideas.
Soovle includes unlimited searches for free. On the downside, it is limited to an idea generator and does not include metrics like keyword difficulty or search volume.
Keyword Tool Dominator
Keyword Tool Dominator helps you identify search trends as they happen. It brings you the autocomplete databases from Google, YouTube, Amazon, Walmart, Bing, Etsy, and eBay to uncover up-to-date keywords and search terms.
It's an outstanding resource for sellers and multichannel marketers who want to rank on more than Google or the other search engines.
The downside of this fast and easy-to-use tool is the free version limits you to 2 searches a day. For more queries, you'll need to pay for a plan.
Keyword usage over time
Sometimes you want to know if a topic is an established trend or just a fad. In that case, Google Trends is a powerful and unique tool.
Google Trends
Google Trends is a free tool that delivers graphs and data on specific search terms used on Google and YouTube.
When you enter a search phrase on the homepage, it will deliver a list from Google by default. On the results page, you can change your options to see results from YouTube instead. It also offers trends from Google Shopping, Images, and News.
Google Trends is a valuable tool for:
Identifying what's currently trending
Isolating popular topics or subtopics within an industry or related to a theme
Discovering local search trends
Finding related keywords that are growing in popularity
Graphing the public interest in a topic over a range of time
Seeing where a topic is most popular
Google Trends helps you identify keywords that are rising in popularity and avoid terms that are losing momentum. It does not provide data on monthly search volume or how much competition there is for each keyword phrase.
Paid tools
Free keyword research tools aren't your only option. If your business is booming or you want to go down a new avenue, you can always invest in paid tools. Tools that require payment or a subscription to access do everything that the free tools above can do, but may also:
Provide more keyword data
Enable you to do more keyword research
Feature location-based SEO tools
Have rank trackers so you can see how well your website is ranking on SERP pages for certain keywords
Have more user-friendly interfaces
Have an all-in-one suite where you can conduct all your keyword research
If you are looking to branch into pay-per-click marketing, these tools may also offer additional insights into search engine marketing. (One free tool for paid marketing is Google Keyword Planner, which supplies data around Google's biddable keywords.)
Planning with data
Whether you are promoting a blog or building an e-commerce website, each page you create takes time, energy, and expertise. When you use the best keyword research tools for your business, you ensure your efforts produce results.
Don't throw darts in the dark and hope they find their target. All the data you need to make solid content planning decisions is available in these 12 free keyword research tools.
Conclusion
Let us know your thoughts in the comment section below.
Check out other publications to gain access to more digital resources if you are just starting out with Flux Resource.
Also contact us today to optimize your business(s)/Brand(s) for Search Engines