Online meeting apps are becoming more and more popular as a way to connect with colleagues, clients and customers.
The best online meeting app will allow you to share your screen, webcam and audio in real time so that you can collaborate with others online.
This blog will give you all the information you need to choose the best online meeting software for your business.
Online Meeting App For Android
The growth of the digital age is leading to more and more of us working remotely. When coupled with the current coronavirus situation, working from home is vital. When we are using our own tech to work remotely – what is the best video conference app to use? Great question! Let's find out.
The Best Video Conference App For Android And iPhone
1. Microsoft Teams
Supported Platform: Both Android and iOS
Microsoft Teams is the best conferencing app for Cloud collaborations. It has been explicitly made with sharing in mind. It also comes with file sharing, business conferencing, and full integration with Office 365. Arguably the best virtual meeting app overall, Microsoft Teams offers both versatility and performance.
Pros:
Very high compatibility, cross-device, cross-OS communications.
If you get 365, this comes at no additional charge—integration of everything Microsoft.
File backups are made when you transfer. They are also fully searchable.
Cons:
It is high on storage.
Channel limit set at 100. Go past it with a single team, and you will need to start deleting data.
2. Zoom Cloud Meetings
Supported Platform: Android, iOS, every other computer OS.
Zoom Cloud Meetings is the best video conference app of our generation. With fantastic HD quality in both audio and video departments, Zoom has earned a place among the top apps recently downloaded, overall. You can also record Zoom meeting if necessary. If you don't use Zoom Cloud and still want to record the meeting sessions, you can use some Zooming Meeting Record Apps for iOS and Android to record.
Pros:
Syncs with your calendar to allow scheduling, inviting, and canceling with ease. Easy joining, too.
Cross-device compatibility lets you use it on your desktop, phone, or tablet – anywhere you like.
You can record or annotate your meetings. There is even an option to transcribe your speech, which you can later search back.
Cons:
Can reach 100% of your phone performance while you use it.
If you have an old Android, then just run it on your laptop.
3. ezTalks Video Meetings
Supported Platform: Both Android and iOS, as well as browser, Mac, and Windows.
Third on our list is ezTalks Video Meetings. Again, high compatibility across devices earns it a right place on the list of the best conferencing apps. In terms of file sharing and screen sharing, ezTalks goes above and beyond the call of duty to bring you a seamless video conferencing service.
Pros:
Gallery sharing, screen sharing, file sharing, and whiteboard facility.
No install can answer on either your phone or your browser, easy to join.
They are ergonomically designed to work with a patchy phone signal and not charge you extra for location.
Cons:
It's not as well known as it should be.
Again, it is high on storage. We doubt any of the top video conferencing apps take anything less than 75% of your processing power.
4. Cisco Webex Meetings
Supported Platform: Both Android and iOS.
For a service that focuses on 'tele presentation', you need Cisco Webex Meetings. They have been doing their best to provide the masses with a virtual presence for years now. Cisco meetings have all the usual audio and visual features – but they specialize in providing a secure platform from which to conduct business. This stable platform is what makes them the best video conferencing app for business, in our eyes.
Pros:
It is a very secure system, which incorporates both audio and visual meetings of high quality.
Whiteboard and screen sharing capabilities.
It works from most high-tech cars. Toyota SDL car support comes as standard.
Cons:
There are compatibility flaws between whiteboard use and iOS in some cases.
Screen widget for Webex is only available for Android users.
5. Skype for Business
Supported Platform: Works across all devices and are very, very proud of it!
We love that the initial video meeting app has now developed a new arm, specifically for companies. Skype for Business allows you to keep in touch with remote workers with a few short clicks. One of the best features of Skype is that they have been around for a long time. They have video calling down to a fine art. Second best? It is a unified communications platform that integrates with just about everything you will ever need. You can also share screen on Skype with others.
Pros:
Maximum compatibility – laptop, tablet, iPhone, Android – Skype for Business works with everything.
It can be used with Outlook and fully integrates everything Microsoft.
Very easy to learn user interface with options for training and various helpful features. Things like translation allows it to be the best video conferencing app for business – or at least up in the top three.
Cons:
Audio and Video tends to stutter and glitch.
Uses all your phone processing power to keep it going.
6. GoToMeeting
Supported Platform: iPad, iPhone, and Android
Another top video conferencing app is GoToMeeting – especially if you want a professional-looking app. They promote the fact that it can be used for teleconferencing, online meetings, and also product demonstrations – which is a nice addition. You could, feasibly, use this service to make a pitch or presentation. It's highly scalable, too, so it can be used across large or small businesses.
Pros:
Aside from calls – you can have one-on-one while you are in a big meeting. Allows you to remind people on the fly.
It is a great conference video call app that comes with screen sharing and even remote screen contributions.
Easy to use, join, and negotiate.
Cons:
Reviewers have reported poor error reporting with little fixes.
In some areas, it is too sensitive for those running meetings.
7. Google Hangouts Meet
Supported Platform: iPhone, iPad, Android
The only reason that Google Hangouts Meet is number 7 on our list is that it is a better service for friend catchups than specifically for business meetings. Although it is a great video meeting app, we would opt for a specifically designed business app if we were looking for a work conference suite. On the upside, everyone has a Google account and knows how to use it. They also give unrivaled integration and quality of calls.
Pros:
Fantastic clarity of audio and visual calling with loads of options for addons.
Sign in with your Google account, great integration across their range of products.
Meet with webinar-style gatherings, perfect video meeting app for students or education.
Cons:
Some features are specific to G Suite customers.
Although aimed at business users, they get low reviews because it should be a social tool.
8. Slack
Supported Platform: iOS or Android, Mac, Windows, Linux
Slack is a brilliant conference call meeting app in its own right – but we don't love it for being the best virtual meeting app. We love it for being the figurative water cooler of the digital workplace. It's not that we would use it as a conference call video app, it's more that we prefer to use it to catch up on office gossip, do daily check-ins, or give progress reports. What we're saying is that it is an excellent in-house communications tool. We think there are better inter-office tools for making the best virtual meeting apps.
Pros:
A friendly place to chat during business hours that allows you to check on remote workers.
There is a certain amount of personalization between workers accounts.
Think of it as a virtual workplace like an office space in the virtual world. It's less about the video calling and more about being able to check in with your colleagues.
Cons:
Intended for those that need a central location to work from, which is both good and bad.
We wouldn't use Slack for a friend group – but again, this is good and bad.
free online meeting apps
GoToMeeting
First on our list is probably one of the most popular, we even went in depth and covered a detailed look at the pricing plans GoToMeeting has to offer. But even with just their free plan, GoToMeeting offers one of the simplest ways to host a conference call, and allow users to share their screen. With their one-click meeting solution, GoToMeeting should be really simple to adopt – and users can start their meetings through almost any app, from Microsoft Office programs to email and chat links. The developers have also introduced user roles recently which makes it easy to edit the permissions each user has — avoiding any security threats or accidental edits.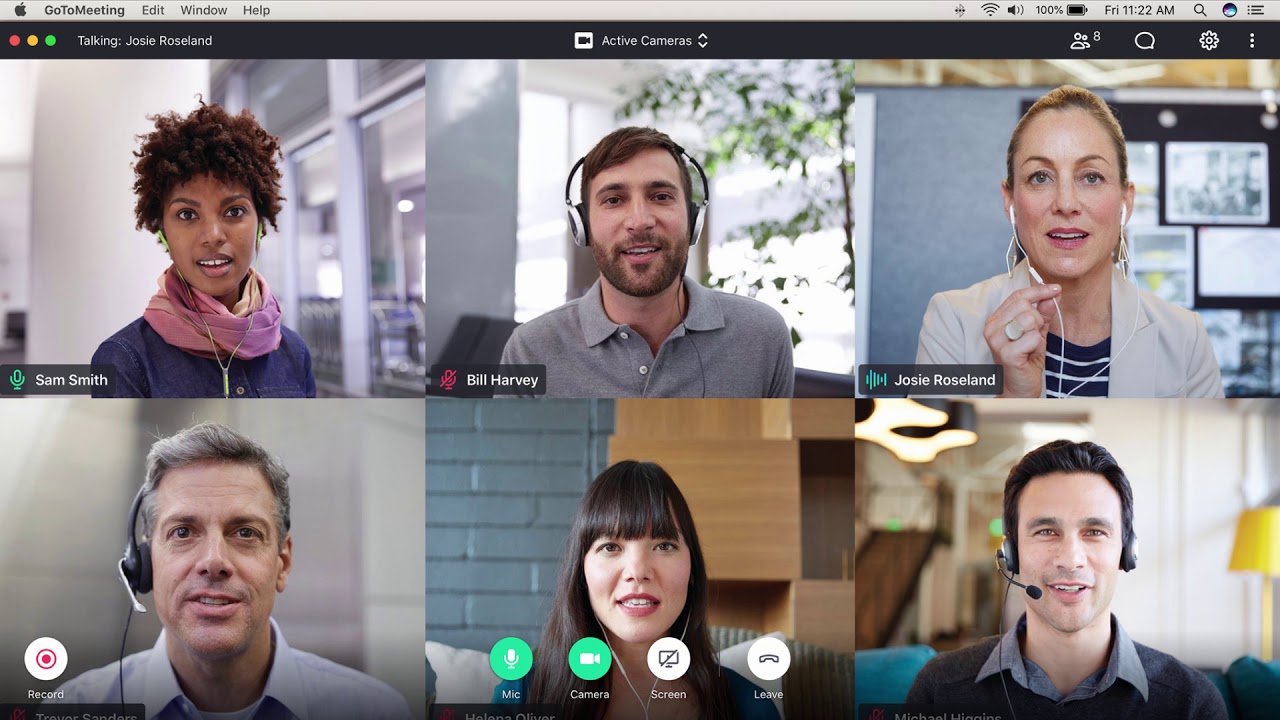 Utilizing GoToMeeting limits users to just web audio conferencing, as video is limited to some of the paid plans, but with the option for either Toll-Based or VoIP voice chat, teams can tailor the conference calls to whatever suits their needs best. The only other hitch is that GoToMeeting's free plan limits your conference calls to only 3 participants – but for a free, quick small team meeting (or one on one with clients) the solution should be perfect. GoToMeeting has also been catching up with its competitors in the security department. Despite being a bit late to the party, GoToMeeting now supports multi-factor authentication to make the sign-in process more secure.
Cisco WebEx
Owned, developed and hosted by the networking and security giant, Cisco, you can be sure WebEx scores high on our list. One of the original conference solutions, of course Cisco has it nailed down pretty well. Just like others on the list, the free version of WebEx will limit you to 3 participants, but the good thing about WebEx is that it allows for free video conferencing. Users can of course share their screens, and you can even integrate the platform with Cisco Spark, one of our favorite Slack competitors, to build your own complete collaboration suite of software.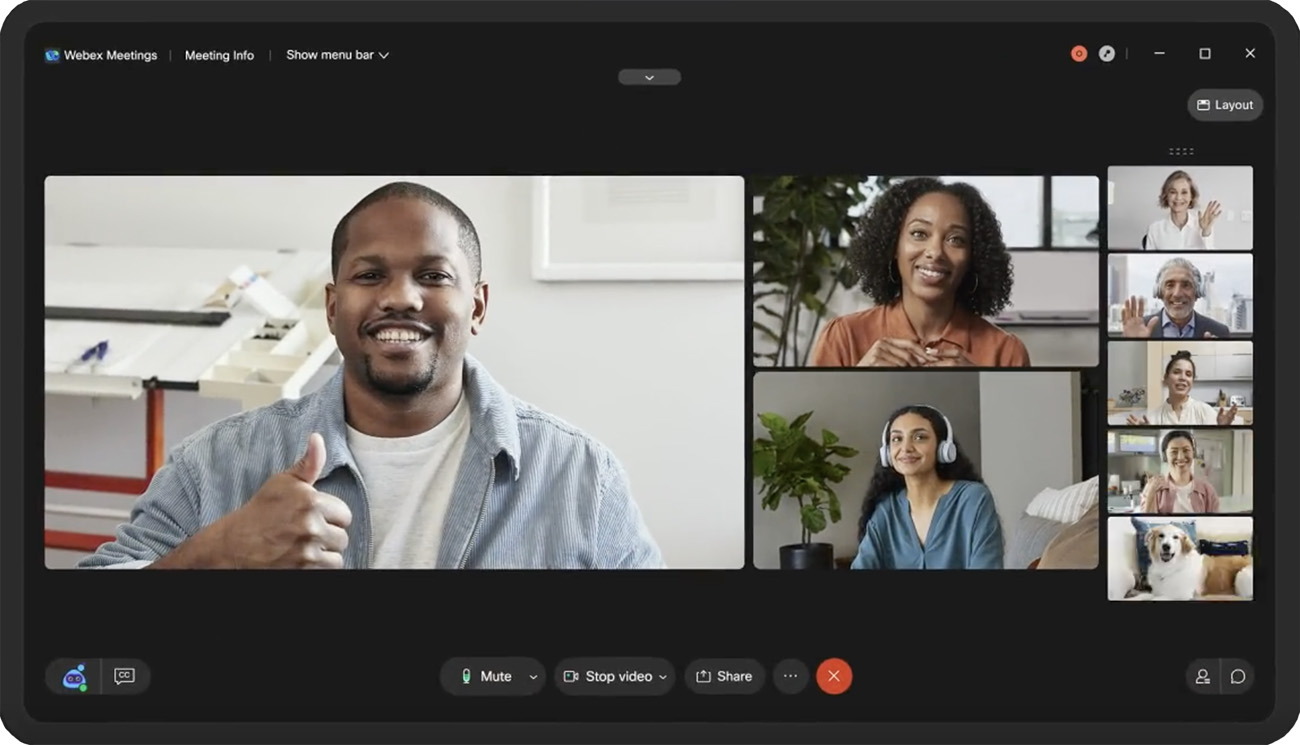 WebEx would also be a solid choice for any larger, Enterprise, or even small business with a strong focus on security — as of course, we all know Cisco has their security locked down. Just take a look at the insane levels of encryption they took to lock down Spark and the messages you send back and forth. The platform has also recently released an integration for Slido which can make it a lot easier for you to present slideshows during your conference calls as if you were in a physical meeting. Finally, you should know that most of WebEx's best features will be locked behind a paywall so if you're looking for a free, freemium, or low-cost experience then you may need to check if WebEx still fits within your software budget.
TeamViewer
Competing with Cisco on the security frontier of their conferencing solution, TeamViewer's home page boasts 1.3 billion protected devices that are running secure remote support and online meetings on their platform. With a strong focus on support and help solutions, TeamViewer offers some unique features such as the ability to run multiple remote sessions at once on macOS with browser tabs, remote sticky notes to leave behind a message for your customers and clients – let them know what fixes were applied or just send a personal "you're welcome" message. The platform has also spent the past few months increasing its security to ensure your data stays safe despite the spike in virtual conferencing adoption.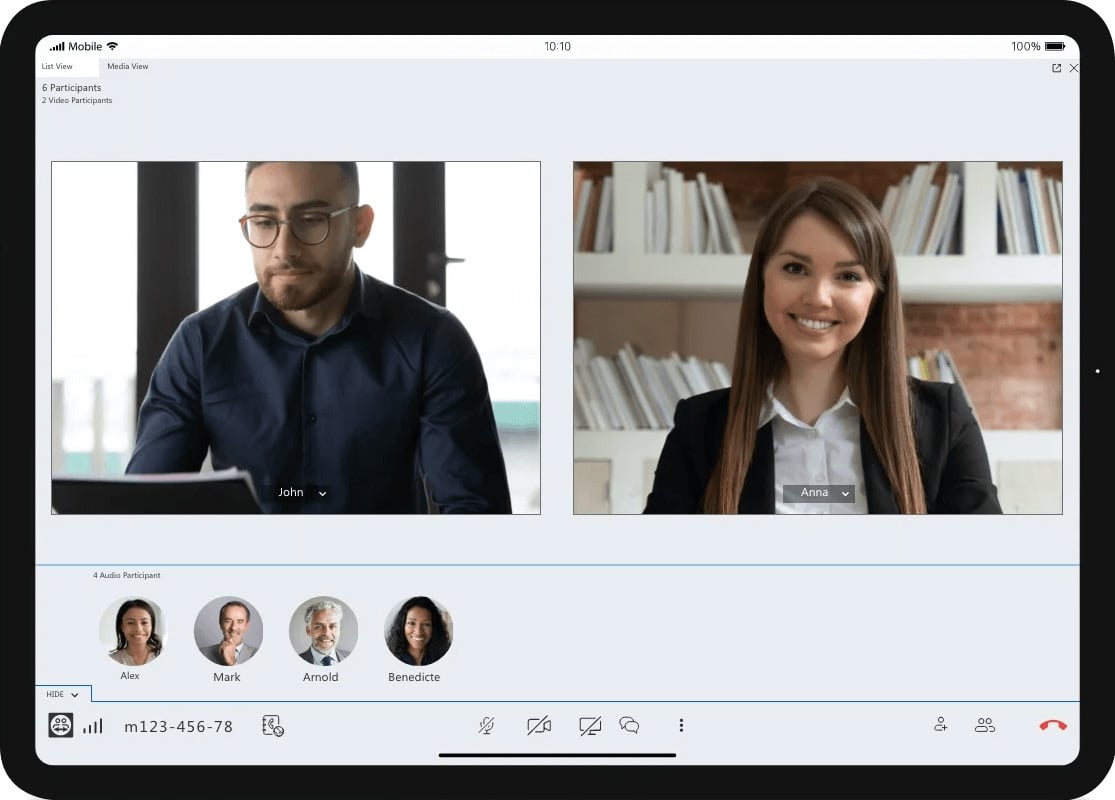 To be specific, TeamViewer has added biometric security to its Remote Control app to maximize security. These new security features are also compatible with FaceID so iOS users will always have easy access without compromising on safety. TeamViewer offers other interesting add-ons, such as the TeamViewer QuickJoin to allow customers to quickly and easily join meetings or presentations without installation or administrator rights. Supported on Windows, Mac, Linux, and even Chrome OS, Android, and iOS, TeamViewer has all your devices covered. Of course, there's also audio and even video conferencing, as well as text-based chat. Other interesting features, although behind a paywall, include things like the Remote QuickSteps, which adds in one-click shortcuts for the most-used remote support actions. So if you do decide to upgrade and go a paid route, TeamViewer is a strong contender for support and IT use.
Skype
Of course, just about everyone knows Skype, and with their free, familiar solution available without a doubt, the app is worth considering. Many may not even realize this, but Skype does in fact allow screen sharing, and again completely free. While not as flexible as some other apps that don't even require participants to download the client (although WebEx even suffers from this), users will have to create a skype name, download skype and add each other to their contacts list for conferencing. Skype would make the best sense for a small team that doesn't mind utilizing the platform especially now that Skype for Business has been discontinued.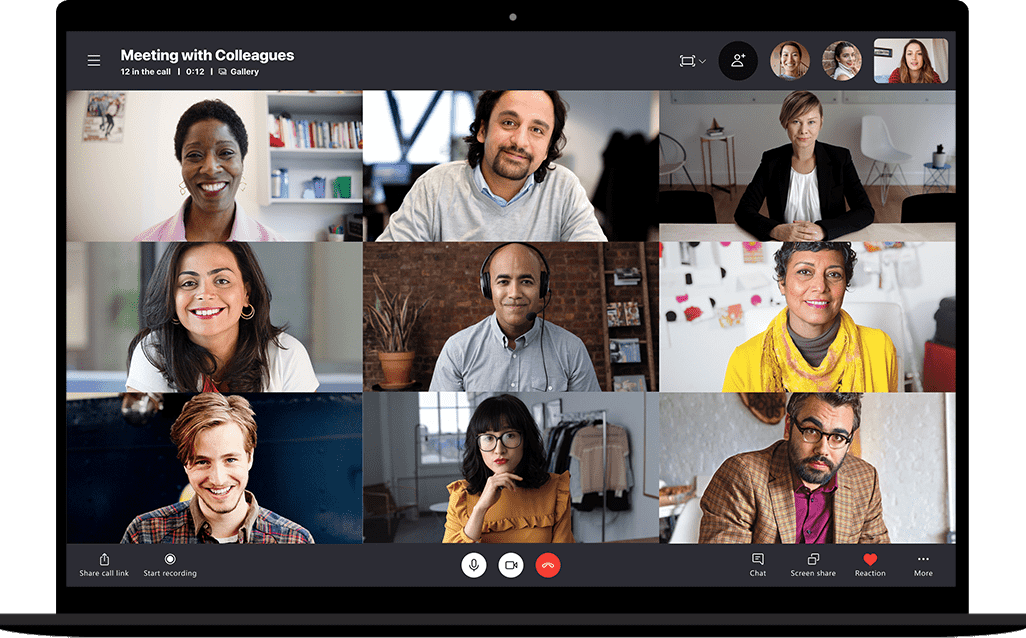 Skype has also recently implemented the ability to lock meetings which ensures no unwelcome guests eavesdrop on privy conferences. With Skype users can host audio or video conferences, with up to 100 participants – one of the higher limits out of most solutions on our list. Skype also supports all popular desktop OS and even hosts iOS and Android phone apps for your conference on the go. Finally, you're sure to enjoy using the newly-introduced animated backgrounds which can turn a drab meeting into a fun collaboration.
Join.Me
Developed, and powered, by the team behind the LogMeIn suite of collaboration tools, Join.Me is designed to "cut through pointless processes, politics, and protocols with a single click." It seems like ease of use and one-click meetings are a bit of a theme behind these tools, and for good reason. Skype and WebEx would be great for teams willing to all adopt the solution, a solution like Join.Me expands the use case beyond simple interoffice communications and adds a layer of simplicity to extend conferences to customers, clients or prospects.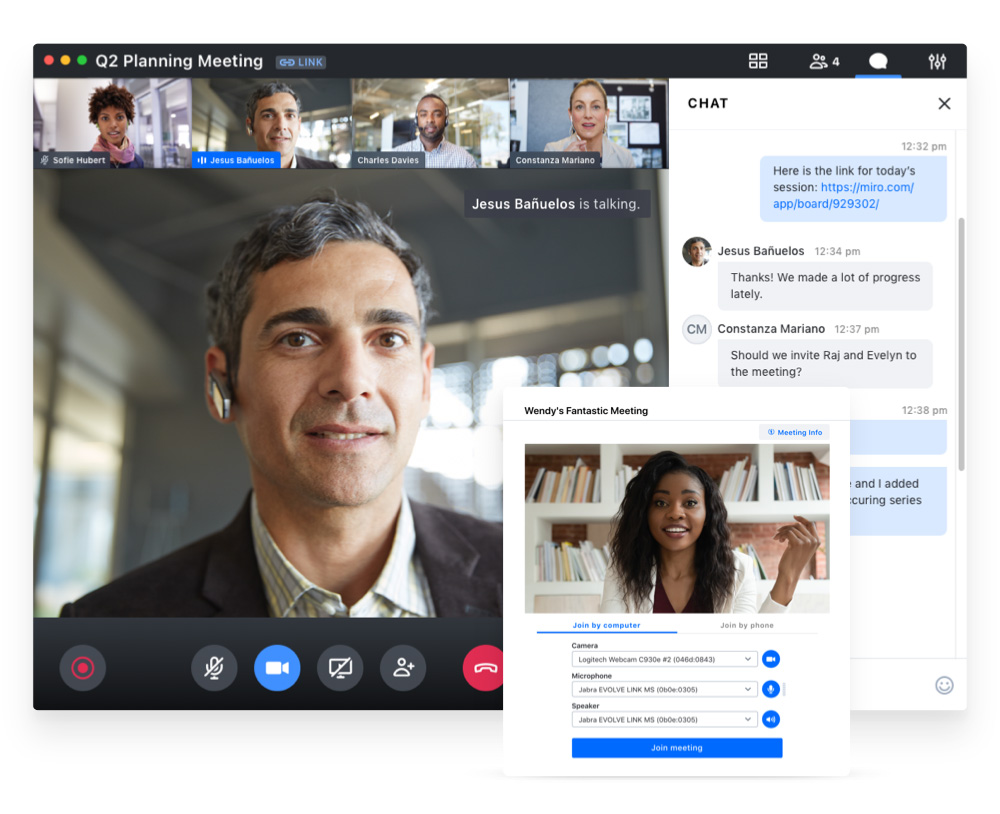 While their free plan seems to be limited to screen sharing and conferencing, a free trial of more advanced Join.Me plans include video conferencing, free audio conferencing with a dedicated conference number located in the U.S. and 50 other countries. One-click scheduling integrates with Outlook or Google Calendar to send and keep track of your invitations, and a personal link gives users a permanent meeting location so clients can just save their one web address to get in touch. Join.Me also includes an online whiteboard feature for that extra level of collaboration and presentation, oh and of course screen sharing.
Zoom
Zoom is a bit of an interesting candidate, with both a free basic plan and pricing that is actually a bit cheaper than the pricing that we noticed with GoToMeeting. But for the focus of this list, their free Basic Personal Meeting plan offers 40 minutes of conferencing, for up to 3 participants. A slight upgrade brings unlimited users, an unlimited number of meetings, and video conferencing with a host of features such as active speaker view, full-screen view, dual-stream for dual screens, join by telephone call-in. If you're the type to customize the tools in your stack then you'll be glad to hear that Zoom has recently introduced the ability to set custom background images so your virtual office feels just as personalized as your old physical workspace.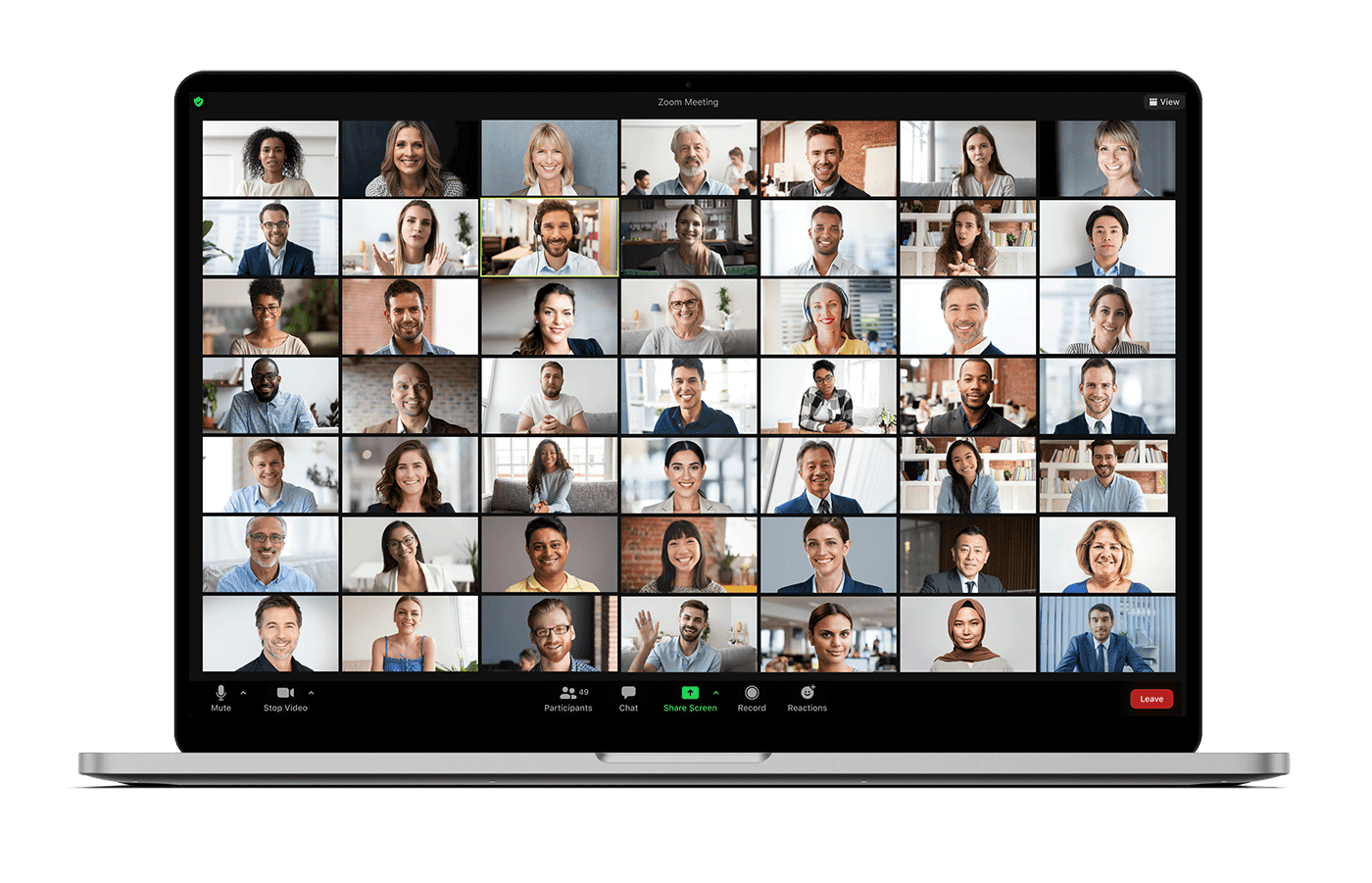 Web Conferencing features also include desktop, or application-specific, sharing, a personal room or meeting ID, both Chrome and Outlook integrations, MP4 recording of meetings, private and group chat, and even a virtual whiteboard. Beating out GoToMeeting again, Zoom actually includes keyboard and mouse sharing controls for free, and you can even share the screen of any iPad or iPhone app. The only major downside? Your group meetings with more than one other participant are limited to 40 minutes in length. You can host an unlimited amount, but they can't go longer than 40 minutes. Thankfully, your 1-on-1 meetings are not limited based on duration.
Google Meet
Google has so many different apps and solutions — like Google Voice for a free phone number — that it can be really difficult to keep track of everything they offer. While Google Voice and Google Meet do have integrations for one another, Meet can do much more than just basic calling options Google Voice offers. Of course, just like most other Google apps, Meet is completely free. Users can send/receive instant messages, video chat, send/receive SMS messages, and host VoIP calls. Furthermore, Google Meet also supports captioning in German, Portuguese, French, English, and Spanish (Spain as well as Mexico) ensuring that your team members can communicate efficiently regardless of where they're from.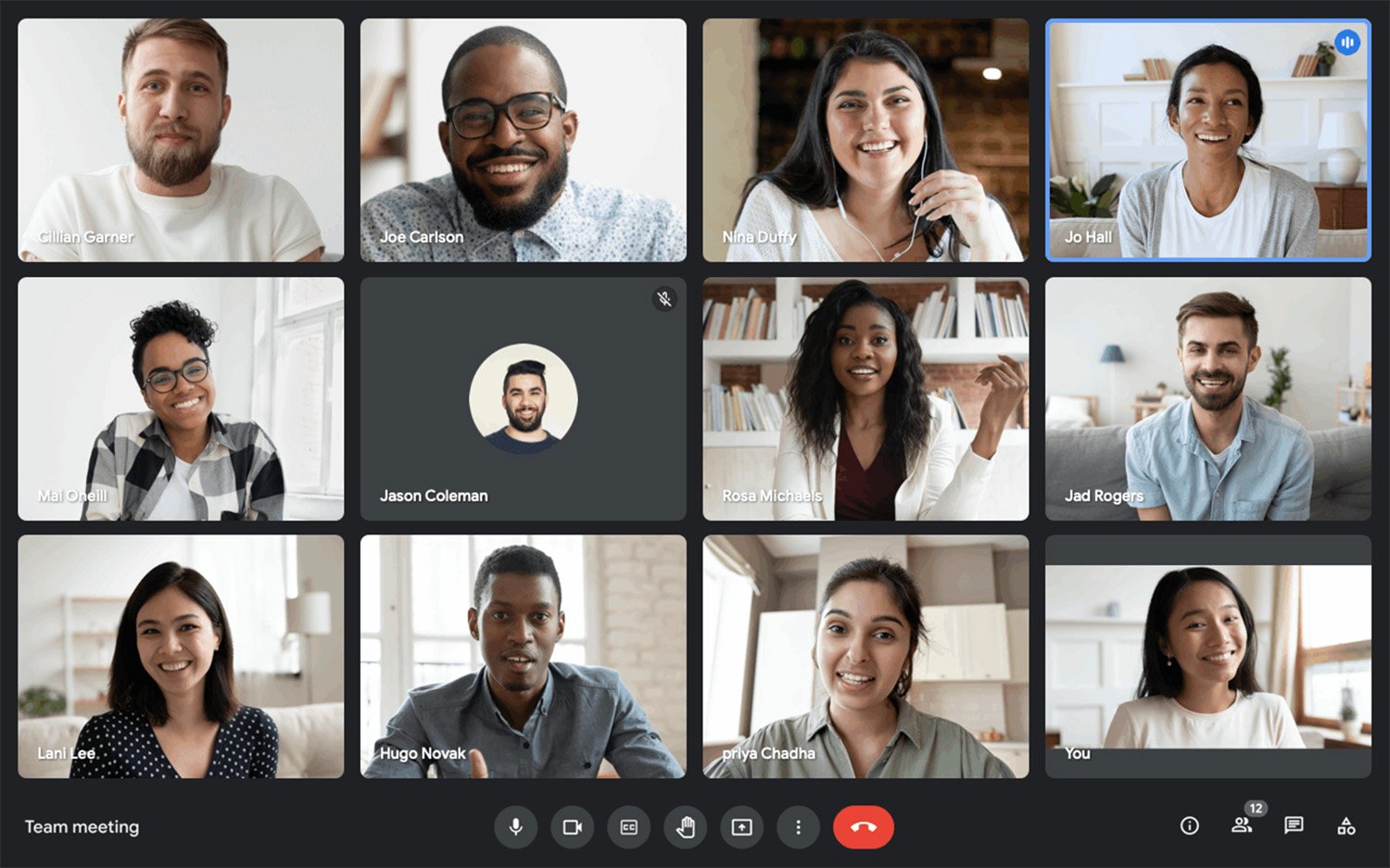 What many often overlook, is the ability to screen share baked right into Google Meet on top of everything else the app offers. Google has actually stated that it plans for Google Meet to be the future of its telephony product, so of course, that's where all the great features are. The free web conferencing that Google Meet provides is also extremely accessible since anyone with a Gmail account can be invited in just a couple of clicks. All meetings also automatically sync with your Google Calendar to ensure you never forget about a video conference even on your busiest day.
Microsoft Teams
Considering Office 365 has over 50 million users, choosing online meeting platforms that play nicely with other Microsoft tools is the obvious choice for many businesses. That's exactly what Microsoft Teams provides since it integrates with over 700 apps including everything you're already using if you're a 365 subscriber. In terms of native functionality, its free screen sharing is just the tip of the iceberg. You can also create channels within your workspace to easily segment different departments within your company. The recent updates have also provided a more automated experience for users with automatic transcription and mic sensitivity so your host doesn't have to tweak a dozen settings like they're running a recording studio.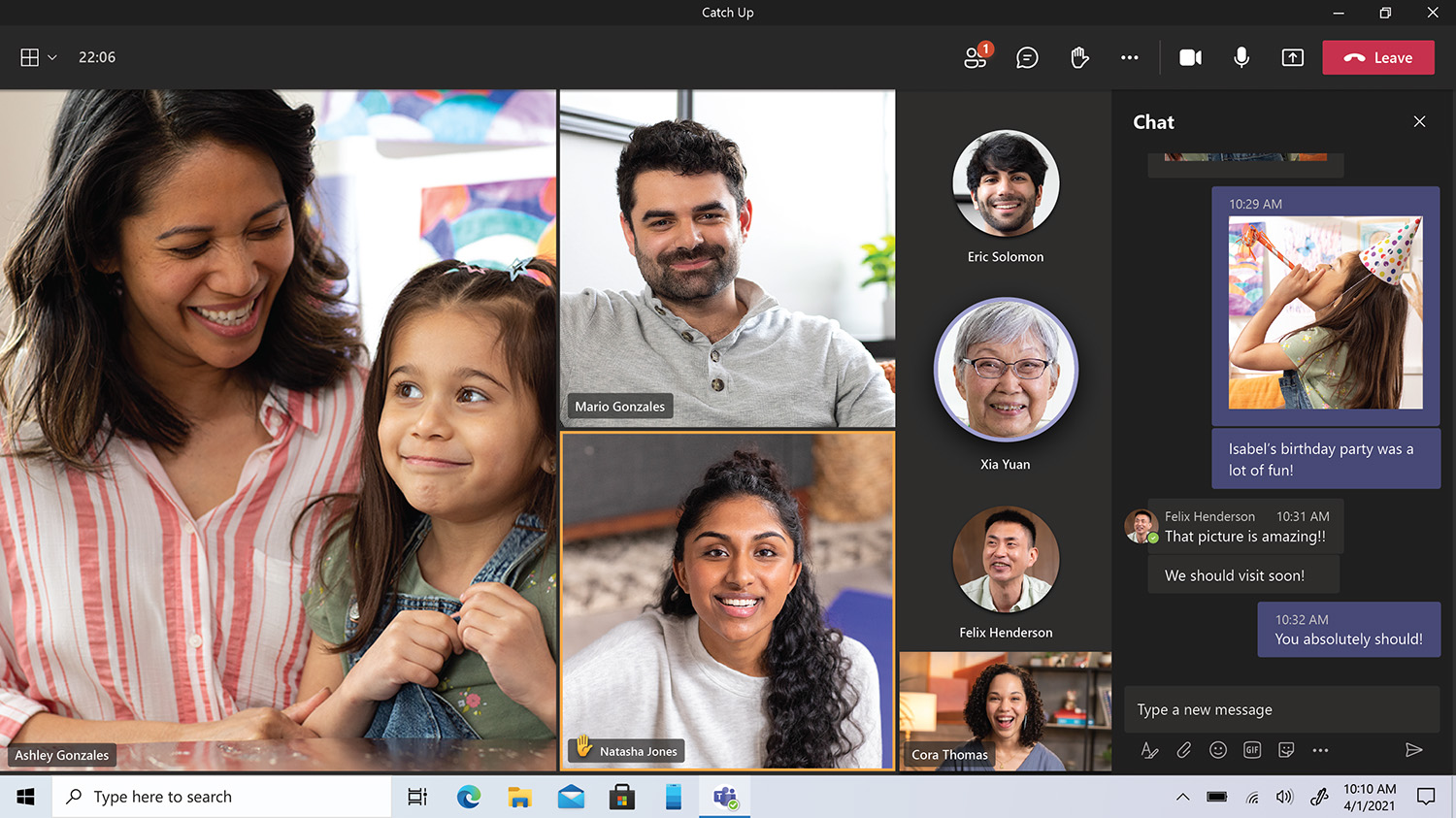 Did we mention that Microsoft Teams supports up to 10,000 people? Needless to say, scaling up shouldn't be an issue if you choose Microsoft Teams. Some of the video conferencing features you'll get to reap include background blurring, live captions, call recording, and plenty more to cater to your every need. Lastly, it's worth noting that Microsoft teams also integrates with other video conferencing platforms like RingCentral, Zoom, and TeamViewer. This makes it possible to continue using the existing web conferencing platforms already in your stack while still reaping the benefits that Microsoft Teams has to offer.
Dialpad Meetings
Dialpad Meetings has been a popular choice amongst small businesses since its pricing model is very affordable. Considering you can get their plans for as low as $15/month if you bill annually yet still have access to video conferencing and virtual faxing capabilities, there's no denying that Dialpad Meetings is a pretty good deal. If you want to use integrations like Zendesk or Okta then you'll have to upgrade to the pro or enterprise plans but they're still fairly priced for the value you get. Dialpad also has a handy Chrome extension that lets you make calls or send SMS messages to any number without ever leaving your browser.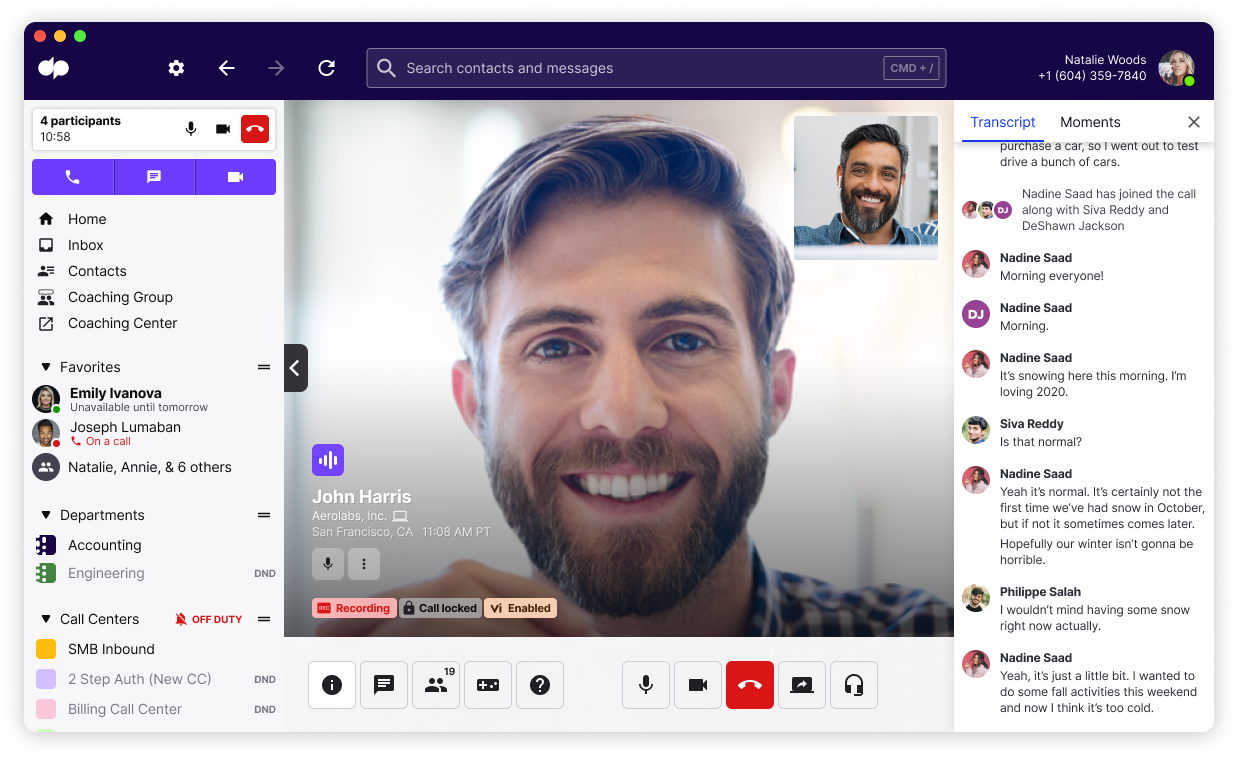 Beyond Chrome, you can also choose from its mobile apps, desktop app, or even use the web app version if you don't want to install any additional software. The cross-platform accessibility not only improves your user experience but also makes it easier to get other people on conferences even if they're new to Dialpad. Despite often being categorized as a budget option in the VoIP world, make no mistake about its fully encrypted AES 256-bit security that keeps your sensitive data safe. That's the bottom line when it comes to the Dialpad promise: flexibility and security at an affordable price.
Apache OpenMeetings
While not one of the prettiest options on the list, with a bit more of a minimal UI and design, OpenMeetings is actually a completely free, open-source web conferencing solution. With video conferencing, instant messaging, whiteboard capabilities, and collaborative document editing OpenMeetings does everything the other competitors would — and, since the app is open source, the platform can always be edited to suit your needs if one of your devs is willing to put the time in to contribute to the code. Though the existing developers aren't lazing around either as they've recently introduced the ability to monitor performance metrics using Prometheus which can help give you a visual view of key analytics.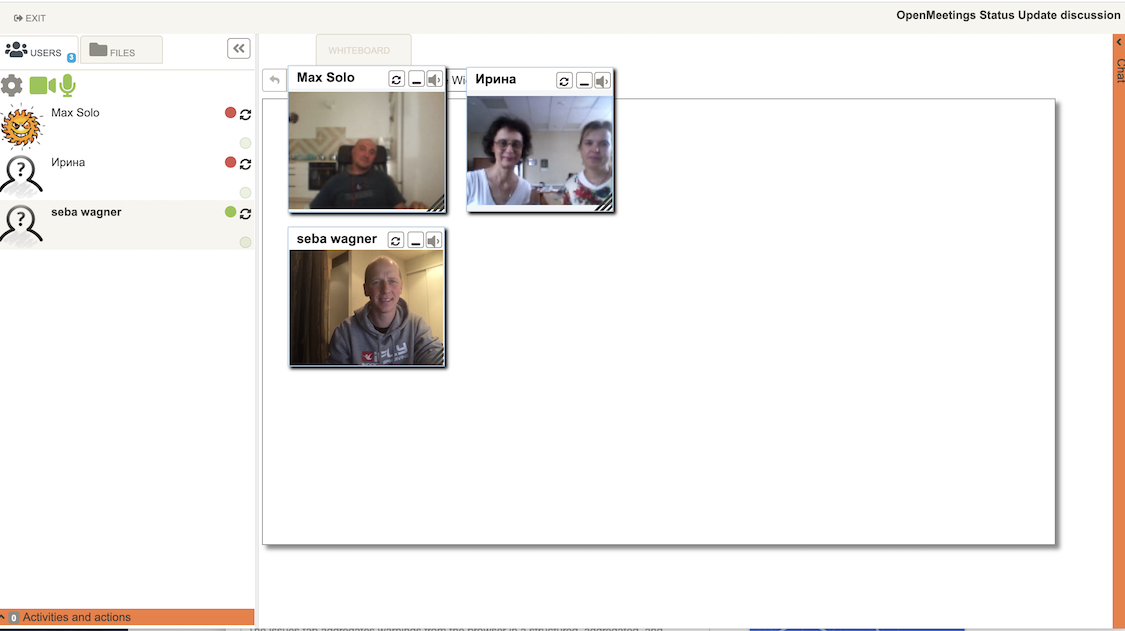 Screen sharing is of course an included feature, even with the ability to record your sessions, even the audio conversation that accompanied your session. Users can also select only a section of their screen to share as opposed to the entire thing. Web conferences can be audio and video, audio-only, video-only, or even picture-only. With a powerful multi-whiteboard tool, and chat built right in, collaboration is a breeze and users can spawn as many whiteboards as they need to house drawings, discussions, or even files to be edited. While the UI might not be stellar, the UX seems to be fairly solid with a drag and drop file explorer theme throughout the app.
Conclusion
Let us know your thoughts in the comment section below.
Check out other publications to gain access to more digital resources if you are just starting out with Flux Resource.
Also contact us today to optimize your business(s)/Brand(s) for Search Engines