Welcome to the Social Media Marketing Tools Zone, a place where we'll be exploring some of the best tools out there for managing your social media marketing campaigns. We'll be looking at everything from social media analytics platforms like Sprout Social and Hootsuite, to scheduling software like Buffer or Post Planner, to Instagram growth tools like Gramista or Instagress.
We're going to be diving into what each tool does well, what it doesn't do well, and when it's worth using—but more importantly, we'll also be looking at which ones are best for different kinds of businesses and marketers.
Social Media Marketing Tools Zone
Marketers make use of software solutions that encompass all of the insightful data that sometimes gets lost in the shuffle, or isn't available through the native application. These platforms also provide solutions for many problems like scheduling, driving site traffic with a link-in-bio, and other organizational needs. While these types of tools come in many different shapes, sizes, and forms, most have one thing in common: making your life as a social media manager easier. The best part? These in-depth analytics and tool capabilities are not limited to just one social channel. Many of the top tools allow you to track, compare, and report data from multiple channels. That makes your social marketing tool of choice a one-stop-shop for just about everything your brand could need and want from each of their social channels.
Why Use Social Marketing Tools?
We could go on for days (maybe even weeks) about why your brand needs a social marketing tool. Besides the bells and whistles that come along with each unique tool, there are a couple of elements at the core of every option that make these tools indispensable. The most obvious is data collection. Say goodbye to painful and confusing excel sheets (unless that's how you roll), and hello to beautiful, easy-to-understand analytics broken down by exactly what you're looking for at the moment. This will single handedly save your life when it comes time to present data on how your social channels are performing, but in a way that makes sense to everyone.
Types of Social Media Marketing Tools
The most important element of a social media marketing tool is what it can do. While most standalone tools accomplish one or two important tasks, many other tools offer a solution for any problem you may have. Here are some of the features you should be looking out for when choosing a tool.
Link-in-Bio
Many channels don't allow you to directly insert links to your products, website, or content in your captions or descriptions. That's what a link-in-bio tool is for. It allows for brands to easily house all of their pertinent links in one place for users. These tools allow brands to customize the way their links and respective images are displayed for anyone who inbounds from social. The format of your link-in-bio solution can be in the same form as your feed, or look completely unique, depending on your needs.
Post Scheduling
Social management in the current era involves robust content strategies for multiple channels that span weeks, if not months, into the future. Social managers simply do not have time to post content to their account manually. Post scheduling is a must for any social marketing tool, because it allows brands to set themselves up for the future, freeing their time to focus on planning.
Analysis
A social media marketing tool is nothing without its insightful data. Ideally, the tool houses many options to exhaustively showcase and analyze data, leaving you coming out with a clear idea of what's working, what isn't, and what you need to do next. These dashboards should allow you to know exactly what's happening at a glance, while also giving the opportunity to dive in a little deeper by filtering according to your needs.
Prediction
Doesn't it sound like a dream to know how well something may or may not perform before even hitting post? That dream is a reality. Some social marketing tools have advanced software that can detect how your posts will perform, based on how posts similar to it have performed in the past. Tools such as Vision can be used to predict the performance of photos and videos.
Relationship ROI Measurement
Influencers and creators are some of the most powerful players in the game that is social media. Many users are more likely to trust, look up to, and take advice from their favorite influencers, which is why it is so important to have them as a part of your marketing strategy. Great social tools have capabilities that allow you to measure the success and ROI of every influencer your brand partners with. This gives insight into ensuring your partnership is a win-win for both parties.
While every tool is different, and will have a unique array of offerings, these elements are all things that make a social media marketing tool worth it. Bonus points if the tool has a mobile application that allows you to meet all your objectives from your phone or tablet.
The Best Social Media Management Tools in 2022
There are hundreds of social media management software options saturating the industry right now, that's why we put in the work scoping out the best of the best so you don't have to. While we physically cannot outline each offering from every tool, we did pick out a few standouts that make these tools the best.
Dash Hudson
Dash Hudson is one of the most highly rated and well-rounded social media marketing tools in the industry. Once an Instagram-focused tool, Dash Hudson now provides insightful, content-driven features for all of the most popular social media channels in the world like TikTok, Facebook, Twitter, and Pinterest. All for the world's most important brands.
While Dash Hudson offers top-notch versions of classic products like Scheduler, LikeShop and Boards, it steps above the pack with offerings like Vision, Relationships, and Dashboards. These unique features allow brands to get the absolute most out of their social marketing efforts.
Later
Later prides themselves on helping small businesses and social media managers harness the power of marketing strategy. They offer a customizable link-in-bio, in-depth Instagram analytics, and both scheduling and publishing for Instagram, Pinterest, Twitter and Facebook. Brands who prioritize publishing and site traffic will be happy in the hands of Later.
Sprinklr
Since 2009, Sprinklr has been developing its SaaS customer experience management platform for some of the largest brands in the world. Their toolbox includes a scheduler and content calendar, paid ad campaign management, customizable reporting options, and sentiment monitoring within an all-encompassing social inbox.
Sprout Social
Sprout Social wants to help brands reimagine how social media can grow their business. With products like scheduling, link-in-bio, reporting metrics, hashtag performance, and social listening capabilities, social media becomes substantially easier. Sprout also offers a Help Desk, and a Canva integration for those who already use the graphic design software.
Buffer
Social media scheduling and Buffer go hand in hand. Aside from offering social scheduling and publishing, Buffer also offers engagement capabilities and analytics tools that help brands create thoughtful, data-filled reports. Users even now have the option to create a Start Page through Buffer that showcases the best of their brand.
How to Choose a Social Media Tool
Now for the hardest part, choosing the right tool for your brand. But good news; it's not as hard as you might think. Below are just a few of the things you need to think about when choosing a new social media marketing tool:
Consider Your Industry Landscape
The social media landscape is evolving rapidly, and you should look for software that can keep up with the industry and the changing needs of your business. If Instagram adds a new feature that all of your competitors are using, it's only natural that you would want to incorporate that feature into your channel strategy as soon as possible. Your agility in the social media marketing field is highly dependent on the tools at your disposal. Some tools specialize in certain areas, and some software providers are faster at adopting new technologies than others.
Social channels are always adding new features, which are new opportunities for your business to expand its content strategy, reach customers in new and exciting ways, and further understand social media ROI. Gauging the speed at which you plan on adopting new features is an important step to finding a social media software solution that matches your needs.
Identify Your Brands Needs
The first step when choosing social media software is to think about how you conduct business on social media, your reporting requirements, and the budget that you're working with. Do you need software simply for scheduling posts, or do you need detailed social media insights and ROI measurement? Do you only use social media for brand awareness, or are you looking to integrate clickable posts through your bio into your channels and develop a deeper e-commerce strategy?
Some tools limit the number of users who can access the software, which may work well for your business depending on its size. It may also pose a challenge if you're elevating your content marketing strategy and looking to grow the size of your team. You should also consider the ease of bringing new employees into the platform—is it easy to train people on, and does it have good customer support? Something else to consider is the non-marketers on your team. They may not speak the same language as you do, and you must find a tool that is accessible to them and has the right collaboration features to keep up with the agility of your business.
Understand Your Target Audience
‍The social media software tools that you use are instrumental to reach your target audience, which is why you must understand who your audience is and where they can be found. Marketing to generations is one aspect. If your audience is primarily Millennials, a tool with robust Instagram features makes the most sense, while if your audience is primarily Gen Z, you should make sure that the tool you're selecting has a TikTok solution.
The industry you do business in will also determine which tool works best. If you want to make your products on TikTok shoppable, a TikTok link in bio solution is a must. If your industry is highly reliant on photography, a visual marketing tool with predictive AI will help you to determine what kind of content will perform best for your audience. There are many innovative features at your disposal, and deciding on social media software comes down to who you're trying to market to.
Learn from Your Peers
‍No one knows the ins and outs of each tool more than other social marketers. Many of your peers are using user review websites such as G2 to discuss the ins and outs of social media software. As you can see with Dash Hudson, G2 is a central hub for marketers to give their honest opinions on their experiences working with social media software tools. The feedback is given in marketers' own words, and the website is structured in such a way that you can see the pros and cons of each product.
G2 makes it even easier to pick out industry-leading software by recognizing them with awards that you can see on their G2 profiles and hosted on their websites.
Start with a Demo
Eventually, you will have to decide on a tool, but you don't need to rush. Companies such as Dash Hudson offer full demos of their social media software tools. There is no better way to find out if a solution works best for you than by trying it out yourself. The benefit of reaching this stage in your selection is that the tools in question have teams in place who are happy to guide you along your journey and answer your questions as they come—and when it's time for you to make a decision, they will be there to assist.
content tools for social media
1. Lumen5
Turn blog posts into engaging videos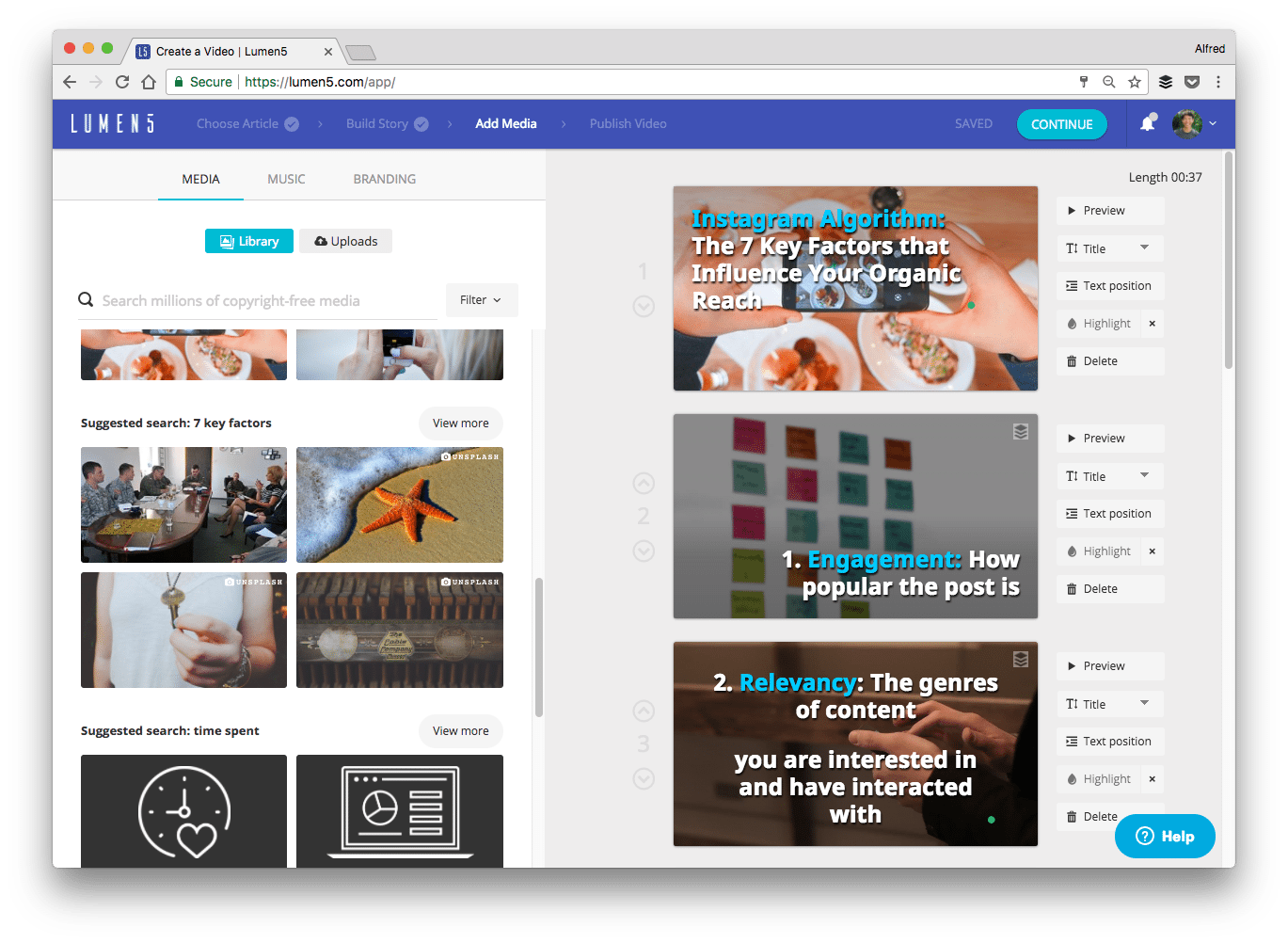 Price: Free or $49 per month
Description: By analyzing the content of your blog post, Lumen5 can automatically create a video storyboard for you. It even recommends relevant images and videos, which you can easily use by dragging and dropping onto the respective frames.
Great for creating: Videos
How to create videos quickly with Lumen5:
A fast way of creating a useful video is to highlight only the key points of your blog post in your video.
After you enter your blog post URL into Lumen5, Lumen5 will display your blog post text on the left side of the app. Select the subheadings of your blog post (which are likely the key points) to add them to your storyboard. Lumen5 will then generate a video according to those subheadings.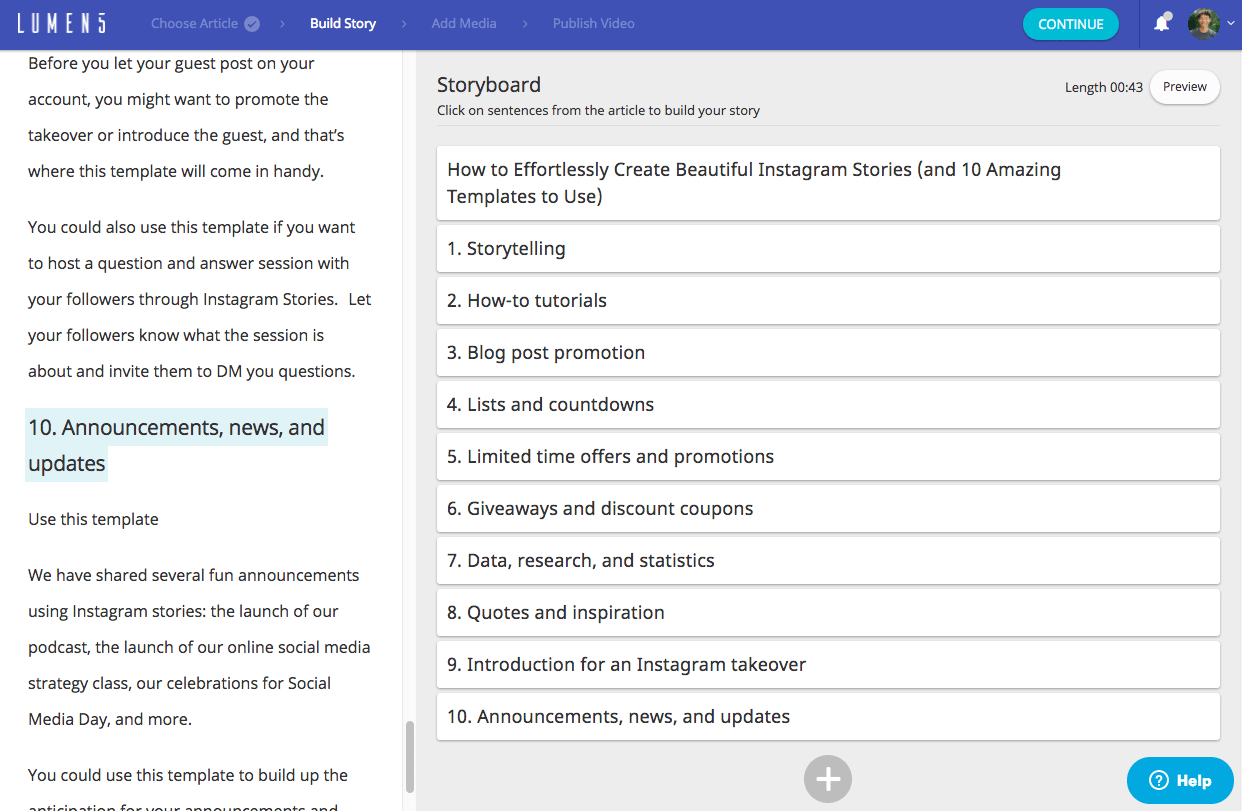 2. BIGVU Teleprompter
A pocket TV-studio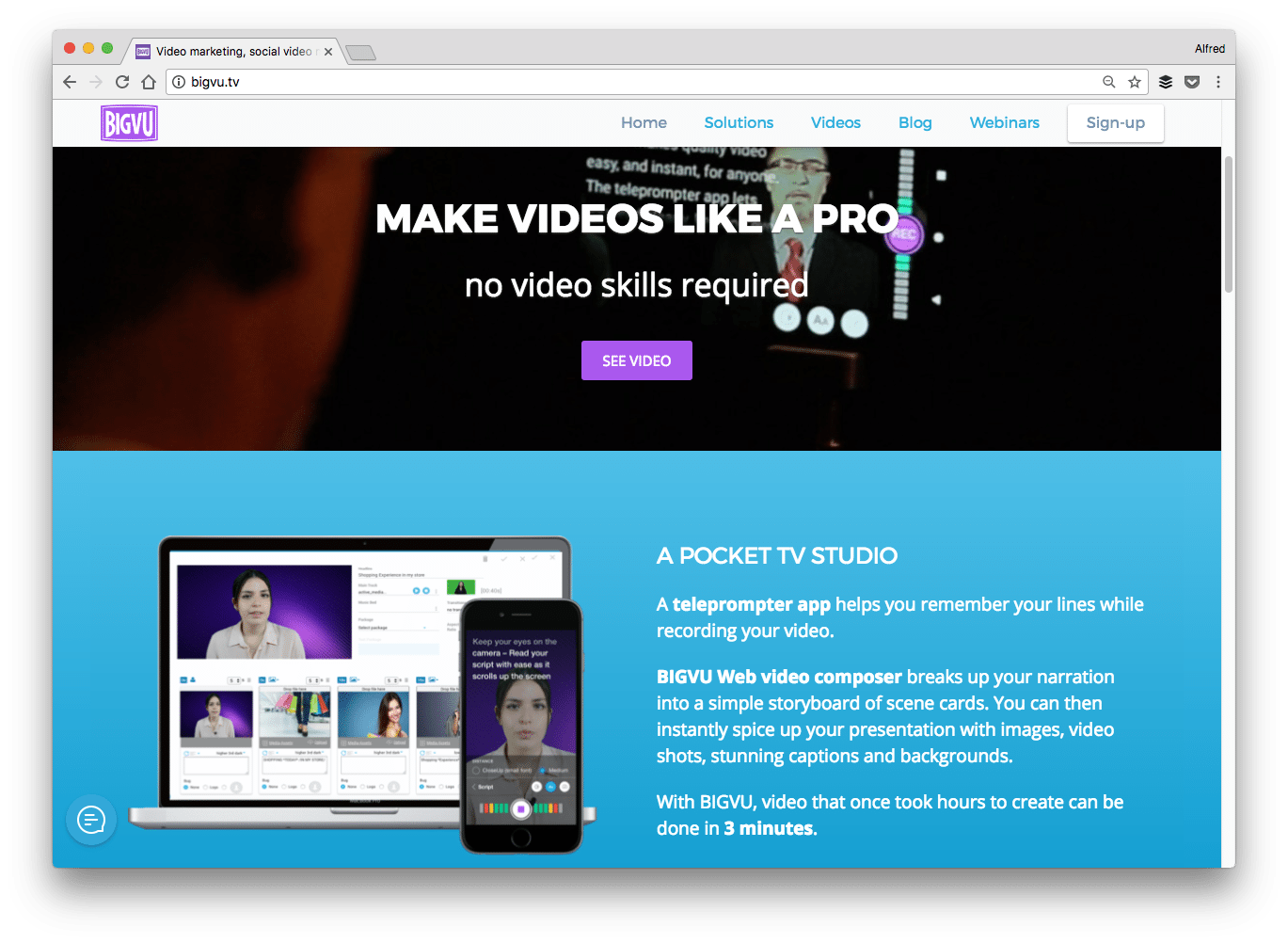 Price: Free, $8.99 per month, or $49.99 per year
Description: If you often retake your videos because you can't remember what to say, you'll love BIGVU Teleprompter. It displays your script as you record your video so that you can easily refer to your script. With its web video editor, you can also spice up your video by changing the background and adding captions.
Great for creating: Videos
How to create videos quickly with BIGVU Teleprompter:
In the teleprompter app, you first have to create your script. An easy way might be to draft your script on a desktop and transfer it to your smartphone via Google Drive or Dropbox.
If you want to record your video horizontally, hold your smartphone horizontally before tapping the camera icon.
There will be a five-second countdown once you tap the "REC" button. And the recording will automatically stop once the script ends.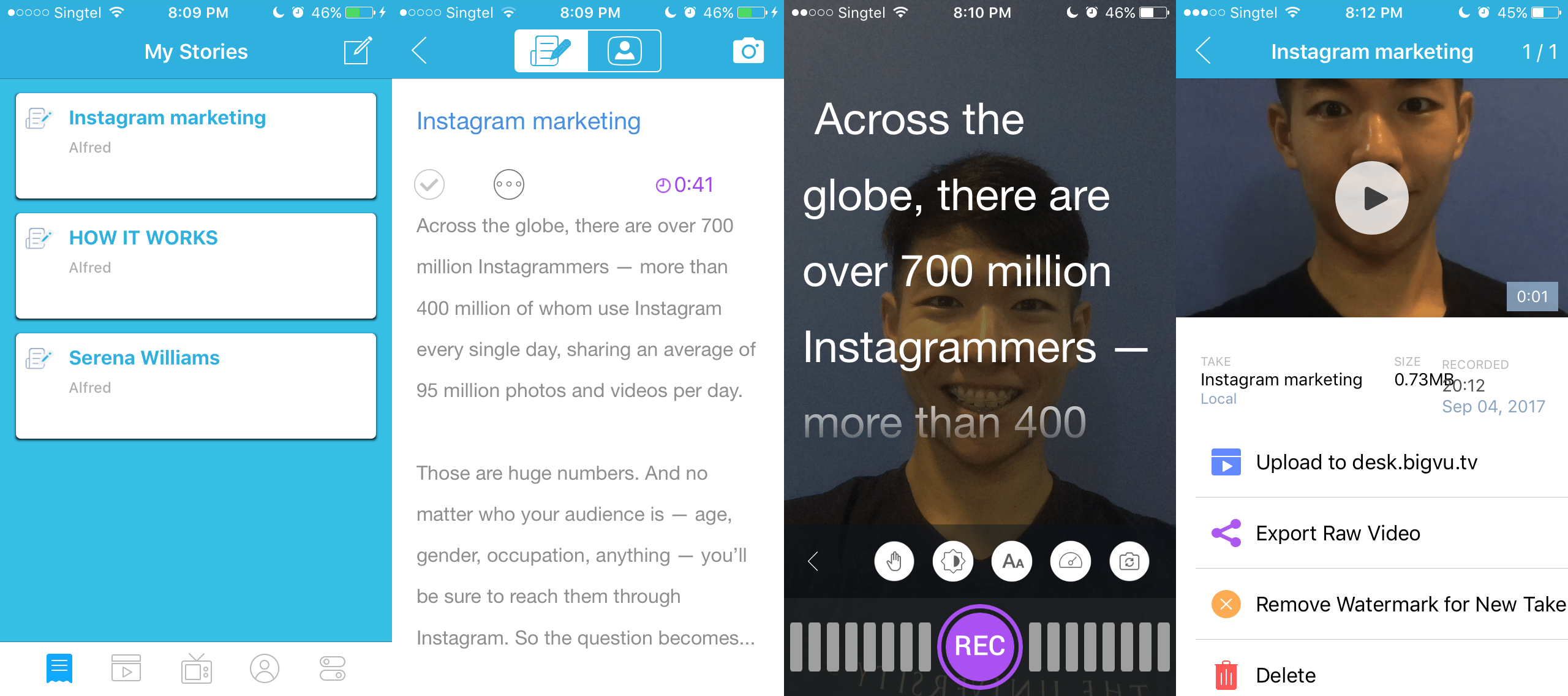 3. Animoto
Make great videos. Easily.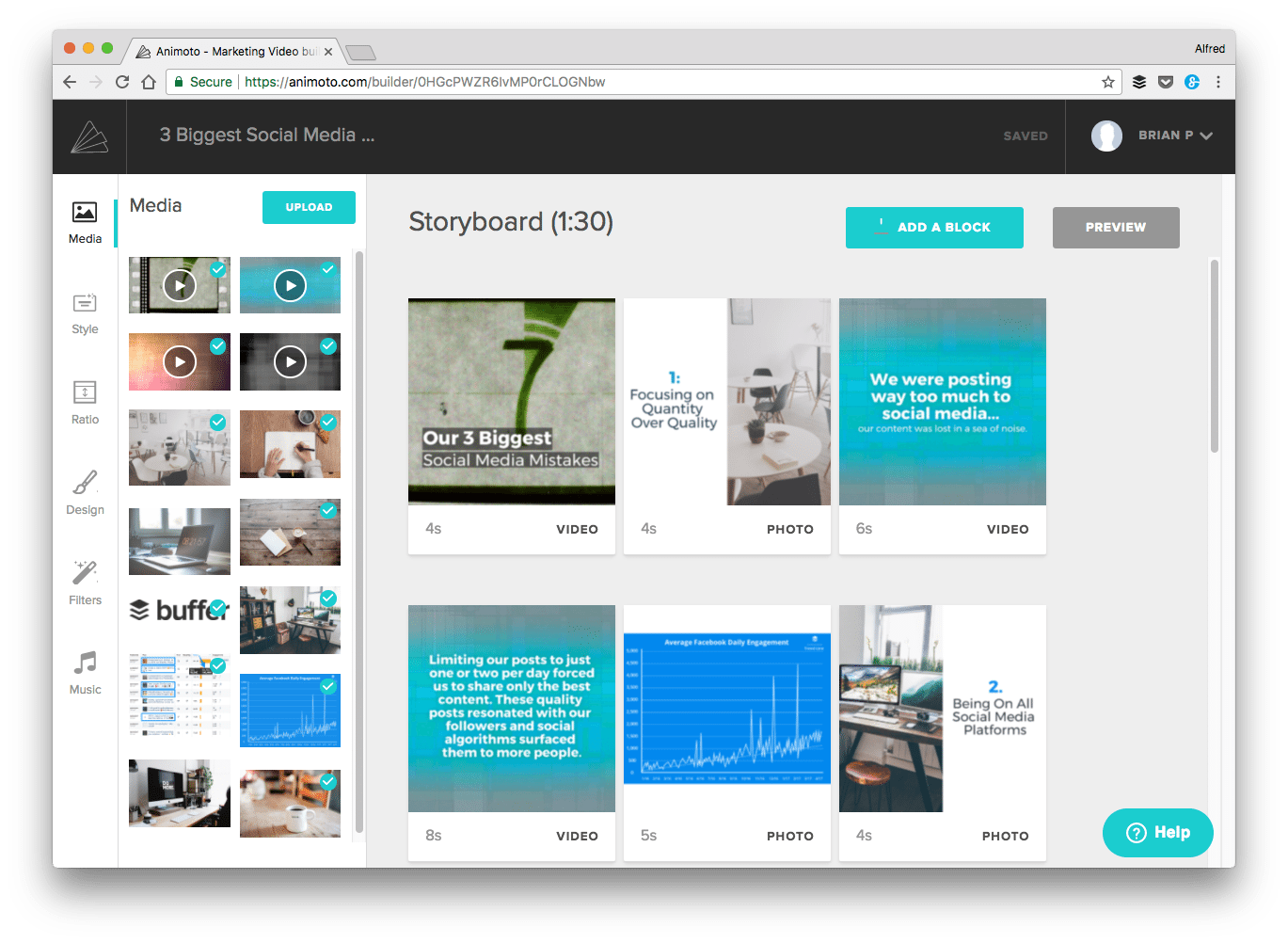 Price: $16 per month, $42 per month, or $64 per month (Annual subscriptions are up to 50 percent cheaper.)
Description: Animoto helps you turn your photos and video clips into video slideshows with minimal effort. It's one of the few video tools that let you easily create square videos, too. We have been using Animoto to create many of our social videos (you can check out some of them here).
Great for creating: Short social videos
How to create videos quickly with Animoto:
Use one of the many storyboards provided by Animoto to speed up your video creation process.
Each storyboard is pre-made with a structure, a style, and a song. Once you have picked a storyboard, simply replace the template content with your photos and video clips and edit the text.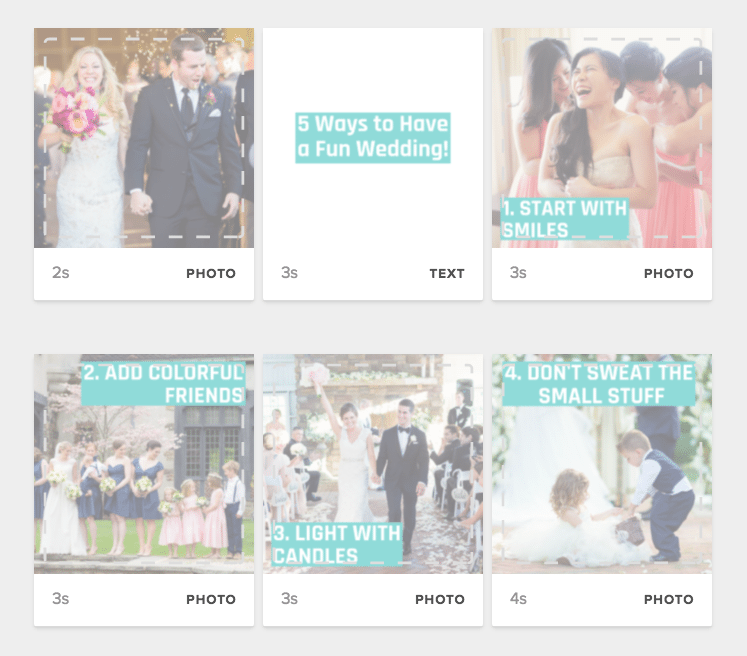 After you create your video, you can download it at various video quality and 4. Animatron Wave
Create engaging marketing videos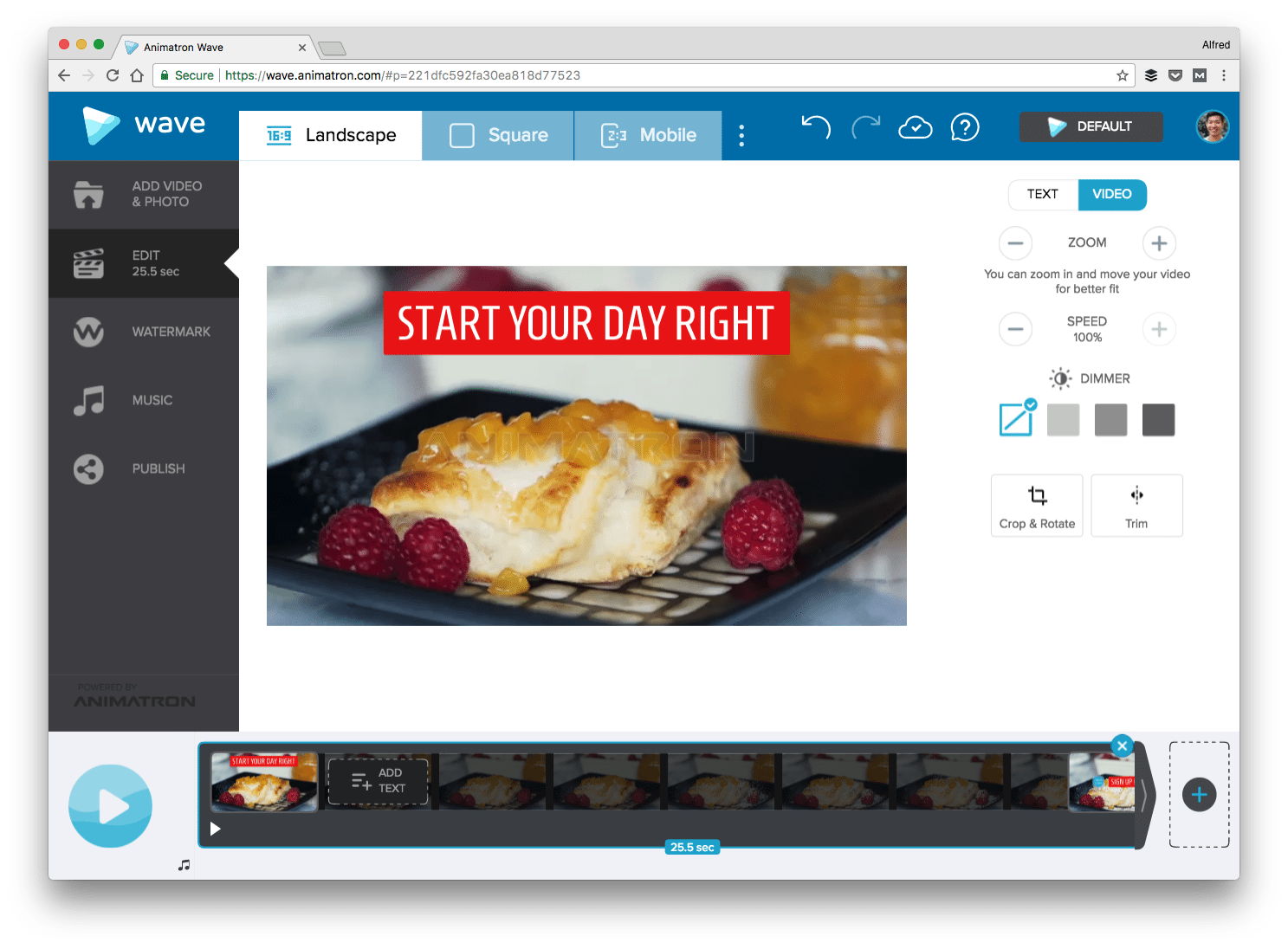 Price: Free, $59 per month, $129 per month, $239 per month, or enterprise pricing (Annual subscriptions are up to $1080 cheaper.)
Description: Animatron Wave is a new online video making tool that is designed for creating videos for social media. It provides access to the 2.5 million professional stock footage library (and is recommended by social media pros such as Mari Smith and Peg Fitzpatrick).
Great for creating: Videos and stories
How to create videos quickly with Animatron Wave:
One of the unique features of Animatron Wave is that it allows you to easily convert your video into six popular sizes — square, story, Facebook cover, and more.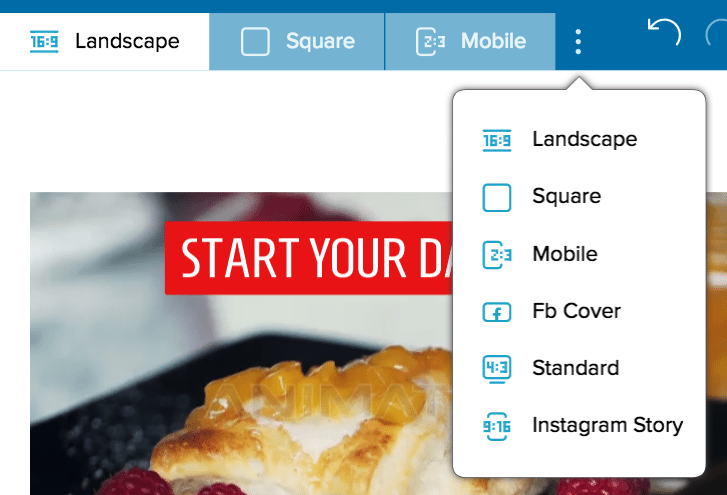 So you can create one video and use it in six different ways! For example, you can use the landscape video for YouTube, square for Facebook, vertical for Instagram Story, and so on.
5. Rocketium
Quick video creation for social media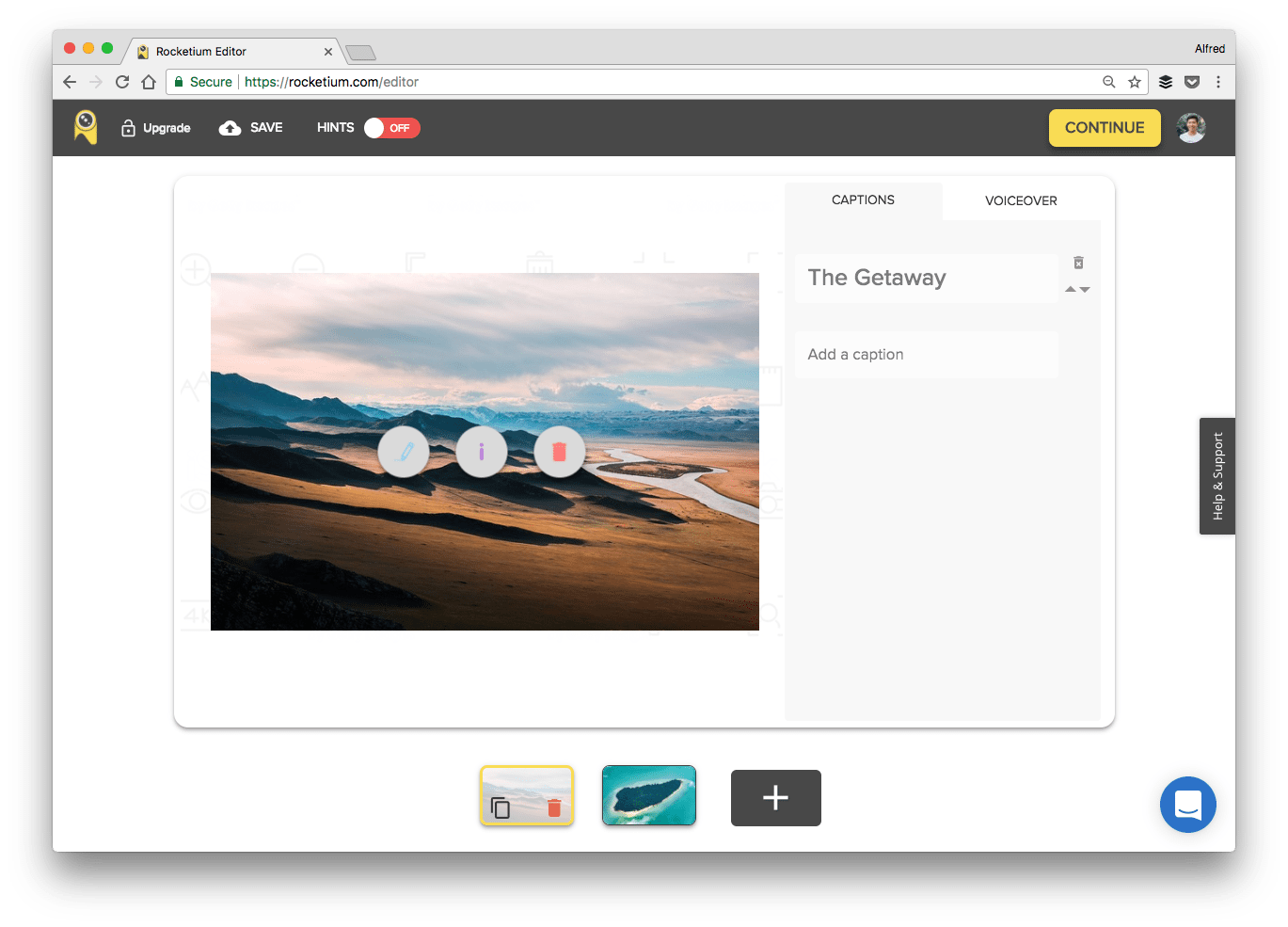 Price: Free, $19 per month, $49 per month, $149 per month, or enterprise pricing (Annual subscriptions are at the price of 10 months.)
Description: With Rocketium, you can create videos for social media or advertising in minutes. You can easily switch between different video orientations — landscape, portrait, or square — and Rocketium will automatically resize your media files and captions accordingly.
Great for creating: Videos and stories
How to create videos quickly with Rocketium:
Rocketium offers a library of pre-set templates and themes, which you can use to quickly style your videos.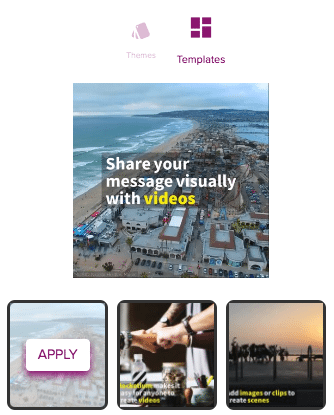 After you have selected your photos and video clips and entered your caption for each scene, just hit any of the templates or themes and Rocketium will automatically style your video's transition, caption, and music for you.
6. Animaker
Make an awesome explainer video in minutes
Price: Free, $12 per month, $25 per month, or $49 per month (Annual subscriptions are slightly cheaper.)
Description: Animaker makes it possible (and easy) to create animated videos with impressive effects without needing any technical skills in creating animations.
Great for creating: Animated videos and stories
How to create videos quickly with Animaker:
Animaker has over 40 templates you can use to create your animated video.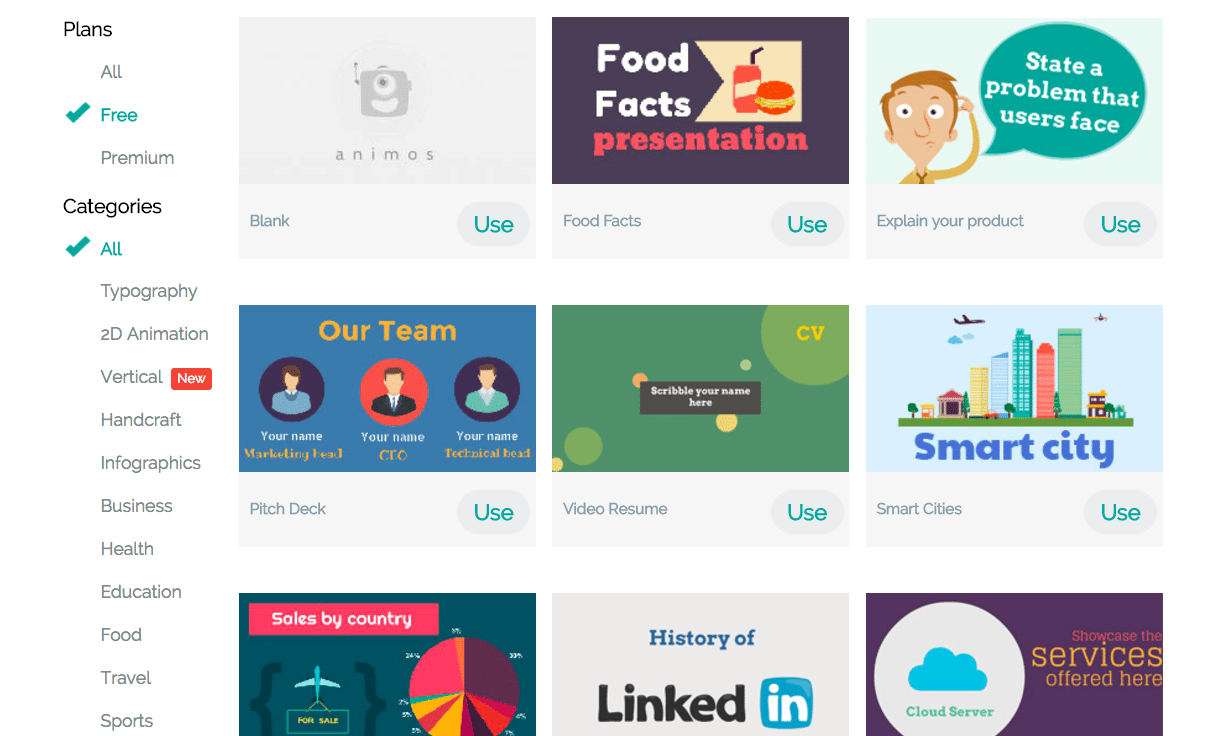 Each of these templates is essentially a ready-made video with the proper effects, transitions, and music. To create your video or story quickly, you can just change the content and keep the rest as it is.
7. Anchor
Make cool audio, right from your phone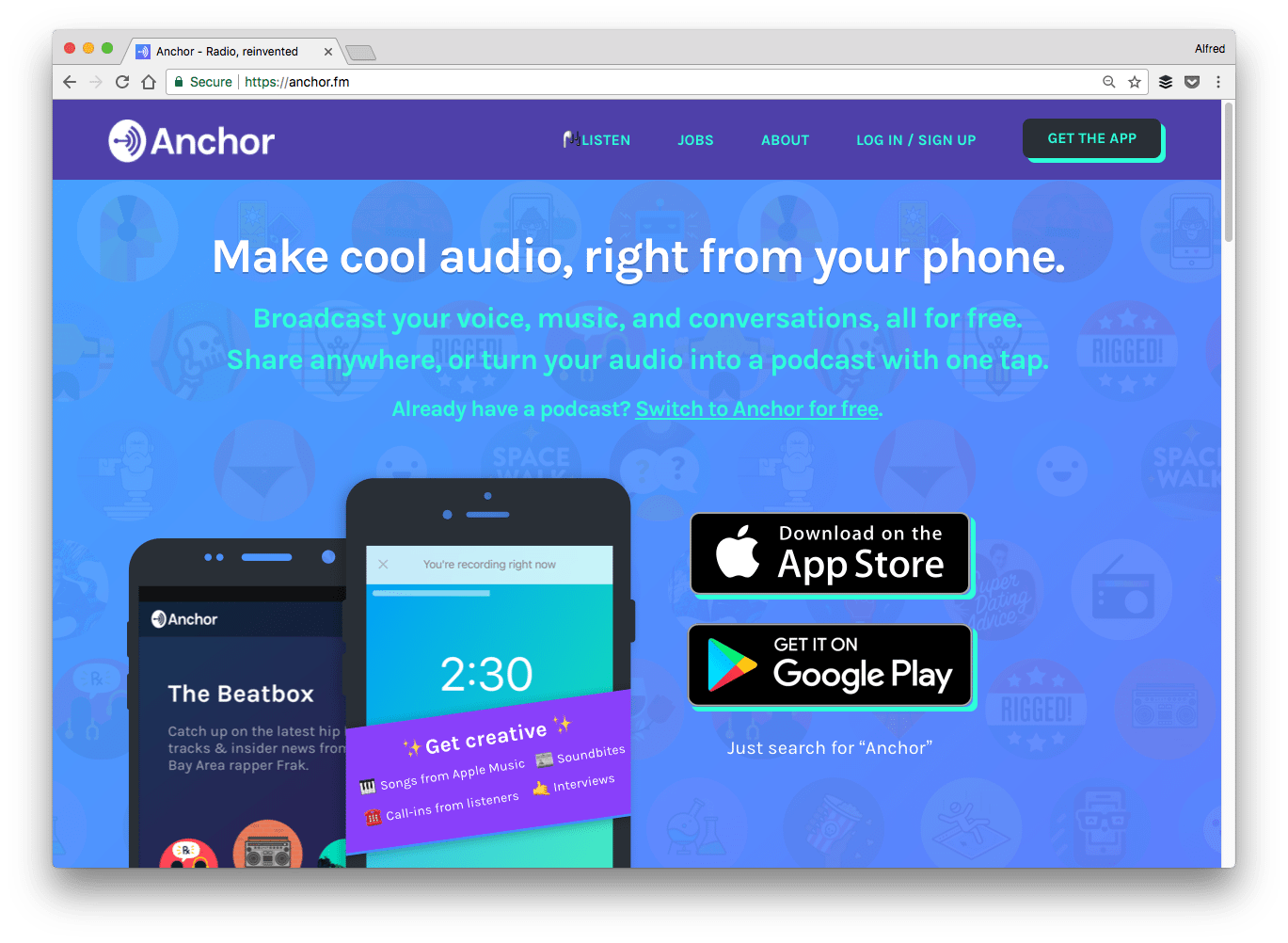 Price: Free
Description: Anchor is a social media platform for audio. With its app, you can easily create audio recordings and videos that are great for sharing on social media.
Great for creating: Audio recordings and videos
How to create videos quickly with Anchor:
With Anchor, you can create cool audio videos like this:
Here's how to create such videos using the Anchor mobile app:
Once you have recorded your audio, tap on the video icon
Choose the theme of your Anchor video
Check and edit the transcript of your recording
Download it as a square, landscape, or portrait video
8. Canva
Amazingly simple graphic design software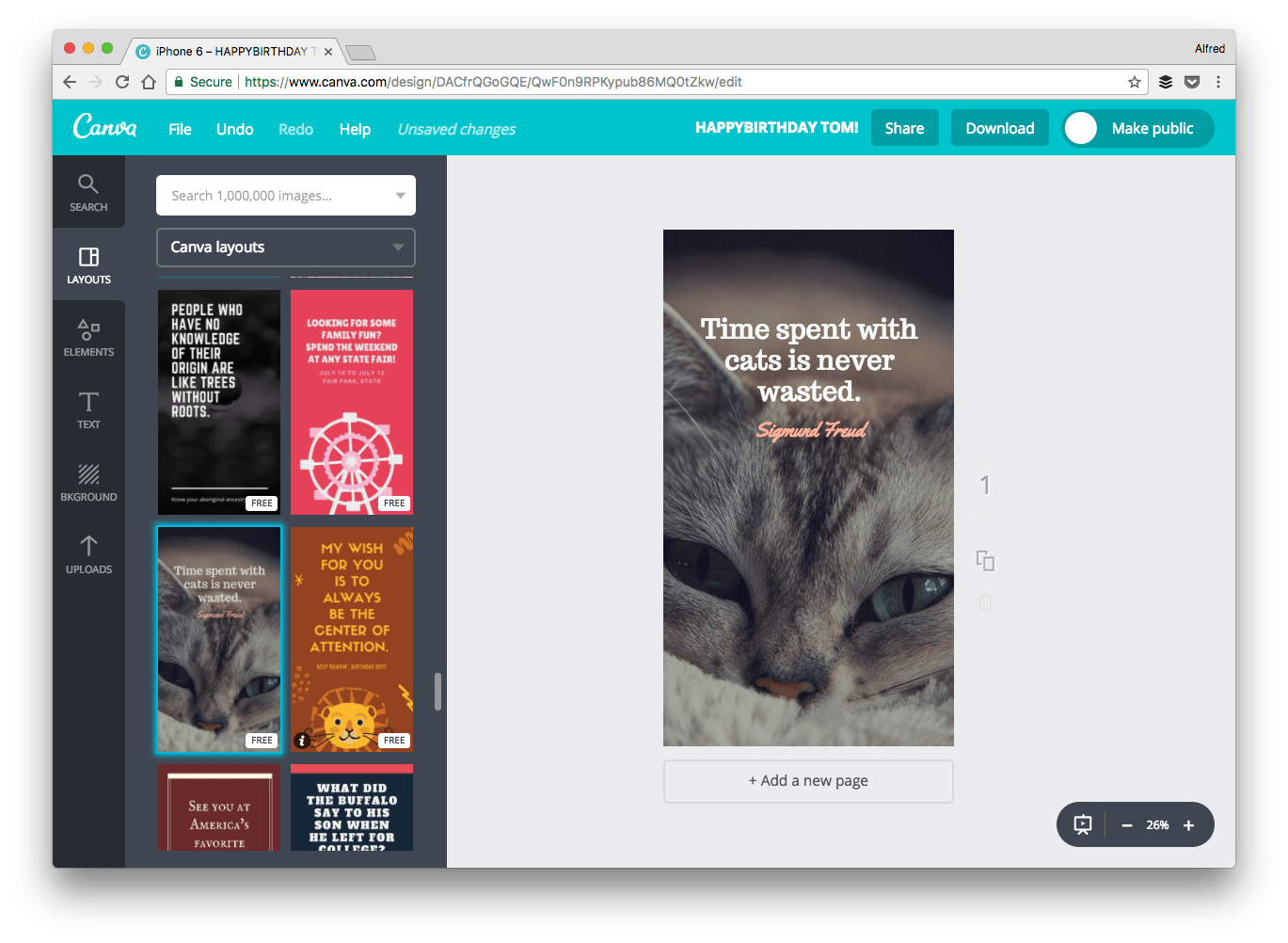 Price: Free, $12.95 per user per month, or enterprise pricing
Description: Canva is one of our favorite design tools for creating social media graphics. You can create high-quality graphics quickly using the templates, layouts, and design elements — even on the free plan.
Great for creating: Images, quotes, stories, and infographics
How to create graphics quickly with Canva:
Instead of creating your social media graphics from scratch, use Canva's amazing library of templates, which you can use and customize — for free!
There's a section in the library purely for social media graphics.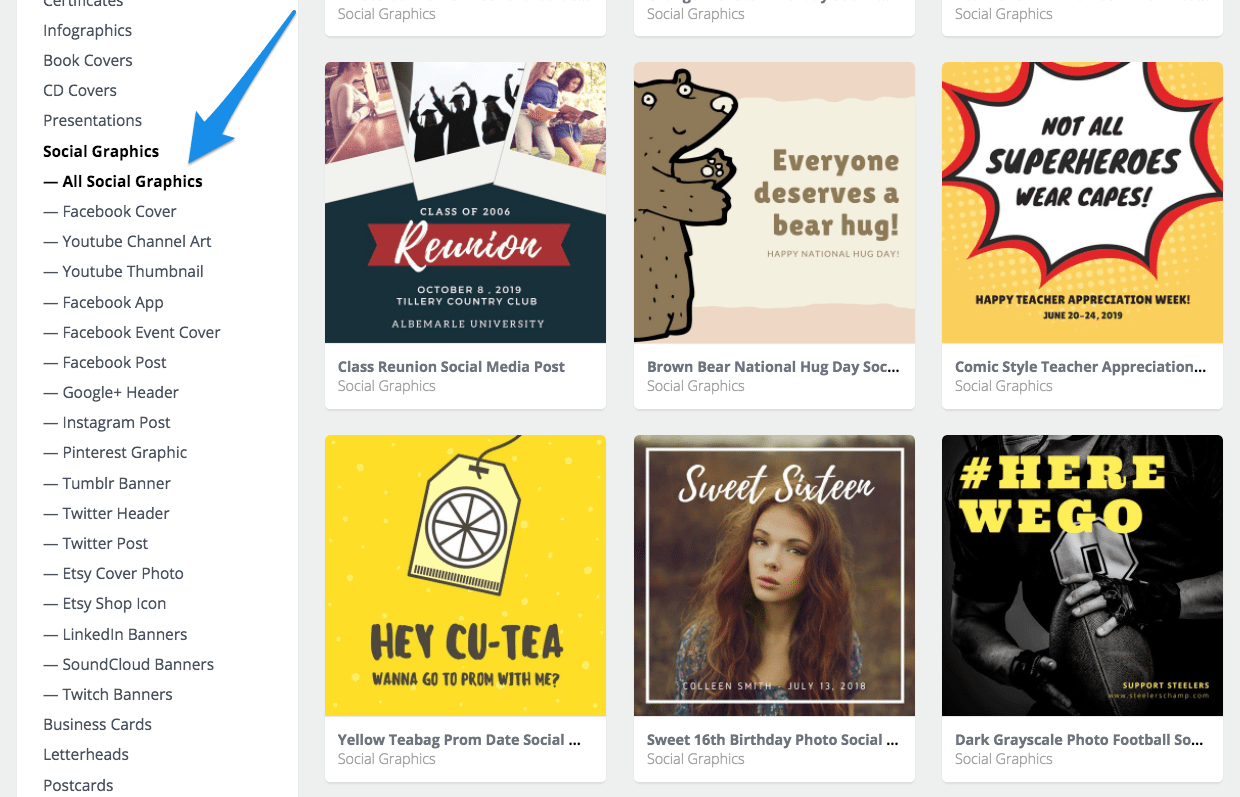 You can access the library via the "Explore templates" option in your Canva dashboard or this direct link: https://www.canva.com/templates/.
9. Crello
Graphic design made easy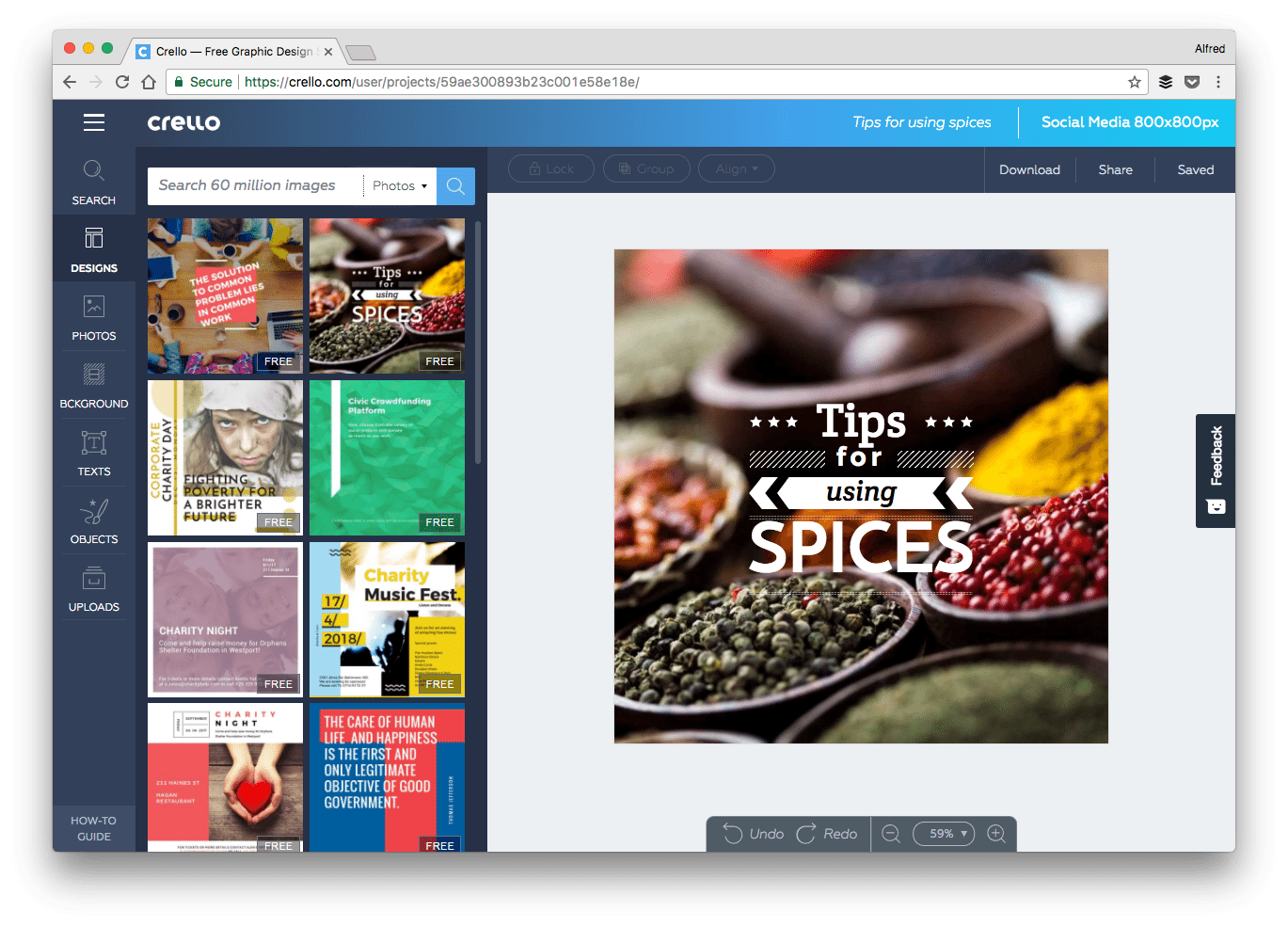 Price: Free (with some design elements at $0.99)
Description: Crello is a new graphic design tool that is very similar to Canva. Its advantage is that it offers more than 10,000 free design templates, 11,000 design elements, and 65 million stock images.
Great for creating: Images, quotes, and stories
How to create graphics quickly with Crello:
Just like Canva, Crello has an "Inspiration" tab where it showcases its free design templates.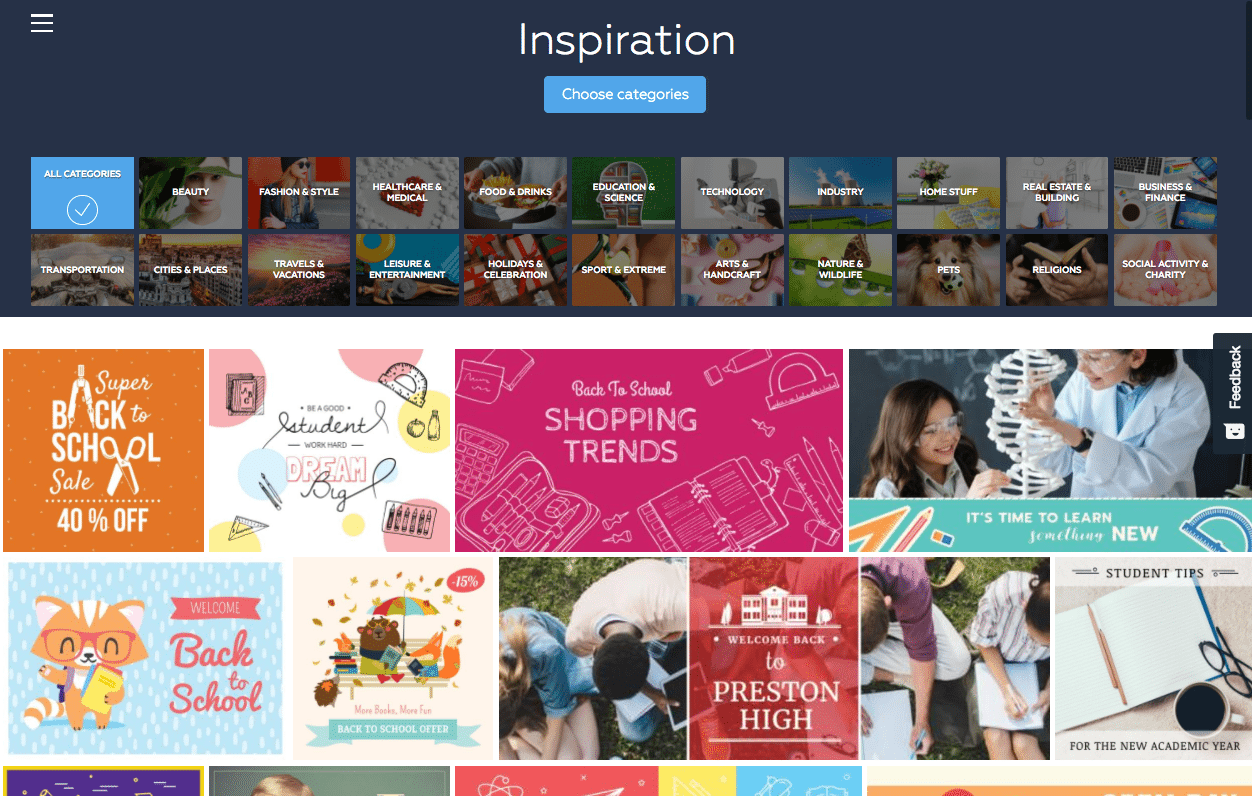 Simply click on a design template and you can customize it using the Crello editor.
10. Adobe Creative Cloud Express
Make images, videos and web stories for free in minutes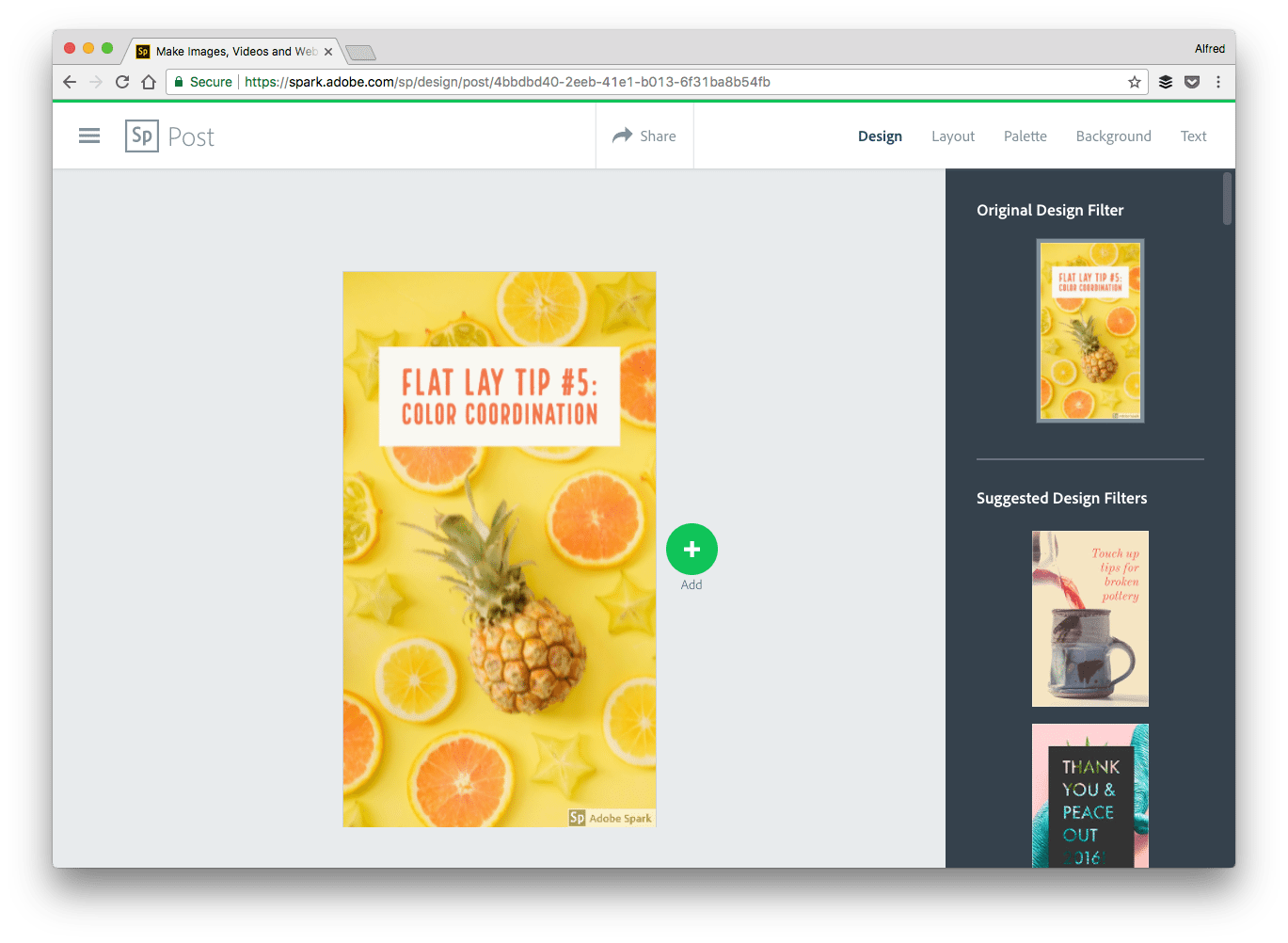 Price: Free (with branding that can be removed for a limited time)
Description: Adobe Creative Cloud Express is a design tool we're starting to love a lot more, and it complements Canva nicely. It offers several unique features such as resizing, color palettes, and style suggestions.
Great for creating: Images, quotes, videos, and stories
How to create graphics quickly with Adobe Creative Cloud Express:
Apart from templates that you can remix, Adobe Creative Cloud Express has a feature that suggests design styles to you.
Instead of spending time thinking how you should design your graphics, all you have to do is turn a dial.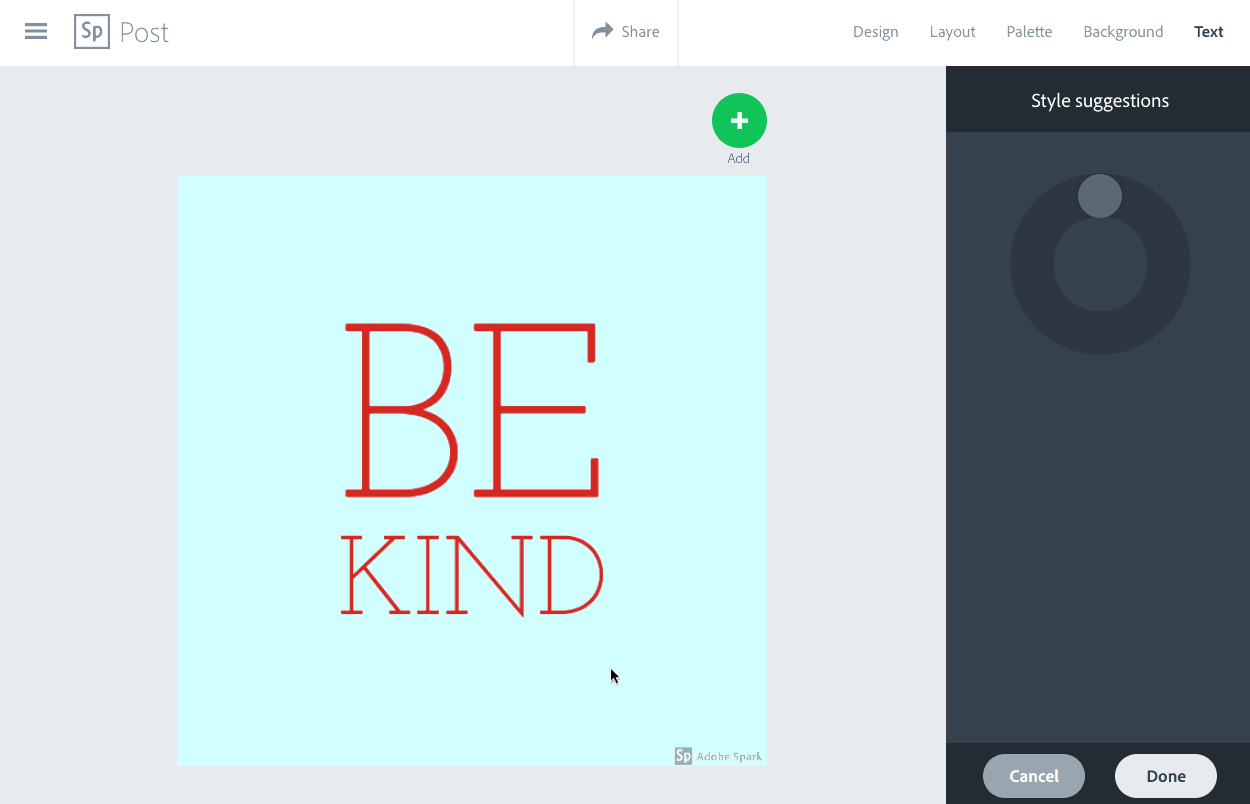 If you create Instagram stories often, we recently teamed up with Adobe Creative Cloud Express to create 10 free pre-made Instagram Stories templates.
Conclusion
Let us know your thoughts in the comment section below.
Check out other publications to gain access to more digital resources if you are just starting out with Flux Resource.
Also contact us today to optimize your business(s)/Brand(s) for Search Engines