We are pleased to present to you our new website design software. Found on this site is a concise description of what this product can do for you. We have also included a list of killer features and an informational blog post on how not to screw up your website. To find these additional items, navigate over to the Products page and click on the link.
Web design software has evolved a lot over the last 29+ years. What started as text-based pages with hyperlinks in 1991 came the rise of HTML 5, Bootstrap, mobile-first websites, and full-fledged content experiences.
If you're looking to create a website today, there are a lot of different routes you can take. Ultimately, it comes down to your coding knowledge and the features your website needs.
For example, if you're a small business in need of a quick website, a simple website builder like Wix is your best option.
If you're a web designer building a more complex website for a client, Webflow is a great option if you have experience with HTML5 and JavaScript.
Ecommerce platforms make building ecommerce websites easy.
And using your own web hosting with WordPress is your best choice if you're planning to start a blog.
The choice is up to you.
Let's get started.
What is the Best Web Design Software?
Here are my top picks for the best web design software:
Best Website Builder For Small Businesses ($8.50 per month).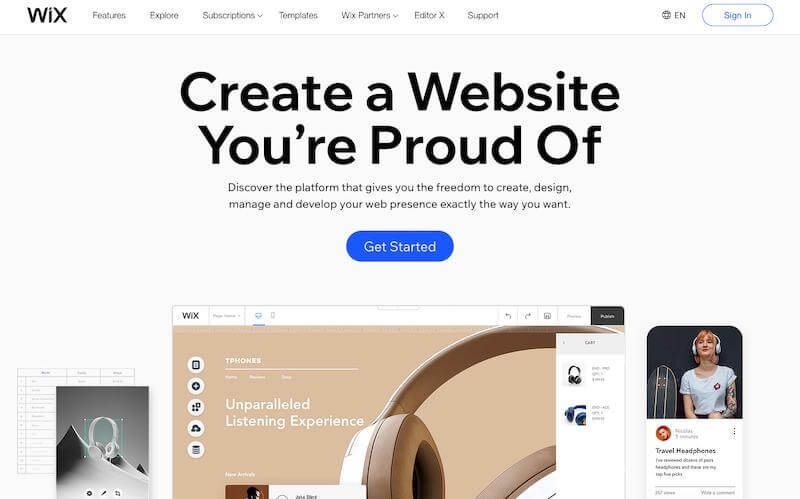 Wix is a SaaS website builder that helps you design your website with attractive templates and web design tools for beginners.
It provides a simple drag-and-drop editor that can help you create stunning web designs without any coding. You can also add plenty of effects like video backgrounds, animations, and scroll effects.
It also comes equipped with over 500 designer-made templates.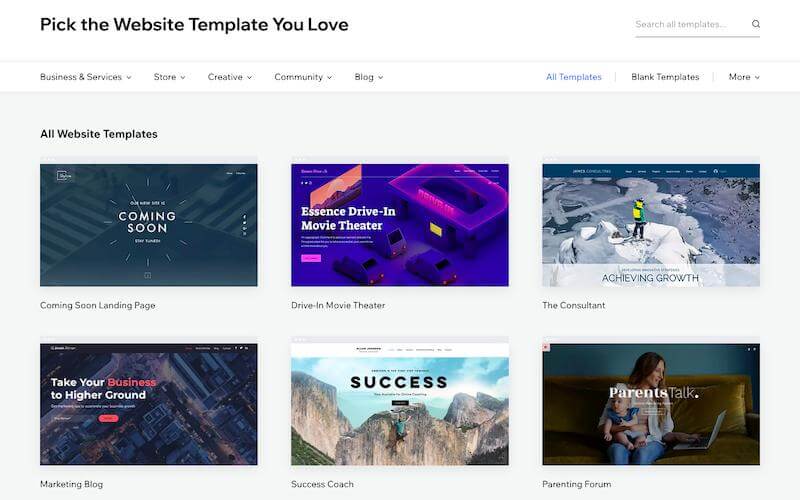 You'll never have trouble finding a suitable template for your site. Wix also offers plenty of filters to narrow down your search.
For example, you can choose from different industry types like Health & Wellness, Beauty & Hair, Fashion & Style, and more.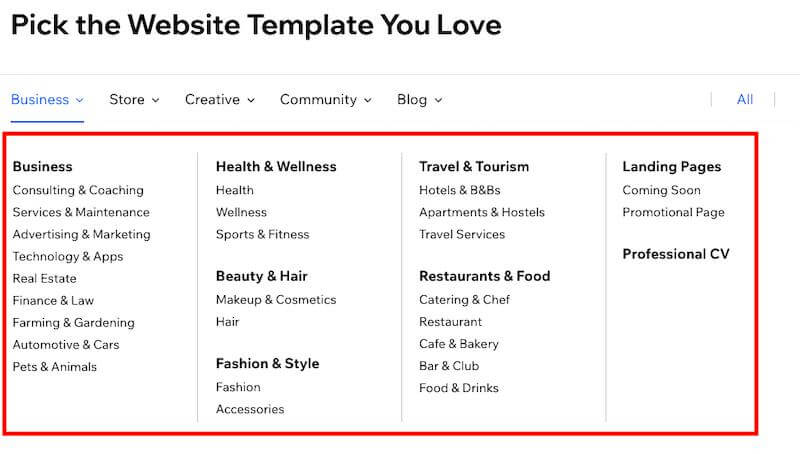 To make things even easier, you can just answer a few business-related questions, and Wix will design your site tailored for you.
Apart from the templates, Wix has over 30 built-in media galleries. You can showcase your images, autoplay videos, and text in these galleries.
Wix also lets you design your site just the way you want with elements like:
A blog to share ideas and grow your community.
Logo Maker to design a professional logo for your site.
Professional custom-domains for your site's branding.
Mobile-friendly themes & templates.
Wix can also help you with starting your own eCommerce store. You can also edit your website in the mobile view to optimize your website for smartphone users – both if you have an online or offline store.
It also offers a personalized SEO plan based on your location, business, keywords, and location.
Key Features:
Wix ADI – The Artificial Design Intelligence (ADI) can build a highly personalized website with tailored content based on your few answers. You can also edit its features or add/remove any elements you want.
Wix Corvid – It offers hassle-free coding with serverless computing. Achieve total design freedom by managing your web pages from integrated databases and adding your code in the built-in IDE. You can also work in your own environment and connect with 100s of APIs.
Overlay Effects – Easily add multiple cool visual effects like shadows, flares, and reflections with Wix Photo Studio.
Pros:
Easily add alt text to background images for better SEO.
You can collaborate with other designers by assigning multiple roles.
Add scroll effects, video backgrounds, and animation to deliver an engaging experience.
It also offers a professional logo maker to help you build your brand easily.
It offers free images from Unsplash and its own media library.
Pricing:
Wix provides four paid plans:
Combo: $8.50 per month for personal use.
Unlimited: $14.50 per month for entrepreneurs & freelancers.
VIP: $26 per month for priority support.
You can also connect your domain only for $4.50 per month.
All the premium plans come with a 14-day free trial.
You can get started with Wix for free, and upgrade to get a custom domain.Try Wix
2. Web.com.
Best for providing you with a complete web design services in one location
Web.com is a great solution if you're after a web design software that gets the job done – and then some.
With its DIY website builder, you can create a website in minutes, even if you have no prior knowledge of web design. Web.com has a nice list of templates to choose from which should make getting your website up and running even faster.
If you prefer to leave it all in the hands of the experts, you can also get a web design expert to build your site for you
Their support is excellent and the amount of features you get with this software is impressive.
Apart from all that, they can also take care of your marketing, hosting, and security for you which means that, with Web.com, you can really have it all!
Key Features:
Web.com provides a very comprehensive package that is definitely worth checking out if you're looking for the right web design software to set up your custom-looking website
Get started by choosing your domain, picking a packaging, and then dragging and dropping your website design. That's all there is to it.
Get listed in the top pro-business directories allowing you to get more of the right customers to your fresh looking website.
Pros:
Get a well-design site that ranks well in search engine results pages
Build your website exactly the way you want it with their easy to use drag and drop builder
Get all the tools you need to support your business in one, easy to understand interface
Get their professional help when and as soon as you need it.
Pricing: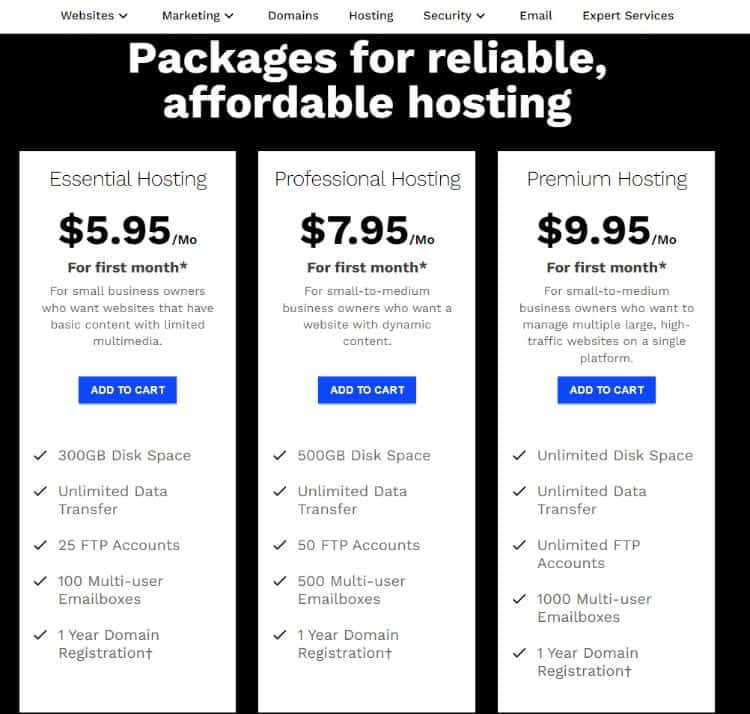 When it comes to pricing, you can be up and running with your website for just $5.95 per month and then $10 per month after that.
You can also get in touch with them to provide you with a custom quote for a professional design website that fits your exact needs.
Get started with Web.com.Try Web.com
Best Website Builder for Design Templates ($12 per month).
Squarespace is an all-in-one solution for web designers to design professional websites. It provides best-in-class web templates that you can easily customize to meet your creative and professional requirements.
Browse the templates according to numerous categories (online stores, photography, consulting, etc.) to find the most suitable option for you.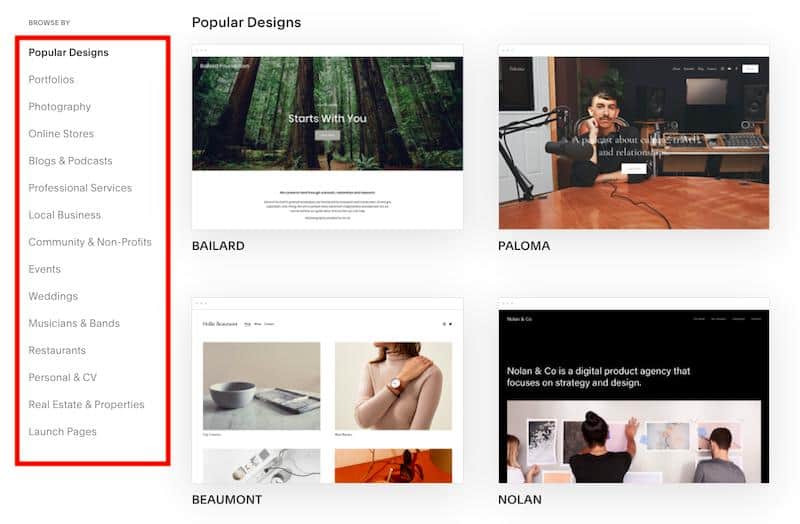 And if this doesn't help you find a template best suited for your business, you can answer a couple of automated questions. After that, Squarespace will automatically handpick some templates tailored to your requirements.
Here are some of those questions:
What's more, it enables you to create intuitive portfolio designs through customizable galleries and password-protected pages. Squarespace also gives total control over image editing, including cropping and resizing of images.
You also get powerful blogging tools to share your ideas, post company news, or product releases. The blog dashboard lets you schedule, categorize, and share your posts whichever way you want.
Not just the web design features, Squarespace also provides built-in SEO and analytics tools. These tools help you rank higher on search engines and track your site's performance.
Key Features:
Chart Blocks – Display data in stunning formats using fully interactive and responsive pie charts and line/bar graphs.
Free Typekit Fonts – Squarespace collaborates with Typekit to provide high-quality fonts without paying any additional charges.
Audio Collections – This music-specific feature enables artists to upload their soundtracks and albums with an art display and an integrated audio player.
Pros:
The basic and advanced commerce plans offer free payment transactions.
Add unlimited sections to web pages through their page builders.
It offers designer color palettes for higher and unique customization.
Change content layouts with a simple click.
Easily set multiple roles for your team members to collaborate efficiently.
Get prioritized support on Enterprise plans.
Pricing:
Squarespace offers four pricing plans:
Personal: $12 per month paid annually
Business: $18 per month paid annually
Basic Commerce: $26 per month paid annually
Advanced Commerce: $40 per month paid annually
You can save up to 30% on annual plans and every plan comes with 24/7 customer support.
Get started with Squarespace for free and upgrade to a paid plan for the best features.Try Squarespace
Best For Experienced Web Designers and Developers ($12 per month).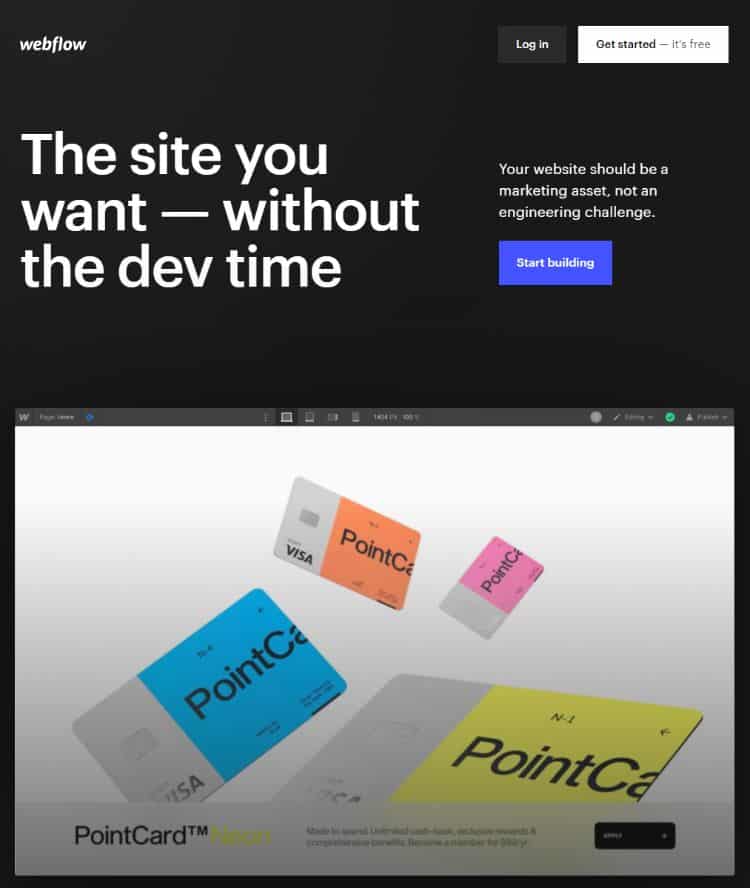 Webflow is a new, popular web-building platform that provides an online visual editor platform to design, build, and launch websites. It enables you to design custom and modern websites like a visual canvas.
Webflow's visual canvas lets you control CSS3, HTML5, and JavaScript and translate semantic code into customized websites. It also allows you to use unstyled HTML elements to gain total control.
Additionally, you can use pre-built pieces to design complex elements like sliders, background videos, tabs, and more. Webflow also enables you to build reusable elements, including nav bars, footers, and signup forms.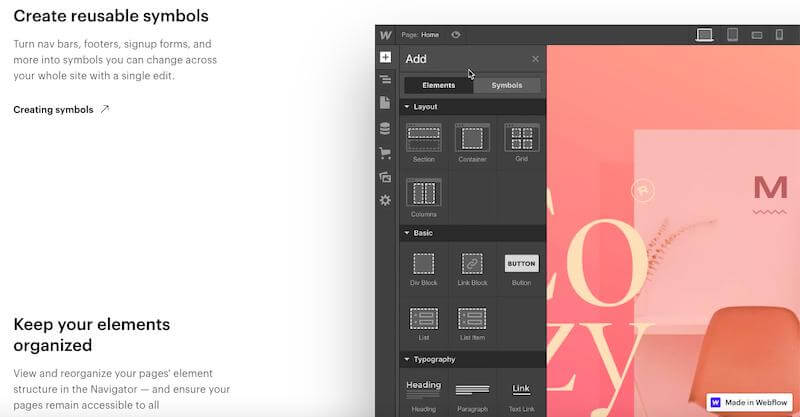 You can easily reorganize and view your web page element structure through Navigator to access all the pages at once. Also, directly work with eCommerce products and CMS data to easily create a website with real content.
Key Features:
Scroll-Based Animation – You can add scroll-based effects like a progress bar, parallax, precise reveal animations, and more. You can also transform styling, element sizes, and positions linked to scroll progress on a specific element or to the complete page.
Multi-Step Animation – Easily build rich, timeline-based animations without need a code editor. You can also customize the layout of the home and product pages.
SEO Controls – Leverage Webflow Editor to update SEO like page titles, URLs, meta descriptions, open graph settings, etc.
Pros:
Link movement and animation to the cursor position to grab user attention.
Collaborate with other professionals by inviting multiple editors to work on the same website while keeping track of the work.
Make your website more interactive by displaying panels, modals, and more hidden elements.
Use 20 prebuilt animations and interactions to add a new feature instantly.
Instantly control the playback of 'Lottie animations' and 'After Effects' through interaction triggers without writing any code.
You can study Interactions and Animations Course on Webflow University.
Pricing:
First, Webflow offers a forever-free plan with all the essential web design features. However, you won't get a custom domain with the free plan.
For your personal branding, there are several paid plans.
Here are the four site plans:
Basic: $12 per month. For a simple site without an in-built CMS.
CMS: $16 per month. For content-driven sites.
Business: $36 per month. For high traffic marketing sites or blogs.
Enterprise: Quote-based plan.
Then there are account plans based on the maximum number of designers allowed on a single project. Account plans start from $16 per month.
Get started with Webflow for free.Try Webflow
Best for Beginners in Need of a Simple Website ($5 per month).
Weebly is a website builder that makes it easy to design and create websites, blogs, or online stores. It provides access to tons of customizable web page designs to build a website – without writing a single code.
It also offers planning tools and expert starter guides to help build pages without any hassle. All its themes are fully customizable to ensure you never compromise on design requirements.
With responsive themes and an intuitive drag-and-drop builder, website design becomes super easy with Weebly. What's more, it lets you design websites that will look good on any device or screen size.
You can leverage custom fond, reveal, and parallax features to make the web design more interactive. You also get a photo editor and extensive photo library to create professional-quality images.
Its dynamic design elements like video background and custom HTML/CSS or JavaScript ensure that you are always in total control of your creativity.
Key Features:
Marketing Campaigns – You can design beautiful newsletters and customers' action-based emails to boost your marketing efforts.
HTML/CSS Control – It offers total control over HTML and CSS to help you achieve unlimited customization with ease.
Design Management – Easily save your designs and edits by marking them as templates for future use. You can also use older designs in other projects multiple times.
Pros:
Its intuitive mobile app helps you track the performance of your website easily.
It provides web hosting, along with SSL certificates and DDoS Mitigation.
24/7 chat and email support.
Add a website search bar to find anything on the website easily.
Reply to comments and interact with visitors through the mobile app.
It also offers a free plan with all the necessary features.
Pricing:
Weebly provides four plans:
Free: $0 for basic use.
Connect: $5 per month (for connecting a custom domain).
Pro: $12 per month (for groups & organizations).
Business: $25 per month (for small businesses & stores).
Get started with Weebly for free.Try Weebly
6. Adobe Dreamweaver.
Best for Custom Web Design Jobs for Clients ($20.99 per month).
Adobe Dreamweaver is a web design platform that works as a fully-featured HTML web and programming editor. It offers a simplified and smart coding engine to help you manage dynamic websites easily.
Its access code hints help you edit and learn CSS, HTML, and other web standards. You can also use its visual aids to expedite the development and reduce the scope of errors.
To help you go live faster, it offers a host of customizable templates that you can use to build:
Highly customized mailers
eCommerce pages
About pages
Portfolios
Blog pages
Newsletters
And more
You can also quickly import assets from Adobe Stock or your own libraries. There's a preview feature that helps you edit your site in real-time by showcasing the look and feel.
Key Features:
Live View Editing – Easily edit image and text properties. You can add classes directly in the Live View and instantly preview your changes without switching to separate editing mode.
Git Support – Easily collaborate with Git support while managing your source code. You can also execute all common tasks directly from the Git dashboard.
Intelligent Coding Assistance – You can leverage HTML, JavaScript, and Ajax code hints through Spry, Prototype, and jQuery. It also offers PHP code hints to help you learn more about coding while working on your web designs.
Pros:
It designs websites in such a way that they fit any screen size.
Multi-monitor support for Windows machines.
Leverage on edit linting to catch the errors while editing.
Integration with OpenSSL, LibCURL, Xerces, Ruby, among others.
You get a 7-days free trial.
Leverage preemptive code suggestions for faster development.
Easily insert colors, hyperlinks, fonts, headings, and more through the properties menu.
Pricing:
Adobe Dreamweaver provides two pricing plans:
Adobe Dreamweaver Single App: $20.99 per month. Get Adobe Dreamweaver as part of Creative Cloud.
Creative Cloud All Apps: $52.99 per month. Get Adobe Dreamweaver along with the entire collection of Adobe creative apps.
Students and teachers get a discount of up to 60 percent on the entire collection of Creative Cloud apps. You also get a 7-days free trial.
7. GIMP.
Best Free, Open-Source Image Editor That Can Design Websites (Free).
GIMP (GNU Image Manipulation Program) is a free web design software and open-source graphics editor for web design, image editing, free-form drawing, etc.
It provides several tools for high-quality photo manipulation and color management features for high-fidelity colors. GIMP's high-quality framework also helps you handle scripted image manipulation efficiently. What's more, it supports multiple languages like C, C++, Python, Perl, Scheme, and more.
Plus, GIMP lets you customize your working environment the way you want. For instance, you can change colors, widget spacing, and icon sizes to customize toolsets.
Then there are impressive photo enhancement features that let you:
Fix perspective distortion in images caused by the camera lens.
Make your photos stand out with numerous filters.
Digitally touch up minor details with the healing tool.
Eliminate lens' barrel distortion and vignetting.
All these features help you create high-quality images for your websites.
GIMP also supports multiple platforms, including GNU/Linux, Windows, and OS X. Other than this, it offers several third-party plugins and several customization options for enhanced web design experience.
Key Features:
Photo Manipulation – Easily execute top-notch photo manipulation through retouching and restoring to creative composites.
Graphic Design Elements – Produce icons, graphical design elements, and stunning art for user interface components, mockups, and more.
Hardware Support – GIMP supports unique hardware devices like pressure and tilt sensitive tablets and a wide range of MIDI or USB controllers.
Pros:
GIMP lets you change its source code and share the changes.
Convert images to multiple graphical file types like bmp, jpeg, pdf, pcx, mng, gif, ps, png, psd, svg, tga, tiff, and xpm.
Easily add text and graphics-rich interactive banners.
Scale images precisely through the menu bar.
Use the Paintbrush tool to draw pictures easily.
Efficiently customize the view and behavior of your work environment.
Leverage the clone tool to clone elements with perspective instantly.
Pricing:
GIMP is 100% free to use.
8. Google Web Designer.
Best Free Option For HTML5 Interactive Websites (Free).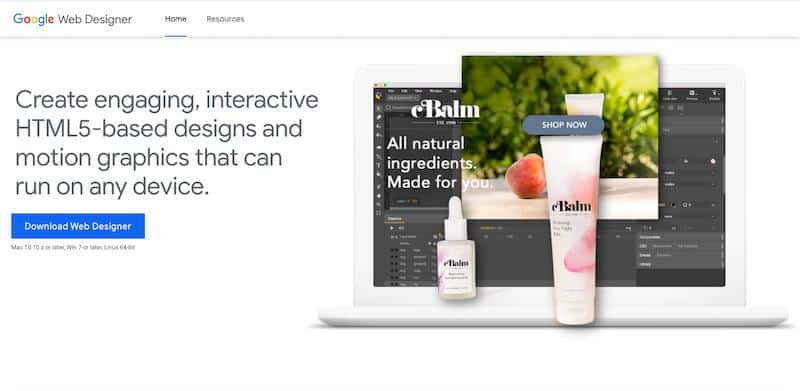 Google Web Designer helps you create engaging HTML-5 based web pages. It enables you to use interactive elements and animation to create engaging web pages. Google Web Designer also integrates with Google Drive, Google Ads, and Display & Video 360.
It lets you:
Set up event pages with physical gestures like touch, rotation, or shaking on mobile devices.
Drag and drop elements like maps, image galleries, and video players to your web page.
Create multiple pages with several scenes to give an immersive user experience to your audience.
You can also build all of these components using your own JavaScript. It also provides a 'Quick Mode' to string together simple scenes for better animation. Characteristics like custom easing and motion paths also help you add attractive animations to your web pages.
What's more, it designs and develops your site simultaneously with a full design suite and ability to edit CSS, Javascript, and HTML. You can even switch between the Design view and the Technical Code view to preview the design in real-time.
Conclusion
Let us know your thoughts in the comment section below.
Check out other publications to gain access to more digital resources if you are just starting out with Flux Resource.
Also contact us today to optimize your business(s)/Brand(s) for Search Engines