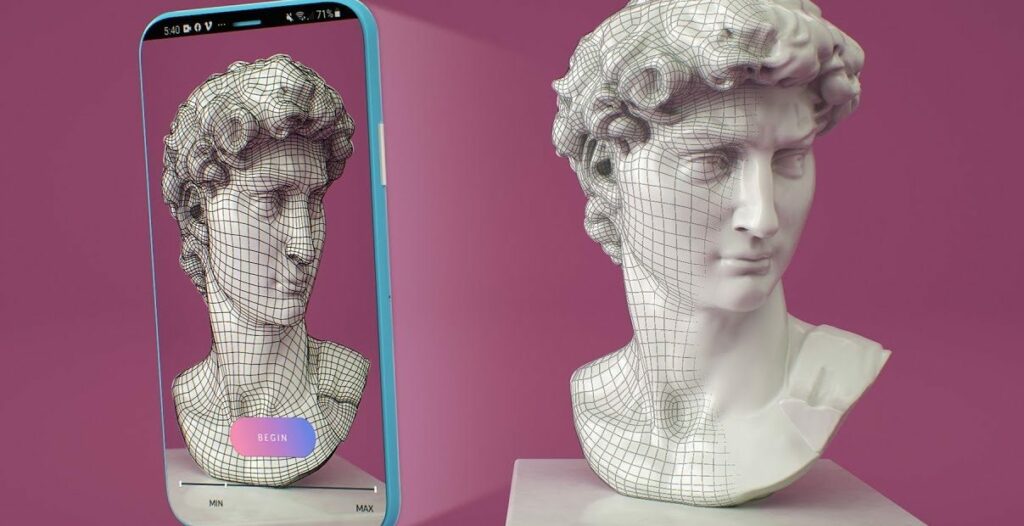 3D scanning is the process of capturing a 3D model of an object. It's used for all kinds of things, from creating 3D prints to making video game characters and even scanning your face in order to make a custom mask.
But it can be difficult and time-consuming, especially if you're new to 3D scanning. That's why we've put together this list of the best apps for 3d scanning. There are plenty of different options out there, but these ones will get you started quickly and easily.
If you want more info on how 3D scanning works, check out our article on everything you need to know about 3D printing!
best free 3d scanning apps

What is a 3D scanner app?
A 3D scanner app or 3D scanning app can turn almost any smartphone into a pocket-sized 3D scanner. Most of these apps are based on photogrammetry, a 3D scanning technology that creates 3D models out of 2D photos. You take pictures of an object from different angles and then the app's algorithms "stitch" the images together.
With a 3D scanning app, you can 3D scan objects and rooms, and even people (3D body scanning). You can use a 3D scanner app to create 3D objects for augmented reality. It's also possible to create 3D models for 3D printing.
Here is a scan we did with a 3D scanning application (KIRI Engine):
Of course, 3D scanner apps for smartphones are less accurate than actual 3D scanners. However, they are a great, affordable way to learn more about 3D scanning without investing in complex hardware.
In this article, we provide a comprehensive list of the best 3D scanner apps for iPhone and Android smartphones.
The 5 best 3D scanning apps for smartphones (free)
BRAND PRODUCT COUNTRY
KIRI Innovations KIRI Engine China
EyeCue Qlone Israel
Scandy LLC Scandy Pro United States
Occipital Canvas United States
itSeez3D itSeez3D Russian Federation
Expand to see more specs
How do 3D scanning apps work?
Photogrammetry 3D scanning technology
By definition, photogrammetry is "the science of making measurements from photographs". Put simply, you take photos of a 3D object, and then the software stitches the pictures together. With this technology, the final 3D scan features color and texture.
3D scanning using a smartphone (iOS or Android)
You need to take several pictures of the object from different angles (usually 360° around the object) with your phone. 3D scanning apps generally provide you with tips and guidance to help you properly take the pictures.
The app then processes these pictures and aligns them together to form a 3D model. The 3D model is then available for export or editing using additional 3D software. In some cases, users may also print their 3D models with a 3D printer.
3D scanner apps overview (iOS and Android)
In this section, we give some more context and information about each 3D scanning app from our selection.
http://KIRI%20Engine%20free%203D%20scanning%20app%20logo
SelectionTested
KIRI Engine
By KIRI Innovations
Country China
KIRI Engine is a free 3D scanning app for Android and iOS smartphones. All the processing happens on KIRI's servers, not your phone, so the only thing you need is a recent smartphone with a decent camera.
The free version of KIRI Engine has a 70-photo limit, which is enough for most simple scans. It's excellent for makers, students, and anyone who wants to try 3D scanning or do the occasional scan (for small or simple objects).
Read our in-depth KIRI Engine review article for more information about this app.
Contact manufacturer Add to comparison
http://3D-scanner-app-qlone-logo%20(1)
Selection
Qlone
By EyeCue
Country Israel
To use Qlone, you need to print a special black and white paper mat. The mat looks like a QR code and is used by the app as a marker.
Qlone offers a useful guiding system. A grey dome surrounds the object you're scanning and lets you know which angle you need to capture next. The app generates the results locally (without going through a cloud platform) and almost in real time.
Users can easily share 3D scans via social media apps such as Facebook and WhatsApp.
Contact manufacturer Get a quote Add to comparison
Selection
Scandy Pro
By Scandy LLC
Country United States
Scandy Pro for iOS is a free 3D scanning app that turns your iPhone into a full-color 3D scanner. Within the app, you can edit your scans with various tools. This app is available for iPhone X/XS, iPhone XS Max and iPhone XR.
The 3D scans are easy to export in PLY, OBJ, and STL formats. You can also upload them directly to Sketchfab. In the free version, you get a free mesh save every week. If you need to save more scans, you can purchase single saves or get a subscription for unlimited saves. The Scandy Pro app is free and receives frequent updates.
Scandy developers also offer their Cappy app, which allows you to capture small 3D scans for augmented reality. You can't export the scans though!
Contact manufacturer Get a quote Add to comparison
http://3D-scanning-app-occipital-canvas-logo
Selection
Canvas
By Occipital
Country United States
This free 3D scanner app is ideal for professionals such as designers, architects, real estate agents, and more.
Canvas is easy to use– you only need to walk around the room while holding up your iPad. The app creates your 3D model in real time, and provides exact floor-plan measurements.
Canvas allows you to save your scans on your iPad or e-mail them to friends or colleagues. This 3D scanning app also offers a Scan To CAD service for $29.95 per scan.
Contact manufacturer Get a quote Add to comparison
Selection
itSeez3D
By itSeez3D
Country Russia
This 3D scanner app offers quality 3D scans by processing the photos on its cloud platform. itSeez3D is able to capture people in 3D, a process known as 3D body scanning.
itSeez3D offers unlimited scanning, but exports cost $7 each. The two paid versions of itSeez3D offer a limited amount of free exports and other benefits. The "Scale Up" package at $250/month lets you export up to 1,200 models per year.
This application requires an Occipital Structure Sensor to operate.
Contact manufacturer Get a quote Add to comparison
3D scanning with a smartphone: special mentions
http://3D-scanner-software-3dflow-3dfzephyr-logo
3DF Zephyr
By 3Dflow
3DF Zephyr, a 3D scanning software for PC, enables you to create 3D scans from your smartphone pics. You can then export the 3D scans in common 3D file formats.
http://TechMed3D%203DSizeMe
3DSizeME
By TechMed3D
3DSizeME is a 3D body scanning app developed by TechMed3D, a Canadian company. This free 3D scanning app works with a Structure Sensor and targets medical clinics and professionals. The 3DSizeME app provides precise body measurements.
TechMed3D can customize the app to specific professional needs and use cases.
Bevel
By Matter and Form
Bevel launched on Kickstarter on July 28th, 2015 and was successfully funded only two weeks later. Bevel, a small dongle-like device, officially started shipping in April 2017 after almost 2 years of development. The app hasn't received any updates since late 2017 but is still available.
Trnio
By Trnio Inc.
Trnio, developed in 2013, is one of the first 3D scanning apps to be released. This app used to be free but is now priced at $4.99. It is only available for iOS.
iPhone 3D scanning apps
The iPhone TrueDepth sensor has made it possible to develop a variety of selfie 3D scanning apps. Some interesting iPhone 3D scanning apps include:
Bellus3D: the app itself is free, but you need to pay in order to export your scans. For three days of unlimited 3D scan exports, the price is $7.99. For more accurate 3D scans, users may opt for the Bellus3D Face Camera add-on (see on Amazon).
Heges: like Bellus3D, the app is free to download. However, the in-app option to export 3D scans costs $2.99.
3D Scanner Pro: this iPhone 3D scanning app by Laan Labs targets professional use cases (real estate, architecture, etc.).
What is 3D photo or spatial photography?
Spatial photography is a hybrid between capturing a video and taking photographs. 3D photos combine the perspective of a panoramic photo and the 3D features of a video.
Differences between 3D photo and 3D scanning apps
3D photos are similar to 3D scans, at least in the way they are seen, but they are still both different:
3D photos can only be stored and accessed through a specific viewing app
Spatial photography photos can't be 3D printed
3D scans can be edited
You can't export 3D photos to external software such as Sketchfab
Discontinued 3D scanner apps
A number of 3D scan apps have come and gone. We list them here so you know what's been going on!
3D Creator by Sony
The "3D Creator" 3D scanning app by Sony is no longer available on the Play Store. It seems to have been discontinued for a while.
123D Catch
123D Catch, which was once the most famous 3D scanning mobile app, was discontinued in April 2017. 123D Catch was compatible with iOS, Android, and Windows smartphones.
Trimensional
Although Trimensional is still available on the App Store, it hasn't been updated since late 2014.
Seene
Seene is a 3D scanning app for smartphones that has been acquired by Snapchat.
Pixelio
PIXELIO is a portable turntable that uses 123D catch, a 3D scanning app that was discontinued in April 2017. The creators of PIXELIO have yet to deliver on their promise.
3Dignite Scanner
This app was supposed to let you export 3D scans to the VR world (and to Minecraft). However, the company seems to be inactive since 2017.
EORA 3D
EORA 3D is an Australian Kickstarter project that launched in October 2015. Their website has disappeared and they are no longer providing support for their product.
Conclusion
Let us know your thoughts in the comment section below.
Check out other publications to gain access to more digital resources if you are just starting out with Flux Resource.
Also contact us today to optimize your business(s)/Brand(s) for Search Engines