If you're a student, getting organized is key to success.
Whether you're in college or high school, finding the right planner can help you stay on top of assignments and keep track of your schedule. That's why we've put together this list of the best planner apps for students!
You can use these apps on their own or in conjunction with your school's existing system. They're great for helping students manage their time, stay on top of assignments, and find out what's going on around campus.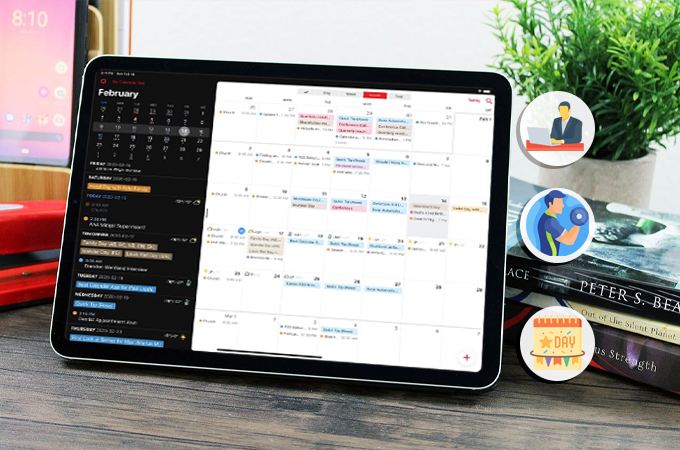 Best Apps For School Planner
If you're a student, you need a system to organize classwork, exams, and life in general. And it's true, there is an app for everything. But there are lots of apps for planning and time management. Which ones make effective school planner apps?
When deciding on a planner app, you should obviously look for one with features most relevant to your life and your schedule. It should have a distinct purpose. And It shouldn't be thought of as a one-size-fits allproductivity app. Here are the qualities to look for in a good student planner app:
Visually clean user experience vs. info-dense
Highly customizable vs. highly structured
Integrated with other apps vs. self-contained, with all the features you'll need in one place
Specialized for students vs. transferrable to post-school life
Here, you can check out just a few of the best school planners currently available. Each is highly rated, very affordable, and, in several cases, geared specifically toward school and study. And they're easy to find, most are available in the Apple App Store or Google Play store for use on your iPhone, iPad, Android, or other smartphone.
6 great planner apps for high school and college students
Todoist
Microsoft To Do
Calendly
iStudiez Pro
myHomework
Power Planner
Todoist
Android, iOS, and desktop: Free with paid upgrades available
Todoist is a project planner and to-do list all in one. Used by companies like Amazon and Disney, and made for everyone from students to executives, Todoist is an app that can carry you through school and beyond.
Although you can pay to upgrade, the free version offers more than most students are likely to need. Todoist includes features that help you:
Enter important details or to-dos in a note-taking section before you forget them
Set up projects for each class and any other activities or hobbies you're involved in
Add "next action" items, so you can always look ahead to your next assignment
Cross items off your checklist without losing them for good
Source: A Student's Guide to Todoist
Other helpful features include due dates for individual tasks and reminders that pop up on your phone or email. You can customize every feature, so you won't get lots of notifications without asking for them.
Todoist also allows you to label tasks. You can label by priority, context (laptop work, library, etc.), or any other system you want to create. You can also indicate recurring tasks, like weekly quizzes, so you never miss an assignment.
Microsoft To Do
Android, iOS, and desktop: Free with Microsoft account
A reworking of the long-appreciated Wunderlist,Microsoft To Do has continued to evolve its features to make it stand out in the field of student planner apps.
Source: Common Sense Education
One feature that stands out in To Do is that things you didn't check off from previous days stay in the "Yesterday" box. That way you can specifically choose which items to transfer to "My day," and plan a better time for those that won't fit in today's schedule.
To Do allows you to sort tasks into basic lists that you set up, such as "Work," "Home," or "Lab." You can then add subtasks to the items on each list. For example, if your list includes, "Presentation for econ class," create subtasks for "Brainstorm subjects," "Find sources," or other project milestones.
To Do also includes some features that will please visually oriented people. Dark mode is helpful if you're reviewing your day just before sleep or when you first wake up in the morning. You can also change the background for each list, with lots of modern and inspiring designs.
Calendly
iOS and desktop: Free with paid upgrades to Essentials and Professional
Calendly simplifies scheduling with groups and individuals. As group projects have become the new normal, you'll likely have to set up plenty of meetings with groups and individuals during the course of your time as a student, and odds are there are severalonline meeting platforms you rely on to get through the day. You can save a lot of time by scheduling and managing those meetings with Calendly.
Here's how it works:
Connect Calendly with your digital calendar, like Google Calendar, iCloud Calendar, Microsoft 365 and others.
Create a meeting request.
Set the parameters. For example, you can let recipients see your availability, so they can pick a day and time, or you can set a day and time and they can either accept it or request a different time.
Select recipients and send.
Calendly will gather responses from the people you want to meet with, and you'll have a meeting set up without the long texting thread that's usually required.
Other helpful features include the options of round robin or collective scheduling in the Professional version. If others share their availability, Calendly will show times that work for everyone, so you can pick. Or, you can use its Meeting Polls feature to let people vote on proposed times before setting your meeting. Also, you can set reminders both for yourself and for those who agreed to meet with you.
Calendly streamlines setting up meetings, so you can free up your time and attention for classes and other responsibilities.
Related reading: 11 pro tips to help your students succeed through scheduling automation
iStudiez Pro
Android, iOS, and desktop: Free with available paid Full Version upgrade
iStudiez Pro is one of the highest-rated planner apps designed just for students. Enter your class schedule including the professor's name, contact info, and office hours. Then, you can color code your classes and use icons to make it visually interesting and easy to scan.
Source: iStudiez Pro
"Week view" allows you to plan your time and get ready for upcoming classes. "Day view" shows you tasks and scheduled items for today. For each class, you can add assignments, their due dates, and specific tasks associated with them.
If you upgrade to the Full Version of iStudiez Pro, you can even get a regular update on your GPA. As you receive graded assignments back, enter the grade and point value. iStudiez will do the calculating for you with its GPA tracker. It keeps this info from semester to semester, so you can keep the big picture in mind.
myHomework
Android, iOS, and desktop: Free or $4.99 per year for Premium
The myHomework student planner is a clean and simple planner app for education. Many teachers have already adopted it for e-learning or online instruction, but it's great for individual use as well.
Source: iGeeksBlog
It's formatted for several types of class scheduling, such as block, period, or time-based schedules. myHomework allows you to not only input assignments and add tasks required to complete them, it also allows for prioritizing and categorizing tasks, so you can focus on what's most needed at any given time. You can set reminders for upcoming due dates too, so you don't miss deadlines by accident (or procrastination).
While you do need internet connectivity to sync with other devices, this homework app still has full functionality even when you're not connected to WiFi. The free version has plenty of great features, but the paid version of this homework planner lets you get rid of ads as well as share assignments, add file attachments to assignments, and switch out your theme.
Related reading: The 9 best apps for educators and teachers
Power Planner
Android, iOS, and desktop: Free with paid upgrade available
Power Planner is a well-established student planner app with many of the same features as myHomework and iStudiez, like entering your schedule, keeping track of your GPA, and viewing assignments and exams.
Source: Student-Tutor
Though the app is full of useful features, one element that sets it apart from other similar apps is the responsiveness of the developer. Power Planner is updated regularly, offering continual improvements to its features.
The GPA calculator is more robust in this app compared to others, with its "What if?" feature, which calculates what scores you need on assignments to get an A in a class. It also includes notifications for due dates coming up. The paid version allows you to enter more grades and stores your GPA info from one semester to the next.
3 tips for getting the most from your student planner app
In addition to finding a great app for students, these tips can help you increase your productivity and keep your schedule running smoothly. No matter which app you choose, you'll get more out of it if you use it alongside smart planning practices.
Treat yourself to a semester review
At the beginning of each semester, set aside a couple of hours to prepare yourself and get everything organized in your app and in your head. Make it fun: Take yourself out for coffee, turn on your favorite music, and turn off your texting and other notifications. This is time to get in the zone.
Give yourself time to look through your new app's features and figure out the best way to use them (or customize them) for you. It's helpful to read reviews, as people will talk about the most useful features. It's also an easy way to learn how to use the app.
Gather your syllabi, work schedules, and any other pertinent calendar info. First, enter all your calendar info for the semester. This helps you understand what your weekly schedule will be like. Then create projects or enter assignments (and due dates) for any big projects your professors already have planned.
For example, the class may require a video assignment due at the end of the semester. Create a task called "plan out video project," and set the due date for around the time you want to begin the project. You don't want to get bogged down in planning the details of all those projects during your semester review. If you stay focused on the big picture, you may have time for more specific project planning at the end of your review session.
This is also a good time to set goals for yourself. Do you want to turn in more assignments on time or participate more in class? Do you want to learn a new instrument or join a team? Get inspired about doing more than just making it through the semester. With a powerful school planner app on your side, this could be your best semester yet — and there's more to that than just getting good grades.
Add a weekly review to your calendar
To keep your planner system functional, you have to keep giving it attention. Set up a time every week — about 30 minutes to an hour — for reviewing your projects and planning out your weekly schedule. Make this appointment as set-in-stone as your class times, so you aren't tempted to put it off.
You can use this time to input any grades you've received if you've chosen an app with a GPA-tracking feature. Make sure that for every project, assignment or exam, you've entered specific tasks to prepare for them as well. You don't want to just remember that you have something due. You want to have a plan for turning in your best work!
This is also a great time to set up meetings you'll need for the week. Use an app like Calendly to send out requests for meetings, so you're not scrambling at the last minute to find a time when everyone can meet.
And don't forget to schedule some rest! One of the best ways to stay motivated and stick with your work is to know you have some quality fun time coming.
Plan daily check-ins
Every morning look over your daily schedule and your list of things to do. This usually doesn't take more than five minutes, but it can do a lot to help you bring your best to the things that are important to you.
Improve your learning through great planning
Choosing the student planner app that's right for you is a great way of keeping your mind focused and your grades high during the semester. A great app will help you stay on top of your classes and work, especially if you keep your app up-to-date with regular reviews.
A great calendar app can also help you to make the most of the other aspects of your life, for a less stressful, more rewarding student experience. The world needs what you have to give, and these apps can help you give your best.
school planner app for windows
School Assistant – Planner for PC and Mac
Written by Dylan McDonald
Category: Education
Release date: 2022-03-03
Licence: Free
Software version: 1.0.1
File size: 105.07 MB
Compatibility: Available on Windows 10, Windows 8.1/8, Windows 7, Windows Vista and Mac OS 10-11 10.15
How it works | What is School Assistant – Planner?
Whatʹs Great
With School Assistant, you can add an assignment or test in about 15 seconds, which is critical with the tight schedules students have to follow.
It allows you to quickly and easily keep track of homework, tests, your schedule, and see your grades if your school uses an online portal system.
School Assistant was built by a student with students in mind.
*School Assistant is not affiliated with or endorsed by Google or Quizlet.
School Assistant by Sun Apps is a simple but powerful school planner app.
School Assistant – Planner for PC and Mac Screenshots
Features and Description
Key Features
Latest Version: 1.0.1
Licence: Free
What does School Assistant – Planner do? School Assistant by Sun Apps is a simple but powerful school planner app. It allows you to quickly and easily keep track of homework, tests, your schedule, and see your grades if your school uses an online portal system. You can also view Google Classroom* and Quizlet* within the app.
School Assistant was built by a student with students in mind. With School Assistant, you can add an assignment or test in about 15 seconds, which is critical with the tight schedules students have to follow. It was also designed to reflect iOS and how it looks and works, meaning you already know how to use it. You can also select your theme color, making it more personal and fun.
School Assitant is a free app and will be free forever. No subscriptions or prem
Read more Download for MacOS – server 1 –> Free
Download Latest Version
Download and Install School Assistant – Planner
MAC:
Thank you for visiting our site. Have a nice day!
More apps by Dylan McDonald
School Assistant – Planner
Evergreen – Finance Manager
School Assistant – Planner
Software Installation Requirements
PC Compactibility/Requirements for Installation
Compactible OS list:
Windows 11
Windows 10
Windows 8.1
Windows 7
Windows Vista
Requirements for MacOS Installation
Intel, 64-bit processor, OS X 10.7 or later.
Compactible OS list:
OS X 10.10: Yosemite
OS X 10.11: El Capitan
macOS 10.12: Sierra
macOS 10.13: High Sierra
macOS 10.14: Mojave8
macOS 10.15: Catalina
macOS Big Sur (macOS 11)
FAQs
School Assistant – Planner – How do I download the app on Windows PC?
If you want to download the software on your windows pc or mac, you could either first visit the Mac store or Microsoft AppStore and search for the app OR you can easily use any of the download links we provided above under the "Download and Install" header section to download the application
School Assistant – Planner – Is it safe to download?
Yes. The app is 100 percent (100%) safe to download and Install. Our download links are from safe sources and are frequently virus scanned to protect you
Conclusion
Let us know your thoughts in the comment section below.
Check out other publications to gain access to more digital resources if you are just starting out with Flux Resource.
Also contact us today to optimize your business(s)/Brand(s) for Search Engines