The best apps for video editing on iPhone are an essential toolbox for anyone who wants to create and edit high-quality videos. Whether you're just starting out with your first iPhone or you've been using one for years, investing in the right apps will make your videos look more professional, while also saving you time and effort.
Here are our recommendations for the best apps for video editing on iPhone.
Best Apps For Video Editing On Iphone
1. LumaFusion
When it comes to video editing on iPhone, no other app comes even close to the feature set that is packed inside LumaFusion. It is the only outright paid app on this list and it deserve every cent. The app is not only used by YouTubers but even mobile journalists and professional video producers who don't want to carry heavy camera gear and editing rig where they go.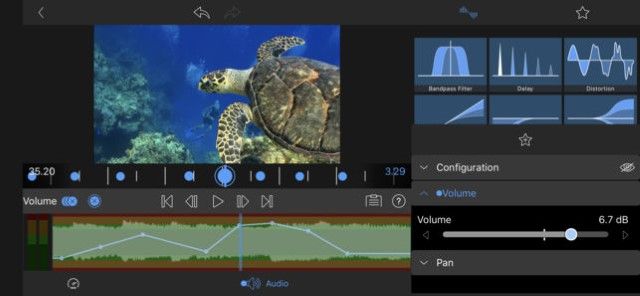 One of the unique selling points of LumaFusion is its UI. The app looks really clean with no ads or annoying popups to hamper your experience. What I love most about LumaFusion is that it not only allows users to edit videos in landscape mode but also portrait mode. Not only that, you can easily switch between the two modes without any hiccup. This comes helpful as the app supports a variety of video aspect ratios including landscape, portrait, square, film, and more.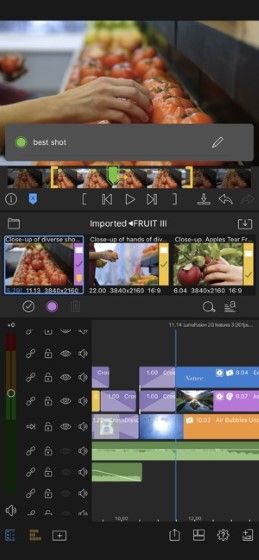 Talking about features, LumaFusion supports up to 6 video and audio tracks for for photos, videos, audio, titles and graphics with an additional 6 audio tracks narration, music and sound effects. You also get a magnetic timeline which makes it really easy to manipulate clips once they are imported. There's dozens of transitions and effects with the ability to layer effects. Finally, it also comes with dozens of royalty free music, sound effects, and more. If you really need a professional grade video editing app for your iPhone, you should definitely buy LumaFusion.
2. iMovie
iMovie is a part of Apple's own suite of products for iOS (and macOS), and is a great video editor app for iPhone that you can try. While you may want to use a more powerful editing software on your Mac, iMovie is more than capable of handling video editing on the iPhone. The app is included with the newer generations of iPhones, and you can use it right out of the box to make some awesome videos directly on your iPhone.
With iMovie, you can import your videos, and photos into projects, and edit them in a highly intuitive environment. You can slice videos, arrange them around on the timeline, and even add transitions (basic ones) to the video. Scrubbing through a project in iMovie is highly intuitive as well: you just drag your finger across the screen.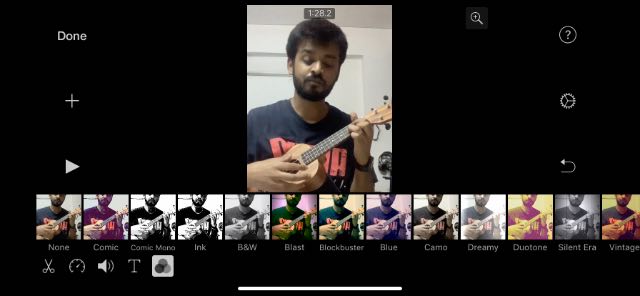 You can even add filters, and themes to the project. iMovie will also let you add text overlays, and filters to individual clips in the project.
All in all, the app is definitely one of the best ways to edit videos on your iPhone, and you should definitely check it out.
Download iMovie from the App Store (Free)
3. Videoshop
Videoshop is a powerful video editor for iPhone, that will let you perform a plethora of operations on your videos. You can record clips directly from within the app, or import them from your camera roll. Once you have done that, you can add text to the clip, add narration, merge multiple clips into one, and a lot more. You can also add tilt shift to the video, and add transitions between multiple clips. The tool is definitely very powerful, and you can perform a lot of manipulations on your videos using Videoshop. What's more, Videoshop lets you record voiceovers as well, which is great if you need a video editing app for how to videos.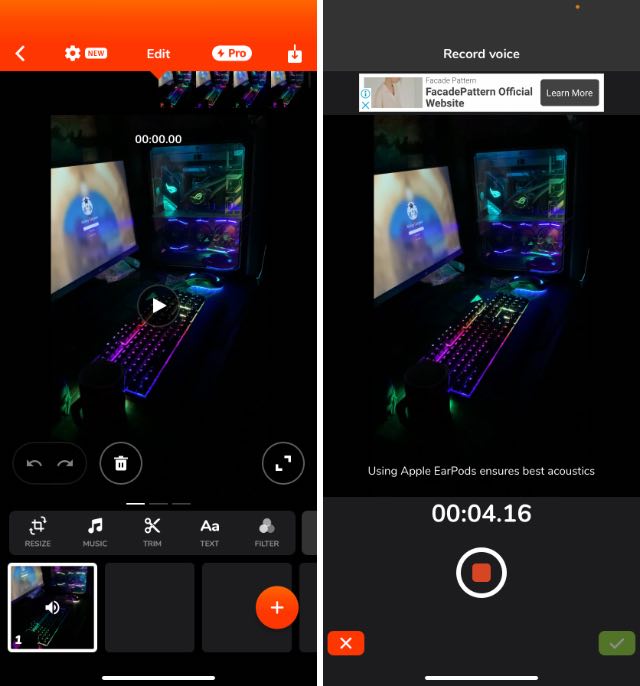 Once you're done with the editing, the app compiles the video, and you can add themes, and filters to the finished video, as well as add a title, author name, and much more. The app also offers the ability to export the completed video to Dropbox, Photos, or share on platforms like Vimeo, Instagram, YouTube, and many more.
4. Splice
Splice is a video editor from GoPro, the company behind some of the world's best action cameras. You can import your photos and videos into the app, to edit them into a movie. The way the app works is simple: you just import the videos that you want to edit, and mark the important parts (Hilights, as the app calls them) of the video. You can then add music to the video, and then the app automatically clips the entire video according to the Hilights that you marked.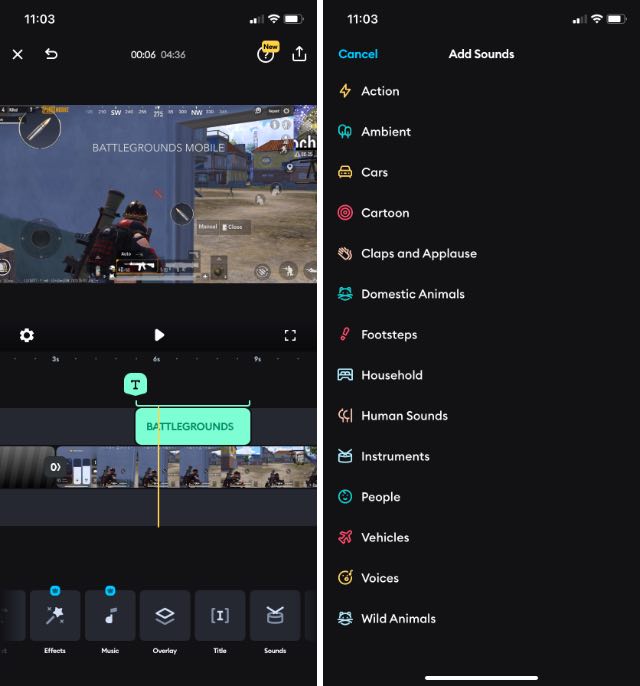 You can then crop, add effects and text to the video. You can also change the transitions between two Hilights. Once you're done with the edits, you can share the video with links, or directly to popular services such as YouTube, Facebook, etc. You can even save the video to your camera roll. The app is a simple, yet powerful video editor that you should definitely try out on your iPhone.
Download Splice from the App Store (Free with in-app purchases)
5. InShot Video Editor
InShot is an easy to use video editor for your iPhone which brings tons of features. The app allows you to edit both photos and videos and also create video collages. When it comes to editing, you will find all the basic editing tools here such as cut, trim, delete, merge, adjust video, and more. You can also add your own music or select from its own free music options. The app is also great for editing Instagram videos and is one of the best Instagram Reels video editors you can use.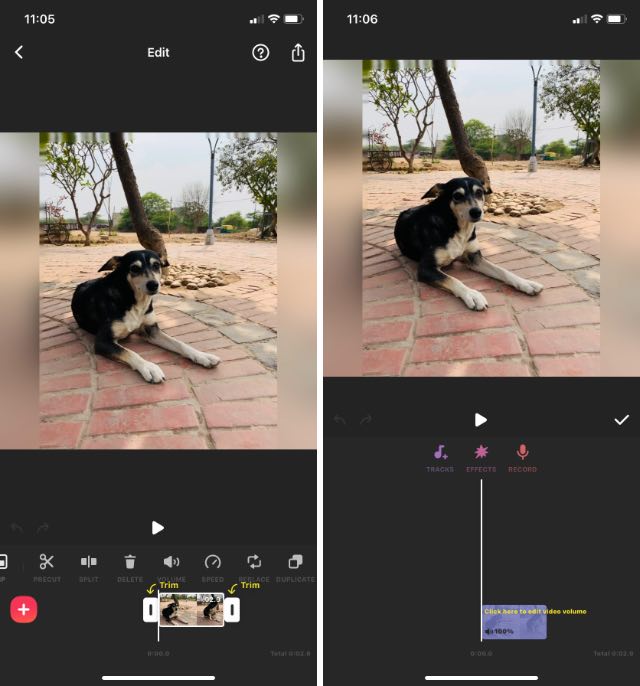 The app also comes with lots of sound effects and supports voice over layering. There's also support for stickers, emojis, filters, effects, transitions, color correction, and more. One important feature of Inshot Video Editor is that it also allows you to rotate and flip videos which comes in really handy in certain specific scenarios. Overall, this is a really good video editing app. The only flaw of the app that I find annoying is that the free version runs ads. If you can handle that, you are going to enjoy using this one.
Download from the App Store (Free, with in-app purchases)
6. FilmoraGo
FilmoraGo is definitely one of the best free video editors with no watermarks that you can use on iPhone. It's available for both iPhones and Android devices and comes with an easy to use interface. FilmoraGo offers themed filters and effects to add flair to your videos without much effort, and it's the best iPhone video editor for beginners.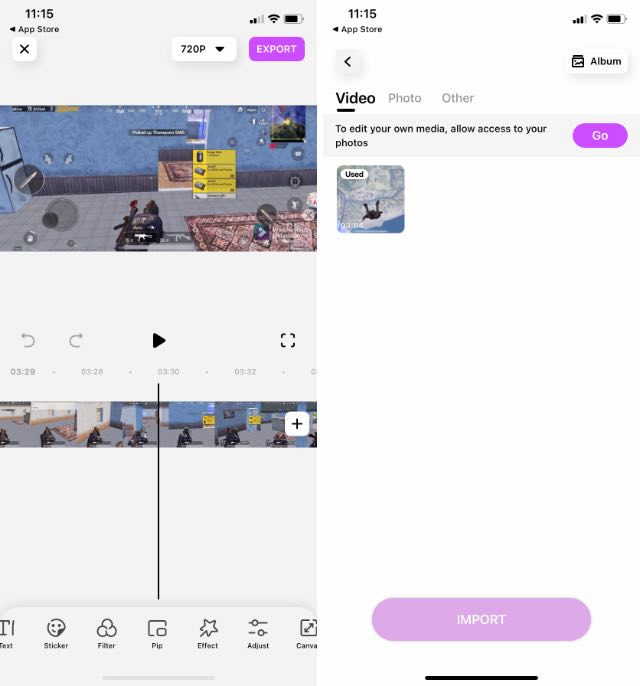 Some of the unique features offered by FilmoraGo include templates that you can use for your videos, as well as aesthetic effects that the app calls 'Materials'. Keep in mind though, that Materials are only available with FilmoraGo Pro. Other than that you get all the usual features here. You can add titles in videos, use stickers and filters and add music for your video's background as well. There's also the option to add another clip in picture-in-picture mode which is very useful.
Overall, FilmoraGo is an app I would recommend to anyone looking for a powerful video editor that's easy to use for beginners.
Download FilmoraGo from the App Store (Free)
7. Quik
Quik is another iPhone video editor app from GoPro. With Quik, you can quickly create good looking videos with just a few taps. The app has the option to import photos and videos from the photo library, or your Facebook, or Instagram account. Once you've selected the photos and videos you want to edit, you get the option to add Hilights to the video clips (just like in Splice). However, you get the options to change the format between cinema, and square. Also, you can change the background music for the video, as well add a plethora of filters to the video. Quik also has the option to add a title to the video.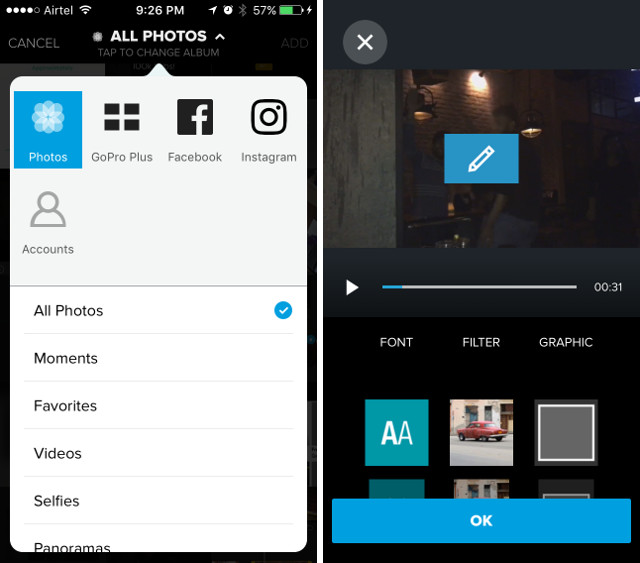 Once you're done, you can simply save the video, and upload it to Instagram, Facebook, etc. You can even directly share it on WhatsApp, Facebook Messenger, etc. Obviously, you can add the edited video to your photos library, as well.
Download Quik from the App Store (Free)
8. KineMaster Video Editor
KineMaster Video Editor is one of the best iPhone Video editing apps that you can use. The app offers professional level editing tools and yet makes it easy to start your video editing journey. One of the good things about this app is that it supports landscape, portrait, and square video formats. So whether you are editing your family video, a video for YouTube or for Instagram, you can edit your videos using KineMaster. Another good thing about this app is that even the free version doesn't show any ads.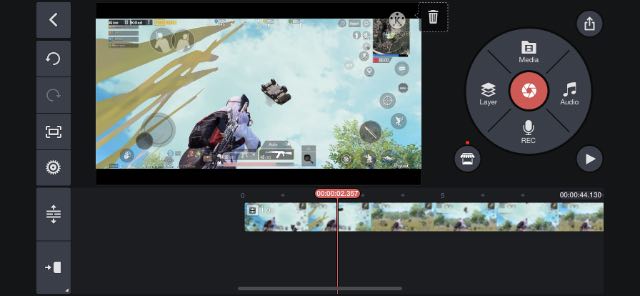 Talking about the editing features, it sports a multi-track timeline which means you can add more than one video and audio tracks. You can add background music or record voice-over right there in the app itself. There's a built-in asset store where you can both free and paid music, clip graphics, fonts, stickers, transitions, and more to enhance your video. Other features include auto audio ducking, speed control for time lapse, and keyframe animation among other things. This is a feature rich video editing app for iPhone and one of the best ones you can find on the App Store.
Download from the App Store (Free, with in-app purchases)
9. Magisto
Magisto is a very simple video editor app. With this app, you don't get any features such as adding text overlays, tilt shifts, etc to your video. However, the charm of this app lies in its simplicity. Within the app, you can import your photos and videos, and choose a theme for the video. There are a number of themes available, such as dance, among many others. Once you've done that, you get the option to add music to the video, as well as options to decide how long you want the video to be.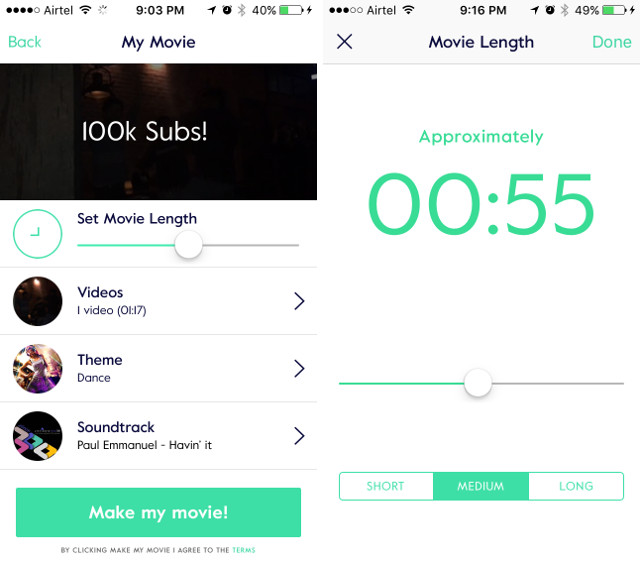 You can even add a title to the video at this point. Once you're done, the app automatically starts making the video, and sends a notification when it's done. You don't have any extra level of control over the video, but that's exactly what you may need at times.
10. Enlight Videoleap
Lightricks' Enlight has long been a top-notch video editor for iOS and certainly one of my favorites. So, I'm not going to miss out on this one. What puts this video editor at the forefront is the versatility to make all kinds of videos. Therefore, it doesn't matter whether you are willing to craft a light-hearted video with plenty of fun elements or a cinematic clip with Hollywood style twists, chances are it can fit into your billing.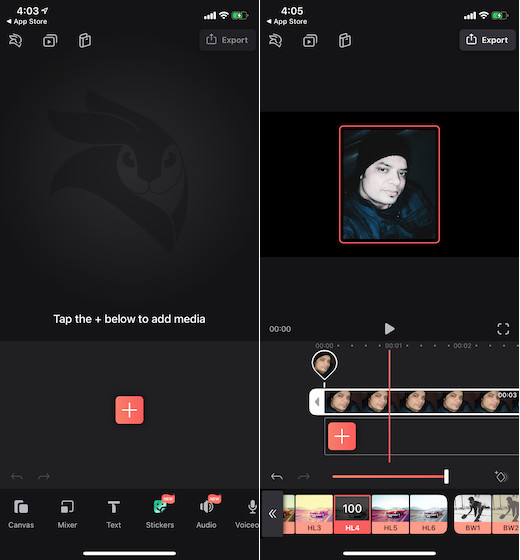 For those who have a liking for instant effects will find Enlight's library of effects pretty good as they are of a wide variety. Plus, it also scores quite well on the filters department which could be a big deal for making a video garner a lot of attention on social media. Beyond filters, the app also offers the desired flexibility to customize layers with masking, transformation, and even blending modes so that you can craft your movie like a pro.
best video editing app for android
5 Best Video Editors for Android
1. VivaVideo – Video Editing Android apps
Price: Free / $3.99DOWNLOAD ON GOOGLE PLAY VivaVideo is one of the exceptionally popular video editing apps. In practice, though, it's a very middle-of-the-road video editor. It works especially well for short clips for social media. The app uses a storyboard style of editing where you load clips, edit and trim them as needed, and then move on to the next segment. It includes over 200 video filters and various other effects, text input, and fast and slow motion support. VivaVideo has a free version that comes with a watermark and a time limit for any given video. You can remove these restrictions by buying the pro version. For the record, David, my little brother doesn't joke with this "vivavideo" video editor maker.
2. Adobe Premiere Clip – Video Editing App
Price: FreeDOWNLOAD ON GOOGLE PLAY Adobe Premiere Clip is one of the big names when it comes to video editor apps. It has a laundry list of features, including the ability to auto-generate videos using your images and video if you don't want to do it yourself. If that's not your thing, you can edit your video manually using a variety of tools, effects, and music. The app boasts that you can use your own music but some users have found this process to be difficult. It does sync and work with Adobe Premiere Pro so you can start a project on one and continue on the next one. However, you'll need an Adobe Creative Cloud account to make all the syncing work. Thing is, I am sure you love this app!
3. Movie Maker Filmmaker – Video Editing App
Price: FreeDOWNLOAD ON GOOGLE PLAY Movie Maker Filmmaker is among the best free video editor apps currently available on playstore. You'll be able to trim, crop, and reorder video content as well as set focal points. The app also boasts a variety of video effects and you can design your own custom filters, although that functionality isn't amazingly powerful. It also has the rest of the basics, like music. The app has struggled with some bug issues since it's major redesign, but it's still one of the best video editing android apps out there. It's also completely free, albeit, with ads.
4. Magisto – Video Editor for Android
Price: Free with ads
DOWNLOAD ON GOOGLEPLAY
Magisto is an easy-to-use video editor app, which can turn your video clips into a music videos automatically with three easy steps. Pick up your images and videos, select the desired soundtrack, and then add a title. This app is a good video editing software for Mac as well and is wonderful for people who do not want to spending too much time on video editing but still want a cool look. https://www.youtube.com/embed/Rb1awERp92E?feature=oembed
5. Vlogit – Best Video Editor Android App
Price: Free with ads
DOWNLOAD ON GOOGLEPLAY
Vlogi is the 1st video editing app designed for YouTubers & Vloggers with music & effects attached with it. It is a very powerful video editing application for android users. And the good thing is that it is completely free with no trial watermark. Believe me, with Vlogit, making a video with music & effects is extremely and relatively very easy. It is seamlessly easy to upload your creations to YouTube, Instagram or other social media sites directly from the app! Wait…I just thought to also let you know that you could even create a custom YouTube thumbnail to upload with your video in Vlogit. Sounds cool? Then go download & try it out NOW!
Conclusion
Let us know your thoughts in the comment section below.
Check out other publications to gain access to more digital resources if you are just starting out with Flux Resource.
Also contact us today to optimize your business(s)/Brand(s) for Search Engines