When you are starting a business, there is a lot to think about. There are also many things that you need to buy to run your business. One of the most important purchases is the software that will help you run your business.
There are many different programs that you can use in your business, and choosing the right one can be difficult. This blog will help you decide which one is right for your needs.
If you are not sure what kind of software you should get, then this article will give some ideas on how to pick out the best B2B email marketing software for your company.
Best B2b Email Marketing Software
But before making any choices, it's important to see if the price of the services match your budget. To make things easier for you, the pricing structure and the pros and cons for all the selected ESPs is listed below:
| | | | | |
| --- | --- | --- | --- | --- |
| ESP | Monthly starting price | Pros | Cons | Trial |
| SendX | $7.49 | Unlimited Email Campaigns, Sign Up forms | Limited Workflows | 14-day free trial |
| Sendinblue | $25 | List Management, Automation, FB Ads | Difficult set up, Basic plan lacks features | Forever free with unlimited subscribers, 300 emails per day |
| Mailchimp | $10.49 | Templates, Reporting, A/B testing | Complicated Pricing Structure | Forever free upto 2k subscribers |
| AWeber | $16.15 | Autoresponders, Customer Support | Limited Segmentation | Forever free upto 500 subscribers |
| HubSpot | $45 | Personalisation, CRM | Expensive | Forever free |
| Drip | $19 | Automation, Reporting | Ecommerce Integration, Workflow | 14-day free trial |
| Constant Contact | $20 | Event Management, Deliverability | CRM, Difficult to use | 60-day free trial |
| Moosend | $8 | Subscription forms, Segmentation | Integration | Forever free |
The 8 best B2B Email Marketing Software
1. SendX
SendX is an easy-to-use email marketing software at affordable costs.
Features:
SendX has a WYSIWYG (What You See Is What You Get) email editor, using which you can create beautiful emails, experiment with colours and layouts, and add images from the pre-built library. You can choose the pre-designed responsive templates or design your own. You can also get an instant preview of the emails on both mobile and laptop screens, so that you know how it's going to look to your audience.
With SendX, your marketing goes into auto-pilot mode. You can segment the customers on the basis of demography, subscriber behavior and more than 25+ other parameters. You can increase revenue with transactional emails and reach the target customers at the appropriate time through scheduling. You can also auto tag subscribers into segments, based on the popups they subscribe to and the data they fill.
Unlike other ESPs, with SendX you can send unlimited emails everyday to your audience. If someone has not opened your emails, you can use the Resend feature to send the emails again, therefore ensuring that nobody misses the updates. You can also embed videos in your emails, to capture more attention of your audience.
You can create signup forms on SendX and embed it on your website so that people visiting your page can directly get added to your email list. You can also create beautiful pop up forms using the editor and trigger them at the right time to boost sales. You can even collect subscribers from Medium, by simple integration and grow your email list.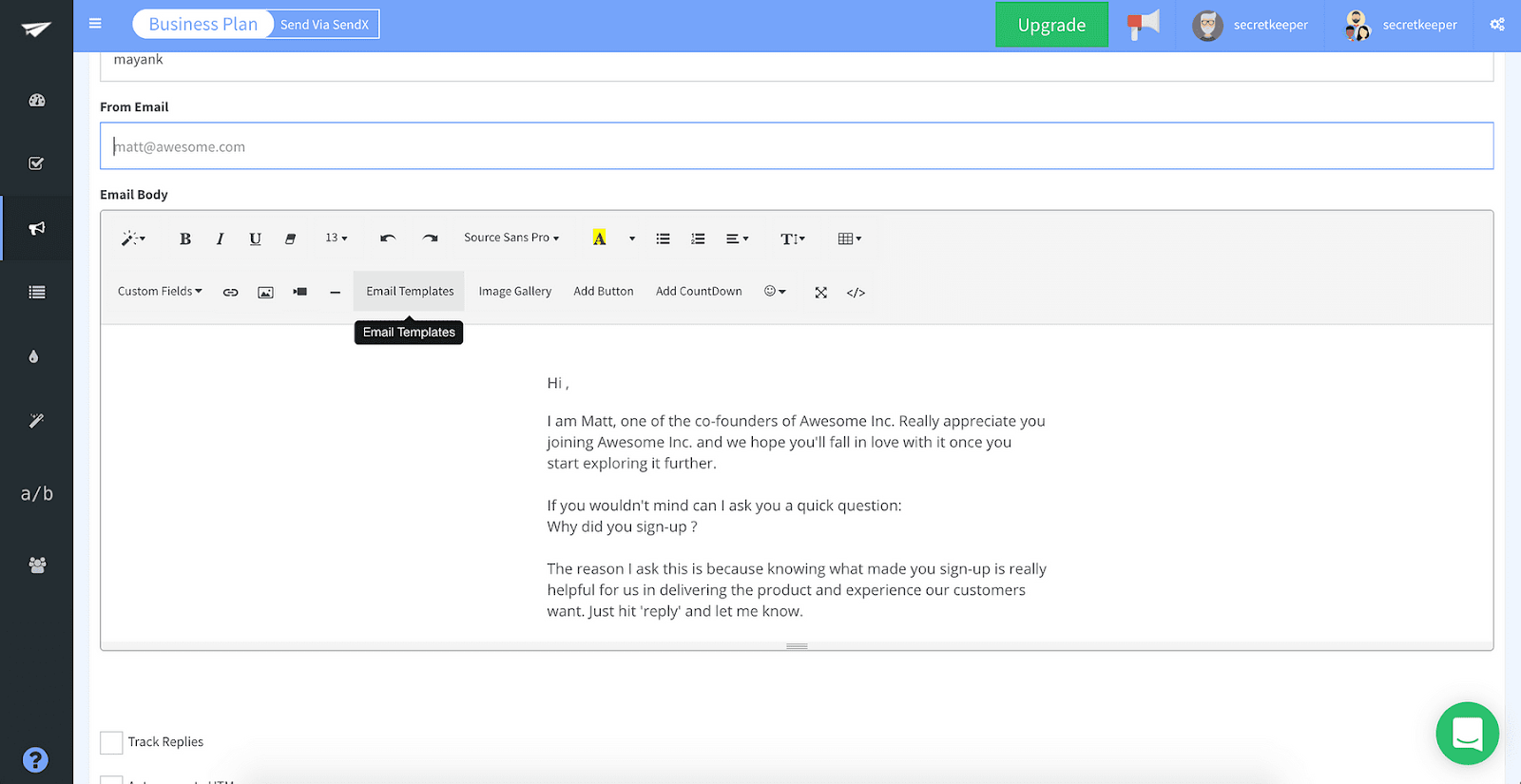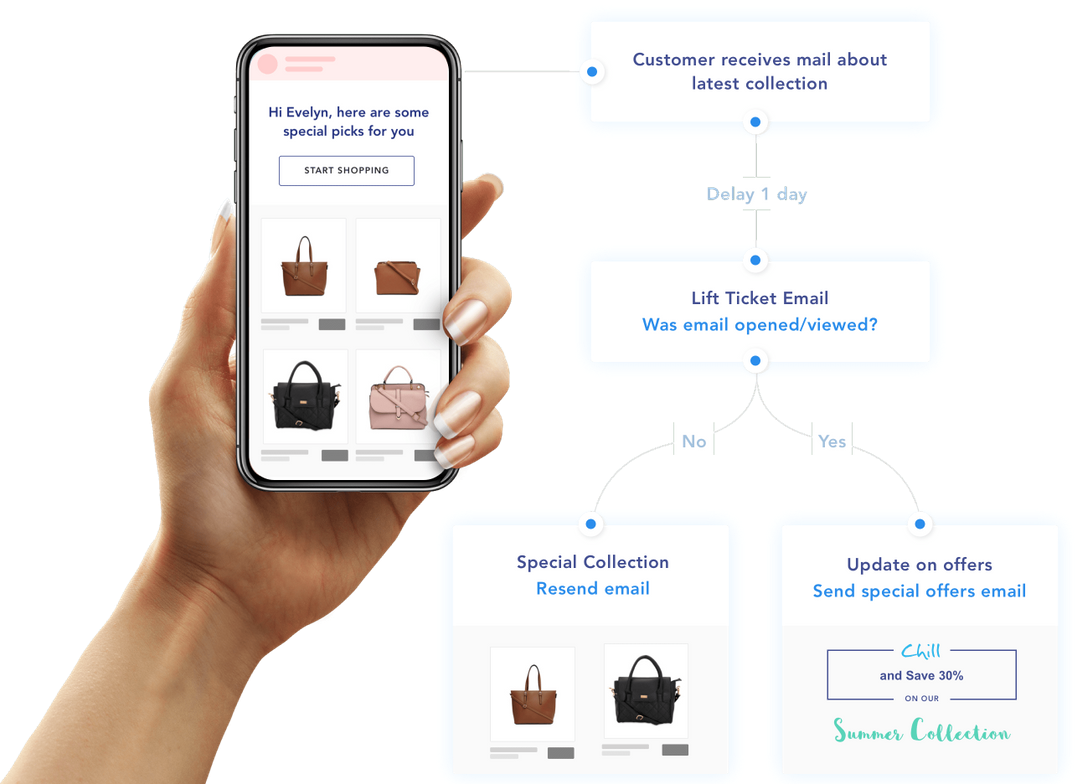 2. Sendinblue
Sendinblue is an email marketing platform for transactional emails and automated email campaigns.
Features:
The drag-and-drop editor is faster and has a very simple way to create and edit email campaigns. The best part is you can go back to the older versions which comes in handy quite often.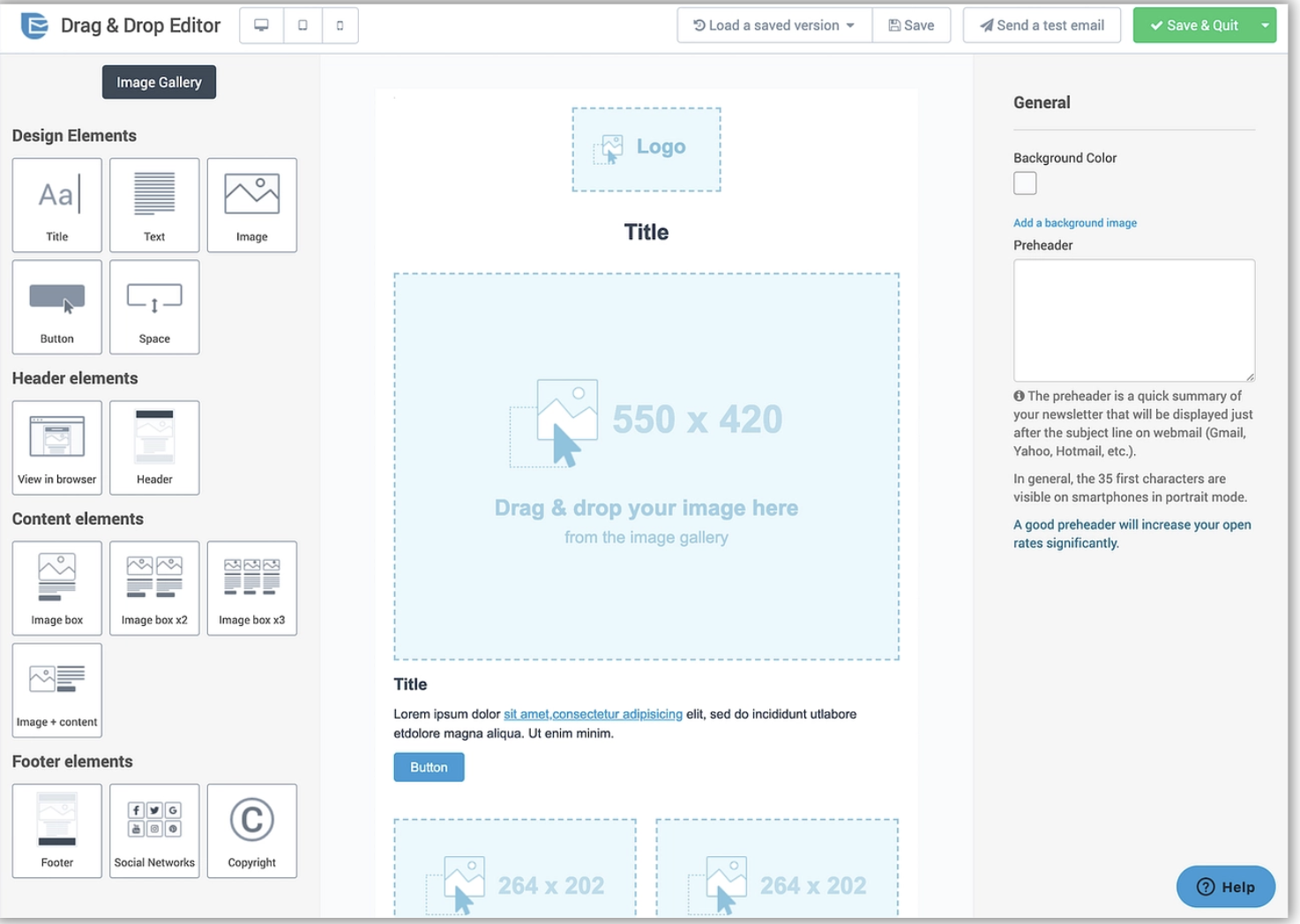 Sendinblue offers email marketing services in a variety of languages like English, French, Spanish, Italian, Portuguese & German. That's super cool if you need to operate in your local language.
With Sendinblue's Email Send Time Optimisation feature you can schedule a campaign, using which, the emails will be automatically sent at the most suitable time for each individual, based on their past activity. It will boost your open rates, and therefore resulting in more engagement by the users.
Sendinblue is known for its automation features, supports advanced automation triggers which are based on email engagement, web activity, etc. You can automate sending emails and SMS messages, updating information in your database and more. The platform has a commendable transactional email feature which is great for ecommerce.
3. Mailchimp
Mailchimp is a popular email marketing platform and CRM (Customer Relationship Management) software that is famous for its vast variety of features, templates and UI.
Features:
Mailchimp's drag-and-drop editor offers an array of options. You can click on the selected part of the content and simply move it to the desired location. You can select themes, add elements like logos, images, links, buttons and more. You have the privilege to preview your email before you send it out and save your designs for later.
Mailchimp offers a library of pre-designed beautiful templates. You can personalise them as per your requirements. You can also use HTML, CSS to code your own template from scratch and save it for future use.
Mailchimp's reporting is extremely extensive with additional features like geo-tracking, social media reports and click maps. And a detailed, comprehensive report definitely helps B2B marketers make actionable decisions.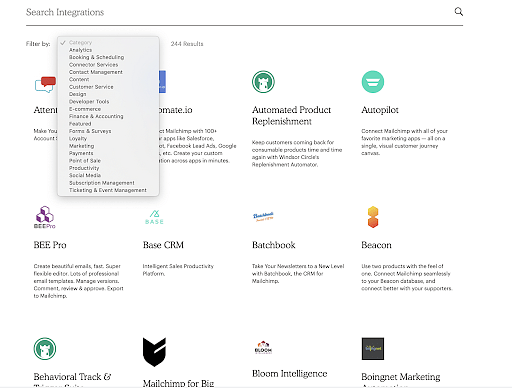 Mailchimp allows you to integrate apps and web services like Calendly, Stripe, etc, to use extra features on the same platform. You can embed your Canva designs and also centralize your data from Google Analytics.
Mailchimp's Venture Into eCommerce
One important update for all those looking at Mailchimp as an option is that Mailchimp has also recently launched its own online stores for SMEs, and a new service for booking appointments. The appointment booking service went live on 28th April 2021, and the new eCommerce features are scheduled to become available for the US and UK Mailchimp customers by May 18th 2021.
New 'Websites and e-commerce' plans will be introduced (and free-plan users will have to pay 2 percent transaction fee). Transaction fees will be reduced for users of different pricing grades, for example, those who go for a Plus plan at $29, only 0.5 percent transaction fee will be applicable.
Besides, for $10 extra, Mailchimp's branding will be removed and you will get email and chat support, and you will only have to pay 1.5 percent transaction fees.
All their plans will also include SEO tools and Google Analytics integration. Plus, you can build websites with unlimited pages and without bandwidth restrictions.
And when it comes to the online stores by Mailchimp, you can build your product catalogues, manage your orders, and taxes and shipping configurations.
But if you don't need all of these additional features and services, you should still proceed with comparing Mailchimp with other email service providers.
4. AWeber
AWeber is a simple email marketing platform for small businesses.
Features:
AWeber has three options for editors to build your emails – Drag & Drop Email Builder, Plain Text Messages, HTML Editor. You can either use the classic drag and drop editor with the usual features or simply send text messages or add your own HTML code to any of the blocks like headlines, paragraphs, etc.
Other than the normal email blocks available in every platform, there is a "Video" block in AWeber which saves a lot of time by creating an image of your YouTube or Vimeo video and hyperlinking that image with the actual video.
AWeber launched a Smart Designer for your emails. You put your website URL in a form field & it analyzes your website or social media account for logos, image, and color palettes. Then it automatically builds ready-to-use, custom email templates for your business.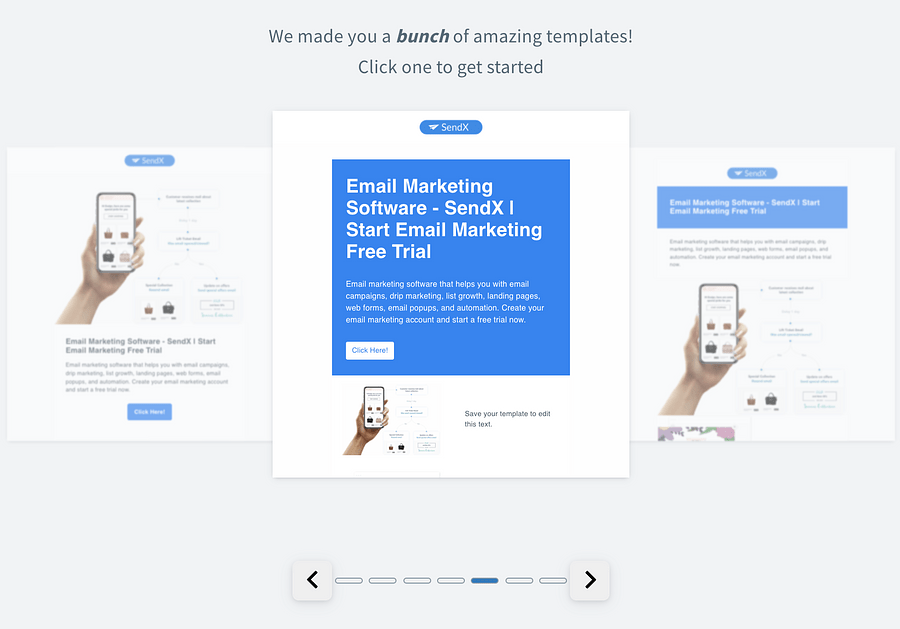 AWeber has a simple-yet-effective autoresponder that sends well-timed emails to your audience. You can create tags for people and assign triggers and flows to your emails which saves you a lot of time. You can customise the content, audience, time and so on.
5. HubSpot
Hubspot is an all-in-one marketing and sales platform, usually preferred by B2B companies.
Features:
HubSpot's drag-and-drop editor lets you create responsive emails which are also mobile-friendly. You can either create your own templates or choose from a gallery of pre-built templates.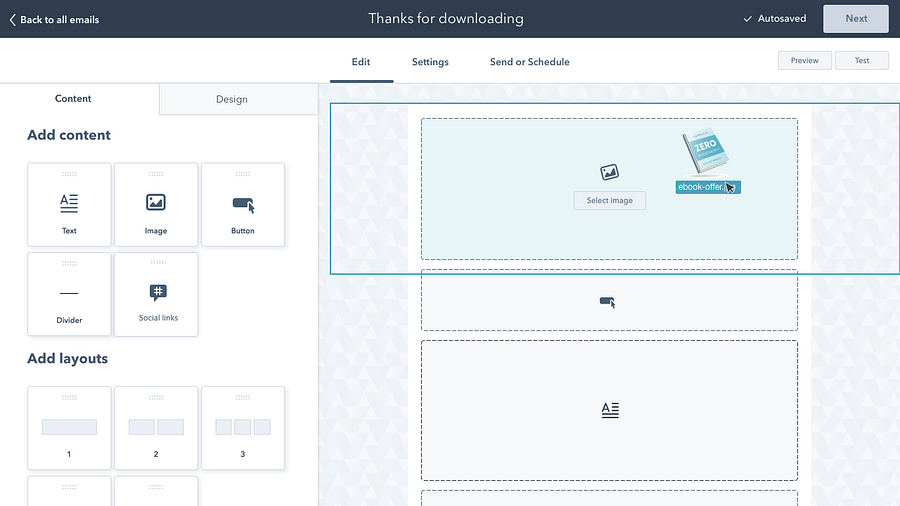 HubSpot is great if you need unusual but useful features. One such feature is the unsubscription feature, using which the subscriber can unsubscribe to some selected email topics or lists, instead of permanently unsubscribing to the whole package. You can also personalise your content based on specific criterias for different readers.
You can create different segments on the basis of email interactions plus their activity on your website or landing pages.
HubSpot analytics dashboards are much detailed. You get data on the performance of either the individual emails or the entire email campaign. It also shows the performance of your recent emails vs your past emails.
6. Drip
Drip is an email marketing and CRM email platform for ecommerce.
Features:
Similar to AWeber, Drip's email builder offers multiple options like Visual Builder, HTML Builder, Text Builder. Using the visual builder, you can insert heavy elements in your emails to make it visually appealing. Using the HTML builder, you can control every aspect of layout and formatting. And if the highlight of your campaign is the write-up, text builder is best for you.
Drip offers an advanced visual automation workflow builder, allowing you to set multiple triggers for a specific automation workflow. You can add triggers from other apps like Zapier, etc., as well.
Unlike other ESPs, Drip provides two choices- campaigns and broadcasts. Campaigns are a collection of emails that set off when a trigger is fired, as per the automation rules. On the other hand, Broadcasts are single emails that are sent when you need to make announcements or send email newsletters.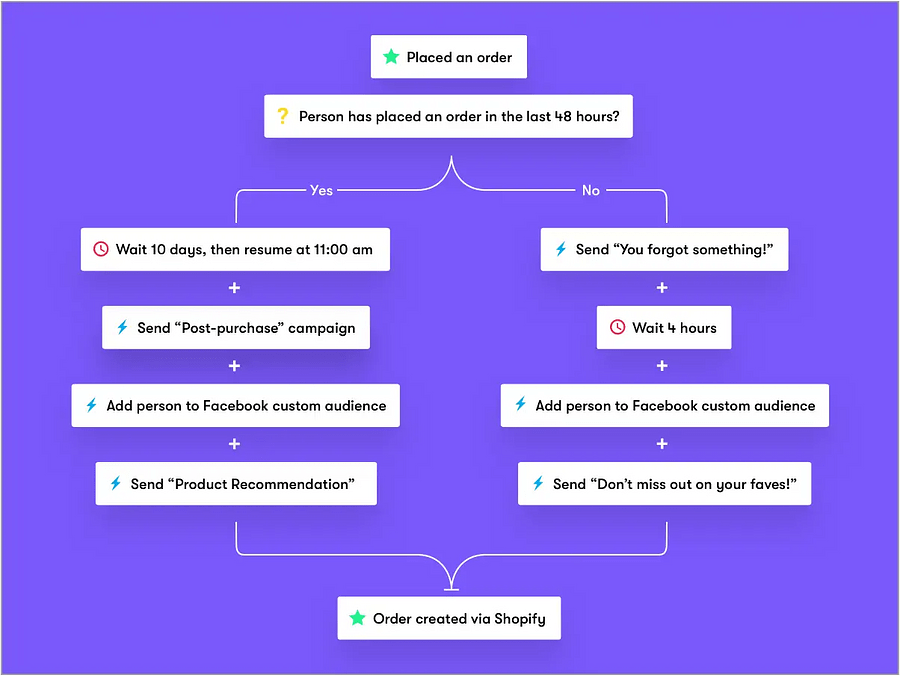 Drip has a close integration with Facebook, which lets you create segmented audiences directly from Facebook. It also allows you to make automation workflows for Facebook ads and integrate emails with it.
7. Constant Contact
Constant Contact is an email marketing solution for nonprofits.
Features:
The drag and drop editor's smooth drag and drop experience makes creating an email faster and easier. And the Smart Columns feature gives you the flexibility to fine tune column sizes. Using the undo and redo options, you can go back and forth while editing.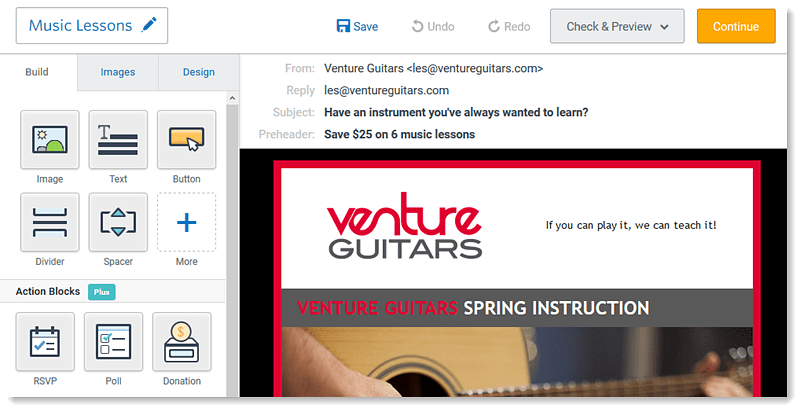 With Constant Contact, importing your contact list from Excel, Outlook, your e-commerce platform ​or​ literally anywhere is cake. Then, you can assign tags to all your contacts, which is very useful if you need extra details about your top customers or just want a deep dive into the data, in general. You can also create segments of your contacts based on different categories like location, behaviour, contact tags, etc.
You can also promote all kinds of events, like webinars, fundraisers, surveys and more, on Constant Contact. You can manage event registrations, tickets, invitations, etc, on the same platform itself, so that you can manage your events like a pro.
As per EmailToolTester, Constant Contact has a deliverability rate of around 89%, which ensures that most of the times your emails will not end up in the spam tab of your contacts.
8. Moosend
Moosend is a full fledged email marketing and automation tool.
Features:
Moosend has a drag-and-drop editor for creating emails, including an easy to use designer for creating landing pages builder. There are pre-built templates for both of these, which are fully customisable and responsive.
Moosend offers a visual automation builder which allows you to create various sequences like cart abandonment, welcome emails, thank-you emails etc, which saves a lot of time and energy. If you are new to this, you can select one of the pre-built automations and personalise it for yourself.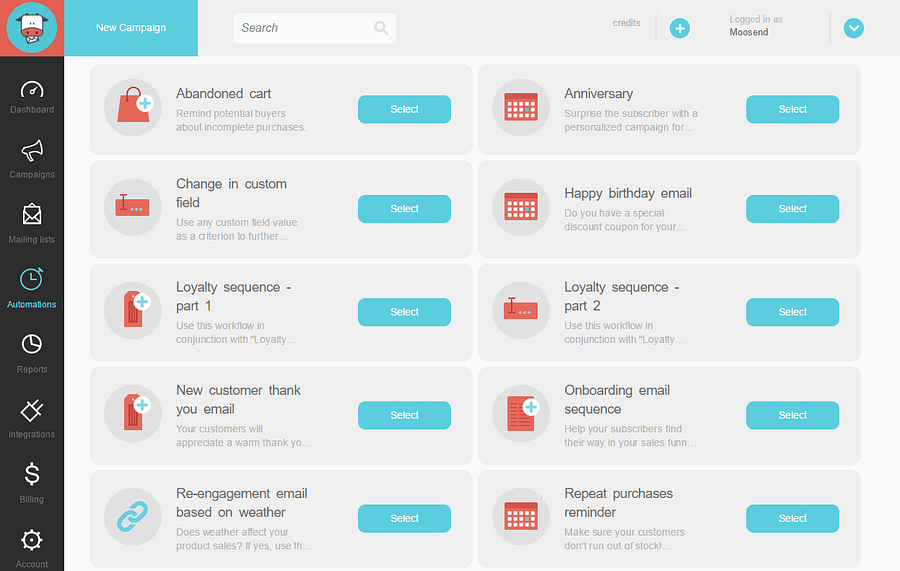 With Moosend, you can create customised subscription forms with the advanced styling options or choose from a variety of ready-made forms, which is best for all industries and purposes. The forms can be pop-ups, floating boxes/bars, full page, etc. Using this you can grab the attention of the people visiting your website and convert them into a subscriber to send them emails. You can even decide who, when and where sees the form by setting your own visibility options.
You can also create conditional blocks that show unique content to every user based on their user profile. Maximize the revenue per user by sending the relevant product recommendations only.
email marketing tools list
HubSpot Email Marketing
HubSpot, probably best known for their marketing automation platform, recently launched a free email marketing tool that can support a lot of a small business' transactional email needs.
Whether you need to send kickback emails from lead offers, thank you emails after purchase, or just promote current campaigns, HubSpot Email Marketing's free version can do that. One of the best parts of HubSpot's free email tool is its ease of use. The tool features a handy drag-and-drop visual editor, and it also comes equipped with ready-made templates to get you up and running immediately.
What makes HubSpot Email Marketing stand out is, of course, its native integration with other HubSpot tools, such as the free-forever CRM. Once you start an account, you get access to both tools so you can create a centralized contacts database, organize it in lists, and manage and track email performance.
hubspot email marketing tool
Sender
Sender is one of the best free email marketing tools in the market with features to ensure deliverability. It lets you create stunning newsletters without any HTML knowledge. Just choose from a template and customize it with elements like images, videos and text. You can even personalize your newsletters for each recipient to create an even bigger impact.
Sender dashboard screenshot
Sender's robust analytics feature is one of the top reasons why it's on our list. It lets you track who opened your emails and clicked on the links, when they were opened and more. It even helps you build accurate buyer profiles based on your subscriber actions, so you'll be able to optimize your existing email strategy and craft compelling offers.
Sendinblue
Sendinblue is a marketing communication platform that features both email marketing tools and additional functions such as customer relationship management and landing page creation. With over 70 design templates, Sendinblue's email design functions make it easy to create a great-looking email. Plus, all of these templates are responsive, and you can preview your results to can ensure your design looks the way you want on any screen format.
After you design your email, you can use features like A/B testing and segmented recipient lists to take the manual effort and guesswork out of optimizing your campaigns and targeting your ideal audiences.
sendinblue email editor
Omnisend
Omnisend is a sophisticated ecommerce marketing platform that integrates all your communication platforms in one place. Its free plan includes only email, but it's more than enough to support the email marketing efforts of small and medium businesses. It allows you to automate your email delivery using behavioral triggers and easily time your communications based on your customers' convenience.
You can utilize its comprehensive audience insights to send out more relevant email marketing messages. Design attractive newsletters using time-saving features like the Product Picker, which lets you select all the products you want to include in your email. You can also include scratch cards, discount coupon codes and gift boxes to further optimize your email performance.
Omnisend dashboard screenshot
SendPulse
SendPulse advertises itself as a multi-channel marketing platform, but its email marketing feature is the most popular. It comes with a ton of professionally-designed email templates that you can easily customize using a drag-and-drop editor. You can then set up these customized emails to be automatically sent out at the right time based on user behavior, event trigger and other variables.
SendPulse's subscriber rating feature is an excellent way to identify your most valuable subscribers. It lets you analyze the open and click rates as well as the read and unread rate of each subscriber. You can even set replaceable text fields to personalize your emails by name, gender, date of birth, age and job role.
SendPulse subscriber rating
Benchmark Email
Benchmark Email is a great option for an email marketing tool to design responsive emails that look great no matter which device they're viewed on. If you need to add images to your email, you can even edit the image right on the platform. The email editor lets you add effects, stickers and text to effectively send across your message.
You have the option to choose from tons of pre-designed templates based on industry, type and occasion. For the more HTML savvy, you can even use the code editor to build emails from scratch. The dual view feature lets you see your email design as you're editing it, which simplifies the whole email creation process.
Benchmark Email responsive design templates
social media engagement learn more banner
Mailchimp
Mailchimp is a leader in email marketing tools that you've probably heard of. Their free plan provides you with basic email marketing features such as email creation and scheduling. What makes this a great email marketing tool is its smart recommendations feature, which provides you with valuable audience insights to optimize your marketing efforts.
Designing emails on the platform is easy using the Content Manager, where you can store your images and files for easy access. Mailchimp lets you automate your emails at crucial steps of the buyer journey, so you can easily send out welcome emails, order confirmations, abandoned cart reminders and more.
Mailchimp content manager screenshot
MailerLite
Sophisticated features like the landing page builder and the pop-up customizer make MailerLite stand out among free email tools in the market. In addition to the basics like the drag-and-drop email builder, the tool comes with a rich text editor and a built-in photo editor to create stunning emails.
MailerLite email customizer
You can create responsive landing pages to match the emails that you send, which will improve your chances of driving conversions. You can run split tests on different variations of your email to see what works best to drive clicks and conversions. MailerLite also provides you with a comprehensive campaign report that contains important stats like click rate, unsubscribe rate, open rate and more.
Mailjet
Mailjet comes with intuitive and collaborative tools to help you build effective email marketing campaigns. Customize any of the pre-designed templates and create responsive emails to impress any recipient no matter which device they're using. If you work with a team, you'll love the platform's real-time collaboration feature that allows for seamless collaboration.
This email marketing tool also lets you add dynamic content so you can create personalized and relevant emails for each recipient. This helps you get much better results out of your email marketing campaigns. You can also integrate the platform into your CRM and easily manage your mailing list through a single dashboard.
Mailjet contact statistics
Moosend
Moosend is an excellent email marketing tool that lets you automate repetitive tasks and saves you time. You can design behavioral email campaigns based on your subscribers' information and/or activities. You can use its advanced segmentation feature to send highly accurate emails to each recipient, increasing open rate and click-through rate as well as ROI.
This tool provides you with a detailed campaign performance report so you know exactly how to optimize your campaigns and get even better results. You can even integrate it with some of your favorite apps to seamlessly pass on vital information between different tools. It's also one of the only free email marketing tools that won't include its logo in your emails.
Moosend email performance report
EmailOctopus
EmailOctopus is a simple email marketing tool that runs on the Amazon SES infrastructure. While the free plan doesn't offer as many features as some of the other free email marketing tools on this list, it does allow a lot more emails per month than most of them.
You can send out unlimited emails from as many email addresses as you like. This makes it the perfect solution for a small agency or entrepreneur representing other brands. It also integrates with third-party apps like MailOptin, WordPress and Zapier so you can seamlessly exchange customer data between different tools.
EmailOctopus email performance report
Conclusion
Let us know your thoughts in the comment section below.
Check out other publications to gain access to more digital resources if you are just starting out with Flux Resource.
Also contact us today to optimize your business(s)/Brand(s) for Search Engines