Copywriting is an essential skill for anyone who wants to use words to persuade others. Copywriters are the people who sell things with words—they're the ones who write sales pages, emails, ads, and all sorts of other marketing materials.
Whether you want to become a copywriter yourself or hone your copywriting skills for your own business, these blogs offer a wealth of insights on how to use words effectively.
Best Blogs On Copywriting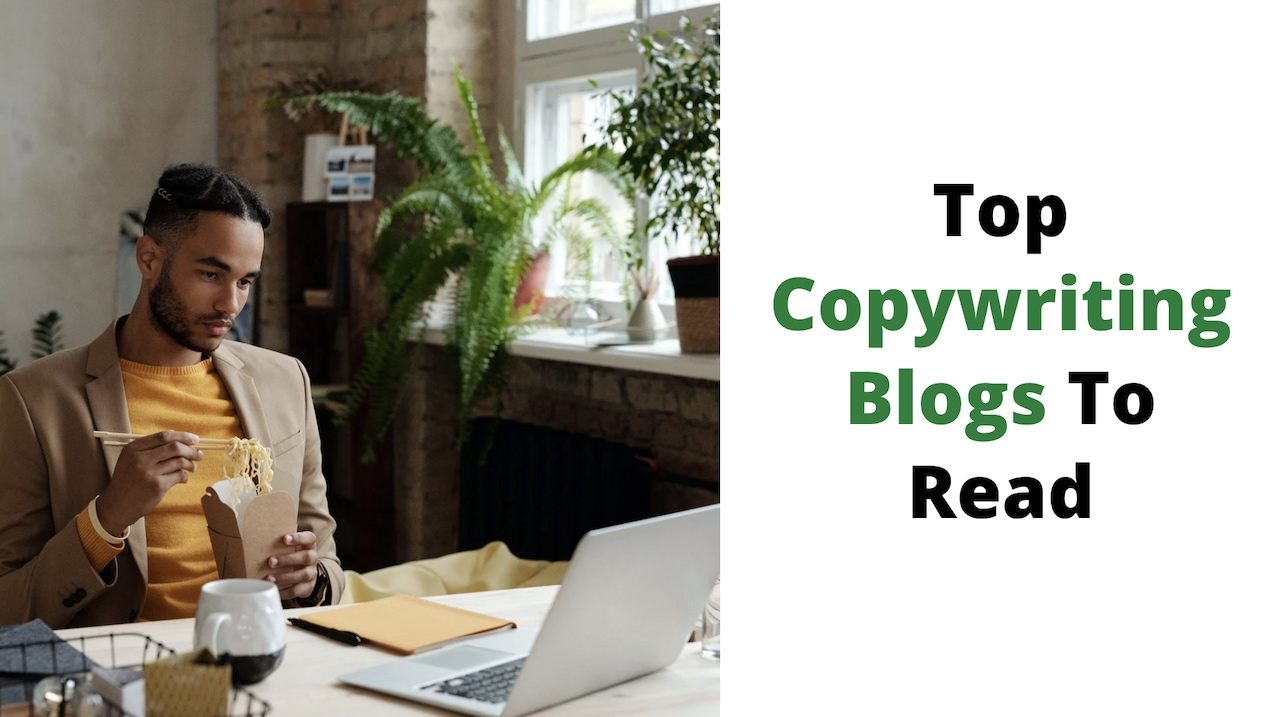 Well-written copy is essential to capture the attention, engage their audience, and succeed in driving conversions.
But if you've dabbled into copywriting, you'll know that writing well isn't an easy feat. 
Being able to write world-class copy that engages and converts is a craft that requires a very special set of skills. 
Whether you are a marketer running an advertising campaign, a business owner crafting your copy for a landing page, or a freelance writer trying to work with high-value clients, you need to learn how to sharpen your copywriting skills.
And the best way you can do that is by reading; especially works by copywriters who have already perfected their craft!
Fortunately for us, the internet has enabled us to have a plethora of talented copywriters to learn from all at our fingertips – from the all-time greats to modern writers blazing a path through the industry!
So we've put together our list of top copywriting blogs that you should be following to learn the secrets of copywriting.
1) Copy Hackers
Founded by Joanna Wiebe in 2011, Copy Hackers have grown to become a trusted source focused on conversion copywriting for the web.
Even Neil Patel, perhaps the top influential digital marketer and SEO expert, purchased a copywriting course from Copy Hackers to level up his own writing skills.
Apart from their courses and books, Copy Hackers has a copywriting blog with hundreds of free valuable resources that teach businesses the art of copywriting so that any company and marketer sell better through more persuasive copy. 
If you are a blogger, do pay attention to their headlines – while they might be longer than most, they are very well written that are value-packed to draw in clicks. Pure persuasion perfection.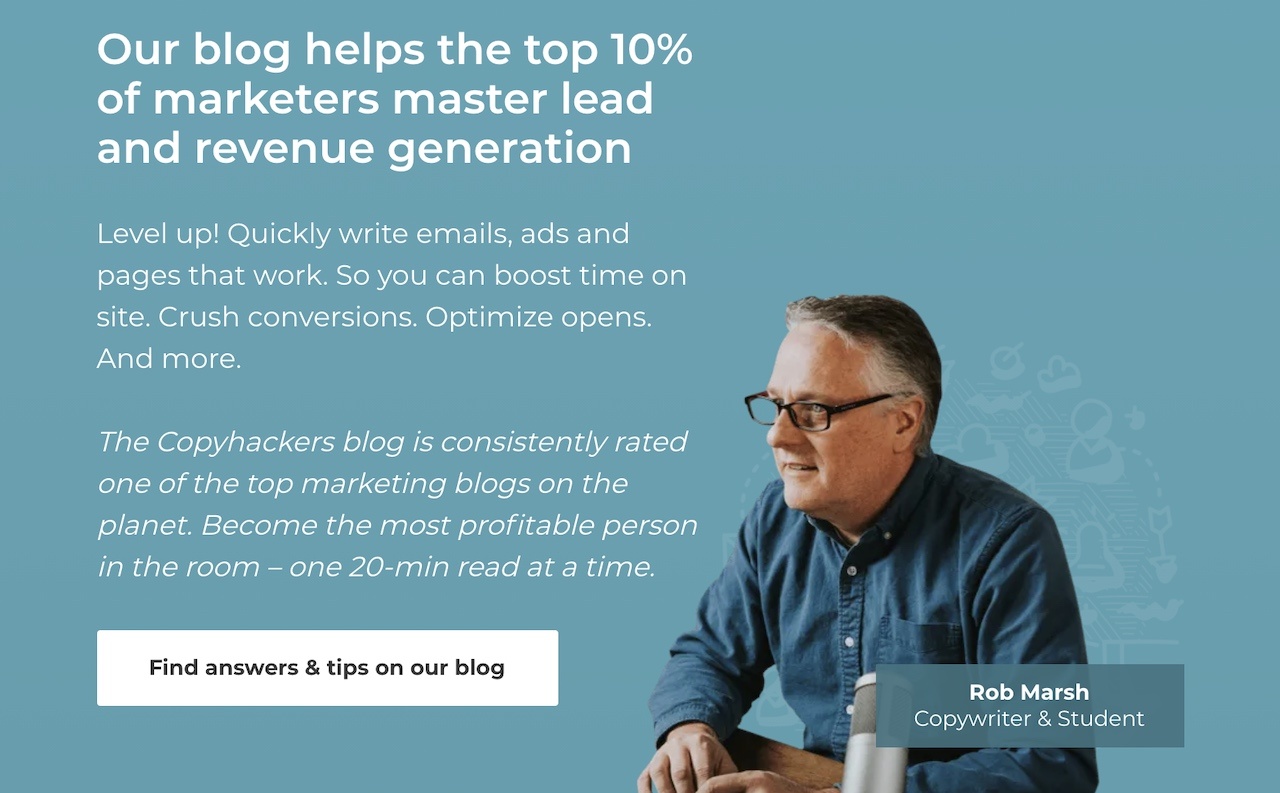 Here are some of our absolute favorites:
The 'Complete-Nobody' Guide to Guest Posting Fame and Fortune (By the Guy Who Built a Career Out of It)
You Don't Need Ads on Your Site to Monetize Your Blog. Here's How Bloggers Make Six Figures.
Speaking the Language of Coronavirus: An analysis of the words and phrases that spread viral content
2) Copyblogger
Copyblogger, founded by Brian Clark, is one of the most noteworthy and powerful copywriting blogs globally.
I personally read it weekly to sharpen my skills.
There is no better place to learn than from a blog that made eight figures in revenue through the art of words!
The blog aims at teaching writers the essential metrics of copywriting for the web. With original and up-to-date articles, Copyblogger shares tips on writing audience-focused copy that is well-suited for marketing and SEO purposes so that you can better drive traffic to your blog and convert your readers better.
Plus you can also decide to go pro and learn from their collection of paid Masterclasses in a more structured way from their well-curated line-up of copywriting & marketing experts.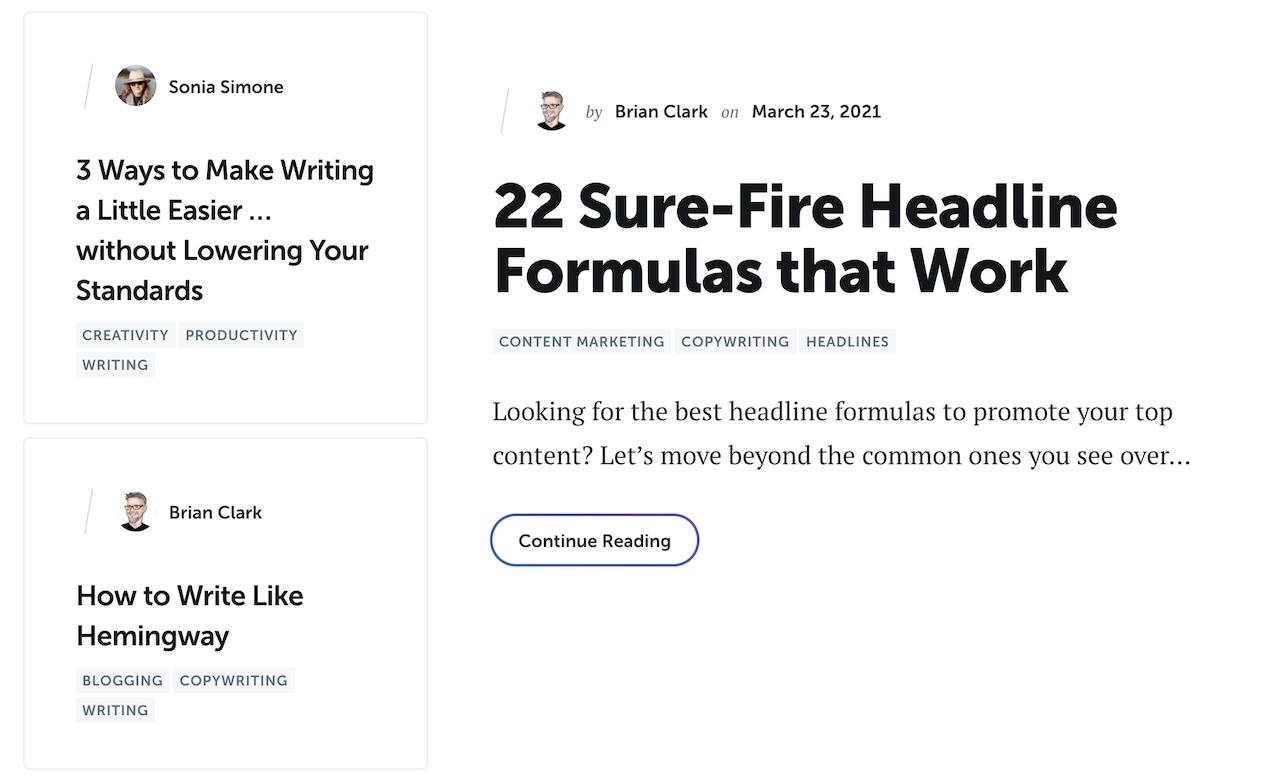 Be sure to check out these articles that we just love:
Does Your Copy Pass the 'Forehead Slap' Test?
How to Write Like Hemingway
5 Ways to Write a Damn Good Sentence
3) Copywriting Course
Our world works at lightning speed today, every business needs to communicate with its audience efficiently, especially when it comes to capturing attention.
Run by Neville Medhora, Copywriting Course focuses on efficiency through simplicity. He mainly posts instructive guides and templates (with rather quirky and unique illustrations) to help you get started quickly even when you have zero knowledge to begin with.
While most copywriting blogs aim at web content, Copywriting Course shares the fundamentals of copywriting at every conversion funnel stage; websites, emails, and even offline materials.
Packed with guest posts and interview with marketing icons such as Sam Parr and Noah Kagan, you'll be learning much more than just how to write – you'll learn how to become an overall better marketer.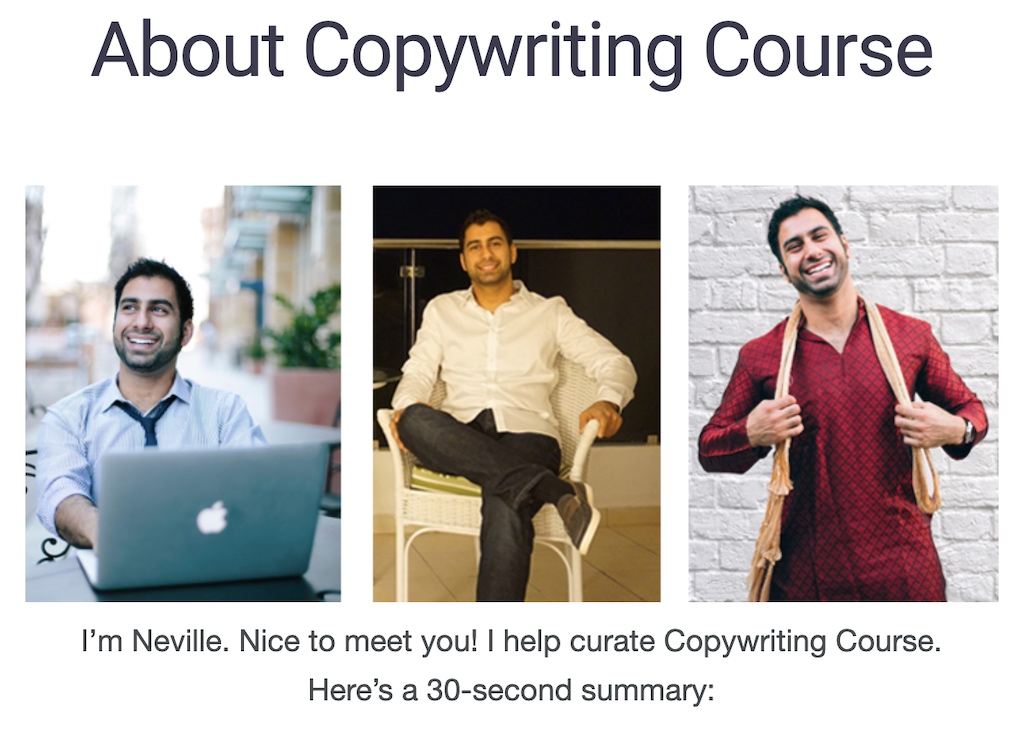 Here are some of my all-time favorite posts to check out:
Ways To Stop Procrastinating And Work
Do "Copy Work" By Copying Famous Ads
4) Grammarly
Any copywriter, or anyone that writes at their job, knows that good grammar is essential.
You may already be using Grammarly's AI-powered writing assistant, or you may have seen ads for Grammarly come up on YouTube, but did you know that Grammarly has a blog that offers more than just grammar advice?
They have an informative, engaging, and well-formatted blog that provides a mix of content, from writing and grammar tips to communications trends and inspirations.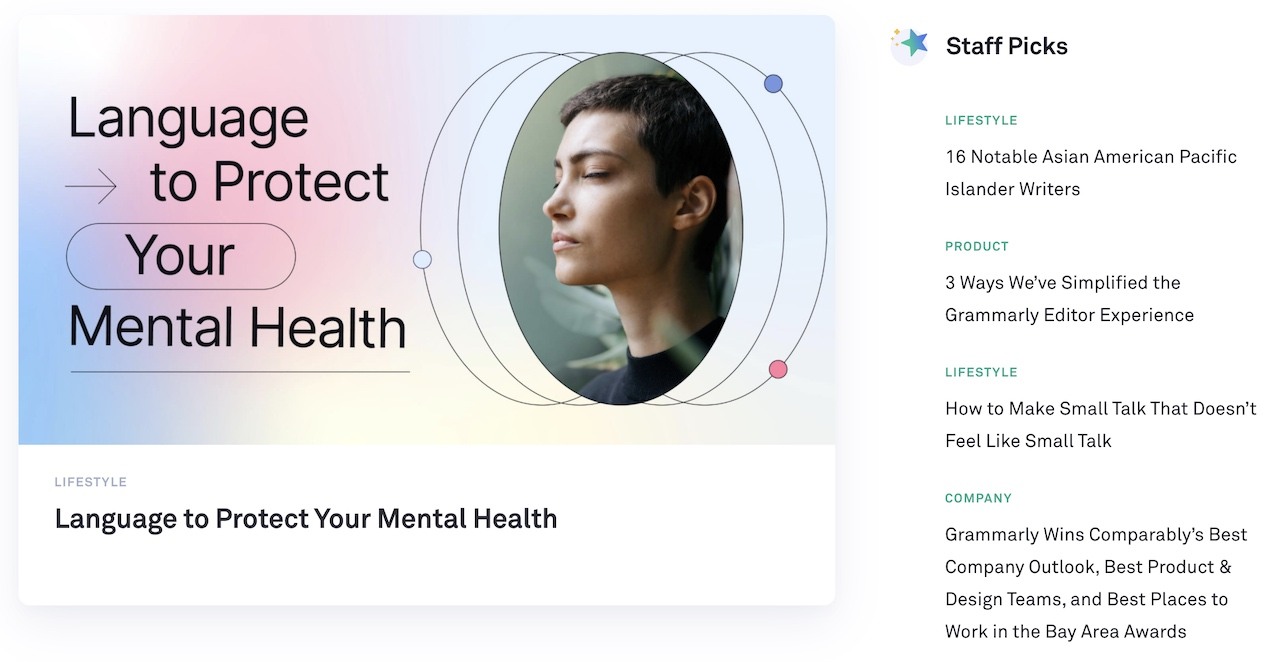 Here are some useful posts to check out:
The Ultimate Guide to Phrases
What Type of Writer Are You?
5) Ben Settle
Ben Settle is the world leader in email copywriting; some even call him the email copywriting poet. He specializes in selling and making money through email marketing.
His blog articles are not your typical listicles and how-tos; instead, he writes in unique and captivating ways to deliver his views.
If you're interested in learning more about email marketing and how he made millions in sales through email campaigns, be sure to sign up for his free newsletters as well. 
You'll get to analyze first-hand how he writes his high conversion emails from a master of email marketing.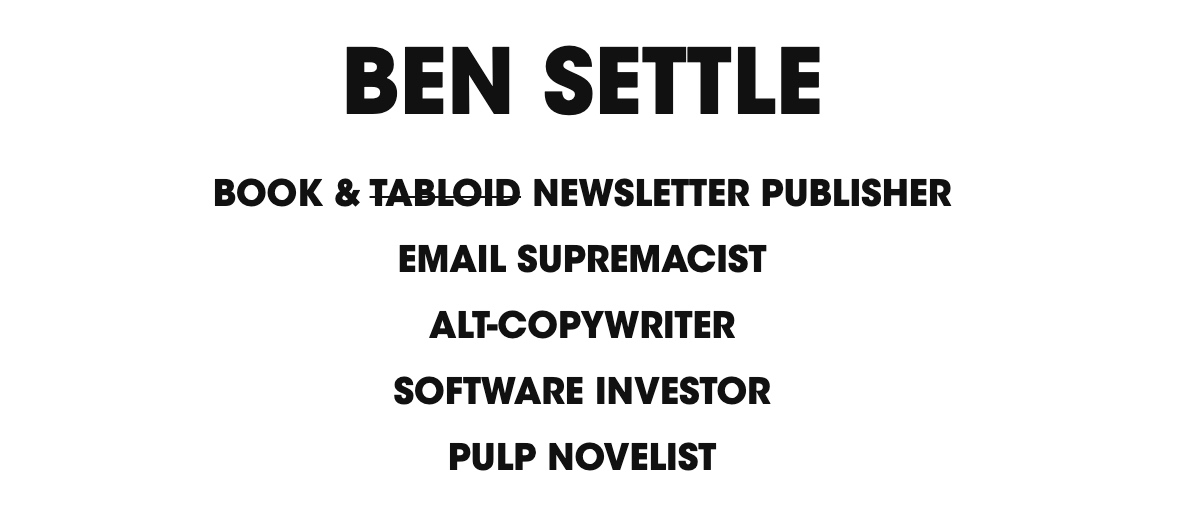 Here are some interesting posts to read to get into the contrarian mind of Ben Settle:
Why The Headline Is No Longer 90% Of The Battle In Copywriting
Who Wins The Fight: Blog Posts vs Emails
6) John Carlton
"The most ripped-off writer on the web" and "the most respected writing teacher alive", John Carlton is one of the OG copywriting legends and arguably an even better copywriting teacher.
He even has a long list of leading marketers who freely talks about him as their primary mentor for writing sales messages!
John Carlton's blog provides you with good insights, advice, and revelations marked with trenchant wit and scathing humor.
Every single post is written by him and not someone he hires for mass content publishing.
Read through ten years worth of free archives and you'll find just what you're looking for to learn and expand your copywriting toolkit.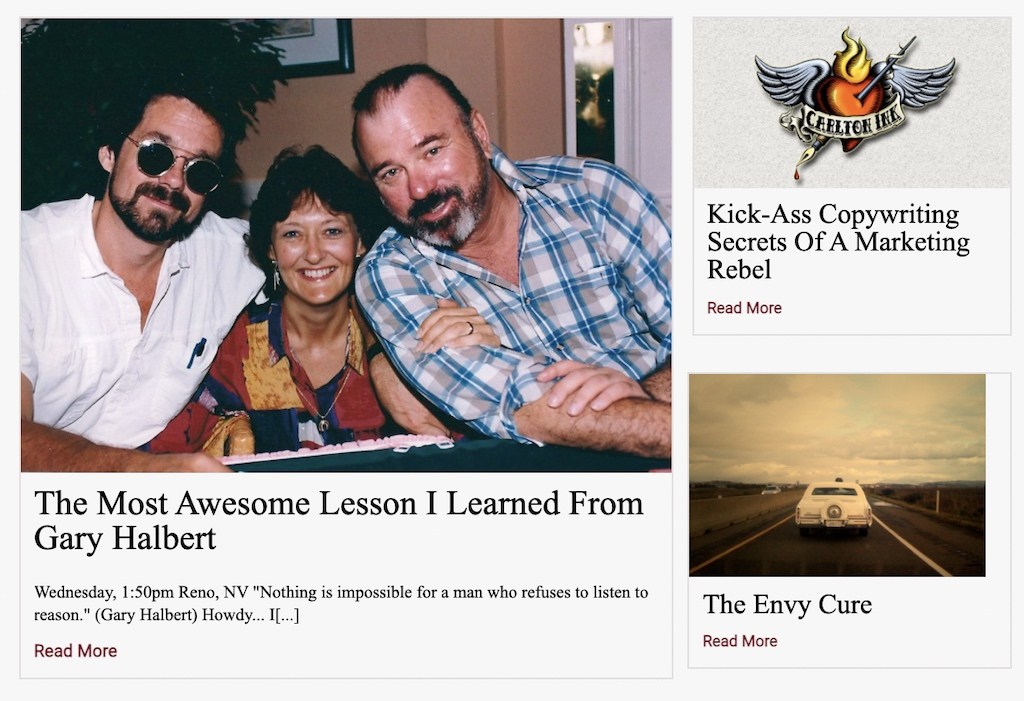 Here are some blog posts to get you started:
The Most Awesome Lesson I Learned From Gary Halbert
Never Let Incompetence Sneak Up Behind You
7) Neil Patel
When you're neck-deep into your copywriting, SEO, or content marketing research, you would have chanced upon Neil Patel probably at least a hundred times.
He's everywhere!
According to Forbes, Neil Patel is one of the top 10 marketers and was recognized as a top 100 entrepreneur under 35 by the United Nations.
Neil Patel doesn't just write about copywriting or content marketing; you can also find an array of digital marketing, conversion optimization, and eCommerce topics that can help you boost your writing and sales efforts.
He takes a very tactical and actionable approach to his blog posts, ensuring readers gain maximum value that they can apply immediately to their business.
Aside from his blog, he also offers a free SEO tool, Ubersuggest, that will help you with copywriting by suggesting keywords, content ideas, backlink data, domain overview, and etc. 

Plus, he also creates interesting instructional videos on everything digital marketing on his YouTube channel that you should check out if you prefer to learn via videos.
Here are 2 posts to dive deeper into his copywriting posts:
7 Copywriting Hacks Based in Psychology
6 Copywriting Tips That'll Keep Readers Eyes Glued to Your Screen
8) Contently
If you're creating content daily, The Content Strategist by Contently is a must-read!
Whether you are a freelancer or a business owner, Contently wants to help you connect with your audience through better storytelling skills – an essential ability today if you really want to capture attention and retain it.
Contently focuses mainly on copywriting and content marketing on its blog with a plethora of articles that touch on unique subjects from storytelling to strategy and digital transformation.
But that's not all!
Contently has a wide collection of free content marketing courses you can attend to deepen your knowledge on creating compelling content from blog posts to videos across your channels.
Here are two articles that'll give you a taste of what the blog has to offer:
The Content Revolution Is Here. Is Your Brand Ready?
'Branding Moments': What Can a Gorilla Playing the Drums Teach Us About Great Storytelling?
9) Honey Copy
Proven methods and words may help your business make sales, but creative and poetic copies catch the eye of your readers and help you build a long-term relationship with them.
Honey Copy is the king of creative writing that sells.
Cole Schafer, the founder of Honey Copy, breaks the rules of traditional copywriting for advertising in a clever and amusing way.
Get inspired by his punchy and ridiculously intelligent copywriting blog that will teach you how to sell like hell with beautiful words!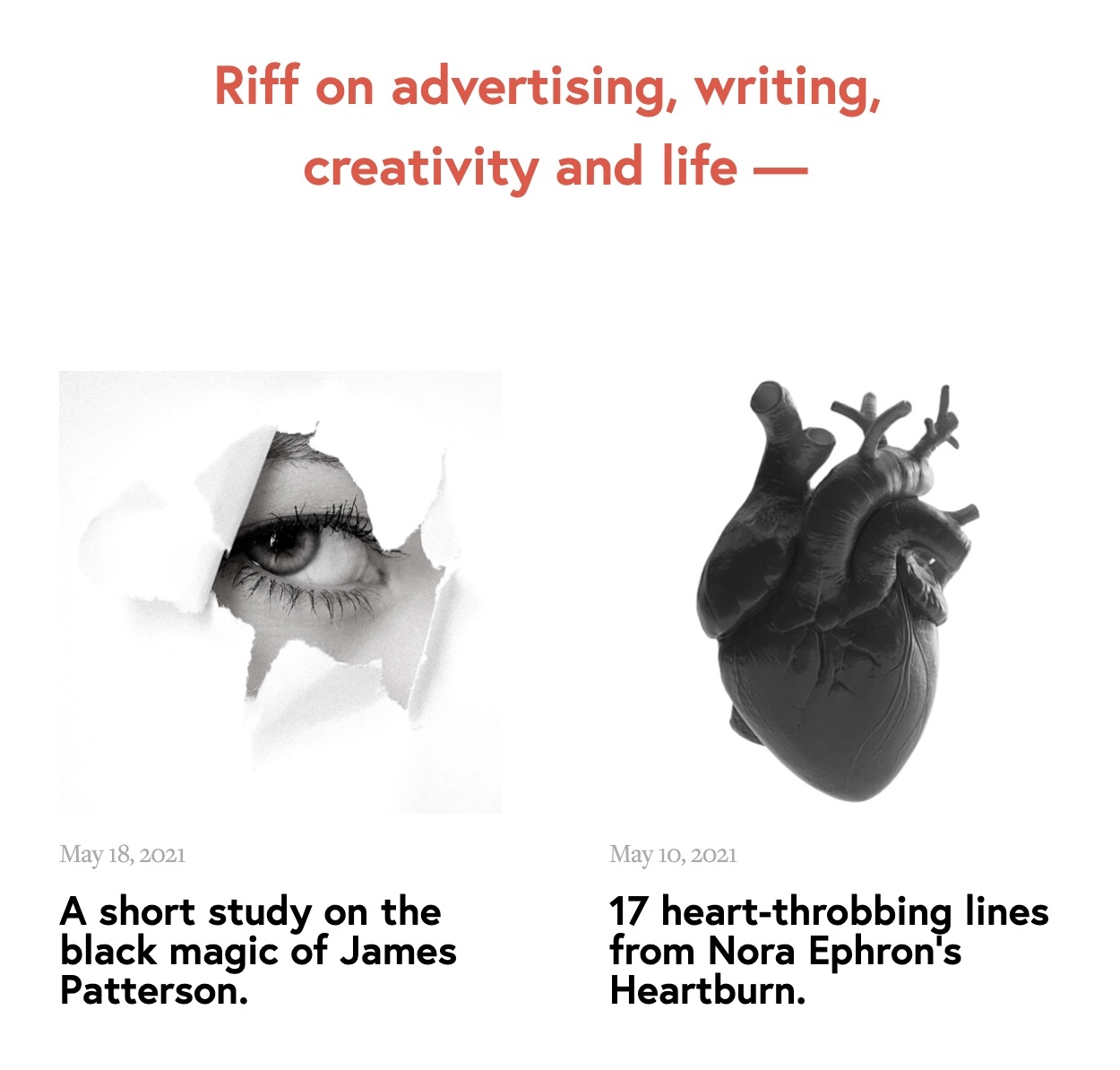 Here are two of my favorite posts that I just love:
7 times creative copywriters had us licking words off the page
Here's to conversational copywriting
10) Writing Revolt
Many freelancers and businesses try to sound sophisticated and professional, but most of the time, they just end up speaking monotonously – that means not connecting with your readers.
Being able to write as you talk isn't easy.
Writing Revolt is a blog that utilizes conversational style writing to make words more personable, relatable, and highly engaging.
The articles can help you unleash your unique perspective and natural verbal style to give your brand a personality and voice.
Additionally, the blog is a treasure trove of inspiration and tactics for freelance writers looking to establish themselves, grow their portfolio, and command better rates.
copywriting blog ideas
With literally hundreds of millions of blogs in the vast blogosphere, it's becoming increasingly difficult to develop a unique brand for your blog by writing posts that are unique, creative and entertaining. The next time you find yourself in a rut, try these 7 blog copywriting ideas for creating fresh and interesting content:
1. Start With the Headline
It might seem logical to write the body of the post first. After all, length-wise, it's the most significant piece of the puzzle. Instead, try coming up with the most creative, most intriguing headline possible. Then design a post around that inspirational headline. Similarly, you could choose an image or create a call to action first. Whatever your typical process, turn it around to inspire some fresh thinking.
2. Tell Your Story With a Graphic
Instead of using words to convey a concept that's perhaps been covered by other bloggers — or even your own blog — rely on a custom illustration to tell the story. This tactic can have some SEO benefits, as well. A creative, useful graphic or illustration can have the potential to go viral, with readers linking to it and sharing it.
3. Include a Resource Guide
As a blogger, you're not always tasked with coming up with lengthy, in-depth original posts. Include a few resource-type posts in the mix, as well. For example, create a post listing the top 25 upcoming events for your industry, the 50 best industry blogs, or 100 useful books and publications. Not only are these posts easy to write when you're finding it difficult to come up with a new concept, they're also likely to be linked to.
4. Insert Your Own Opinion
Instead of simply reporting on the news or a recent development, incorporate your own thoughts on the subject. If a piece of legislation passes that affects your industry, write about your individual stance on the issue at hand. Instead of merely including an announcement on a major industry merger, offer your opinion of what you have done differently and what you think was handled well.
5. Rely on Someone Else's Story
As a blogger, it's not always necessary to rely on your own ideas for new posts. Contact an influential or interesting figure in your industry, and base a post around him or her. That could take the form of a guest-written post, a Q&A or a case study. Readers are likely to appreciate the fresh perspective.
6. Turn an Idea Upside Down
In lieu of the traditional tips or checklist post, create the reverse. For example, instead of writing "The 10 Steps to Start Saving," try "The 10 Worst Ways to Send Your Credit Into Disrepair." When it all boils down, both posts offer similar information — they're simply positioned differently.
7. Think Outside the Box
Try this fun trick to come up with creative blog copy: Write down 20 words or phrases on separate pieces of paper. Get creative — think "pink elephant," "wild flamingos" or "ace up your sleeve." Next, place the pieces of paper in a container. The next time you write a blog post, randomly select a piece, and try to include that word or phrase in your post. In the end, the phrase may not work and can be eliminated. But at the very least, it's an effective way to start thinking outside the box.
Conclusion
Let us know your thoughts in the comment section below.
Check out other publications to gain access to more digital resources if you are just starting out with Flux Resource.
Also contact us today to optimize your business(s)/Brand(s) for Search Engines