The best calendar app for iPad will be one that makes it easy for you to track your schedule, keep a to-do list, and stay on top of deadlines for work and personal projects.
With hundreds of apps to choose from, it can be difficult to find the right one for your needs. That's where we come in. We got our hands dirty and tested dozens of the most popular calendar apps, looking for those that provide an intuitive interface, are easy to set up and use, offer useful features like task lists and notifications, and have ample options for importing calendars from other platforms.
Best Calendar App For Ipad
The iOS App Store is home to a very large collection of apps. Owing to the popularity of the platform, developers from around the globe make their apps available on the App Store in an effort to get a piece of the pie. It's often difficult to find a good app for yourself, especially for something as essential as a calendar or planner app for iOS. In this article, we're bringing you a roundup of 7 of the best calendar apps for iPhone & iPad, so you can pick the one that best suits your needs and requirements.
We've highlighted the apps' pricing and their Pros & Cons upfront, so it'll be easier for you to find the best calendar app for iOS. Let's dive right in.
1. Fantastical
Pricing: Free with a Recurring Subscription of $4.99/mo or $39.99/yr
Devices: iPhone, iPad, Apple Watch & Mac
Pros: Packed with features, multi-platform, feels very polished.
Cons: Expensive in the long run, the new version has a few annoying bugs.
As the name suggests, Fantastical is a fantastic Calendar and To-Do app from the house of Flexibits. It has won several accolades for itself since its debut on the Mac almost a decade ago. The app is immensely popular among power users and packs in a long list of nifty features. Fantastical is known for its gorgeous user interface, a delightful user experience, and its Natural Language Parsing capabilities.
Earlier this year, Fantastical moved to a subscription model that was met with backlash from its users. The developers introduced a single recurring subscription of $4.99 per month or $40 per year that enables access to some nifty Premium features across all the platforms. While you can still download Fantastic for Free from the App Store, it does end up being expensive in the long run.
2. Timepage
Pricing: Free Trial, followed by a Recurring Subscription of $1.99/mo or $11.99/yr.
Devices: iPhone, iPad & Apple Watch
Pros: Beautiful Design, Personalization options, Weather, and Maps integration.
Cons: Has a bit of a learning curve, lacks a Free version, requires a recurring subscription.
Timepage is a beautiful calendar app from the house of Moleskine, the global brand known for its notebooks & planners. Timepage takes an interesting approach to calendaring with its design and UI. You see the whole week at a glance and scroll to see what's next into the future. The design is gorgeous, and the calendars can be customized with authentic Moleskine themed colors.
Timepage combines events, contacts, maps, and weather, attempting to be a single app to boost your productivity. It has basic Natural Language Parsing for event creation, saving you precious time and clicks. Overall, Timepage is a beautiful and functional calendar app, and whether you end up using it really just boils down to two things (i) whether you like the design aesthetic of the app and (ii) whether you think the $12/year recurring subscription is worth it.
3. Calendars by Readdle
Pricing: Free, with an optional upgrade of $6.99. A Full pack of PRO unlocks is just $12.99 (one-time).
Devices: iPhone, iPad & Apple Watch
Pros: Incredible set of features, natural language event creation, Conference Call integrations, 200+ Interesting Calendars, one-time purchase.
Cons: Lacks a Mac app.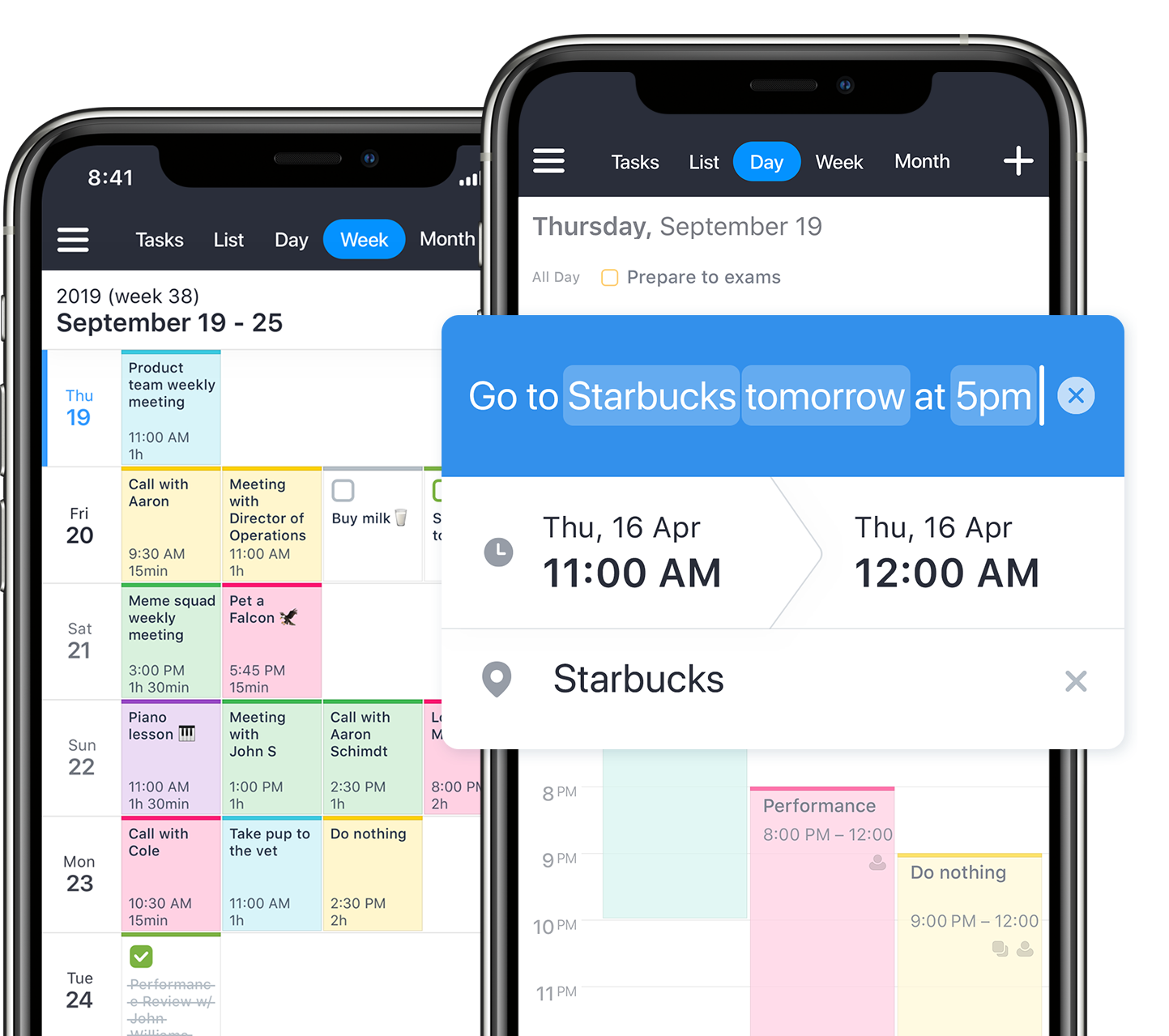 Calendars is the most elegant and easy to use calendar app available for iOS. Part of Readdle's incredible lineup of productivity apps, Calendars is by far the best calendar app for iPhone and iPad.
What makes Calendars so good for your iOS device is its ease of use and intuitiveness. Creating and managing your events in Calendars is super simple. You can Drag & Drop events to reschedule them and quickly jump between dates. Calendars works with multiple calendar accounts on your devices, so you can plan and schedule your week just the way you want. The app UI really shines on the iPad, but also adapts graciously on the smaller screen of the iPhone — you'll love using the app on either device. You can subscribe to over 200 Interesting Calendars from around the world with a few quick taps.
Another notable feature in Calendars is its ability to work offline. If you're in an area with spotty or no internet, Calendars will still let you create or reschedule events and plan your day. All these changes are automatically synced the next time you have a stable internet connection. Calendars also has a gorgeous Apple Watch app to help you stay on schedule when you're on the go.
Calendars is also a fantastic To-Do app for all your tasks. It helps you get more done with an intelligent task-manager and organizer. You can organize all your tasks, assign due dates and calendars will remind you about them.
The latest release of Calendars integrates conference call services like Zoom, Google Hangouts & GoToMeeting. When you create an event in Calendars, you can automatically create & add a link to the conference call on one of these services with a few simple taps. No more scrambling to find the call joining link 5 minutes before the meeting. The integration also saves you a lot of time you'd otherwise waste in manually creating & scheduling the call.
You can also now see your teammates' availability in Calendars. Just select a few teammates and add their schedules to your own calendar. This lets you instantly see when is the best time to arrange a meeting with a person or write them a message.
Calendars is available for FREE on the App Store, and you can continue using the app for as long as you want. To upgrade and unlock the PRO features like multiple-accounts, natural language input, etc., there's only a one-time IAP of $6.99, which means there are NO recurring costs. Optionally, you can subscribe to Interesting Calendars separately for just $3.99/year (or $8.99 one-time) and grab a huge discount on the Full pack at just $12.99 (one-time).
Get Calendars for Free from the App Store →
4. Google Calendar
Pricing: Free
Devices: iPhone, iPad, and the Web.
Pros: Google's native calendar app; uses a familiar design language
Cons: Requires Google Accounts, cannot add Accounts only in the app, no Apple Watch app
Google Calendar is the official calendar app offered by Google for iPhone and iPad devices. It features the familiar design language that you typically see in other Google apps on iOS. The app has a long list of interesting features that make it a damn good calendar app for iOS.
My favorite feature of the Google Calendar app is its ability to automatically pull events from your Gmail account, such as flight reservations, hotel or restaurant reservations, concerts, movie screenings, etc. If you've received an email with these details in your inbox, Google Calendar will automatically create the corresponding event for you. It also supports To-Dos and Personal Goals to keep you motivated and on track.
Although Google Calendar works with multiple accounts from different services, you need to have a Google Account to use the app. You also can't manually add accounts from the app, it only supports the calendar accounts that you've added system-wide on iOS. For a completely Free app, Google Calendar is a pretty good experience.
5. WeekCalendar
Pricing: Free with an optional Recurring Subscription of $19.99/yr.
Devices: iPhone, iPad, Mac & Apple Watch
Pros: Minimal and elegant design, lots of customization options
Cons: Mac version looks like a bigger iPhone version
WeekCalendar is one of the earliest calendar apps that I've known on the App Store. It features a beautifully designed interface, coupled with many powerful features that make it a solid calendar app replacement for iPhone and iPad.
WeekCalendar allows you to clean up your messy schedule by color-coding your events. You can even automate & customize your events, such as specifying that all meetings with X should be color-coded blue. This way, you can get a quick overview of what's important and what has low priority. It also offers custom app icons if you find the default one too boring. There's a built-in Calendar Store that lets you subscribe to calendars focused on events such as world sports, nature, religion, etc. It supports all calendar services supported by iOS and with its smart integration, users can join a scheduled video conference directly from the app.
Unfortunately, WeekCalendar requires an ongoing recurring subscription of $20/year to take advantage of many of its features.
6. Vantage Calendar
Pricing: Free with optional "Unlimited" unlock for $11.99
Devices: iPhone & iPad
Pros: Unique & Bold UX, Lots of Customization options.
Cons: Unfamiliar UI may be confusing to some.
Vantage Calendar is easily the boldest and dynamic calendar app on this list. It features a unique scrolling UI that will immediately remind you of the Star Wars opening crawl.
Vantage Calendar follows the concept of "Stacks" at the core of its UI. The important days are stacked on top of one another, so you can scroll through the timeline much faster and not worry about the clutter that is usually associated with a calendar full of tasks. A taller stack in Vantage denotes a busy day. Events can be added using Natural Language Input as well.
As with other calendar apps, Vantage too integrates To-Dos in the app. You also get to color-code your events and add cool stickers if that's your thing. Even the UI can be customized to your liking. There are plenty of features that make Vantage Calendar one of the boldest calendar apps for iOS. If the stacks-based UI floats your boat, that is.
7. Spark
Pricing: Free
Devices: iPhone, iPad, Apple Watch & Mac
Pros: Integrated directly with the incredible Spark Email experience, Familiar UI, also available in the Spark Mac app.
Cons: Only works with the Google, Exchange, and iCloud Email Accounts you've added in Spark
When we're talking about the best calendar apps for iPhone and iPad, Calendars by Readdle is right at the top. But how can we ignore the built-in calendar feature of our Spark Mail app? If you're already using Spark, you already have access to a beautifully designed and feature-rich calendar app right next to your emails. You can selectively enable or disable the accounts for which you want to use the calendar feature with, so there's no need to have all your accounts there. For example, if you have set up two or more Gmail accounts in Spark, you can only enable your primary Google Calendar account to use with Spark Calendar.
best free calendar app for ipad pro
Google Calendar (Android, iOS, Web)
Google Calendar screenshot
Google Calendar is both powerful and flexible, all without being hard to use. If all you want is a simple calendar to keep track of your events, you're covered. It doesn't take long to learn how to add events, or switch from the default week view to a month or day view. Even inviting other contacts, or adding a Google Meet video conference, is straightforward.
Dig in, though, and you'll find all kinds of features. You can share entire calendars, for example, which is great for coordinating with your team or even just having a shared calendar with your significant other. You can create as many calendars as you want or subscribe to any iCal-compatible calendar, then choose which calendars you do and do not want to see. There are great mobile apps, or you can use a third-party app for the desktop if you prefer (every other app on this list can sync with Google Calendar).
The integration with Google features is another plus, assuming you're already a Gmail user. It's easy to see Google Calendar in your Gmail sidebar, for example, or to invite your Google Contacts to an event. Google Workspace users have access to a number of work-related features, including many specifically meant for remote or hybrid teams. There's now a work location tool and the ability to split your work hours, both of which recognize the changing nature of work.
Overall, it's hard to find much to complain about with Google Calendar, and believe me—I love complaining. It should be the first calendar app most people try.
Want more out of your calendar? Connect Google Calendar to your favorite apps through Zapier. You can create automated workflows that send calendar appointments to other apps, like Trello or Todoist. You can even create calendar appointments from spreadsheets.
Create new Trello cards from new Google Calendar events
Google Calendar + Trello
Use this Zap
Generate Google Calendar events from new Google Sheets rows
Google Calendar + Google Sheets
Use this Zap
Add new Google Calendar events to Todoist as tasks
Google Calendar + Todoist
Use this Zap
Google Calendar Pricing: Free with a Google account; Business Starter for Google Workspace, which includes all Google Apps, starts at $6/user per month.
You can do even more with Google Calendar. Here's how to turn it into the ultimate productivity hub with Zapier.
Best calendar app for Microsoft users
Microsoft Outlook Calendar (Android, iOS, macOS, Windows, Web)
Outlook screenshot
Outlook dates back to the '90s and is still one of the best calendar apps on the market today. Outlook combines email, calendar, and contacts in one application. Some people love this approach, and some people don't. Either way, the calendar itself is solid.
Adding events to your calendar only takes a couple of clicks. You can add multiple calendars and have multiple views, including today, this week, and even just the work week. Support for Exchange and Microsoft 365 accounts means it's easy to send event invitations to other people at your company, compare your schedule to theirs while doing so, or share entire calendars.
If your company runs on Microsoft, this will be your calendar app. But Outlook is worth checking out regardless because of a few really nice features. The weather is always right there at the top of your calendar, for example. It's easy to change an email into a calendar appointment or to see your email alongside your calendar. And there's support for adding iCalendar subscriptions.
Of course, this being Microsoft, the word "Outlook" has multiple meanings, and the differences between those meanings can be confusing. Outlook for Mac can sync with Google Calendar; Outlook for Windows cannot; and there are more than a few interface differences between the two products. Then there's Outlook.com, which refers to the free email and calendar service that was called Hotmail back in the '90s. It offers a lot of the same features as Outlook but isn't quite the same.
This is all confusing, but there's a great calendar app at the core of it—one you already have access to if you're a Microsoft Office user. It's well worth considering. And you can connect Outlook to Zapier for more power. That way, you can do things like send calendar appointments to other apps, including other calendars or your to-do list.
Add Microsoft Outlook events to Google Calendar
Google Calendar + Microsoft Outlook
Use this Zap
Add Microsoft Outlook events from new Google Calendar events
Google Calendar + Microsoft Outlook
Use this Zap
Add new Microsoft Outlook events to Todoist as tasks
Microsoft Outlook + Todoist
Use this Zap
Here's how you can supercharge your Microsoft Outlook calendar with Zapier.
Microsoft Outlook Pricing: Outlook.com is free, as are the mobile apps. The Microsoft 365 Personal plan, which includes most Microsoft Office apps for desktop, starts at $7 per month. Don't want to shell out for Outlook? Windows 10 comes with a calendar app with most of the above features.
Best calendar app for scheduling external appointments
Calendar (Android, iOS, Web)
Calendar.com screenshot
It's hard to think of a simpler name for a calendar than Calendar, but fortunately, that's not all this app has to offer. Everything you need to manage your appointments is here, on a site with modern design and full support for collaboration. This is a well-thought-out app.
But it's not just a calendar app: it also works as an appointment scheduler. Sign up for Calendar, and you'll get a public profile—for example, calendar.com/michaelscott. You can set up times that you're available, then allow anyone with the link to schedule an appointment with you.
There are plenty of appointment scheduling apps that do this, but so far as we know, Calendar is the only full-fledged calendar app to also offer a feature-complete scheduling feature like this. Sure, Google Calendar offers some basic appointment scheduling, but Calendar's version is easier to use in many ways. This alone makes Calendar worth trying out.
You can also connect Calendar to your other favorite apps through Zapier. You can, for example, get a Slack notification every time someone signs up for a meeting with you.
Send direct messages in Slack when new meetings are scheduled in Calendar
Calendar + Slack
Use this Zap
Calendar pricing: Free plan available; Pro version starts at $8/month with unlimited scheduling time slots.
Best free calendar app for Apple users
Apple Calendar (iOS, macOS, Web)
Apple Calendar screenshot
Apple Calendar is the default calendar on Macs, iPhone, and iPads. If you've used an Apple product, you know what to expect: simple, beautiful, and easy to use. Apple Calendar is all that.
Everything syncs by default using iCloud, or you can set up Apple Calendar to sync with Google Calendar, Microsoft Exchange, Yahoo, and any calendar platform that uses CalDAV. Setting this up is as easy as connecting an email client app to another email account.
Apple's clean and simple calendar lets you focus on your events rather than the app itself. It's intuitive to use if you're familiar with other Apple apps, with support for drag and drop. The Siri integration is a highlight: tell your assistant to add an appointment, and this is the app where it will end up. But it's also quick to add appointments in the app, especially on the Mac. Click or tap the plus sign (+), and create a new event using natural language—just type a phrase that includes a title, time, and date, then hit enter. You can also add a travel time estimate that will be factored into event alerts.
Apple Calendar Pricing: Included with macOS and iOS devices, or via iCloud with an Apple ID
Best calendar app for its design
Fantastical (iOS, macOS)
Fantastical 2 screenshot
Is it cheesy to call Fantastical fantastic? Probably, but at least in this case, it's not hyperbole. Fantastical has just about everything you could want in a calendar app for iOS and macOS, and there's an Apple Watch companion as well.
While it's nice to have the mobile app, Fantastical is at its best on desktop. Put simply, this is the best-designed calendar app for macOS. Start with the left panel: most apps put a mostly useless list of calendars here. Not Fantastical. Here, that space is used for an agenda view or your reminders. It's a small thing, but it reflects how carefully the developers thought about every design element to make the calendar intuitive to use. Another little thing: if an identical event shows up in two calendars, it will only show up once, with a pin-stripe pattern letting you know it's in two different calendars. Use Fantastical for a while, and you'll notice all kinds of little things like this.
Fantastical also integrates with the rest of your system to give you a Today view widget, Handoff support, and a share sheet extension that lets you create events from other apps, like addresses in Maps and URLs in Safari.
Fantastical is best known for its natural-language event creation. Start typing "Lunch with Casey at noon at Park Place," and watch as the app parses your words into calendar fields and pulls in relevant information. Apple Calendar offers this; Fantastical does it much better. Fantastical supports syncing with iCloud, Exchange, Office 365, Google, Yahoo, Fruux, Meetup, and any CalDAV service, so you've got nearly endless syncing options. If you want the best Apple calendar on the market, this is the one you're looking for.
Fantastical 2 Pricing: Free; Premium costs $3.33 per month
Conclusion
Let us know your thoughts in the comment section below.
Check out other publications to gain access to more digital resources if you are just starting out with Flux Resource.
Also contact us today to optimize your business(s)/Brand(s) for Search Engines