In this day and age, students are expected to have an extensive knowledge of technology. We've come a long way since the days of chalkboards and textbooks, and now your students need to be able to use all kinds of technology.
But every new piece of tech has its own set of learning curves, and you'll find yourself pulling your hair out trying to figure out how to master everything.
So we compiled a list of the best Chrome extensions for students that can help make their lives easier.
We organized them by category so you can find what you're looking for at a glance.
Best Chrome Extension For Students
Instead of wasting countless hours brushing over dictionaries and searching for the optimal study tool, you can try one of the 27 best Chrome extensions for students:
Memorize! — learn/memorize extension
Flashcards — digital flashcards creator
Kami — PDF and document annotation
Reverso — real-time translation
Clockify — time tracker and time management tool
Dualless — browser splitter
Momentum — progress tracker
StayFocusd — website blocker
Cite This For Me: Web Citer — citation generator
Workona — tabs manager
Session Buddy — session and bookmark manager
Wolfram Alpha — computable knowledge engine
InsertLearning — web-page editing tool
Bitly — link creator
Lightshot — screenshot tool
Auto Highlight — text highlighter
Alpha Text — article adjuster
SwiftRead — speed reading extension
Visor — screen reader and dimming aid
Mercury Reader — distracting content remover
Google Dictionary — online dictionary
Power Thesaurus — online thesaurus
Grammarly — grammar checker
Selection Reader — text-to-speech converter
Save To Google Drive — web content saver
VoiceIn — voice typer tool
Evernote — web clipper
Chrome extensions for better studying
The following Chrome extensions are perfect for those who find it troublesome to concentrate in crunch times and memorize a lot of information. Also, these extensions serve as study aids for analyzing large blocks of texts and getting some crucial information out.
Memorize! – learn/memorize extension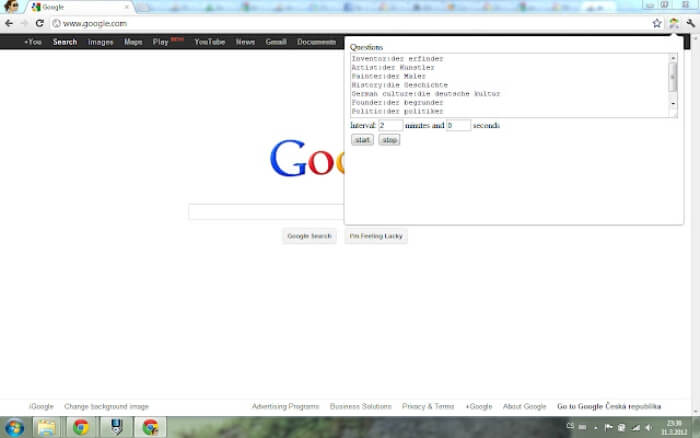 What's it about?
Memorize! is a relatively straightforward extension that operates on a simple premise — input a list of questions and answers, set an interval between each question, and let the studying begin.
The questions are distributed in a random order, so there's no way to easily cheat the system and simply memorize the order of the answers. Also, the app removes the questions that you answered correctly until there are none left.
 Why is it great?
The simple nature of this extension makes it appealing to students of all ages. Whether you're trying to perfect your knowledge in languages or learn the entire periodic table in a night — this extension lets you simultaneously study and memorize a lot of information.
 Highlight feature: The addition of intervals between each question lets you map out and construct your study session. Furthermore, such a system eliminates procrastination since you're aware of the exact time when the next question will pop up, which gives you additional time to read up on the subject.
Zorbi — digital flashcards creator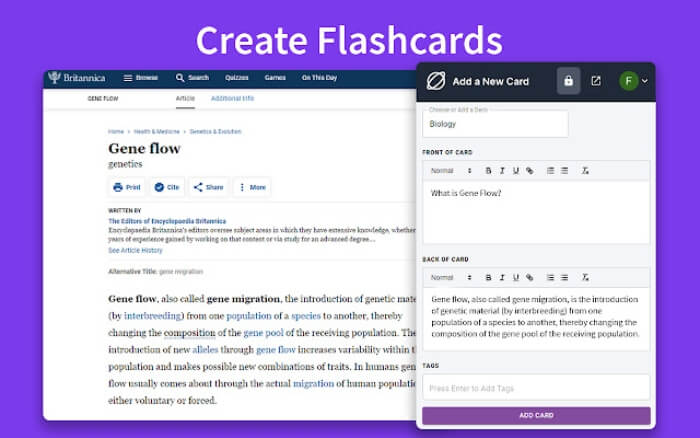 What's it about?
Even though some may prefer the old-fashioned pen-and-paper notes, Zorbi strives to make such methods obsolete with many advanced features.
This digital flashcard creator allows you to create cards from any piece of text, image, or a screenshot on the web with just a couple of shortcuts.
When you highlight a piece of text and right-click on it, the prompt will take you to Front — Zorbi's platform that creates easy-to-use cards.
From there, you can edit the text, insert photos, and set reminders to let you know when it's time to brush up on a particular area. You can also download the Zorbi app for your phone and the app will remind you to take 10-minute reviews.
 Why is it great?
Aside from creating flashcards directly from web pages, Zorbi also lets you extract info from PDFs. Also, features like cloze deletions make studying more efficient — to make cloze deletions, simply input curly brackets around the text.
 Highlight feature:
Based on your accuracy and response time, Zorbi creates predictions on how well you know the topic and how long it will take you to forget it. This way, you'll know where your weaknesses are and what to improve on.
Kami — PDF and document annotation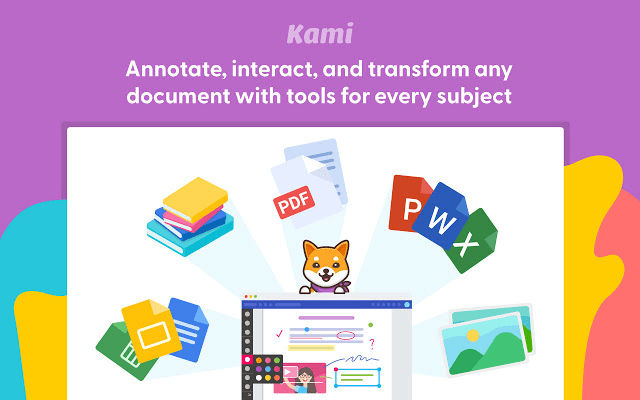 What's it about?
Kami is a full-featured markup tool — you'll be able to edit and enhance any document, either on your own or together with your online study group.
The extension also works flawlessly with both Google Drive and Google Classroom.
 Why is it great?
You'll be able to draw, type, and add comments and annotations — anything you believe would help you scourge a text for important information and memorize the gist of it.
Furthermore, Kami allows students to use more advanced tools for studying, such as voice-typing, text-to-speech converters, and you can even leave audio and video comments, which will surely enrich the entire learning experience.
 Highlight feature:
Scanned PDFs are often uneditable, which is a shame, because they often make a great study resource you'd love to annotate — and, with Kami, you can.
Reverso — real-time translation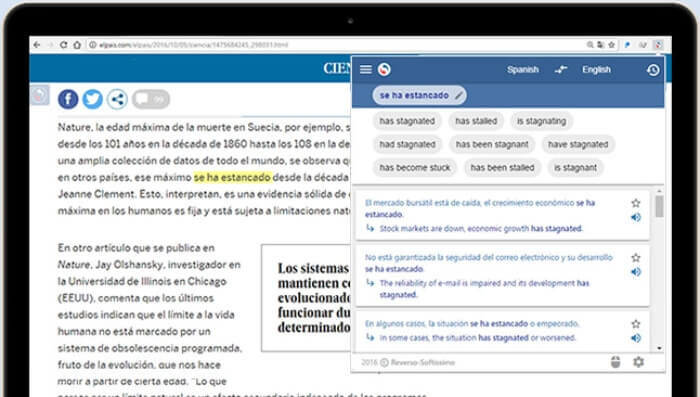 What's it about?
Don't you just hate it when you have to pause a video, find Google Translate, and then find the translation for that one word that's been bugging you?
Well, Reverso solves all your problems with its real-time translation of texts, videos, and even Netflix movies.
Its AI-powered engine dishes out extremely accurate results based on a multimillion text database. Furthermore, it enables you to save phrases that you can review later on if you're in the middle of something.
Also, it's worth noting that Reverso has a mobile app that lets you sync your history across all platforms and devices.
 Why is it great?
Reverso can translate 15 languages and it's supported by many streaming services, such as Amazon Prime, Netflix, and YouTube.
 Highlight feature:
Reverso's advanced features help you study better with pronunciations of translated words, custom phrasebooks with selected words, and detailed history of your activity.
5 useful chrome extensions
If you're a freelancer—whether a graphic designer, a web developer, an accountant, or a lawyer—your work may include many tasks that are outside your field. Freelancing usually forces you to manage your finances, market your service, schedule client meetings, and more.
In fact, being a freelancer is not too different from running a small business. And sometimes, all the unpaid work you have to take on can get overwhelming. Luckily, with the help of several Chrome extensions, you can manage your time more efficiently. Here are some of the best.
1. Boomerang for Gmail
Most full-time employees have the benefit of being able to disconnect from emails at the end of the day. For freelancers, however, it can be much harder. When you fail to answer an email in a timely matter, you may lose a potential client, which translates to you losing money.
If you use Gmail as your main work email, the Boomerang extension can help you manage your replies with more ease. First, you can mark an email in your inbox, and ask for Boomerang to return it after a certain amount of time. So if you don't want to deal with something right now, you can remove it to make your inbox less cluttered, without the fear that you'll forget about it.
Second, when you compose an email, you can ask for it to return to your inbox if there's no reply. This, again, removes the fear that you'll forget to follow up. Additionally, you can choose to track email opens, if you want to ensure your messages are going through.
Finally, you can even use the extension to schedule meetings. With the Meet button, you can offer your clients a few suggested times, or share your availability, to make it easier for them to choose.
2. Grammarly
Speaking of emails, it's also important to be as professional as possible when you write them. As every interaction can result in additional revenue, you should avoid typos and grammatical errors. These may create the impression that you rushed to reply and didn't put that much thought into your words.
Grammarly is a free spell-check extension, for anything that you write online—from your emails to your Reddit posts. You can also install the Grammarly extension on your Google Docs. In addition to the basic spell check, it also offers grammatical corrections, such as punctuation, and removing redundancy.
For the freelance content writer, it also has the added benefit of synonym suggestions and the choice between American, British, or Australian English.
3. Loom
As mentioned, many freelancers conduct their work mostly over emails. This is usually done to avoid unnecessary meetings that waste everybody's time. However, emails can sometimes create misunderstandings.
For instance, if you collaborate with a website developer, and want to point out an element that doesn't work, but you're not sure how to describe it. In this case, Loom can come in handy. With this extension, you can record your screen, as well as your microphone.
It helps you point out exactly what you mean on a page, and provide verbal instructions alongside it. The extension is also useful when you have a list of changes or questions. With it, you can avoid lengthy emails that most people dread opening, and prefer to ignore. You can read more about what Loom is and how to use it effectively.
4. Clockify Time Tracker
If your freelance work is on an hourly basis, you usually need an effective way to log how much time you've worked, and what you did during that time. While some clients will ask you to use their system to do that, others trust that you can keep track of your work.
Of course, one way is to write your start and finish time on an Excel sheet, and submit that along with your invoice. However, with Clockify Time Tracker, you can simplify the process. First, you need to create a free account. Then, you can download your extension.
It lets you start a timer, and specify exactly what you are working on. You can also specify if this work is billable or not. When you stop the timer, the extension logs the activity on the Clockify website. There, you can organize according to projects, clients, and even see reports.
Not only will this help you provide detailed reports to your clients, but it can also help you figure out how much time you spend on each task, even if you don't charge by the hour.
5. Google Docs Offline
Finally, we'd like to mention Google Docs Offline. When you work remotely (as freelancers often do), it's easier to collaborate when you keep all of your documents on the cloud. There's no need for emailing documents back and forth, and several people can make changes at the same time.
However, when you use a cloud, such as Google Docs, you depend on a good internet connection to do your work. But what happens if you decide one day to work from the beach, from a train on your way to a holiday, or from a new coffee shop? Nothing is more frustrating than not being able to access your work documents.
With this extension, however, you won't have to move from one place to the other, to find a better connection. It saves the latest version of the documents locally, so you can continue working until the internet resumes, which saves you valuable time.
Unlike other extensions on this list, you don't actually do anything with this one. You just need to install it, and then reap the benefits.
Conclusion
Let us know your thoughts in the comment section below.
Check out other publications to gain access to more digital resources if you are just starting out with Flux Resource.
Also contact us today to optimize your business(s)/Brand(s) for Search Engines