Cold Email Marketing Tools
Cold email marketing offers a variety of benefits for companies, and can be a great way to boost your online presence. You learn about your visitors' needs and preferences, and tailor your content to their specific needs. And you get a bit of extra attention from these potential customers.
But cold email marketing is a bit different from other forms of marketing, because you have to develop a personal connection with each recipient. This can be difficult, especially if you're just starting out, but there are steps you can take to make it easier.
Steps like making the letter personal, including details that only the recipient would know, and introducing them to people they know or admire.
The best way to do that is to start by learning as much as you can about your recipients. Like who they are and what makes them tick? What kinds of products or services are most interesting to them? Is there anything in particular they need?
Of course, this information will be more useful if you know how to use it! So after gathering all that information, write a cold email that clearly demonstrates why the recipient should read your message—and why it's worth their time. It should also demonstrate the value you will add for them once they've read your message.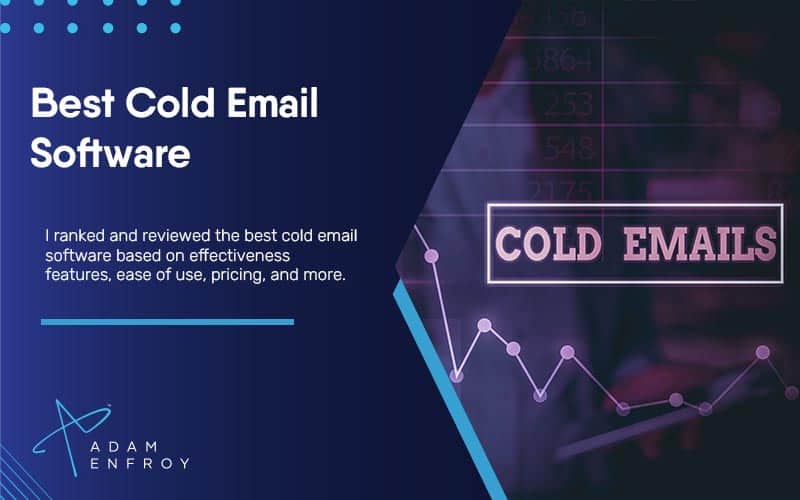 Cold Email Marketing Tools
While sending cold emails can be tricky, you now have hundreds of cold email tools to streamline the process for you! So you need to narrow down the right tool to help you with every aspect of the cold email process, from personalisation to follow-ups to reporting.
In this article, I'll highlight the 15 best cold email software solutions and show you how to choose a cold email marketing tool according to your needs. I'll even cover three FAQs about cold emailing.
Top 15 Cold Email Software
Here are the leading cold email tools for 2023:
GMass
gmass
GMass is a powerful cold email software with built-in cold email automation tools that lets you run sales and marketing campaigns right from your Gmail account. Its powerful mail merge capabilities have made it a popular cold email outreach tool used by employees of Uber, Google, Twitter, and LinkedIn.
GMass is also perfect for solopreneurs, startups, salespeople, and anyone who wants to use Gmail for cold outreach.
One of the best things about GMass is that it's incredibly simple to use, and you can quickly get started — all you have to do is download the Chrome extension and sign up with your Google account.
Key Features
Here's a detailed look at GMass' key features that help you send effective cold email campaigns:
A) Email List Builder
GMass' Build Email List feature makes it super easy to create massive mailing lists.
All you have to do is perform a Gmail search using a keyword, and GMass automatically builds an email list using the IDs in the search results.
build-list
For example, let's say you are the business owner of "Ted's Tadpole Tanks."
If you want to send emails to everyone you've interacted with about your product or service, you can perform a Gmail search using the term "tadpole." GMass will then auto-build an email list using the email IDs from the search results.
Additionally, if your recipient details are stored in an Excel, CSV, or Google Sheet file, you can quickly create a mailing list by connecting the file to GMass.
B) Powerful Email Personalization
As cold email prospects are usually people who don't know you, they're likely to mark your email as spam if it's a generic message.
Instead, you should send personalized cold emails!
This increases your chances of connecting with your prospects without risking your sender reputation. Personalization can help your emails avoid the recipients' spam filter and also boost your open rates.
GMass offers automatic personalization settings to help you out here.
It gives you powerful features like automatically:
Adding personalized paragraphs – customize large blocks of text on a person-by-person basis.
Including personalized images and links – add unique pictures and links for each email recipient.
Detecting and entering first names – GMass auto-detects a person's first name from their email ID and adds it to an email addressed to them.
C) Advanced Email Analytics and Mail Merge Reports
GMass auto-generates a Campaign Report each time you send a cold emailing campaign that gives a detailed breakdown of important email statistics.
Here's an overview of some of the stats present in a Campaign Report:
Total Recipients: The number of recipients to which you sent an email campaign.
Unique Opens: The number of unique recipients who opened your email.
Note: GMass only tracks the first instance to avoid inflating the number of opens in your report.
Didn't Open: The number of recipients who didn't open your email.
Unique Clicks: The number of unique recipients who clicked at least one link in your email.
Replies: The number of recipients who replied to your email.
campaign-report
The best part?
Most cold email tools like Mailshake, Saleshandy, and Mixmax, require you to open a separate interface to view reports, and having to switch between tabs to manage your stats can become an issue.
However, GMass places your reports under the [CAMPAIGNS] label in the Gmail sidebar — making it easy to access all your campaign data right inside Gmail.
You also get web-based responsive reports and a dedicated dashboard for maximum flexibility.
D) Automatic Follow-Ups
Most email marketers have to follow up on prospects after the initial cold email.
Fortunately, GMass makes following up on even hundreds of recipients a breeze. It automates the process of sending follow-ups to help you engage your prospects and boost open rates.
You can even customize everything about these follow-ups, like:
The trigger for sending follow up emails to recipients. For example, you can set GMass to send follow-up emails only when recipients reply to your campaign.
The number of follow up emails a person receives.
The automated follow up message.
The time gaps between follow-ups.
E) Bulk Email Scheduling
With GMass, you can easily schedule bulk emails to reach your recipients at the right time.
All you have to do is just compose your email and schedule it. GMass will then automatically send the email at the specified time — you don't have to be online when it goes out!
And if you want to change the schedule, you can simply reschedule it from the Gmail Drafts folder.
test-email
Pros
Simple setup.
User-friendly interface.
Can build bulk email lists using any search criteria in your Gmail account.
Quickly import any contact list from a Google Sheet file.
Can automate email sequences using Google Sheets and Zapier.
Can test email deliverability.
Send drip campaigns on a set schedule or triggered by the actions of email recipients.
Has a free email verification service.
Has a powerful Gmail add-on for Android devices.
Salesforce and HubSpot CRM integration.
Active customer support.
Cons
The tool works only with Gmail and Google Workspace accounts.
Only works with the Chrome browser.
Pricing
GMass offers three comprehensive pricing plans to suit various user needs:
Free:
Can send up to 50 emails/day
Supports all features except auto follow-ups

Individual:
Standard ($19.95/month or $199/year):
Supports unlimited use
Supports all features except email sequence and follow-ups

Premium ($29.95/month or $299/year):
Supports all Standard plan features
Supports sequences and follow-ups

Enterprise ($49.95/month or $499/year):
Supports all Premium plan features
High-priority support

Team:
Premium (starts at $125/month for a team of five): supports all features
Customer Ratings
Capterra: 4.9/5 (680+ reviews)
G2: 4.8/5 (660+ reviews)

Woodpecker
woodpecker
Woodpecker is a cold email marketing software that integrates with Gmail and Outlook. It allows you to send personalized emails and follow-ups and also lets you track them.
Key Features
Automate email sequences.
Cold email campaign scheduling and tracking.
Automatic reply detection.
Powerful team-activity dashboard.
Pros
Auto-detects duplicate contacts in your cold outreach campaigns.
Dedicated features for B2B lead generation agencies.
Has a Google Chrome extension.

Cons
No free plan available.
Can't send email attachments.
Pricing
Pricing plans start at $39/month per user to contact up to 1,500 addresses per month. ($44/month to contact 6,000 people; $49/month for unlimited contacts.)
Customer Ratings
Capterra: 4.8/5 (10+ reviews)
G2: 4.4/5 (30+ reviews)
Want to find out more about Woodpecker?
Read my detailed Woodpecker email review.
Lemlist
lemlist
Lemlist is a popular email tool that lets you personalize anything in your cold emails or other methods of outreach (like LinkedIn).
Key Features
Email automation triggers.
Create personalized images and videos.
Schedule automatic follow-ups.
Domain warming to help your email reach the primary inbox instead of the spam folder of your target audience.

Pros
Use the A/B test feature to determine your most effective emails.
Can use any customized cold email template.
Integrates with Zapier and CRM software.

Cons
As it works as a separate interface from your email, you'll have to switch through multiple tabs to manage each cold outreach campaign.
No free plan available.
Can be challenging to set up a drip campaign.

Pricing
Pricing plans start at $50/month per user with unlimited cold outreach campaign emails, text personalization, and email deliverability features.
Customer Ratings
Capterra: 4.6/5 (320+ reviews)
G2: 4.4/5 (70+ reviews)
For more information on Lemlist, read my comprehensive Lemlist review. And see how the campaign creation process works in GMass versus Lemlist versus Mailshake.
Yesware
yesware
Yesware is a sales prospecting tool used by professional sales reps and email marketers. It lets you create and send personalized cold email marketing campaigns in Gmail and Outlook.
Key Features
Create custom email templates to personalize your emails.
Schedule drip campaigns.
Set follow-up reminders.
Email tracking with real-time notifications.

Pros
View each campaign's data on a campaign dashboard.
Can track how prospects use your email attachments.
Has a Salesforce integration.

Cons
Doesn't have a free plan.
No mobile apps for Android or iOS devices.
May not clearly show who opened an email if it has multiple recipients.
Pricing
Pricing plans start at $15/month per user with email tracking, productivity tools, and reporting features.
Customer Ratings
Capterra: 4.3/5 (160+ reviews)
G2: 4.4/5 (710+ reviews)
Not sure if you should say 'yes' to Yesware?
Read my in-depth Yesware review to help you decide.
Overloop
Overloop
Overloop (formerly Prospect.io) is a lead generation and email automation tool that helps companies and freelancers find leads and reach out to them via cold emails.
It uses a credit-based system to discover email IDs of potential customers or prospective clients from their social media and other websites.
Key Features
Search or verify email IDs of your list of prospects.
Create personalized campaigns, including drip sequences.
Customize and share email templates with your sales team.
Reply detection – including tracking of bounce rates and out-of-office responses.
Pros
Works with Gmail and Outlook.
Powerful integrations with Salesforce and HubSpot CRM.
Has a Chrome extension that helps you find prospect details from LinkedIn.

Cons
Creating drip campaigns can be complicated.
No free plan available.
Unused email credits in a month don't roll over to the next month — you lose them.
Pricing
Pricing plans start at $42/month per user with unlimited email campaigns, reporting features, and 50 email finder credits.
Customer Ratings
Capterra: 4.3/5 (10+ reviews)
G2: 4.3/5 (50+ reviews)
Go back to the list of tools
Gmelius
gmelius
Gmelius is a sales automation and cold email outreach tool that works with Gmail and is meant for team collaboration. It helps streamline your sales processes with its lead generation and email campaign features.
Key Features
Personalize your outbound sales campaigns.
Customize and share any cold email template with your sales team.
Monitor your email campaign performance with advanced analytics.
Schedule recurring emails to send weekly or monthly reports.
Pros
Get real-time desktop and mobile alerts for lead engagements.
Has a browser extension for Google Chrome.
Salesforce and HubSpot CRM integration.

Cons
No Zapier integration in the basic plan.
Email campaigns are missing important features.
No free plan available.
Pricing
Pricing plans start at $12/month per user and includes email open and reply rate tracking, automations, and unlimited email templates.
Customer Ratings
Capterra: 4.7/5 (30+ reviews)
G2: 4.4/5 (330+ reviews)
Go back to the list of tools
Streak
Streak
Streak is a CRM platform that integrates with Gmail. It can be a handy tool for the busy sales rep or marketer.
Streak helps you manage your sales funnel, send mail merges, and track cold calling and engagements.
Key Features
Personalize mail merges with custom email templates.
Schedule automated emails and follow-ups.
Detailed email tracking reports.
Email sidebar provides immediate context about each email.

Pros
Has email filters to help you sort through prospect responses.
Collaborate with your sales department on cold email campaigns.
The Android and iOS mobile apps can log cold calls.

Cons
No dedicated sales dashboard — your sales processes can clutter your Gmail inbox.
Will have a lot of redundancy if you use another CRM.
Base plan doesn't offer any native integrations or data validation features.
Pricing
Has a free plan with limited features. Paid plans start at $19/month per user and support 5,000 contacts and 800 mail merge emails per day.
Customer Ratings
Capterra: 4.5/5 (400+ reviews)
G2: 4.5/5 (120+ reviews)
Go back to the list of tools
SalesHandy
SalesHandy
SalesHandy is a sales automation and email marketing tool that enables you to send cold emails and engage with leads.
Key Features
Send personalized emails to multiple recipients.
Automate follow-ups to individual emails or entire email campaigns.
Built-in email limiter ensures you don't send many emails per day and risk your domain reputation.
An email verification tool helps check the validity of email addresses before sending emails.

Pros
Free email tracking with Gmail.
Schedule bulk emails to be sent to recipients in different time zones at a time they are most likely to be opened.
Link tracking and real-time notifications when emails are opened.

Cons
You have to pay separately for verifying email lists.
No native mobile app for both Android and iOS devices.
Limited mail merge capabilities.

Pricing
SalesHandy has a free plan with limited features. Paid plans start at $12/month per user with features like email tracking, templates, and analytics.
Customer Ratings
Capterra: 4.5/5 (80+ reviews)
G2: 4.4 /5 (110+ reviews)
Klenty
Klenty
Klenty is a sales engagement platform for sending personalized email and automated follow up messages.
Key Features

Email automation and personalization.
Open, click, reply rate, and bounce rate tracking with live-feed reports.
Detailed reports to optimize every outreach campaign.
Duplicate detection helps ensure no contact in your prospect database is accidentally contacted multiple times.

Pros
Simple user interface.
Easily import prospects from CSV, Google Sheets, or CRM in one click.
Integrations with Zapier and Pipedrive CRM to automate your workflow.

Cons
Contact management issues — adding a contact to one list could remove them from another.
Lacks team management and collaboration features.
No free plan available.

Pricing
Pricing plans start at $55/month per user with features like unlimited contacts, email cadences, API, Gmail plugin, and mail merge.
Customer Ratings
Capterra: 4.8/5 (30+ reviews)
G2: 4.6/5 (120+ reviews)
MailRush.io
Mailrush
MailRush.io is a prospecting and cold outreach tool that lets send personalized cold emails for marketing campaigns.
Key Features
Tracked email engagement metrics include delivery rate, click rate, open rate, and bounce rate.
Email warming to improve email deliverability and avoid your email ending up in the spam folder.
LinkedIn sales navigator searches for lead generation.
Identify invalid email addresses.

Pros
Create a drip sequence for your email marketing campaigns – automate emails and follow-ups based on recipient actions.
Easy-to-use drag and drop email template builder.
24/7 live chat support available.

Cons
No free plan available.
Downloading large contact lists for email campaigns can be time-consuming.
You have to pay extra for email warming, email validation, and Linkedin prospecting.
Pricing
Pricing plans start at $19/month per user with one domain link, email automation features, and 10,000 total emails sent during the month.
Customer Ratings
Capterra: 4.2/5 (5+ reviews)
G2: N/A
5 Bonus Cold Email Tools
I've highlighted some of the best cold email tools above.
But if you want to explore more tools, here are five bonus software you could check out:
MailShake: A cold email marketing tool with live campaign management features like pausing email sending or adding new recipients to active campaigns.

Contact Monkey: A powerful tool to manage cold email campaigns within your Gmail or Outlook email account.

Snov.io: A cold outreach and sales engagement platform for marketers and sales teams, primarily for prospecting.

QuickMail: This is a popular tool for managing sales outreach with detailed analytics on email campaign performance.

SmartReach.io: A cold email platform for email automation, prospect management, and team collaboration.
Best free cold email software
Companies spend thousands of dollars on email marketing and social media posting to increase their sales and keep existing customers coming back.
However, when it comes to the acquisition of new customers, cold emailing is still out there among the top best acquisition channels for both retail and tech companies.
An efficient cold emailing campaign can drive growth and have an amazing ROI.
So, What is Cold Emailing?.
Cold emailing is an unsolicited email sent to a receiver without prior contact. Usually, companies use it to get in touch with people who could be potentially interested in their products or services.
Cold emails are not necessarily considered spam. Companies who are doing it right target specific audiences that are genuinely interested in what they have to offer. The key to cold emailing is to target the right audience and truly provide value with your email content.
When a company or an individual decides to bombard an audience with irrelevant and unwanted content, this practice is called spamming.
Essentially, cold emailing works as an advertisement that the receiver can opt-out from at any time so they don't receive similar emails in the future. Cold emailing can be repetitive work as marketers will have to do endless copying and pasting. That's where cold email software will come in handy.
The 8 Best Cold Email Software.
SmartReach.
If you are an advanced user and are looking for a feature-rich solution for cold emailing, SmartReach is exactly what you need. Your emails would have a better chance of getting a response thanks to their advanced hyper-personalization and advanced scheduling; where you can send emails in your prospect's timezone.
SmartReach.io supports all popular email clients including GSuite, Office365, Outlook, Mailgun, and SendGrid.
It puts an extensive focus on email deliverability and provides a suite of built-in tools like list-cleaning (Email validation), Warm-Ups, and Spam Tests.
Smartreach reporting
It is ideal for bigger teams and agencies owing to their team-centric features like Role-based permissions, Team level settings, Agency dashboard to view and manage multiple clients, etc.
Pros:
– Custom Send Time for Emails
– Personalized Emails
– Supports Numerous Email Clients
– Easy-to-use Interface
– If-this-then-that, like Workflow Automations
– Account-based Sales
– Dedicated Plan for Agencies
Cons:
– None (that we could find at least)
Pricing:
Standard Plan: $24 per month/user
Ultimate Plan: $59 per month/user
Website: smartreach.io
Woodpecker.
Woodpecker is the best tool for B2B companies who contact prospective clients via automated personalized emails. Woodpecker is specially designed for cold emails and follow-ups. You can send your cold emails directly from Gmail, Office 365, or Exchange accounts.
It integrates with Zapier, Salesforce, and a wide range of other business tools.
They claim to be one of the most secure software for automated campaigns. Further, it is a great choice for teams who need to collaborate, share lists of contacts, and/or blacklist domains.
Woodpecker offers sophisticated functions that include A/B testing, if-campaigns to move prospects to alternate streams, manual tasks to include non-email actions in the campaign and snippet-based conditions for easy customization and personalization.
One of the benefits of using Woodpecker is that they're continually improving and updating their software. You can check their roadmap here to see their major updates.
Woodpecker has also developed a new pricing structure, which allows you to pay the basic price per slot and only pay for the add-on features you actually use.
Add-on features can be turned on and off whenever you want, which means you're only paying for exactly what you need, when you need it, and no more.
Pros:
-User-friendly interface is easy to use and understand
-Set up and contact list integration is fast and convenient
-A/B testing is fully automated and gives meaningful insights
-Reporting for daily/weekly/monthly metrics
-Customer support is always available
-Snippet-based Conditions
– Warm-up feature to maintain sender reputation
-Manual tasks can be included in the campaign for non-email actions
-Strong security measures
-If-campaigns allow for prospects to be directed to a different stream
-Unlimited team members/multiple team members per slot
-Customizable pricing so you only pay for features you use, when you're using them
Cons:
-Can be costly for small businesses if multiple slots and add-on are required
-Limited to 7 follow-ups
Pricing:
-Free Trial: 14 Days (includes all add-on functions)
-50 Contact Emails Per Day: $40 – $59 per slot/monthly depending on add-ons selected
-200 Contact Emails Per Day: $44 – $64 per slot/monthly depending on add-ons selected
-Unlimited Contact Emails Per Day: $49 – $69 per slot/monthly depending on add-ons selected
Website: woodpecker.co
Snov.
With an easy-to-use interface and powerful features, Snov is another popular software designed for cold emailing. Snov allows you to automate your email campaigns and save time. You can also download the Snov extension for Google Chrome that lets you find someone's email address on a website.
Snov- cold email tool
You can set triggers that will notify you when a person opens your email. Another automated action that you can set is a follow-up email if a user opens your email, but does not reply.
Snov- cold email tool- dashboard
Finally, with the Domain Search Tool, you can find an email address that is attached to a certain domain name.
Pros:
– Email Finder
– Easy-to-Use Interface
– Drip Campaigns
– Email Verifier that Validates all Email Addresses
Cons:
– Does not Feature an "Unsubscribe" Link
– Does not Show the Most Used Email from Each Contact When Given Multiple Email Accounts
Pricing:
– Small Plan: $29 month/user
– Medium Plan: $49 month/user
– Large Plan: $79 month/user
– Extra-Large Plan: $139 month/user
Website: snov.io
Reply.
Take your sales outreach to a whole new level with Reply. With this dashboard, you can set up an email campaign with follow-ups, and then do split tests to improve your conversion rate.
Reply- cold email tool
One of the best things about Reply is its powerful reporting system. This system shows you all the data and indicators for your email campaigns, including delivery, open rates, link clicks, bounced emails, and more.
Reply- cold email tool benefits
You can filter certain users from your queue of automated emails depending on their actions. Additionally, it lets you setup personalized email campaigns.
Pros:
– A Lot of Features
– Easy Setup and User Friendly
– Powerful Automation Feature
– You can Set a Campaign and Forget About It
– Collaboration Tool for Email Marketing Teams
Cons:
– High Pricing per Number of Contacts
– It's Difficult to Organize Lists in the App
– Targeted Toward Advanced Users Who Want to Dive Into the Email Marketing World
Pricing:
User to Contact 1,000 people per month: $55
User to Contact 3,000 people per month: $70
User to Contact 30,000 people per month: $90
Website:reply.io
Hunter.io.
Hunter.io is a web-based email research and verification tool that helps businesses collect and verify professional email addresses.
The cold email campaign feature of Hunter.io is probably not its strongest suit as it was only recently added to the platform.
However, if you are looking for an all in one solution for your cold outreach efforts, Hunter.io is your best bet.
Hunter screenshot
With Hunter.io you can find emails of your target audience within seconds, verify them, and even discover hard-to-find contact data of your prospects so that you could truly personalize your campaigns and improve the results on your outreach campaigns.
If you're operating in the B2B space, Hunter.io is a must-have tool for your next cold outreach campaign.
If you do not require any sophisticated email automation features and are using Gmail, you can also use their campaigns feature, this way you get an all-in-one solution. From finding emails to converting them to customers.
TIP: Whether or not you decide to use Hunter.io, you must check out their chrome extension, as it can do wonders for your business!
Pros:
– The emails it provides are 90% of the time accurate.
– Integrates easily with the browser providing simplicity of use.
– No additional costs for team subscription.
– All in one solution for cold outreach
Cons:
– Any Mobile App/Functionality is Not Available As Yet.
– Cold Outreach Capabilities are Limited (and you can enjoy it only if you used Gmail so you might need additional tools to enjoy the full email outreach experience)
Pricing:
Free Version: Yes
Starter: $49/Month
Growth: $99/Month
Pro: $199/Month
Enterprise: $399/Month
Website: https://hunter.io/
UpLead.
If you've been looking for a powerful and reliable B2B sales intelligence platform, only to be disappointed with leads that go nowhere, you need to try UpLead.
Uplead screenshot
UpLead's database includes over 54 million B2B contacts for you to browse through, allowing you to quickly connect with highly qualified leads.
You can also use the data to update and enrich an existing lead database, find leads according to the CRM they use, and verify their contact information in real-time. That way, you can spend more time selling to prospects, and less time looking for them.
And, unlike multiple other lead generation tools, UpLead gives you a 95% data accuracy guarantee, so you know you're not contacting leads with old information that will get you nowhere.
Pros:
-Lighting-fast
-Very easy to use
-95% data accuracy guarantee
-Bulk searching capabilities
-Intuitive and vibrant customer profiles
-Email verification
Cons:
-Not ideal for just one or two emails per month
-Doesn't have a mobile app
Pricing:
Free Trial: $0 (5 credits)
Essentials: $99/month (170 credits)
Plus: $199/month (400 credits)
Professional: $399/month (1000 credits)
Website: uplead.com
AutoKlose.
With AutoKlose, you can find, target, and nurture your prospects hassle free because it automates all of your email tasks. AutoKlose comes with some amazing features, such as drip email campaigns, lead generation, and CRM integration. You can also send a large number of emails at once.
Autoklose- cold email tool
Further, you can turn your cold emails into warm communications using their follow-up option. Based on your interactions with emails, the tool sorts your contacts into warm and cold folders. You can integrate AutoKlose with different email platforms and Salesforce.
Autoklose- cold email- dashboard
Pros:
– Contact Import and Export
– Lead Database Integration
– Contact Discovery
– Minimalist Interface
Cons:
– Not User-Friendly
Pricing:
Starter: $49.99 user/month
Small Business: $49.99 month/user
Enterprise: Custom Pricing
Website: https://autoklose.com/
Outreach.
Outreach is an all-in-one platform that makes your sales team's work more efficient. It is one of the most useful software for salesmen since it allows you to not only send cold emails, but to also make calls to other regions and countries.
Outreach- cold email tool
Additionally, they have an SMS integration feature that lets you reach your potential customers via phone. It also provides you some additional info about your prospects that allows you to send more personalized emails. While Outreach offers you a wide range of features, they also have the highest cost.
Outreach- cold email tool- dashboard
Pros:
– Great Chat Support
– Many Different Integrations
– Many Useful Features, Including Calls to Different Countries
Cons:
– Long Wait Time for Bulk Emails
– The Integration with Gmail and Salesforce Could be Better
Pricing:
You can request pricing on their Website
Conclusion
Let us know your thoughts in the comment section below.
Check out other publications to gain access to more digital resources if you are just starting out with Flux Resource.
Also contact us today to optimize your business(s)/Brand(s) for Search Engines