Mobile SEO is an important strategy for businesses of all sizes, but it can be difficult to navigate. Fortunately, there are a number of mobile SEO tools that can help you optimize your site, track your rankings and improve your results.
Mobile Seo Software
1 – OUR MOBILE PLANET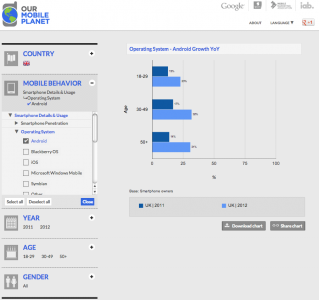 This tool allows you to view data about mobile users that Google has gathered. Select your key demographic and other potential customers, and view key differences between 2011 and 2012. This data can form part of your research for your clients. Especially if management buy-in is needed to confirm budgets on a mobile site implementation. This data could also be used in blog posts or infographics.
Need more data? Then.
2. MOBILE METER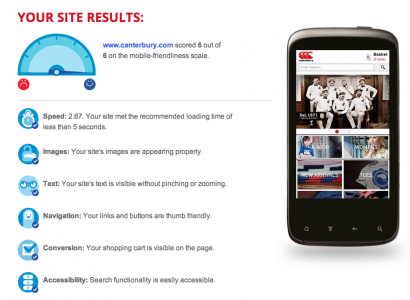 There are many tools out there for testing your site, and Google's mobile meter gives an overview of how your site looks and performs on a mobile. The mobile meter is part of Google's excellent 'Mobilize Your Site' resource, which has lots of other information on developing mobile sites. The mobile site case studies are certainly worth a read.
3. PAGESPEED INSIGHTS

The PageSpeed insight tool can test speed from both a desktop and mobile perspective. Very useful to see where the easiest performance improvements can be gained in terms of download speed. As site speed is considered part of Google's algorithm, fixing issues could result in a real impact on mobile search positions.
4. GOOGLE ADWORDS KEYWORD TOOL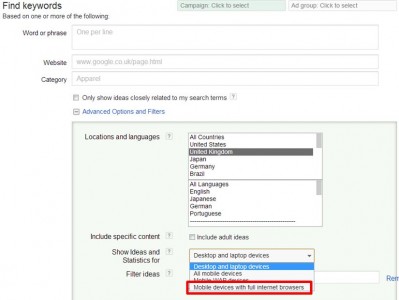 The Google keyword tool gives a guideline on the monthly volume in searches. As well as looking at desktop searches, the tool can also show data for searches on mobile devices.
Simply select 'advanced options' > 'show ideas and statistics for' > and select 'mobile'.
Local search trends can be added to see seasonal fluctuations or if keyword searches are increasing in volume. Select columns and 'local search trends'. This will show a simple bar graph, but if you download the data it will give some figures over time.
It is worth checking your target keywords and investigating potential local search term variations. Monitor accuracy of this data by comparing it against your visits from search terms in high positions.
5. GOOGLE WEBMASTER TOOLS

Webmaster tools has several useful features if you are investigating your mobile site. If you have mobile specific content, then test to see if different mobile GoogleBots can fetch your pages ok. This is useful for checking your mobile site setup and investigating any performance issues or poor search results.
Additionally, if you redirect mobile users to specific mobile versions of your URLs, then Mobile Sitemaps can be added in Google Webmaster Tools. Check the Mobile Sitemap Specification for more information.
6. GOOGLE SITES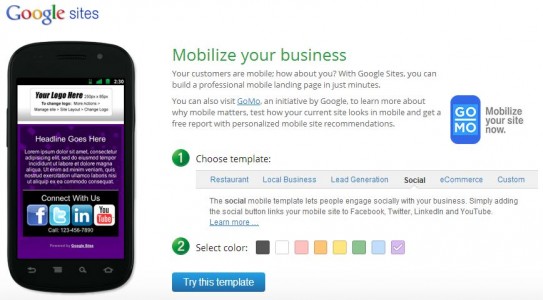 Not got the time or budget to build your own mobile solution? You can quite quickly build a mobile landing page using Google Sites. This could be useful to build a test or mock up and see how it performs. They have different templates for several types of landing pages.
7. GOOGLE MOBILE ADS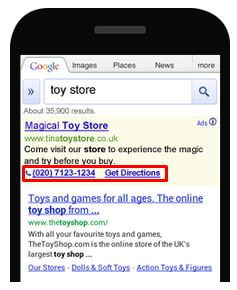 Although not strictly part of organic search, it is worthwhile knowing about some paid search tricks which can also help clients give their mobile campaigns a push.
With a multitude of segmentation options between tablet and mobile phones, you will be missing out on extracting the maximum amount of ROI for your marketing spend if you do not use AdWords. Getting the most from Ads is a whole series of blog posts in themselves but there is a whole host of options Google have developed for mobile devices.
Here are some of the potential methods to look at that can drive traffic to your mobile landing pages using mobile ads:
Phone numbers in ads using 'click-to-call',
click-to-download
Mobile Ad Sitelinks
Seller Ratings
Location Extensions (Multiple Addresses too!)
Location Targeting
View the superb Mobile Ads Blog for the latest updates, case studies and examples.
8. GOOGLE ANALYTICS
I am sure everyone knows about using Google Analytics and is the most obvious free tool for mobile SEO analysis. At a basic level, understanding Google Analytics will help you to find out how mobile traffic is performing relative to desktop.
You can easily find out which mobile devices are working well, and which may be candidates for optimisation. Is some content getting a lot of mobile traffic but performing relatively badly? Can a page be optimised to generate more phone call leads? Which content drives more local mobile users? It is even possible to hook Analytics up to track downloads of mobile apps.
Although Google also has a set of standard reports just for mobile, it is worth spending some time setting up advanced segments and custom reports so you can see the exact data you need.
I hope that gives you a good overview of Google's extensive list of free tools that can help with improving your mobile site performance. If you know of more, then please leave a comment and I will try to include it here!Tags: Google+, Mobile SEO
best seo mobile apps
Now that mobile phones are getting bigger, clearer, and more sophisticated, SEO work is bound to find its way onto that screen. As complicated and multi-dimensional as many SEO practices can get, businesses are starting to realize that it would be helpful to be able to do this work on the go because SEO trends constantly changing. This is where SEO mobile apps come into play. They help keep you connected on your mobile phone without all of the confusing layouts and numbers that fill an SEO's desktop screen. Below are 10 mobile SEO apps that are sure to help your online optimization efforts in 2013:
iPhone (iOS) Mobile SEO Apps
1. Raven Tools. Available for Apple products, this is probably in most users top 3 list of great SEO apps. You want to make sure you have a paid account with Raven (otherwise the app won't do you any good), but then you can download the free app and have all of your analytics for measuring ROI and even tracking your social media efforts. It's considered one of the more advanced and detailed apps available.
2. iSEO. This is a great tool if you're interested in learning more about rankings of different webpages across the Internet. If you're looking to analyze pages for guest posting opportunities or you want to analyze the competition, this Apple app will give you some great results in an easy-to-understand format. The best part: You can email all of your findings and results to colleagues right from this $1.99 app.
3. Ego. This is what many would call the "big picture" app. If you are using many different services to collect data, this app will help you pull all of this data and put it together into a cohesive, one-stop delivery. It costs $1.99.
4. LinkJuice. This $1.99 Apple app has been recommended for advanced SEOs because it isn't the easiest to use, but it does offer quality information about particular webpages. You simply type in a domain or a webpage URL, and you will gain information about backlinks, authority of the domain, anchor text, etc. This is information that you might want to read while you're on the go, so it is likely something you'll really use if you're serious about SEO.
5. SEO Automatic. One thing that makes this app unique is the fact that it will give you recommendations regarding what to do based on the information it gathers about your site. It deals with all on-page factors, so it's great for business owners just beginning to dabble in SEO apps.
Android Mobile SEO Apps
6. SECockpit. This app is all about the keyword research. You just plug in a word or phrase and the app will spit out the search volume and competition for that entry. Again, this is an SEO task that can easily be done on the go, so I think you'll find that this one will get a lot of clicks.
7. SEO SiteRank and SiteRank Lite. The great thing about this app is that you can get information about PageRank and Alexa Rank as you're browsing around the Internet. It has both a paid and a free version.
8. SEO Keyword Checker. This is another app that is incredibly useful because it gives you information that you might actually want while on the go. The app is free, and it helps you analyze a webpage and give you information about that webpage's keyword use and keyword density.
9. SEO Stats. This app is simple. It gives you information about where you stand when it comes to social networks such as Facebook, Digg, and Twitter.
Mobile SEO Apps Available for iOS and Android
10. Google Analytics. This is a must-have app. It's free, and it transfers your existing Google Analytics information to your mobile phone in an organized way. It allows you to correlate your SEO data with your revenue, give you KPIs such as time on site and total page views, and allows you to compare different metrics from different time frames. This is about as detailed as you're going to get from an app, so I feel that it is a must-have. Available for both Android (called "mAnalytics") and Apple phones.
Do you know of an SEO mobile app that has helped you in the past?
Conclusion
Let us know your thoughts in the comment section below.
Check out other publications to gain access to more digital resources if you are just starting out with Flux Resource.
Also contact us today to optimize your business(s)/Brand(s) for Search Engines