What is Mobile Web Design Software?
Mobile Web Design software is any desktop or web-based application that allows you to design and develop a mobile website, or a mobile version of an existing website.
Mobile Web Design Software
1. Squarespace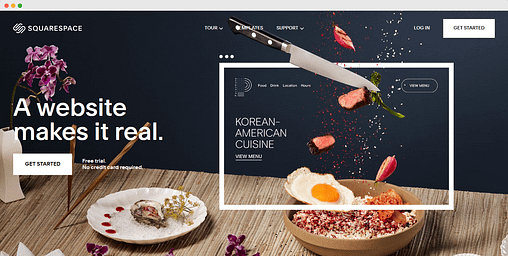 Squarespace has gained notoriety over the years as a site builder with stunning templates. It's likely your best option if you, or clients, are interested in placing large, high-resolution graphics on your sites.
Squarespace used to only offer regular websites, but it has successfully expanded into the eCommerce world to provide excellent payment processing and shopping cart modules. You'll also find that the system is highly visual and great for launching multiple websites in a short period of time. Not only that, but the pricing is reasonable and the hosting is top-notch.
Overall cost and pricing plans
A free trial is offered without the need for a credit card.
Personal Website – $14.00 per month
Business Website – $18 per month
Basic Online Store – $26 per month
Advanced Online Store – $40 per month
Pros
Squarespace can be used for managing multiple websites for your own network or for clients.
The Developer Program allows for fully custom websites with the help of templates, integrations, and custom coding.
The templates are highly visual and some of the most modern-looking options on the market.
Most of the features you need are included – instead of having to install apps.
The templates actually look beautiful and work well when running on mobile devices.
The online store tools are rather powerful, with a free SSL certificate, no transaction fees, and unlimited products.
Cons
Squarespace doesn't have an app store, which could limit you depending on what you need.
Although somewhat reasonable, there is better pricing from the other mobile website builder options on this list.
The backend website building isn't as intuitive as the competition, especially compared to Wix and Shopify.
Is this the best mobile website builder for you?
I like Squarespace for those who want high-resolution photographs that still look great on mobile devices. Mobile and desktop media support is the main reason you would consider Squarespace, since you can find better pricing and features elsewhere. But, you can't beat the beauty of how Squarespace elements snap into place when being viewed on mobile devices like smartphones and tablets!
2. Wix
With its fun TV advertisements and beginner-focused interface, it's no wonder how Wix has become one of the most popular website builders online. Having said that, you should also consider Wix if you're not a beginner. It offers one of the best drag-and-drop editors on the market, and it has quality templates as well.
The main reason we like Wix is that the company always seems to be improving the site builder. Oh yeah, and the pricing is great when you look at all of the designs, integrations, and settings offered. For speed, professionalism, and a wide range of options, Wix is a great place to start for any experience level.
Overall cost and pricing plans
Wix sells two types of plans: regular websites and eCommerce websites. The pricing is extremely inexpensive across the board, and you receive free hosting, Google Analytics, and custom domain support with all plans.
Combo Website – $14.00 per month
Unlimited Website – $17 per month
Pro Website – $23 per month
VIP Website – $39 per month
Business Basic (eCommerce) – $23 per month
Business Unlimited (eCommerce) – $27 per month
Business VIP (eCommerce) – $49 per month
Business Enterprise (eCommerce) – $500 per month
Pros
Wix has one of the more flexible and affordable pricing structures in terms of website builders.
A free plan is actually available if you don't want a custom domain. This might be useful for students or hobbyists.
The eCommerce features are nice for smaller online stores.
The templates are eye-catching and easy to use.
You can take advantage of a wonderful drag-and-drop editor.
Wix has an App Market for extending the functionality of your website.
Wix has a tool called Corvid, which is an advanced platform for developing web apps from the convenience of the Wix dashboard.
Cons
Storage and video minutes are limited in a few of the plans.
Don't expect to launch an online store and build it into something huge. The eCommerce features are great but limited.
Is this the best mobile website builder for you?
Wix is one of the better all-around mobile website builders since you can make a professional website if you have no experience and not have to worry about making your design responsive. All themes are ready for mobile devices, and you can customize the heck out of them with the advanced development tools. Wix also has a large app library, all of which are vetted and ready for mobile environments.
3. Shopify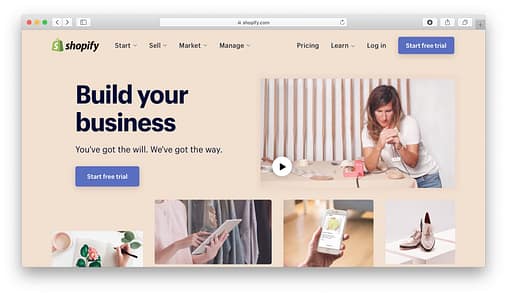 Shopify is the all-around solution you need for making an online store. It's not what a company would go for if they only needed an informational business website, seeing as how the entire website builder is made for you to construct eCommerce stores.
Shopify is definitely one of the most popular ways to launch your online store, and much of this has to do with its extensive app store, great themes, and the simplicity of the builder. The customer base also enjoys some excellent pricing options.
Overall cost and pricing plans
Shopify pricing is competitive amongst eCommerce platforms. It doesn't have any plans for websites only, but it provides a cheap option for adding a simple online store to an existing website. Shopify has a free trial, along with hosting for all plans.
Shopify Lite – $9 per month
Basic Shopify – $29.00 per month
Shopify – $79 per month
Advanced Shopify – $299 per month
Shopify Plus – Starting at $2,000 per month
Pros
It's a complete online store builder, with unlimited products, no transaction fees, and more.
Shopify integrates with several social networks, including a direct Facebook Ads option.
The pricing is reasonable compared to other store builders.
The themes are plentiful, beautiful, and mobile responsive.
You can make blog posts and website pages outside of the online store.
You gain access to a large app store.
The customer support – both the resources and dedicated support – is some of the best in the business.
Cons
Shopify isn't made for regular business websites.
The pricing goes up rapidly as you upgrade.
Third-party payment gateways are supported, but a transaction fee is required.
If needed, you have to find a developer that's familiar with the unique Shopify coding language.
Is this the best mobile website builder for you?
Shopify serves as a rapid website builder for those who require an online store. Consumers are becoming more likely to shop through mobile devices, so it's great that Shopify has a large library of mobile responsive themes. All eCommerce items are expanded and shown so that customers can shop easily – like with larger buttons and more accessible product photos. You can also expect all apps to work well on mobile sites. Skip Shopify if you're more interested in a standard business website and not a mobile online store.
4. WordPress (when paired with Elementor)
There are many WordPress site builders out there, but our favorite would have to be Elementor. It offers a free version, integrates well with WordPress, and provides a clean drag-and-drop editor. The whole point of Elementor is to make development faster and easier for professionals.
It incorporates some excellent tools for lead generation and conversions, along with modules and settings to create any type of website you want. What's also great is that Elementor works with all WordPress themes.
Overall cost and pricing plans
The free download offers features like the drag-and-drop builder and 30 basic widgets. It's powerful, but anything besides that requires a paid plan:
Personal – $49.00 per year
Plus – $99 per year
Expert – $199 per year
WordPress is free, but you can't forget about costs for things like hosting and themes. For instance, Bluehost hosting starts at $2.75 per month – and you receive a free domain name. Some themes are free, but you could end up spending $50-$150 for a premium WordPress theme.
Pros
You have more control over your website since it's running on WordPress.
The free Elementor plugin has 30 modules, which is usually more than enough for the average business.
The drag-and-drop editor is one of the best I've seen.
Some of the plans include popup and WooCommerce site builders.
You can get access to even more widgets and Pro templates.
You're able to design online stores with the help of over 15 shop widgets.
Cons
More site maintenance is required, since elements like hosting and security aren't managed for you.
The higher plans may be a bit expensive for companies/individuals on budgets.
Is this the best mobile website builder for you?
All experienced WordPress designers should enjoy the Elementor interface for making mobile-friendly websites. I would typically recommend this to anyone who craves more control over their websites and doesn't like the rigidity of a typical site builder. If you need the quickest, easiest option for making a website with responsiveness, look elsewhere. That said, some WordPress themes out there work great on mobile devices. Just make sure you test everything out on your phone and tablet before buying.
5. Weebly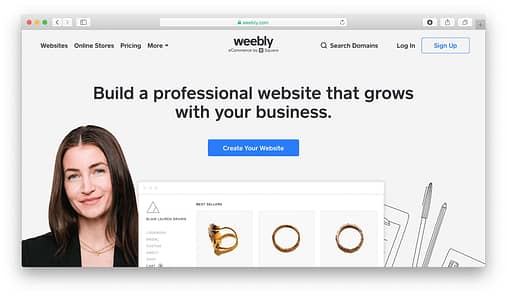 Weebly is somewhat similar to Wix, except the fact that Weebly has lower prices and fewer features. That being said, some companies and developers may like the idea of a $5 per month website – even though it has Weebly ads.
The website themes are simple and unique to certain industries but don't expect anything too complicated or powerful. Weebly does offer a drag-and-drop builder, and its themes work nicely on mobile devices.
Overall cost and pricing plans
Weebly doesn't have a free trial because the Free Plan gives you a decent look into the website builder. The plans include:
Free Plan – $0
Connect – $5 per month
Pro – $12.00 per month
Business – $25 per month
Pro Online Store (eCommerce support) – $12 per month
Business (eCommerce support) – $25 per month
Business Plus (eCommerce support) – $38 per month
Pros
Weebly is the least expensive of these best mobile website builder tools, even when going for an eCommerce plan.
You could run a forever free website if you're willing to have ads on your website.
All features are included with a monthly fee. From hosting to themes, making a website is fast.
Weebly provides high-quality onboarding and education resources. The customer support is also decent.
The built-in features are nice, but you can always extend your functionality with the app store.
Cons
Some plans have transaction fees for using third-party payment providers.
The Weebly themes are simplistic in design, making them less suitable for growing businesses.
The eCommerce features are limited until you get to the Business Plus Plan.
Organizing pages and posts is not as intuitive as it should be.
You may find it difficult to move to a different website builder if needed.
Is this the best mobile website builder for you?
Weebly makes a lot of sense for hobbyists, teachers, and journal writers who don't want to pay any money for a clean, modern, and mobile-friendly site. Weebly also offers some great deals for small business and eCommerce plans, all of which provide beautiful mobile themes and some apps to help you out.
6. Jimdo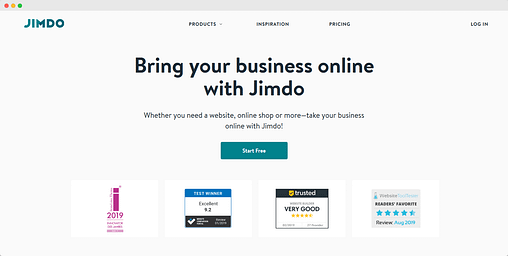 Jimdo is a lesser-known site builder that uses artificial intelligence to speed up the entire production process. The platform has three separate products that integrate with each other: the website builder, an online store creator, and a domain personalization tool.
Quite a bit of inspiration is situated on the Jimdo website, so you're given a guide on how to make interesting designs with that artificial intelligence. It appears that the starting point is a simple, barebones template, so these might work okay for some businesses.
Overall cost and pricing plans
Jimdo has both business and eCommerce plans. A free plan is provided, so there's no need for a trial. They have four business plans:
Play – $0
Start – $9.00 per month
Grow – $15 per month
Here are the Jimdo plans for an online shop:
Basic – $15 per month
Business – $19 per month
Pros
A free plan is provided.
All of the plans are affordable, and you don't ever have to worry about having advertisements on your website.
Navigation menus are automatically generated for you.
You receive many basic elements for small businesses, such as social buttons, maps, and contact information.
Jimdo provides access to a large collection of stock photos.
All plans have included hosting.
Cons
The templates are limited and not as modern as one would want.
It's a little difficult to understand exactly how the AI is helping with development.
Different pricing is presented depending on where you are in the sales process (AKA charging some customers more than others for the same thing).
Is this the best mobile website builder for you?
Jimdo does the trick for small businesses since the drag-and-drop mobile builder has everything you need – such as the forms and maps. The feature-set is a bit limited, but that may be an advantage for those who don't need anything crazy. If you want the best mobile responsive themes, skip Jimdo. If you like low pricing – and decent mobile designs – consider it.
7. Duda
Duda boasts one of the top team collaboration systems to go along with its stunning mobile website builder. It's made for agencies, publishers, and hosting companies, seeing as how you gain access to a scalable and affordable platform.
What's interesting about Duda is that you can pay per website or go for more of a team-based plan and receive multiple websites with your package. You also get incredible speeds with the help of Amazon Web Services hosting.
Overall cost and pricing plans
A 30-day free trial is offered, and you can also save with annual payments. The Basic plan is the option for buying each website separately.
Basic – $14 per month
Team – $22 per month
Agency – $74 per month
Custom plans are also available if you speak with the Duda sales team.
Pros
The team and agency plans include collaboration tools and features for client management.
Website communication tools are unique in that you can send out special messages depending on where your site visitors are located.
You can backup your website and restore it if something goes wrong.
Making a multilingual website is much easier with Duda than with other builders.
The lower tiers are affordable, especially since you can buy individual websites for $14 per month.
Cons
The Agency plan has a large price jump, and it's the only package that allows for multiple websites.
Duda lacks an app store, so you don't get any integrations for expanding your site.
The eCommerce support is there, but some plans have product maximums.
Is this the best mobile website builder for you?
Agencies should absolutely think about Duda as an affordable and fast mobile website builder. Some of the plans have amazing collaboration and client management tools – many of which can also be accessed on mobile devices to design your website on the go.
How to narrow down the top mobile website builders
Mobile website builders are all over the place today. A simple search through Google brings up thousands of decent results, along with ads for the hottest new website builders on the market. A beginner wouldn't have much of a problem choosing any of the options on this list and having a good experience making a website. However, a more experienced developer should be more careful, since you may end up really disliking the templates or not thinking the mobile responsiveness is that great.
html website builder software
1. WordPress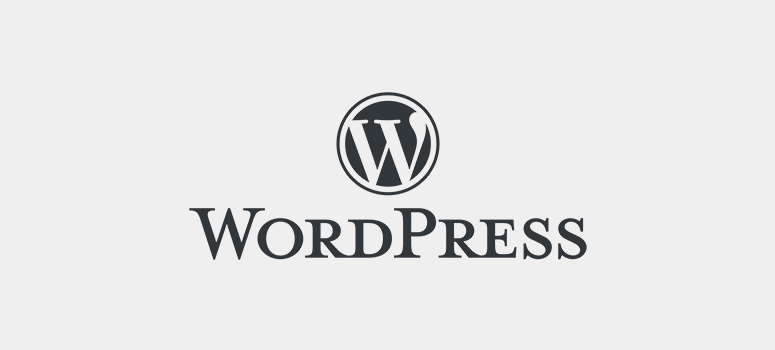 WordPress is a free and open-source software that lets you build any kind of website with ease. Over 40% of the web uses WordPress, making it the most popular Content Management System in the world.
WordPress comes with built-in themes and if that's not enough, you can always choose from the thousands of third-party WordPress themes that are available for just about every niche.
Each theme has a basic structure, and you can change anything in a theme like its colors, text, background, and images. There are also WordPress page builders like SeedProd that let you customize the theme from the frontend, so there's no coding required at all.
Added to that, you can also use WordPress plugins for endless customization options.
We must mention that we're talking about WordPress.org, which is very different from the fully-hosted platform WordPress.com. You can find out the difference here: WordPress.com vs. WordPress.org.
WordPress.org is the best platform for site owners and developers who want access to cPanel and phpMyAdmin to control website files and databases. If you are serious about growing and expanding your website, then WordPress is an obvious choice.
Now installing WordPress is easy and free! But first, you need a domain name and web hosting plan, which costs around $14.99 per year and $7.99 per month, respectively. It can be quite a lot when you're just starting with a new website.
Fortunately, we've worked out a special deal for IsItWP users. You can start a website for only $2.75 per month with Bluehost. They're the best web hosting provider and are even officially recommended by WordPress.org.
With our special deal, you'll get a free domain name + 60% off on web hosting.
2. Web.com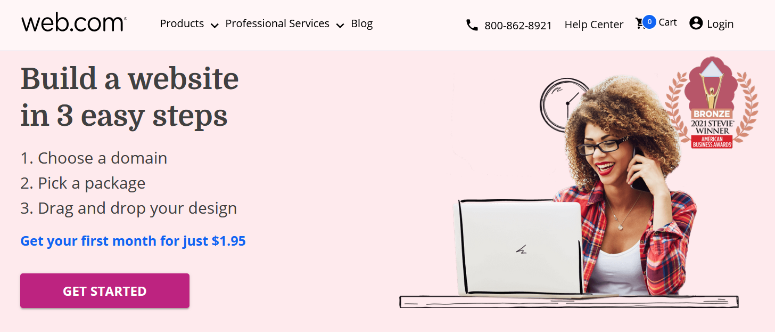 Web.com is one of the original and most popular do-it-yourself website builders on the market. Using the intuitive drag and drop builder and readymade website templates, anyone can quickly build a website, no technical skills are needed.
You can easily add features like contact forms, photo galleries, videos, social media buttons, map locations, and more. Plus, you get access to thousands of stock images you can use on your site.
All Web.com plans come with a free domain name, business email address, autosave & backup features, website analytics, SEO features, and other essential website tools.
The Starter website plan starts at only $1.95 per month. You can also get additional SEO features with the Marketing plan, which starts at $2.95 per month. And the eCommerce plan starts at $3.95 per month.
3. Gator Builder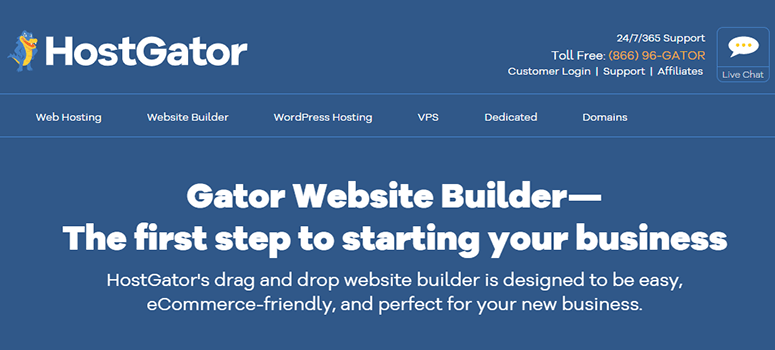 Gator Builder is a web design and development software by HostGator. It's packed with dozens of web templates for every business niche. The templates are beautiful and fully dynamic to work with third-party services. You can use the user-friendly drag and drop interface to add images, videos, Google Map, and more in a few clicks.
Since it's built by HostGator, one of the best web hosting companies on the planet, each plan comes with a hosting option as well. Gator Builder integrates with social channels to display feeds from your Facebook, Twitter, and Instagram accounts.
4. SiteBuilder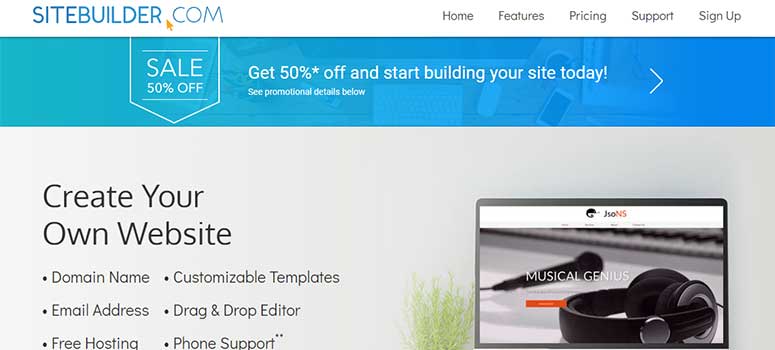 SiteBuilder is a web design software that comes with hundreds of ready-made templates that let you build a website with ease. You can either customize the web templates or design your layouts from scratch with the drag and drop builder. It offers a free domain name and web hosting with each plan to help you get started quickly.
It also offers great customization options to design a complete website, start a blog, or run an eCommerce store. It has several design tools to add images, content, and other media files to your web template.
5. Divi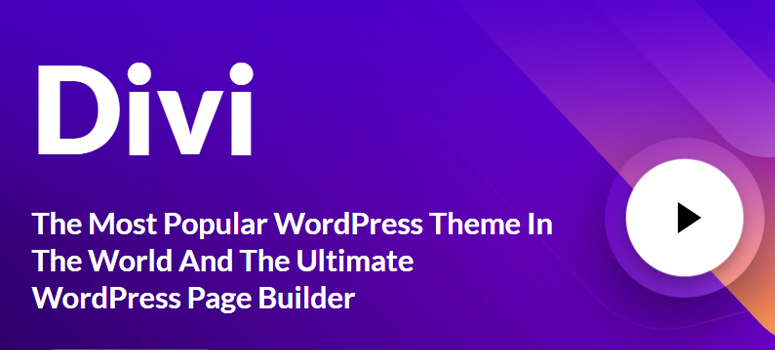 Divi is a popular WordPress theme and web design software. It comes with a drag and drop editor that lets you create custom web templates easily. Divi's template portfolios have hundreds of premade designs for restaurants, cafes, medical, fitness, the list is endless. It gives you an advanced visual editor to customize your templates with effects, shape dividers, transformations, and more.
Its point and click tool allows you to add text anywhere on your web template. It's a modern software with options to edit, undo, redo, and revise your customizations. Divi Builder is packed with dozens of global elements, style options, and content blocks to ease your website designing process.
For more details, check out this complete Divi review.
6. SeedProd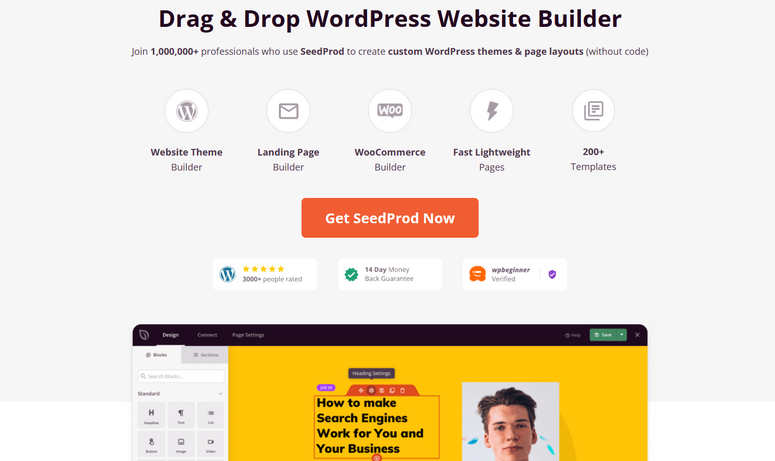 SeedProd is already the best landing page builder for WordPress sites. And now, with its new Theme Builder, you can use SeedProd to easily create a custom WordPress theme from scratch.
The software comes with 9 full theme kits and over 150+ beautiful and responsive page templates. The theme kits include matching designs for every part of your site, not just the homepage.
Customizing your theme is easy with the drag and drop builder, text editor, layout navigation, and live previews. You'll also find smart sections, headline animations, WordPress template tags, and powerful page blocks to build unique pages all by simply dragging and dropping them to where you want them to appear.
You can choose what you want to show/hide on desktop and mobile devices.
Plus, the platform integrates with email marketing tools and other WordPress tools. This makes it easy to sync other features of your website such as contact forms, WooCommerce products, and more.
With SeedProd, the best part is there's no coding required whatsoever. The design process is contained smoothly within the WYSIWYG (what you see is what you get) interface. However, SeedProd also has advanced settings and a code editor for developers if they want to insert custom coding.
One thing that stands out about this builder is that it has built-in coming soon and maintenance modes. You can enable these modes with a single click and your website will be hidden from the public eye while you design it.
SeedProd has a free plan and a premium version. You'll need the Pro plan to access the Theme Builder.
See our full SeedProd Review for more details.
7. Weebly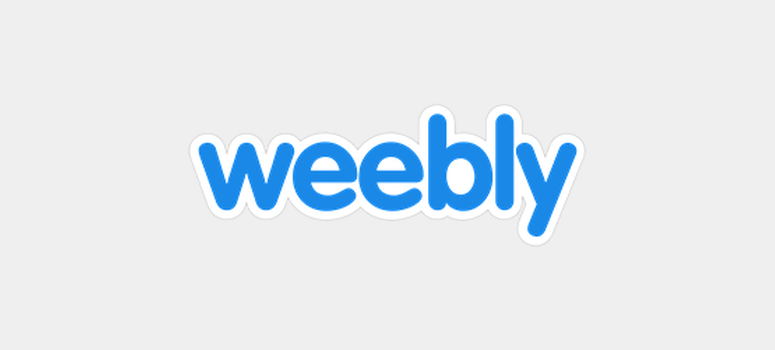 Weebly is a popular web building and designing software. It can be used to create web designs for general websites and online eCommerce stores — millions of users on the internet trust it. Weebly comes with a drag and drop interface to create your web design in just a few minutes.
It's a hosted solution so you won't have to worry about additional web hosting charges. It's built-in to your pricing plan.
The drag and drop feature makes it even simpler to develop your website design without writing a single line of code.
Though the free version of Weebly comes with everything you need to make beautiful websites, it's worth checking out their paid plan for more features and options. For more details, read the complete Weebly review from our experts.
8. Beaver Builder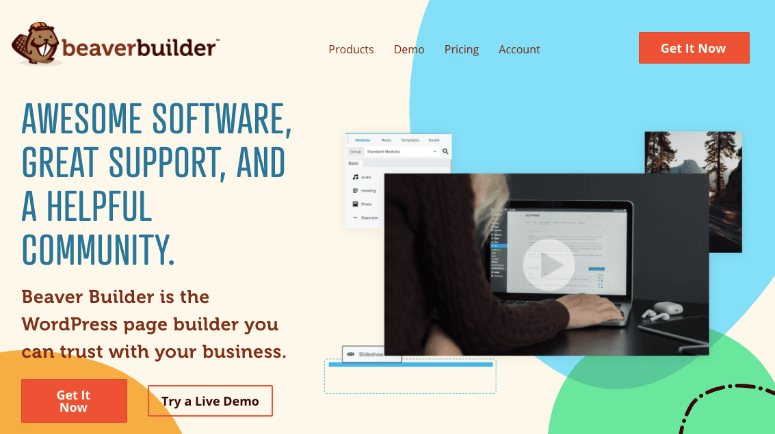 Beaver Builder is an easy-to-use page builder for WordPress users. It comes with responsive templates and a simple drag and drop builder.
This makes it one of the most beginner-friendly website design tools out there.
It works great for everyone including freelancers, developers, agencies, eCommerce stores, and businesses.
Beaver Builder is developer-friendly if you want to make advanced changes. Plus, there are addons to extend features and functionality of the page builder.
Interested in this platform? Get more information inside our Beaver Builder Review.
9. Wix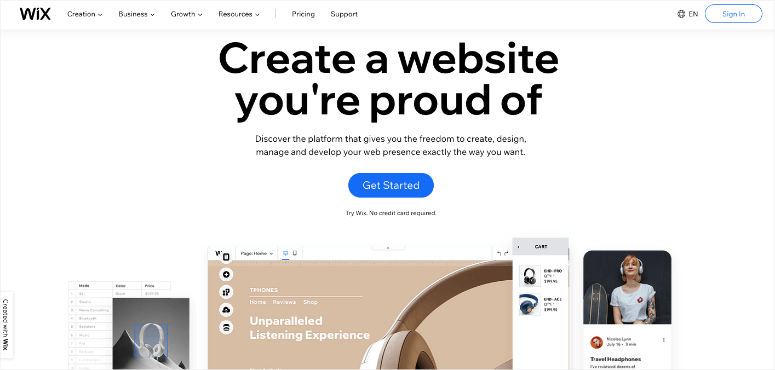 Wix is designed to be a beginner-friendly website builder. Once you sign up, there's a setup wizard that helps you take all the steps you need to design and publish a website.
The visual builder lets you make changes in real-time. And you'll find tons of customization options inside the editor to add headers, footers, images, and more. The great part about Wix is that it takes care of website maintenance like updates, SSL, and security.
However, it uses a fully-managed subscription service model. This means you need to pay a monthly or yearly fee to keep your website on the internet.
The downside to this platform is that you'll be very limited in terms of web development control and customizations.
While ease of use takes priority, you won't be able to design your site the way you want it. There are premade responsive website formats that your site will automatically follow.
Wix is a good option if you're new to website design. But as your own website grows and expands, you'll want to switch to a more flexible platform like WordPress, and that can be very complicated.
10. Webflow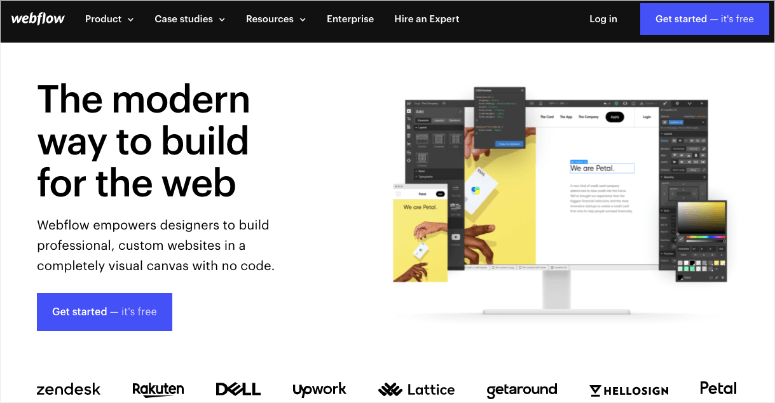 Webflow is a code-free website design software. It lets you build a custom professional-looking website using a visual canvas. The responsive design makes sure your website looks good on all devices.
There's also a Webflow Designer where you can use HTML5, CSS, and JavaScript. Added to that, you can build custom databases, eCommerce sections, and more.
With Webflow, you can get your website up and running fast. It also lets you create and update pages as you go.
That's our list of the best web design software for building and launching a regular website. If you had to ask us what is the most popular web design software? The winner would be WordPress.org, hands down.
Up next, we'll check out the best design software and apps available for online stores and anyone in the eCommerce sector.
Best Web Design Software for eCommerce
To create and design an online store, choosing the right platform is critical. Once you get started, it can be difficult to switch later on.
We have a detailed comparison of eCommerce platforms to choose from. Below, we've highlighted our 3 top picks in the market.
Conclusion
Let us know your thoughts in the comment section below.
Check out other publications to gain access to more digital resources if you are just starting out with Flux Resource.
Also contact us today to optimize your business(s)/Brand(s) for Search Engines