Personal trainer web design software is a program that helps you build your own personal fitness website. These programs are easy to use and make it simple to build a site that is attractive, professional, and focused on your clients. With these programs, you can create a website within a few hours, rather than spending weeks or months trying to learn HTML code and coding languages.
You can find out more about what personal trainer web design software has to offer by reading the rest of this article which will provide an overview of what each option offers as well as who it might be best suited for. We'll also take a look at some of the common questions people have about using this type of program so you can decide whether or not it's right for you!
Personal Trainer Web Design Software
1. Wix – The Largest Selection of Templates for Personal Trainers
Wix is easy to use, even if you've never built a website before. Wix ADI (Artificial Design Intelligence) can automatically generate a layout for you in minutes. All you have to do is answer a few simple questions. After that, you can add your own content and customize the style,
If you prefer, you can use the standard Wix editor and choose from over 900 templates. There are at least a dozen specifically designed for personal trainers, but you can choose a template from any other category and customize it to suit your needs.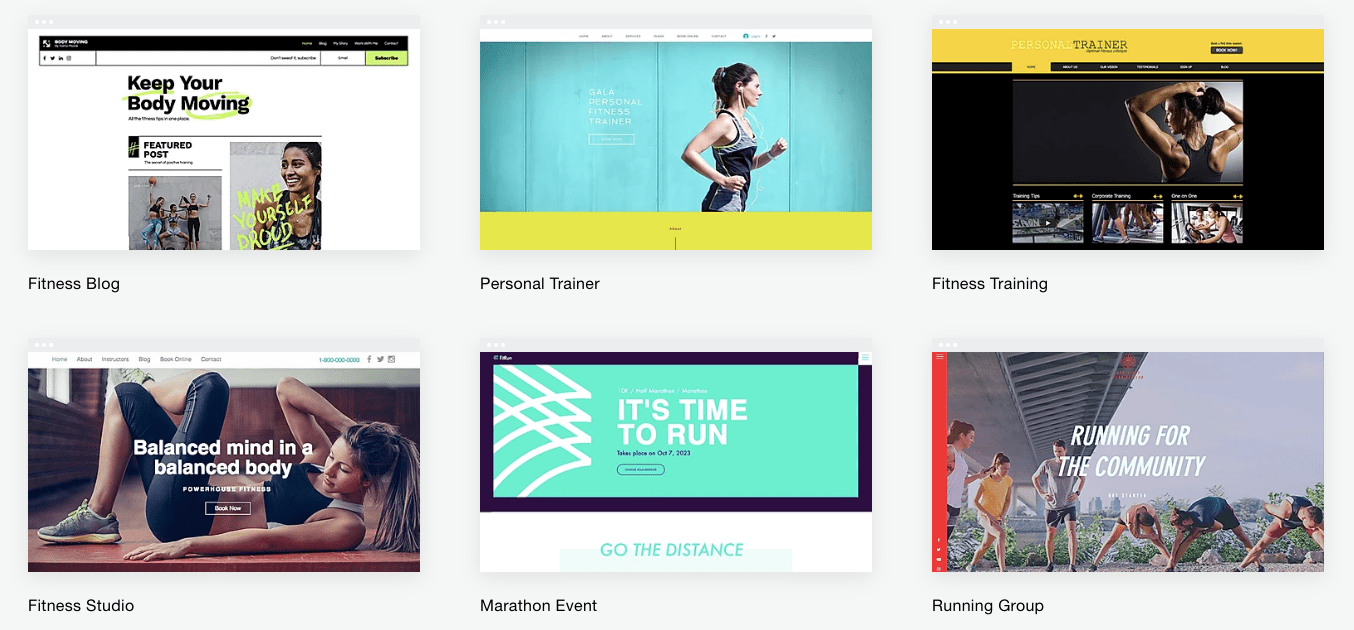 Wix has the best selection of templates for personal trainers
The Wix App Market offers 300+ free and paid apps, so you can add interesting features to your site. For instance, you can showcase clients' before-and-after photos with Wix Pro Gallery, or integrate your social media feeds with the Social Media Stream app.
If you decide to use Wix's free plan, your site will come with a Wix subdomain (i.e., yoursite.wixsite.com). Wix's paid plans include a custom domain, which can make your website look more professional. You'll also get more storage space and bandwidth, and the Wix branding that comes with free sites will be removed.
Here are a couple more features that make Wix a good option for a personal trainer site:
Media uploads: Adding a gallery to your site is quick and simple, so you can upload your photos and display your clients' results. You can also stream training videos and share them to your social media feeds.
Members-only area: This great feature allows your clients to create profiles, have discussions in a forum, and partake in online classes you may offer.
Discover more useful features in our full Wix review.
| | |
| --- | --- |
| Free domain name | Yes, for 1 year with paid plans |
| SEO tools | Wix SEO Wiz creates a personalized SEO plan for you |
| Basic plan features | 3 GB storage, 2 GB bandwidth, and removal of Wix branding |
2. Squarespace – The Best Built-in Marketing Tools
Squarespace offers all the basic tools you need to build and market your website, and a lot more.
The Squarespace template library is easy to search by category, and there's even one template specifically designed for personal trainers. Once you choose a template, you can customize it with Squarespace's drag-and-drop editor.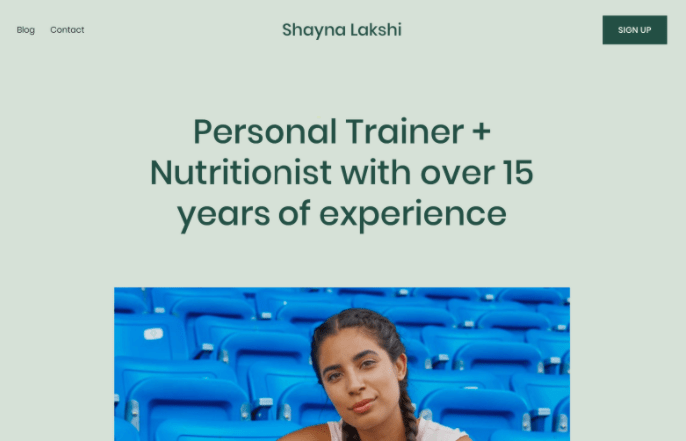 Although LAKSHI was built with personal trainers in mind, many other Squarespace templates can be customized for your needs
Squarespace supports secure e-commerce, so your clients can pay for classes online. Squarespace Scheduling, created by Acuity, allows your clients to see your availability, book training sessions online, get automated reminders, and even fill out custom forms about what they want to focus on.
Squarespace offers a 14-day free trial. You'll get a custom domain for a year with every plan, and unlimited storage and bandwidth.
Check out these additional Squarespace features:
Social media integration: You can link an unlimited number of social media profiles to your website, so when you post new content, it will be automatically shared to your social media pages.
Built-in marketing: Squarespace's inclusive marketing features, such as email newsletters and and SEO tools, will help you reach more potential clients.
Quote blocks: If you have testimonials from past and current clients, adding Quote blocks is a great way to show your site visitors that your training gets results.
For all the details, read our expert Squarespace review.
| | |
| --- | --- |
| Free domain name | Yes, for 1 year |
| SEO tools | Built-in tools |
| Basic plan features | Basic website metrics and unlimited storage and bandwidth |
TRY SQUARESPACE FOR FREE
3. SITE123 – The Fastest Way to Build Your Site
It's easy to create a professional website with SITE123's block-based editor. You can choose from a handful of templates specifically designed for personal trainers and customize your site to meet your preferences.
SITE123 offers simple, step-by-step tutorials on how to customize your chosen theme and add content. You can use pictures from the image and icon library if you don't have any photos of your own.
In terms of customization, the SITE123 editor is more limited in terms of customization than Wix, but it makes up for that by being very easy to use. All of SITE123's templates are mobile responsive, ensuring your site will look good on any device.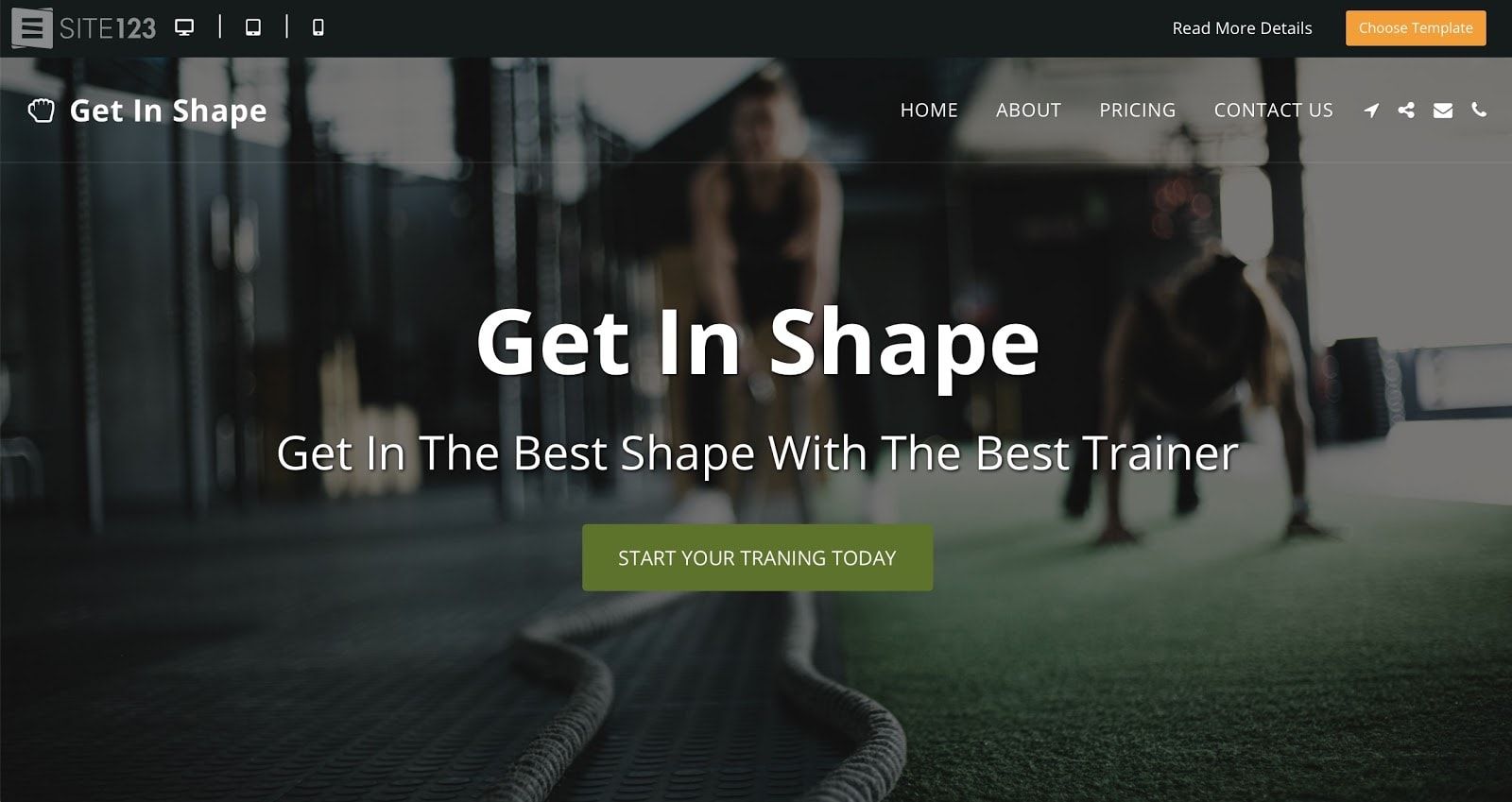 SITE123's Get In Shape template is a great option for personal trainers
Although you can build an e-commerce store with SITE123's free plan, only the paid plans support online payments. Upgrading will also give you a custom domain.
Here are some other things I like about SITE123:
Chat apps: With Zendesk Chat, current and potential clients can reach out to you easily.
SEO tools: Basic built-in features, like an automatically created sitemap and the ability to update your meta tags, can help your site rank higher on search engines.
Blogging platform: You can create a blog with helpful health and fitness tips, to show your site visitors that you're an expert.
Read our expert SITE123 review to find out more.
| | |
| --- | --- |
| Free domain name | Yes, for 1 year with paid plans |
| SEO tools | Basic built-in tools |
| Basic plan features | 10 GB storage, 5 GB bandwidth, and removal of the SITE123 floating tag |
4. WordPress.com – The Most Customization Options
WordPress.com has almost limitless functionality, but it's a slightly more complicated platform to learn how to use. If you decide to take the time to master it, the control you have over your site is well worth it.
WordPress.com's theme library has over 250 free themes, but none are specifically designed for personal trainers. You can choose one you like and customize it to meet your needs, or install a theme from a third party, like ThemeForest, if you're on the Business plan or higher.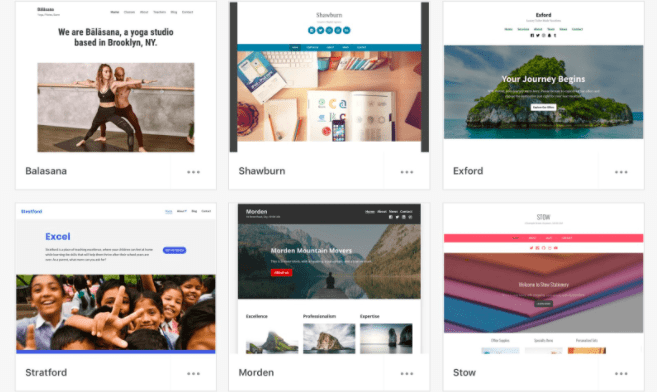 You can choose one of WordPress's free templates, or buy one from a third-party vendor
Your WordPress.com site comes with basic SEO tools, but if you're on the Business plan or higher, you can install plugins like Yoast SEO to help with your SEO strategy. If you decide to run a blog with training and workout tips, you can include the Follow Blog widget so your clients can get your posts delivered to their inbox.
Here are a couple more WordPress.com features that make it a great choice for a personal trainer website:
E-commerce: Customizable and stable e-commerce makes it easy to manage bookings and accept payments online.
Social sharing: WordPress.com has built-in social sharing buttons that you can add to your posts or media, so your followers can easily share your content on their social media profiles.
Read our expert WordPress.com review for tips and tricks on how to get the most out of the platform.
| | |
| --- | --- |
| Free domain name | Yes, for 1 year |
| SEO tools | Basic built-in tools, or advanced plugins with the Business Plan or up |
| Basic plan features | 6 GB storage, unlimited bandwidth, and removal of the WordPress.com branding |
5. Weebly – The Most Helpful Step-by-Step Guides for Building Your Site
Weebly offers over 60 customizable themes, and the Slick theme is a good option for personal trainers. After you choose the theme you like best, you can customize it to meet your needs. During setup, there's an interactive step-by-step guide where you can check off items as you create your site.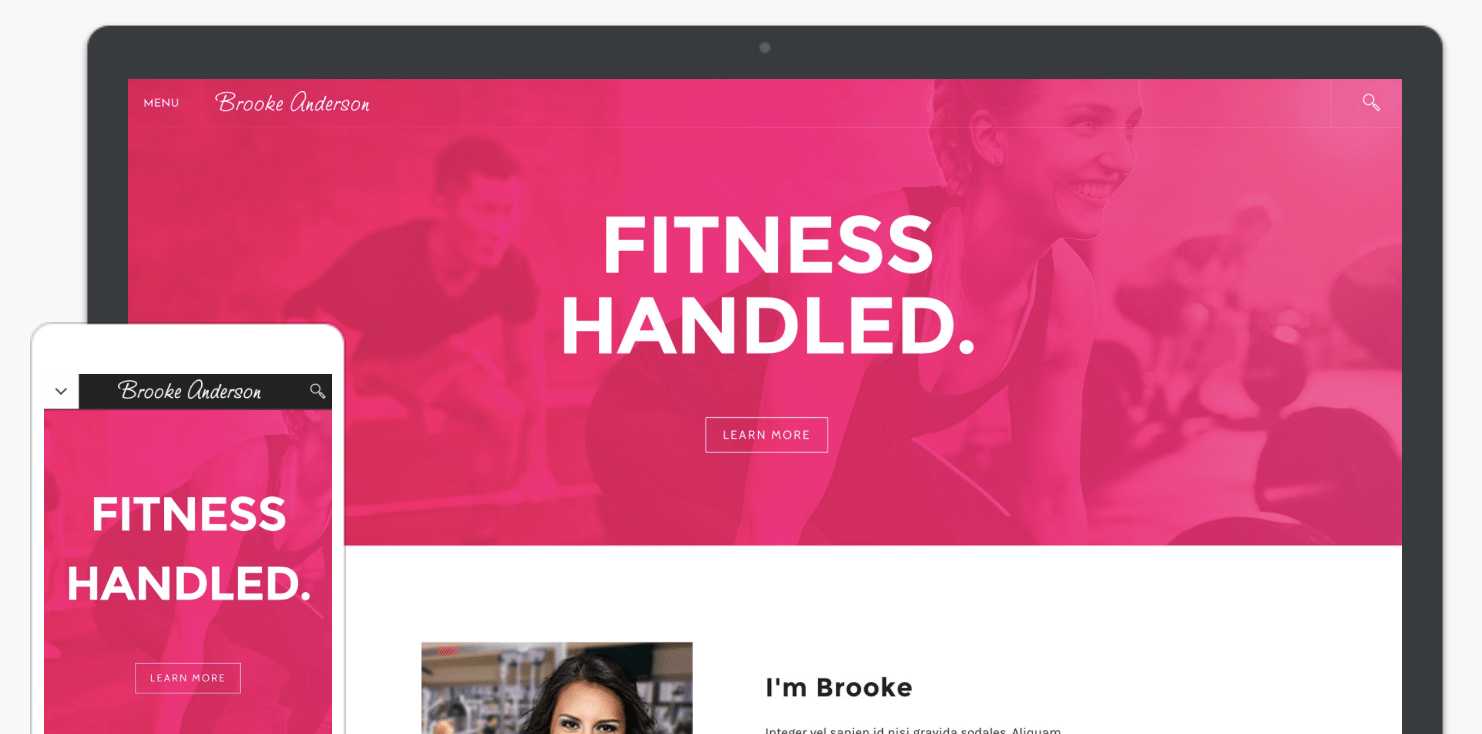 Weebly's Slick theme is a great place to start with your personal trainer's site
Weebly Promote, Weebly's integrated marketing tool, lets you launch email campaigns and Facebook ads. There are also simple e-commerce tools, in case you want to accept payments online.
Weebly's site dashboard is very helpful. You can see traffic stats and number of page and site visits to track how your site is performing.
These features also make Weebly stand out:
Mobile app: Weebly's mobile app allows you to edit and manage your website and reply to comments, so if you're between training sessions, you can still stay connected with your site visitors.
Video embedding: You can easily embed videos from YouTube or Vimeo on your site, so your clients can catch up on missed workout sessions.
SEO tools: Weebly automatically optimizes every site, and lets you update your image alt tags and page descriptions. There's also an easy-to-follow guide to help you with your SEO strategy.
Learn about Weebly's pros and cons in our detailed Weebly review.
| | |
| --- | --- |
| Free domain name | Yes, but only on higher-tier plans |
| SEO tools | Basic built-in tools and an SEO guide |
| Basic plan features | 500 MB storage, ability to connect a custom domain, and basic e-commerce capabilities |
TRY WEEBLY FOR FREE
Pick a Website Builder That Works as Hard as You Do
Choosing the right website builder is a big step, but it all comes down to your needs and preferences.
If you want a variety of personal trainer templates to choose from, go with Wix. The App Market will provide all the tools you need, and the Wix Pro Gallery can motivate potential clients to get started.
If you want to launch your site as soon as possible, try SITE123. You can easily start a blog to show your potential clients you're an expert, and the SEO tools can help you reach more people.
personal trainer website template
01. Best for personal trainers
You want your online presence to reflect your style and services, and this personal trainer website template does just that. A powerful and polished site with clean lines and enticing visuals draw people in and highlight what you have to offer. Let users book group classes or one-on-one sessions, view all your services and read testimonials from previous clients all in one place.

02. Best for gyms
Show off your gym, class schedule and space with this free website template designed for fitness facilities. Use this template to highlight your services, gym equipment, staff and membership packages.

03. Best for hybrid bookings
The built-in bookings app allows for both online and in-person bookings, ideal for a hybrid fitness business. And since no digital fitness business is complete without a mobile offering, this template shows clients where they can download your Branded App.

04. Best for strength-focused studios or gyms
Make gains with this gym website template designed to show off your fitness classes; they're listed prominently on the homepage for max impact. The colors and imagery promote an intense vibe, ideal for strength-focused brands.

05. Best for video courses
If you need a visually driven and inviting website to engage your audience, look no further than this stunning fitness template designed for video courses. Use this free video maker to create and upload your content to show—not just tell—what you're all about.

06. Best for fitness influencers
Are you a fitness influencer with a thriving training business, or is that one of your goals? This online fitness template puts you and your story first. The navigation bar brings visitors right to your pricing plans and contact page, and the member sign-in option gives returning customers a personalized experience where they can book classes and make payments.

07. Best for yoga studios and instructors
Image is everything in this yoga studio template. This fitness website template places your brand logo at the top, so you'll want to find fitness logo ideas and create a logo to make the most of this template. Read more: How to become a yoga instructor in 7 steps

08. Best for meditation
With a calming color palette and minimalist text and images, this template instantly creates a Zen vibe, perfect for yoga studios and meditation classes. Related reading: 6 reasons now is the best time to invest in your yoga business.

09. Best for eCommerce
Fitness entrepreneurs with a bustling eCommerce business should consider this template that puts products at the center. Highlight bestsellers and new arrivals to drive customers to what matters most on your site: shopping. Use the live chat feature to answer any questions your customers have about the product or shipping.
10. Best for fitness challenges and online programs
If you need a way to sell your fitness programs online, use this image-heavy template to highlight your offerings. FYI: Monthly workout challenges are a highly effective way to engage users both online and off. Here are some fitness challenge ideas to get you started.

11. Best for retreats
Whether you're hosting a virtual event, a weekend yoga retreat or an annual charity run, use this fitness event template to share relevant info and encourage potential guests to join. Use online scheduling tools to keep track of sign-ups.

12. Best for fitness blogs
Creating a blog is one of the best ways to share your story, recipes and workouts. Find your voice, then use it, with this template that highlights your recent posts.
Conclusion
Let us know your thoughts in the comment section below.
Check out other publications to gain access to more digital resources if you are just starting out with Flux Resource.
Also contact us today to optimize your business(s)/Brand(s) for Search Engines