Email marketing is a powerful tool for any business. It's cheap, easy to do, and highly effective. But there are some things you need to know before you get started.
In this guide we'll walk you through the basics of email marketing, and give you practical tools to make it work for your business.
Practical Tools For Email Marketing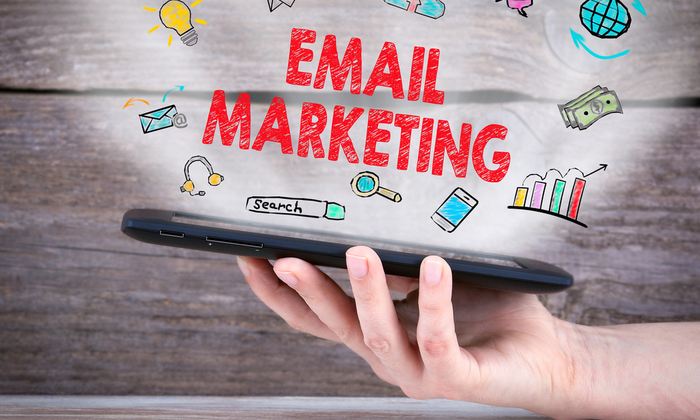 First, you need to attract the leads that are going to form your email list. That means building a landing page or opt-in page with a lead magnet your clients can't resist.
Next, you have to segment those customers into different groups based on their demographics and preferences.
After that, you've got to start building your emails, making sure every message resonates with your brand's tone of voice, your image, and the kind of impact you want to have. 
Those emails need to be sorted into a campaign that allows you to reach your audience at the right time.
Then, on top of all that, you have to constantly assess, edit, and optimize your emails.
No-one can do all that alone.
Fortunately, email marketing software exists to take some of the weight off your shoulders. Today, we're going to cover just someof the tools you might want to add to your advertising kit.
1. Aweber
Easily one of the most popular tools on the market for eMarketing, AWeber is an all-in-one email marketing tool which helps you to automate your campaigns, design landing pages, and so much more. 
Intended to be "powerfully simple", AWeber comes with a smart designer to help you create your landing pages and drag-and-drop functionality for your emails too.
There's a free template library which you can adjust however you choose, and a system for creating automations based on triggers that suit your audience.
Features include:
Email and landing page templates
Easy customization for all of your campaigns
A broad selection of automation and trigger options
Tagging and segmentation
Reporting and split-testing
Phone, live chat, and email support
Third-party app integrations for your existing tools
RSS and blog to email functionality
AWeber is a solid marketing tool for small businesses getting into email for the first time.
The templates are professional and responsive, and AWeber has industry-leading deliverability rates too, so you know your emails are going to hit the inbox.
Pricing starts at $0 pr month for up to 500 subscribers, or you can upgrade to the Pro service for $16.95, which makes AWeber pretty affordable.
Pros:
Free plan available
Easy to use back-end with drag and drop builder
Wide selection of templates and customization options
Suitable for building landing pages and automated campaigns
Good AMP performance for emails on smartphones
Quick and reliable customer service
Cons:
Some limitations with segments in your email list
No A/B testing for your landing pages
RSS email templates are difficult to edit
2. ConvertKit
Another great choice if you're looking for a convenient all-in-one email marketing tool, ConvertKit gives you everything you need to capture your audience and also send them automated email campaigns. 
The solution is extremely easy to use, with tons of automation options and excellent templates to get you started. This product comes with tons of features on virtually every paid plan.
The only excluded feature you'll need to worry about if you're using the lower tiers is "free platform migration", which is only available if you a purchase a plan to support more than 5,000 contacts.
Features of most plans include:
Segmentation and link building
Opt-in and landing page builder
Easy and professional templates
Beautiful, automated campaigns
Email designs
Broadcast emails
Automatic free download delivery
Tags and customizable segments
ConvertKit is usually the go-to choice for people in search of the most effective auto responders and email funnels. You get some of the most comprehensive automation on the market here, including the option to add your own triggers and exclude people from certain emails.
Pricing for ConvertKit starts with a free package for up to 1000 subscribers, or you can explore the "Creator" kit for up to $29 per month.
Pros:
Amazing automation and autoresponders
Fantastic range of customization features
Easy-to-use backend environment
Landing pages and other features available
Simple tagging and segmentation features
Cons:
Not the best visual emails
Limited on the free migration option
3. ActiveCampaign
Similar to ConvertKit, ActiveCampaign stands out in the email marketing software landscape as a top-rated tool for automation.
You can build full email campaigns with ease or send broadcasts in a matter of minutes. ActiveCampaign also helps you to build your initial email list with access to subscription forms, and dynamic web content. 
There are tons of great email types to choose from with ActiveCampaign, so you don't have to stick with promotional messages alone. There's also the option to A/B test each of your emails, so you know which ones have the best impact.
Features include:https://e934af8bb0a782b1c63c0aa9b7099ef2.safeframe.googlesyndication.com/safeframe/1-0-38/html/container.html
Extensive email list segmentation
Powerful split testing for easy insights
Mobile app for adjusting emails on the go
Dynamic content for your landing pages
Subscription forms with lead magnets
Easy-to-edit templates
Fully triggered emails and autoresponders
Scheduled email sending
ActiveCampaign is a popular choice for companies keen to take advantage of robust automations, complete with custom triggers and segmentation options.
You can even access a CRM system within ActiveCampaign which helps you to track and collect important information about your target audience. 
The customer messages feature even lets you send messages to clients on your website in real-time.
ActiveCampaign can seem a little complicated for beginners at first, with quite a busy dashboard to get used to, but you'll quickly find your way around with some practice.
There's a free trial to help you put the software to the test, and your pricing can start at $9 for the "Lite" package.
Pros:
Extremely powerful automation and triggers
Excellent segmentation with built-in CRM functionality
Convenient for linking your email marketing and website data
Suitable for multi-channel marketing efforts
Great for landing pages and forms
Send SMS to website visitors
Cons:
Not the most beginner-friendly tool, with lots to get used to
Not ideal for simple automation sequences
Regular maintenance may be necessary
4. SendInBlue
If you're looking for a simple and affordable solution for email marketing software, ideal for beginners, then SendInBlue could be the ideal pick. SendinBlue is all about helping you to grow your brand image with emails that look amazing and get the job done.
There are tons of features to explore with SendInBlue, including transactional emails, marketing automation systems, and even the option to combine your email strategy with SMS. You can create Facebook ads and landing pages on SendinBlue too. 
Features include:
Transactional and promotional emails
Email automations and autoresponders
SMS and social media marketing
Built-in CRM solution
Landing page builder
Email templates and customization
Reporting and analytics
A/B testing and insights
SendInBlue is great for beginners because it comes with a free plan, and the opportunity to scale as much as you need as your business grows. When you decide to switch to a paid plan, prices start at around $25 per month, which is extremely competitive.
Plus, SendInBlue can keep you compliant with things like GDPR too.
Pros:
Convenient trigger based and transactional emails
Easy-to-use back end with tons of great templates
Sophisticated features for people on a low budget
Tie in your SMS and social media campaigns
In-built CRM solution for better segmentation
Dynamic personalization and KPI tracking
Cons:
No support for multiple user access levels
Some limitations to the free plan
5. SEMRush
SEMRush might sound like an odd suggestion for your email marketing campaigns – but it can be a lot more useful than you might think. 
This tool gives you everything you need to research keywords for your blog posts and content marketing, but it can also assist with market research too.
If you need help figuring out what kind of content you should be producing to share with your clients via email, then SEMRush has you covered. The comprehensive tool will also give you an overview of the kind of terms your competition is ranking for.
Features include:
On-page SEO and keyword research
Backlink tracking and competitor analysis
Mobile and desktop search breakdown
Marketplace analytics
Project-based campaign guidance
Keyword and topic suggestions
Starting at a price of around $99.95 per month, SEMRush can be a bit of an expensive addition to your marketing strategy, but it helps with a wide variety of campaign requirements. 
You can use the same service to assess your competition, learn what your customers are talking about, and optimize your website for better performance.
Pros:
Comprehensive tool for keyword and marketing research
Good way to get an insight into competition
Helpful for content inspiration
Convenient back-end with lots of features
Easy to use with the entire team
Cons:
Lacks any email creation tools
No keyword list management
6. Canva
A great email campaign needs to look amazing, as well as having the right content. Unfortunately, if you haven't had the money to spend on brand photography up until now, you might be struggling to find the images you need. 
Some email marketing software comes with images that you're allowed to use for free, while others ask you to source your own graphics.
Canva is an easy-to-use and affordable tool for tracking down images, and even creating useful templates for both your email marketing strategies, and your social media campaigns. 
Features include:
Free to use and premium images
Editing functionality for pictures
Free templates to help with your designs
Thousands of graphics and animations
Access to fonts and logos
One-click background remover
Storage support
Storage is free to use for 30 days, and there's a free package available which gives you access to up to 8000 templates.
If you upgrade to a paid package for $9.95, then you can access logos, fonts, and colors for your brand, as well as magic resizing, premium stock images and more.
Pros:
Easy to use back-end
Lots of free and premium images to explore
Great for editing your templates and building a brand
Font, logo, and colour support for your brand
Templates specifically for email marketing
Cons:
Difficult to create unique elements
Some photos are a bit generic
7. Hello Bar
Finally, if you've built your email marketing campaigns and created a landing page to attract new leads, but you're still having trouble getting the right results, try Hello Bar. 
This email marketing tool doesn't allow you to build any landing pages of emails, but it will give you another opportunity to reach leads and convince them to join your subscriber list.
The service works by giving you a "popup" bar on any page of your website, where you can ask your customers for their email address, often in exchange for a free gift or discount. You can use the bar to announce sales or discounts, or just to help convert your customers. 
The Hello Bar service can be free to use, and it's extremely easy too. 
Pros:
Easy way to encourage more conversions
Adjust to suit the style of your website
Automatically add emails to your subscriber list
Use exit pop-ups to convert customers before they leave
Add extra opportunities to your site
Cons:
Only does one thing
May have some customization limitations
Choosing your email marketing software
The right email marketing software transforms your eMarketing strategy and chances of connecting with your audience through meaningful messages. 
It ensures that you have the tools you need to segment your customers, connect with them on a deeper level through automated emails, and even boost your chances of conversions with pop-ups and landing pages.
Email marketing can be challenging for any business just starting to grow online. Fortunately, you don't have to do everything alone. With the selection of tools above, you'll have everything you need to kickstart your emarketing campaign the right way!
best email marketing
Mailchimp
MailchimpSIGN UP NOW
Mailchimp is the best overall email marketing software because it has the features that most businesses need, without being overly complicated or confusing. Businesses can schedule campaigns, A/B test copy, and get reports that include open rates, click-through rates, unsubscribe rates, and more. Plus, it has the most generous free-forever plans of the software we tested.
Pros
Free-forever plan (up to 2,000 contacts)
Easy to build and customize campaigns
Clear reporting that helps optimize future sends
Integrates with hundreds of software platforms
Cons
Pricey for larger contact lists (more than 15k subscribers)
Very limited phone support
Not designed for advanced marketing teams
Mailchimp's free plan includes up to 2,000 contacts and up to 10,000 monthly email sends. Its platform is one of the easiest to get used to with drag-and-drop features that allow you to stylize your emails.
Aside from its free plan, there are also three paid plans, which vary in cost based on how many subscribers you have (nonprofits receive a 15% discount):
Essentials: $9.99 to $270 per month
Standard: $14.99 to $540 per month
Premium: $299 to $1,190 per month
Mailchimp is the perfect tool for any business looking for a simple way to send emails to their customers. It has an easy-to-use email editor, and once you upgrade to the first paid plan you get access to more advanced tools such as A/B testing and multi-step journeys. Users will enjoy the easy-to-understand reporting that helps them determine what is working and what isn't. Things like open rates and click-throughs are easily identified so business owners know if readers are responding to the content.
BEST FOR AUTOMATION
ActiveCampaign
ActiveCampaignSIGN UP NOW
ActiveCampaign is the best email marketing software for automation because it has hundreds of pre-built automations that help you personalize campaigns for each subscriber. There are help guides throughout the platform as you're getting things set up, plus ActiveCampaign's customer support is fast and friendly.
Pros
Great automation features that simplify customer interactions
Helpful, friendly, and fast customer support
All plan levels include data migration and implementation services
CRM with sales automation included for free (For a limited time)
Has 850+ integrations with the most popular software
Cons
Learning curve can be a challenge
Lite plan is very limited (and includes ActiveCampaign branding)
Plans quickly jump in price with the number of contacts
ActiveCampaign is a customer experience automation (CXA) software with email capabilities. Because it is designed to manage contacts and the sales process, it offers more than 850 integrations.
There's a 14-day free trial to test the software. After that, you will need to subscribe to one of the four paid plans, which you can pay monthly or annually. The discount for paying annually ranges from 15% to 40% depending on the plan. The cost of each plan also depends on how many contacts you have (nonprofits get 20% off).
Lite: $15+ per month
Plus: $70+ per month
Professional: $159+ per month
Enterprise: $279+ per month
You can get a plan and adjust it for the number of contacts you have while still getting the basic features of the plan. For example, you can get the Lite plan with 500 contacts but can incrementally increase it to 100,000 contacts for $405 annually. The Plus, Professional, and Enterprise plans increase the customer relationship management (CRM) capabilities of your platform.
ActiveCampaign helps businesses build automations that are customized to increase engagement with subscribers, giving it the edge in this category. The interface is easy to use, intuitive, and includes resources for any questions that come up during the process. It also includes sales automations so your marketing and sales processes can work together to earn more revenue.
EASIEST TO USE
MailerLite
MailerLiteSIGN UP NOW
MailerLite is the easiest email marketing software to use because it has a drag-and-drop interface that makes it fun and intuitive to create the design you want. Simplicity is at the heart of the company's mission, which is why the software has a clean and streamlined look.
Pros
Drag-and-drop interface makes it easy to design emails
Free plan for up to 1,000 contacts
Email support
Lots of email templates to choose from
Cons
Doesn't include CRM functionalities (Though it allows for integration)
Limited integrations
Need to provide a lot of company information to get an account set up
MailerLite has designed a superior user-friendly platform, making it the best choice for ease of use. Should users experience any problems, there is email support to answer any questions and troubleshoot.
It offers a free-forever plan that includes 1,000 subscribers and 12,000 email sends. If you need more bandwidth or want more advanced features (like the ability to remove MailerLite branding), there is a paid plan. Cost depends on how many subscribers you have. You can pay monthly or annually, but with an annual plan, you get a 30% discount. Nonprofits also receive a 30% discount. Here's a breakdown of the cost:
Up to 1,000 contacts: $10 per month
1,001 to 2,500 contacts: $15 per month
2,501 to 5,000 contacts: $30 per month
5,001 to 10,000 contacts: $50 per month
MailerLite includes all of the essentials for email marketing, without cluttering their system with advanced features. This makes it the perfect fit for businesses looking for a straightforward approach to email marketing that they can master in days, not months.
BEST ALL-IN-ONE MARKETING SUITE
Hubspot
HubspotSIGN UP NOW
Hubspot is the best all-in-one marketing suite because it has great tools and reporting for all of your marketing campaigns across various channels (website, social, email marketing, and more). You can store all contact information with Hubspot's CRM and attract an audience through lead forms, live chat, and online ads.
Pros
Full marketing suite with CRM, social media, blogging, as well as email marketing capabilities
Email health tab helps keep deliverability rates on track
Only pay for the contacts you are marketing to
Track leads throughout their buying journey
Helpful online training resources
Cons
Does not have a free-forever plan or a low-cost plan
Not for businesses strictly looking for email marketing tools
Difficult to integrate a separate CRM, like Salesforce or Pipedrive
Steep learning curve to fully unlock the marketing potential
Hubspot is a leader in CRM services that include email marketing. The platform can handle everything from emails, social media posts, and blog publishing, making it the top platform for an all-in-one marketing solution.
There's a 14-day free trial, and then you'll have to subscribe to one of their three paid plans. While it's free to store unlimited contacts, once the number you email surpasses the included amount, you will have to pay an additional fee. Save 10% on the first two plans if you pay annually (the Enterprise plan must be paid annually).
Starter (up to 1,000 contacts): $50 per month
Professional (up to 2,000 contacts): $800 per month
Enterprise (up to 10,000 contacts): $3,200 per month
Hubspot combines all of your marketing activities in one place so you can have a centralized view of how contacts interact with your website, Google ads, social media, and email marketing. It provides insights into the buyer's journey, helping business owners better tailor their marketing efforts for success. The platform includes a robust training platform that not only reviews how to use the system but also highlights the best practices for successful marketing campaigns.
BEST AFFORDABLE OPTION
Moosend
MoosendSIGN UP NOW
Moosend is the best affordable option not only because its paid plans cost less than most on the market, but also because you can pay either by the number of subscribers or by the number of emails sent, depending on which option is cheapest for you. Plus, its tools are user friendly and make it easy to get attractive and timely emails out to your audience.
Pros
Lowest plan costs
Option to pay only when you send emails
Easy to customize templates or use one from the template library
Cons
Can't send emails from a Gmail or Hotmail address
Less-sophisticated user interface
Limited integrations
Moosend is a cost-effective platform that gives users the choice of how to get billed: by subscribers or by email. Phone support is included that can help if you have trouble customizing one of the numerous templates provided.
Moosend's Free Forever plan includes 1,000 subscribers, plus there's a Pro Plan and an Enterprise plan with tiered pricing. You'll need to contact Moosend for Enterprise plan pricing. The Pro Plan is priced based on the number of subscribers. Below is the cost if you pay monthly, but you'll receive a 20% discount for annual billing. You'll also receive a 25% discount if you're a nonprofit.
Up to 2,000 subscribers: $10 per month
2,001 to 2,500 subscribers: $20 per month
2,501 to 5,000 subscribers: $30 per month
5,001 to 8,000 subscribers: $40 per month
You can opt to pay for the number of emails sent (includes unlimited subscribers), which Moosend calls credits. For $1, you get 1,000 credits, which is equal to 1,000 email sends. With this option, you get the same features that are included in the Pro Plan, such as landing pages, and transactional emails.
Moosend is one of the cheapest email marketing tools on the market, but it's robust enough to satisfy most email marketing campaigns for small businesses, winning our spot for the most affordable option. It allows you to pay either by the number of subscribers or by the number of emails sent, so you can choose which option is most cost-effective for your business.
BEST FOR E-COMMERCE
Drip
DripSIGN UP NOW
Drip is the best email marketing software for e-commerce businesses because of it's sophisticated workflows combined with advanced list segmentation. This combination means that subscribers receive personalized emails triggered by their shopping behaviors on your site and receive timely follow-ups based on how they interact with your emails.
Pros
Simple yet powerful drip campaigns
Easy to set up and use
Excellent customer support
Sophisticated contact list segmentation
Cons
Lacks a few key integrations
No drag-and-drop functionality for designing templates
Support only available weekdays from 9 a.m. to 5 p.m. CST
Designed to improve the online user experience for shoppers, Drip is the best email marketing software for e-commerce companies. Its user support is available to help with issues setting up and using the service. We especially like how you can segment your lists so users get the best possible experience from your website and email alerts.
Drip has a 14-day free trial and has one plan that ranges from $19 to $1,599 per month depending on how many contacts are in your account. Here are a few of the price points:
Up to 500 contacts: $19 per month
501 to 2,000 contacts: $29 per month
2,001 to 2,500 contacts: $39 per month
2,501 to 3,000 contacts: $49 per month
For costs above this number of contacts, it's best to get details directly from the website. The tiered scale goes up to 140,000 contacts for $1,599 before you need to contact them for custom enterprise pricing.
Drip is built for e-commerce, which means its workflows, email templates, and lead generation forms are designed with e-commerce best practices in mind. It includes advanced segmentation and customization that allows you to hyper-target your campaigns in order to increase user engagement.
What Is Email Marketing Software?
Email marketing software enables users to create, send, and track emails to their list of subscribers. Using software makes it easier to create well-designed emails, and also allows you to see key metrics such as open rates and click-through rates. Advanced platforms allow you to automate sends based on user behavior, which increases the likelihood of engagement since the email is more personalized to their interests.
Email marketing is an effective marketing tool for almost any industry. For example, an e-commerce store can automate a follow-up email if a user leaves an item in their cart, reminding them to make the purchase. A SaaS product can encourage users to demo a product and decide how persistently to follow up based on whether the lead takes them up on their offer. While email marketing is not by any means a new technique, it has proven its effectiveness year after year in industry reports.
What Does Email Marketing Software Cost?
Email marketing software typically has variations of plans based on the number of contacts you have. The cost of the lowest-priced plan typically ranges from free to $50 per month. The cost of the highest-priced plan can be thousands of dollars per month. Most plans have at least a two-week free trial and offer discounts to users that pay annually.
How much you pay really depends on how many features you need and how actively you engage in email marketing. This is because most software charges either by the number of emails in the database or by the number of emails you send out. Therefore, it's important to keep a close eye on your activity in order to monitor whether your monthly costs are increasing.
Does CRM Software Include Email Marketing?
Some CRM software does give you the functionality to email contacts within the database. However, it does not have the robust set of features that software dedicated to email marketing will have. The email marketing tool in a CRM is really for people that just need to send the occasional email and don't need a design or automated campaigns.
If you want to increase engagement with your subscribers through automations or get more advanced reporting, then it makes sense to get a separate email marketing software from your CRM.
What Does Email Marketing Software Typically Include?
Almost all email marketing software allows you to design emails, upload contacts, schedule email campaigns, and see data on how your emails are performing. Advanced software lets you A/B split test aspects of the email, segment your contact list based on interests, and automate emails based on how contacts interact with any of your marketing channels. There are also typically lead generation capabilities such as putting lead forms on your site and creating landing pages to get more subscribers into the database.
How We Chose the Best Email Marketing Software
We looked at 12 email marketing software platforms before deciding on the top six. We considered price, ease of use, and functionality when determining the best options. We also aimed to get a range of options that work for different industries and business sizes, as every company will have different needs and use cases. In our review, we favored companies that offered a free-forever plan or a free trial so you can test the product's effectiveness before committing.
Conclusion
Let us know your thoughts in the comment section below.
Check out other publications to gain access to more digital resources if you are just starting out with Flux Resource.
Also contact us today to optimize your business(s)/Brand(s) for Search Engines