SEO tools are a necessity for any SEO professional. They help you to monitor your rankings, identify opportunities to improve your performance, and even automate some of the more tedious parts of your job.
But if you're new to SEO or just getting started, it can be hard to know where to start. There are literally hundreds of tools out there, and each one has its own strengths and weaknesses.
So how do you know which ones will be most helpful for your business?
We've created this list of the best SEO tools available today — along with our reasoning behind our choices — so that you can find the right tool for your needs and grow your search engine optimization skills at the same time!
seo tools the complete list
1. Local SEO Checklist
Local SEO Checklist
Cost: Complete checklists provided by the website are free of cost. They will indicate the areas that need to be focussed upon.
About: The Local SEO Checklist gives you a simple step-by-step checklist that you can use to monitor your optimization efforts. The great thing about this tool is that it tracks your progress continuously. It will do so even if you close your browser and re-open it, as long as your browser's cache is cleared.
Among the many local SEO elements available on this website, you can optimize your title tag with your location and the services you offer.
Create a blog on your website and check for duplicate content.
Check for local schemas on web pages.
Optimize your Google Business profile by adding correct information and media.
Put a "Review' widget or add a 'Write a review' button. Plus, respond to negative reviews without wasting time.
BrightLocal
Cost: 14-day free trial. Their CitationBurst service is free to use. Several paid plans are available for other services.
About: If you're looking for a quick and easy way to track your local and organic search rankings on Google, Bing and Yahoo, then opt for their 14-day free trial plan. BrightLocal can help you with tracking key search terms across these search engines. You can also see how the keywords are faring on Google blended searches.
The most notable service provided by them is CitationBurst (more on that later), a high-quality citation-building tool. It also makes it easy to build and manage local directory listings.
The website allows you to not only track local citations and find new citation sites, but also monitor your NAV.
It enables you to locate and deal with harmful and duplicate listings quickly and effectively.
You can keep a watchful eye on your competitors, and identify local and niche citations to fortify your position.
It also reduces SEO audit time considerably, and provides you with easy-to-understand, branded reports.
It also reduces SEO audit time considerably, and provides you with easy-to-understand, branded reports.
Their services are currently available only in 10 countries.
About: This tool makes it easy to scan landing pages or website URLs to check for the optimization of your targeted key phrase.
This is the one-stop-tool for all your checklist needs. It provides you with all the steps involved in fully optimizing your local/Google My Business listings and sites.
Their website SEO checklist enables you to confirm your website's searchability.
Their landing page checklist will equip you with some of the best landing page practices.
Use their Keyword Strategy Checklist to enhance your visibility and improve your content strategy.
All you have to do is fill out their online form and you will be provided with the required checklist in PDF format.
Alternatives: Here are a few alternatives that can help you with local SEO checklists –
Screaming Frog SEO Spider
BROWSEO
UpCityWooRank
2. Local SEO Keyword Research Tools
About: Small business owners looking to attract local web traffic will find this tool to be useful in generating targeted keyword lists.
Some of the most remarkable advantages of using this tool include the ease that users enjoy when searching by keywords and finding websites that contain any or all the keywords, or even the exact keyphrase.
The tool is perfect for small businesses looking to create a solid online presence and sort out their marketing efforts.
The tool offers a free and easy way to manage not only your website, but also employee schedules and marketing schedules.
Its features enable you to maintain a list of your website's visitors, which is emailed to you at regular intervals.
Use this tool to add various media that allows you to showcase your products and services to their fullest potential.
About: Google's Keyword Planner tool comes in handy for businesses looking to create new Search Network campaigns or develop existing ones.
From among its many advantages, Keyword Planner lets you search for keywords, ad group ideas, historical data, traffic forecasts, keyword performance, and even multiply lists of keywords to create a new one.
It can also help you pick suitable bids and budgets to use with your campaigns.
You can use this tool to get estimates on clicks and conversions to figure out how your keywords may perform under a specific budget and bid.
What's more? If you have a list of keywords ready, you can feed them into the tool to determine how they have been faring.
SEMrush
Cost: Pricing starts at $69.95 per month
About: SEMrush can be your go-to online marketing tool when it comes to creating vital data for developing strategies for SEO, link building, and advertising. It can be of immense help to digital marketing professionals and business owners. The tool was built with the objective of revving up day-to-day online marketing activities while monitoring website performance.
This tool enables you to keep a close watch on your competitor's best keywords. It helps you stay one step ahead by identifying new competitors through organic research and track the position of their domains.
It helps you with advertising research by helping you unearth and analyze your competitor's ad strategies, ad copies, keywords, and budgets.
You can discover new competitors in AdWords and Bing Ads, apart from localizing your ad campaigns.
It allows you to use its data to compare competitive domains and forecast keyword difficult in a matter of clicks.
It enables you to commence global campaigns for your website and equips you with the metrics related to competitors, keyword rankings, and on-page health.
Alternatives:Apart from the above, you can also consider the following similar tools –
Keyword Tool
KeywordSpy
GeoRanker
WordStream
Keyword EyeKeyword Discovery
Übersuggest
Advanced Web Ranking
3. Preliminary Questionnaire
Local Visibility System
Cost: Free
About: If you think your business isn't getting found at the rate it should be, you need this Questionnaire.
Phil Rozek has developed this Questionnaire with the view to help businesses augment their local visibility in search engine results.
Simply fill out his 2-page questionnaire (available on the website) and email it to Phil, and he will devise a step-by-step local visibility campaign that suits your business's needs the most.
Thanks to the 'Local Visibility X-Ray' tool, you can enhance your local rankings and reach a wider customer base with some custom SEO auditing.
If you think you need a one-on-one consultation with Paul, you can get in touch with him, fix a particular date and time for a telephonic conversation and sort out your local visibility woes.
Maintain positive reviews and rankings for your website with some help from Phil and this ingenious online tool.
4. Citation Management Tools
Moz Local
Cost: $84 per year for Listing Distribution services. $120 per year add-on for Search Insights services.
About: Want to know about where you can send in online business listing and start raking in the moolah? Moz can be your best ally.
This tool looks through the biggest search directories, determines whether or not you're listed, helps with fixing issues, and lets you take stock of listings of your business that you haven't already.
Simply enter your business name and zip code and it will present all the addresses your business has. Once you select the correct address, it will give you a complete report which will depict your completed, incomplete, inconsistent and duplicate listings.
The tool also tells you of the places where your business isn't listed. You can provide your business information to multiple directories simultaneously. Further, you can update your information on a regular basis.
BrightLocal
Cost: 14-day free trial. Prices range from $29 to $79 per month depending on the plan you choose.
About: Brightlocal brings you the CitationBurst tool which lets you access their database of over 1600+ citation sources. It gives you the freedom to pick and choose the directories to which you want to submit your listings. You can either do the submissions yourself or get the Brightlocal team to do it for you.
Use this tool to clear out your current citations, rectify inaccurate information, and create new directory listings that establish your local authority in Google.
The tool also helps you with updating and/or submitting to renowned websites like Google+Local and Yelp. Further, you can also send your information to data aggregators like InfoUSA and Axicom.
Through this tool, you can take ownership of your citations. This means you control the information that is displayed. You can also update it whenever you want to.
That's not all! This tool enables you to prevent third parties from publishing false information about your business.
Yext
Cost: Varies according to services availed
About: Yext is a citation finder tool that also provides various other services. It allows you to list your websites on the business listings that your business does not feature in. You can also monitor your reviews and track your business's local search performance with the help of their local search analytics.
With Yext, you're in charge of your company listing across over 100 of their global partners, including Google, Apple, Facebook, Yahoo, Yelp, Maps, and Bing.
Their award winning technology makes it possible for you to determine how often a listing shows up in local search results, the number of views a page receives, and the number of times visitors click on a message.
You can also track and search reviews in real time in accordance with your location across every PowerListing website that supports them. Additionally, you get notified for every new review and search review by location. This enables you to compare how feedback varies across different times and locations.
Save yourself the time and cost of preventing the appearance of duplicated data of your business information and make use of the SEO benefits that this tool provides. Yext finds and curbs duplicate listings so that customers only see authentic and accurate information about your business. This lends it more authority and consistency.
Alternatives: In case you wish you consider other tools, here are a few interesting options –
Whitespark
Synup
NAPtune
N.A.P. HUNTER!Places Scout
Advice Local
Universal Business Listing
Neustar Localeze
SyCara Local
LocalVox
5. Build Citations Manually
RoboForm
Cost: Download the password manager for free. The licensed software costs $9.95 in the first year.
About: A password managing tool, Roboform also allows you to build citations. Simply enter the information about a location and let it auto-fill on a few submission sites. Setting it up and saving the information may be a manual affair, but it will save you a lot of time and effort in the long term.
The tool ensures to save the data you enter it and allows you to share it with your team members.
Furthermore, it integrates into your browser. You can click on the drop-down menu and select the auto-fill information you want.
Using this ensures to check that you're not already listed before you start adding your lists to websites.
Alternatives: You may also want to consider InFormEnter addon. tweet this
6. Structured Data Inspector
Synup
Cost: $25 per location per month.
About: Synup is a great tool to use when you want to run a website to determine whether or not you have relevant schema marked up content. It can also generate a list of pages that have no schema installed.
It can crawl over 200 local search engines and directories and detect inconsistencies in the data.
It sends immediate notifications when your customers leave a review or a comment. It has an integrated workflow that enables you to respond from within Synup.
Using this tool's integrated analytics, you can track web rankings, traffic, and more.
Google Structured Data Testing
Cost: Free
About: The Google Structured Data Testing Tool helps you determine what content on your website is marked, and reports errors (if any) in the manner your schema-ed content is marked up. This tool can be particularly helpful if you have doubts about parts of your website having schema that aren't being read/interpreted properly.
This tool lets you examine your markup and ensure that Google can mine the structured data from your page.
To make things easier for you to understand, this tool displays the markup found on a specific web page, as well as a preview of how that page might appear in Google search results.
Structured Data Linter
Cost: Free
About: The Structured Data Linter helps webmasters and web developers ascertain the presence of structured data in their HTML pages.
Search engines make use of structured data to understand webpages more accurately and display enhanced search results. The Linter reads the microdata, JSON-LD and RDFa formats. However, this does not imply that every consumer of data will make use of all the structured data available on your page. Currently, the Linter does not read microformats.
The Linter performs limited vocabulary validations for schema.org, Facebook's Open Graph Protocol, and Dublin Core Metadata Terms, among others. Apart from that, it also provides snippet visualizations for schema.org.
Alternatives: Check out the following alternatives to the above tools that you can use to get the job done –
Yandex
Semantic Inspector
Bing – Webmaster Tools
7. Schema Creator
About: Search engines use structured data to understand your content in your HTML. Hence, Google and other search engines came up with a structured data standard in the form of schema.org
This tool makes it easy for you to get started with creating HTML with schema.org microdata.
Thanks to this tool, you can easily find some of the most popular schemas to create.
It is extremely easy to use. After creating a schema, all you need to do is copy and paste the code to your site or add additional item properties to it.
Microdata Generator
Cost: Free
About: Make use of this tool to build a list of local generators that would interest businesses looking to mark up their name, address and contact number using schema.org terms.
Using this tool is pretty easy. Simply find your segment from across the list provided on their page. You can also the 'Local Business (NAP)' to find your segment. Enter the required information and hit the 'Generate' button.
In order to ensure that search engines synthesize your information accurately, you can copy and paste the code in the Rich Snippet Tester (HTML Tab).
Thereafter, you can paste the code on your site (Footer). Yes, it's that simple!
About: The schema creator by 51blocks helps you create a structured markup for your website, which is supported by all major search engines.
To use it, simply enter your business details. This will generate a code for you at the bottom. Copy and paste this code to your website, and you're done!
Alternatives: A few other tools worth considering in this regard are as follows –
Seo Chat
WordPress.org
TVS Internet Marketing
8. Free Review Monitoring
Free Review Monitoring
Cost: Free
About: As the name of the tool suggest, the tool can be helpful in monitoring your reviews on most review websites for free.
The tool can do so on a day-to-day basis. It sends out an email with new reviews as and when they are crawled.
Monitoring reviews can be extremely beneficial to businesses for a number of reasons. For starters, you get to know whether or not your customers are happy with you through online reviews. Prospects will come to you only if your reviews influence them positively.
All your reviews are presented to you in one place with various monitoring tools at your disposal.
This tool is trusted and use by over 12000 businesses.
Brand Mentions
Cost: Starting from $49
About: BrandMentions is one of the most effective methods of monitoring your brand on the Internet.
It is the tool that searches all the digital corners for the mentions of your brand or a relevant keyword for your business.
BrandMentions scans the entire web and all the important social platforms (Facebook, Instagram, Twitter, YouTube, Reddit, etc.).
It also sends you real-time alerts, 24/7, and it also allows you to engage in online conversations in real-time, directly from the app.
About: Every local business receives online reviews and feedback from their customers. Google Alerts can help you receive important alerts every time your brand is mentioned on all the major review sites.
With just one keyword, Google Alerts picks up your mentions as they appear on various online platforms.
Keep plagiarism at bay by entering specific text from your published works in the Search query field. Google will catch any mention of it online and bring it to your notice via email notifications for further action.
Alternatives: If you're looking for other tools that carry out the same functions as the above ones, here's a list –
BuzzBundle
Vendasta
SweetIQ
Reputology
ReviewTrackers
GetFiveStars
MentionBrightLocal
9. Review Handout Generator
About: If you're a local business that wants to get noticed by the right audience, then you need Whitespark. This is one tool that enables search engines and prospective clients to find you easily.
Whitespark is great for you if you want to find local citations of your business on the Internet.
Sign up with Whitespark for free and you can perform three searches per day. To use it, simply choose between desktop and mobile as your platform. Enter the necessary business information. Save it in the PDF format and feel free to take prints and hand them out to your customers.
The tool can be customized to suit your business needs, which can get you more reviews and improve your rankings.
Local Visibility System
Cost: Free
About: This tool takes the frustration out of working with a complex review-generating tool and helps you get better reviews. It is fast and easy, so you can't go wrong with it. What you're left with is a single-page handout with four simple steps and pictures.
One of the many great things about this tool is that it can be tailored to suit the exact needs of your business and even industry.
The information you enter can be saved in the PDF format, which can be easily printed or emailed to customers depending on their convenience.
The tool is compatible with almost every device, such as desktop, laptop, smartphone, and tablet.
Translation Journa
Cost: Free
About: Simply put, this tool is an online journal for translators, interpreters, and all those connected with the field of translation. It can also help businesses with posting client testimonials and other marketing materials likes catalogues and brochures to your website.
Using this tool, you can also edit the text written by the client (with his/her permission).
This tool makes it possible for you to post client reviews on LinkedIn, Facebook, and Google+.
You can post client testimonials in audio and video formats.
You can also provide new referrals and introductions to prospective clients with the help of this tool.
Alternatives: Apart from the above tools, you can also consider the following tools for generating and handing out reviews for your business –
Grade.us
ModernComment
Customer Lobby
10. Zip Code Tool
About: Google rankings matter to businesses. In order to improve your rankings, you want to ensure that the business information you provide is consistent and accurate. This tool makes sure that you always publish your correct zip code.
With the help of this tool, you can rest assured that the zip code you provide is always in keeping with your business address.
All you need to do enter the name of your street, city and state, and this tool will provide you with the corresponding zip code.
The more accurate your business information, the better you rank on Google.
This tool can be particularly helpful to those businesses that have offices across multiple geographical locations.
About: This is another great tool that helps you get the right zip codes according to your city and state.
All you need to do is enter a radius to search within specific kilometres or miles.
Proceed by either clicking on the map or entering an address or zip code in the centre of your search. The results will appear inside the specified radius. To see the zip code, you can hover over a marker.
Further, you will also a list of zip codes in the text box in the CSV output station.
However, the radius has its limits and the result can take a long time to load.
About: This easy-to-use tool is a great option if you want to generate the right zip code for your business.
Simply key in the address that you need a zip code for. Select 'Lookup and Verify'. The tool will authenticate and standardize the address entered with a ZIP+4 in accordance with the guidelines of the United States Postal Service.
free seo tool
1. Google PageSpeed Insights
Check the speed and usability of your site on multiple devices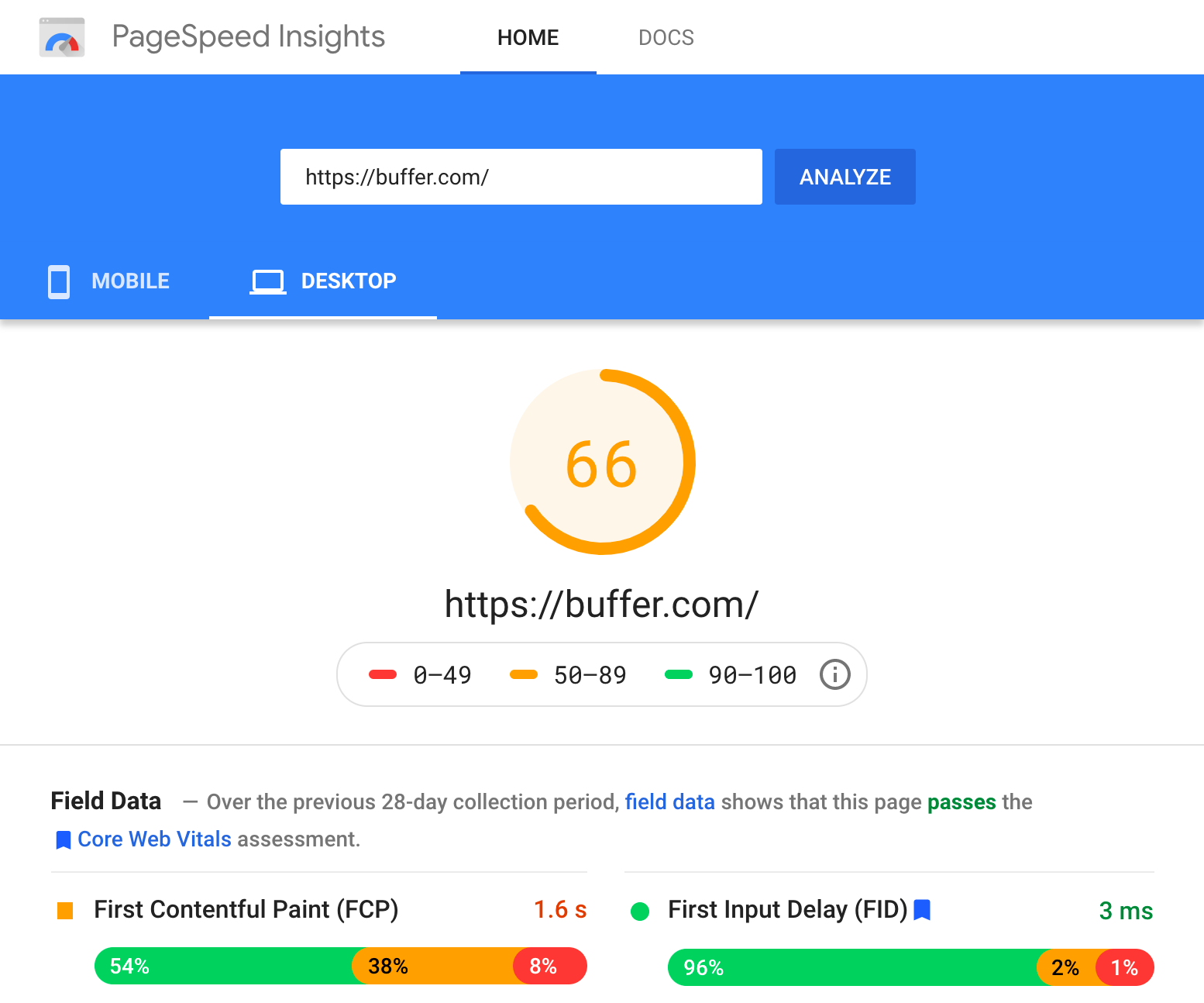 Limitations: None
Enter a URL and this tool will test the loading time and performance for that URL on desktop and mobile. It then grades your site's performance on a score from 0 – 100. It tells you exactly how fast it takes to load the site according to different metrics, and also suggests areas for improvements.
Alternatives:Pingdom, WebPageTest, and GTMetrix
2. Ahrefs Webmaster Tools
Run a technical audit of your site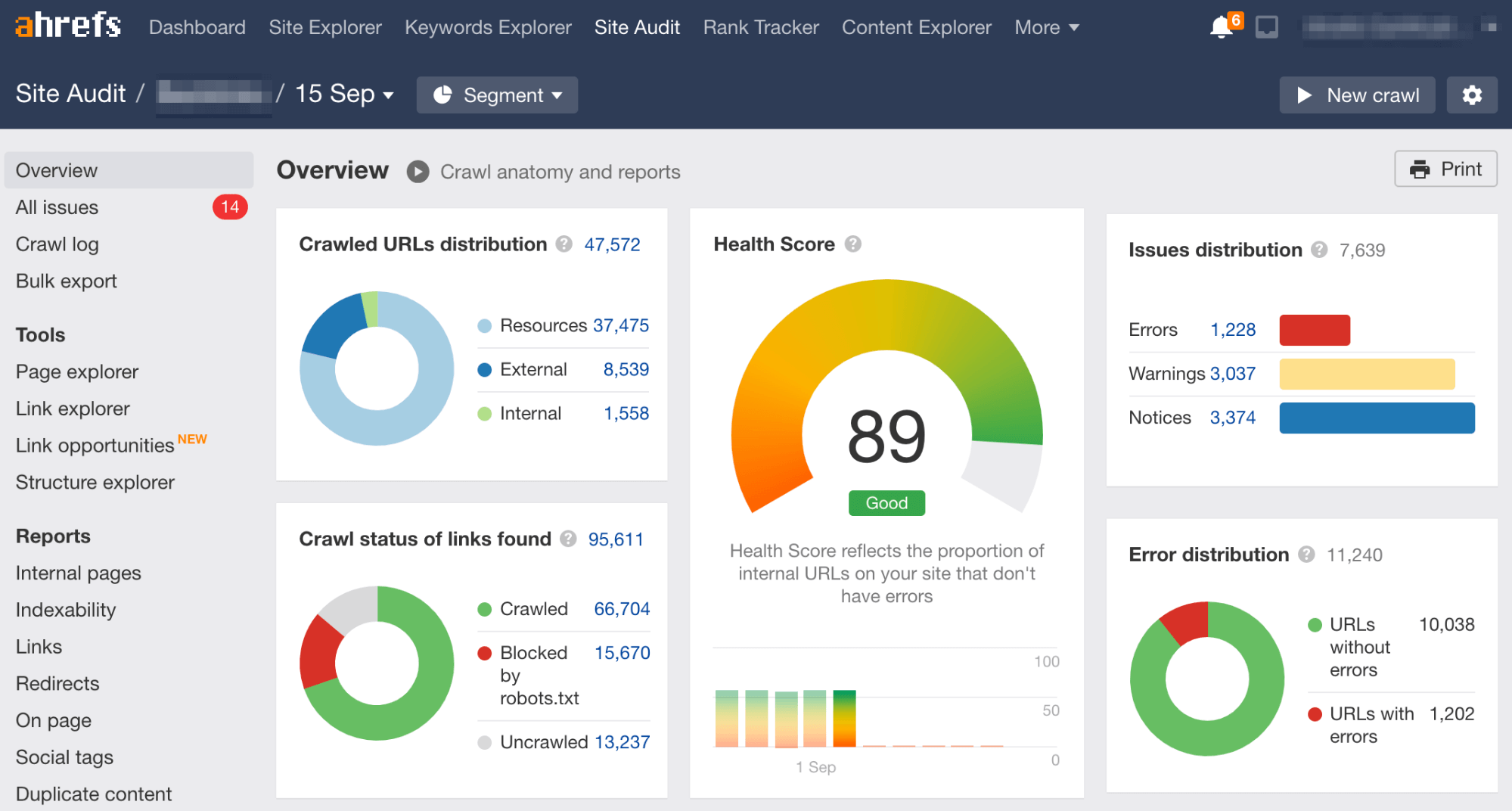 Limitations: 5,000 crawl credits per project per month
Sign up for Ahrefs Webmaster Tools, verify your website and you'll be able to audit your website for over 100+ technical SEO issues. The tool also gives suggestions on how to fix them.
After running an audit, it also suggests areas where you can improve your internal linking, which is helpful in boosting your rankings in search engines.
This tool also allows you to see your site's organic keyword rankings as well as who's linking to you.
Alternatives:Screaming Frog (audit), Beam Us Up (audit)
3. Answer the Public
Hundreds of keyword ideas based on a single keyword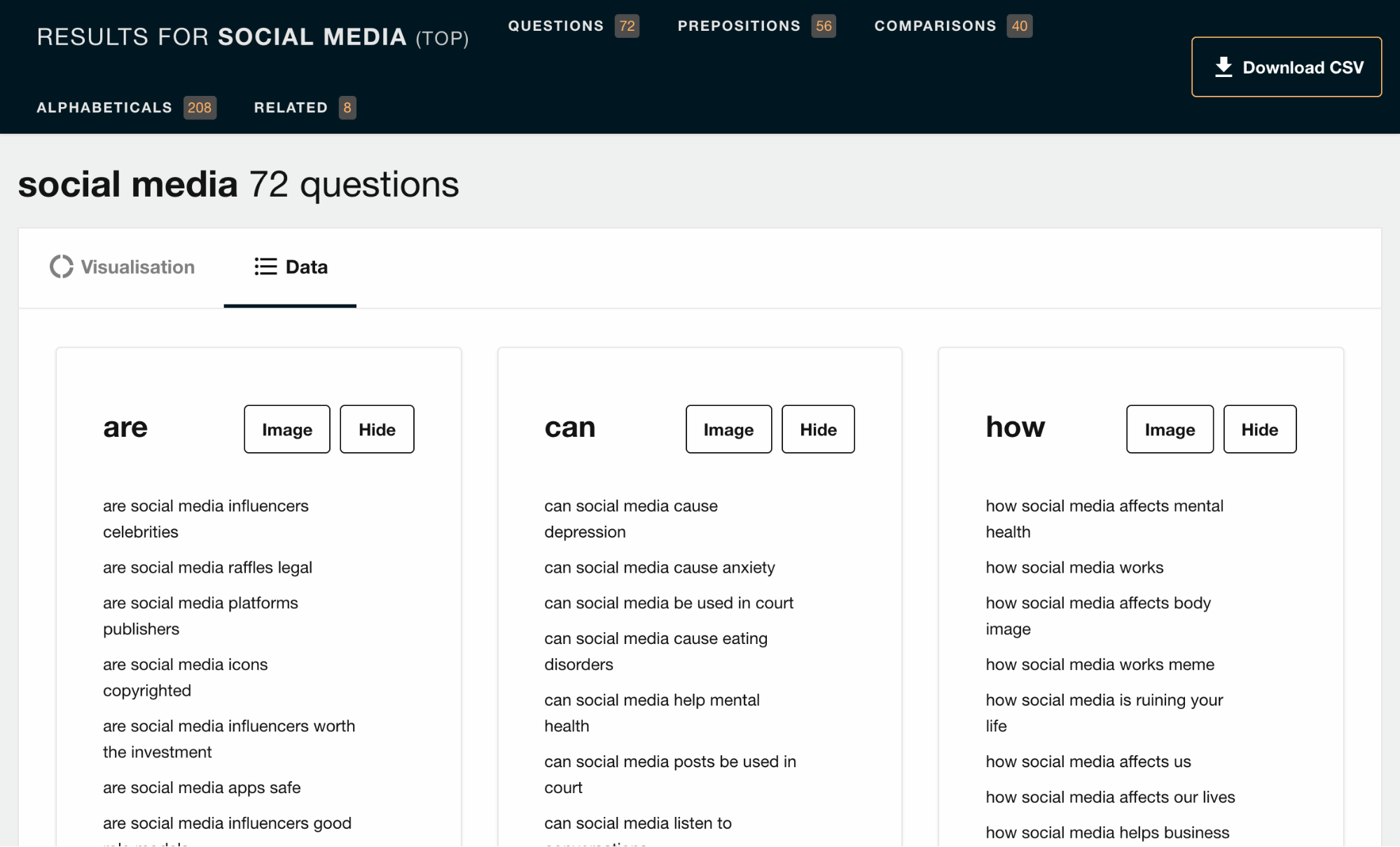 Limitations: Two free searches per day
Enter any relevant keyword, and Answer the Public will provide a huge list of long-tail keyword opportunities, plus common questions asked.
Alternatives: KeywordTool.io, UberSuggest, Keyword Sheeter, Keyword Generator
4. Google Analytics
Complete web stats and search insights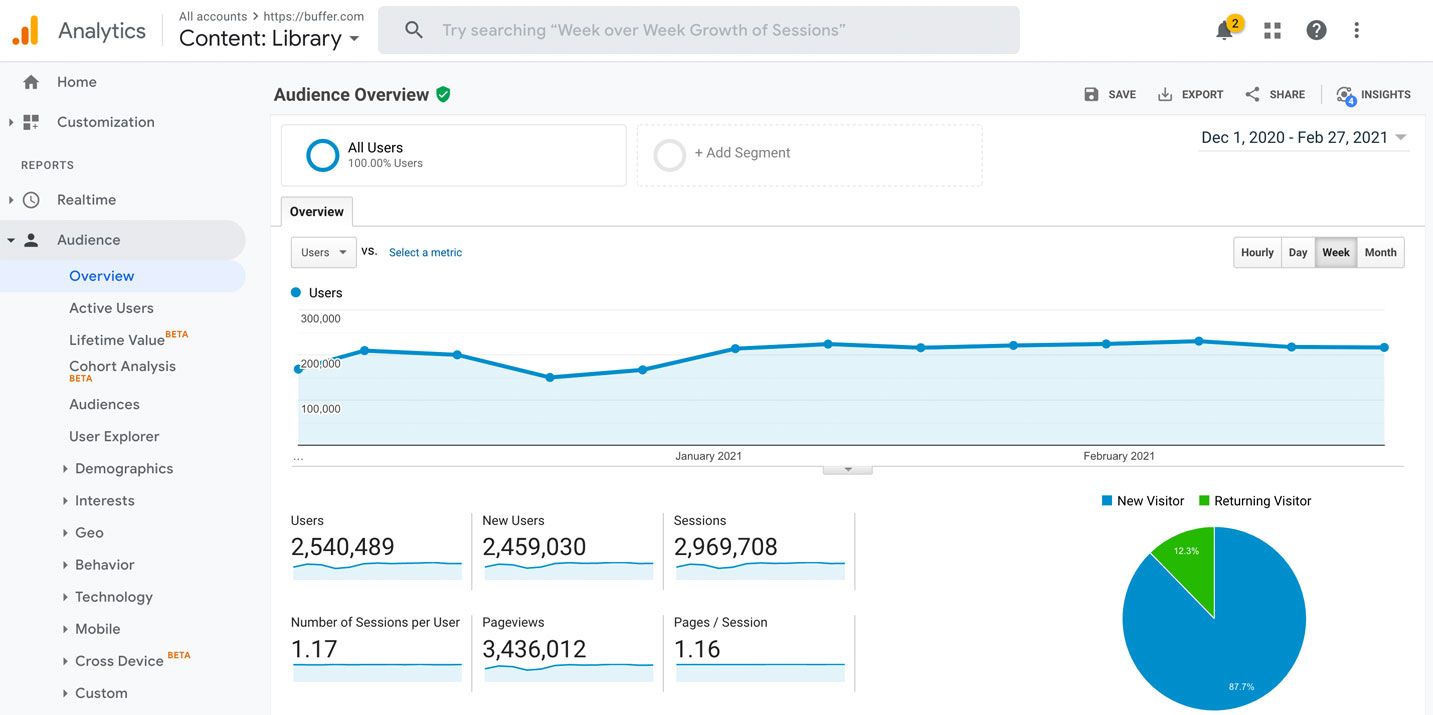 Limitations: No limitations for its usage, but queries that are sending you organic traffic are hidden
Quite possibly the most powerful free analytics tool available, Google Analytics tracks pretty much every bit of traffic you can imagine on your website—where it comes from, which page is receiving it and so on.
While it's not purely for SEO, it's still a helpful tool to track if you're getting traffic from organic search.
However, Google Analytics has since stopped showing which keywords are sending you those traffic. You'll have to pair it with a tool like Keyword Hero to uncover what's behind "(not provided)."
Alternatives:Matomo, Open Web Analytics, and Clicky
5. Google Search Console
Constant website analysis, alerts, and error reports

Limitations: Only shows a handful of technical SEO issues, the top 1,000 backlinks and top 1,000 organic keywords
Google Search Console gives you a taste of what the most used search engine thinks of your website. You can use it to check and fix technical issues on your website, see important SEO data like clicks, impressions and average ranking position, submit sitemaps and more.
If ranking in search engines like Bing and Yandex are important to you, then take note that they have their own "search console" too.
Alternatives:Bing Webmaster Tools, Yandex Webmaster Tools
6. Ahrefs' Backlink Checker
Comprehensive link analysis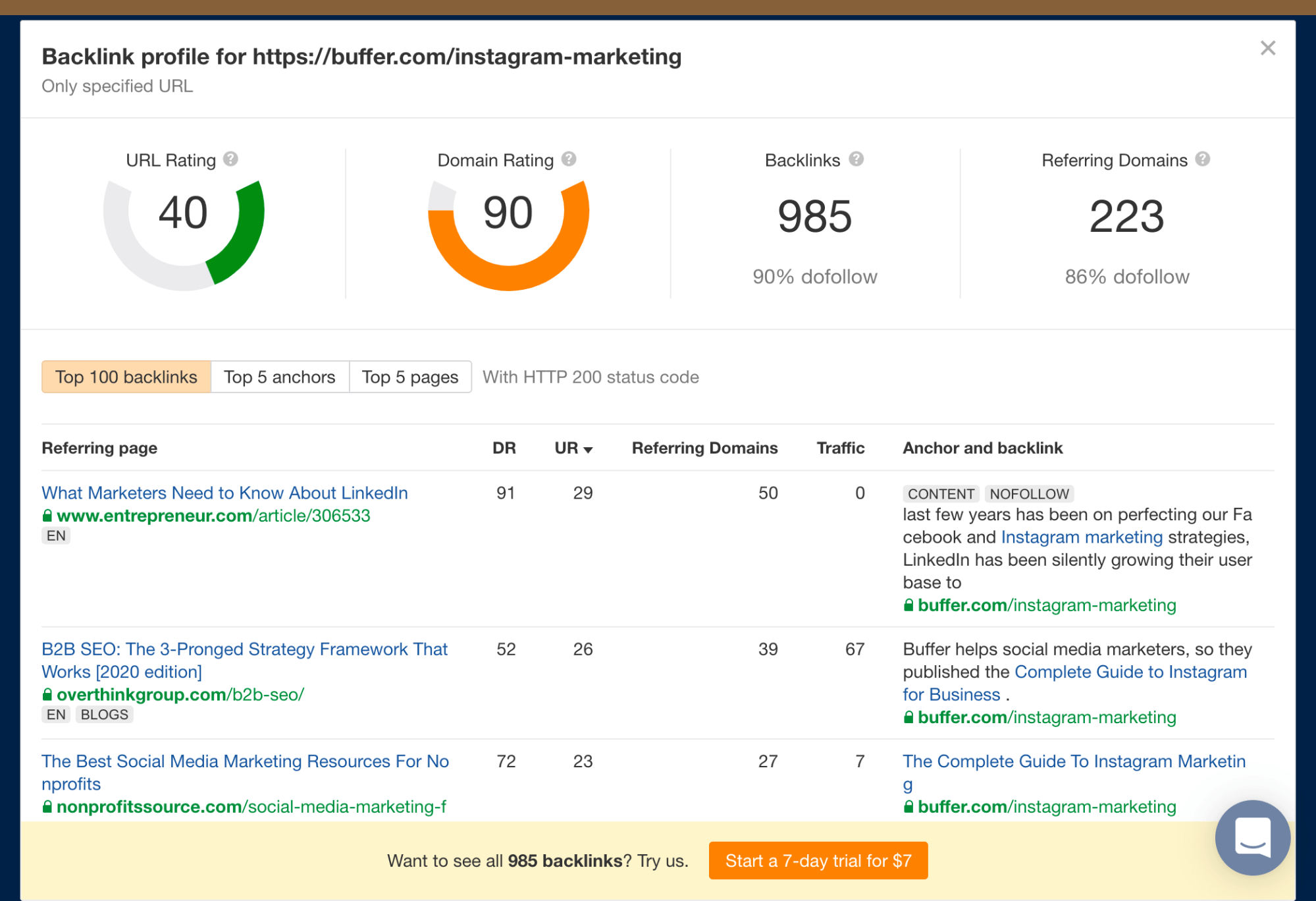 Limitations: Free for the top 100 backlinks
The free version of Ahrefs' Backlink Checker shows the top 100 backlinks to any website or URL, along with the total number of backlinks and referring domains (links from unique sites), Domain Rating (DR), and URL Rating (UR) where applicable.
A great way to use this tool is to paste your competitor's website and find potential link building opportunities.
Alternatives: Moz Link Explorer
7. Google Ads Keyword Planner
Know what people search for
Limitations: You'll need to run an ad campaign to see exact search volumes
Enter a keyword or group of keywords into the tool, and Google Keyword Planner will return all sorts of helpful stats to guide your keyword strategy: monthly search volume, competition, and even suggested terms you might not have considered.
Alternatives:Bing Keyword Planner
8. SERPSim
Preview how your web pages will look in Google's search results

Limitations: None
See how your meta title and description will appear in the search results before you even publish your web page. Works for desktop and mobile.
Check for truncation issues and fix them instantly.
Alternatives: Portent's SERP Preview Tool
9. Google Trends
See the relative search popularity of topics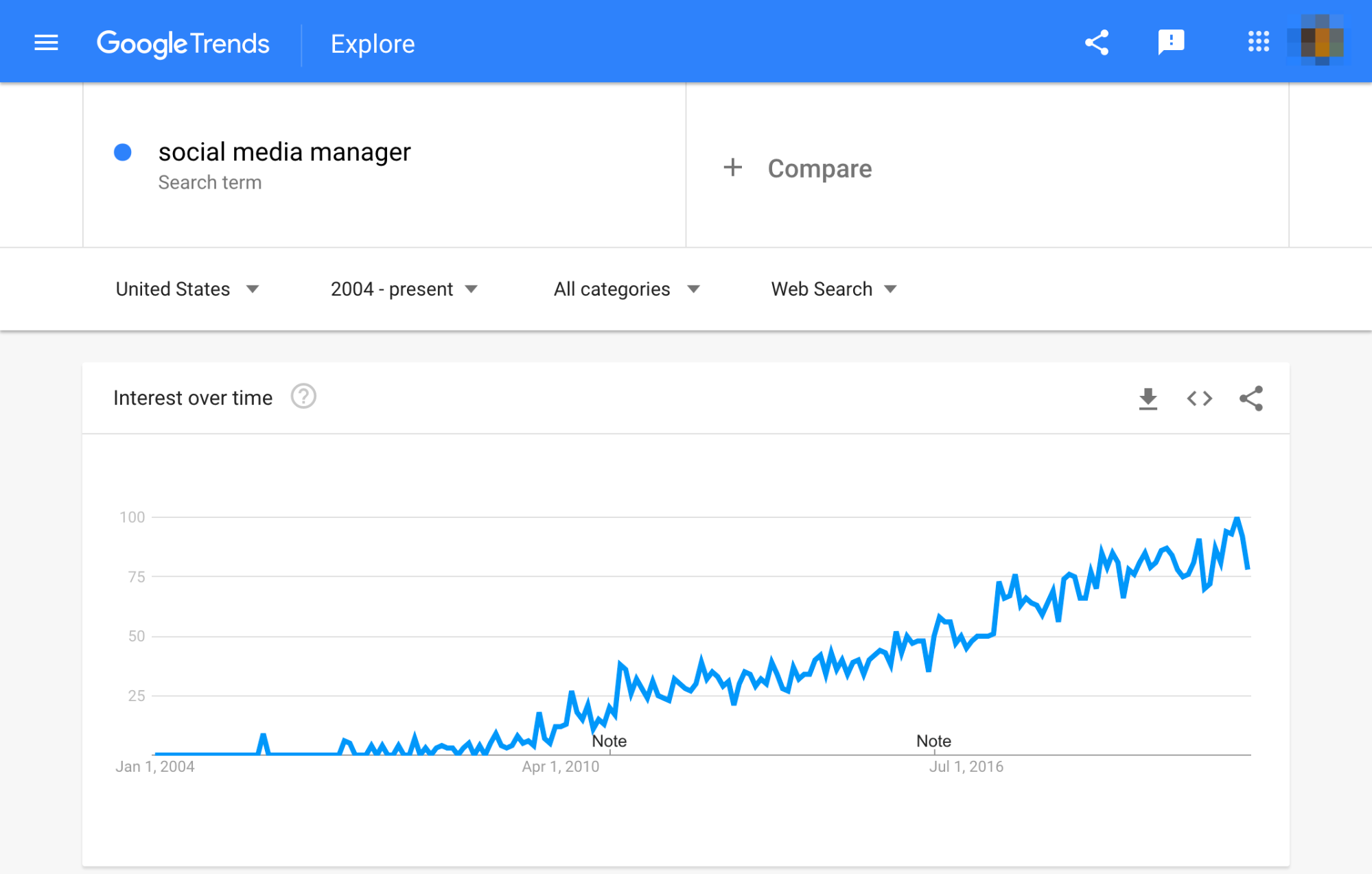 Limitations: None
Google Trends shows the popular search terms over time, which is useful for uncovering seasonal variations in search popularity amongst other things. Compare multiple terms to see the relative popularity.
10. Ahrefs' SEO toolbar
Check the broken links, redirect chains, nofollow links and on-page elements for any webpage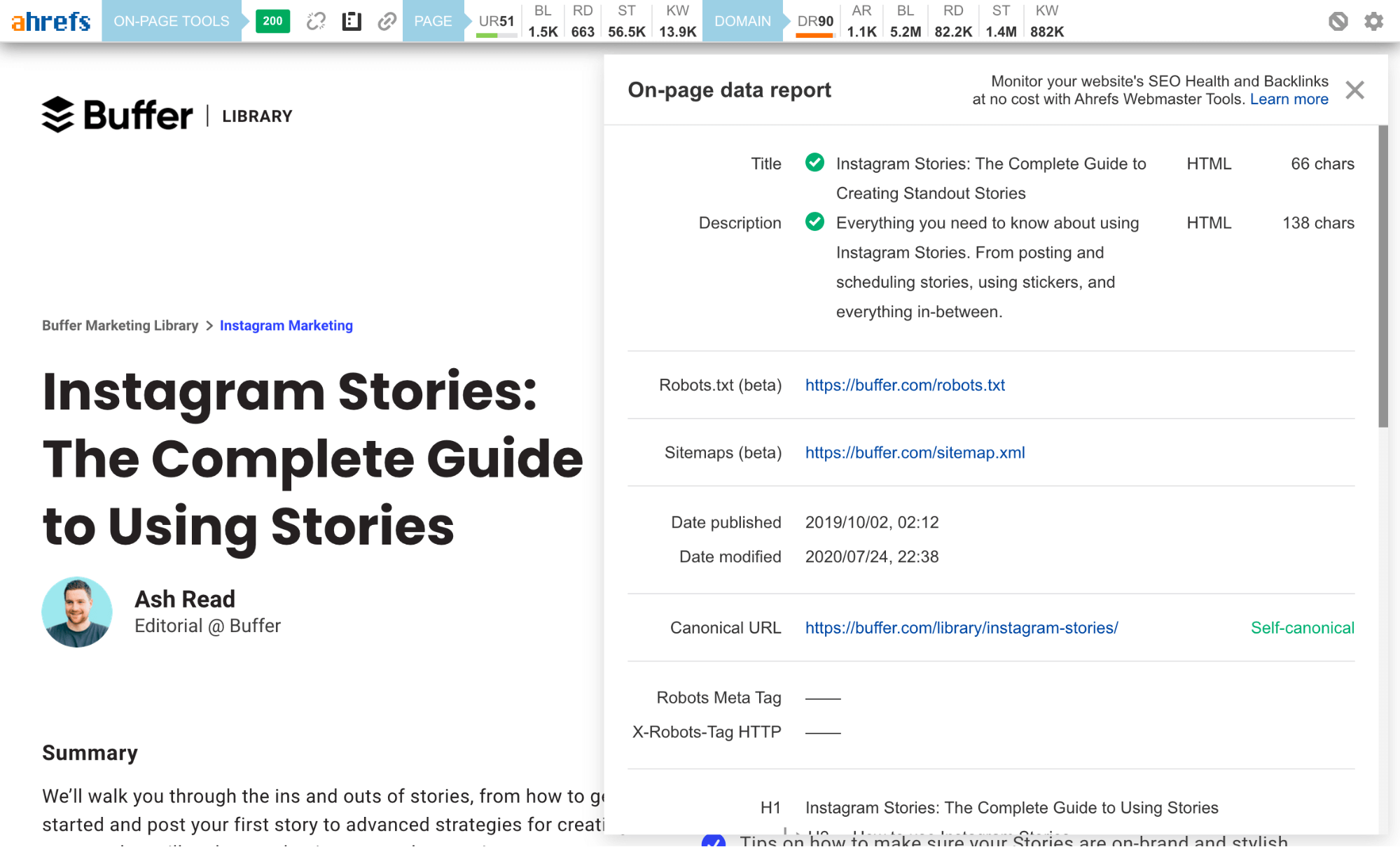 Limitations: Technical and on-page SEO features are free, but you'll need an Ahrefs account to see SEO metrics within the SERPs
The Ahrefs SEO toolbar is a free Chrome and Firefox extension that allows you to check for broken links, trace redirect chains and highlight nofollow links for any webpage. It also generates an on-page SEO report that includes the webpage's:
Title
Meta description
Word count
Headers
Hreflang tags
Canonicals
OG tags
This makes analyzing any page much easier and faster.
If you have access to a paid Ahrefs account, you'll also be able to see important keyword metrics like search volume, CPC and keyword difficulty within the SERPs.
Alternatives:Detailed SEO Extension, SEO Minion, LinkMiner (broken links), Ayima Redirect Path (redirect tracing)
Conclusion
Let us know your thoughts in the comment section below.
Check out other publications to gain access to more digital resources if you are just starting out with Flux Resource.
Also contact us today to optimize your business(s)/Brand(s) for Search Engines