Social media marketing is an essential part of your agency's marketing strategy, but it can be hard to keep up with all of the platforms and tools. Whether you're looking for ways to improve your existing social media marketing or just want to get started, there are a lot of options out there.
In this guide, we'll walk through everything from the basics—like what social media marketing is, why it's important for agencies, and why you should use these tools—to more advanced topics like how to find new clients on social media and which platforms are best for reaching different demographics. We'll also cover some important things to look for in a toolkit before you start implementing any of these solutions.
Social Media Marketing Tools For Agencies
1. Brandwatch (Formerly Falcon.io)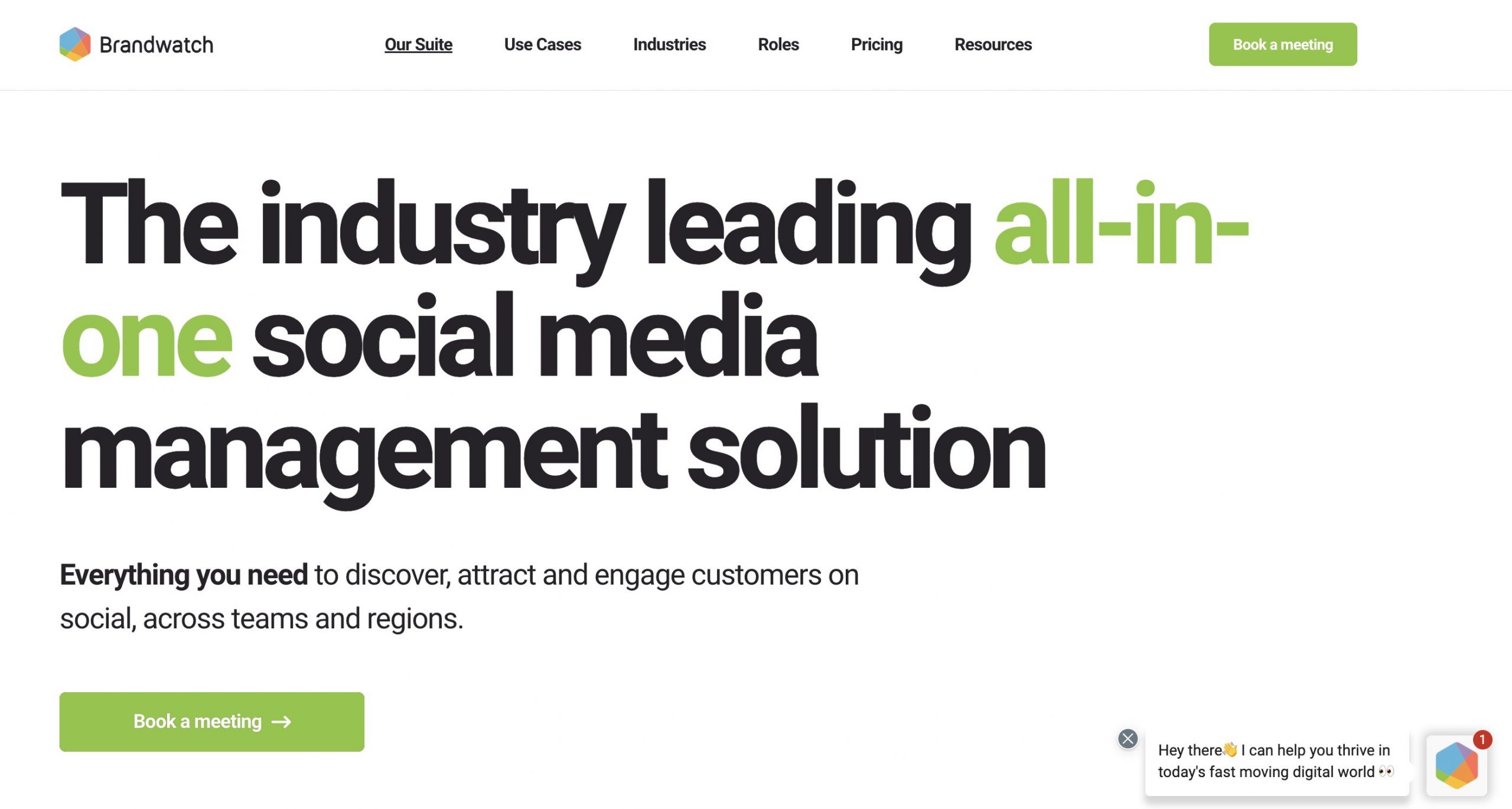 Brandwatch is a social media listening, publishing, advertising, measurement, and customer data management platform. Brandwatch has a global footprint, with offices in New York, Berlin, Budapest, Sofia, Melbourne, and Chennai, and employees and customers spread across the globe.
It offers two plans: Essentials has a Content Calendar & Campaign Planner, advanced analytics dashboards, community management, and In-app support. The full suite adds in unlimited channels, reporting & teams, content calendar & campaign planner, social media advertising, advanced analytics dashboards, competitor benchmarking, collaboration & approval flows, and custom onboarding & support 24/7.
Pricing: Brandwatch offers a free trial of its Essentials package, and you can ask for a demo of the Full Suite. The Essentials package costs $129 per month for single users and small teams. Pricing for the Full Suite is available by quote.
2. Sendible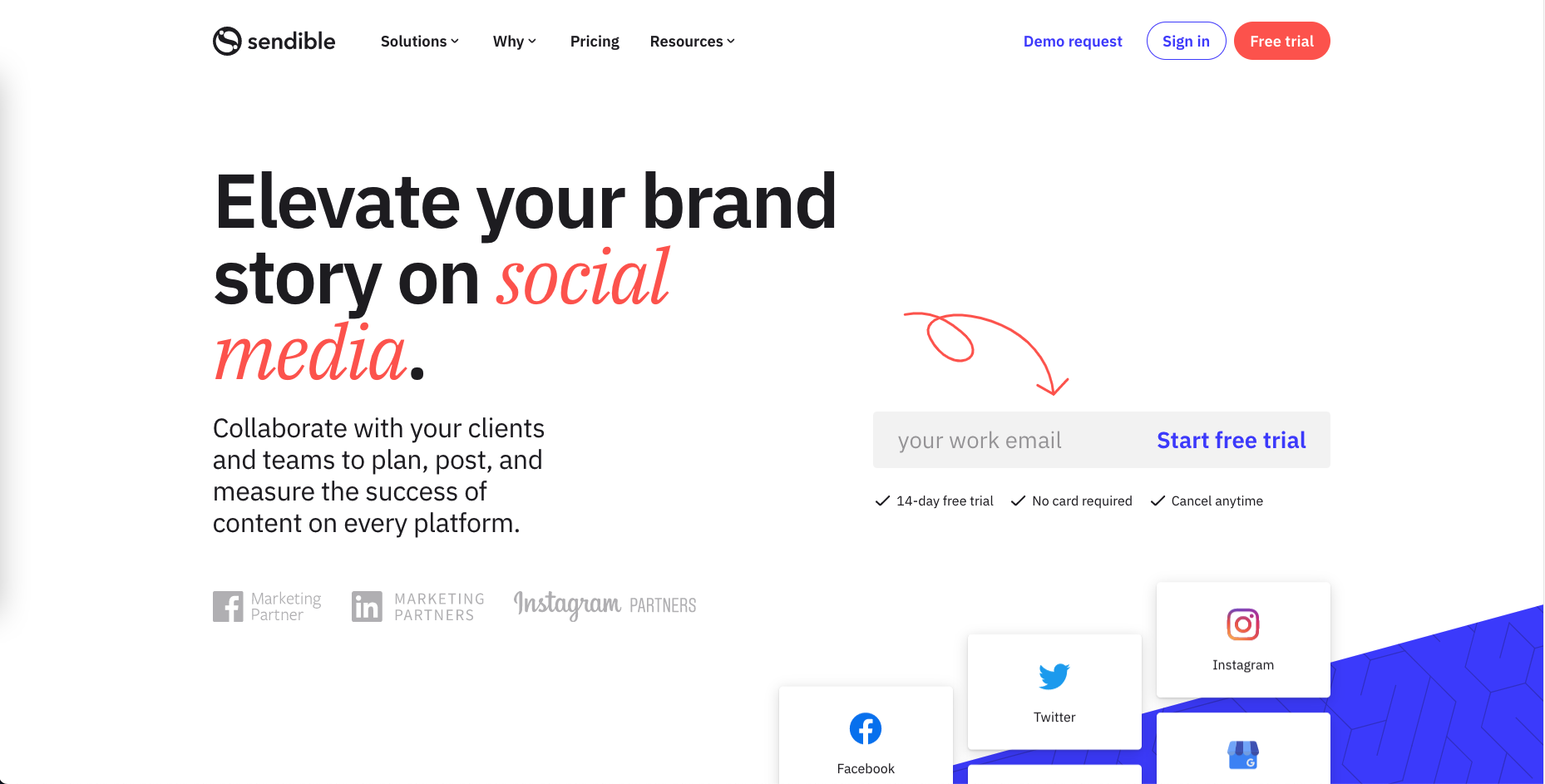 Sendible is a social media management tool designed specifically for agencies. You can create a unified inbox for all of your clients so you can manage those social media accounts easily from a single location. Sendible has powerful features for social media monitoring, publishing, and analytics, and it also provides product recommendations by analyzing your clients' social media profiles and suggesting the content that works for that audience.
Pricing: Sendible offers a free trial. Pricing starts at $24/month.
3. AgoraPulse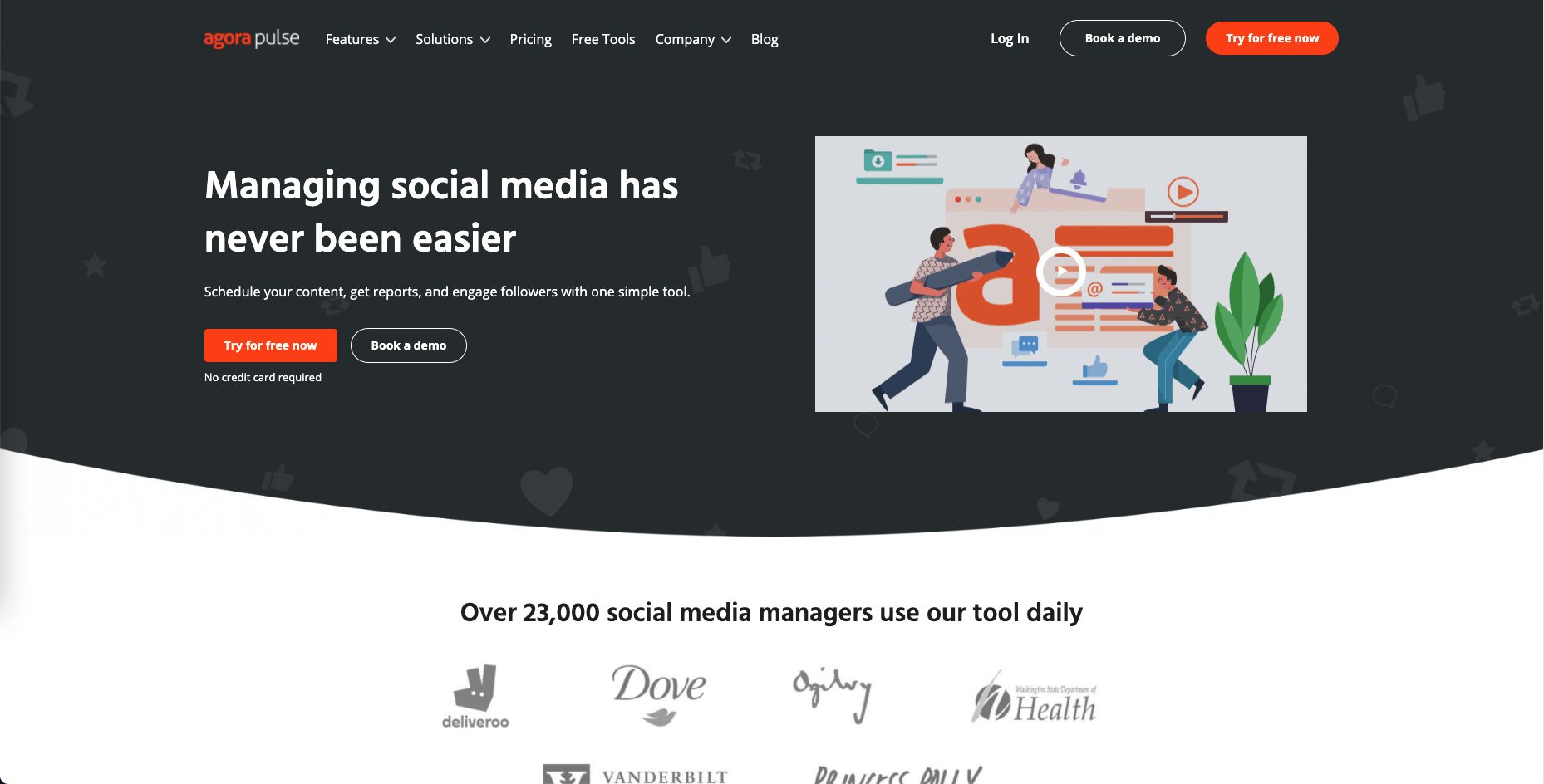 Agorapulse is perfect for publishing, monitoring, and reporting on multiple social media accounts. You can use Agorapulse to manage incoming messages in a single location and get all the insights you need about how your team is working from your dashboard. With Agorapulse's monitoring tool, you'll be alerted to trends, hashtags, and key influencers and ambassadors so you can cue into the most relevant trends for your clients. Plus, Agorapulse has a built-in CRM!
Pricing: Agorapulse offers a free trial. Paid plans start at $79/month.
4. Rival IQ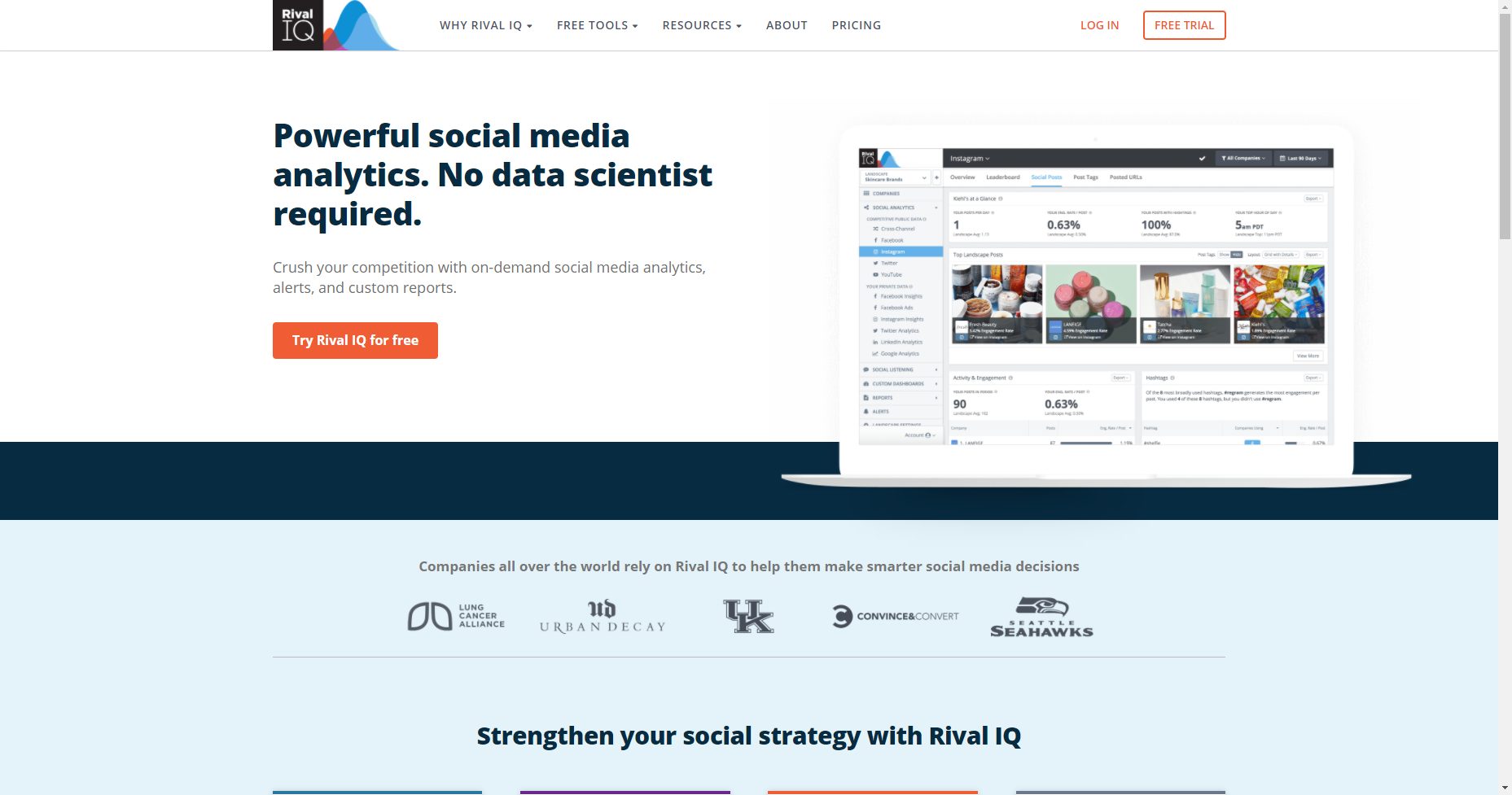 Rival IQ is a brilliant social media analytics platform that agencies can use to get detailed information about how their clients are performing on social media platforms like Facebook, Instagram, Pinterest, YouTube, Twitter, and more. Rival IQ is also helpful for content discovery. You can see the top-performing hashtags for your clients' niche or the hashtags their competitors are using so you can create content around the best hashtags.
Pricing: Rival IQ offers a free trial. Paid plans start at $169/month.
5. Sprout Social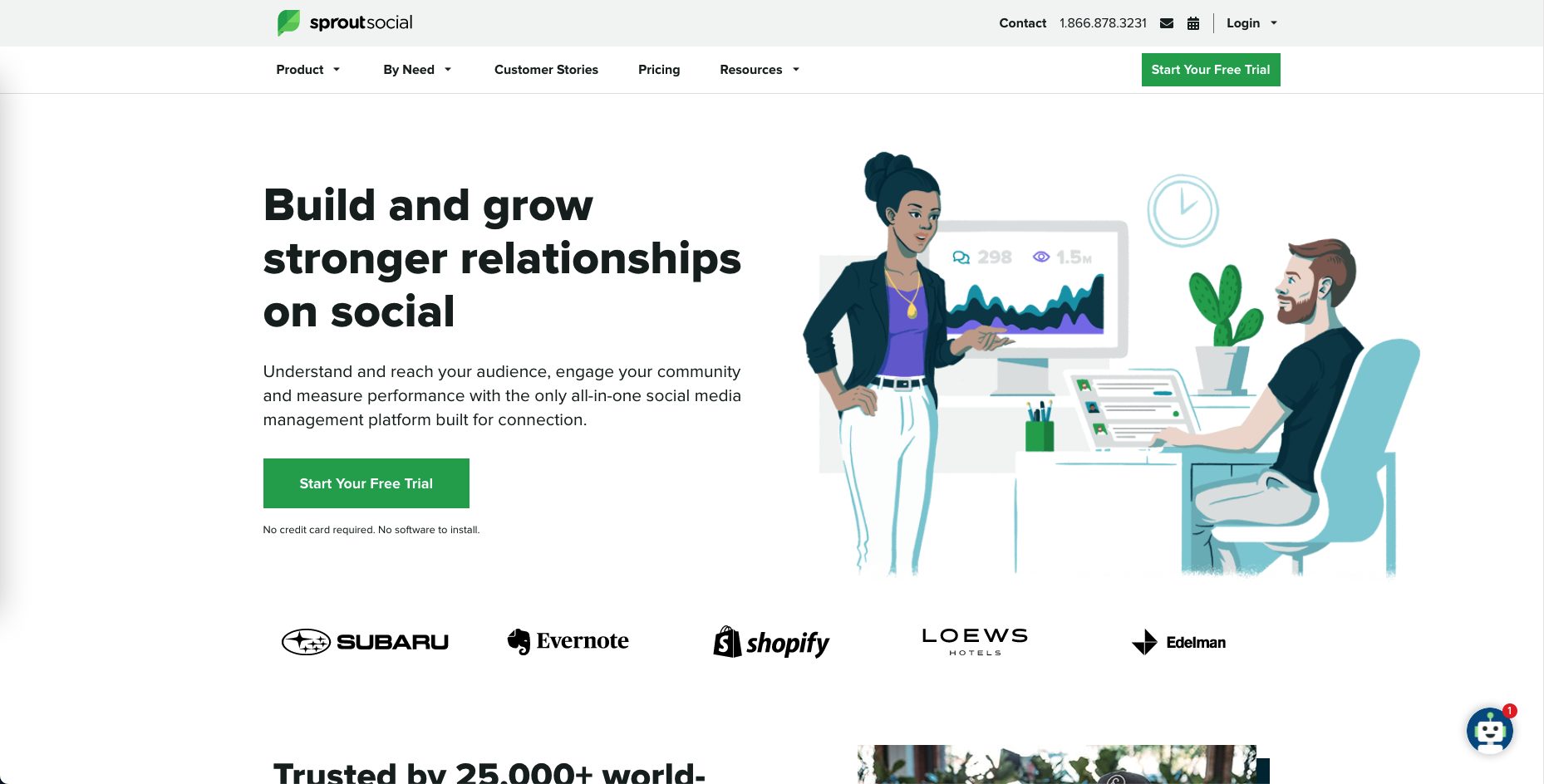 Sprout Social includes publishing, social listening, messaging, engagement, analytics, and reporting for multiple clients. You can create, schedule, manage, and publish social media posts across multiple social media platforms and profiles, as well as easily track campaign performance. With Sprout Social's "send time optimization" feature, you'll be able to publish social posts at the right time to get the best engagement.
Pricing: Sprout Social offers a free trial. Pricing is available by quote.
6. Mention
Mention gives marketing agencies a quick and easy way to track and understand the conversations on social media about their clients' brands. With Mention, your agency can perform real-time monitoring of social media, news sites, blogs, and forums for your clients. The information you gain can empower you to share with your clients how their brand is perceived online, and use data-driven solutions to bolster their brand reputation and create the best social media strategy.
Pricing: Mention offers a limited free plan. Pricing starts at $25/month.
7. Awario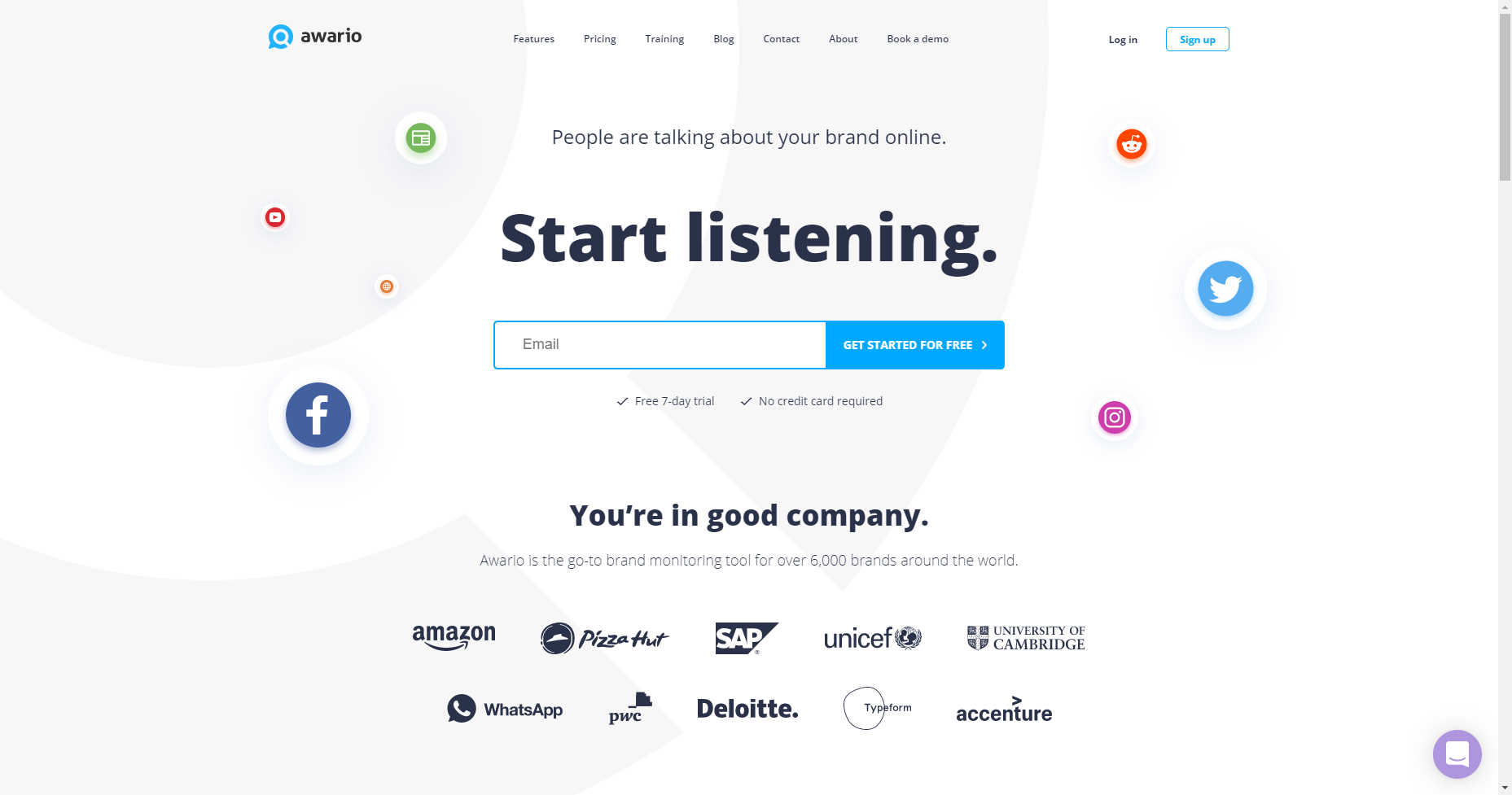 Awario is another social media listening tool that agencies can use to monitor social media, news, blogs, forums, and more for mentions of their clients or other important keywords. Awario includes a Boolean search option so you can customize your searches to ensure the best and most important information. Awario also shows mention growth and reach over time, as well as performing sentiment analysis and competitive analysis and help you find social media influencers, too.
Pricing: Awario offers a free trial. Paid plans start at $24/month.
8. CoSchedule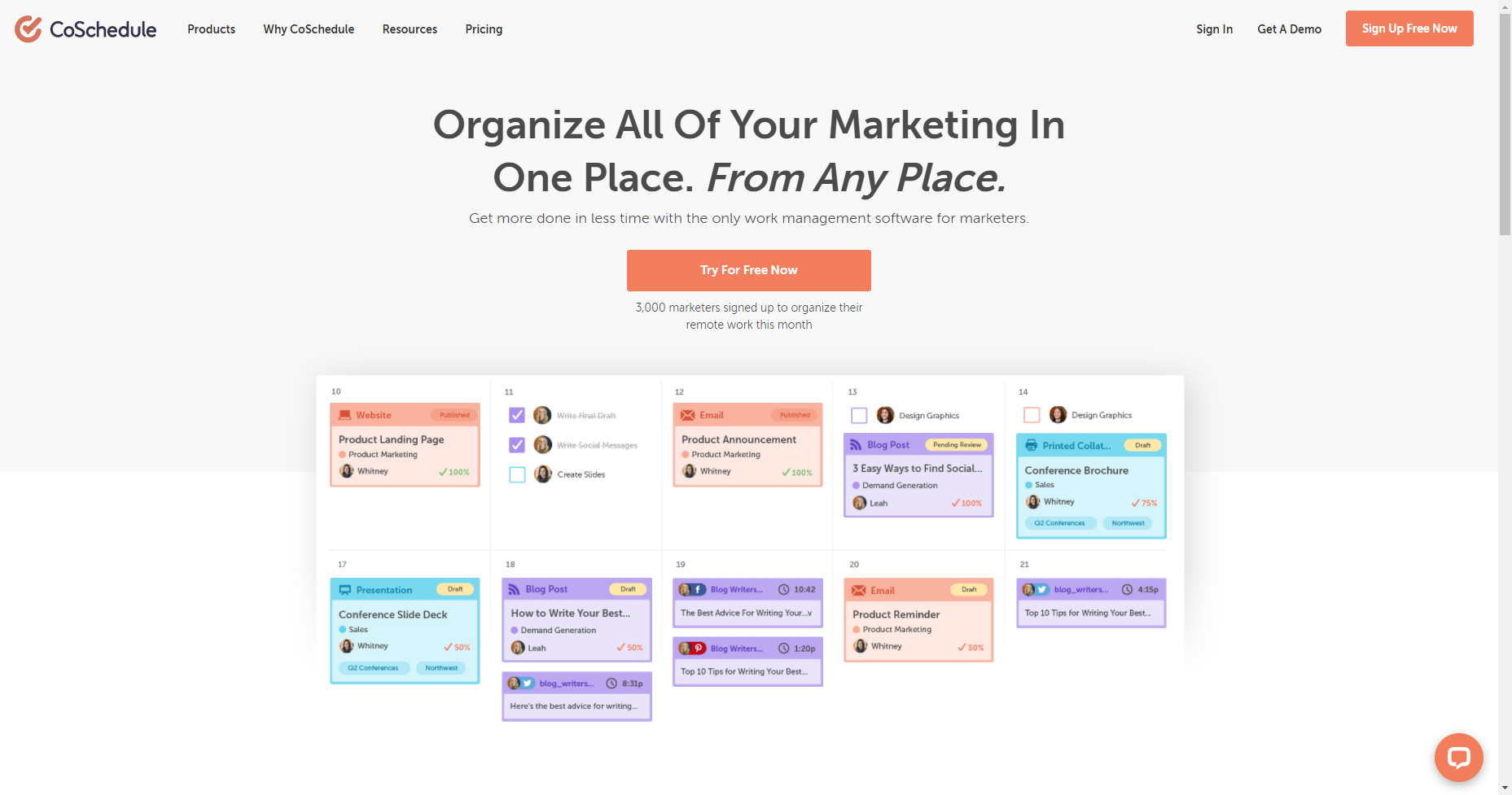 CoSchedule is a powerful social media marketing tool that can help you manage assets, set up workflows, and integrate other tools like your email marketing service or content marketing platform to make content marketing a lot easier. CoSchedule is great for agencies because you can group multiple projects and campaigns to make them easier to track. CoSchedule's Social Message Optimizer feature will help you create the best possible message for your clients by grading your social content and offering suggestions for improvement.
Pricing: CoSchedule offers a free trial. Plans start at $29/user/month.
9. Canva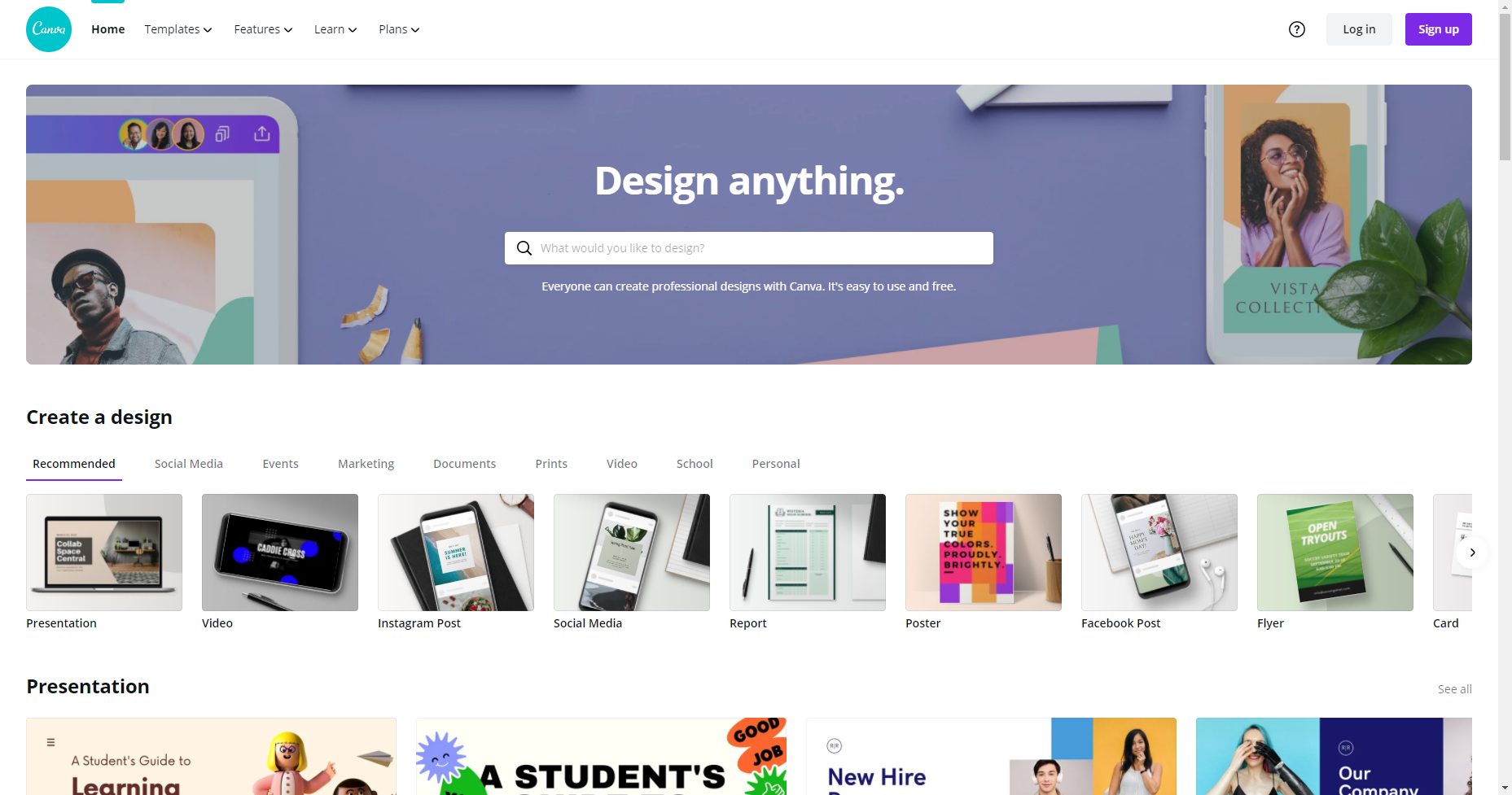 If you're a smaller agency that doesn't have in-house graphic designers, Canva can be a lifesaver. It's a graphic design software that makes it so very easy to create social media posts, web banners, ad imagery, and tons more. You can use Canva to create images from scratch or use one of their thousands of gorgeous templates. Just change the colors to match your clients' branding and you're off.
Pricing: Canva offers a free plan. Pricing starts at $119.40/year.
10. Visme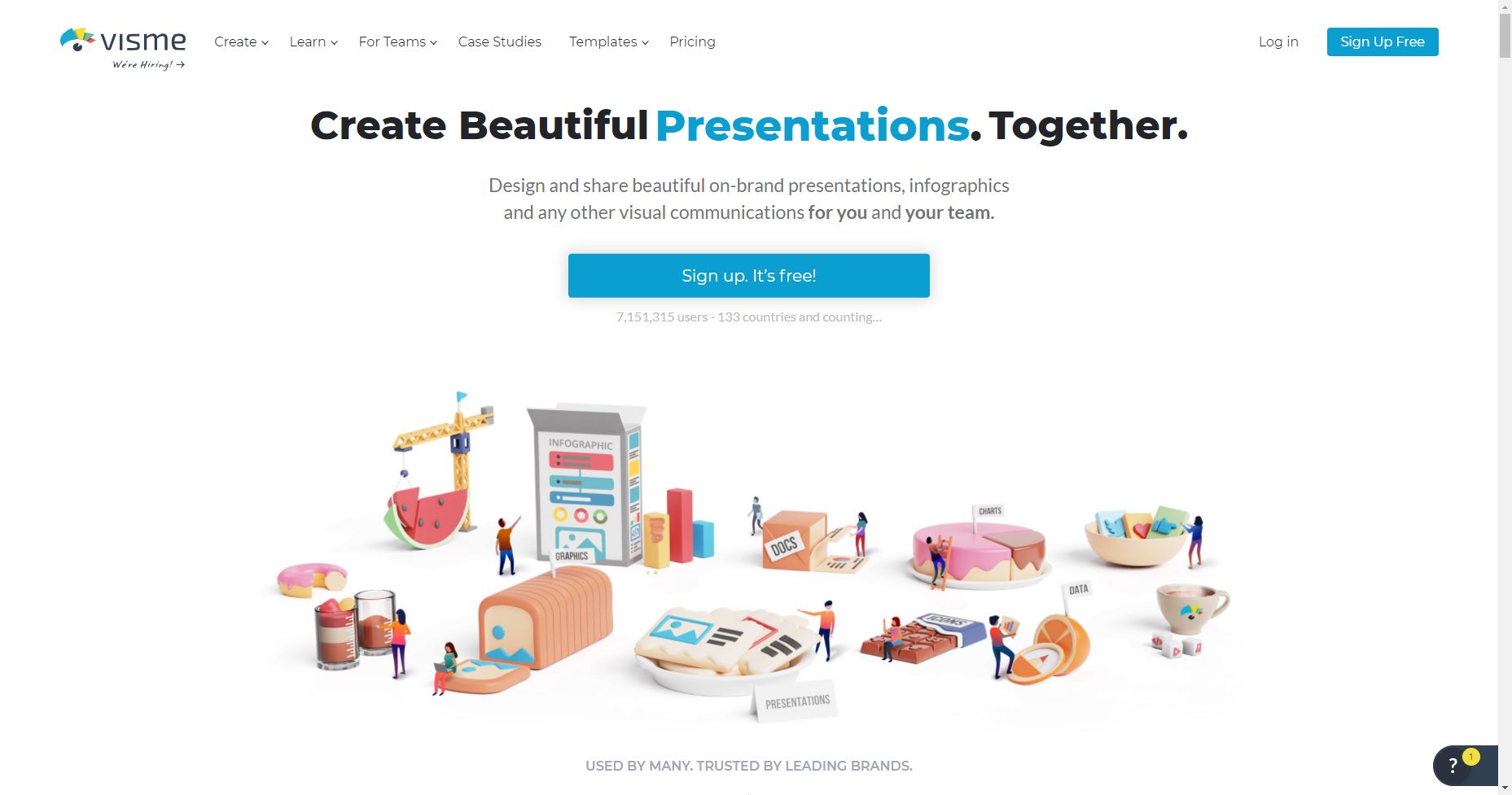 Visme is an all-in-one visual content creation platform for agencies. You can use it to hold design assets, brand information, and more in a central location. If you're an agency that regularly creates presentations for clients, you'll love Visme's infographics and reports that will help you sell your story. Visme also includes the tools you need to create eye-catching content for your clients with animated icons, illustrations, shapes, characters, and special effects. You can even embed visuals with popups, hover effects, links, and more to create interactive blog posts.
Pricing: Visme offers a limited free plan. Paid plans start at $15/month
low cost social media management tools
Sprout Social
SproutSocialSIGN UP NOW
We chose Sprout Social as our best overall due to the platform's usability, publishing features, and analytics across all major social media platforms. This provider also offers one of the longest free trials in the business.
Pros
Excellent user dashboard lets you manage your social networks in one place
Utilize Social Media Optimization tools
Analytics and reports help you manage your user engagement and return on investment (ROI)
Scheduling tools make creating posts a breeze
Free 30-day trial
Cons
Expensive standard plan
Limits to how many social profiles you can manage
We chose Sprout Social as the best option for businesses based on the array of scheduling tools and analytics they offer, their mobile app for iOS and Android, and their paid promotion tools to help you expertly boost Meta posts. One major benefit you get with Sprout Social is a 30-day free trial with any of their plans. If you're unsure of the value of this software, this free trial gives you a full month to try it out.
This software currently supports all the major social media platforms, including Meta, Twitter, Instagram, LinkedIn, and Pinterest, making it an excellent choice for all-in-one management. There are three paid plans to choose from:
Standard: $89 per month
Professional: $149 per month
Advanced: $249 per month.
Sprout Social says their Professional plan is most popular since it lets you manage up to 10 social media accounts in one place. It also comes with an all-in-one social box, social content calendar, response rate and time analysis reports, analysis tools for Twitter hashtags, and plenty more valuable tools. With any of their plans, you also get a mobile app to manage your social media accounts on the go.
The Standard plan includes many of the features of the Professional plan, yet you can only manage up to five social profiles if you choose this option.
BEST FOR ANALYTICS
Hootsuite
HootsuiteSIGN UP NOW
Hootsuite earns high rankings for its tracking tools and analytics. This software lets you analyze trends and engagement in real-time. Their analytics tools extend to both regular posting and social media ads.
Pros
Professional plans start at just $49 per month
Free plan available
Connects with 20+ social networks
30-day trial available
Cons
Some analytics reports are at an additional cost
Plans can be costly if you have a lot of social profiles or spend a considerable sum on ads each month
Free plans have limited tools
Hootsuite made our ranking as best for analytics because they offer some of the most comprehensive analytics and social media tracking tools on the market today, including customizable reports and team productivity reporting.
While paying more for detailed analytics and reporting can cause the cost of Hootsuite to swell, having access to this information can be crucial for businesses that rely on social media for the bulk of their marketing efforts.
Hootsuite has four paid options:
Professional: $49 per month
Team: $129 per month
Business: $739 per month
Enterprise: Varies (it's for larger or more complex institutions)
The starter Professional plan can be a good option for small businesses because it allows you to manage 10 social profiles in one place. You also get unlimited scheduling, although you're limited to one user. The Team plan is available for up to three users, and you can manage up to 20 social profiles in one place.
Note that all plans from Hootsuite come with unlimited scheduled messages, unlimited auto-scheduling, a publishing calendar, a social inbox, and plenty of other tools. You can also try two of Hootsuite's four plans free for 30 days, which is a major benefit if you prefer to try before you buy.
BEST ALL-IN-ONE TOOL
Zoho
Zoho SocialSIGN UP NOW
Zoho stands out as an all-in-one tool consumers can use to run the social aspects of their business in one place while managing their email, projects, accounting, and webinars.
Pros
Zoho offers a CRM product that lets you manage your email, projects, accounting, and more under one umbrella
You can integrate their social media management platform, which works with all major social media networks
Social media planning for individuals starts at $10 per month
A free edition with limited features is available with an option to upgrade
Cons
Plans for agencies start at $230 per month, which is on the expensive side
Plans for individuals and businesses only include one to three team members, with more users requiring an additional monthly spend
Zoho made our ranking as the best all-in-one tool based on the CRM product they offer in addition to social media management software. You can utilize Zoho to store and manage your email, create and oversee products, and take care of accounting all in one place. Zoho also offers comprehensive social media management software you can buy separately or integrate for full all-in-one management.
When it comes to their social media management software, Zoho offers three plans for businesses:
Standard: $10 per month
Professional: $30 per month
Premium: $40 per month
Each plan lets you publish and schedule posts across multiple platforms, access summary reports and analytics, and access a Bitly integration & URL shortener. The Standard and Professional plans are limited to one brand and one team member, but both plans let you add additional team members or social channels for an additional cost.
A free plan with limited functionality is also available. With the free plan, you get access for one team member and brand and the ability to publish multiple posts in one place. Zoho also offers social media software for agencies that manage at least 10 different brands under their business umbrella.
BEST FOR AUTOMATION
MeetEdgar
MeetEdgarSIGN UP NOW
MeetEdgar stands out due to its automation and scheduling features. They even offer continuous posting, which means they will automatically curate and reshare relevant posts on your social media accounts.
Pros
Excellent automation and scheduling features let you set your social media and forget it
Free trial for seven days
Analytics for engagement and response
Edgar Lite plan starts at just $19 per month
Cons
Only integrates with Meta, Twitter, LinkedIn, Pinterest, and Instagram
Most affordable plan only lets you work with three networks
No central inbox for messages or managing comments
MeetEdgar wins for best automation because they are set up to help time-strapped businesses automate their accounts. This software lets you generate posts using a browser extension, set up category-based scheduling that saves you time and effort, and executes continuous posting that ensures you're constantly engaging your audience.
With MeetEdgar, you also get access to an unlimited content library, which the platform will shuffle and schedule for you on your behalf. You can also set up your account to automatically upload your newest content, and you can use an automatic link shortener that helps you save space when you share your content on social media.
MeetEdgar offers two main plans:
Edgar Lite: $29.99 per month
Edgar: $49.99 per month
Both plans offer similar tools, although the Edgar Lite plan only lets you integrate with three social media accounts. The more expensive plan also offers 1,000 recurring scheduling time slots per week versus just 10 with the Edgar Lite plan. Either way, you can try MeetEdgar for free for seven days.
BEST FOR LARGE TEAM COLLABORATION
Loomly
LoomlySIGN UP NOW
Loomly is our top pick for large team collaboration due to its comprehensive plans for teams of up to 26 people. All plans also come with core features such as audience targeting, post preview, automated publishing, analytics, and more.
Pros
Try it out free for 15 days
Base plans start at just $26 per month
Manage and share all your social assets in one place
Real-time optimization of posts
Cons
Plans for large teams can be costly
Companies with large ad spend may have to upgrade to a more expensive plan regardless of their team size
Loomly is an excellent option for large teams that want to collaborate on a social media strategy. While their base plan is only accessible for up to two users, their top-tier plan for businesses can include up to 30.
Core plans from Loomly include the following:
Base: $26 per month (2 users)
Standard: $59 per month (6 users)
Advanced: $129 per month (14 users)
Premium: $269 per month (30 users)
Enterprise: Price available upon request
This pricing is only available if you pay for a year of management upfront; you'll pay more if you want to pay for your plan monthly. As you compare options, you'll also note that each tier of management software has a cap for ad spend, so you will have to use the Premium plan if your business spends $5,000 or more on ads with Meta.
All plans from Loomly let you post unlimited content and come with core features like audience targeting, automated publishing, post sponsoring, interaction tracking, and basic analytics. You'll also get chat and email customer service with each of their plans. A 15-day free trial is also available regardless of which tier of coverage you want to try out.
BEST INTEGRATION
Sendible
LoomlySIGN UP NOW
We chose Sendible as best for integration based on the sheer number of platforms you can use it with. As a Sendible customer, you can integrate with Meta, Twitter, Instagram, LinkedIn, Google My Business (GMB), YouTube, WordPress, Canva, Google Analytics, Google Drive, and so much more. In total, Sendible allows you to integrate with 17 different platforms or tools.
Pros
More integration options than some other providers
Useful social media dashboard lets you monitor your social game in one place
Starter plans start at $25 per month
You can save 15% if you pay for a year of management upfront
14-day free trial available
Cons
Basic plans are for one user only
No free option available
Sendible earned the top spot in our ranking in terms of integration since it lets you sync with all the top social media networks and popular tools like Canva, Google Analytics, and more. This lets you manage almost all aspects of your social media strategy in one place, saving you time along the way.
Sendible offers four plans for companies of different sizes:
Creator: $25 per month
Traction: $76 per month
Scale: $170 per month
Expansion: $340 per month
However, you do have to pay for a year of software access to secure these low prices, or you'll pay about 15% more for your plan on a monthly basis.
All plans from Sendible include at least 10 queues, content publishing, workflow tools, bulk scheduling, keyword tools, and an inbox for engagement and monitoring. However, more expensive plans include more queues and users, and the ability to include a larger number of social profiles for management purposes.
The good news is that all social media management plans from Sendible offer a 14-day free trial. You can also cancel at any time.
BEST BUDGET OPTION
Buffer
BufferSIGN UP NOW
Buffer scored well in our ranking because their plans start at just $5 per month. You can try any Buffer plan free for 14 days, and there's a free plan for one user that lets you access three social channels and create 10 scheduled posts.
Pros
Plans start at $5 per month
Free 14-day trial available
Free plan available
Works for Instagram, Facebook, Twitter, LinkedIn, and Pinterest
Cons
Doesn't integrate with as many major platforms as competitors
Free plan limited to three social profiles
Buffer is the best budget option for small businesses with few employees that want to manage social media without a pricey management plan. They offer a free plan that lets one user access three social channels. For an extra $5 per month, a Team Pack upgrade allows for unlimited social channels and unlimited users.
Either way, you can use a 14-day trial to get started, and all plans let you directly schedule posts on the platform. Other core benefits of Buffer's plans include a posting scheduling tool, a link shortener tool, and optimization tools for hashtags, tags, and mentions across platforms. All plans also come with a browser extension, access to a mobile app, two-factor authentication, social media and email support, and access to the Buffer community.
BEST FOR SMALL TEAMS
SocialPilot
SocialPilotSIGN UP NOW
We believe SocialPilot is best for small teams since their Small Team plan allows up to three users. By contrast, many competing software programs only allow one user on their more affordable plans.
Pros
Most affordable plan is $25.50 per month
Discount available if you pay for one year of usage upfront
14-day free trial available
Manage a minimum of 10 social media accounts with any plan
Cons
Must pay for a year upfront for lowest pricing
Basic plans don't include as many tools or features
SocialPilot is the best option for businesses that want access to affordable social media software for more than one user. Their Small Team plan lets up to three users have access for just $42.50 per month.
In total, four plans are available:
Small Team: $42.50 per month (25 social media accounts; 3 users)
Studio: $85.00 per month (50 social media accounts; 5 users)
Agency: $127.50 per month (75 social media accounts; 10 users)
Remember that to access this special pricing, you have to pay for a year of access upfront after your 14-day trial.
All plans from SocialPilot come with features like unlimited scheduling, bulk scheduling, access to social media analytics, a browser extension, and customer support. Higher-tier plans from SocialPilot let you have more users, oversee more social accounts, manage more Facebook ad accounts, and gain access to special features like client management tools.
Conclusion
Let us know your thoughts in the comment section below.
Check out other publications to gain access to more digital resources if you are just starting out with Flux Resource.
Also contact us today to optimize your business(s)/Brand(s) for Search Engines