Social Media Tools For Posting
With the rise of social media, there has been a dramatic increase in the number of people using it as a tool for communication. It is now one of the most prevalent forms of communication and has proven to be an effective way to make connections with other people. However, there are some mistakes that you can make when using social media as a tool for communication.
These mistakes include: not taking time to proofread your posts before posting them, not having a strategy for posting content on your account, and not monitoring your account regularly so that you can respond to customers' questions/concerns quickly.
Social Media Tools For Posting
1. Brandwatch (Formerly Falcon.io)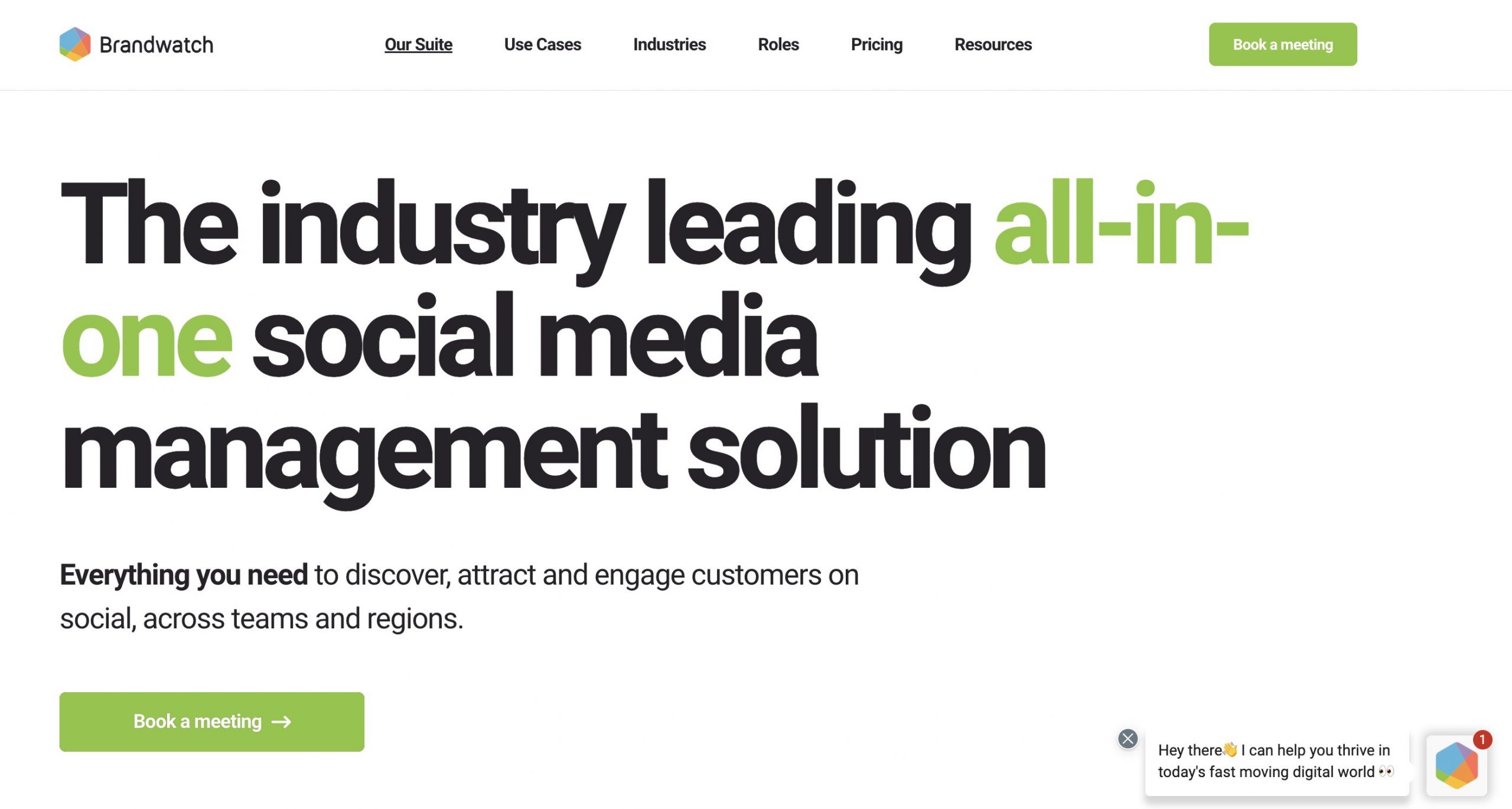 Brandwatch focuses on giving social media professionals access to a structured set of features that help listen, engage, measure, schedule and publish content that makes a difference. Brandwatch offers two plans. The Essential plan targets single users and small teams and focuses on a content calendar & campaign planner with advanced analytics and community management. The Full Suite is more designed for larger companies with multiple teams and markets. It takes everything from the Essentials Plan (although it permits unlimited channels, reporting, and teams) and adds in social media advertising, competitor benchmarking, and collaboration & approval flows.
Brandwatch considers your content calendar to be one of the most important tools you'll work with. It provides a view of all your scheduled content across multiple social networks. You can plan, schedule, edit, and post directly from your content calendar. With Campaign Planner, you can map, create a brief, roll-out, and collaborate on campaigns for all social platforms.
Brandwatch supports images, video, Instagram Stories, and Facebook carousels. You can store all your content in Brandwatch's version of a shared media library called the "Content Pool." If you have a team, Brandwatch provides roles, approval processes, and an audit trail to boost quality. You can also activate email notifications and share notes. Brandwatch provides access to agencies to smooth your collaborative processes. You can control all access and set permissions.
Brandwatch lets users design their own inbox. You can include multiple feeds, labels and use filters. You can also create custom response templates for quicker replies and bulk actions.
If you have the Full Suite, you can promote posts through Facebook and Instagram ads within Publish, which manages all ads in one place. The tool allows cross-channel advertising, automation, saved target audiences, running ads with customer durations, automated ROI tracking, and real-time insights. The Full Suite also includes social listening. With this, you can track trends, monitor your brand, create custom queries, track sentiment, monitor multiple languages, filter extensively, and track campaigns.
Compare Social Media Marketing Platforms
Popular Features
Best for
Pricing
Rating
Iconosquare
Make your life as a social media manager way easier.
Analytics, Reporting, Publishing & Monitoring
Medium-sized to enterprise companies and agencies
From $49
Brandwatch (Formerly Falcon.io)
Your all-in-one social media management solution
Multi-Channel Scheduling, Analytics & Reporting, Social Listening, Social CRM
Designed for businesses of all sizes
$108+ p/m
Monday.com
Manage all your marketing assets and campaigns from planning to execution with monday.com
Suggested content, Free media assets, Scheduler, Visual calendar
Marketing agency, Marketers and Social media managers
$8/seat – $24/month
Sendible
Go-to social media management tool for agencies
Tailored Posts with Previews, Canva Integration, Content Libraries, White Label.
Marketing agencies and bigger teams looking to simplify and scale their efforts.
Agency plan with 3 users starting from $89/month
PLANOLY
PLANOLY is your all-in-one platform to plan & schedule your social content.
Analytics, Automated Publishing, Content Management, Multi-Account Management.
Businesses of all sizes who post to Instagram and Pinterest.
From $11.25
Loomly
Try out one of the Leading Social Media Scheduling Apps Globally
Manage digital assets, Fuel storytelling, Engage community, Measure performance
Social media managers, from brands to agencies & individuals
$26 – $249+ p/m
AgoraPulse
Managing social media has never been easier. Schedule your content, get reports, and engage followers with one simple tool. See why 22,000+ brand and agency marketers have made the switch to Agorapulse.
Simplify social management, Reporting, Publishing, Engagement
Agencies and businesses – both large and small
$99+ p/m
ContentCal
Collaborate with your team and post great content.Simple to use, visual tool with custom approvals for content creation and publishing.
Streamlined planning, approval & publishing. Community management, analytics.
Individuals, businesses, franchises and agencies
$37 – $119+ p/m
Visit our in-depth comparisons and reviews for all solutions on offer in this category
2. Hootsuit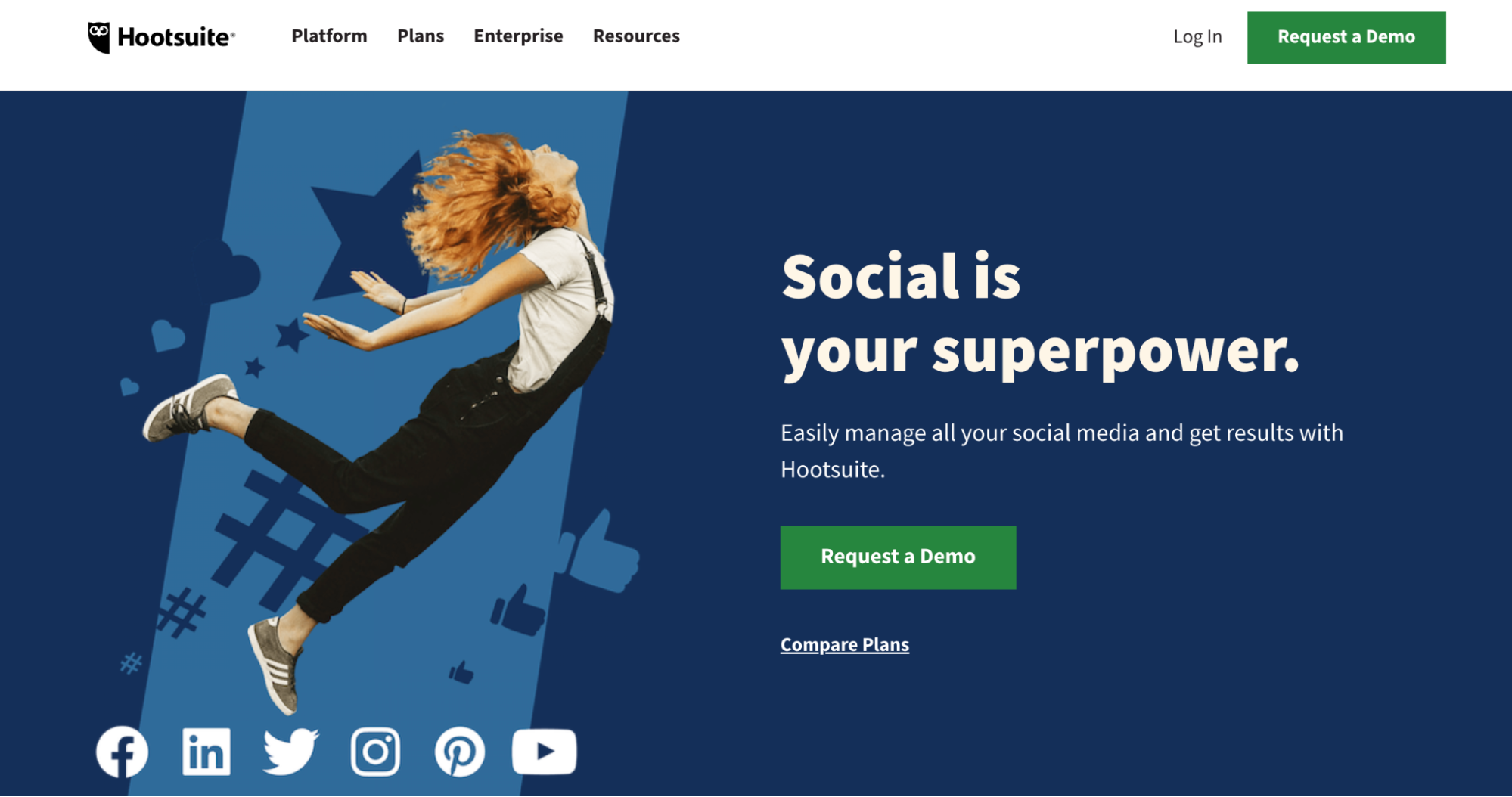 Hootsuite's goal is simple – they want to help businesses to connect with their customers on a deeper level and grow trust via social media. Their scalable platform goes beyond just scheduling and offers many powerful features, like content curation and analytics, that empower brands to create first-class digital experiences.
With regards to their publishing features specifically, they make it easy to create, curate, schedule and publish relevant content at the best time for optimal engagement. One of its useful features is its single dashboard and one calendar view. This way you can get a quick overview of scheduled and published content making it easy to spot gaps and plan your marketing campaigns across all your networks more efficiently. It also offers a Bulk Composer, if you want to schedule multiple posts at once.
If you're working as part of a bigger marketing team, it's also a great tool for collaboration. With the help of its intuitive approval process, you can set it up in such a way that posts must first get reviewed before it can get published. Then, for added security, you can integrate it with Proofpoint. Though, this is only available to Hootsuite Enterprise clients, which brings us to the next point – pricing.
Not only do they offer a very generous free trial of 30 days, but they also offer a Free plan. However, if you need unlimited scheduling, you'll need to sign up for one of its paid plans with pricing starting at about $30 per month.
3. Loomly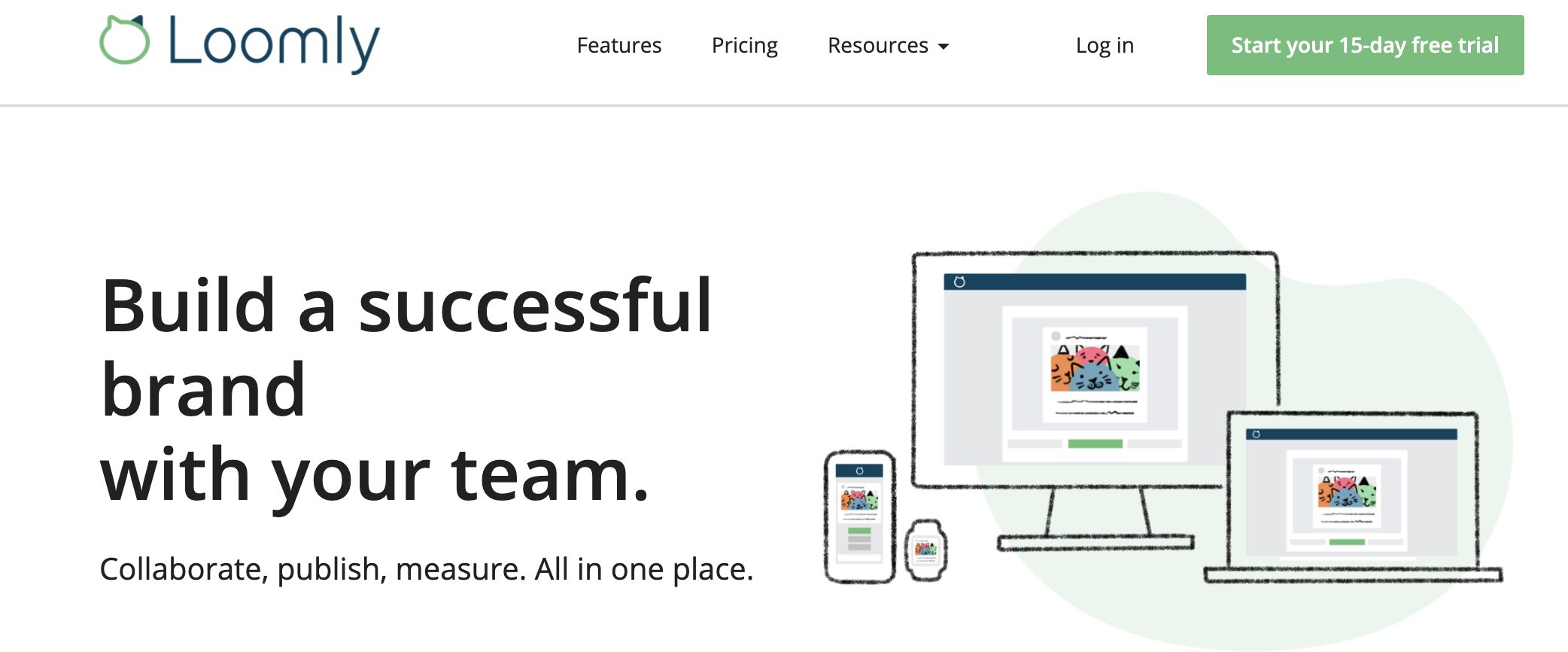 Loomly is a powerful social media scheduling and management platform with a clean, intuitive interface. It offers four pricing tiers after a 15-day no credit card trial. They range from a $20/month Base plan for those with 10 or fewer social accounts up to the $228/month Premium Plan, allowing up to 26 users and 60 social accounts.
One useful feature of Loomly is that you can set various calendar workflows. The default setting for teams with more than one collaborator is:
Draft
Pending Approval
Requires Edits
Approved
Scheduled
Published
There is a straightforward process to go through when creating a post. You can either begin a post from scratch or pull in post ideas from RSS feeds that automatically create draft posts from them. You create the base copy of a post before you customize details for whichever social networks you want to use. If you intend to create a paid post for Facebook, you can customize your audience and set a budget for your campaign, all from within Loomly.
Another useful feature of Loomly is its interaction screen, where you can manage comments, messages, and track social handle mentions (through tagging).
4. Sendible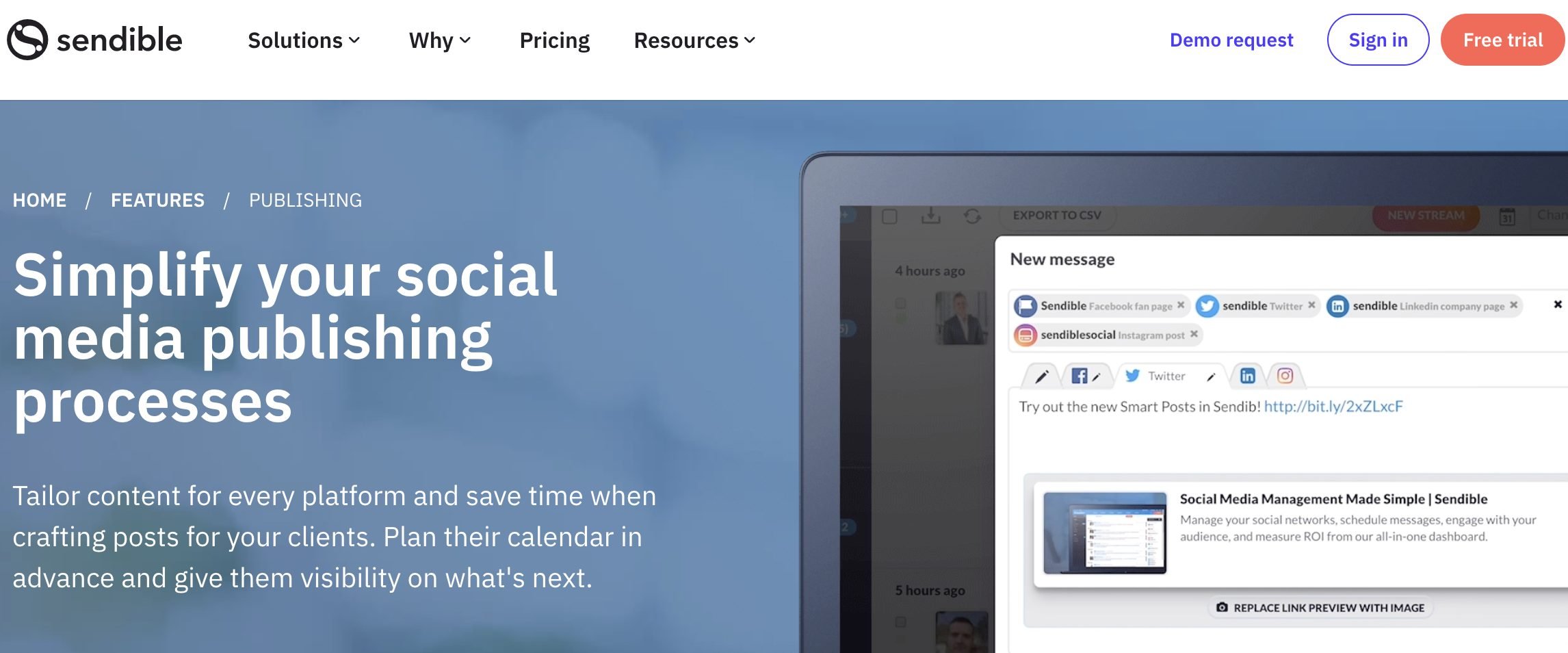 Sendible describes itself as "The #1 Social Media Management Tool for Agencies". While it lists the $199 Medium Plan – "For Growing Agencies" as its most popular plan, it does cater for other organizations, with a $29 Micro plan for solopreneurs and a $99/month Small plan for small businesses, along with a $299/month Large plan, for large teams.
You can connect to just about any social network, as well as post directly to your WordPress, Medium, Tumblr or Blogger blog. You can use Sendible's geo-targeting features to reach specific segments of your audience. Sendible helps you upload videos to Twitter, Facebook, and YouTube.
Sendible features an integrated dashboard and tools relating to publishing, collaboration, analytics, CRM, listening, and mobile.
In the area of publishing, it allows you to plan, schedule and publish posts, images, and videos to multiple social networks simultaneously using their powerful compose box. You can schedule social media posts, images and videos individually or in bulk as far in advance as you need. Sendible allows you to set your best-performing content on repeat to keep your social media profiles active. You visualize your content on a shared publishing calendar.
One useful feature is a tie-in with Canva to help you design better-performing visual content.
5. NapoleonCat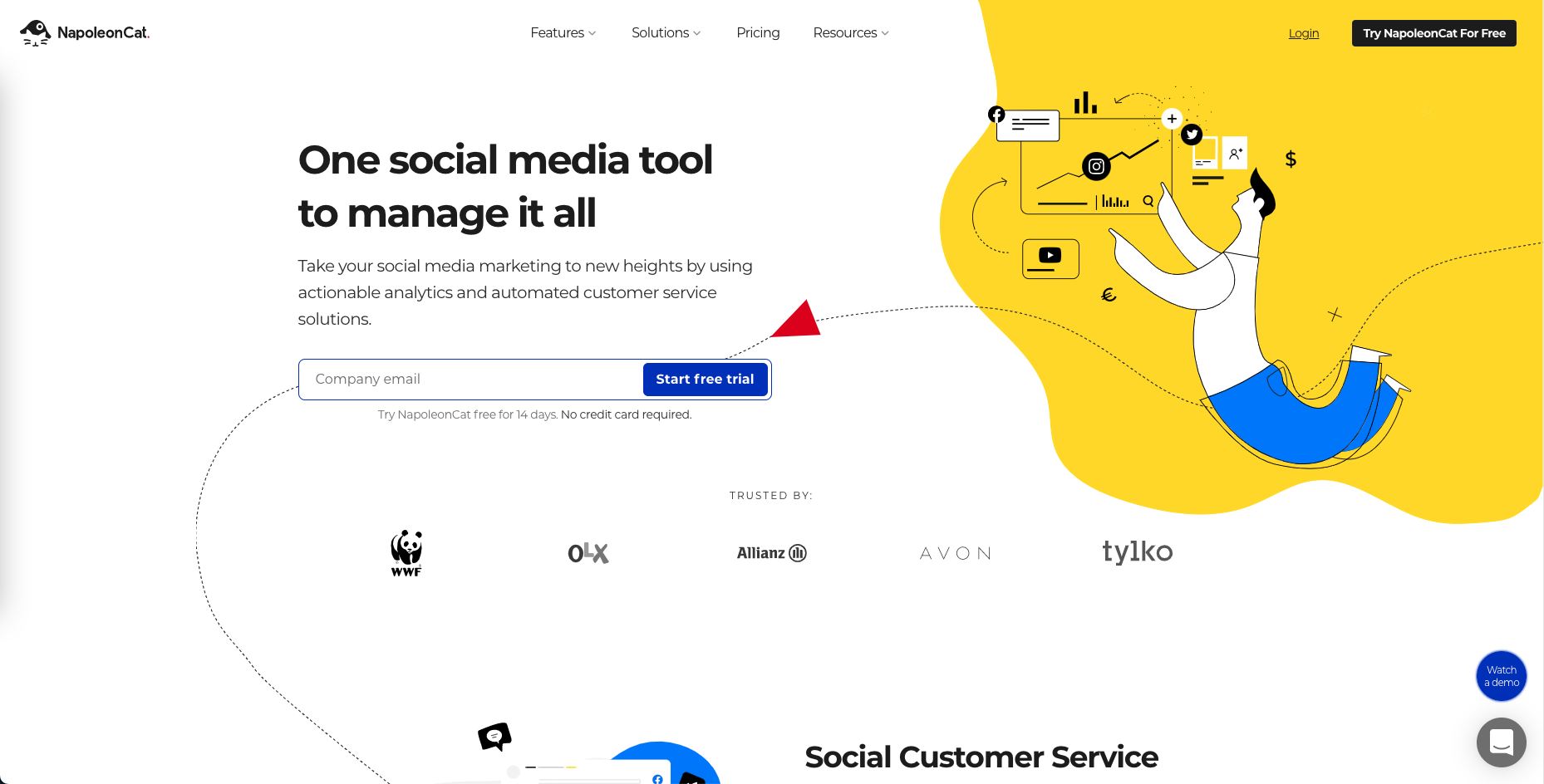 In the 7+ years that they've been in business, NapoleonCat has built an impressive client list that includes brands like the World Wildlife Foundation, Avon, and Allianz. One of their claims to fame is that they can help social media marketing teams to win back up to 70% of their time and energy. Even if this is not the case, just looking and interacting with its beautiful platform will make work feel less of a chore.
All in all, it's easy to use and set up. One feature that deserves a special mention is that when you set up your social media accounts after signing up, it also gives you the option to keep tabs on your competitors. You just type in the competitor's social media account name and add it to your watch list. You can also set it up so that each team member gets assigned specific permission. This is useful if you want to control who may create content.
With regards to posting and scheduling specifically, you can use it to schedule and post your content on Facebook, Instagram, Twitter, LinkedIn, and Google My Business simultaneously via a single dashboard. It also generates post previews as you create them which is more useful than it sounds. Then, after your content has been posted, you can use its performance analytics to monitor your reach, engagement, and click-throughs.
While its list of features are pretty much the same as other social media tools, its approach to pricing is different and a lot more flexible. Unlike the majority of tools, NapoleonCat actually lets you select the number of social media profiles and users, making it an ideal tool for smaller teams.
6. AgoraPulse

Agorapulse provides an affordable social media scheduler and management tool for teams and agencies. It offers four plans from $39 per month aimed at Solos, though to a $239 Enterprise plan. The main difference between each option is the number of social profiles and users catered for, although there are also differences relating to data retention and ad comment monitoring.
You can use Agorapulse to publish, engage, listen, report, and collaborate with your social networks. It supports Facebook, Twitter, Instagram, LinkedIn, Google +, and YouTube.
You can centrally post to all of your social accounts, with a queue or schedule ensuring your content is delivered at the best times. It allows you to re-queue or reschedule evergreen posts. You can also tweak each post to take advantage of features specific to each social network.
7. Iconosquare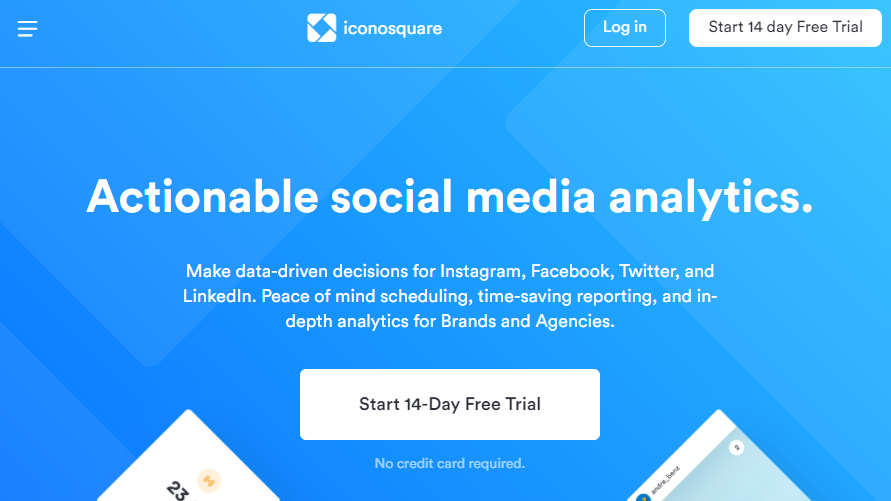 Although Iconosquare is most renowned for its in-depth social analytics, it has expanded its offering to cover multi-profile social management and a powerful scheduling tool. The various tools cover Facebook, Instagram, Twitter, and LinkedIn, although fewer capabilities are currently available for LinkedIn or Twitter. In particular, the only Iconosquare tools relevant to your LinkedIn account focus on analytics.
You can schedule Instagram and Facebook posts in advance from your computer or on the Iconosquare app. Insert saved captions or hashtag lists, schedule your first comment, and cross-post to multiple profiles at once in a few clicks. Then, easily preview scheduled posts and re-order your feed using drag and drop.
You can schedule photo and video posts automatically to Instagram and Facebook through Iconosquare. Tag accounts and locations in your single-image posts when posting to Instagram using automatic publishing. Tag your location or mention other Facebook pages when posting to Facebook. You need to schedule Instagram Stories and carousels on the Iconosquare website, being notified on your mobile at the time of the post to finish the publishing process on Instagram. No such restrictions reply to traditional Instagram posts, however.
Create captions and lists of frequently used hashtags in advance, then copy and paste them into your posts when scheduling content.
Iconosquare handles media well. Upload, label, and organize photos and videos from your computer, Dropbox, Google Drive, or OneDrive. Easily schedule posts using content from your media library. Iconosquare even tags any image that you use so that you don't accidentally repeat it in a later post.
8. ContentCal
ContentCal is the ultimate content calendar and social media scheduling platform that helps thousands of individuals, businesses, and agencies with their content planning and social media. The platform also defines user permissions and streamline the approval process, manage multiple accounts in one centralized location, and communicate and collaborate with your team on upcoming content. With ContentCal Analytics and Respond you can also keep tabs on content performance and learn how to improve for the future.
Features of ContentCal include social media post scheduling, keyword filtering, collaboration, feedback analysis, reporting, project management, and more. Content creators can use the application to design visual content by modifying the layout and adding a header color and personalized logo. Additionally, employees can create and store posts as drafts, receive feedback from collaborators, and preview posts before publishing.
You're able to save time, collaborate with team members or clients, and create even better social media content. This platform is perfect for agencies, distributed organizations, or anyone who needs to manage and participate in multiple social media accounts. It could not be any easier, which is perfect for teams with varying degrees of ability. And, the ability to create custom workflows and approvals that reflect your unique governance plan is unmatched. Not only is ContentCal well priced but it is also one of the leading social media schedulers in the market today.
9. Onlypult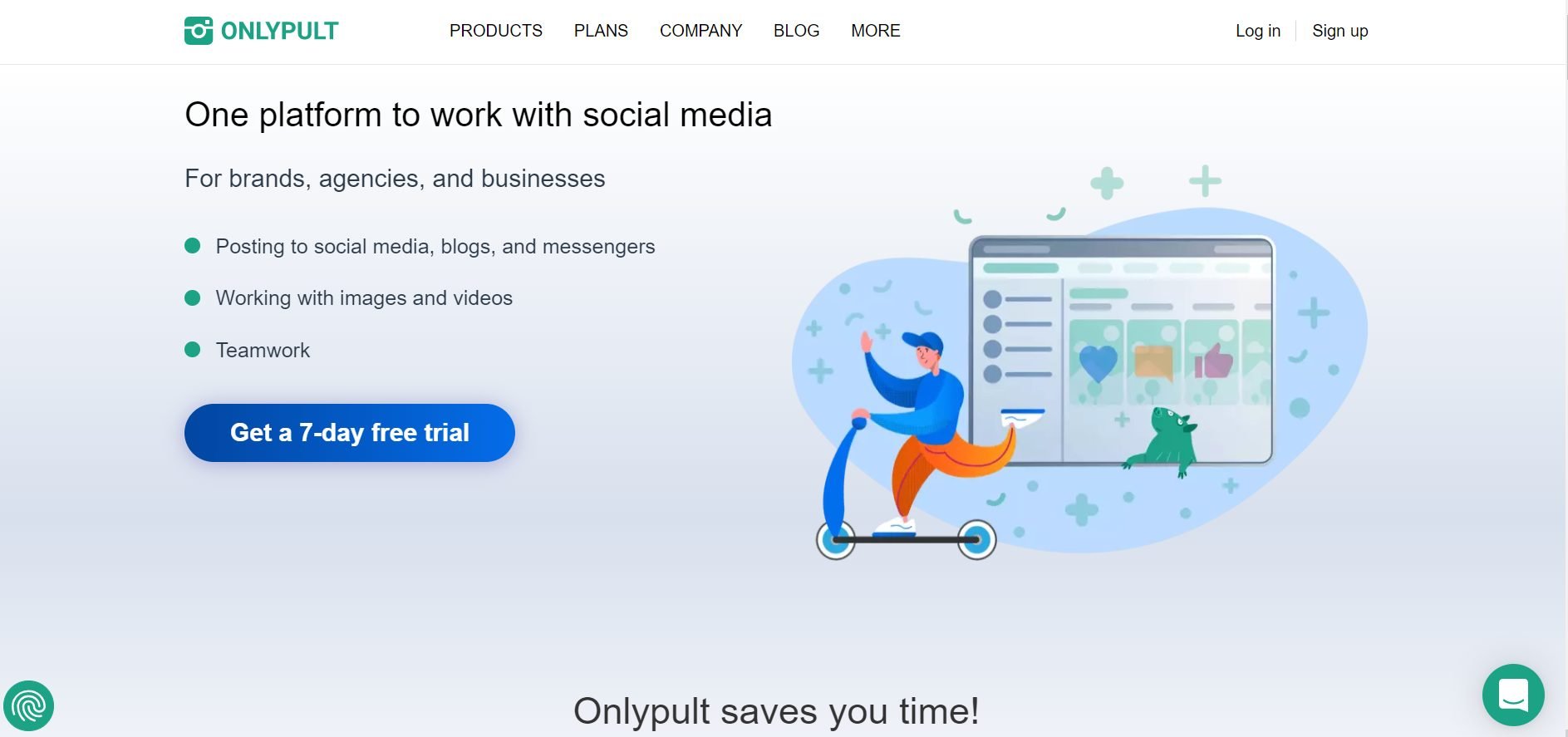 Onlypult markets itself as being the one platform for brands, agencies, and businesses to work with social media. It actually offers more than that, letting you work with images and videos and post to social media, blogs, and messengers. Indeed, the list of apps you can schedule to is one of the largest we have seen: Facebook, Instagram, Twitter, LinkedIn, Google My Business, YouTube, TikTok, Tumblr, WordPress, Telegram, Vkontakte, Odnoklassniki, Pinterest, and Medium.
Onlypult offers four plans, differentiated by size: Start, SMM, Agency, and Pro. Each of these plans allows you to use different numbers of managers, accounts, and tracked users. Otherwise, the plans all give you access to an image editor, video editor, multiple simultaneous accounts, hashtags, a planner, a calendar, and automatic post deletion.
You can upload photos and videos via the web, schedule your posts for the future and publish them in real-time. Onlypult's scheduling allows you to create multiple social posts and set days and times for them to be pushed through to your social channels. You can even schedule carousel posts and Stories. In addition, you can set posts to auto-delete at a scheduled time, so you don't have to worry about promotional links and codes floating around on the web or people querying old posts and asking for special discounts.
Usefully, you can multipost with Onlypult. You can create copy and apply it to multiple posts using different images.
Like most of these social media posting and scheduling tools, Onlypult provides you with a content calendar to help you keep tabs on what's happening and when your content will be published. It is clean and easy to use.
Onlypult includes limited access to two other tools at all plan levels, Builder and Monitoring. Builder helps you create a micro landing page in a few minutes with a convenient visual builder. Monitoring tracks mentions of your competitors, partners, or buyers. You can use Monitoring to find discussions related to your brand to help you make the right decisions.
10. Planoly
If you're searching for a social media posting and scheduling tool that has a good app, be sure to check out Planoly. Founded in 2016 by a jewelry brand, Planoly started out as a visual planner for Instagram. Since then, it has expanded its set of features to include tools for social marketing on Twitter, Pinterest, and Facebook. 
The idea behind Planoly is simple – social media marketing shouldn't have to be so challenging. So, to help social media managers and business owners, it integrates social strategy and content scheduling.
One of the features that deserve special mention is its analytics. You can access basic analytics for Instagram and Pinterest for any specific time frame. It also offers advanced analytics for Instagram and suggestions regarding which will be the best time to post on Instagram based on your target audience's activity.
Before you can get to studying analytics, though, you'll first need to get posting. It's especially useful if you need to create shoppable posts. With the help of sellit, you can transform your social media content on any social platform into a social storefront. Alternatively, if you simply want to create engaging social media posts, its StoriesEdit feature offers designer templates and stickers to help you create and customize content.
It offers three paid plans and a basic free plan. So, it can grow with you as your needs change. 
cheapest social media scheduler
1- BUFFER
The new buffer is so amazing! Buffer is a smart tool to share social media updates at the best times. It can be simply used by adding updates to the buffer queue. Next, the scheduled posts will be automatically posted at the optimal times.
With Buffer, the updates are well spaced out so that your followers don't get flooded with too much content at once. Isn't that amazing?
The new engagement feature and analytics are just too good to try! You can also shuffle your queue after 200 posts.
Why to use Buffer for social media?
Here are few awesome features to use Buffer for social media scheduling.
Easily schedule and post on Instagram, Twitter, Facebook, LinkedIn, and Pinterest.
Plan your social media content on Buffer Calendar
Fast-track your best performing update and click 're-buffer'. (I absolutely love this feature!)
Check engagement on your content
Shorten those long links
Easily integrates with more than 60 apps
It helps to create a custom schedule for each profile on each social media platform.
Buffer browser extension helps to schedule content within a second.
Schedule Instagram stories.
Measure new analytics to see what's working and what's not.
Smoothly supports videos and GIFS.
Google analytics campaign tracking
PRICE PLANS
Buffer includes a free plan for 3 social accounts. You can only schedule 10 posts in your queue with your free plan.
If you are a blogger or small business owner, I think the Pro plan is absolutely perfect. It costs $10 per month. You can use 8 social media channels and schedule 100 posts.
Schedule your social media platforms with efficient tools! Get affordable social media scheduling tools to save you time and rock your networks. By using these marketing tools, you'll increase social media engagement and get more social media followers. Including PostPlanner, SmarterQueue and 3 social media management system for content marketing. Be Social Media Bosses.
2- POST PLANNER
Post Planner is a content marketing system designed to increase social media engagement activities and promotions. Marketers and small businesses use this tool for generating content ideas and disseminate it to social followers.
This cheap social media management system is designed by content marketers for individual marketers and businesses.
Sometimes, we have no idea what to post! Curating content definitely, takes time and resources. Post Planner helps in bringing popular content for posting. Similarly, Twitter also requires bulk scheduling. This post shares interesting ideas for boosting Twitter engagement.
With Post Planner, you can start as less as $3/month.
How cool is this?
Let's consider the benefits;
The tool provides trending content. With this, you can find out trending content on social platforms. This is effective in curating popular content for social media.
Target your audience. With this notable feature, you can set a target audience while queueing your post. This way, it increases the chances of engagement.
Post links as visuals. Yes! With one click, you can schedule a post link with an image. On Facebook, images work far better than text links. This feature also helps in increasing the Click Through Rate.
RSS feed automation is another amazing feature of Post Planner. You can also automate the social media posting from RSS feed.
These are few differentiating features that I found really useful for individuals and small businesses. In fact, Post Planner is a perfect solution to manage your Facebook pages and Facebook groups.
HOW POST PLANNER WORKS?
Step 1 ==> Discover top shared content in your niche
Step 2 ==> Add your content and media
Step 3 ==> Create your plan for automatic posting at peak times
Step 4 ==> Bulk uploads from spreadsheet and fill your queue
Step 5 ==> Analyze your post performance
PRICE PLANS
Post Planner offers affordable range for marketers.
If you're a blogger or a small marketer then love plan is what you should look for.
If you manage Facebook groups then make sure to invest in love plan!
This is a good value program!
The Solo plan costs $12/month. You can manage 10 accounts, 12 posts per day, and 1000 planned posts.
This is a great deal for an individual marketer who wants to save time and curate timely content. Thus, automation helps in increasing social media engagement.
(This post contains few affiliate links. That means if you make a purchase through aff links I earn a small commission)
3- CONTENT CAL
If you want to make your content planning process stress-free then Content Cal is the best solution! It's only about sharing a URL on social media and building followers. A lot of content planning goes into it.
With ContentCal, you can;
Create a content calendar
Use web clipper
Schedule auto-post and use duplicate content for re-posting
Pause content sharing
Post in facebook groups
Library search
Pinboard
And, lots of other extraordinary features.
Most importantly, if you have virtual assistants or team members, this tool is absolutely perfect. You can contribute and share ideas for them to use for next campaign.
<>
This is how the calendar looks like;
social media content planning, social media scheduling tool
PRICING FOR CONTENTCAL
The pro plan for individuals starts at $17/month.
4- TWEETDECK
If you use Twitter then Tweetdeck is your money saver! It is a specific Twitter profile management tool that allows to schedule tweets right away.
Why to use TweetDeck?
It's completely free.
You can schedule tweets in advance.
Easily get live updates from the timeline.
Check your notifications and activity
It is not your all in one social media scheduler but it is only for twitter.
5- PROMO REPUBLIC
Promo Republic is an interesting social media content calendar for solopreneurs, and businesses. With promo republic, it's too quick to create a post and automate it for social media.
Choose a readymade content template
Add the text
Schedule in advance
Automate the post for your social media
I love it's content templates!
What do you get?
Social Media Calendar – Choose the best posts, schedule in advance, set up automation and recycle successful posts.
Content Organizer – Curated content, and unlimited templates.
Reporting Provider – Check statistics for each post
Why you can use Promo Republic?
It organises your content in one place. Allows you to create content within the app by using templates.
Use suggested time slots to schedule content
Recycle successful posts
If you are looking for an affordable social media scheduler, I highly recommend you give this a try.
You are going to love it!
PRICING FOR PROMO REPUBLIC
If you are a business and want a team then you can pick the business plan. Check out the business plan here.
Solo plan for bloggers – Get 3 social media pages, Social Media Calendar, Library of Content Suggestions for only $9/m.
6- HOOTSUITE
Hootsuite is another great social media management tool to track and manage the platforms. It helps to interact with the audiences and get responses. The easy dashboard allows to schedule social media posts and monitors the online streams.
A number of companies and marketers prefer the Hootsuite program for managing their social media system.
https://www.youtube.com/watch?v=Bf5F84g9lZE
Let's quickly unfold the best features of using Hootsuite management system;
Allows you to monitor more than 10 networks in one place. It includes the core social platforms Facebook, Twitter, Google Plus, LinkedIn, Youtube, and Instagram.
It regularly sends out free social analytics reports.
Hootsuite also has a browser extension called 'Hootlet'.
The analytics and publishing feature makes HootSuite a great choice for small business owners.
Is Hootsuite a cheap social media scheduler?
Well, if you get unlimited posts to schedule for $20/m, I don't think it's too expensive. You can handle 10 accounts too.
Price Plans
Hootsuite doesn't offer any free plan now. It only provides premium plans starting with $19/m. You get 30 days free trial with all the plans.
The screenshot displays the advanced features of each plan.
7- RECURPOST
Recurpost is a simple social media scheduling tool to maximize the life of your quality content. You can consistently post at the best frequency and keep your accounts alive. It currently supports three popular social media networks including Facebook, Twitter, and LinkedIn.
It is known to automatically reshare your content on social media.
Have a look at the features;
Content Library. It's easy to schedule the posts and automate. Then, you can measure and track the performance of the posts.
It offers a chrome browser plugin to schedule directly.
Simple to handle.
PRICE PLANS
Recurpost has a free plan that enables 3 accounts with 10 posts per day.
Following are two other plans, with advanced features.
8- SMARTERQUEUE
Another flexible social media scheduling system is 'SmarterQueue'. This paid tool has Evergreen Recycling feature that re-uses the best performing content so that your queue never runs out of content. This feature lessens your everyday struggle of finding new content for scheduling.
SmarterQueue really beats all of other cheap social media scheduling tools. It is being trusted by many online business owners.
I'm not an affiliate but I really like the evergreen cycling feature.
Look at the features offered by SmarterQueue.
Evergreen Cycling
Visual Calendar
Content Curation
RSS Feeds
Social Tagging/Mentions
Content categories
PRICE PLANS
The initial plan is available for $19.99/month but if you plan annually, you only pay $16.99 every month.
Look at the image below for bigger plans.
Click here to check out Smarterqueue
Few posts to strengthen your blogging game.
5 steps to be consistent with blogging life
47 things to tweet when you go blank on twitter
9- TAILWIND
If you use Pinterest and Instagram then look at tailwind.
Tailwind allows you to schedule your pins on Pinterest, and can also be used to schedule your Instagram posts.
It's such a detailed tool as it also shows you the analytics. This is how you can find top Instagram hashtags with a tailwind. I have used tailwind for Instagram and currently using it for my Pinterest marketing. It's such an excellent tool to schedule your pins in advance and read analytics.
Study your analytics to find out your content performance and make a new strategy.
I use tailwind for my own Pinterest, and can't recommend it enough.
Tailwind's Hashtag Finder tool is another new feature for Instagram bloggers. This tool helps to find out the best, good and competitive hashtags for your account. Click here to get 30 IG posts for free.
WHICH IS THE BEST SOCIAL MEDIA SCHEDULER?
Personally, I think it depends on your social media marketing needs. Look into these tools and compare the cost.
Most of these are cheap social media tools. Whether you are a solo business owner or a blogger, you can afford it's the annual price. Give it a trial to check out if it's worth upgrading.
LIKE THAT? WHICH SOCIAL MEDIA SCHEDULING TOOL YOU ARE LOOKING TO GET?
I've briefly discussed the free and cheapest social media scheduling tools to save you time.
These won't cost you big amounts! It is painful to pay $80 every month to manage social media unless you are making $3000 per month.
Make a choice and rock your social media channel!
Are you using any social media tool ? If yes, what it is.
Let me know in the comments.
Conclusion
Let us know your thoughts in the comment section below.
Check out other publications to gain access to more digital resources if you are just starting out with Flux Resource.
Also contact us today to optimize your business(s)/Brand(s) for Search Engines