Social media is a powerful tool for Realtors. It can help you stay up to date on the latest trends, connect with potential clients, and even generate leads.
Social media tools make it easy to manage your online presence and grow your audience. You can use these tools to share content, engage with followers and customers, and measure your social media marketing ROI.
In this post, we'll cover the top social media tools for Realtors so you can start using them today!
Social Media Tools For Realtors
The majority of tools on this list are made to supplement your efforts online. If you'd prefer a tool to help you outsource multiple facets of social media marketing, check out Artur'In. Artur'In provides specific solutions to generate and promote your customer reviews, create branded photos and videos, establish a blog, and even run Facebook and Google ads. See how Artur'In can help you grow today.
Visit Artur'In
1. Loomly

Cost: $26 to $269 per month, billed annually
Most useful for: Social media scheduling and tracking; finding inspiration on social media
Social media sites supported: Facebook, Twitter, Instagram, Pinterest, LinkedIn, YouTube, Snapchat, TikTok, and Google My Business
Loomly is the top social media management tool for content inspiration, planning, scheduling, and tracking content across multiple platforms. Loomly supports more social media platforms than any other tool or social media scheduler on the market. This makes it one of the best social media tools to generate organic real estate leads without unnecessary stress or extra hours of work.

On top of automatic scheduling, Loomly helps you generate new ideas for posts based on trending topics, RSS feeds, dates, and social media best practices. Through these channels, you can implement new real estate marketing ideas and maximize your reach and your engagement. Plus, you can avoid mistakes by previewing each post before publishing. And with advanced analytics, gain more clarity on what your audience responds to and be able to grow your following and lead generation with ease.
Visit Loomly
2. Tailwind

Cost: Free; paid plans range from $9.99 to $39.99 per month, billed annually
Most useful for: Planning, promoting, and scheduling posts
Social media sites supported: Pinterest, Instagram, and Facebook
Tailwind is one of the most popular social media tools for real estate agents who focus on Pinterest and Instagram. It allows you to schedule posts, create pins, and even increase engagement with Tailwind communities, which are vital elements of using Pinterest for realtors. Plus, active monitoring and the Tailwind SmartGuide help you keep your strategies in line with the ever-changing algorithms.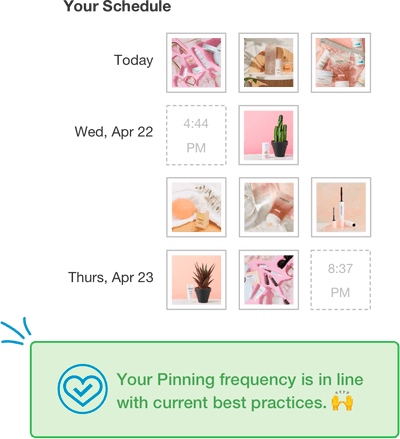 Tailwind also includes extensive analytics to track your progress, and even has a handy browser extension that lets you pin web pages to your boards with a single click. If Instagram and Pinterest are an important part of your traffic and marketing strategy, then Tailwind will be one of your most-used social media management tools. Get started with Tailwind through its forever-free plan.
Visit Tailwind
3. IFTTT

Cost: Free-forever plan; paid plans range from $5 to $10 per month
Most useful for: Integrating apps and tools to work together for social media marketing
Social media sites supported: Facebook, Twitter, Pinterest, Instagram, and other platforms with custom rules
IFTTT (If This, Then That) is one of the most unique and powerful tools for not only organizing your social media marketing, but your whole life. IFTTT integrates hundreds of apps to create simple conditional statements, called Applets, that trigger an event when a website, app, or device changes. For example, you can use IFTTT to open the garage when your car enters your driveway, or start brewing your coffee when your Fitbit senses you're awake (yes, really).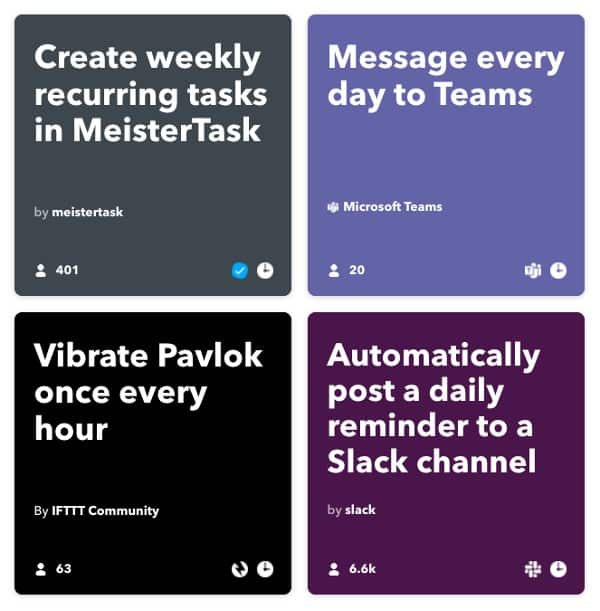 As a social media management tool, you can create rules in IFTTT that help you get more done in less time. You can schedule posts on multiple social media platforms without formatting issues since IFTTT is built on native integrations. You can use this tool to create more regular and automated routines, like posting an Instagram story every time you schedule a showing. Since real estate professionals don't typically have a regular schedule, you can use this tool to get more results from social media and your day-to-day habits.
Visit IFTTT
4. Reddit

Cost: Free; paid plans start at $5.99 per month
Most useful for: Generating content ideas and topics
Social media sites supported: Content can be reshared manually on all platforms
We know what you're thinking—Reddit is an online forum, not a social media tool. However, it can be a valuable resource when used strategically. Since Reddit has an astonishing 52 million daily active users and is constantly keeping up to date with relevant topics and information, you can and should use it to find social media marketing tips. Use it to pick up trending stories, recipes, and ideas for engaging, sharable social media posts that your audience of buyers, sellers, or investors will love.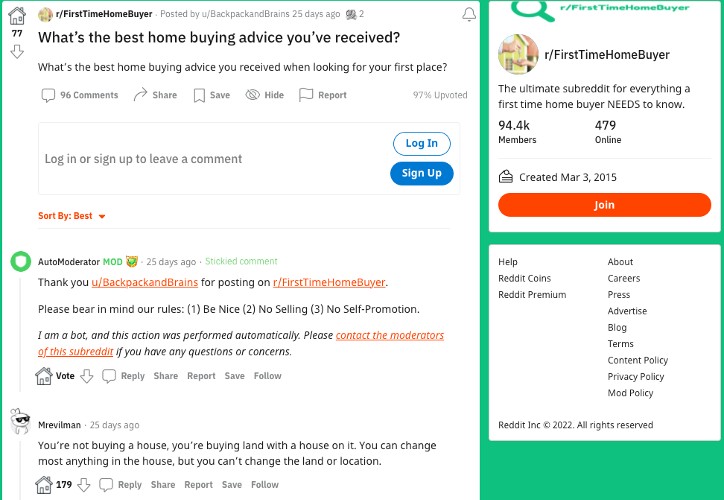 For your real estate social media content, find the latest mortgage news, infographics, real estate market news, or fun articles or memes to generate engagement. Plus, you can customize your feed by following specific subreddits, which represent a vast constellation of interests and ideas.
Visit Reddit
5. Feedly

Cost: Free; paid plans range from $6 to $18 per month, billed annually
Most useful for: Filtering and organizing content
Social media sites supported: IFTTT, Hootsuite, and Buffer
Feedly is what is known as a content aggregator. It uses artificial intelligence (AI) to gather news, images, videos, or podcasts from many different sources and consolidates them on one custom web page. For example, you can set up Feedly to pull trending stories from Realtor.org, Inman News, The Wall Street Journal, or any source that will offer up-to-the-minute news and information your audience might enjoy.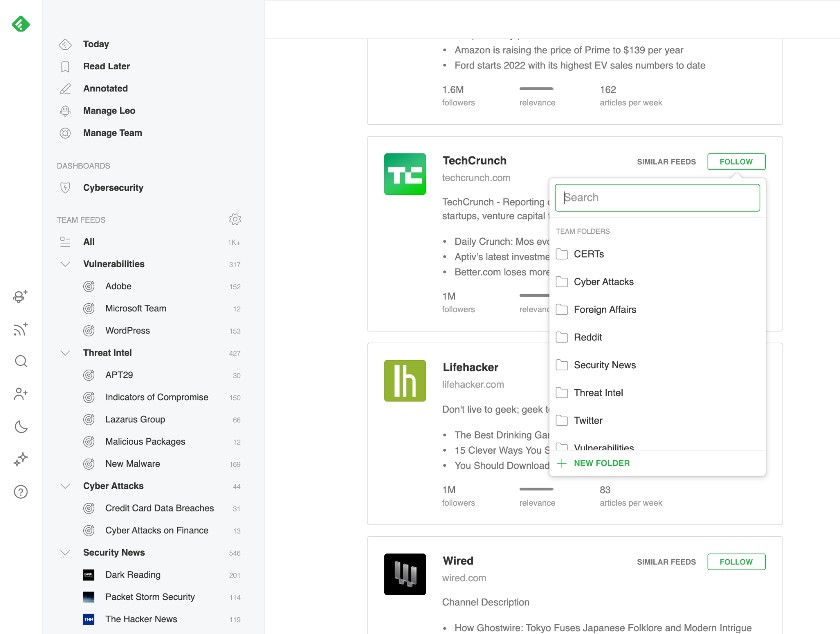 Instead of browsing a few dozen websites for great content every morning, you will only have to check Feedly to see the relevant pieces from all sources. Feedly also integrates with social media tools like IFTTT, Hootsuite, and Buffer so you can schedule social media posts right from Feedly.
6. Canva

Cost: Free; paid plans start at $12.99 per month
Most useful for: Creating graphics and amazing social media posts
Social media sites supported: Facebook, Instagram, WhatsApp, TikTok, and YouTube (content can be manually shared on all platforms)
Canva is one of the most popular and highly respected design platforms among real estate professionals, business owners, and social media marketers alike. It offers an intuitive interface that makes it easy for new and successful real estate agents to create beautiful graphics for social media, blogs, emails, ads, or any other type of marketing.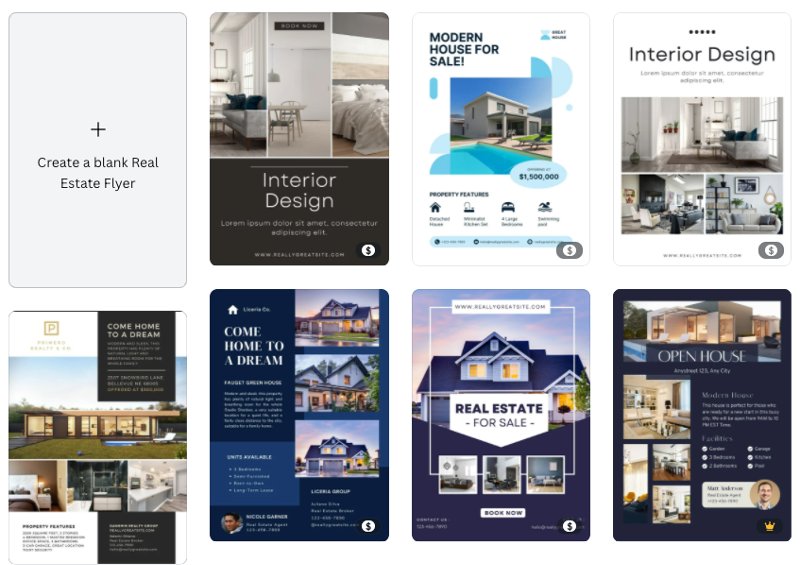 Canva offers hundreds of templates with fonts, layouts, and imagery for all kinds of social media posts, including infographics, Facebook covers, Instagram posts, stories, and blog headers. You can even use Canva to create flyers or postcards for your listings, or graphics for your email marketing.
Visit Canva
7. Adobe Creative Cloud Express

Cost: Free (limited) or $9.99 per month
Most useful for: Creating short videos or animated videos from your pictures
Social media sites supported: Content can be manually shared on all platforms
Video is more important—and more necessary—in 2022 than ever before. Luckily, gone are the days when you had to buy professional video equipment and spend hours learning highly technical video editing software to publish video content. Now, you can simply use your smartphone and Adobe Creative Cloud. It allows you to easily stitch together pictures, video clips, and your narration to help show off a new listing or neighborhood to attract open house visitors.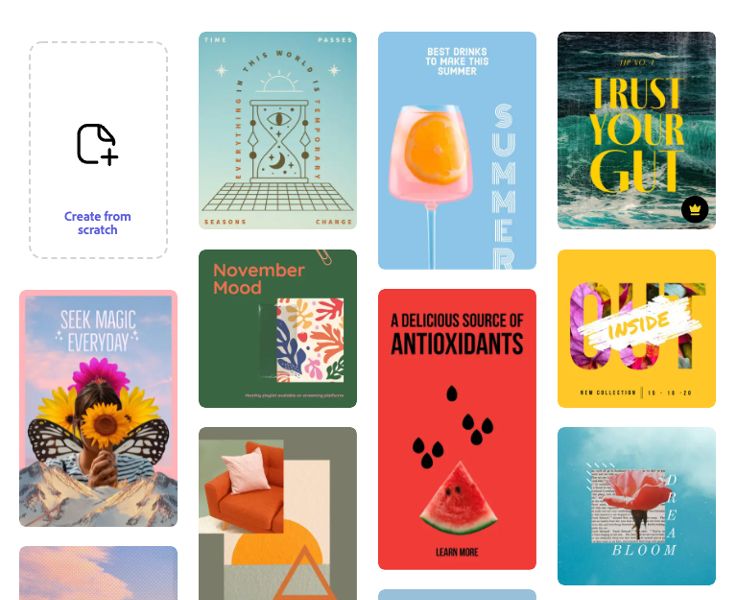 Using Adobe Creative Cloud can help you create videos to generate leads on YouTube or build a real estate audience on TikTok. It's a perfect way to highlight open houses, neighborhood tours, explainer videos, or create an agent introduction. Plus, you can easily create animated photos or GIFs with hundreds of templates. Try Adobe Spark's free 30-day trial.
Visit Adobe Creative Cloud Express
8. Pexels

Cost: Free
Most useful for: Finding free stock images and videos
Social media sites supported: Content can be manually shared on all platforms
Using high-quality images that are relevant to your brand is extremely important for any social media strategy, but particularly for real estate agents on Instagram. Luckily, you don't need to photograph and edit hundreds of original photos. Pexels is a stock image site with a wide variety of beautiful, professional images for free. Unlike many other free stock image sites, Pexels also doesn't require attribution.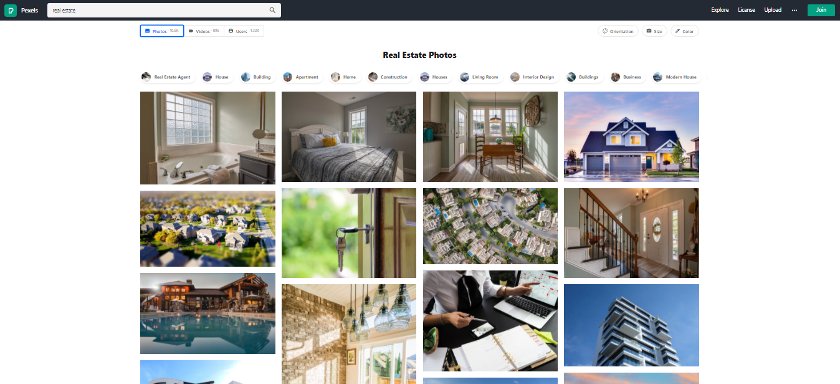 While you'll still want to be picky in your selection and only use relevant stock images, Pexels can transform your social media brand. There are photos of houses, apartments, neighborhoods, cities, and interior design that could be shared directly onto social media along with a caption written for your social media strategy. Pexels can also be used in combination with Canva to create beautiful, custom, branded images on every social media channel—for free. This can provide unlimited options for social media banners, posts, real estate brochures, or signs.
Visit Pexels
9. Venngage

Cost: Free, paid plans start at $16 per user, per month, billed annually
Most useful for: Creating charts, diagrams, and infographics
Social media sites supported: Custom designs for Facebook, Twitter, Instagram, LinkedIn, and Pinterest
Venngage is another platform that simplifies image creation, but is focused primarily on generating charts, infographics, checklists, and visual maps. Canva also offers chart and infographic templates, but in comparison to Venngage, it is much more limited. Venngage offers extensive options within an extremely easy-to-use interface. Even if you've never generated a visual report with your data, Venngage makes it easy to create in just a few minutes.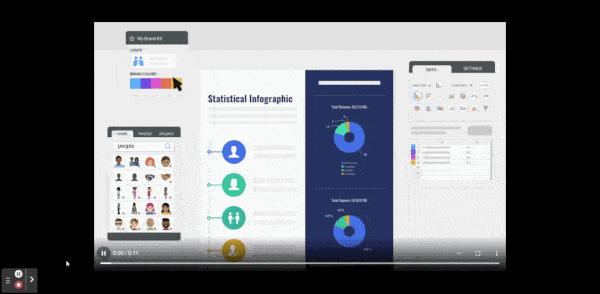 You can even upload spreadsheets directly from Google Drive and create graphs to show real estate trends, steps to buying and selling, generate a beautiful comparative market analysis (CMA), or make a listing presentation. Infographics provide a lot of value and are easily sharable, so if you find your audience responds well to hard data, you owe it to them to use Venngage—especially since you can start using it for free.
Visit Venngage
10. Magisto Editor
Cost: $4.99 to $34.99 per month, billed annually
Most useful for: Creating professional videos
Social media sites supported: Facebook and Vimeo
Magisto Editor is an easy-to-use video editor that's surprisingly powerful for its relatively low price. Like Adobe Spark, it allows you to stitch together photos, add music and narration, and create awesome videos your audience will love. However, Magisto offers a much larger music library and significantly more advanced editing features.
You can incorporate videos into your marketing strategy by making a real estate tip of the day or producing engaging home tours. If you choose to utilize the incredible marketing power of video, then Magisto will be your most-needed social media management tool. They even offer specific real estate video tips and templates that you can seamlessly customize with your own footage.
real estate social media coaching
We are continuing our discussion of ways that real estate agents can pivot their businesses to adjust to a changing real estate market. We already talked about how we must pivot to our SOI, and today we will be touching on how we can be using social media as Realtors during this turn in the market.
Social Media for Realtors When the Market Turns
Social media for Realtors
Social media has been around for a very long time, but it is still being used incorrectly. Many real estate agents think they have a good handle on how to use social media for their business, but they are just using traditional marketing techniques. Social media is more of a dialogue and a relationship-building tool. It is an interface between two people, whereas traditional marketing is more of a blanket advertisement. You will often see a long-winded Facebook post that is full of long-sentences – it feels impersonal, and that's because it is.
This is the new era that we are living in. That's why we're saying you need to pivot your business. This recent COVID-19 pandemic in the spring and summer of 2020 has taught us that people are getting much more comfortable communicating virtually. Realtors are adopting video and social media to serve their clients and reach their SOI. As Realtors we must embrace social media because, in some ways, things will never go back to the way it was before.
Not to mention, it is a lot more efficient for Realtors to make contacts on social media than by traditional methods. It's usually 100 percent free, and you can make contact much faster than, for example, mailers. Social media has proven to be more effective than email, and it's a lot faster than making phone calls. So, there are a lot of benefits to being on social media if you use it correctly.
social media for realtors
Let's talk about ten key factors to using social media effectively as a Realtor, especially during a turn in the market.
Be purposeful in your social media posts and interactions
The posts that you choose to put out there need to be genuine. You need to get vulnerable. It's hard for your social media followers to build a relationship with your business – it is much easier for them to build a relationship with you as a person. We know that real estate is all about interpersonal relationships! If you are doing a lot of talking on social media and making a lot of posts to your social media channels, it's really important that it mostly needs to be about you, your life, and your family. Your posts need to feel more purposeful and less spammy.
Here at Icenhower Coaching and Consulting, we are getting all our clients and all our coaches to be more active on social media. Through engaging our sphere of influence with thoughtful and purposeful posts, coming from contribution, and also taking time to listen and interact with others in a genuine way, social media can become a huge part of your business.
Don't make it a constant sales pitch
If your social media followers are seeing nothing but open house posts from you, they will tune you out, or worse, unfriend you or mute you. If you think about last time you went to a party, you didn't go up to everybody and tell them about an open house you had this weekend. You would not have a lot of friends if you did that. No one would want to talk to you anymore, and you probably wouldn't get invited any more parties.
So, take that same mentality into social media. If all you're posting about on your social media profile is an advertisement for your business, you're basically spamming all your friends. If we use Facebook as an example, Facebook will see that your friends are not interacting with you or your posts anymore. Facebook will then stop showing your posts to people. The algorithm that Facebook has in place determines who gets to see your posts, and you need to make nice with Facebook's algorithm.
Work with the Facebook algorithm: personal/business post ratio
There are not enough hours in the day to see all your friends' posts. Facebook uses their algorithm to help sort through all the posts and only show you the ones it thinks you will like and interact with. Every time you like, comment, or share a post, Facebook's algorithm takes in that data. You are telling Facebook that you like this post and you want to see more posts like that, or more posts from that particular Facebook friend.
So, if you keep posting about your open houses and no one is liking the posts or engaging with them, Facebook is going to "remember" that the next time you post. As a result, your next Facebook post will get less visibility. If you keep putting out posts that, you are doing something wrong and you must stop and pivot your social media practices.
You must start posting things that your friends and followers will like. For example, if you share a photo of your new baby, you're going to get hundreds of likes. That's good. Now, whatever post you put out next, chances are Facebook's algorithm will show it to more people. This is not about ego, it's about getting an audience and showing Facebook that you serve up valuable content that people want to see.
At Icenhower Coaching and Consulting, we say that at a minimum, you must post four personal posts for every one business post. These four personal posts are designed to get engagement and attract a positive response. Then, when you post a business-related post that people probably aren't going to like, it won't destroy your relationship with the Facebook algorithm.
social media for realtors
Get creative with your posts
We have clients that have turned social media into an art form. They find a way to post about their business while also keeping it light and fun and personal. These agents don't come off as disingenuous. By using hashtags like #realtorlife and adding some humor to their posts, they come off as more relatable to their followers.
An example would be if you broke a heel while doing an open house, or you spilled your coffee but luckily had an extra shirt in your car and had to change on your way to a showing. That's great because it kills two birds with one stone. It reminds people you're in real estate and gets engagement and interaction because you are relatable.
Your friends and followers don't want to see traditional advertising from you. They want to see your life. Find a way to include your real estate business in an organic, unforced kind of way.
Make your Facebook business page all about lead conversion
You've probably noticed that if you try to post a lot from your business page, you're not getting much interaction. Typically, business posts are going to be advertisement posts, and people aren't going to "like" those posts. People don't "like" commercials. It won't get much engagement by nature. That said, it's important to have a business page on Facebook. This is your "website" on Facebook.
You should have a link in your personal page to your business page. Your business page must look professional. Of course, you can use your business page in a more aggressive way. You can boost your advertisements and put money into it to lead generate … but we're not going to get into that today. If you are treating your business page as a static website, it needs to look professional. People can look there and see what you do and feel comfortable with you as a real estate agent. It's almost like a portfolio. Show examples of your work.
In conclusion, your business page is more about lead conversion than it is about lead generation. Realtors who are adept at social media understand that lead generation will come from their personal Facebook page. This is because they can mix in a lot of personal posts to keep their engagement up. You can get people liking your posts and engaging with your content so that when you do weave in real estate related posts, a lot of people are seeing it.
Ideas for your personal social media posts
Show love for a family member – your spouse, child, sister, etc. Personal posts like that get a lot of interaction. People love that! They love when you post things that are going on in your life, or when you're humorous and relatable. If you've got charisma in real life, boy oh boy don't hide it on social media! This is where we need to see it.
Don't get me wrong, you don't need to post anything personal at all. It makes some people uncomfortable and some people flat out refuse to use it. But we know real estate, at least residential real estate, is a contact sport. The more conversations you have and the more contacts you make, the more business you're going to generate. This is why it could benefit you to get comfortable on social media.
social media for realtors
Keep your social media posts neutral
Always look to post neutral content. Don't get too crazy with politics. You want to be very neutral. Think about it – every president is elected by 50 to 52 percent of the population. That means 48 percent of the population is to some degree unhappy with the leadership. Even the biggest landslide political election is still right around 50/50 with regards to the popular vote.
Same thing with religion. If you start delving too deeply into your personal beliefs and religious values, you're probably too personal. If you wouldn't want these things to be on your website on the Internet, don't post them on your social media page. Keep things balanced and try not to alienate your followers.
Realtors must step up as community leaders, and come from contribution in their social media posts
At Icenhower Coaching and Consulting, we coach a lot of the highest producing real estate teams and broker owners and solo agents in North America. They all have this in common – they come from contribution. They stay in front of all their people, whether it's on social media, or by email, phone calls, client events, you name it. They're doing it in a way that adds value to their people.
Successful Realtors that use social media are not just trying to shake their people down for business through their posts. They're trying to come from contribution. Through giving back and helping their communities, they are ensuring that their communication is well received.
During a market turn or a downswing, people are at their lowest. This is a great opportunity to help. Whether it's providing information on financial assistance or emergency resource numbers, you can be the person to help them. Even just a quick phone call or direct message to check in to see how they're doing. Beyond all that, people need positivity during times like these.
social media for realtors
There are many things communities need in the downturn that they don't need in the straightaways. During the straightaways, everything's going well. Most people are doing okay. But when they get into the turns on the racetrack and they start trying to advance their position in the chaos, that's when the best Realtors show up. This is when you can help and be of service. Show up by adding value and coming from contribution.
Don't hide, get louder
As Realtors, it is our job as community leaders to not shy away during hard times. We cannot hide. We must get louder. There is no other industry that is going to do that. Keep the community together by providing resources and helping with tips. Create social media groups and engage people. Bring the community together through events and interaction.
Realtors across North America are teaching the public about how to use video conferencing. Virtual Town Hall Meetings and cocktail parties are taking off. Realtors are finding ways to get people together so they can enjoy themselves and share ideas. These virtual meetings can be about homeschooling as our kids are stuck at home with us during the COVID-19 crisis, or it could be about how to apply for government assistance or government aid. It can also be completely social. A soccer club meeting or parents' happy hour. The ideas are endless!
Other ideas for Reators' social media posts
Contests are another great way to get your community involved and engaged while also coming from contribution. Sidewalk chalk art contests, neighborhood scavenger hunts, front porch decorating contents, etc. These are all things you can host virtually on your social media pages. You can post a simple graphic that includes your contact information and details on how to enter the contest. Sign up for our FREE online course, COVID-19 for Realtors, for access to some great social media templates, like the ones mentioned above!
Another great idea for building community engagement and stepping up as community leader is to create a Facebook group. For example, if you're kids are on a soccer team, you can create a Facebook group for the team. You can get all their parents in the group. This is helping everyone communicate and share ideas of what the kids are doing. You could also just create a big Facebook group for your SOI and post contests, giveaways, and promotions that way.
Grow your SOI with social media
Go through your CRM (customer relationship manager) and make sure that everyone in your database is also someone you are following or friends with on social media. And, check to make sure that everyone you are following or friends with on social media is also in your CRM.
Now is a great time to connect your CRM with your social media. Using the two hand in hand, you will be able to grow your SOI and increase your reach. Get all of these people on your email newsletter. Make sure everyone that you have mailing information for is on your mailing list. Now is a wonderful time to look through your phone and see if there is anyone that you can friend on Facebook and add to your CRM.
social media for realtors
Time to listen: the 10-10-5 system
So far, we've talked a lot about posting – what to post, how often to post, etc. Now we need to talk about listening. We teach all of our clients a 10-10-5 system. Each day, you will do 10 likes/reactions, 10 comments, and 5 direct messages or shares of your SOI's Facebook posts. It should take only 15-20 minutes per day. It's a great activity to do first thing in the morning with your cup of coffee.
First, organize your friends into Facebook lists
If you right click on the friend button you'll see that you can categorize a your Facebook friends. You can choose acquaintance, family member, or "Custom". If you click "Custom" you can create an SOI group. Now you can categorize all of the people that you're friends with as your SOI. Maybe friends of yours from college that live across the country wouldn't be in your SOI group. They are not likely going to know anybody in your neighborhood or your town looking to buy or sell real estate.
10 likes and 10 comments
For five to 10 minutes each day, scroll down your SOI list. Be quick – just "likes" and other reactions. Make short comments that show you noticed and that you care. One or two words; keep it brief. So, it's 10 likes or reactions and 10 short comments. Already, you've made 20 positive contributions. You just spread virtual pixie dust happiness over 20 people, who now feel like you are part of their "tribe".
The reason why we are setting up a time limit here is because we don't want to get stuck in social media. It can be a huge time trap if you get sucked in. Suddenly you're scrolling and scrolling and you're not even thinking anymore, and you've lost all of your productivity.
If you do this every single morning, it is so good for your relationships. You are putting positivity out into the universe. No one is going to dislike you for that.
5 direct messages or shares
This last part takes the most time. You need to either send a direct message to someone based on their posts, or share a post that your SOI contact made. In the direct message, you can simply say, "Hey, I saw your post today. It's been so long, we should catch up!" Because it's a direct message, it's private – the public doesn't see it. For that reason, it's usually more heartfelt and much more powerful.
The other option here is to share a post. This is probably the most powerful thing you do on Facebook. If one of your SOI members is a small business owner and you share their post, that is very positive and helpful for their business. If you share your favorite pizzeria's post and write, "Johnny has has the BEST pizza, support your local businesses!" and tag him in it – I'm telling you, he'll be so appreciative that you did that for him. He will for sure start to engage with you more.
Our latest course gives you all the strategies, tactics and tools you need.
Realtors' need for social media is NOT going away.
During this "turn" in the market, we are noticing people are on social media more than ever. This is a trend that is likely to stick. I don't see people going away from it even after we get past this turn. If you want to maximize your business, you must get louder to be heard. This may be a lot of work for you now if you aren't already accustomed to using social media, but it will get easier if you practice, and you may find that it is one of the best tools out there for you as a Realtor.
Stay up to date on what's happening in our industry and join our Facebook group, the Real Estate Agent Round Table for free, relevant content daily, including breaking news on the real estate market and the coronavirus crisis.
Stay up to date on what's happening in our industry and join our Facebook group, the Real Estate Agent Round Table for free, relevant content daily, including breaking news on the real estate market and the coronavirus crisis.
Conclusion
Let us know your thoughts in the comment section below.
Check out other publications to gain access to more digital resources if you are just starting out with Flux Resource.
Also contact us today to optimize your business(s)/Brand(s) for Search Engines